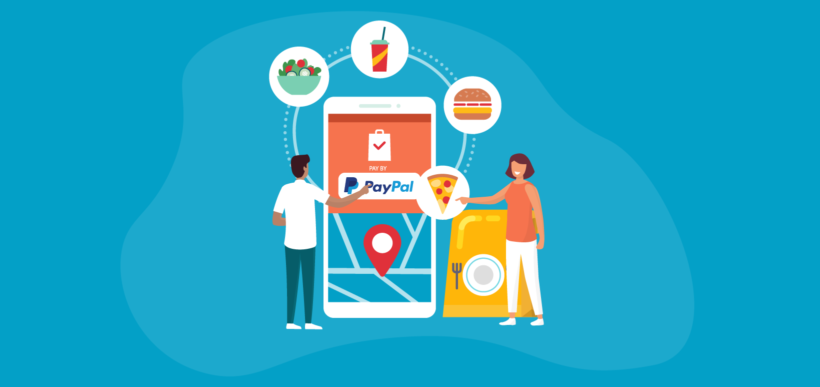 By the time you've read this article, you'll know exactly how to set up PayPal for food orders. Your customers will be able to order food using PayPal, just like with hosted services such as Grubhub, Just Eat and UberEats - but with you in control.
Over the past few years, mobile payments have been very popular, and this trend is anticipated to continue as more businesses use this technology. This implies that more restaurants have started accepting cash-less food orders in coming years. Restaurants that set up online food ordering systems have seen a huge increase in takeaway orders! Restaurants are now having to make permanent changes to stay in business longer-term. Online food orders are an important part of this.
Of course, customers LOVE PayPal because it's so easy and they can pay for food orders from their mobiles.
So, how can a restaurant like yours set up online ordering with easy PayPal payments?
By the end of this FREE guide, you'll walk away knowing EXACTLY:
What you need to set up online orders for your restaurant with PayPal payments just like Grubhub, Just Eat or Uber Eats.
How to set up all of the components without any technical knowledge or experience.
How to do all of this EVEN if you don't have a website yet!
And the best part? We'll show you how to automate the whole process.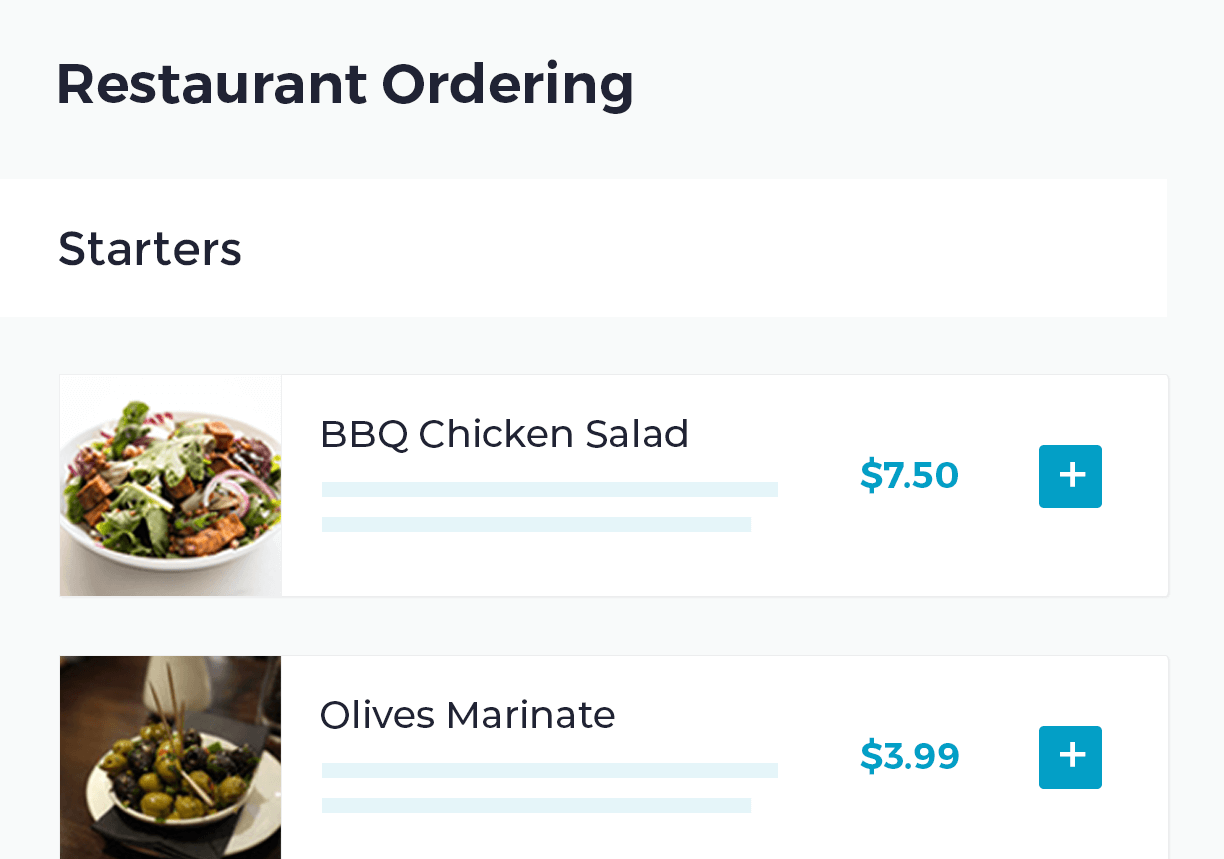 Use WooCommerce Restaurant Ordering to enable online food ordering and accept PayPal payments for food orders!
Why PayPal alone is a terrible way to sell food online
If you've used PayPal to accept payments for your products or services, you probably already know that it's not the best way to sell food online.
The problem with using PayPal for food orders is that you have to log into your PayPal account to create each PayPal payment button individually. After creating the buttons, you paste them on your website. This doesn't look professional and makes for a terrible user experience.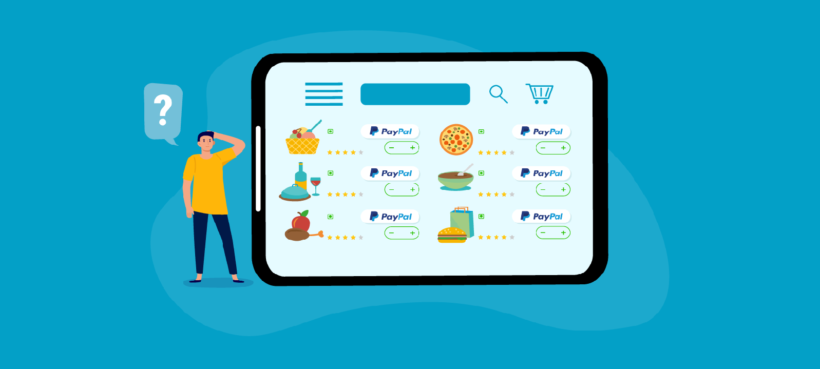 Further, PayPal doesn't provide a shopping cart system that lets customers order multiple food items at once. This is a major problem since most people need to order more than one food item at a time!
From a back-end perspective, you won't receive any sort of 'new order' notification or customer emails if you use PayPal alone for food orders. You will only receive basic payment notifications from PayPal which may get mixed up with other PayPal emails.
You also miss out on analytics and sales reporting features (like Google Analytics) as well as the ability to integrate with other systems, such as opening hours, delivery slots or the printer in your restaurant's kitchen.
But what if you could set up PayPal for food orders just like Grubhub - without any of these problems?
The solution – Build a WordPress WooCommerce website for selling food online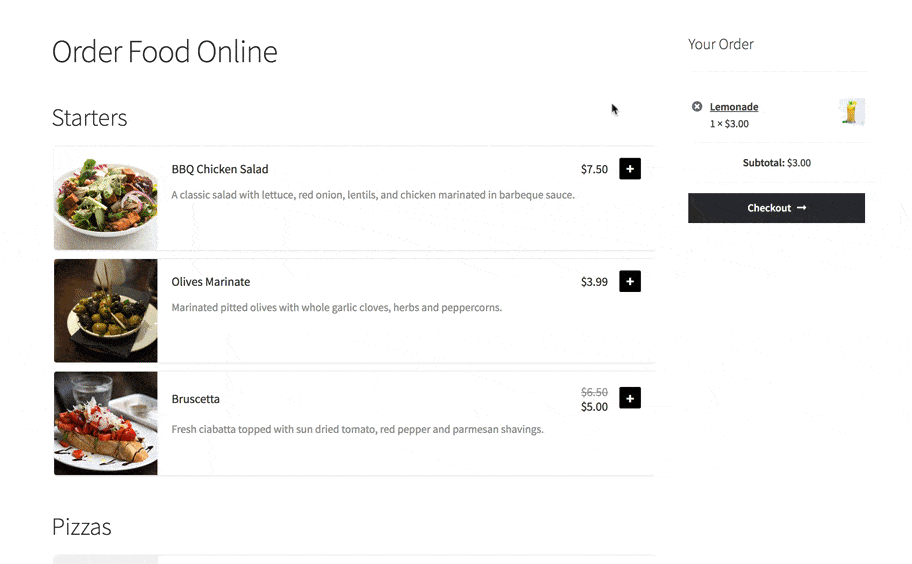 A WordPress website with the free WooCommerce plugin is a far better way to sell food online and accept payments via PayPal. The best part is that you can enhance your site's core functionality using specialized plugins, like WooCommerce Restaurant Ordering. This makes it even easier to showcase your food items and allow customers to place orders.
The WooCommerce plugin offers seamless integration with PayPal as standard, in a much better way than if you were to use PayPal alone to let customers place orders as we described earlier.
It's incredibly easy to set up. As a result, you can start letting customers order food with PayPal today!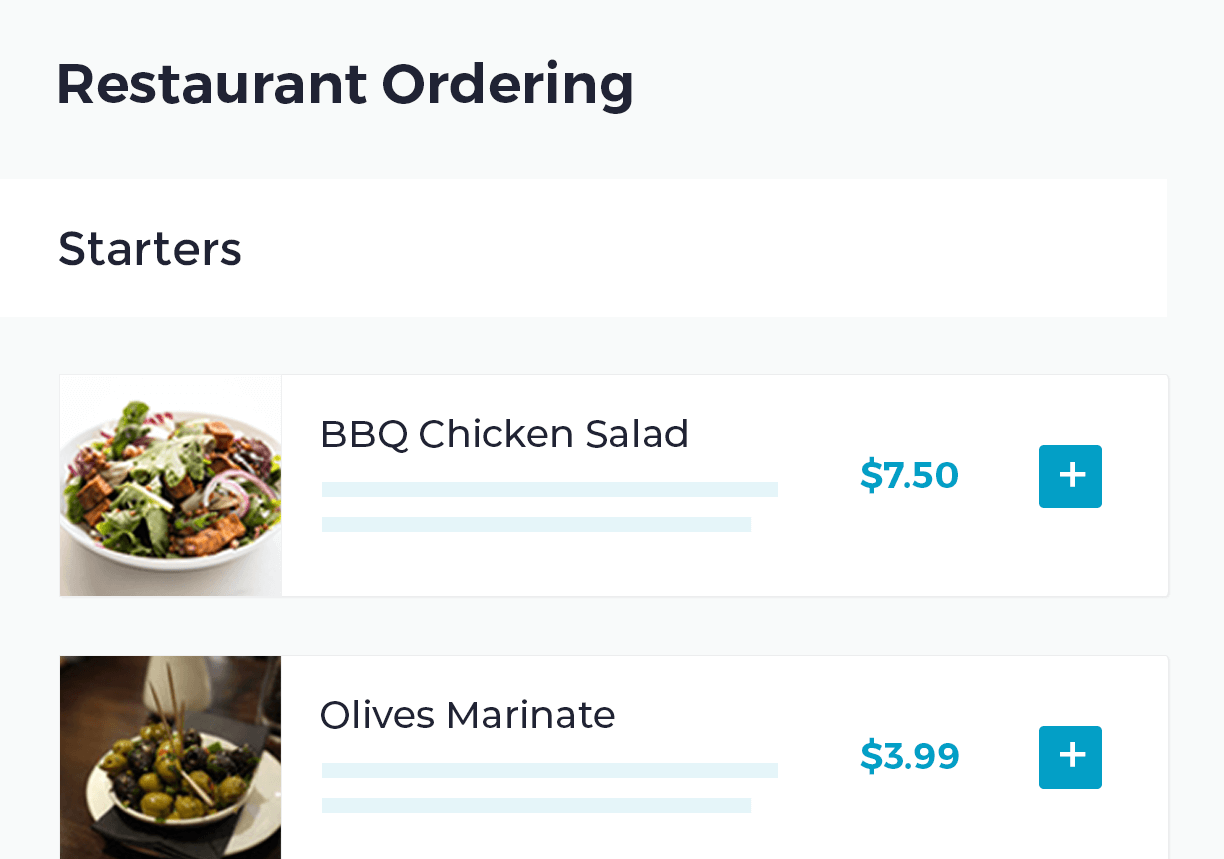 Use WooCommerce Restaurant Ordering to enable online food ordering and accept PayPal payments for food orders!
Plus, this is mobile-responsive, which means it will work seamlessly on iOS and Android devices without requiring customers to download a mobile app first.
Setting up PayPal payments for food orders
If you don't already have a WordPress website set up with the WooCommerce plugin installed, check out this complete guide on how to get started.
Once you've set it up and added some food items as WooCommerce products, come back to this tutorial to learn how to set up PayPal payment options for food orders.
Step #1: Get the WooCommerce Restaurant Ordering plugin
Purchase the WooCommerce Restaurant Ordering plugin and install and activate it on your WordPress website. You'll receive a license key with the plugin files.

Go to WooCommerce → Settings → Restaurant and enter the license key in the License key field.
Click the Save changes button at the bottom of the screen to continue.
Step #2: Customize your restaurant food order form
The WooCommerce Restaurant Ordering plugin automatically creates a front-end food order form for you once you activate the license key. However, you can customize the food ordering page in a variety of different ways.
For example, you can set the restaurant order page, select which product categories to showcase in the food ordering form, set the number of columns, choose an order method, and much more. You can also add your opening hours and prevent PayPal food orders from coming in while you're closed.
Check out the plugin's documentation for step-by-step instructions.
Based on your configuration settings, your food order form might look something like this: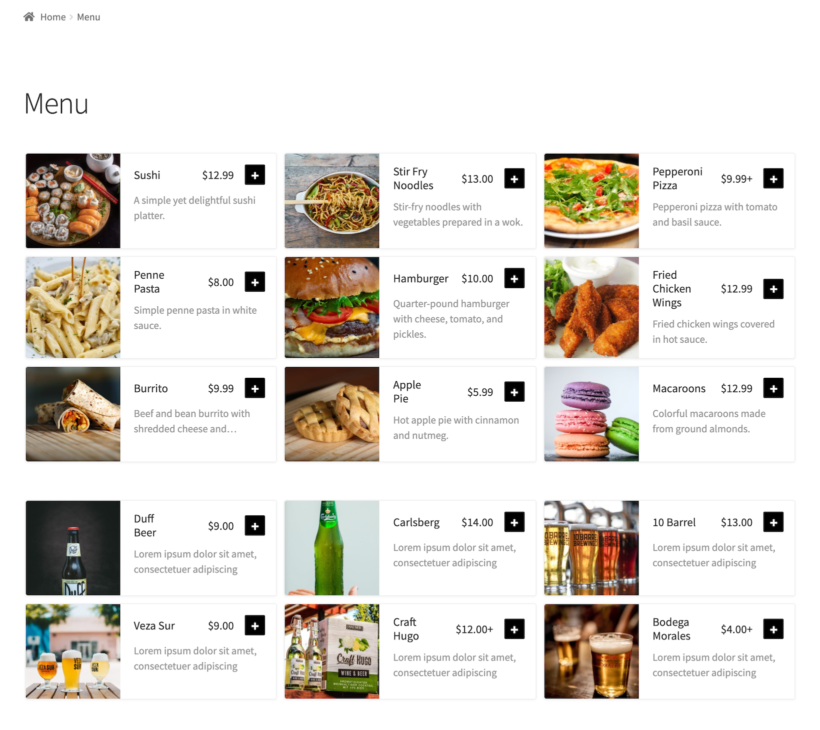 Customers can click the (+) icon to add food items to their shopping cart and proceed to checkout.
Step #3: Set up PayPal payments
Now that your restaurant food ordering form is set up, the final step is to start accepting payments for food orders via PayPal. For this, head over to WooCommerce → Settings → Restaurant from the admin area.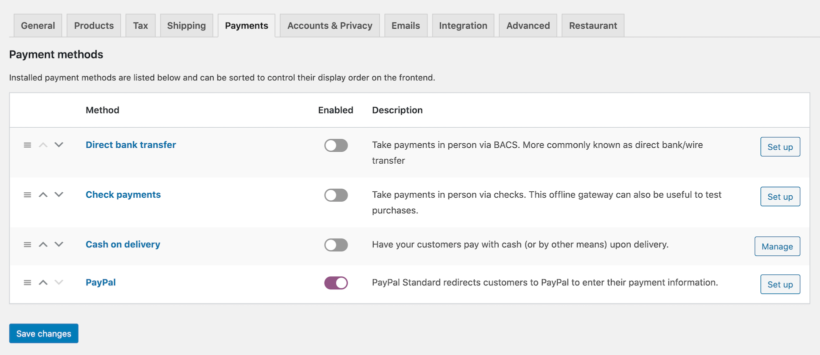 Next, enable the PayPal payment method option and click the Set up button to start setting it up. Enter your PayPal email address in the PayPal email field. You can also configure other settings on the same screen based on your preferences.
Click the Save changes button to proceed.
When customers proceed to checkout, they'll be able to make pay for food orders with PayPal: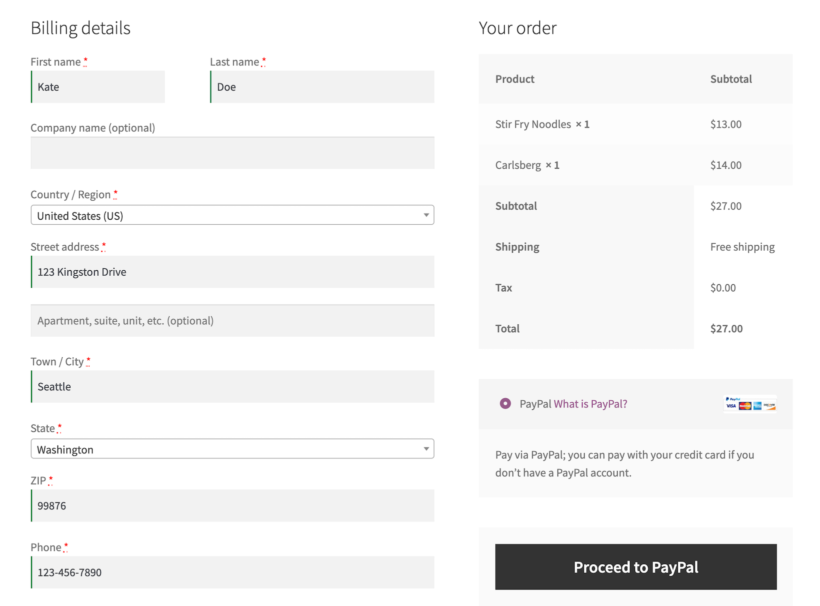 That's it! Now, you can let customers place food orders and accept payments through PayPal.
Adding extra features to your PayPal-powered food ordering system
The great thing about using WordPress and WooCommerce to set up your PayPal-powered food ordering system is that you can add extra features to it using plugins. For example, you can set up food delivery slots and printing solutions that print orders straight to your restaurant's kitchen.
Popup cart and checkout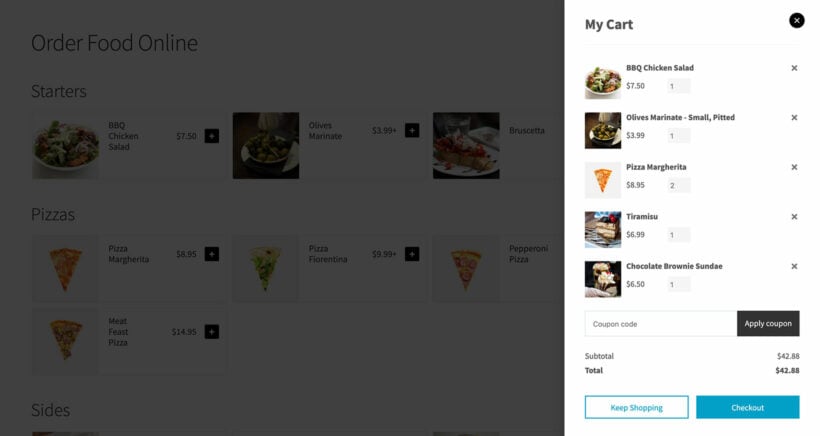 The WooCommerce Restaurant Ordering plugin lets customers add their food items to the cart from one page. However, WooCommerce itself still takes customers through multiple pages in order to complete their order.
To speed up the cart and checkout, install WooCommerce Fast Cart. This adds an instant floating cart to the page as soon as the customer adds products to their cart. They can then review their selections, enter their details and pay from directly in the popup.
WooCommerce Fast Cart is fully compatible with the WooCommerce PayPal Checkout Payment Gateway. This lets you add PayPal Checkout buttons to the popup cart, making it even easier for customers to 'Buy Now' and place a PayPal food order.
Delivery time slots
The WooCommerce Delivery Slots plugin lets customers choose a delivery time slot for their food delivery orders similar to Eat24 Food Delivery. This makes it easy to manage food orders, especially on high-traffic days.
For example, the WooCommerce delivery slots plugin gives you the option to restrict the number of food order bookings in each time slot. In addition to this, you can set how far in advance customers should place their food orders before their delivery or takeout time slot. You can also decide how many food orders to accept within each food delivery time slot so that the kitchen doesn't exceed capacity.
The plugin also lets customers book a delivery time slot before they add food items to their cart in order to avoid disappointment at the checkout page. This is especially useful for local restaurants that want to let customers order online and offer food delivery services.
Print orders to the kitchen
There are a variety of WordPress plugins available that let you send new food orders straight to the kitchen and print them for staff. This is possible with the WooCommerce Automatic Order Printing plugin.
Want to set up online ordering for your restaurant with PayPal payments in 30 minutes?
This plug-and-play solution was specially designed to help stop restaurants from going out of business during the Coronavirus pandemic. PayPal food orders are now essential as part of the ongoing order management of any restaurant.
You can use the WooCommerce Restaurant Ordering plugin to set up your online food ordering system and accept payments via PayPal, credit card, or debit card just like Grubhub or Dominos. No technical knowledge is required:
Plug-&-play setup for the plugin.
FREE tutorial showing you every step and every click you need to do (absolutely no way to get it wrong).
Technical support is available if you need any help
30-day money-back guarantee. Love it or get a full refund, 0 risks.
Get the WooCommerce Restaurant Ordering plugin here and start getting orders TODAY!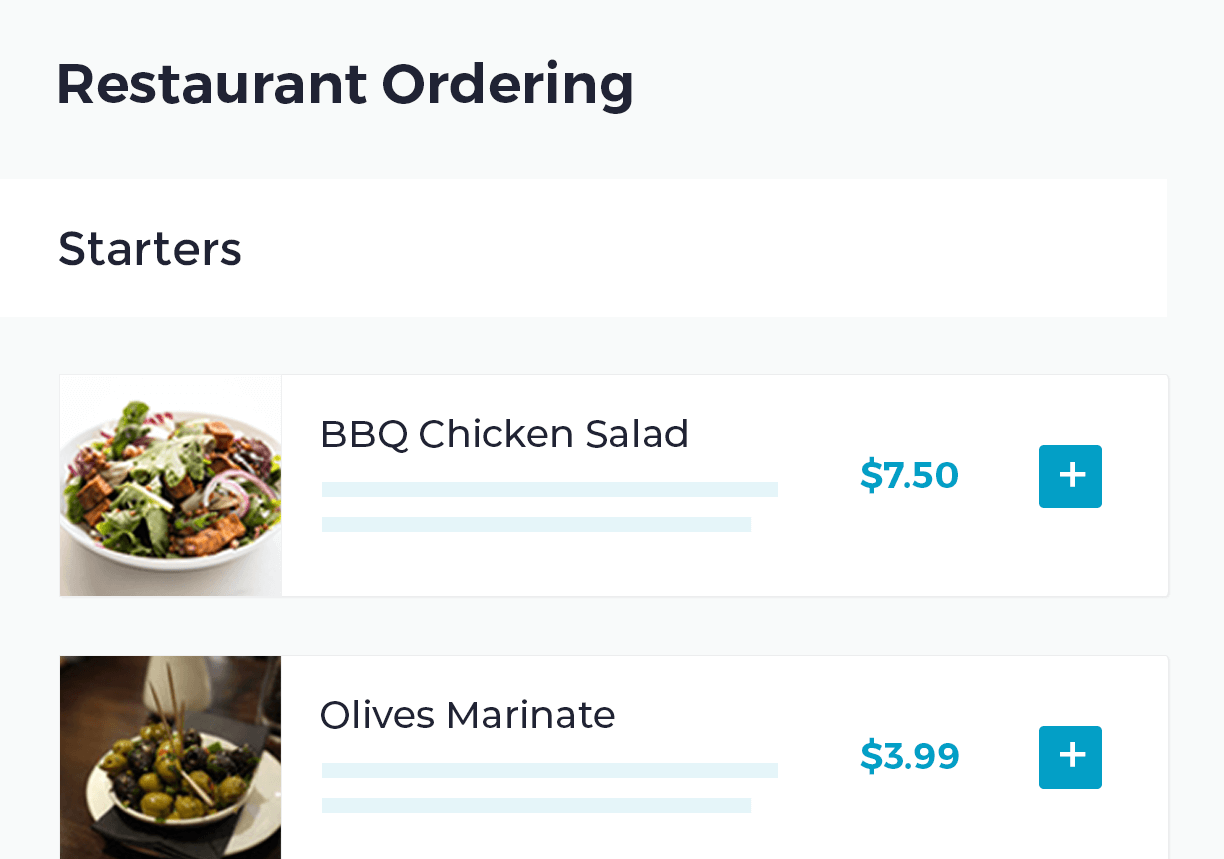 Use WooCommerce Restaurant Ordering to enable online food ordering and accept PayPal payments for food orders!