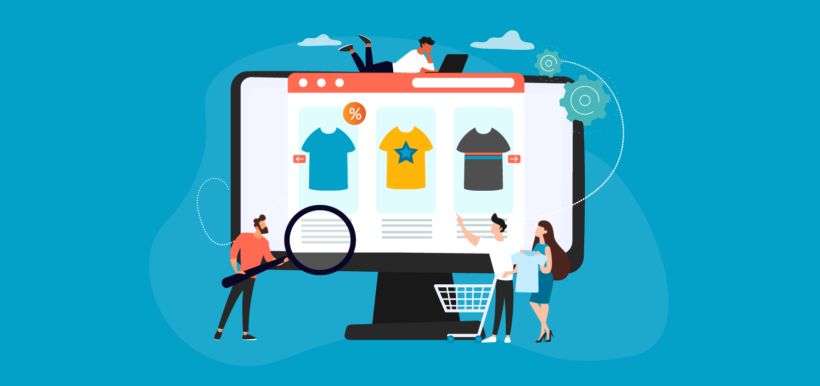 If you want to design and sell t-shirts online, then it's time to set up your own online t-shirts shop. Done right, it can prove to be a lucrative business.
This practical guide contains an overview of the main factors you should consider if you want to start selling t-shirts online. Here, you'll also find clear, step-by-step instructions on how to build your own t-shirts e-commerce website without needing any technical skills, where you get to keep nearly all the profits (minus a small percentage in payment gateway fees).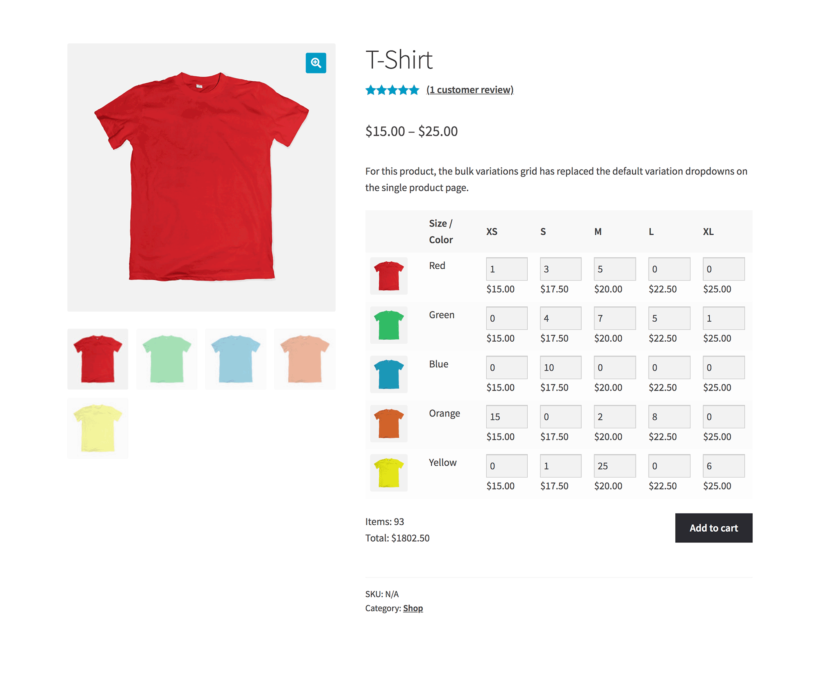 We'll be using the popular and free WordPress and WooCommerce platforms for selling t-shirts. This keeps you in control and lets you take advantage of some excellent tools to help you sell t-shirts more successfully.
But first, let's take a step back to see why selling t-shirts is such a profitable business and which e-commerce platforms are right for you.
Why is selling t-shirts online such a great way to start an e-commerce business?
Selling t-shirts online has a number of advantages. First, it requires a low barrier to entry which means low start-up costs. Anyone can do it without needing to hire staff, get investment, or hire a developer to build a website.
Second, even though it's a competitive area, you can find a niche based on your interests which will help you get to the top of search engines and bring customers to your website. If you customize your offering, you'll be able to differentiate your merch from the competition and grow your brand.
Third, you can reach a wider market by selling t-shirts on multiple channels. For example, you could sell t-shirts through your own website and also sell on Google Shopping, Etsy, and eBay.
Finally, an online t-shirts business is fully scalable because, as your t-shirt sales grow, you can use print-on-demand services to produce them for you. This way, you'll be able to save time while increasing your income. And, when you're ready, you can add more products (or merch) to your online store like tank tops, hoodies, and caps.
Why WordPress and WooCommerce are the best way to design and sell t-shirts online
Using third-party platforms to sell t-shirts can lead to higher costs as compared to self-hosting. That's because hosted e-commerce platforms charge you for customer service, hosting, and profit cut for the platform owner. Shopify, for example, starts at $29 per month for a basic online store. In addition to this, you might be charged other indirect costs that you might initially overlook.
Similarly, when you partner with another e-commerce platform to sell your t-shirts, you don't get complete flexibility to make decisions. For instance, hosted e-commerce platforms offer limited store design and features. With other people selling similar products on the same platform, you have less space to differentiate your products and build your brand.
On the other hand, selling t-shirts on your own website gives you complete control of your online business. In addition, you can avoid the fees and restrictions that come with selling on an online marketplace. As a result, you'll be able to design and sell t-shirts and keep 100% of the profits.
Moreover, with a self-hosted WooCommerce t-shirt website, most of the software is free and you just need to sign up for web hosting to keep your site online, buy a domain name, and buy some inexpensive plugins to present your t-shirts in a way that will maximize sales.
Building your own website is an excellent idea for any t-shirt business but isn't the only option. You can run your website alongside other platforms to get more sales. In the next section, we'll show you how to sync them together to list your t-shirts on multiple platforms for the same amount of work.
How to design t-shirts to sell online
Setting up and running your own online t-shirts site has its benefits and challenges. Knowing how to navigate through the setup phase enables you to avoid any pitfalls. Here, are step-by-step instructions on how to build an e-commerce website for selling t-shirts. Anyone can do it and you don't need any technical knowledge!
Step #1: Plan how you will design and produce your t-shirts
To get started, you'll need to create t-shirt designs and turn your ideas into tangible, sellable products. You can go with one of the following two options:
You can buy some t-shirts from an affordable but high-quality brand like Fruits of the Loom, print the t-shirt designs onto premium t-shirt transfer paper, and iron them onto the t-shirt. This is the most profitable option and is ideal when you're first getting started. Most e-commerce t-shirt shops start with this option and switch to a print-on-demand service when they're ready to scale.
Alternatively, you can use a print-on-demand t-shirt service like Printify. This will eat into your profit margins and probably isn't necessary at first. That said, it's good to know that you can automate things if your t-shirt business becomes too big for you to manage by yourself.
Step #2: Adding products
Depending on the pathway you chose in Step #1 to design and produce your t-shirts, you'll need to follow one of the following two options to add your t-shirts to your website:
If you're printing your own t-shirts then you should add the products to WooCommerce manually. Choose a hosting provider that offers WordPress one-click installation. Next, you'll have to set up your WordPress site and install WooCommerce. All that is left now is for you to go to your WordPress dashboard, navigate to Products → Add New, enter the product information, and click Publish to add the t-shirt product to your store.
On the other hand, if you're using a print-on-demand service then make sure it integrates with WooCommerce. Simply add the products in their software and then follow the instructions they provide to automatically set them as WooCommerce products so that they appear on your WordPress e-commerce website.
Keep in mind that nearly all t-shirt stores will need to use variable products because of the different size options.
Step #3: Displaying your t-shirts online
If you have a large selection of custom t-shirts, or if you want customers to be able to buy t-shirts from you in bulk, then you can significantly increase your sales by using some high-quality plugins to display them more effectively than WooCommerce will do on its own. Here's a look at our handpicked selection of WooCommerce product plugins and what they can do for you:
If you have large numbers of t-shirts in your store, you should display them in a space-saving table layout so that customers can view more products per page. Enable your customers to filter products so they can easily find t-shirts by size, color, and design. The instant search box is another useful feature that helps customers quickly find what they're looking for.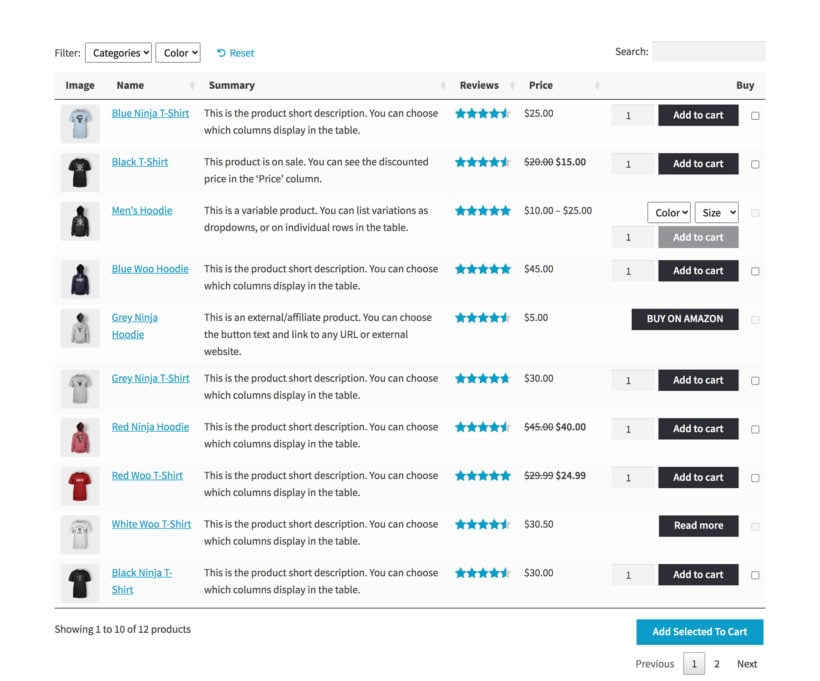 WooCommerce Product Table gives you complete control over which t-shirt product you want to add, enabling you to list any number of products. You'll be able to show any information you want including price, images, videos, and SKU.
It also lets you display t-shirts in a neat table layout and enhances the customer's shopping experience through the search and filter options. Customers will be able to sort shirts based on color, size, and design simply by clicking on any column.
Another effective way to enhance the user experience is to use the WooCommerce Product Filters plugin to help customers find the perfect t-shirt quickly and easily.
With WooCommerce Product Filters, you can set up filters by size, color, price range, and other attributes to help customers narrow down their options. The plugin offers various display options, such as checkboxes, dropdowns, and radio buttons, to help shoppers easily filter through your products.
You can use the plugin with the default store layout or with WooCommerce Product Table. Use it to add a range of filters listing the t-shirt attributes to create a seamless and user-friendly experience for your customers.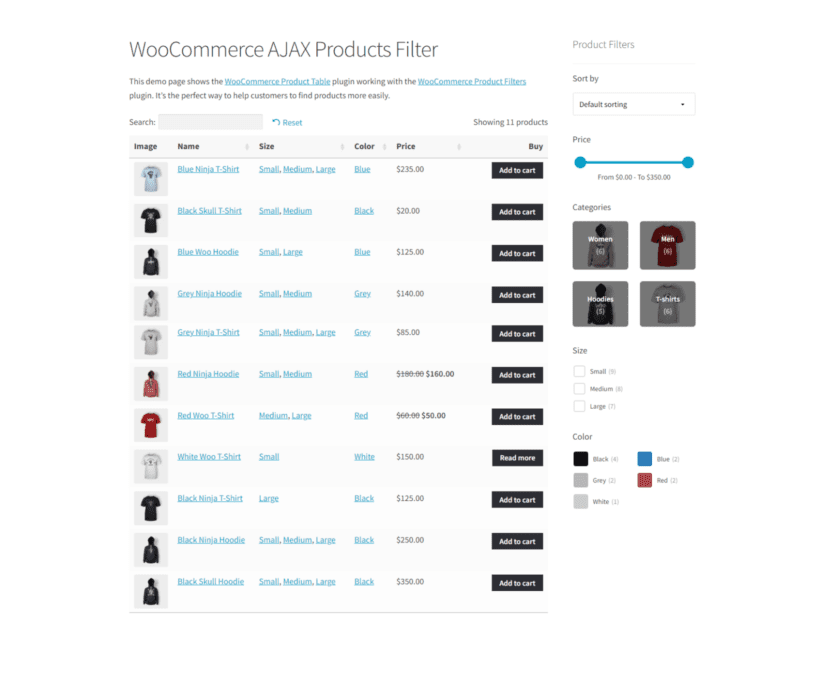 Whether you use WooCommerce Product Table or go with the default store layout, you should allow customers to click on a quick view button to view multiple images, size charts, and choose t-shirt sizes from a quick view lightbox.
WooCommerce Quick View Pro creates a WooCommerce product gallery lightbox with multiple photos and a zoom feature. As a result, customers can view the information they need about t-shirts including colors, sizes, and designs from the same place. This speeds up the customer's purchase flow enabling them to quickly add the product to their cart and continue shopping or proceed to checkout.
If you're selling t-shirts in bulk then you should enable customers to enter the quantity of each size and color option and add all the variations to the cart at once.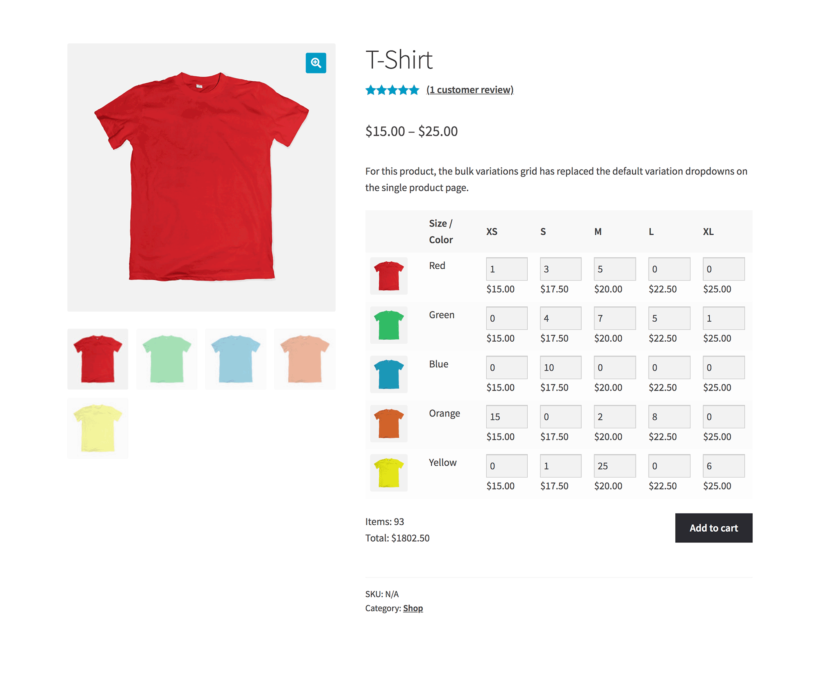 WooCommerce Bulk Variations lets you create variable products with either one or two attributes for each t-shirt variation. You can choose to display t-shirt variations in either row or column layout and add an image column to display product variations.
If you sell t-shirts to the general public, you can build a hidden wholesale area with special B2B pricing.
WooCommerce Wholesale Pro helps you create a hidden area that only wholesale customers can access, where you can offer B2B discounts and quick order forms. This way, you can also cater to wholesale t-shirt buyers without affecting the shopping experience of your retail customers.
Step #4: Managing orders
Next, let's take a look at the order management process or what happens when someone places an order.
Order management involves receiving, tracking, and fulfilling orders. This process begins when a customer places an order and ends when they receive their ordered package.
Once your online t-shirts website is up and running, here's how the order management process will work for your business:
If you're printing your own t-shirts, you will receive an email whenever someone places an order. After this, you can create a t-shirt and send it to the customer.
If you're using a print-on-demand service integrated with WooCommerce, new orders will automatically be sent to them and the order will be fulfilled with no input from you!
Step #5: Selling t-shirts on other platforms
You can design and sell t-shirts through your WooCommerce store and list them on other platforms to get more sales.
For example, if you'd like to list your t-shirts on Etsy, you can use the Etsy Integration for WooCommerce extension. Similarly, the Amazon and eBay Integration for WooCommerce extension lets you connect your online store with customers on Amazon's and eBay's global marketplace network.
In addition to this, you can add your WooCommerce products to Google Shopping results using the Google Product Feed extension. For this, you'll also need to sign up for a free Google Merchant Center account.
Sophia, the daughter of Barn2 directors Katie and Andy, uses the WooCommerce Bulk Variations plugin to sell t-shirts online. She learned how to design and sell t-shirts online while her school was closed during the COVID-19 pandemic.
Staying at home, Sophia found it easy to learn how to use WordPress and WooCommerce. She used WooCommerce Bulk Variations to make it easier for customers to order multiple t-shirt sizes and colors.
She initially ironed the designs onto the t-shirts at home and then switched to a print-on-demand service when she went back to school.
Her success story shows that you too can design and sell your own t-shirts online!
Start selling t-shirts today
Setting up an online presence for your t-shirts business is simple and easy. Using the plugins we shared in this article, you can maximize t-shirt sales and grow your business.
To recap:
Ready to start selling t-shirts online? Get the WooCommerce Product Table plugin today!