We've just released version 2.1 of WooCommerce Product Table. This contains some exciting new features that lots of our customers have asked for. There are various other changes and behind-the-scenes improvements (see Changelog). Here are the main headlines:
Open product images in a lightbox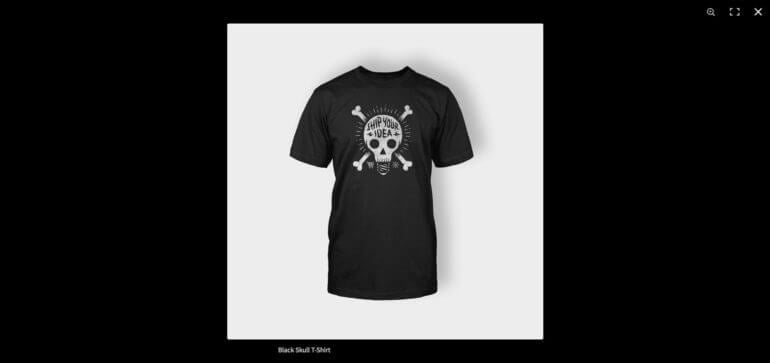 An image lightbox has been the most in-demand item on our feature request list for a while. Now, when you click on an image in the product table, the image will open up in a lightbox.
The lightbox uses the in-built Photoswipe JavaScript library built into WooCommerce to display the enlarged product images. This is a great way for customers to see a bigger version of the image without having to click through to the single product page. It's especially important since a lot of our customers use WooCommerce Product Table as a one-page order form, disabling any links to the product detail pages.
New support for variation descriptions when using separate variations
We added support for separate variations back in version 1.7 (June 2017). This is where each product variation option is listed on its own row in the table.
If you're listing each product variation on a separate row in the table, the description for each individual variation will now appear in the 'description' column. (Previously, the main product description would appear here and it was not possible to display variation descriptions.)
If there is no variation description then the main product description will appear in this column, as before.
New language translations
The WooCommerce Product Table plugin now contains complete translations for English, French, Finnish, German and Polish. Please see our article about using WooCommerce Product Table in different languages for usage instructions.
We're currently awaiting full translations for Italian, Spanish, Dutch, Norwegian, Swedish, Danish, Hebrew, Greek and Romanian, and hope to add these shortly. (In the meantime, there are already partial translations for most of these.)
We're always interested to hear from anyone who is interested in translating the plugin into other languages.
How to update
Existing users of WooCommerce Product Table can update to the new version via Dashboard > Updates in the WordPress admin. If you get any errors, please see our knowledge base article on problems updating the plugin.
If you're not using the plugin yet, get it today and start taking advantage of the new features.
What's next?
Next on the agenda are further improvements for using WooCommerce Product Table as a one-page order form. Watch this space for more new features...