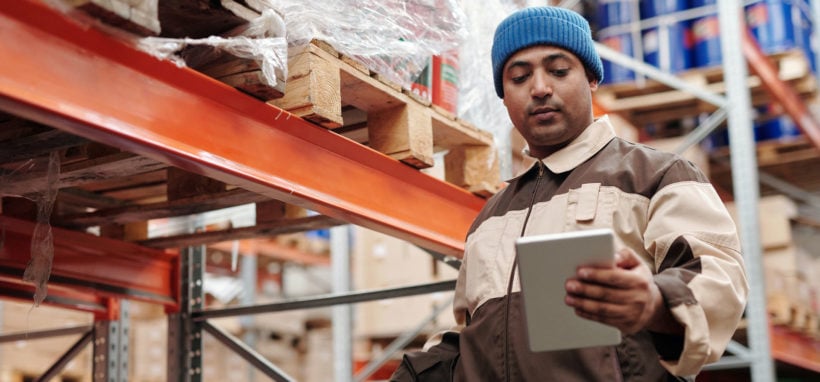 Discover the easy way to send the WooCommerce new order email to multiple addresses, depending on the supplier for each product or category.
When your WooCommerce store receives a new order, it sends an email notification to the same recipients regardless of which products have been ordered. But what if you want the 'New order' email to go to different people for different products?
For example:
Do you send order information to different suppliers, who then send the products to the customer?
Does your store route each order to a different vendor or distributor?
Do you need to send conditional emails depending on the product, product group or category in the order?
While WooCommerce can't send different emails per product, you can easily achieve this with the Advanced Notifications plugin. In this tutorial, I will tell you how to set up the plugin for this exact use case.
What new order emails does WooCommerce send?
As always, you should only install a plugin if WooCommerce itself doesn't have the features you need. Before we start, let's look at what emails WooCommerce itself sends to notify the admin of new orders.
I'm often surprised by how few people know that WooCommerce lets you add multiple admin email addresses to the New Order emails. To do this, just go to WooCommerce → Settings → Emails and add as many email addresses as you like to each notification. To add WooCommerce multiple email recipients, just separate each address with a comma: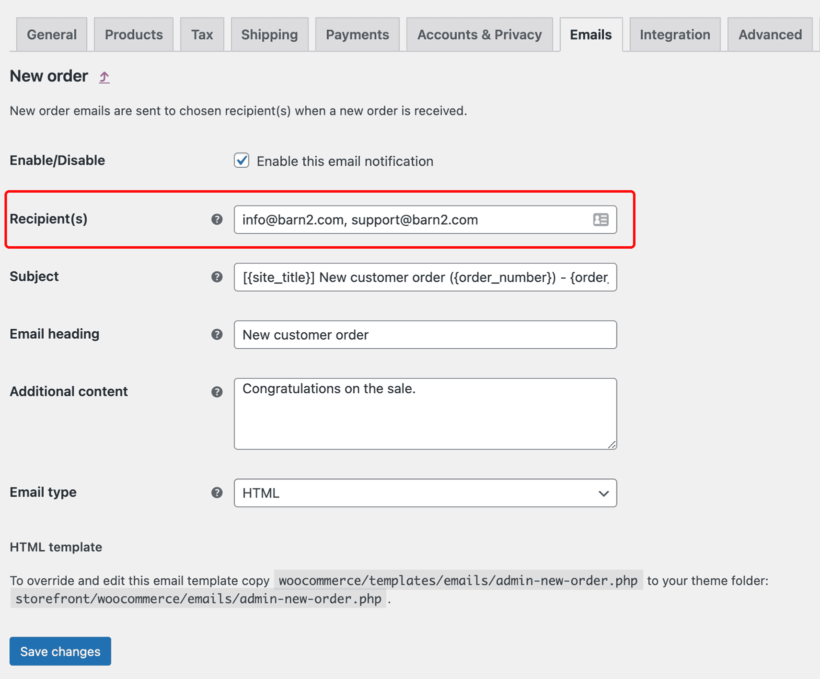 Add multiple recipients to the WooCommerce new order email
You can send each of the WooCommerce admin emails to multiple addresses. This includes the 'New order', 'Cancelled order' and 'Failed order' emails.
With this method, WooCommerce will send the new order email to the same multiple recipients. There are no options to send to different email addresses depending on the product ordered. You need the Advanced Notifications plugin for that.
Why would I want WooCommerce to send different email for different products?
Lots of stores sell products from a central website, allowing customers to choose products and check out with one cart. After the admin or store manager receives the order, they distribute it to the appropriate supplier who processes and fulfils the order.
Here are some examples of the types of store who need to notify different recipients of new orders depending on product or category:
Multiple suppliers. You need WooCommerce to send orders to the supplier of each product ordered.
Company departments. If different departments handle different types of products then each order needs to be routed to the correct team.
Product manufacturers. Many WooCommerce stores accept orders online, and pass the order to the manufacturer for direct fulfilment.
Dropshippers. More and more WooCommerce drop shipping stores are being launched, and need an easy way to forward each order to the dropshipper.
Product distributors. You might sell products from a central website with one cart, and have different distributors despatch the orders.
Franchise networks. Similarly, orders might be taken centrally on the main website and sent to a local franchise outlet for processing and delivery.
Restaurant groups. If you're using our WooCommerce Restaurant Ordering plugin to take food orders for multiple locations then you need a way to automatically send the order to the correct branch.
Multiple business locations. Many businesses sell from multiple outlets, each of which processes the orders which are local to them.
Letting customers choose the provider. Some WooCommerce stores sell other companies' products and let the customer choose which provider to receive it from. This is a popular choice for comparison stores.
All of these stores need to send different emails for different products or categories.
The old way
Ok, so now we know why lots of stores need to send orders to different suppliers. The next question is how to manage the process as part of your WooCommerce supplier management.
The worst way you can handle this is to manually forward each order to the supplier. That's incredibly inefficient, while increasing the likelihood of mistakes and human error. No one wants orders to get lost!
It's much better to have WooCommerce send order to supplier, in a completely automated process. This cuts out the manual work, saving you time and money.
In the next section, I'll explain how to do this using the Advanced Notifications plugin from WooCommerce.com.
Tutorial: How to send WooCommerce order emails to different addresses per product
Plan your store structure
The Advanced Notifications plugin is super-flexible. It lets you choose whether to send different WooCommerce emails per product category, or add suppliers to products directly.
Think about how your store is structured:
Do your suppliers correspond to your product categories? For example, you might have a lampshades category which is fulfilled by Supplier A and a lightbulbs category which is fulfilled by Supplier B. With a neat category/supplier relationship like this, you should set up a new order email notification for each supplier and select their product categories. That's easier to set up and manage than selecting each of the supplier's products individually.
Alternatively, do products within each category have different suppliers or distributors? If there's no direct relationship between your product categories and suppliers, then you'll need to add additional email recipients per product.
I'll show you how to set up both options next.
Create WooCommerce order emails for product categories
First, get Advanced Notifications and install it on your WordPress site.
Go to WooCommerce → Notifications and click 'Add Notification' .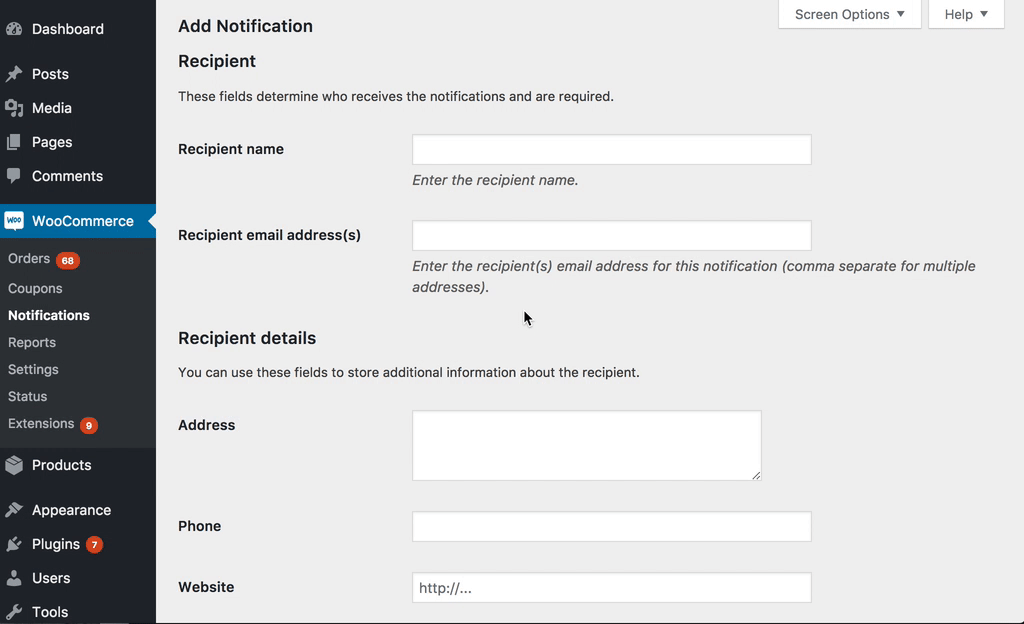 Enter the email addresses of the people who you want to receive the new order emails.
Now go to the 'Notification triggers' section and select the product categories that the supplier is handling for you.
Repeat the process to create a different notification for each supplier. Each notification should have different product categories selected. That way, suppliers will receive an email whenever a customer places an order containing their products.
Use WooCommerce to send different email per product
Make sure the Advanced Notifications plugin is installed on your WordPress website.
Go to WooCommerce → Notifications and click 'Add Notification' .
Enter the email addresses of the supplier who will receive the new order emails for the product(s).
Now go to the 'Notification triggers' section and select per-product triggers.
Next, go to the 'Edit Product' screen for one of the supplier's products.
Scroll down to the 'Product data' section and find the 'Notifications' option in the 'General' tab. Select the suppliers or distributors who should receive an order whenever someone orders the product.
Repeat steps 5 and 6 until you have added all your suppliers to the appropriate products.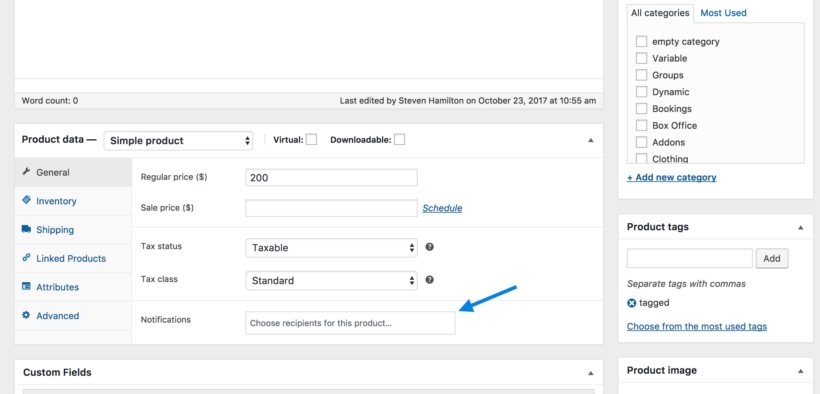 Will suppliers see each other's products?
Possibly.
With the 'category' option, each recipient will see all the products ordered. If the customer ordered products from multiple suppliers, then each supplier will see the full order.
With WooCommerce per-product emails to suppliers, each supplier only sees the products that they need to send.
Can I send emails based on shipping method instead of product or category?
The Advanced Notifications plugin also lets you send different New Order emails for each shipping class. Set up your shipping classes in WooCommerce itself and link them to your shipping methods. Next, create an advanced notification for each shipping class. This should contain the email address for the shipping carrier.
When a customer places an order, WooCommerce will send an email direct to the shipping carrier. It doesn't matter which products they ordered.
Can I send customer emails to multiple recipients?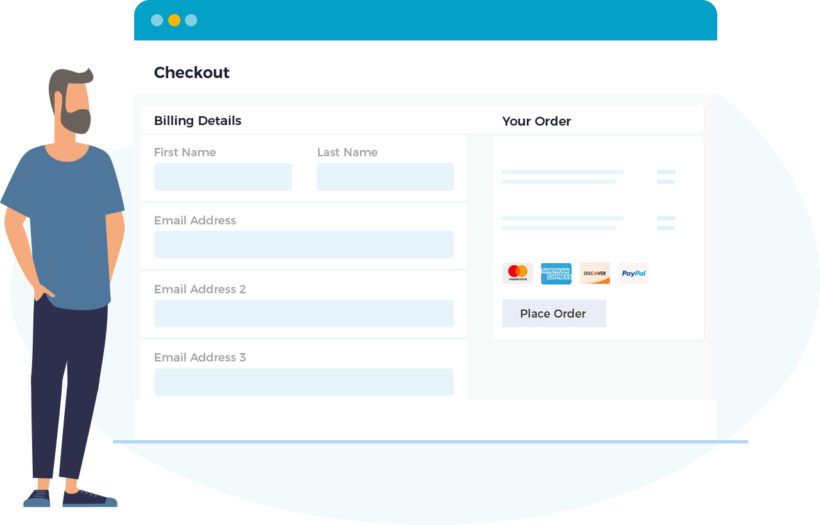 The Advanced Notifications plugin is all about adding extra recipients to the order notification emails sent to the admin.
If you want to send different additional emails per customer then you need the WooCommerce Multiple Email Recipients plugin instead. Use it to add extra email addresses for each customer. For example, a customer might want to add their 'Billing' contact as a WooCommerce BCC to receive the invoice emails.
You can choose how many additional email addresses to allow per customer. Customers can add extra recipients on the Account and Checkout pages. You can also add extra addresses yourself in the WordPress admin.