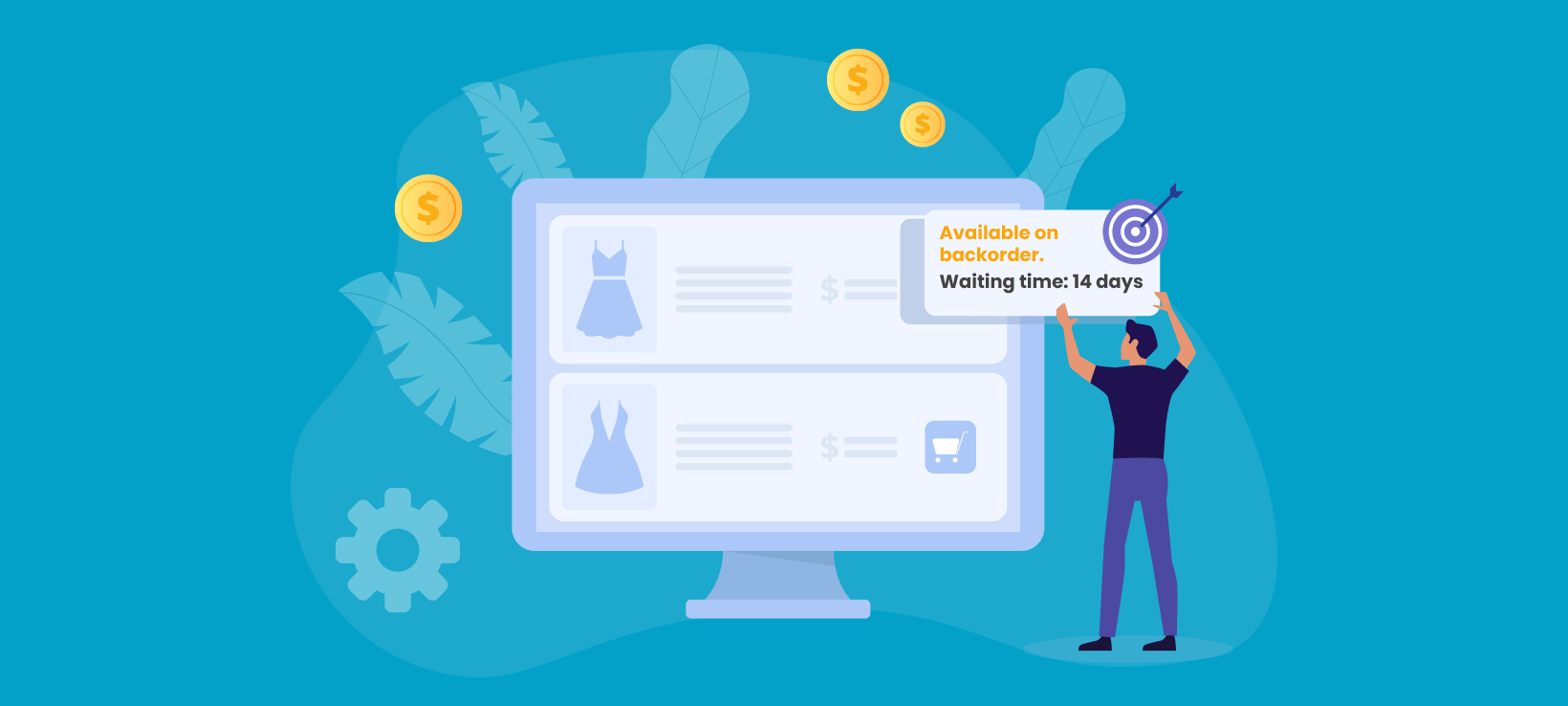 All stores that sell physical products will run out of stock at some point. But that doesn't mean you need to lose the sale! The solution is to use WooCommerce backorder products instead of simply marking them as out of stock.
Most WooCommerce store owners get it wrong when they run into stock issues. Common mistakes include:
Marking products as out of stock. The customer looks elsewhere and they end up losing the sale.
Enabling backorders without providing the right information. Even if a store owner enables backorders, they often fail to provide information about when the product will be sent. Customers don't want to take the risk and end up shopping elsewhere.
Adding a 'Notify when back in stock' plugin. Store owners use a 'Notify when back in stock' plugin to communicate product availability to customers. Customers don't want to wait so they still look elsewhere.
This complete guide to WooCommerce backorders will teach you everything you need to know about how to effectively manage products that are on backorder.
You'll learn how to use the backorder features that come with WooCommerce out of the box, and how to enhance customer experience with some extra plugins. These enable you to communicate more clearly with customers and do everything you can to avoid losing the sale – even though the product isn't available for order right now.
The end result: more sales and revenue for you!
What are WooCommerce Backorders and why should you use them?
Backorders are orders of products that are currently unavailable. Simply put, if your store is facing demand for products that are out of stock but still in production, you can offer backorders to customers by communicating the estimated production time, next availability, or even offer pre-orders. 
Offering backorders allows you to:
Retain the interest and engagement of customers who might be disappointed that your product isn't available

Allow internal pre-orders for products that are in production but not in stock 

Assess your inventory and production requirements better

Assess your pricing and product value based on demand



How to put products on backorder in WooCommerce
If you're using WooCommerce to power your online store, you can easily put products on backorder. Here's how:

Open up the product you want to put on backorder in the Edit Product screen. Scroll down to the Product data section and click on the Inventory tab. Finally, set the Stock status to On backorder using the dropdown menu.

In addition to this, you can also select the Manage stock? option to enable stock management at the product level. Here, This way you can choose to allow backorders either by selecting:
Allow: product will be displayed as "In Stock" to the customer, with no indication of backorder. You will need to keep track of this and manufacture products

accordingly, which isn't always a reliable option

.

Allow, but notify customer: Here, the product will be displayed as "Available on Backorder" to the customer. They can then purchase the product normally.
However, this approach has several limitations.
Why default WooCommerce isn't enough for backorder management
If you select the

Notify

option then customers are told that the product is on backorder but they aren't given any information about when it will be

dispatched

Product listing pages like the main shop page and category pages do not have clear information on which products are on backorder.

The more products your store offers, the

more times

you may need to edit each product to set on backorder. This can be a very tedious and repetitive task, which you'd rather not spend so much time on.

WooCommerce doesn't offers any

function

to export a list of backorder products 

Additionally, there's no function to apply any filters on products to set on backorder for easy data management
Ultimately, it can be This is terrible for the user experience. Customers might find a product they're interested in purchasing while browsing through the shop page only to find out that it's on backorder. This can leave them frustrated and less willing to visit your store again. 
All of this points to the need for better communication with customers regarding stock availability and backorders.
Display better information about WooCommerce backorder products
As an online store owner, you want to make it clear to customers which products are on backorder. Doing this will help you deliver a better user experience and maximize sales. You can:
[/checkmark_list]
Display clear information on backorder product pages
You can use the WooCommerce Lead Time plugin to display information about WooCommerce backorder products on the single product page.
Get WooCommerce Lead Time if you haven't done so already. Install it on your WordPress website and activate it.
Head over to WooCommerce → Settings → Products → Lead time to configure the plugin's settings. The plugin lets you choose which types of products you want to display lead times for based on stock status. Tick the checkbox next to the On backorder option.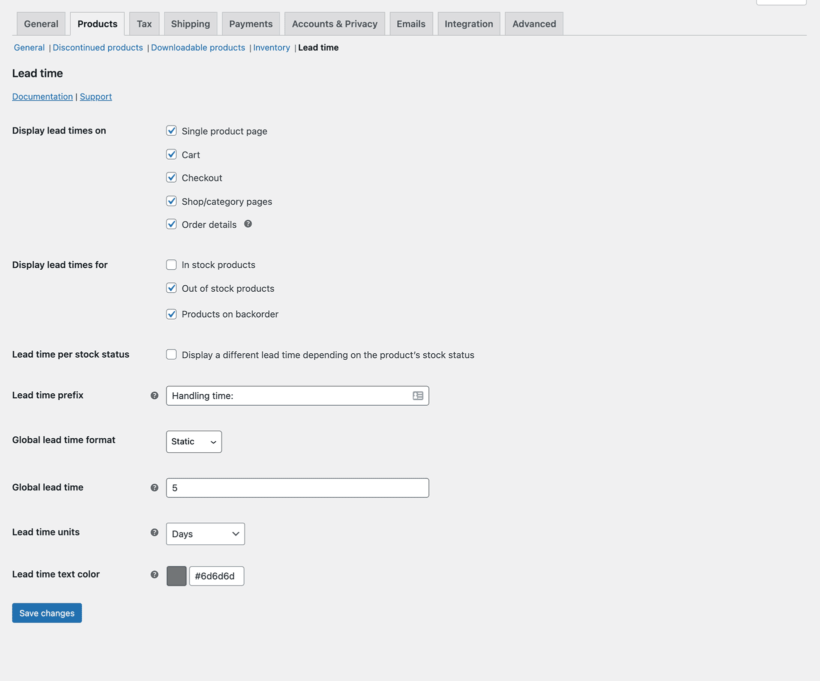 You should also tick the 'Lead time per stock status' box. This lets you add a lead time message which only appears for back order products, while adding different messages for other stock statuses. For example, you could set the back order waiting time to "2 weeks" while setting the lead time for in stock products to "2 days".
You can also add an individual lead time message for each product or variation indicating when it will be dispatched. This tells customers what to expect so they can make an informed decision on whether to order.
Display the back order stock status on the main shop page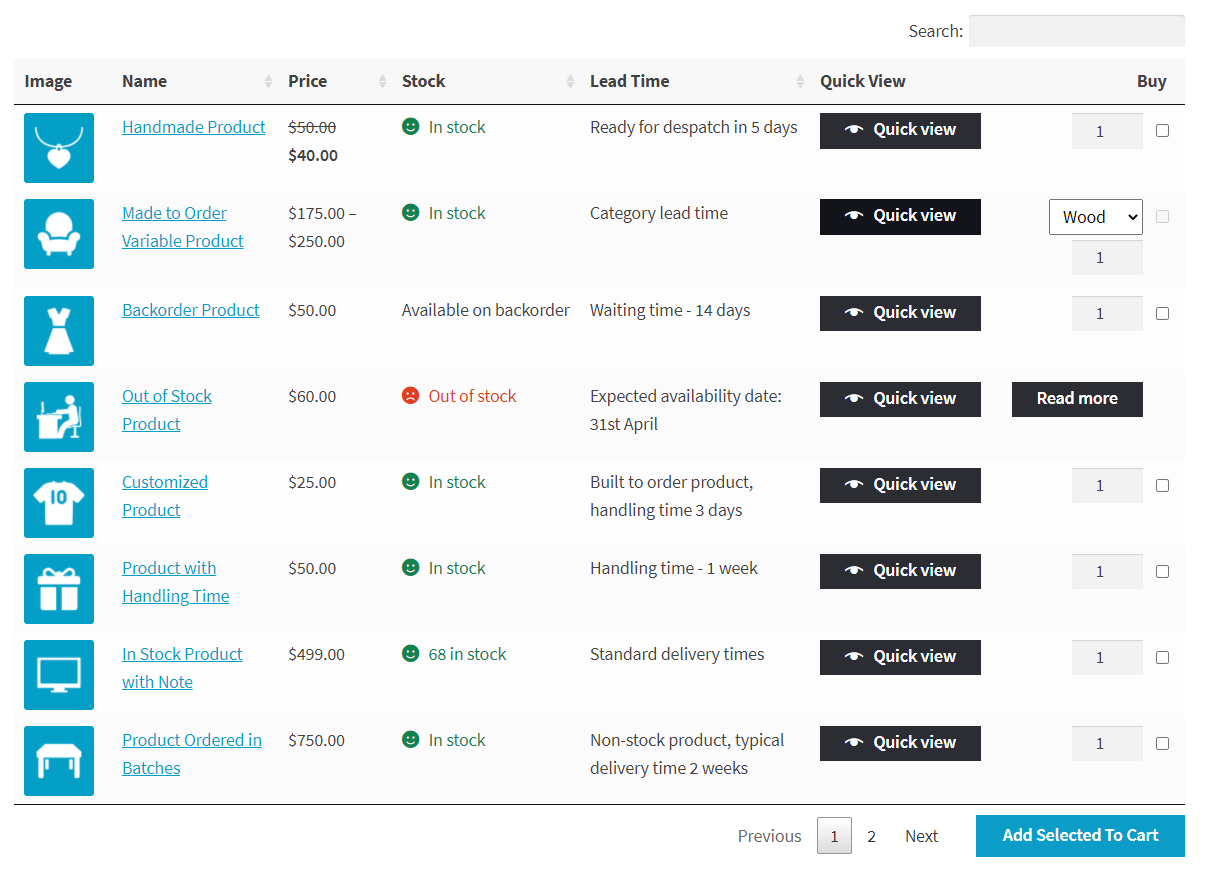 You can use the WooCommerce Product Table plugin to display the stock status directly on the main shop page. This handy plugin lists your products in a neat table layout on the shop and category pages in your store.
The table includes more information than WooCommerce itself normally displays on these pages, including a 'stock' column. That way, customers can see which products are on backorder and how long they'll be waiting without having to visit the individual product pages.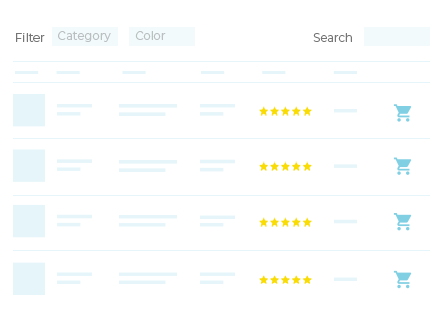 WooCommerce Product Table Plugin
Add more product information to the Shop page, complete with
If you haven't done so already, get the WooCommerce Product Table plugin and install it on your website. Activate the plugin's license key to start using it.
Next, navigate to WooCommerce → Settings → Products → Product tables to configure the plugin's settings.

Under the Shop integration section, tick the checkboxes next to Shop page and Product categories to show product tables on the main shop page as well as on category pages.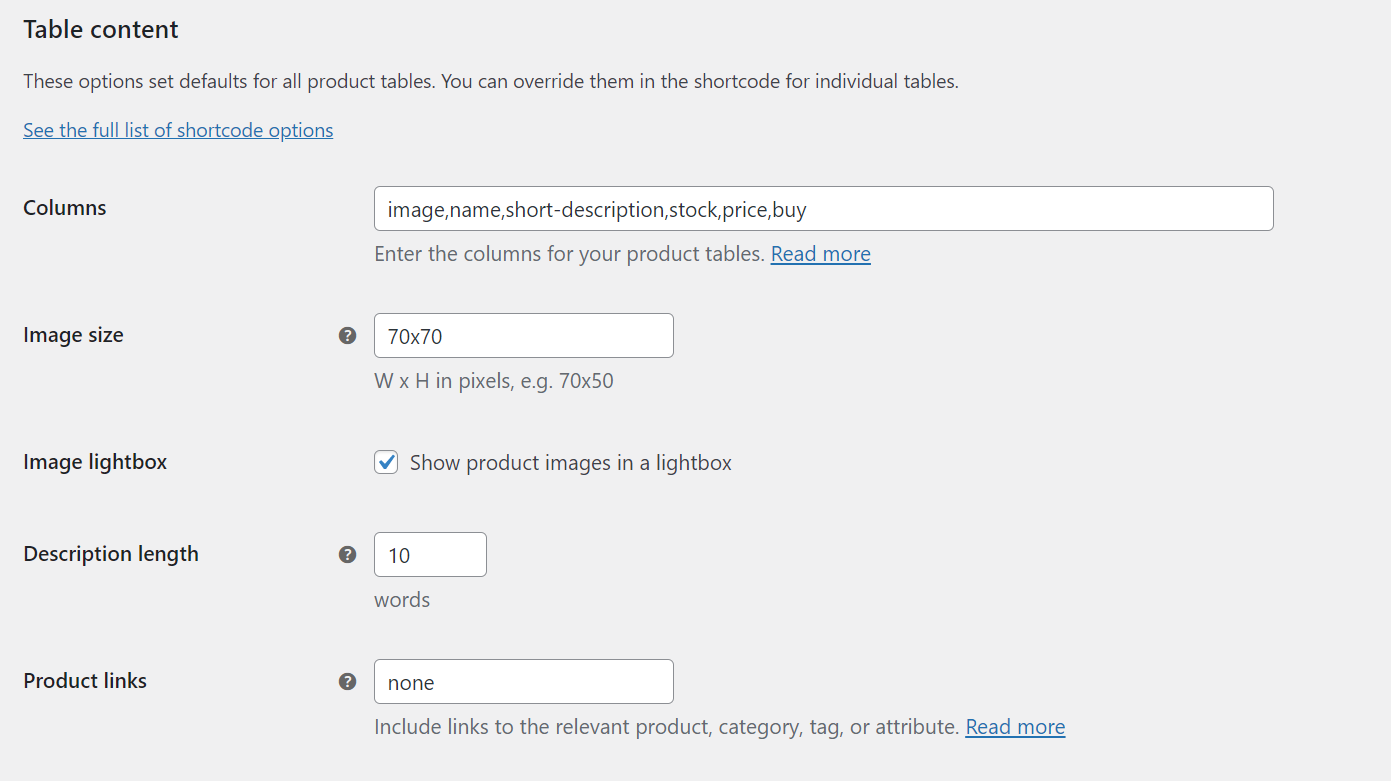 Next, you need to decide which columns you'd like to show in the product table. You can pick which columns to display but we recommend including a stock column in the table. This will let you indicate WooCommerce backorder products. In other words, customers will see which products are on backorder in the Stock column.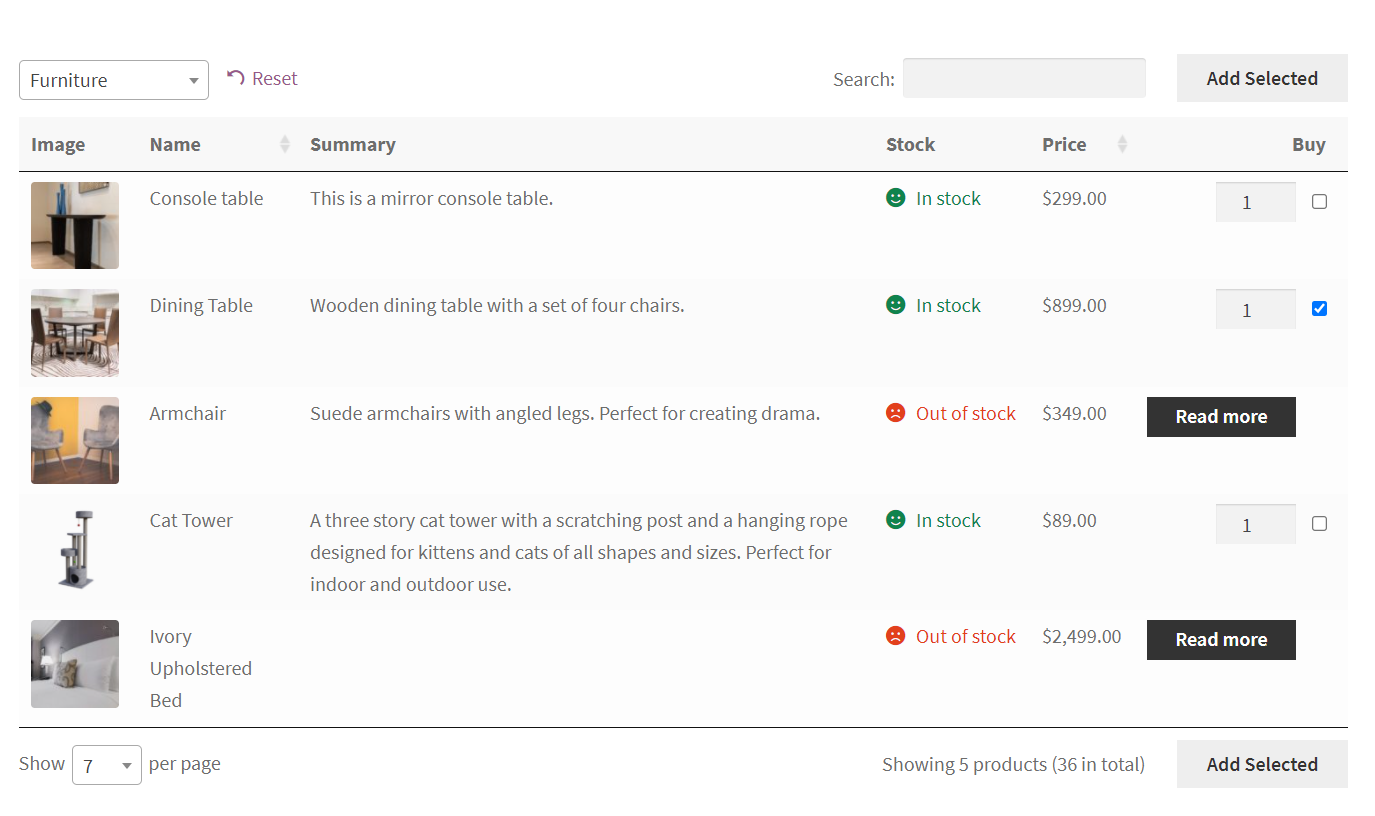 It's also worth mentioning that WooCommerce Product Table lets you display product variations in the table, too. If a customer selects a variation that is on backorder, the backorder status will be displayed too.
Plus, if you're using the WooCommerce Lead Time plugin on your website, you can also include a lead-time column that displays the backorder message. It will look something like this: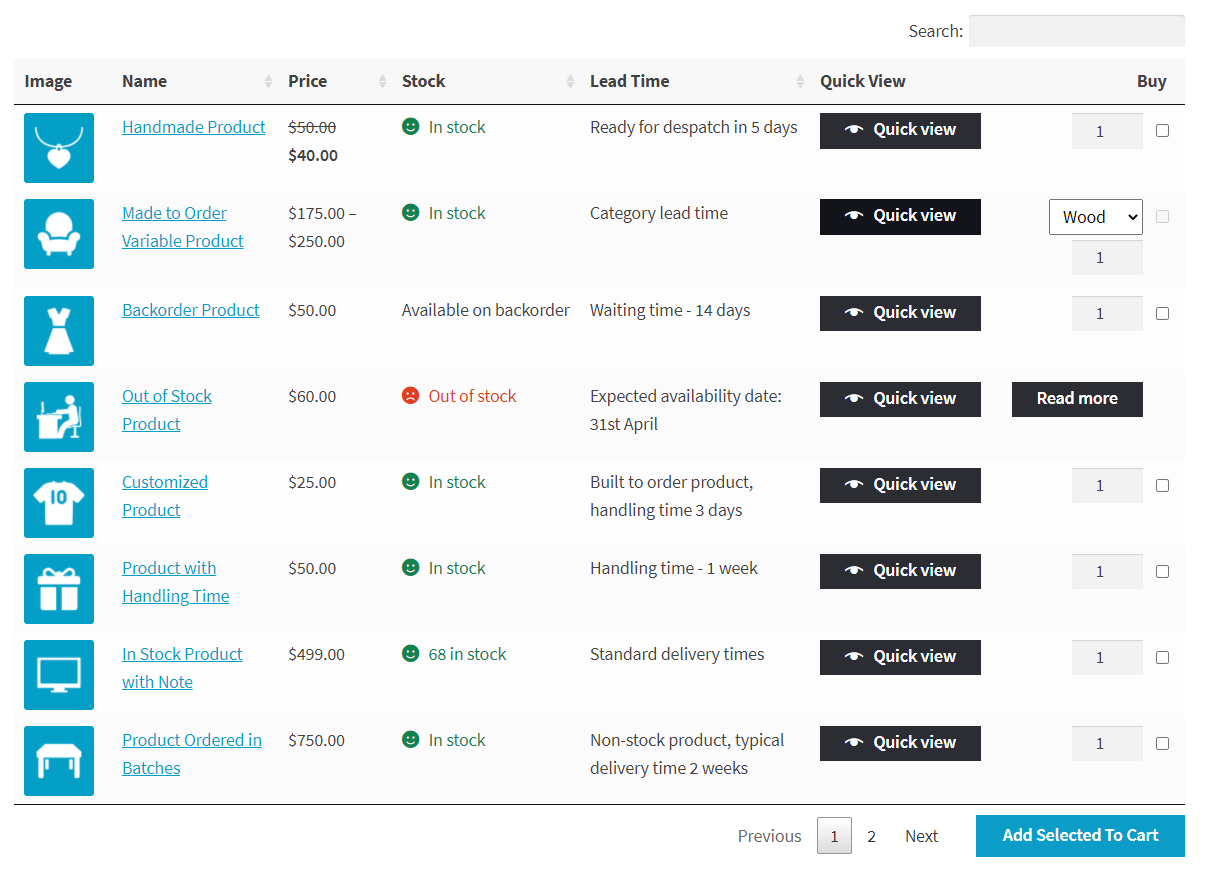 This way, you can display a WooCommerce backorder notification directly on the shop page and on category pages. As you can see, this is a much better way to manage customer expectation than the basic management of backorders that comes with WooCommerce itself.
List backorder products separately from other products
You can use the WooCommerce Product Table plugin to list backorder products separately from other products in your store.
Since backorder products are available to purchase, they're displayed the same way that in stock products are displayed. You can hide out of stock products from being displayed in the product table. This way, customers will only see products that are in stock and backorder products.
Check out our article on how to display backorder products and variations for more information.
Where to get your WooCommerce Backorder plugins
WooCommerce lets you change the status of backorder products and let customers know that they're on backorder. To improve customer experience even further and avoid losing the sale, you can use:
Used alone or together, these plugins improve the handling and communication of backorder products in your WooCommerce store.
Final Thoughts
Setting the right expectations with your customers is a big step towards earning their trust and loyalty. By enabling backorders on your WooCommerce website and communicating relevant information, your customers can make better and easier purchase decisions. This increases the chances of repeat customers, boosts your revenue and grows your brand presence.
Using smart, well-designed plugins like WooCommerce Lead Time and WooCommerce Product Table, you can customise your store while simplifying and enhancing your customer experience.
WooCommerce Lead Time
The only plugin to show backorder times on the WooCommerce product page.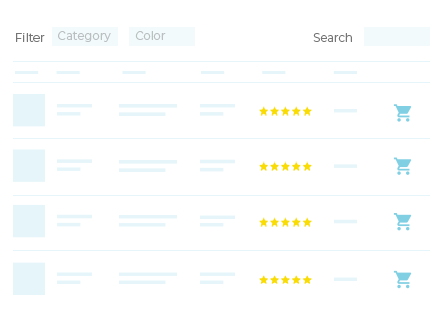 WooCommerce Product Table Plugin
Display stock and backorder product information directly on the main Shop page.