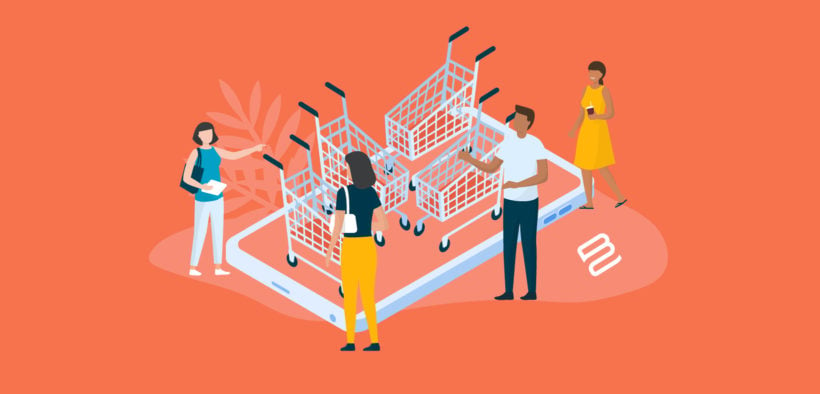 Looking to set up a WordPress shopping cart to accept payments on your WordPress site? There are all kinds of reasons you might want to add an eCommerce shopping cart to your site, but WordPress doesn't offer this as a built-in feature.
Thankfully, there are a number of free and premium WordPress plugins that you can use to add a shopping cart to your site.
In this post, we've collected eight of the best shopping cart plugins for WordPress.
After we explore each plugin, you'll also find a step-by-step guide on how to add a shopping cart to your WordPress eCommerce site using WooCommerce, the plugin that we consider to be the best shopping cart solution for WordPress.
Finally, we'll share some extensions that you can use to further enhance your WooCommerce shopping cart, like displaying your products in a shopper-friendly table layout: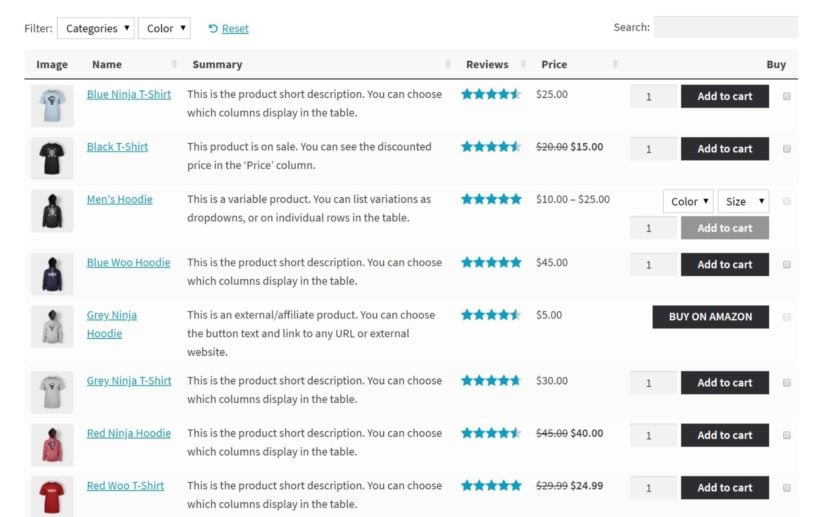 Why you need a WordPress shopping cart plugin
While WordPress is the most popular way to make a website by a large margin, it doesn't come with any built-in shopping cart or payment processing features.
So while you can write about your products on a basic WordPress website or WordPress blog, you cannot sell them directly from your website. Your only options then are to use inconvenient workarounds, like having people send you money directly via PayPal.
A WordPress shopping cart plugin changes that, letting you sell products directly on your website. You'll be able to…
List one or more products for sale.
Let shoppers add one or more products to their "cart" and view those items on a dedicated shopping cart page.
Process credit card payments at your website checkout via a variety of payment gateways, including PayPal and Stripe.
Some shopping cart plugins go even further, with integrations for popular shipping couriers, detailed order management features, and lots more.
By using such a WordPress plugin on your site, you're able to create a much more user-friendly, personalized shopping experience for your visitors. When you make it more convenient for people to buy your products or services, you naturally increase the chances that visitors will make a purchase.
8 best WordPress shopping cart plugins
Below, we've collected eight of the best WordPress plugins that add shopping cart features to your site:
WooCommerce
Easy Digital Downloads
BigCommerce
WP EasyCart
WP eCommerce
Ecwid Shopping Cart
WordPress Simple PayPal Shopping Cart
Cart66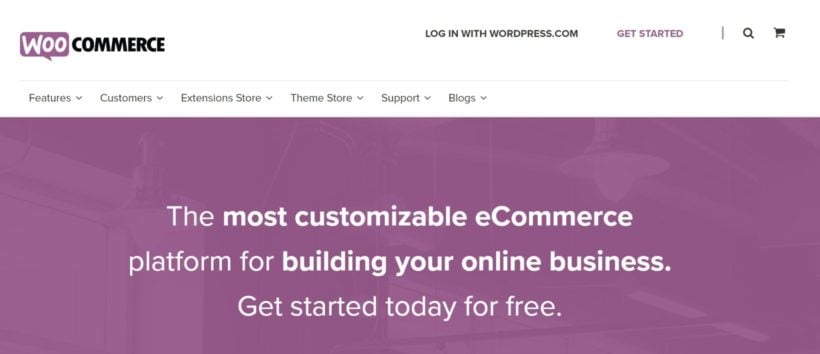 In our opinion, WooCommerce is the best WordPress shopping cart plugin for most people.
WooCommerce is not only the most popular WordPress eCommerce plugin, but it's also the most popular way to make an eCommerce store of any platform according to BuiltWith.
WooCommerce is a free, open-source plugin that helps you sell both physical and digital products on your website. You can accept credit card payments via a number of different payment gateways, including Stripe, PayPal, Amazon Pay, Authorize.net, and many other options.
You can also offer offline payment options, like cash on delivery or check. And once an order rolls in, you get a convenient dashboard area to manage the status of your orders.
If you're selling physical products, you can connect to a number of shipping options, including USPS and FedEx.
WooCommerce will work with any WordPress theme, but the developer offers its own free Storefront theme, which is a great place to get started if you need a WordPress theme for your shopping cart.
Another great thing about WooCommerce is its extensibility and customization options. Because it's so popular, you can find thousands of add-ons to add more features to your WooCommerce shopping cart.
For example, WooCommerce Product Table lets you list your products in a table view and WooCommerce Quick View Pro lets you add a quick view of your product to your store.
If needed, you can also make all or some of your store private, and you can also manage your store on the go, thanks to dedicated iOS and Android apps.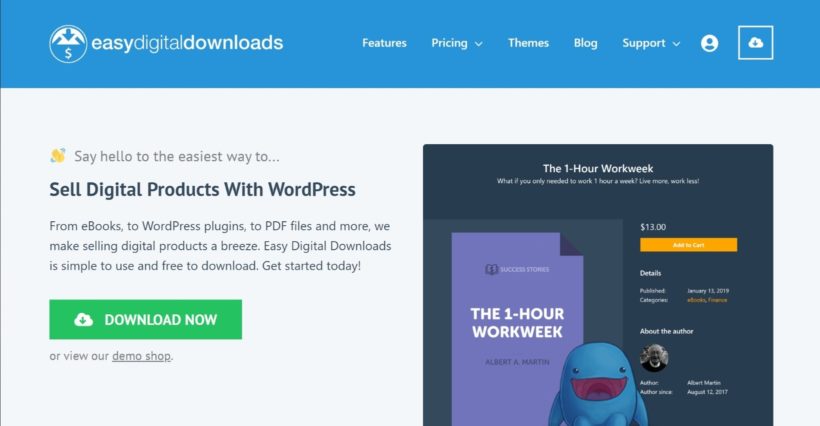 Easy Digital Downloads is a popular WordPress eCommerce solution for selling digital goods or services.
For example, it makes a good option for eBooks, photography, audio files, etc. But it doesn't make a good option for physical products.
You can connect Easy Digital Downloads to a range of payment gateways, including PayPal and Stripe. Shoppers will then be able to choose their preferred payment method when they check out.
Easy Digital Downloads doesn't have as many extensions, but you can still find helpful tools. For example: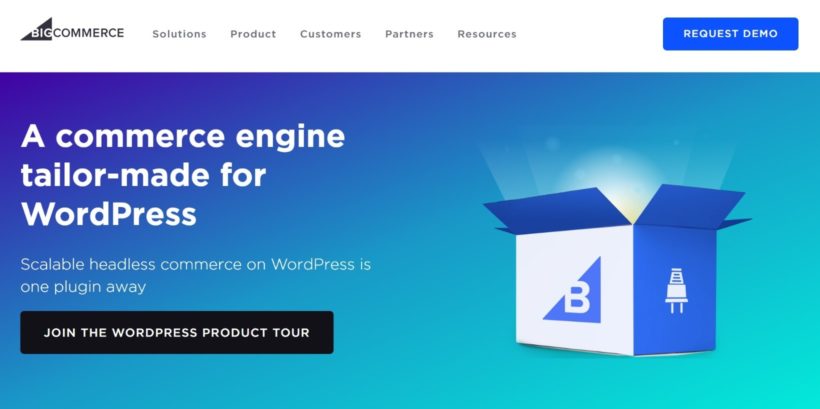 BigCommerce is a popular standalone eCommerce platform. While it does use a hosted approach, BigCommerce is unique in that it still locally stores any products that you add via your WordPress dashboard, which makes it great for a WordPress eCommerce website.
This means you can still create a product table layout using the Posts Table Pro plugin, despite BigCommerce using the hosted approach.
BigCommerce is a bit pricey, though - the cheapest plan will still cost you $30 per month.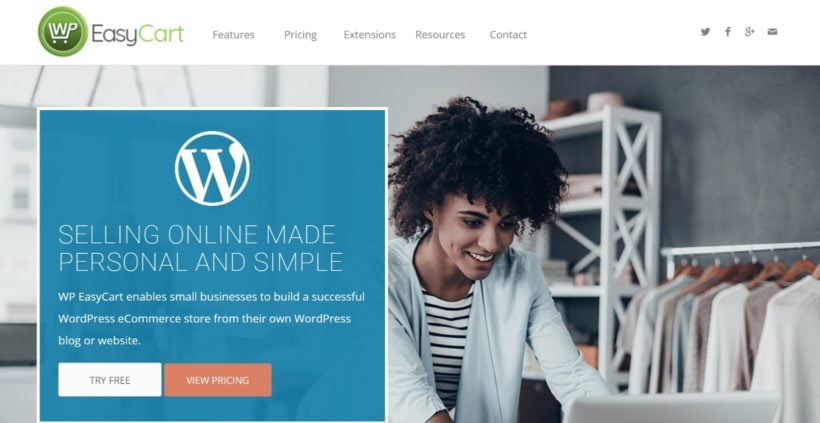 WP EasyCart is a simple WordPress shopping cart plugin. It's not as feature-rich as something like WooCommerce, but it can make a good option if all you need is a simple shopping cart page.
There are two premium versions that add support for more payment gateways, a Mailchimp integration, shipping options integrations, and lots more.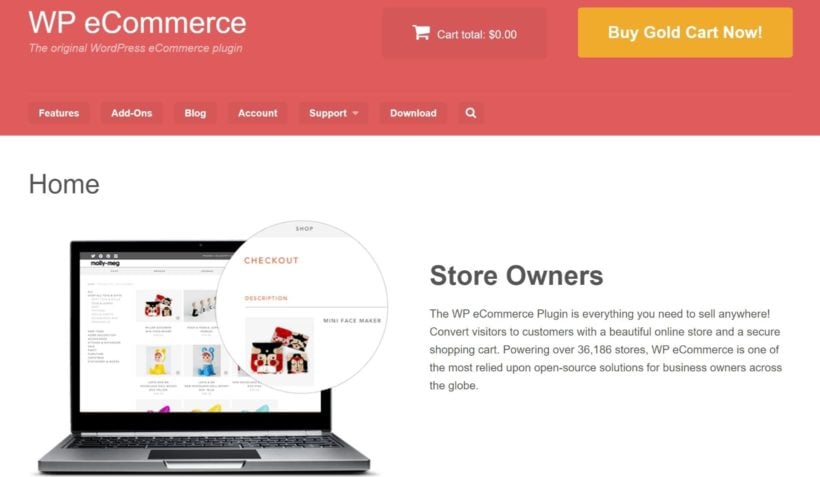 Though it's since been eclipsed by WooCommerce, WP eCommerce is one of the oldest WordPress shopping cart plugins, launched all the way back in 2006.
It can help you sync with dozens of different payment gateways and ship products with dedicated integrations for popular couriers.
While WP eCommerce is still definitely functional, most people would be better served by sticking with WooCommerce as WooCommerce receives more development attention and has a much larger extension marketplace.
WP eCommerce does offer some of its own add-ons for features like memberships and subscriptions, and you can also integrate it with the Posts Table Pro plugin to create a table layout of your products.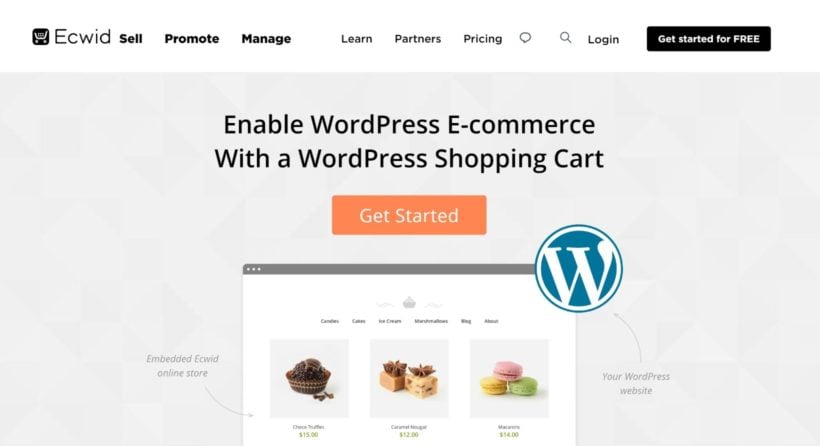 Ecwid is a cloud shopping cart service that you can integrate into your site via a dedicated WordPress plugin. The setup process is easy and, once you connect your site, you can manage all of your products from inside your WordPress dashboard.
Still, it's important to remember that this is not a self-hosted WordPress shopping cart - Ecwid's servers are responsible for the checkout and payment features, not your own.
While this makes it easy to set up and start accepting payments, you are giving up some control in exchange for that simplicity.

As the name suggests, WordPress Simple PayPal Shopping Cart can be a good option if you just need a very simple WordPress shopping cart and you're happy to exclusively use PayPal for payment processing.
The plugin lets you add your own physical or digital products and give visitors the option to buy them directly or add them to their carts. They can then view the items on a separate cart page and pay via PayPal at checkout.
Again, a good simple option, but it lacks the flexibility of many of the other eCommerce shopping cart plugins.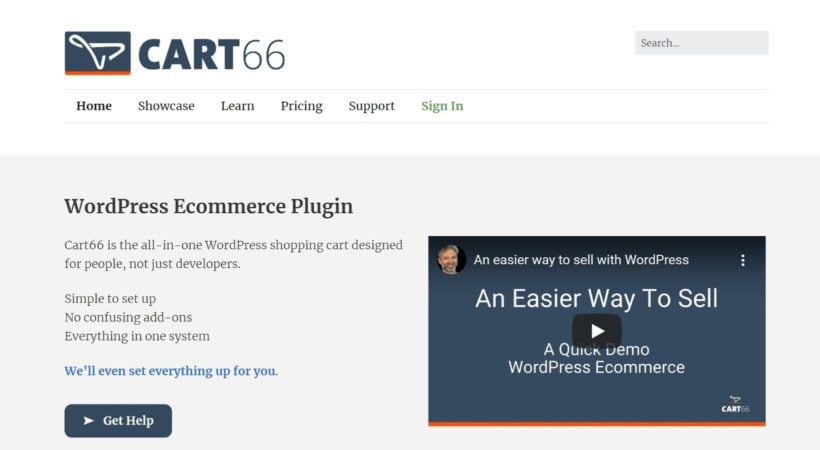 Cart66 Cloud is a WordPress-specific cloud shopping cart that makes it super easy to get up and running because Cart66 handles payments and PCI compliance for you.
You can use it to sell both physical and digital products, as well as recurring payments like a subscription or a payment plan.
It also includes social media integrations to help you sell products on Facebook and Twitter and a Google Analytics integration to help you track what's happening on your store and measure your SEO efforts.
How to set up a WordPress shopping cart with WooCommerce
Beyond being the most popular WordPress shopping cart plugin by a good margin, WooCommerce is also our recommended solution, which is why we've chosen it for this tutorial.
Below, we'll run through how to set up a shopping cart powered by WooCommerce on your WordPress site
1. Install WooCommerce and run the setup wizard
To get started, install and activate the free WooCommerce plugin from WordPress.org. As soon as you activate the plugin, you should see a prompt to launch the setup wizard: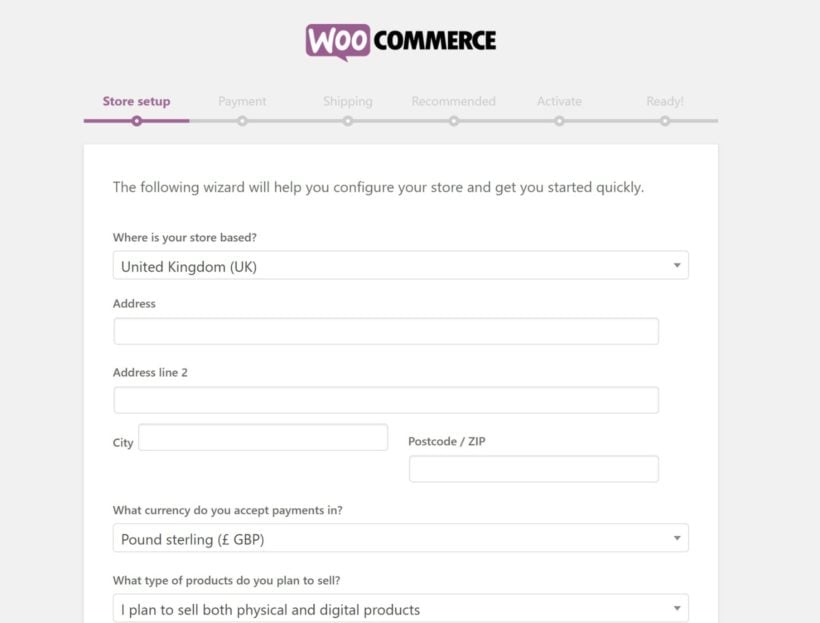 This wizard helps you set up all the basics for your store, including your...
Core pages, like the shopping cart and checkout pages
Payment gateways
Shipping options
You can always change things later on, so don't stress too much about any of your choices.
2. Add your products
Once you've configured the basics of your WooCommerce shopping cart, you're ready to add the products or services that you want to sell.
To do this, go to Products → Add New.
Here, you'll see a lot of similarities to the regular WordPress editor. You can enter your product...
Title
Description
Categories and tags
Images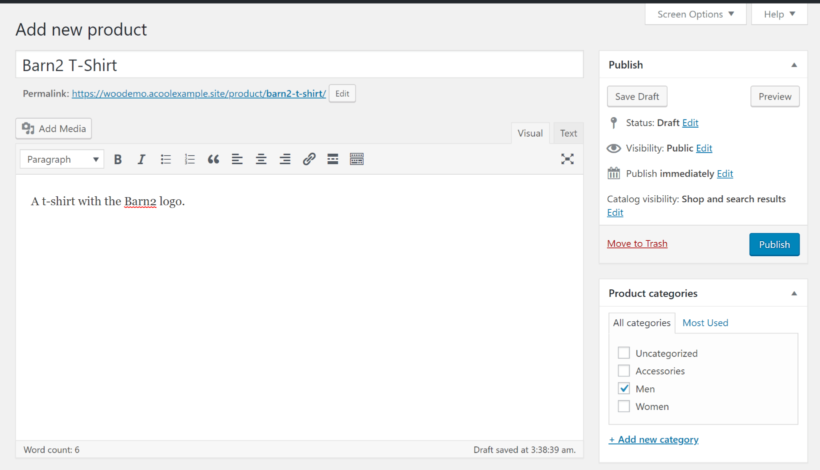 Then, to configure more product-specific settings, you can use the Product data box. This is where you enter information like…
Prices
Inventory status
Shipping details/measurements (if the product needs to be shipped)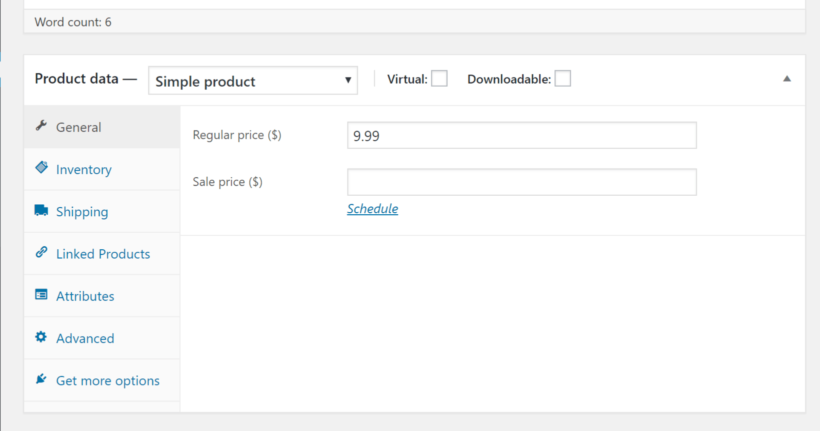 You can also set up attributes and variations, which let you sell different "versions" of a product. For example, different sizes or colors. Shoppers will be able to choose their preferred variant and you can charge different prices depending on what a shopper selected.
Another way to give your shoppers more choices is to offer product add-ons, which you can set up with the Barn2 Product Options plugin.
3. Enhance your WooCommerce shopping cart with a table layout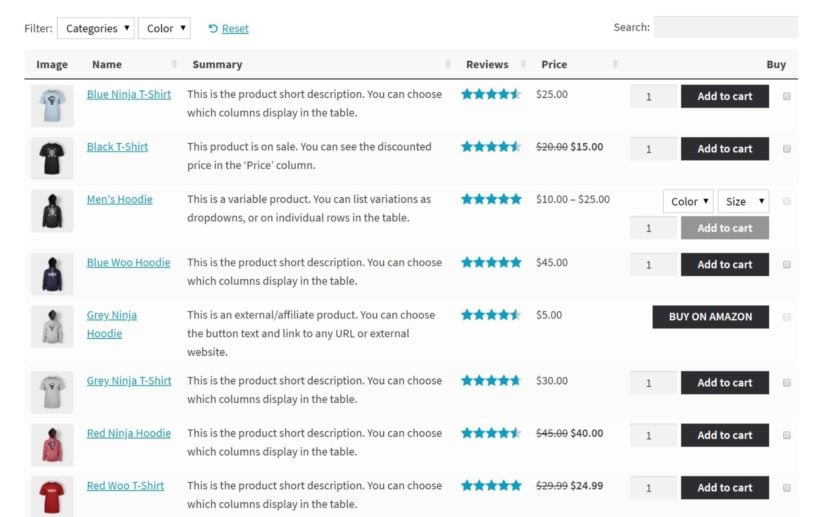 By default, WooCommerce lists your products in a layout that mimics most eCommerce stores, where you get a grid of product images, but not much detail about each product.
Depending on your needs, that could be what you want. But a lot of WordPress sites can benefit from using a table layout to list products because it lets you...
Display more information about each product.
Show more products in less space, which gets more eyeballs on your full product catalog.
Support "bulk add to cart" which lets shoppers choose multiple products to add to their shopping cart at the same time.
To add this table layout to your WooCommerce store, you can use the WooCommerce Product Table plugin.
WooCommerce Product Table gives you full control over exactly what information displays in your table layout and also includes helpful features like:
Product search, sort, and filter options
The ability to only include products with specific categories, tags, attributes, etc.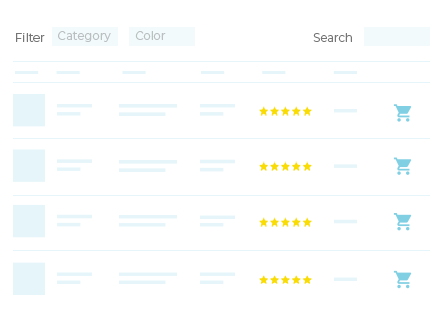 The best way to add a product table layout to your shopping cart.
To get started, you'll need to install and activate the WooCommerce Product Table plugin. Then, you can go to WooCommerce → Settings → Products → Product tables to configure its settings.
Some of the important settings that you can configure here are…
Columns - choose exactly what information to display for each product.
Image size and Image lightbox - control how your product table handles images.
Add to cart button - lets you add checkboxes so that shoppers can bulk add products to their carts.
Variations - if you're using variable products, this lets you control how to display them in your product table.
Product filters - lets you add helpful product filters to your table, like letting shoppers filter by category, tag, or product attribute.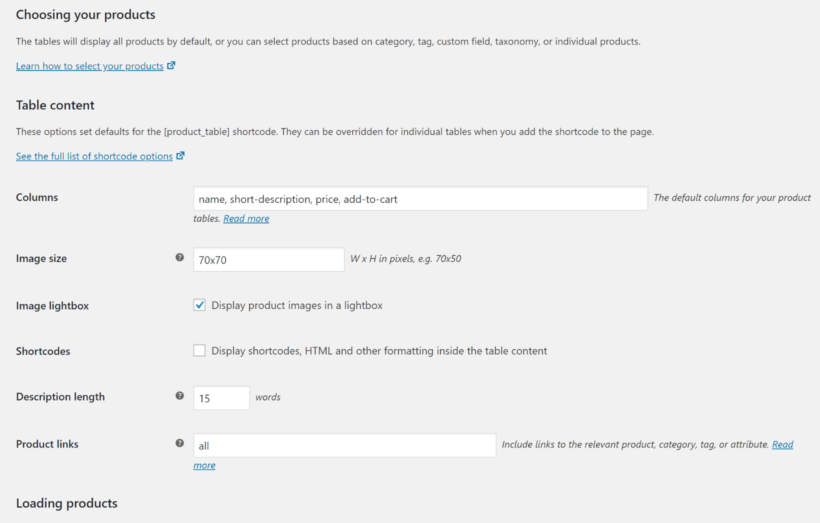 Once you configure the plugin's settings, you can create your front-end product table layout by using the [product_table] shortcode.
By default, the shortcode will display every single product that you want to sell via your WordPress shopping cart. If needed, though, you can add shortcode modifiers to only display products from certain categories, tags, or other taxonomies.
For example, if you want to display products from the t-shirts category, you could use this shortcode:
[product_table category="t-shirts"]
If you want to add additional filter options, WooCommerce Product Table also comes with dedicated filter widgets that you can add to your sidebar.
4. Add product quick view to your shopping cart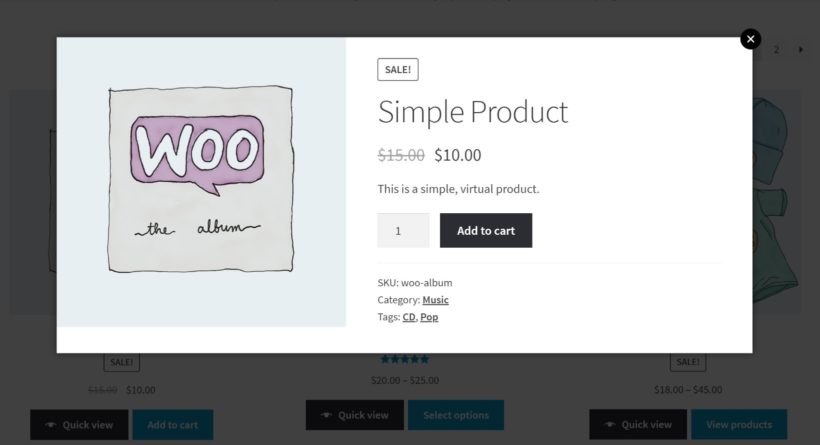 Another way to improve the usability of your WordPress shopping cart is with a product quick view.
With product quick view, you can let visitors view more details about a product without clicking through to the single product page.
To add a product quick view to your shopping cart, you can use the WooCommerce Quick View Pro plugin.
WooCommerce Quick View Pro works with both the "traditional" WooCommerce shop layout, as well as the table layout that you learned about in the previous section.
In your quick view, you have the option to display:
Product images and galleries
Reviews
Price details
Product description
Add to cart button
Product meta information (like categories and tags)
To get started, install and activate the WooCommerce Quick View Pro plugin. Then, you can go to WooCommerce → Settings → Products → Quick view to configure the plugin's settings: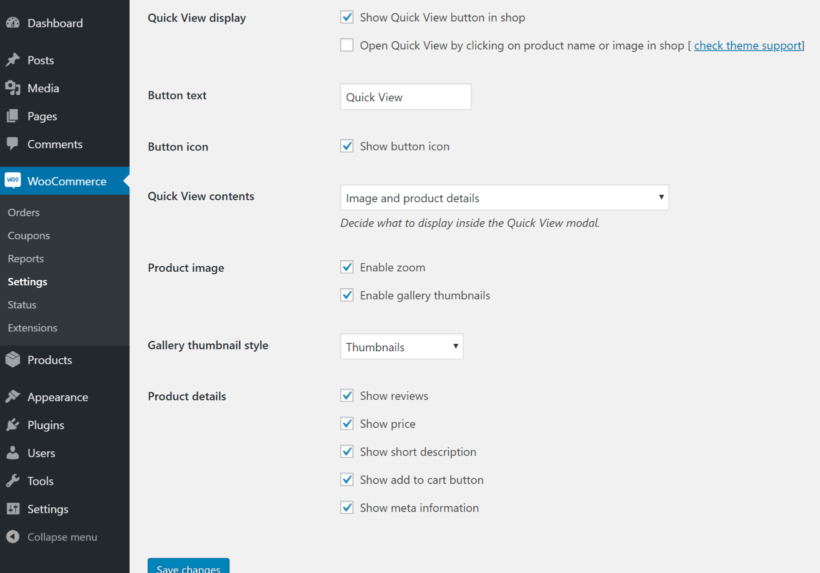 WooCommerce Quick View Pro activates itself on the traditional eCommerce layout by default.
If you're using WooCommerce Product Table to create a product table layout as you saw in the previous section, you can add a quick-view column to the WooCommerce Product Table settings to add a product quick view button to each item in your table.
5. Improve store navigation with WooCommerce Product Filters
Adding product filters to your store or products page can greatly help your customers narrow down their search and easily locate the product they are looking for. For this, I highly recommend setting up the WooCommerce Product Filters plugin on your website.
The plugin comes with powerful AJAX-based filters that can help your customers add filters to their search without reloading the page. You can smartly add custom filters that fit your store's needs. If you have various products in your store, you can filter by category, price, size, color, taxonomy, attributes, stock status, rating, etc.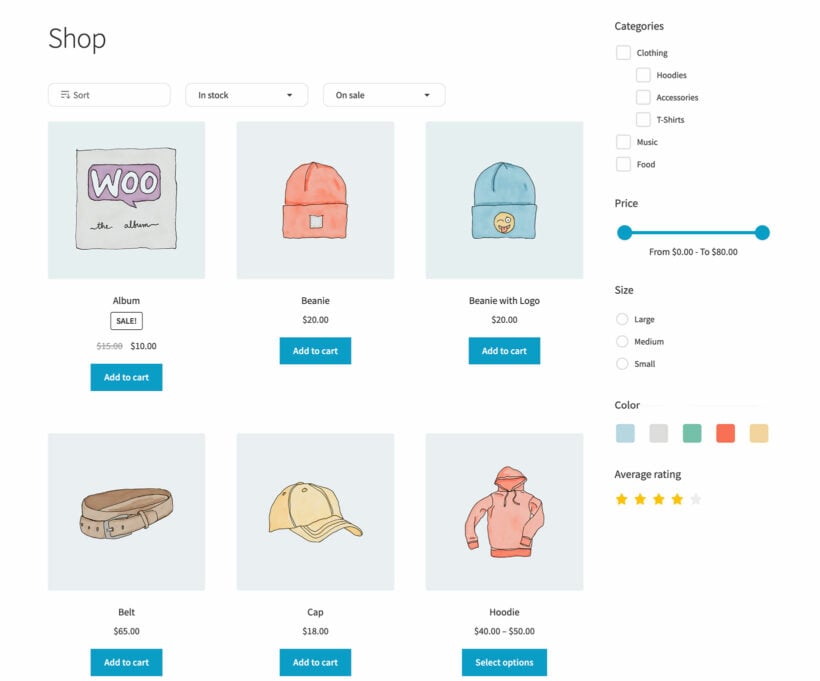 For mobile shoppers, you can display slide-in filters that do not take up space and can easily be applied to products. You can install and start using this plugin in barely minutes and once it's set up, it will continue to work its magic without the need for you to do any further upkeeping.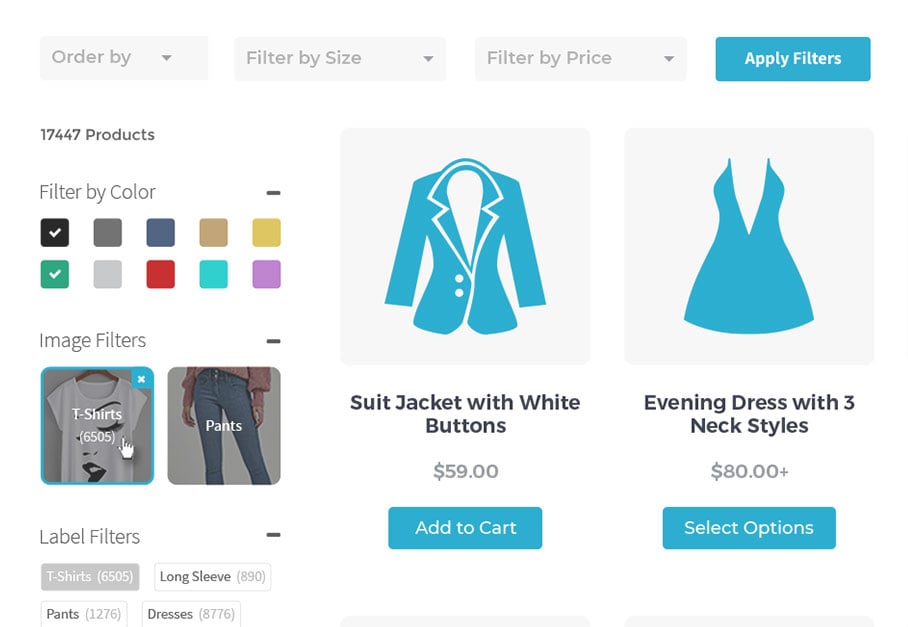 Grow your sales by helping customers to find exactly what they need - quickly and easily.
Best Practices: How to generate more sales from your WordPress shopping cart
Once you have a functioning WordPress shopping cart in place, you can turn your attention to getting more sales via your new shopping cart system and optimizing your conversion rates. Here's what we recommend:
Create a well-designed layout: Make sure that your product design and layout of the shopping cart offers all the details a customer might want to know while being precise and relevant. Use clear product images and make sure your page is optimized for mobile devices for the best customer experience.
Offer assistance: Show customers you care and help them make decisions easily by offering support. This could be something as simple as offering product tutorials (like a size guide), email or chat assistance for any queries, access to testimonials and social media etc.
Use product upsells and cross-sells: A quick and effective way to increase your online store sales is to show site visitors products related to their purchase. For example, a customer buying a guitar can be shown a guitar case, strings etc.
Have a fast, streamlined checkout process: Ensure that your checkout process isn't tedious and supports all popular payment methods like PayPal and Stripe. Offering coupons and discounts at checkout can give customers that final push to purchase!
Increase the default product quantity: Another way to subtly encourage larger orders is to increase the default quantity using a plugin like WooCommerce Quantity Manager. Customers can still purchase a single product if they want, but by increasing the "anchor" in their mind, you can boost the chances that they purchase multiple products.
Simplify navigation with product filters: To improve your customers' shopping experience, you can add product filters to your store. You can do this with a plugin like WooCommerce Product Filters, allowing your customers to find their desired product seamlessly. If you have a large store with products in multiple categories, adding product filters can be a great addition to your store.
Finally, if you're using the product table approach we outlined above, there are also a number of techniques you can implement to increase the conversion rates for your product tables.
Get started with a WordPress shopping cart plugin today
If you want to sell products directly from your WordPress site, you need a WordPress shopping cart plugin.
While we've shared eight quality shopping cart WordPress plugins in this post, our overall recommendation for most people is WooCommerce. Again, we're not the only ones who like WooCommerce - it's the most popular way to build an online store and powers 26% of the eCommerce stores in the top one million websites.
While the core WooCommerce plugin is great by itself, there's also a vibrant extension marketplace that you can use to further enhance your shopping cart. Two great options are:
Do you have any questions about how to get started with your WordPress shopping cart? Let us know in the comments!