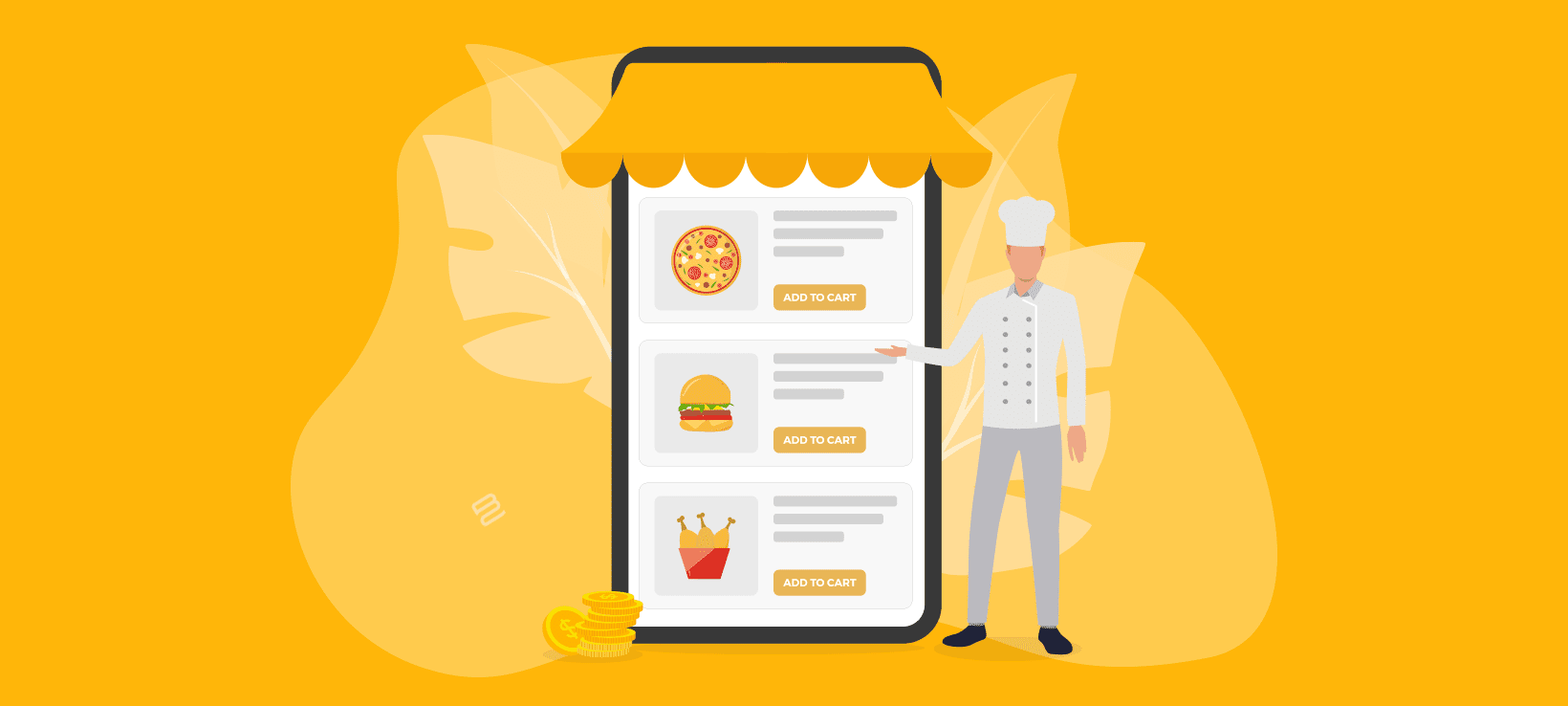 There are multiple options when choosing a WordPress restaurant menu plugin. Which one should you go for, and what benefits will you get? Let's explore more below.
Let's say you just opened a new restaurant down the main street in your town, and you'd love for more people to come. You've just hired a magnificent chef who makes excellent dishes and would love everyone to try them out.
You already have a restaurant website, but you're wondering, "How do I add a restaurant menu in WordPress?"
Well, it's easier than you may believe. Here's more good news: WordPress offers a range of restaurant menu plugins that can help you create and manage online menus.
From customizable templates to mobile optimization to order management, these plugins can take your menu to the next level and provide customers with an easy and convenient way to view your offerings.
But with hundreds of options, which plugin is right for you?
That's why we've compiled this comprehensive guide to the nine best restaurant menu plugins for WordPress in 2023.
WooCommerce Restaurant Ordering is our top option for displaying an interactive orderable menu that people can actually use to order food. Read on to find out why. But first, let's explore why using a plugin may be your best bet to displaying a restaurant menu.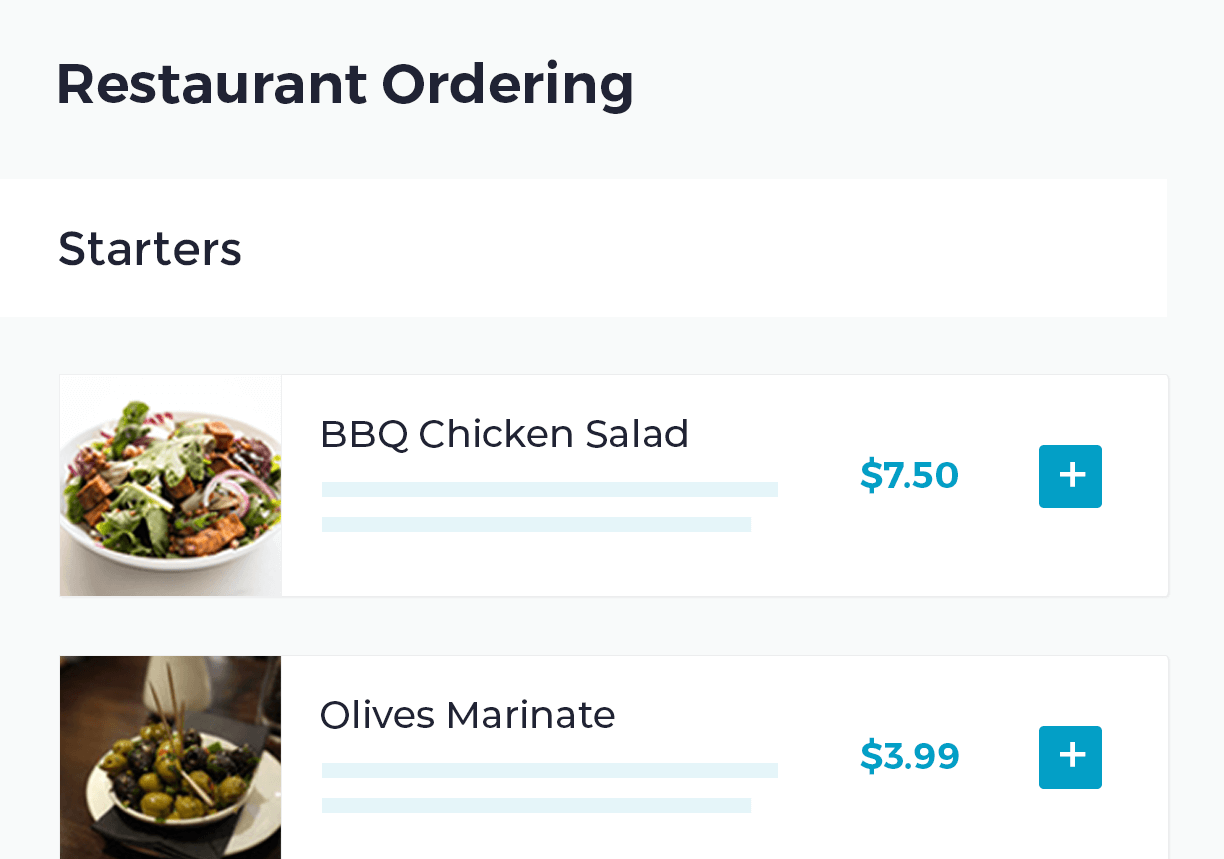 Add food ordering to your own website in minutes - with no commissions to pay!
What are the advantages of using a restaurant menu plugin?
Getting a restaurant menu plugin for your website can benefit your business in multiple ways. Here are some excellent examples:
Ability to customize menus
If you're looking for attractive and creative ways to showcase your menu on your website, a menu plugin may just be the ideal way to do it.
You can play around with the customization in various ways, including short videos, images, ingredients, nutritional facts, and allergen information. That way, you can appeal to your customers' senses and taste buds and attract them to your store for more.
Besides that, you can update your menus at any given moment. You can instantly add or remove items and change descriptions, prices, and categories. With that, you always keep your menu fresh and exciting for new and loyal customers.
Optional online ordering
If you offer takeout meals and food delivery, your customers can place orders and have you deliver them to their doorsteps. That doesn't just enhance your buyers' user experience. It also increases your conversion rates and value per order.
Moreover, online ordering can be an excellent way to increase customer engagement with your business and encourage loyalty and repeat business.
Most WordPress restaurant plugins don't allow online food ordering, but you get this with our top pick, WooCommerce Restaurant Ordering. It works on top of the free WooCommerce plugin to add full eCommerce functionality including adding products and taking payments (e.g. PayPal) online.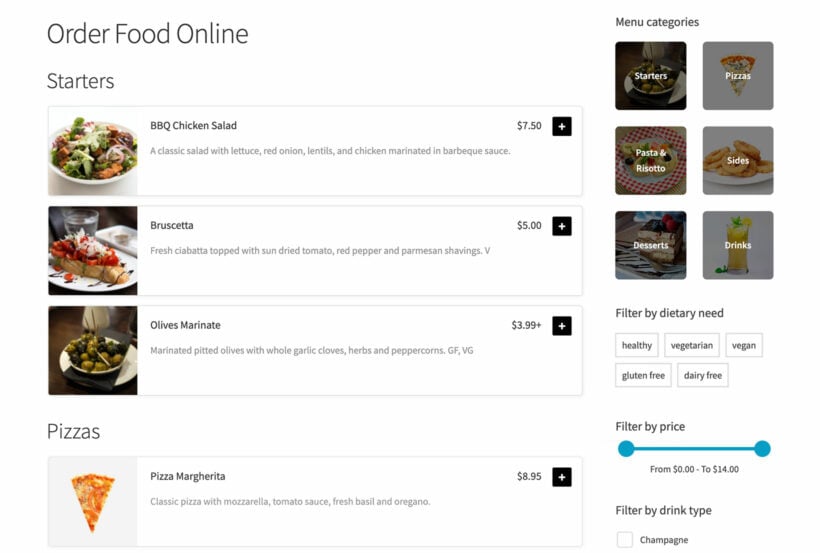 Easy to use and manage
With a restaurant menu plugin, no more worrying about hiring a developer to keep your website updated. Instead, you can easily change your website front end with just a few mouse clicks from your computer.
Integration with other software
A good WordPress restaurant menu plugin easily fits into your ecosystem and works seamlessly with other tools, extensions, and integrations in your workflow.
For instance, if you offer takeout, a restaurant menu plugin helps users select items from your menu and works with other plugins like WooCommerce Fast Cart to enable easy checkouts for easy them.
Time and cost savings
WordPress food menu plugins are time-efficient, allowing you to instantly change your website menu page. Besides cutting the time it would take a web developer to run the same task, it eliminates the cost of it.
Besides that, it saves your customers time. They can make instant purchases from your website and reduce time wasted visiting your locations. You can also offer cash on delivery services, which increases the order value and contributes to the success of your business.
SEO benefits
A restaurant menu plugin on your website can improve your search engine optimization (SEO).
Google and other search engines will index your website better, understand your product and distribute it efficiently across the search engine results page (SERP). This can help improve your website's visibility in search results and attract more customers.
Best WordPress restaurant menu plugins
One of the questions many restaurant owners ask themselves when setting up a new WordPress website is: "How do I create a restaurant menu layout?". Here's the good news: You don't have to, at least not by yourself. There are plenty of WordPress site plugins that can do that for you. Let's explore them below:
WooCommerce Restaurant Ordering
At the top of our list is the WooCommerce Restaurant Ordering plugin. This efficient solution displays your restaurant menu AND takes food orders with your WordPress website. Once you install this plugin, you can add and customize food order forms in any way you wish.
After activating the pro version of the plugin, you get five different layout options, depending on your preferences. You can pick a customizable layout, one with a column and a sidebar, two columns, and a sidebar, or three columns or no sidebar.
This plugin works alongside the free WooCommerce plugin to help sell food items to local pickups, home deliveries, and in-dining customers.
Here are some of its cool features:
You can display your restaurant menu anywhere on your site using shortcodes and create instant order forms.
Supports eCommerce functionality via WooCommerce.
Supports setting up custom opening and closing times alongside custom messages to match.
Multiple layout options, including one, two, and three columns.
Supports product variations and more advanced choices.
One-click ordering.
Responsive and supports easy ordering on mobile devices.
WooCommerce Food - Restaurant Menu & Food Ordering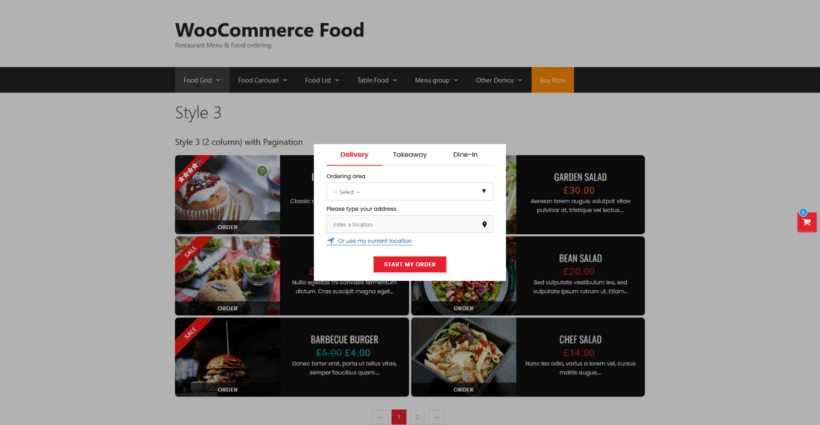 WooCommerce Food is a plugin by EX Themes designed to make the food ordering process seamless. Regardless of the type of restaurant, you can use this plugin to create an online menu for your customers to view from your website.
You can display your menu in several ways, including a food grid, list, carousel, or table. That way, you can style your store however you see fit without coding or technical expertise. It also supports menu groups.
It has some exceptional features, including:
Customizable menus that support different prices, categories, and descriptions
Opening and closing hours to prevent orders when closed
Supports WooCommerce functionality and multiple payment gateways
 Easy to use and no coding required.
Five Star Restaurant Menu
Another option to check out is the Five Star Restaurant Menu plugin. This plugin creates an attractive and responsive menu that matches your website in minutes. Once installed, it creates a Gutenberg block and a shortcode you can attach to any page and display your food menu.
One outstanding feature is its ability to create a QR code your in-dining guests can scan and see your online menu. Besides that, it has a full menu schema structured data integrated, so Google can identify your page as a menu and display it well on its search results.
Other features include:
Unlimited menus and menu items
Supports unique photos and prices for each menu item
Optional sidebar for quick navigation
Responsive layout
Food Menu Plugin
Developed by RadiusTheme, the Food Menu plugin supports multiple page templates, pages, posts, and widgets on WordPress. It's a fully customizable solution that lets you add or remove items from your menu.
The free version displays neatly across devices, including your phone and tablet. It supports filtering, making it easy for your customers to search and select meals that appeal to them the most.
Other features include:
Support for custom CSS
Supports meta fields
Works with detailed page templates
Ingredient and nutrition data
Supports reviews and ratings
Restaurant Menu by Motopress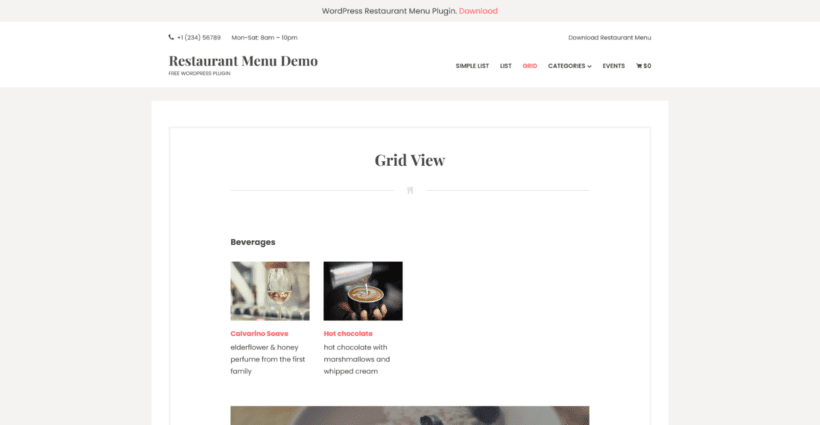 The restaurant menu plugin by Motopress can also help you showcase your menu to customers. Right off the bat, customers can read the ingredient, portion sizes, and nutritional contents of their meals before ordering.
Depending on your website layout, these menu items can show in a list or grid. It also allows you to add contact details and opening and closing times to ensure orders are made during work hours.
Other features include:
Support for unlimited products
Works with detailed page templates
Supports images
Restaurant Menu plugin by GloriaFood
The Restaurant Menu plugin by GloriaFood is another popular plugin to create and manage online menus easily. This free plugin creates appealing and attractive menus that make it easy for restaurants to accept and manage their offerings. While it's free, you do need to pay for GloriaFood - so it's not completely free.
Without coding, you can customize menus with different categories, items, and prices. It's also customizable; you can add or remove items, change prices, and update the menu in real-time. The plugin has a simple and user-friendly interface that you'll instantly grow accustomed to.
Other features include:
Support for unlimited orders
Responsive plugin
Supports promotions and special deals
Configurable food sections
Restaurant & Cafe Addon for Elementor
As an extension of Elementor page builder, the Restaurant & Cafe Addon gives restaurant and cafe owners access to multiple templates and widgets to build and customize their websites into online menus.
This WordPress restaurant menu plugin has several features and options, including menu templates, restaurant reservation forms, food and drink menus, opening hours, and contact information. Because it supports a drag-and-drop interface, you can easily add, edit, and customize menu templates and widgets according to your preferences.
Some key features include:
Compatibility with multiple WordPress themes
Multiple customization options
User-friendly interface
Supports shortcodes
WP Food Manager
WP Food Manager is another WordPress restaurant menu plugin for an online menu system. The plugin offers features and options for users to create and customize menus and manage orders.
It has an easy-to-use interface with multiple customization options. You can easily add and edit menu items, including images, descriptions, and pricing. It also supports categories and subcategories, making it easy for customers to navigate and find what they want.
Users can also add custom fields for personalized food requests, making adding extras to your order easy.
It also features:
Fully responsive design
Support for shortcodes
RSS Feeds
Multilingual translation
Supports both guests and registered users
WPPizza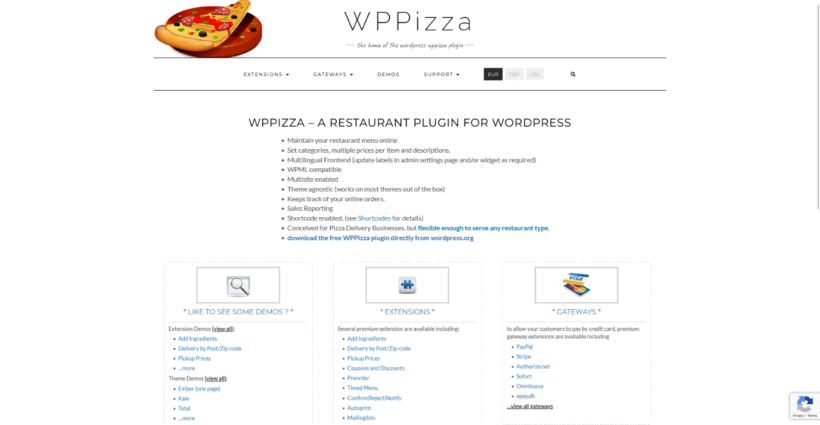 WPPizza is a WordPress plugin designed specifically for pizza delivery businesses. However, it can still support other foods and beverages.
It's a comprehensive plugin with powerful features like order management, payment processing, and delivery management. Its menu management system is exceptional and capable of product variations and add-ons, including options for pizza sizes, toppings, and prices.
You can update and modify the menu as needed, and customers can view and explore menu options directly from your website.
It also supports the following:
Notifications for new orders
Options for discounts and tips
Multiple layout options
Related: How to sell pizzas online with custom pizza toppings.
How do I show off a restaurant menu?
Now that you've installed a restaurant menu plugin on your website. It's time to show it to your customers. But what's the best way to display it?
Use high-quality photos: People eat with their eyes, so including appetizing photos of your dishes can help entice customers to try them. Ensure the photos are well-lit and show the food in its best possible light.
Use descriptive language: Use language that makes the dishes sound delicious and appealing. Instead of just listing the ingredients, describe the flavors and textures customers can expect.
Offer detailed information: Provide detailed information about each dish, including any potential allergens, nutritional information, and cooking methods. This can help customers make informed decisions about what they order.
Highlight signature dishes: If your restaurant has any signature dishes or specialties, ensure they're prominently featured. This can help set your restaurant apart and give customers a reason to choose your establishment.
So, which is the best WordPress restaurant menu plugin?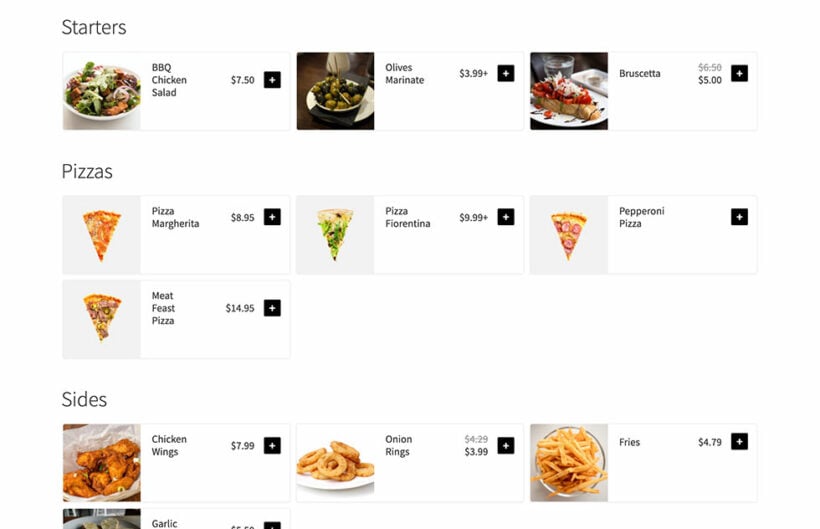 Customers expect to read your menu online before deciding whether to visit your restaurant. After all, how else will they know if you sell food they like? That's why a WordPress restaurant menu is a must for every restaurant or eatery.
There are two types of WordPress restaurant menu plugin to consider:
Choose one of these excellent plugins depending on your needs. They're both simple to set up and come with money-back guarantees, so you can try them risk-free!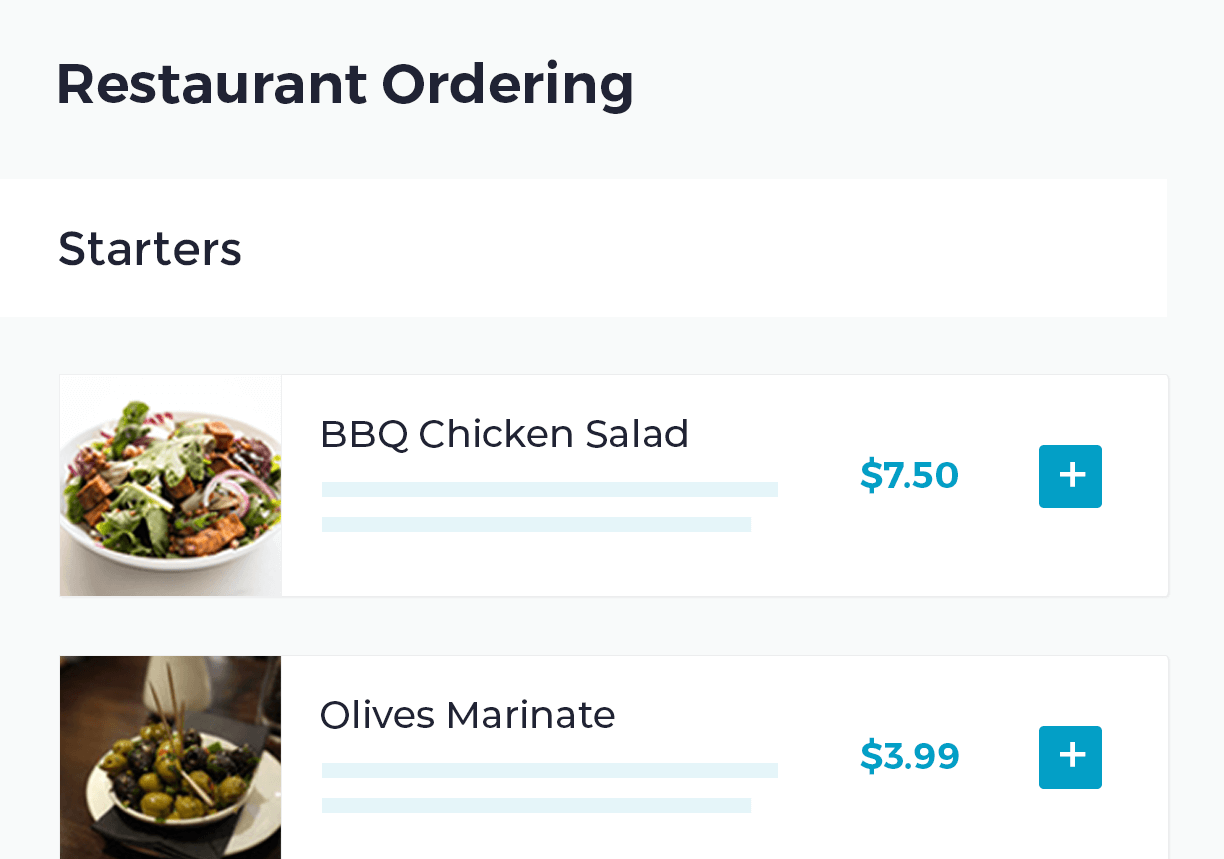 Add food ordering to your own website in minutes - with no commissions to pay!