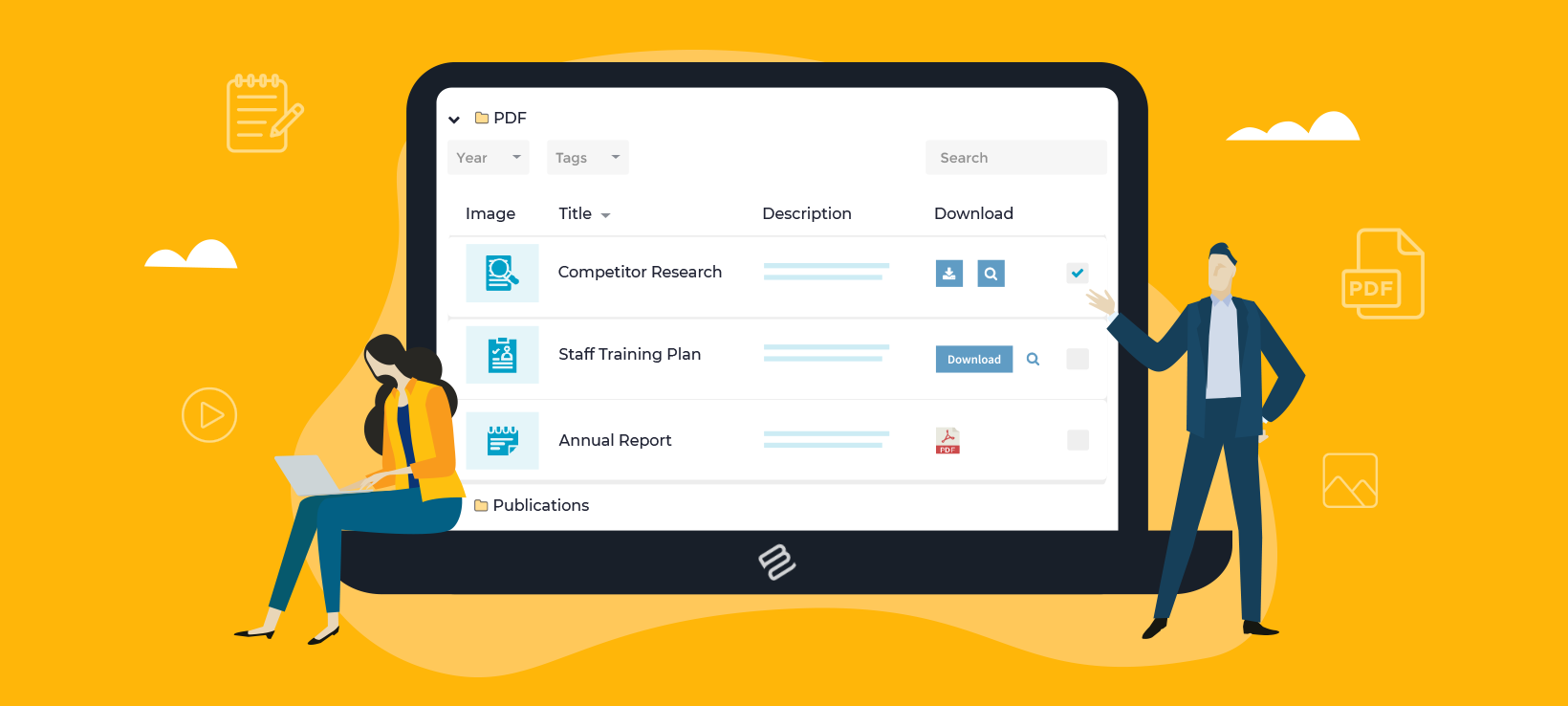 Do you want to share files and documents with people on your WordPress site? Your best shot at achieving this is to use a WordPress file sharing plugin. This type of plugin helps you to add any type of file to your site, display them in a well-organized library, and offer easy downloads to your site visitors.
No doubt, WordPress is a powerful Content Management System (CMS) that allows you to add different file types to your site. But if you want to set up a fully-fledged file sharing portal, you'll need more than the default features it offers.
As a WordPress site owner, you might need to share files with your site visitors, either publicly or in a private area of your site. In this case, a WordPress file sharing plugin can help you extend the software's default file management capabilities. You can use it to display documents and manage large file downloads efficiently.
If you're looking for the best WordPress plugins for sharing files, then you've found the right resource.
This article will cover the following key topics:
What a WordPress file sharing plugin is
Use cases and benefits of using a WordPress file sharing plugin
Best WordPress file sharing plugins in the market
How to share files both publicly and privately on WordPress
Let's get to it!
What is a WordPress file sharing plugin?
As a fully functional Content Management System (CMS), WordPress allows you to add different types of files to your Media Library. Some of the most popular file formats on the platform are PNG, JPG, MP4, and PDF files. After adding these individual files to your site, you can also add them to posts and pages for site visitors to download.
But if you want to create a robust file sharing and management system, you'll need a custom solution. This is where WordPress file sharing plugins come in.
A WordPress file sharing plugin allows you to create organized file databases that you can share with clients, team members, or other users of your site. You can also use it to display your files and documents in hierarchical file directories. This makes it very easy for site visitors to navigate your site files.
This type of plugin can also be called a WordPress download manager or WordPress document sharing plugin. Using some of the file sharing plugins we'll be sharing in this article, your site visitors will be able to search your database to find files quickly and easily.
Let's talk about some of the most popular use cases and the benefits of using file sharing plugins. Otherwise, you can click here to jump to our list of the 3 best WordPress file sharing plugins or learn how to create a WordPress file sharing portal.
Why you may need a WordPress file sharing plugin
Are you a WordPress business looking for an organized way to curate and share your files and documents? Then a WordPress file sharing plugin is what you need. This type of add-on is ideal for most businesses, corporations, and remote working environments. It comes in handy for any organization where it's important to locate and keep track of files as efficiently as possible.
Here are some of its most popular use cases:
Company wikis Employee onboarding can be a long arduous process without proper organization. With a WordPress file sharing plugin, your employees will have access to only the files you want. This will eliminate the need to exchange unnecessary emails back and forth.
Public WordPress file sharing portals You may also want to set up a public platform where internet users can download audio, video, document, and other types of files. This solution helps you to display those files in an organized manner based on categories, tags, or any custom taxonomy you choose.
Educational institution websites Educational platforms can use it to share study or test materials with their students. They can easily arrange and grant access to the files in folders based on the course or level of study.
Resource libraries Large organizations like government agencies and scientific laboratories can also share resources with their teams or the general public using a WordPress document library.
Legal and finance businesses Corporations and businesses with lots of files and records can organize them using the plugin. By archiving files in a hierarchical structure, it will be easy to refer back to them in the future.
There are lots more use cases for WordPress file sharing plugins but let's talk about how using them can benefit your site and business in general.
Benefits of using a WordPress file sharing plugin
Whether you need a public file sharing platform or an internal team-only system, here are some of the ways a WordPress file sharing plugin can better your business:
Add any file type and offer them for download Granted, WordPress allows users to add lots of file types to the platform. But if you want to add file formats like FLV, BMP, JSON, or PSD, you'll need an additional solution. A file sharing plugin comes in handy here and you can use it to offer your clients quick and easy downloads too.
Help site visitors access files and documents faster A typical WordPress document library plugin also comes with advanced search and sorting features. This can be in the form of a clear hierarchical structure or a file directory system. This way, remote employees and users can quickly navigate your site and access files from anywhere in the world.
Boost your team's productivity Improved accessibility equals faster workflow which will, in turn, have a positive impact on your team's productivity. A proper file management system cuts the time that would have otherwise been lost uploading, sharing, and tracking files manually.
Improve file security sitewide You also get WordPress secure file sharing features. Your team members get access to only the files you want them to. Instead of sharing your files on different platforms, it's easier to keep them safe in a single secure location.
Now, let's talk about the best WordPress file sharing plugins that guarantee you access to these benefits listed above.
3 best WordPress file sharing plugins
There are a couple of important features to look out for when choosing a WordPress file sharing plugin. As a rule of thumb, it's important to consider:
The file formats supported
Maximum file size
Access to download history
Extra features like file security and the display options
To help our readers, we tested and compared multiple plugins in the market based on these factors. In the end, we came up with this list of the 3 best WordPress file sharing plugins.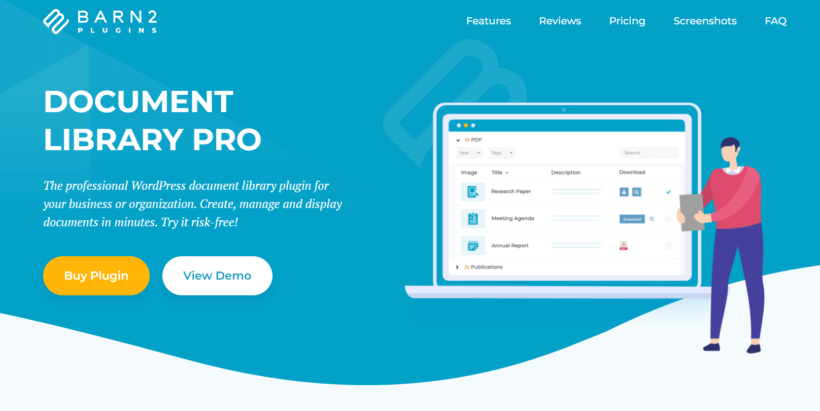 Document Library Pro is a very powerful file management plugin for uploading, displaying, and managing files in WordPress. When it comes to gaining full control of your WordPress document library, this plugin offers a great deal of utility.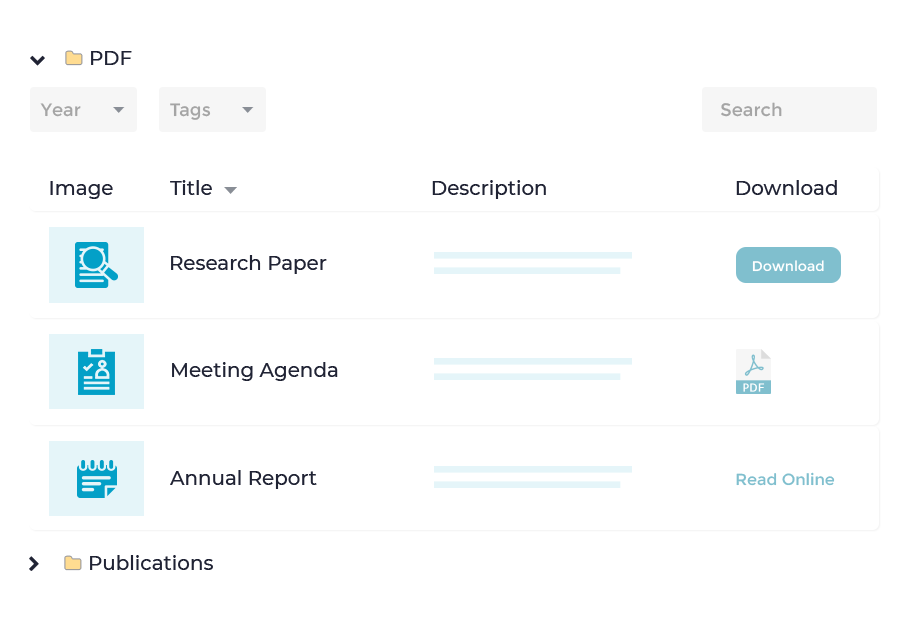 Install Document Library Pro today and start adding and sharing documents - the easy way!
As the best WordPress file sharing plugin, the tool supports all file formats. This means you'll no longer be limited to the WordPress default functionality for all types of file sharing. With it, you can easily:
Embed video and audio players
Create an eBook library
Set up a company database for uncommon file types
Import documents with a third-party URL
Allow downloads from any device and from anywhere in the world
One of the major benefits of using this plugin is the flexibility it offers when it comes to displaying your files. You can control the number of rows per page, add a download button or icon, and even create dynamic folders.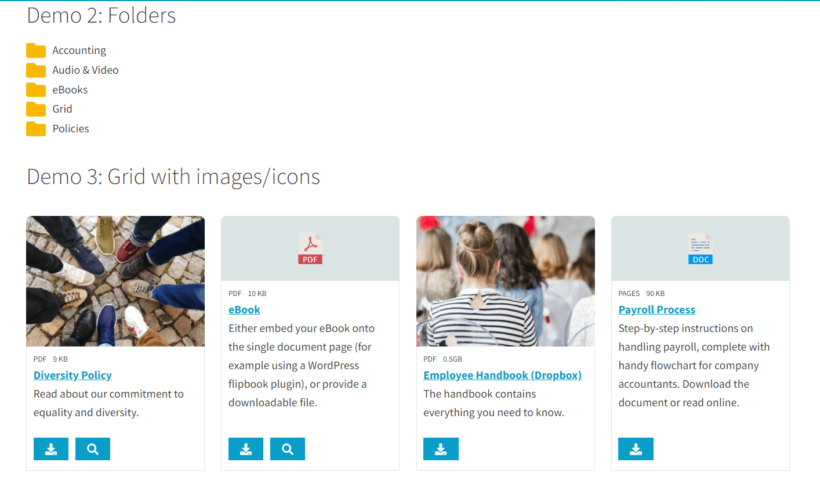 Key features
Add any file type to your site in 4 different ways You can add files to your site and enter all the related metadata manually. Otherwise, you can add files already in the Media Library, with a bulk CSV import, or simply drag and drop to upload. These files can be hosted on your site or externally. Unlike the default WordPress, there's no restriction to the file formats supported.
Multiple display and download options After embedding documents on your site, you can display them with a download button, icon, or text link. For document files, you can list them in folders that contain unlimited nests of subfolders. The document libraries can also accommodate multiple customizable information fields like author and publication date.
Advanced sorting, filtering, and search capabilities Site visitors can choose from several sorting options. They can filter files based on categories, tags, and custom taxonomy in a filter dropdown. The plugin supports instant AJAX keyword search as well.
List only the documents you want Include and exclude specific files from the front-end display using attributes like content ID, tags, and date. Or simply set a default search term to filter the files the end-users see by default.
Responsiveness across devices The file library adapts to all screen sizes, irrespective of the number of information columns added to the file display. You can set which columns to prioritize when the columns added can't fit on the page. The filtering and navigation controls are also very responsive.
Document Library Pro doubles as a simple but efficient WordPress file sharing plugin and WordPress download manager. It allows you to set up your file databases and start sharing files in a few minutes.
The plugin works well with any WordPress theme and the technical team offers great support too.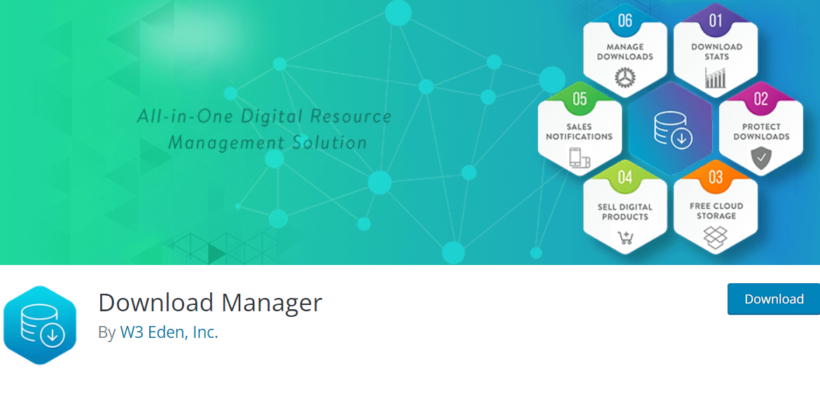 This WordPress file sharing plugin by W3 Eden is pretty well known for its plethora of file management features. Just as its name implies, the plugin focuses on tracking and assessing file downloads on your WordPress site. WordPress Download Manager is also highly optimized for selling downloadable digital products.
Similar to Document Library Pro, Download Manager gives the user a lot of file and document management controls. But unlike our number one pick, you don't get as many front-end display options.
If you're looking for a solid solution for monitoring downloads and controlling file access, you can hardly go wrong here.
Key features
Bulk import and multi-file archive downloads Add multiple files of different formats to your library at the same time. You can do this in a process similar to creating a post or with FTP. After importing them, users will be able to download them as archived ZIP files on the front-end.
Limit access to files Decide which site visitors can download files using both roles and password protection. Access control can be limited to entire packages or individual files. You can also secure your files from bots and spamming with the Captcha Lock or the IP Block feature.
Track download stats and control bandwidth Download Manager has extensive backend analytics features with detailed access logs for monitoring file downloads. You can track the number of downloads for each file, who is downloading it, and the geolocation of the user.
Ecommerce-ready with social share features integrated The plugin is particularly optimized for selling digital products and licenses. Vary product pricing with different license types like 'Simple' and 'Unlimited'. You can then promote these products on popular social networks like Facebook, Twitter, and Pinterest.
Download Manager has both a free and premium version. The free version includes 15GB of Google Drive and 2GB of Dropbox storage. But you'll need 1 of the 3 paid plans to access features like multi-file packaging, bulk import, and download stats.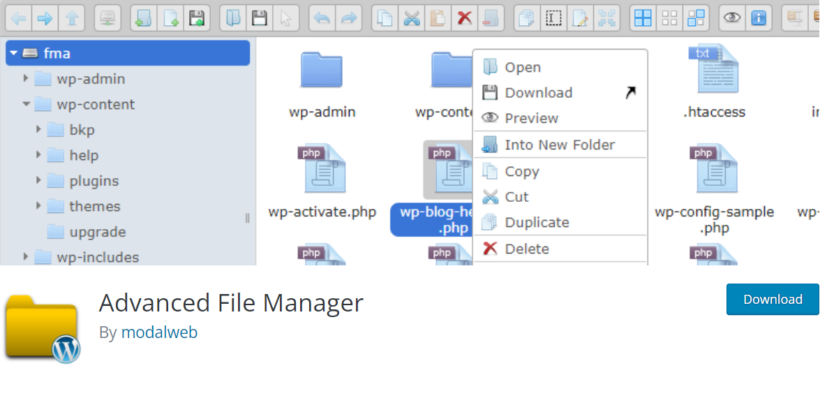 The third plugin on this list is our pick for the best free WordPress file sharing plugin out there. This extension takes a little different approach from the first two options we shared above.
Its major selling point is that it allows site visitors to add their own files to your site, provided they are logged in. This way, other registered users get the ability to share files with you and other site visitors. You can achieve all this by simply adding a shortcode to your site.
Advanced File Manager is arguably the most user-friendly solution for uploading, moving, and downloading files from a WordPress site. It eliminates the need for less beginner-friendly solutions like cPanel and FTP.
Key features
Full control over WP file directory on the front-end Site owners and users can execute multiple file and user operations without logging into the backend of your site. Perform operations like uploading, editing, copying, downloading, and even extracting files and folders. You can preview certain file types like PDF. So you don't have to open each individual file.
Limit access to file management Use shortcodes to restrict the logged-in and non-logged-in users who get access to file management features. You can also hide files' actual directory paths.
High performance and mobile compatibility The plugin's previews and thumbnails load fast and are also well optimized for mobile devices. Makes it easy to share files on the go.
Advanced File Manager grants you access to both files inside and outside the WordPress root directory.
This plugin is ideal for site owners and administrators looking to share files on a tight budget. But you'll have to trade the flexible display and download tracking options other plugins offer.
How to share files and documents in WordPress (4 Simple Steps)
Ready to start sharing files in WordPress? You can do this by following these 4 simple steps below.
We'll be using our number 1 plugin pick, Document Library Pro to demonstrate this.
Step 1: Install and activate Document Library Pro
You can start sharing files in WordPress by getting Document Library Pro here.
After getting the plugin, you'll receive a confirmation email that includes a license key. You'll need this key to activate the plugin on your site.
Next:
Navigate to Plugins → Add New → Upload Plugin in your site's admin area to upload the product to WordPress.
Select the ZIP file you downloaded while getting the plugin. Then click Install Now followed by Activate Plugin.
On the next page, follow the link to "enter your license key". Type in the license key and click Activate.
That's it! Document Library Pro is ready for use.
Now, let's configure the necessary settings.
Step 2: Configure your default library settings
Go to the plugin's settings page by navigating to Documents → Settings. This is where you set all the default options for your file libraries.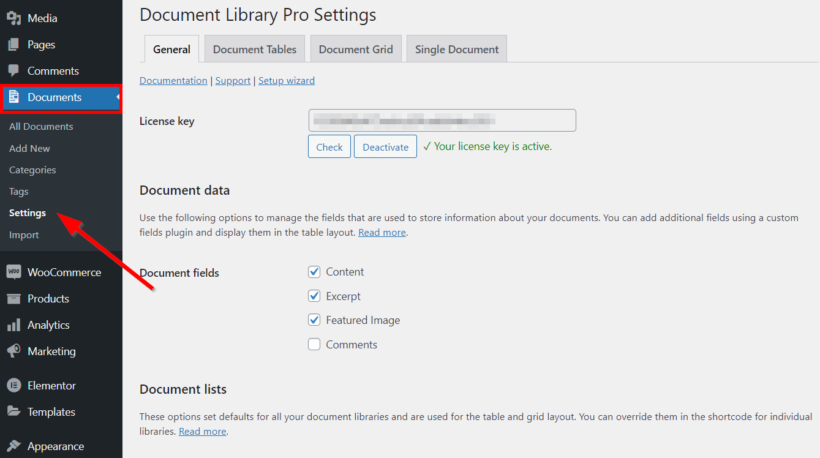 Let's talk about some of the key settings to configure.
In the General tab, select the file fields you want to use for your documents. These fields will appear on the single file pages. You can choose one or all of these options: content, excerpt, featured image, and comments.
Also, set a default document library page to display files by default. You can choose the 'Document Library' page the plugin creates automatically.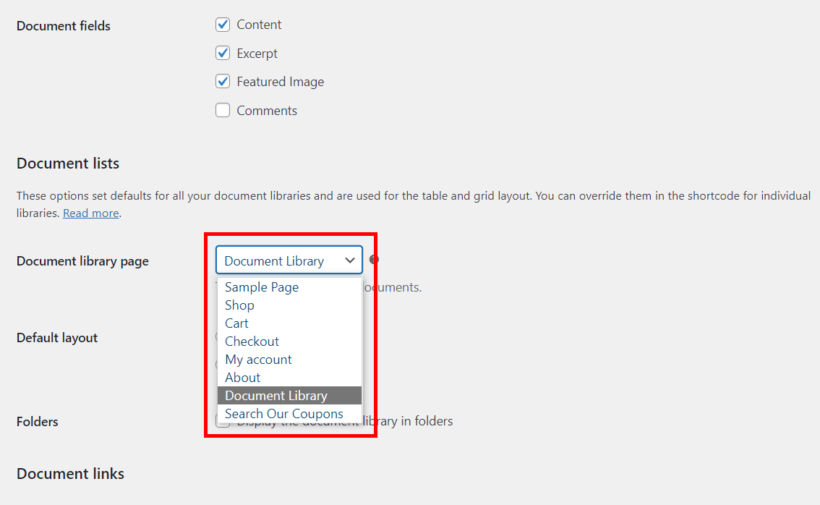 Otherwise, you can add a document library anywhere on your site with the [doc_library] shortcode.
Another important option on this page is the default layout for displaying files. Among other settings, you also get to choose whether or not to add a file preview, link, image lightbox, or set the number of files per page.
In the other tabs, you can set up the table or grid columns, and the single file page.
Step 3: Add files to four WordPress site
The process of adding a file to WordPress follows the same as creating a page or post. Start by going to Documents → Add New.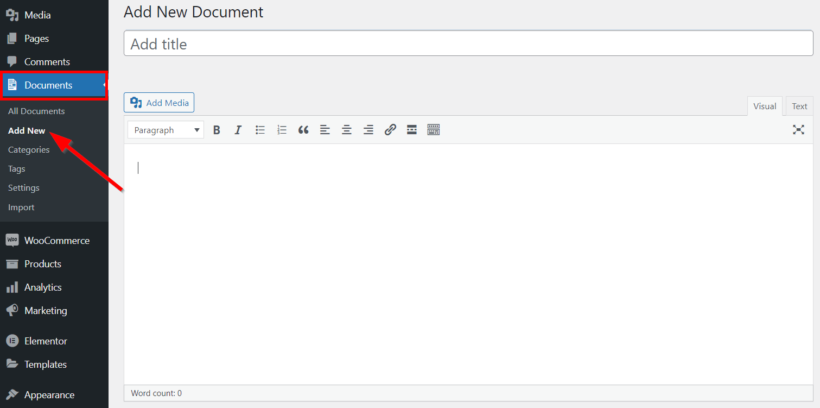 Here, fill in all the important information fields like author, file size, and category.
When you're done, click Publish and you're good to go.
You can also add files directly by going to Documents → Import and using the drag and drop option.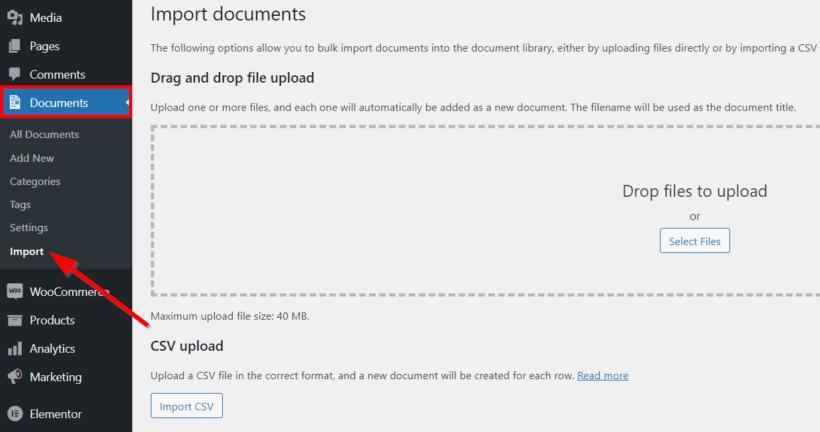 Otherwise, simply import in bulk with a CSV file. Make sure you've properly prepared the file so it contains all the important information fields. Similarly, you can convert existing files in your Media Library to documents.
If you choose, you can as well update your files and their properties in the future.
Step 4: Display the documents on any page
All the files you've added or converted into documents will automatically be displayed on the default document library page you set earlier.
Otherwise, you can add a document library to any page using the  [doc_library] shortcode.
Depending on the option you chose, these files will appear either in a grid layout: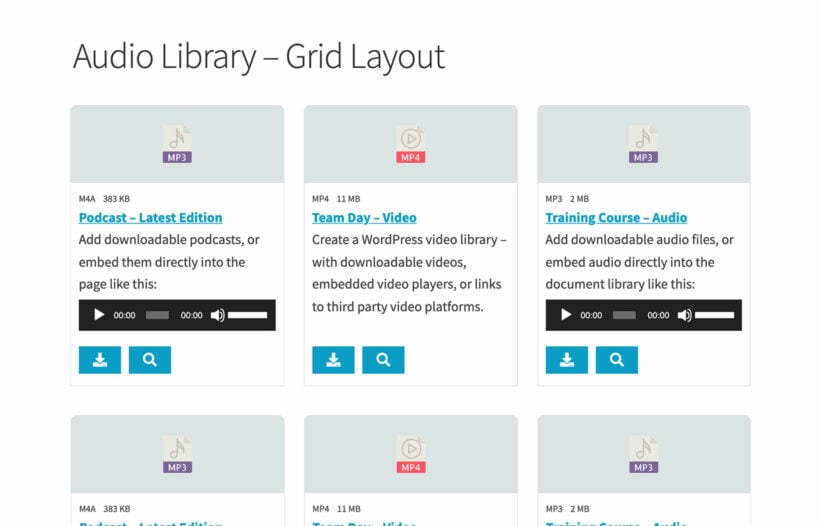 Or table layout: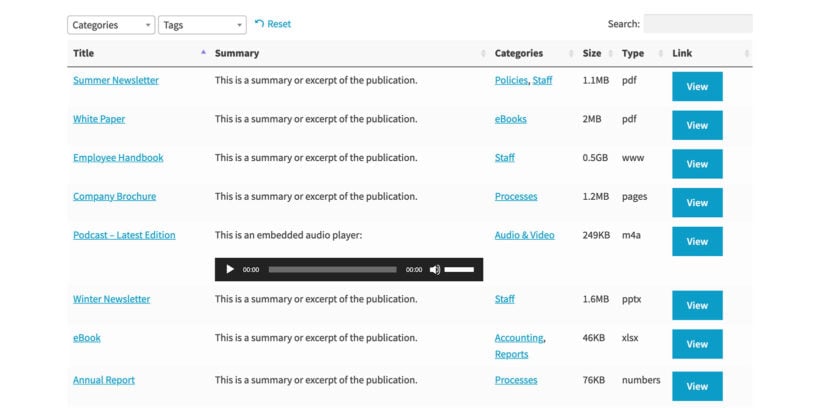 You can also choose which files to display based on categories, tags, and other attributes. Follow this link to see the detailed list of shortcode options for displaying different file lists.
How to offer WordPress secure file sharing
To share files in a private area of your WordPress site, you'll need to combine Document Library Pro with a WordPress private content plugin. We highly recommend Password Protected Categories for this.
The plugin helps you to either:
Hide the whole file database
Hide selected file categories
Show different files to different users using roles or password protection
Once you've installed the plugin on your site, you'll see a new settings section when you go to Documents → Add New.

You can also hide specific file categories by going to Documents → Categories. Select the file category.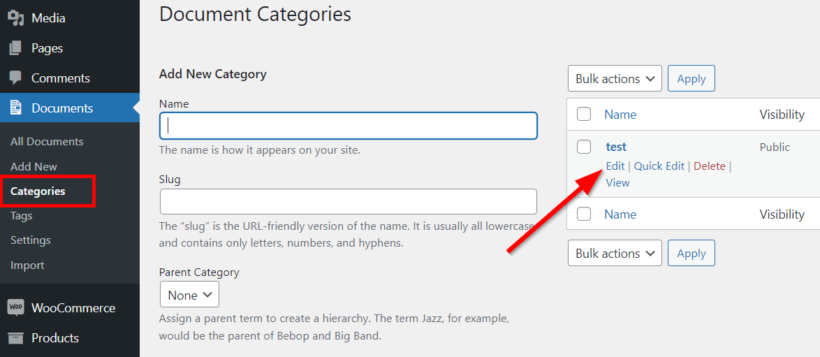 Then change the visibility of the category to 'Protected'.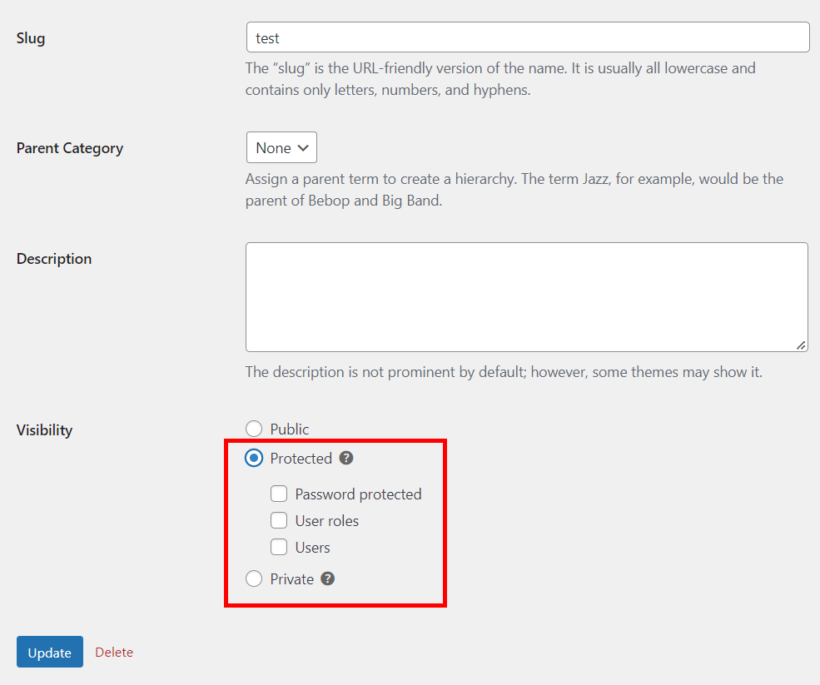 When you're done, click Update.
Hooray! You've successfully created your first secure shared file category in WordPress.
Start sharing files on WordPress
There are certain business cases when it makes sense to share files with your WordPress site visitors. You may want to create a company wiki, resource library, or public file sharing portal.
In each of these cases, you'll need more robust file management features than what the default WordPress software offers. Fortunately, you can use a WordPress file sharing plugin to add, manage, and display any type of file on your site.
In this article, we showed you how to share files publicly and publicly with the best WordPress file sharing plugin in the market, Document Library Pro. This plugin gives you full control over your site files and helps you to display them in a well-organized manner.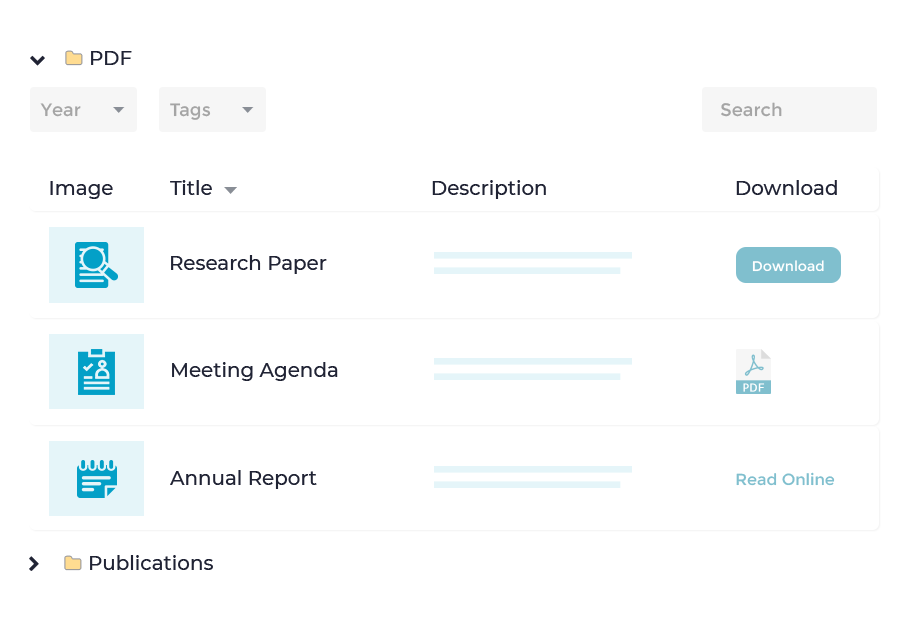 Install Document Library Pro today and start adding and sharing documents - the easy way!
We hope you've been able to use this guide to set up your own file sharing platform in WordPress. Let us know if you have any questions in the comments section below.