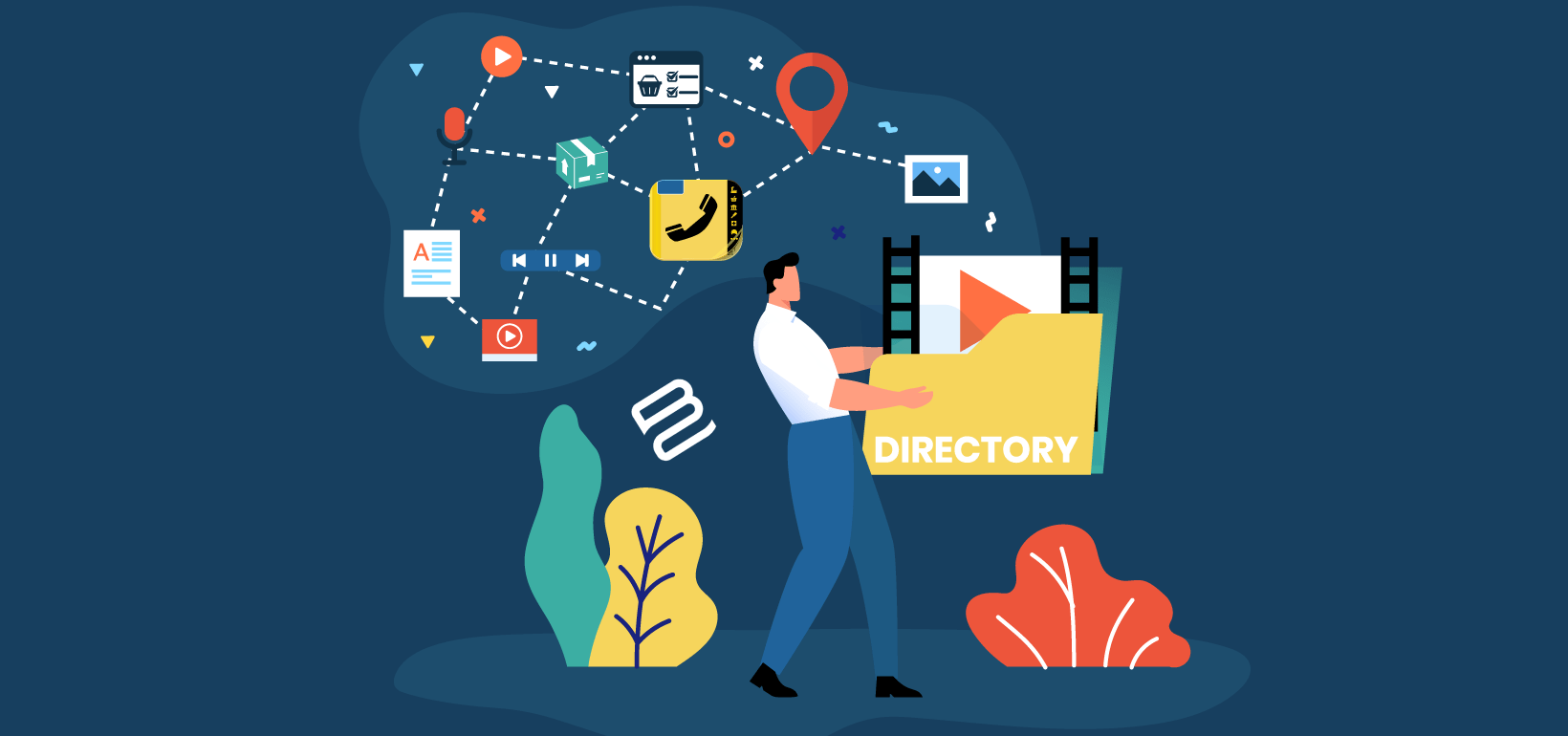 If you need to create a browsable list of information on your site, a WordPress directory plugin is the right tool for the job. It's the perfect way to create a searchable database in WordPress.
The word we've used here – "information" – is intentionally vague because you can use a good WordPress directory plugin to organize and showcase different types of content. You can collect:
Businesses, similar to a Yelp or Yellow pages format
Users/members
Locations
Products
Files (documents, videos, audio files)
...the sky's the limit - with the right tool, of course!
What's more, your visitors will be able to search and filter all that information to find what they're looking for. You'll give yourself tons of chances to rank in Google with all the various entries in your directory.
To help you find the best WordPress directory plugin for your needs, we've collected eight great free and premium options. They're all excellent WordPress searchable database plugins.
Then, after we share more about each WordPress directory plugin, we'll also give you a step-by-step tutorial for how to add a directory to your WordPress site using the first option on our list – Posts Table Pro.
Your ideal WordPress directory plugin: Key features
Every plugin comes with a different toolset, so it's important to consider what you want from a directory plugin. Think about your site's needs and make sure that any plugin you pick fulfills your requirements. There's no point using an advanced geolocation plugin if you're simply building a simple directory of your staff members; for real estate listings, though, map integration might be crucial.
Here we'll run down some of the key features to consider when deciding which WordPress directory plugin is suitable for you.
Simple to manage - is it easy to add new listings and adjust old ones? If you deal with a lot of entries then this process needs to be as streamlined as possible.
Media support - is the plugin able to display a directory of images, videos, or other media on your site?
Ecommerce compatibility - can the directory integrate with your store products to act as a central product review and pricing database? This leads us to...
Rating / review systems - does the directory plugin support frontend submission of user reviews - ideal for creating a TripAdvisor-style site?
Frontend submission of listings - perhaps you want to create an independent local business directory and address book. You'll need some way for local business owners to submit their listings without going through the WordPress backend.
Customizable form fields - depending on what kind of directory you want to make, you might not want to be locked into a certain content type. You'll want to be able to organize your directory by categories, tags, or custom taxonomies to make it relevant to your users' needs.
Shortcode compatibility - so you can add your directory anywhere on your site.
The 9 Best WordPress directory plugins in 2023
Below, we'll share details for eight of the most popular directory plugins for WordPress. You'll find both free and premium searchable database plugins on this list...
1. Posts Table Pro - Most flexible WordPress directory plugin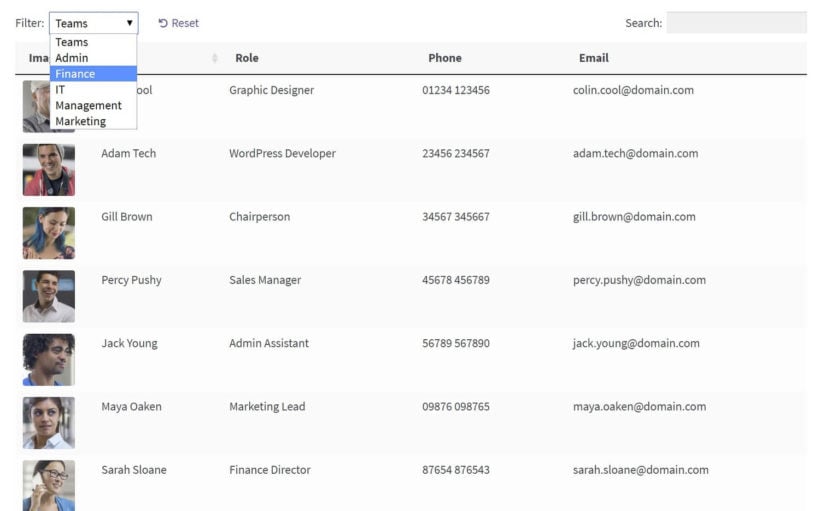 In terms of flexibility, Posts Table Pro is the best WordPress directory plugin because it lets you build a 100% custom directory for any type of content, rather than forcing you into a pre-made framework, like many other directory plugins.
Essentially, Posts Table Pro lets you take any post type and display it in a WordPress searchable database (AKA a directory). It comes complete with lots of search and filter options to help visitors browse the directory listings and find what they're looking for.
You can use it as a simple business directory plugin for WordPress, but you can also display other types of information.
Create any type of WordPress directory
Here are just a few examples of the types of directory that you can use Posts Table Pro for:
If you pick a different WordPress directory plugin, it's likely going to lock you into a single "type" of directory content. But with Posts Table Pro, you'll have total flexibility for how you put together your directory.
To use Posts Table Pro, you'll typically create a custom post type for whatever content you want to collect and then use Posts Table Pro to display that content in a directory format. We'll show you exactly how to do this at the end of this post in the tutorial.
You can use Posts Table Pro with any WordPress theme, and it makes for a great "WordPress searchable database plugin" too. Posts Table Pro uses AJAX search, so visitors can get instant search results from your searchable database content.
Make Posts Table Pro your own
Because you're working with your own custom post types, you can build out your system exactly how you want it to be. Here are some examples of how you'll be able to set things up:
You can use categories, tags, or custom taxonomies to organize your directory items.
You can use custom fields to store as much or as little information about each item in your directory. Or, you can also collect addresses to create a geodirectory.
If you want to let people submit their own listings, you can use Gravity Forms' drag-and-drop editor to create a front-end submission form and collect as much information as needed. You can even charge users for submitting content and connect to any of the payment gateways Gravity Forms supports, including Stripe and PayPal.
You can also use Gravity Forms to let users submit reviews for directory items, which lets you create your own lightweight Yelp clone.
Using something like WP All Import, you can bulk add listings via CSV import or XML import.
Finally, as well as being the most user-friendly, Posts Table Pro is one of the more affordable WordPress directory plugins.
2. HivePress WordPress directory plugin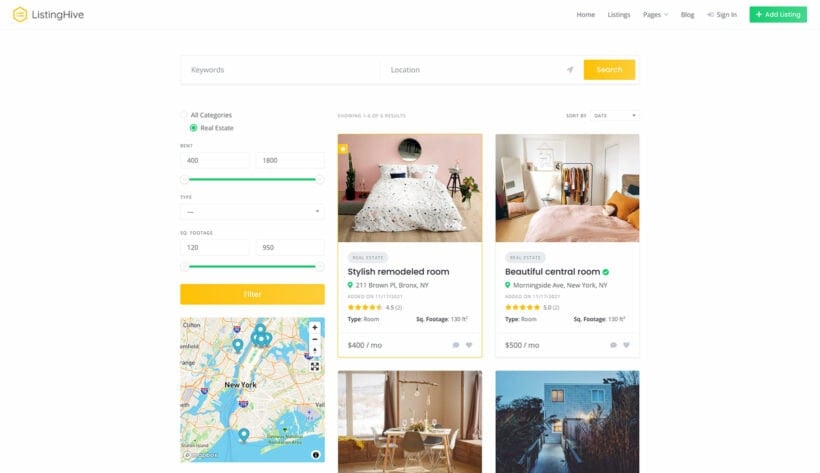 HivePress is easily the best free WordPress directory plugin. It allows users to create directory websites with ease. It's a free and open-source plugin that comes with many features and customization options. HivePress is perfect for creating directories for businesses, services, products, and job listings. It can also be used for creating niche-specific directories such as real estate listings or car dealerships.
One of HivePress's main features is its user-friendly interface. It makes it easy for users to navigate and add listings to the directory. The plugin allows users to create custom fields for their listings, which can be customized to fit their specific needs. The plugin also comes with a range of templates that can be used to display listings in different ways.
HivePress is excellent for creating business directories, such as directories for restaurants, hotels, or shops. For example, if you're creating a job listings directory, you can use the plugin to allow job seekers to search for jobs by industry, location, and job type. HivePress is also useful for creating niche-specific directories such as real estate listings or car dealerships, where users can search for properties or cars by location, price, or other criteria.
You can download it for free from wordpress.org, and it comes with easy-to-use instructions and videos to get you started.
For the best results, you can use HivePress with the free ListingHive theme. However, you can use any theme if you have specific branding requirements.
3. Business Directory Plugin - Dedicated business directory plugin for WordPress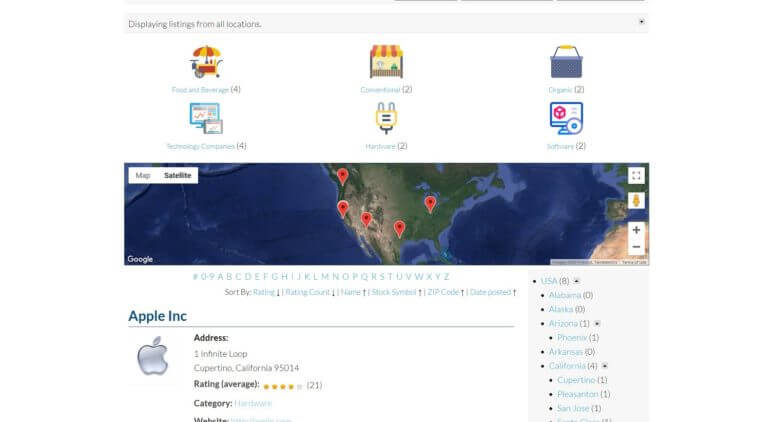 As the name suggests, Business Directory Plugin is a popular business directory plugin for WordPress.
It helps you create a Yellow Pages-style directory, including an option to add reviews, which also lets you go in more of a Yelp direction with your directory.
With the paid version, you can let visitors filter by location information, which helps you create a local business directory. And there's also a Google Maps module that lets you display the local directory listings on a map view.
Beyond that, you have the option to create a front-end submission form and accept payments via payment gateways like PayPal and Stripe.
This WordPress directory plugin has a limited free version at WordPress.org, but you'll need the premium extensions to get access to the most important functionality. The premium plan starts at $199.99 for use on a single site, which makes it a little pricey in comparison to other options on this list.
4. GeoDirectory - Local business directory plugin for WordPress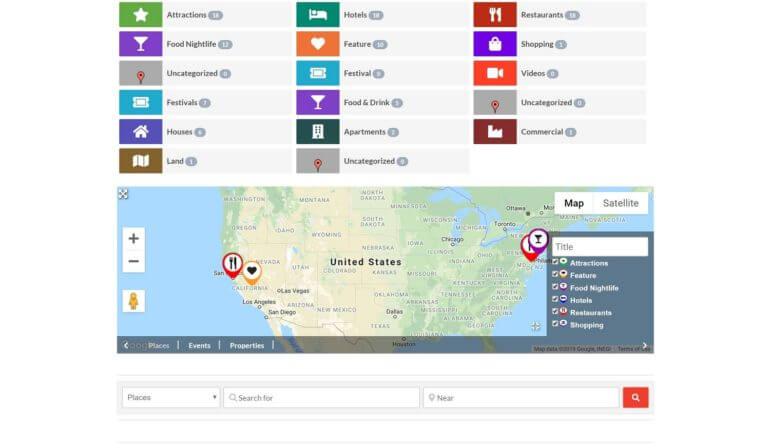 Another aptly named plugin, GeoDirectory helps you create a local business directory for one or more locations. It's focused more on physical listings, which makes it a great business directory plugin for WordPress, but not so great if you want to create a directory of people or other non-tangible items.
The free version only lets you create a directory for a single location, but the premium version adds support for multi-location directories. Visitors can then search your directory by zip code or proximity, as well as more traditional keyword searches.
If desired, you can let users submit reviews, which lets you create a directory similar to Yelp.
And like the previous two options, you can create a front-end submission form using a drag-and-drop form builder. And it also comes with a built-in CSV import feature to help you bulk import directory listings.
If you want to charge people for submitting listings, the premium version lets you add prices for your listings and accept payments via PayPal or Stripe.
To access all the premium functionality, you'll pay $199 per year, which, like the Business Directory Plugin, is one of the higher prices on this list.
5. Formidable Directory - a WordPress directory plugin with powerful forms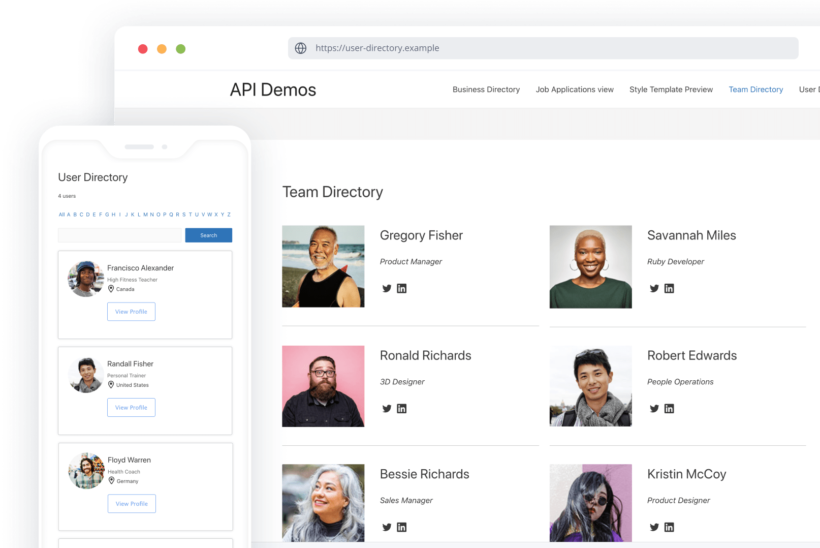 Formidable Forms is a form-building plugin that's been around since 2009. Forms are just one part of the directory building equation, but Formidable has features that can turn form data into websites too.
Naturally, people began using these features to build directory sites as well. The only issue was that it required a bit of coding but with the release of Formidable Directory, coding is no longer needed.
Formidable Directory includes everything from Formidable Forms + an automated directory building wizard to get started quickly. It comes in three different formats: business, employee, and user - each with their own quick start wizard.
Like other options on this list, this WordPress directory plugin lets you create paid or free listings with all the major payment gateways. Simply adjust your submission form using the drag and drop form builder or create a new one!
And if you don't like the included formats, you can also use Formidable's Views feature to turn all your form data into whatever kind of website you want.
Formidable Directory starts at $298/year - which also includes the entire Formidable Forms plugin as well.
6. Sabai Directory - Affordable, but not as flexible, WordPress directory plugin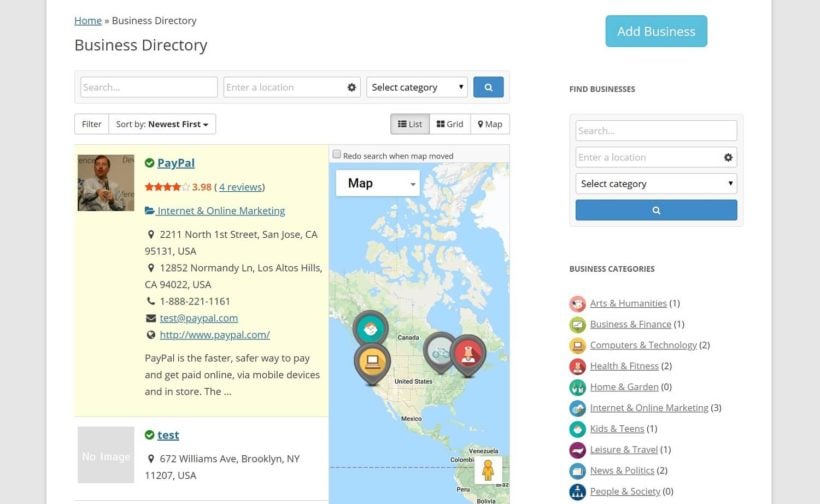 Sabai Directory is a popular WordPress directory plugin sold through CodeCanyon. It's an affordable option, but it lacks the flexibility that you'd get with Posts Table Pro or some of the other more customizable plugins.
Because it offers built-in multi-location support and reviews, Sabai Directory makes a good option for a geodirectory or Yelp clone.
Users can search by location, and you also have the option of showcasing directory listings on Google Maps.
If you want to accept payment in exchange for directory listings, you can create a frontend submission form and sell paid listings via PayPal, Stripe, and other payment gateways.
Finally, Sabai Directory includes a CSV import feature to help you bulk import listings.
Sabai Directory is available from CodeCanyon.
7. Connections Business Directory - a simple, free option that needs its premium extensions to really shine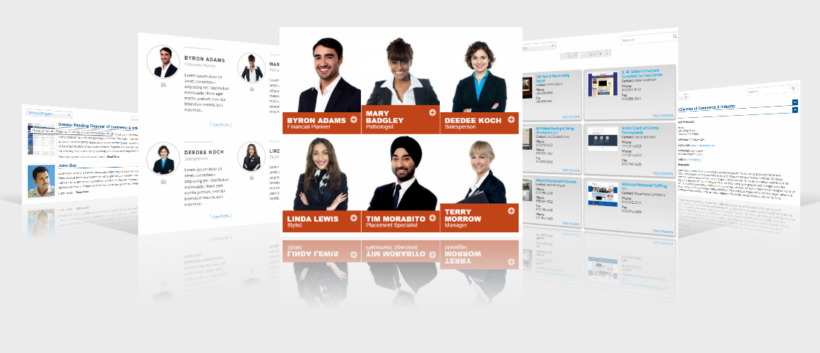 Connections Business Directory is a free business directory plugin with a range of premium add-ons to improve its functionality.
It allows you to easily create a simple address book, staff, or member directory and is compatible with some of the most popular page builders for WordPress websites out there: Elementor, Beaver Builder, Visual Composer, and more. It also comes with custom blocks for the WordPress Block Editor, adding Carousel, Directory, Team, and Upcoming List block options.
Although its free functionality is fairly limited, this WordPress directory plugin offers a wealth of premium add-ons, such as contact forms, CSV imports, custom category orders, as well as templates to help you design a great looking directory. Individual extensions start at $4.99 for a single site, with access to all templates and extensions bundled at $74.99 for a single site.
8. Directories Pro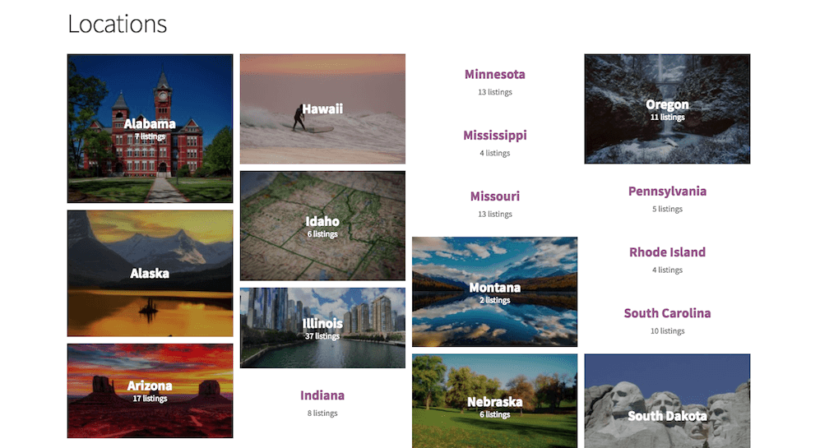 Directories Pro is a powerfully featured plugin that hits many of the key features of a good WordPress directory plugin in a single package. It's made by the same team as Sabai Directory but based on custom post types and taxonomies. This means it's easy to manage custom fields and add them to listings, tags, geolocations, reviews, and more.
You can also charge users for featured listings using WooCommerce payment gateways, as well as let business owners "claim" their own listings to verify them and edit any data they need to keep up to date.
Firmly focused on building fully-functioned directories, Directories Pro doesn't offer many of the styling and customization options of some of the other options on this list but is a great pick for sites that want a simple solution to create a well-functioning directory. Note that there is currently no multisite license offering, so you will need to buy a new license for any new sites you use the plugin on - starting at $51.75 for a year's support on a Regular License, or $258.75 for Extended.
9. LDD Directory Lite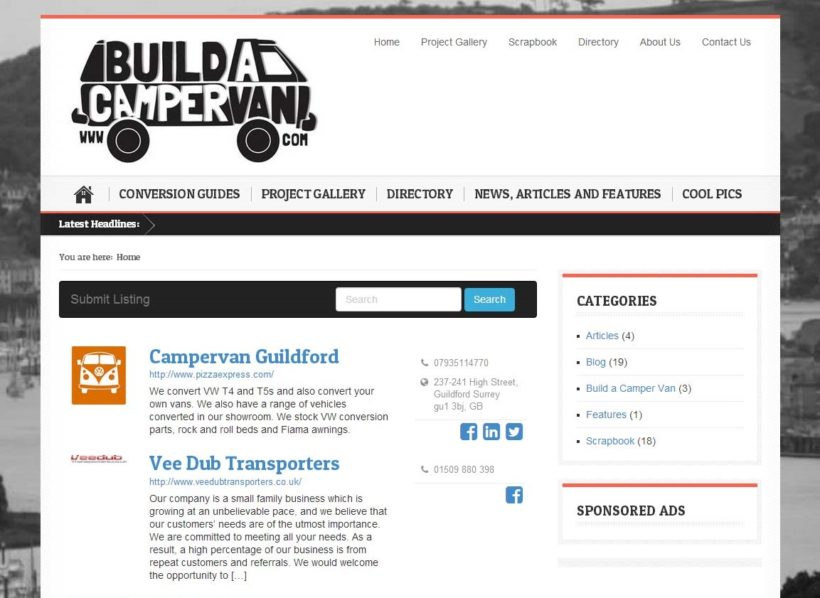 LDD Directory Lite is a free and powerful directory plugin for WordPress websites, offering a range of premium add-ons to support exports and imports in several formats, star-rating reviews, social logins, and more.
Unlike some of the offerings on this list, this WordPress directory plugin doesn't have an intuitive GUI for building your directories. Instead, it relies on the WordPress backend to generate directories automatically. As such, you're somewhat limited in your styling options, and it requires a bit more work to make sure everything looks as it should. Nevertheless, it's a good option for those looking to create a directory on a budget.
---
How to create a WordPress directory with Posts Table Pro
Now that you know your options, let's dig into how to actually create a directory with one specific plugin – Posts Table Pro.
As we mentioned before, Posts Table Pro gives you the flexibility to use it as a business directory plugin for WordPress, as well as a variety of other applications.
In a nutshell, Posts Table Pro takes the listings that you add to the WordPress admin (e.g. business listings, staff contact details, etc.) and displays them in a table on the front end. It transforms the information into a fully functional directory website.
What else can the WordPress directory plugin do?
Of course, that's just the beginning. You can also:
Choose exactly what information will be included about each item in the table (including images and other media).
Link out from each item to another page, post, or other content type.
Include as few or as many entries in your table as you'd like.
Enable visitors to quickly find information by searching, sorting, and filtering the table (for example, they could search for an item with a specific keyword, or filter the table to only include entries in a particular category).
All of this results in a listing or database that is dynamic – meant to be used rather than just passively looked at. You're able to create a searchable database, with the search results shown instantly: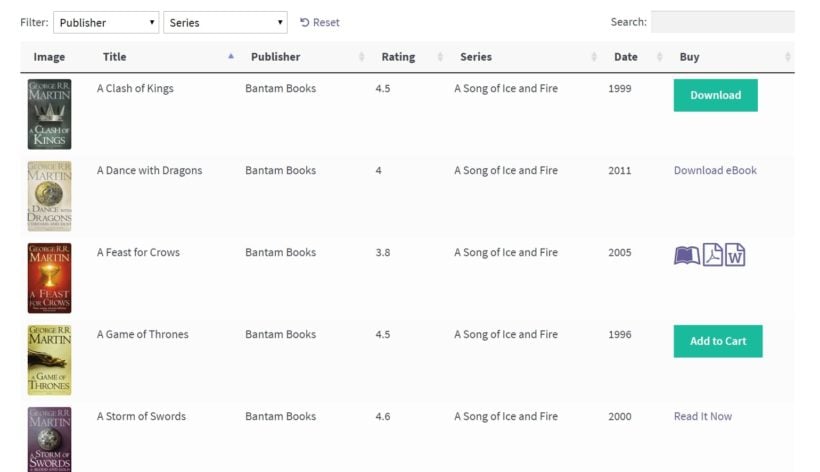 Plus, the highly customizable nature of this WordPress directory plugin means it can be adapted to all of the uses we mentioned in the previous section, and more.
To illustrate the types of WP directory you can create, let's look at some examples of Posts Table Pro in action.
3 case studies using the Posts Table Pro directory plugin
Perhaps the best indicator of Posts Table Pro's flexibility is how many WordPress sites it's used on, and for how many different applications. We're going to introduce you to three such sites, so you can get a better feel for the ways this WordPress directory plugin might be useful to you.
What's more, all of these examples implement more unique directories, rather than just using Posts Table Pro as a business directory plugin for WordPress.
SuperConnection - member directory
The nice thing about a highly-customizable plugin like Posts Table Pro is that it can be used to create both simple and complex directories. For instance, SuperConnection is a site offering various self-improvement courses, and includes an online directory of consultants for its audience's reference: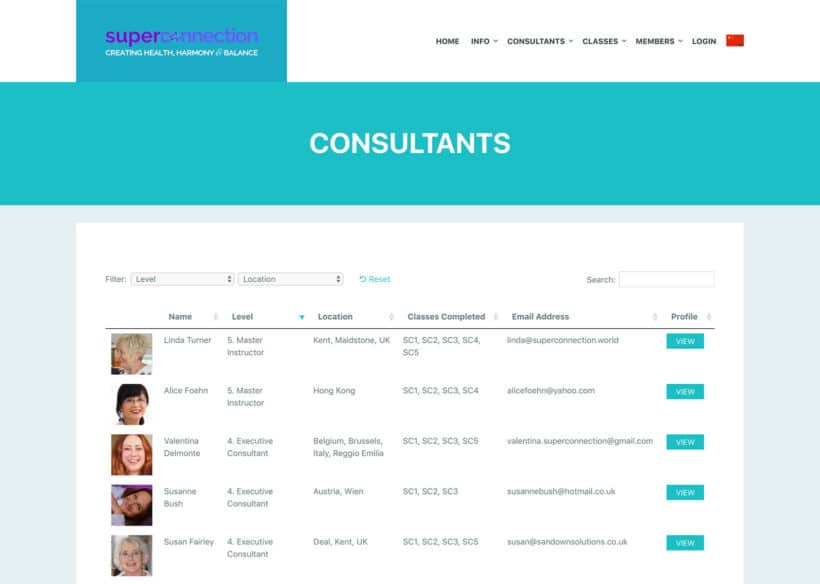 This WordPress members directory is kept as simple as can be. It just displays each consultant's name and location and you can click on each name to visit a more detailed profile and find contact information. (However, you can also include contact details in the table itself.)
RJ Lee Group - publications directory
Next up, RJ Lee Group is a forensics laboratory and scientific consulting firm in the U.S. As part of their work, they often publish papers and make presentations. To make all of those publications available to their website's visitors, the firm created a document database. This includes an advanced search for all of the paper titles and citations: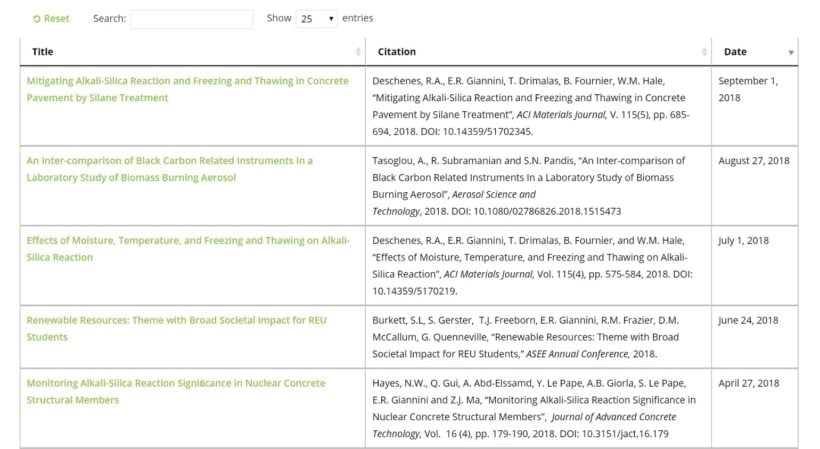 In this WordPress document directory, you can see the name of each paper, its full citation, and the date it was published. There's also a handy search bar, since the table contains a lot of items. Clicking on a paper's title will take you to a page where you can download a copy.
Wavelength Electronics - product directory
While both of the previous tables kept things simple, this final example uses the WordPress directory plugin in a different way. It makes use of the full range of Post Table Pro's feature set: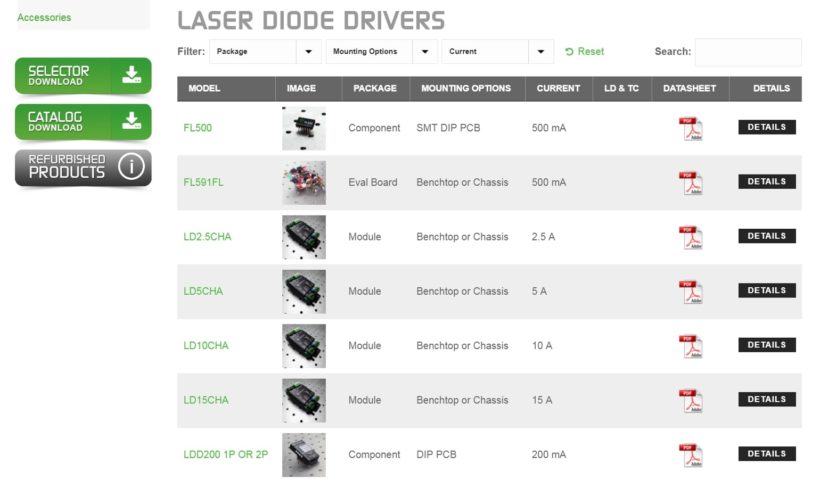 This product directory listing includes quite a bit of information about each item, including an image and even a technical data sheet with download links. In addition, the filters above the table let you sort the entries based on the specific criteria you're looking for. All in all, the table makes product comparisons very simple.
How to create a WordPress database, directory, or listing (in 4 steps)
If you want to create a WordPress directory or front end database for your own website, the good news is that it's an easy task. Of course, how you customize your table will depend on the type of database, directory, or listing you're building. Still, the process remains the same regardless of the application.
Let's walk through how to create your own WordPress directory using Posts Table Pro!
Step 1: Install and activate the plugin
Before you can create any kind of dynamic table, you'll need to purchase the Posts Table Pro WordPress directory plugin.
Once you've bought the plugin, you'll be provided with a zip folder containing all of its contents. In your WordPress site's dashboard, head to Plugins → Add New, and click on the Upload Plugin button: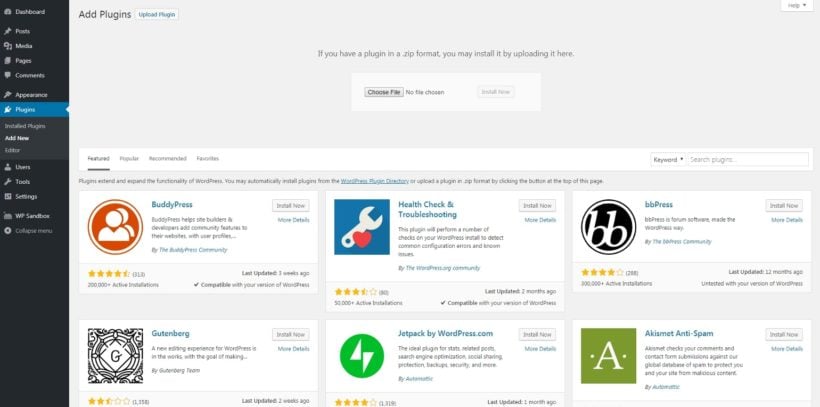 Use Choose File to find and upload your Posts Table Pro folder, then hit Install Now. Once that process is complete, you'll also need to activate the plugin:

After activating the plugin, the Posts Table Pro setup wizard will open automatically and guide you in entering your license key.
Step 2: Customize the plugin's settings
When you first install the plugin, a setup wizard will open automatically. This guides you through a step-by-step process to create your first table.
You can also create new tables at any time by going to Post Tables → Add New.
Start by giving your table a name and select the post type you wish to display. If you don't have a content type, create one using Easy Post Types and Fields plugin.
Choose your posts
On the page for selecting posts or pages to add to your table, you will have the option to choose from posts, pages, and custom post types. The available options will vary depending on the post type you previously selected. If your post type includes custom taxonomies, those will also be listed for you to select from.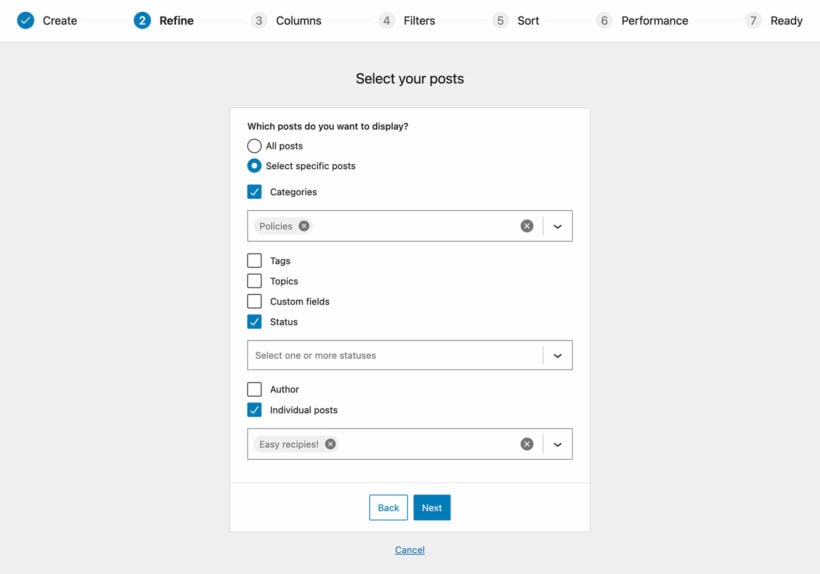 If you just need to include a few pieces of information, as in the first two case studies introduced earlier, you may be fine selecting either posts or pages here. (Using posts is usually more convenient than pages - just add each listing as a separate post.) If you want to keep your directory listings separate from your blog posts, however, you may want to create a custom post type.
Customize your columns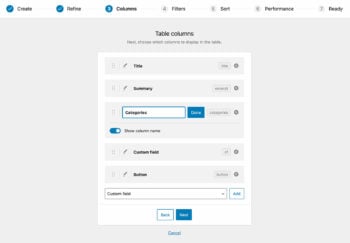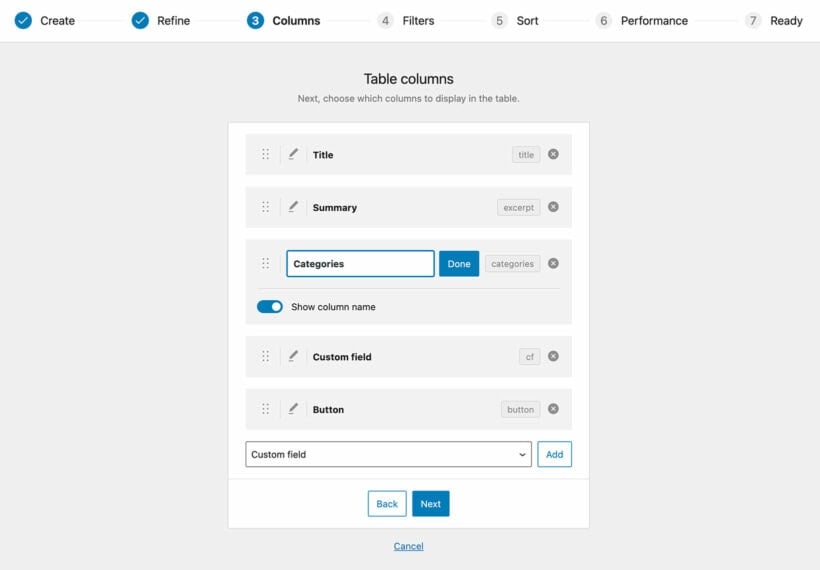 To customize the columns in your table, you can select which ones to include and in what order. Let's say you run a book review website and want to show important details about each book, such as:
Image
Title
Summary
Country
Phone
Levels
To add a column, select the type of column from the dropdown menu and click 'Add'. The new columns will appear in the list of columns above, which you can rearrange by dragging and dropping the sort icon on the left or the column title. You can also edit the column name by clicking the pencil icon or hide the column name altogether using the toggle. If you need to remove a column, simply click the X icon next to it.
Make your WordPress directory easy to navigate
Continuing to scroll down, you'll see plenty of additional options. You can enhance the usability of your WordPress directory by taking advantage of various options. These include adding filters, enabling lazy loading to speed up the table, and choosing how to sort the table.
All of the settings here can be useful, depending on the contents and purpose of your directory. No matter what kind of directory you're building, however, we'd recommend checking out the filters option: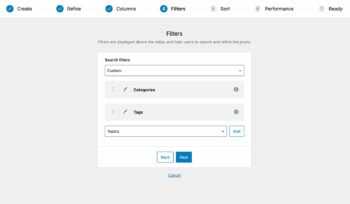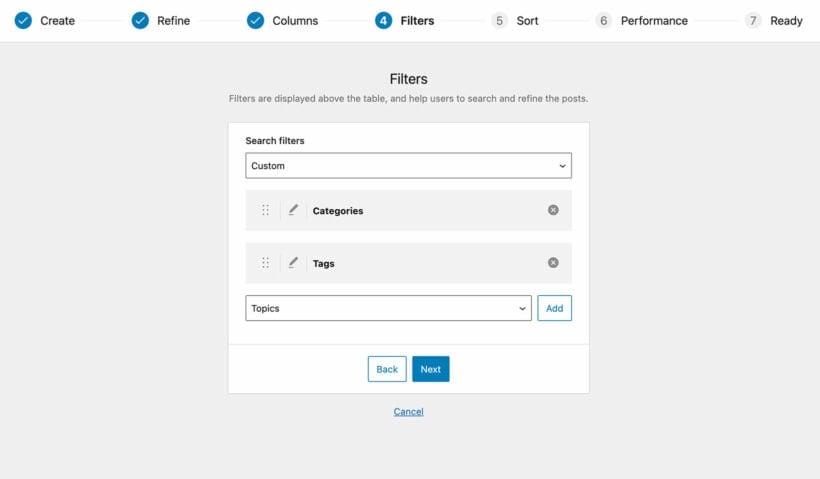 You can add filters that allow users to refine their selections. Filters appear as dropdown menus above the table, and you can add as many as you need. The filter options available depend on the post type you selected on the first page.
For example, standard blog posts can be filtered by categories and tags, as well as any custom taxonomies added. However, other post types that don't have built-in categories and tags will only display the custom taxonomies added to them, which can be created using the Easy Post Types plugin.
Step 3: Create the individual entries for your directory
Next, you'll need to create an individual piece of content on your site for every entry you want to include in your WordPress database or listings. The way you approach this step can vary, depending on your goals.
As we mentioned earlier, you can simply use regular WordPress posts as your database entries. This approach works well if you don't use posts for other types of content (such as a blog). You can use the title and description fields in the WordPress post editor to add the name and bio for each member of your staff, for example.
However, by default posts will only enable you to add a few pieces of information. What if you also want to include each staff member's phone number, location, and other details? For that, we'd recommend downloading and installing the free Easy Post Types and Fields plugin. This works alongside the Posts Table Pro WordPress directory plugin:

This is an easy-to-use tool that will let you add custom fields and taxonomies to your posts. That way, you can supplement your database entries with whatever information you need.
Consider creating a directory custom post type
Of course, this method can cause problems if you do use posts to create blog entries, news articles, or any other type of content. You don't want those posts showing up in your directory, so you'll need a way to differentiate database entries from everything else on your site.
For that, you can create a custom post type. This is essentially a separate type of post with its own name and section in your dashboard. For example, you might call it 'Directory' or 'Listings' and put all your directory listings under there. You can customize it however you'd like, and include custom fields as well.
The following tutorial video will walk you through using Easy Post Types and Fields plugin to create a custom post type, and then add new fields to it:
When you're done, go back to the Posts Table Pro settings page and select your Directory custom content type. Then, you can go ahead and create an individual custom post for each entry in your WordPress directory.
Step 4: Add the directory to your website
Finally, it's time to display your new directory, listing, or database on your site and this is the easiest step of all. The Posts Table Pro WordPress directory plugin lets you list directory entries anywhere on your site.
After creating your table with the Post Table Pro plugin, the setup wizard will notify you that the process is complete and provide instructions for displaying the table on your WordPress site.
You can display the table using either the 'Post Table' block available in the Gutenberg editor or
By copying the shortcode from the table builder and pasting it anywhere on your website. This flexibility allows you to place the table on any page, regardless of its content.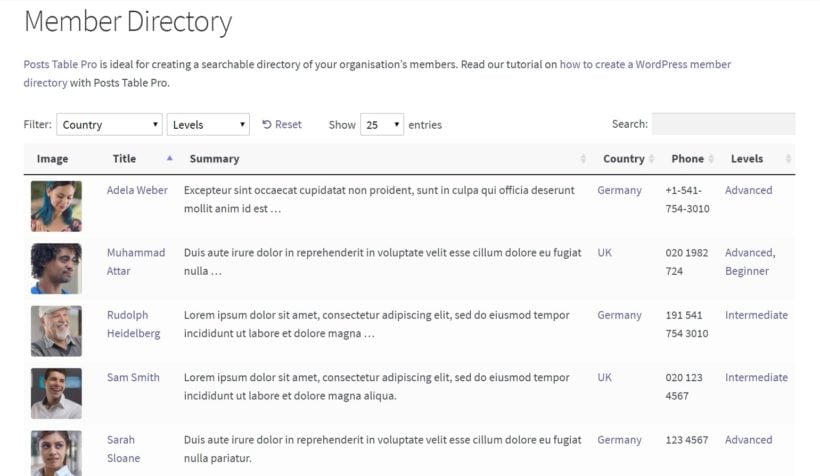 You can add any content you like above and below the table – we'd suggest including a heading at the very least. Then publish the page, and visitors will be able to start using the table!
How can users add their own directory listings (including paid listings)?
So far, you've learned how to use the best WordPress directory plugin to add and display directory listings yourself. But what about letting users submit items to the directory themselves?
For example, let's say you wanted to create a WordPress car sales directory where individual car owners can advertise their vehicles. That's where Gravity Forms comes in.
Gravity Forms is a WordPress forms plugin that lets you create interactive online forms to collect information from your users. You guessed it, you can even use it to create a 'Submit a listing' form for a WordPress directory website.
Use Gravity Forms to create a 'Submit directory listing' form which will collect all the information for the listing. You can then add some useful add-ons to add the remaining functionality:
Use the Gravity Forms + Custom Post Types extension to automatically add your user's listings to your 'Directory' custom post type. If you like, you can hold new listings for moderation before they go live in your WordPress directory.
Use the take payment via PayPal addon to take payment online before users can submit their listing (Gravity Forms has multiple payment gateway addons including Stripe, 2Checkout, and Authorize.net, so you can use any of these too).
You'll also be able to set Gravity Forms to get email notifications, and you can add customizable form fields too so that you're getting the information you need.
Create your WordPress directory today
In the end, the best WordPress directory plugin is simply the one that meets your needs.
Overall, if you want something that can work as both a business directory plugin for WordPress, as well as a directory for users, WooCommerce products, files, and pretty much anything else, you should consider Posts Table Pro.
As you saw in the tutorial above, it's going to give you the most flexibility when it comes to creating a directory on WordPress.
And for a list of the best WordPress Directory Themes, read this post.
To get started, click below:
Do you have any questions about these plugins, the best business directory plugin for WordPress, or how to use Posts Table Pro as a WordPress directory plugin? Ask away in the comments section below!