We have developed a free WordPress plugin that lets you display comments from your posts anywhere on your website. You can insert comments in a page, post or widget. You can even choose what information about each comment is included.
What's wrong with the default WordPress Recent Comments widget?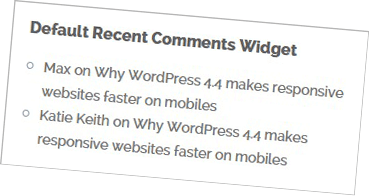 WordPress comes with a built-in 'Recent Comments' widget that unfortunately isn't very good. I mean, what's the point of a widget that tells you the name of the post that someone commented on, but doesn't actually include the content of the comment? No one will click to view the full comment if they don't even know what it's about.
Another drawback of the default Recent Comments widget is that - by definition - it's just a widget. Unless you use a plugin like SMR Shortcode Any Widget or your theme lets you add widgets within a page, there's no way to insert it elsewhere on your site - for example within the main body of a page or post. I realise that not many websites display WordPress comments within a post, but plenty of people want to do this on a page - particularly the homepage, to show how people are interacting with the site.
The default Recent Comments widget displays ALL the comments from your WordPress website regardless of language. This doesn't matter if you have a single-language website. However if your website is multilingual then it means that the widget will display comments from posts in the wrong language, which can be confusing to your users.
We therefore decided to develop a free WordPress Recent Comments plugin that would solve these problems.
Introducing the Better Recent Comments free WordPress plugin
Better Recent Comments was launched last week and has already had its first 5* review, which we're delighted about. You can use it to insert your comments in a widget or on a page or post using a simple shortcode.
The easiest way to use the plugin is simply to add the basic shortcode into a post, page or widget:
[
better_recent_comments
]
This will display your latest comments without needing any further configuration.
If you want more control over the information that is displayed then the plugin has several built-in options. You can use these by editing the shortcode - this is documented in the plugin description.
Number - lets you control how many comments are included.
Format - lets you control what information about each comment is displayed. Choose from avatar, author, post, comment and date.
Date format - lets you choose from a range of date and time options to control how the comment date appears.
Avatar size - lets you change the size of the avatar for each comment. (An avatar is the comment author's photo and is taken from their Gravatar, if they have one.)
I have a multilingual website. How can I display comments for the current language only?
The Better Recent Comments plugin is WPML-compatible. If you're using WPML for your multilingual website then the plugin will automatically display the comments for your current language only.
This means that if you have an English and a Chinese version of your website, for example, then the comments from your English posts will display on the English site and the Chinese comments will display on the Chinese site.
Where can I see a demo of the plugin in action?
We have created a plugin demo page where you can see Better Recent Comments with different options selected. This includes details of how we configured the shortcode to create the different options, so you can copy the shortcodes from this page directly into your own WordPress website (once you have installed the plugin).
You can also see it in use on our own website - check it out in the right hand column of this post (or at the bottom, if you're reading this on a mobile).
Where can I download Better Recent Comments?
You can download the plugin from the WordPress plugin repository or you can search for 'Better Recent Comments' in the WordPress admin (go to Plugins > Add New).
We'd love to hear how you get on with Better Recent Comments and how we could further improve it for you. Please leave a comment below or add a review or support request on the plugin page.