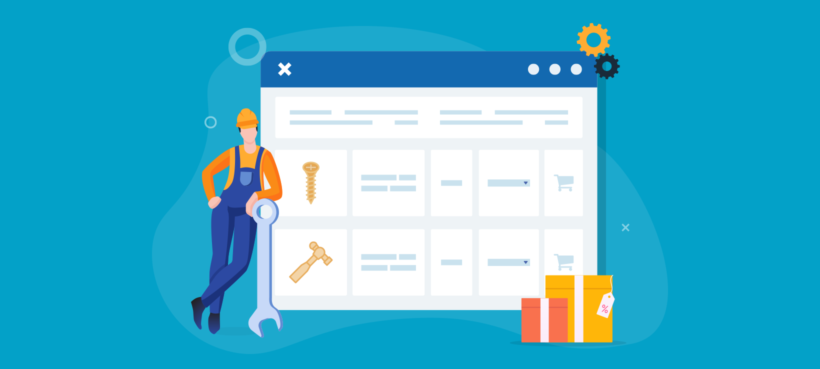 In this article, I'm going to tell you how to use the best WordPress plugin to build a quick WooCommerce wholesale order form. It's easy to set up, and you can put your B2B wholesale order forms within a private area for approved wholesale buyers.
If you run a WooCommerce wholesale or role-based store, your customers need to see the correct products and prices for their wholesale status or user role. Wholesale customers also benefit from a tabular view of all the products available to them.
You can get this by using our wholesale suite of plugins - WooCommerce Product Table combined with WooCommerce Wholesale Pro. WooCommerce Wholesale Pro adds wholesale registration, new user approval, user roles and pricing to your store (without affecting your public-facing shop); and WooCommerce Product Table adds quick wholesale order forms.
The best wholesale order form plugin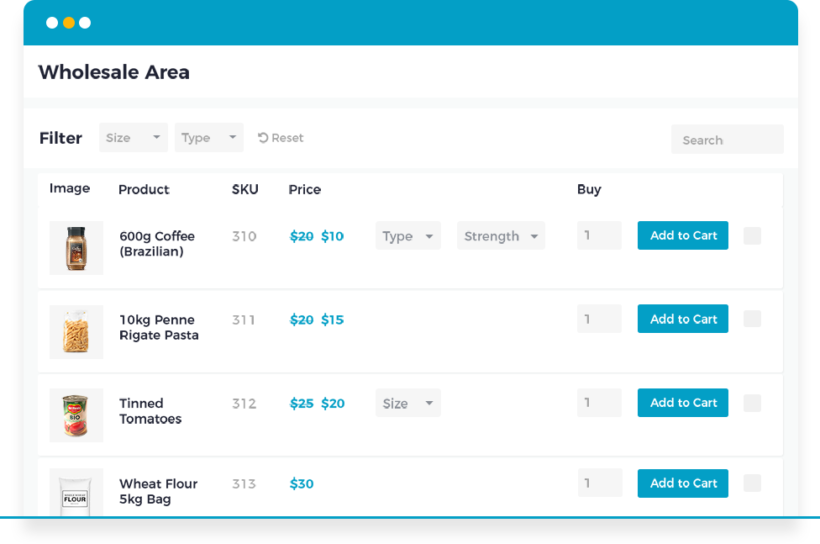 WooCommerce Product Table takes your wholesale products displays them in a table. When used alongside WooCommerce Wholesale Pro, it's the perfect format for a WooCommerce wholesale ordering form plugin.
You can choose which columns are displayed in the order form. You can even add filters based on categories, tags, variations etc. There are over 50 options for you to experiment with.
What's great is that customers can select multiple products from the WooCommerce wholesale order form and click "Add Selected to cart". This is a handy feature for wholesale buyers, most of whom will be making a bulk purchase and want to buy quickly.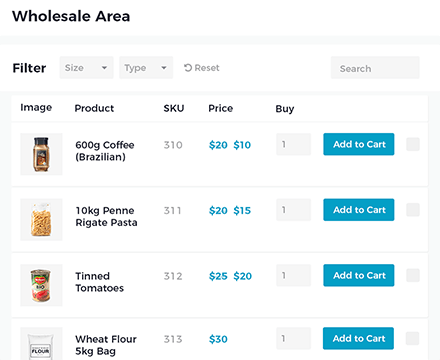 Install WooCommerce Wholesale Pro today and get a complete wholesale store with quick order forms.
How to set it up
You can create a WooCommerce wholesale order form in just a few minutes. Either watch this video tutorial, or follow the written instructions below.
Install and activate WooCommerce Product Table and WooCommerce Wholesale Pro.
Go to the plugin settings pages (WooCommerce → Settings → Products → Product tables and WooCommerce → Settings → Wholesale) and enter your license key for each wholesale plugin. Choose the other settings to set up each plugin according to your requirements.
Choose the 'Order form' options on the 'Layout' tab of the WooCommerce Wholesale Pro plugin settings: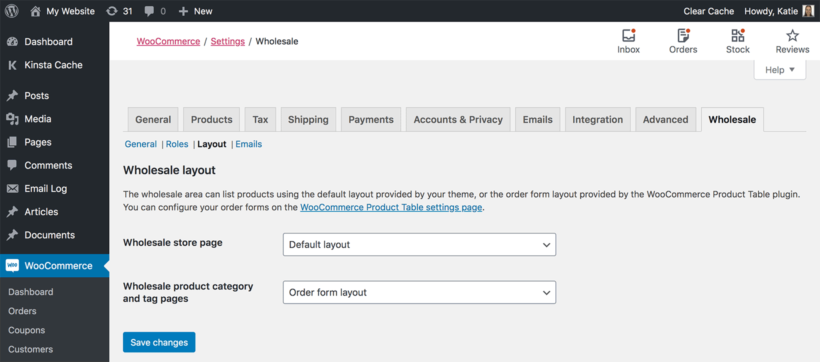 Now, when a wholesale user logs into their account, they will see the products listed in the WooCommerce wholesale order form: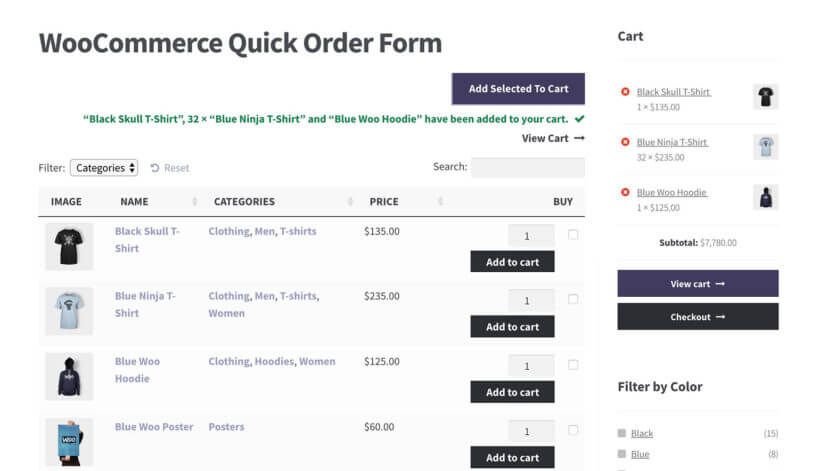 Normal retail customers will continue to see the default store layouts. (Tip: If you want to use the order form layout for public customers too, then you can enable it throughout your store on the WooCommerce Product Table plugin settings page.)
Bonus tip - Add quick view to your WooCommerce wholesale order form
You can make a wholesale order form even more user-friendly by adding quick view options:
Get WooCommerce Quick View Pro and install and activate it on your WordPress site.
Add your license key to the plugin settings page at WooCommerce → Settings → Products → Quick view. 
Use the settings on this page to control the content of your wholesale quick view lightboxes.
Now go to WooCommerce → Settings → Products → Quick view and change the following options:

If you wish to add a quick view column to the table, add quick-view to the list of columns.
If you want people to be able to open the lightbox by clicking on a product name, click the 'Replace all links to product page with quick view' option near the bottom of the page.
If you want the image column to open the quick view too, then you will need to disable the image lightbox option further up the page.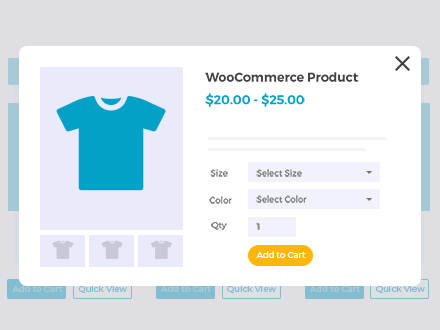 Speed up ordering and add Quick View lightboxes to your wholesale order form.
Other ways to increase your B2B sales
By now, you've learned how to set up an effective WooCommerce bulk order form with restricted access for B2B users. That has taken care of the ordering process.
Before we close, it's worth mentioning some other ways to grow your B2B sales. For example, use email marketing in a way that will appeal specifically to B2B customers. This will convert them from one-time buyers to regular wholesale customers. And as everyone knows, it's cheaper to retain and existing customer than to recruit a new one - so this is a cost-effective way to bring them back to your wholesale order form over and over again.
Case study #1 - PolBazar24 WooCommerce wholesale order form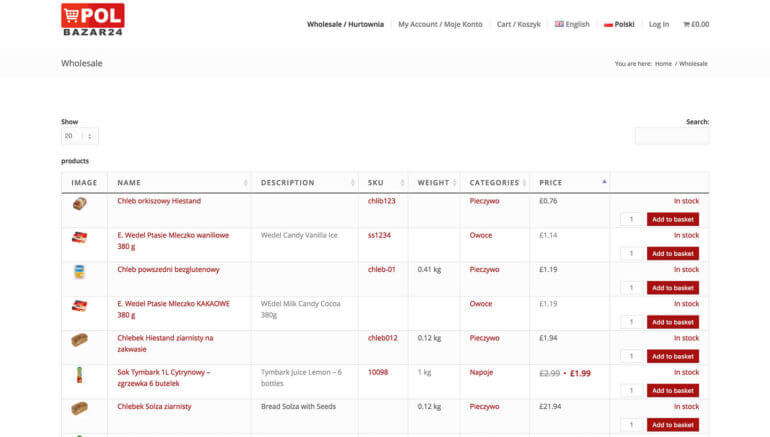 PolBazar24 is a Polish food wholesaler. Their website has a WooCommerce wholesale order form powered by our WooCommerce Product Table plugin. Every wholesale product is listed in the easy to use table along with a small image.
Customers can quickly read a short product description and find out the stock number, its weight and price. There's even a handy stock level indicator to let customers know if the product is in stock. And if it is in stock, customers just input the quantity needed and click add to cart. It works well for PolBazar24's customers as everything can be done from the single WooCommerce bulk order form and there's no flitting between pages to place their order.
You can use the same plugins to create your very own WooCommerce wholesale order form.
Case study #2 - Yarn Gate's wholesale order form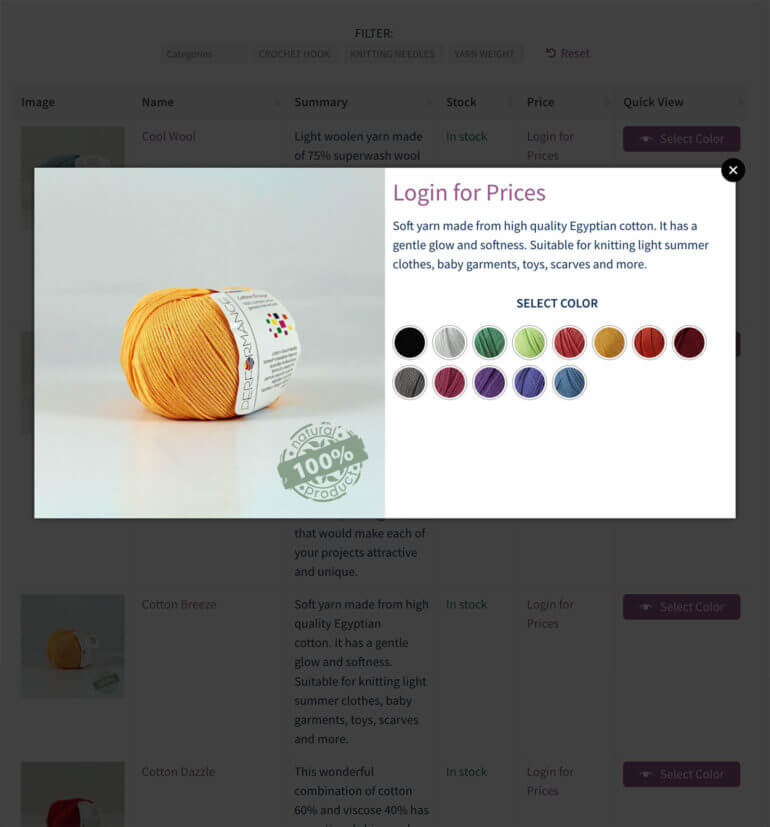 Yarn Gate also used WooCommerce Product Table to build their wholesale order form. They went a step further, and enhanced it with some extra plugins. They used the WooCommerce Quick View Pro plugin to add 'Select color' buttons to the table.
When logged in wholesale customers click on these buttons, they can click on a photo to choose a color variation, and add it to the cart. The variation photos are created using the WooCommerce Attribute Swatches plugin.
This is a perfect example of how you can add extra features to your WooCommerce wholesale order form.
Add wholesale order forms to WooCommerce today!
As you can see, it's really easy to use our suite of wholesale plugins to add a private B2B area with wholesale order forms. You can use them to make your whole store private, or run them as a hidden area alongside your public retail shop.
Quick to set up and easy to use
Flexible customization options
Full documentation and support (absolutely no way to get it wrong!)
Written and video tutorials
Love it or your money back!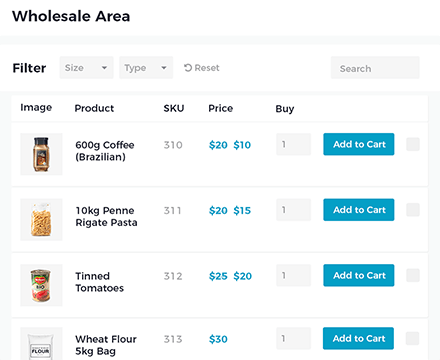 Install WooCommerce Wholesale Pro today and get a complete wholesale store - the easy way.
Let us know in the comments how you use the WooCommerce wholesale ordering plugins in this tutorial. I'd love to hear from you.