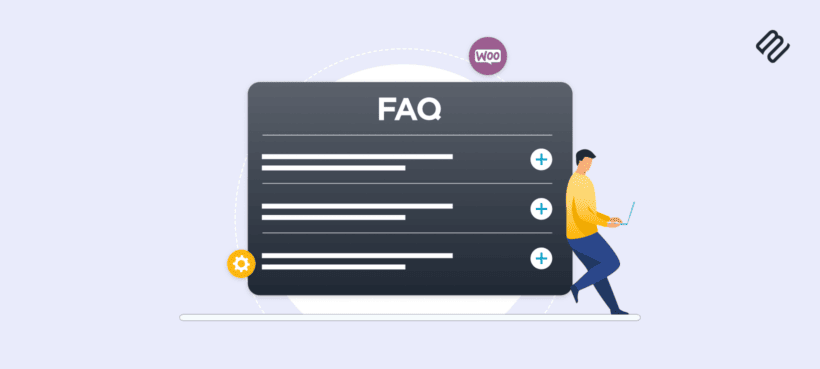 Are you looking for an easy way to add WooCommerce product FAQ to your store? Discover how to create a well-organized and informative FAQ section that engages your visitors and answers their most common questions.
Adding FAQs to your WooCommerce product pages can be a game-changer. Not only do they enhance the user experience by answering common queries, but also boost your website's credibility by helping potential buyers make informed purchasing decisions.
If you've ever wanted to ask a question "How do I add FAQ to my product page in WooCommerce?", then this tutorial is for you.
In this article, we'll walk you through the step-by-step process of seamlessly adding a FAQ tab to your WooCommerce product pages using the WooCommerce Product Tabs plugin.
Let's get started.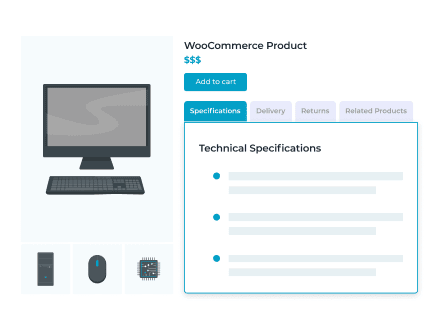 Boost your product pages by adding an FAQ tab that answers customers' most common queries.
What is a product FAQ in WooCommerce?
A product FAQ is a list of commonly asked questions along with their corresponding answers. Its primary purpose is to provide customers with relevant information about a specific product, allowing them to make an informed purchasing decision.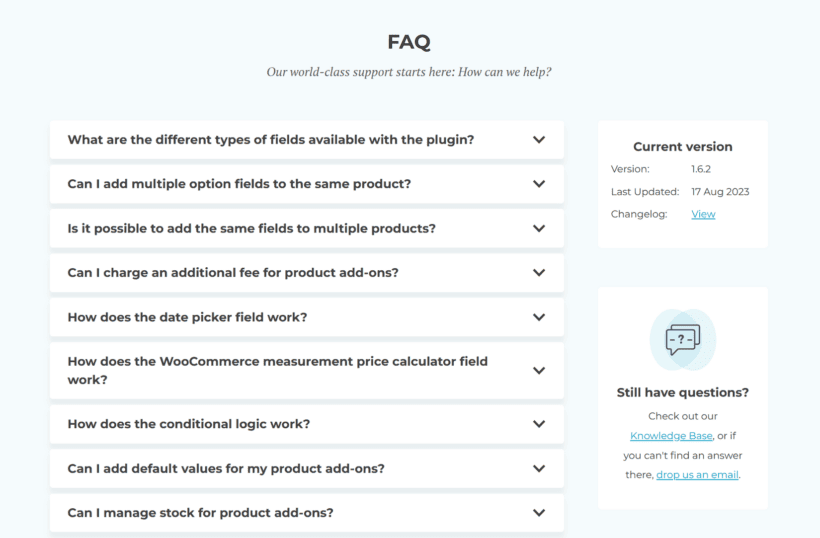 Now, you might ask, "What is the difference between a product FAQ and a product description?"
The answer lies in their respective focuses and functions. While a product description primarily aims to highlight the features, benefits, and selling points of a product, a product FAQ takes a more customer-centric approach. It focuses on addressing specific concerns and queries that potential buyers may have before making a purchase.
Having a dedicated FAQ section can significantly improve the overall shopping experience. Customers appreciate having their questions answered promptly and thoroughly. It saves time and reduces frustration for both customers and your support team.
This builds trust and confidence in your brand, leading to improved customer satisfaction and increased conversions.
Why use WooCommerce product FAQs?
Adding product data FAQs to your WooCommerce store offers several advantages that can positively impact your business and customer experience. Let's explore some of the key benefits:
Improved customer satisfaction: Product FAQs act as a valuable resource for customers, providing quick answers to their common queries. When customers find the information they need, they feel more confident in making a purchase decision.
Enhanced SEO: Including product FAQs with relevant keywords can positively impact your website's search engine rankings. When potential customers search for specific inquiries related to your products, having an FAQ section that matches their search intent can drive organic traffic to your site.
Reduced return rates: Clear and detailed product FAQs can help minimize product returns and exchanges. By providing answers to common queries, you set realistic expectations for buyers. This reduces the likelihood of customers purchasing a product that does not meet their specific requirements, reducing return rates and associated costs.
Time and resource-saving: Including a well-structured FAQ section on your WooCommerce store can significantly reduce the time and resources your customer support team spends on answering repetitive inquiries. Customers can find answers to their questions independently, allowing your support team to focus on more complex or unique inquiries.
What to look for in a WooCommerce FAQ plugin
A feature-rich plugin makes the process of creating and managing FAQs more effective. Here are some important features to look out for:
Easy creation and editing: A WYSIWYG editor makes it simple to format questions and answers without needing to know HTML.
Visibility options - Control which FAQs appear on which products, categories, or tags. This lets you target FAQs to where they are most relevant.
Toggle or tab layout: Accordions or tabs keep FAQs organized and scanable. Customers can expand the tab/toggle to find the information they need.
Styling options - The plugin should let you match the FAQ appearance to your brand with colors and typography. This helps maintain a consistent look.
WooCommerce Product Tabs stands out as a top choice for its user-friendly drag-and-drop interface, extensive customization capabilities, flexible content options, and visibility settings.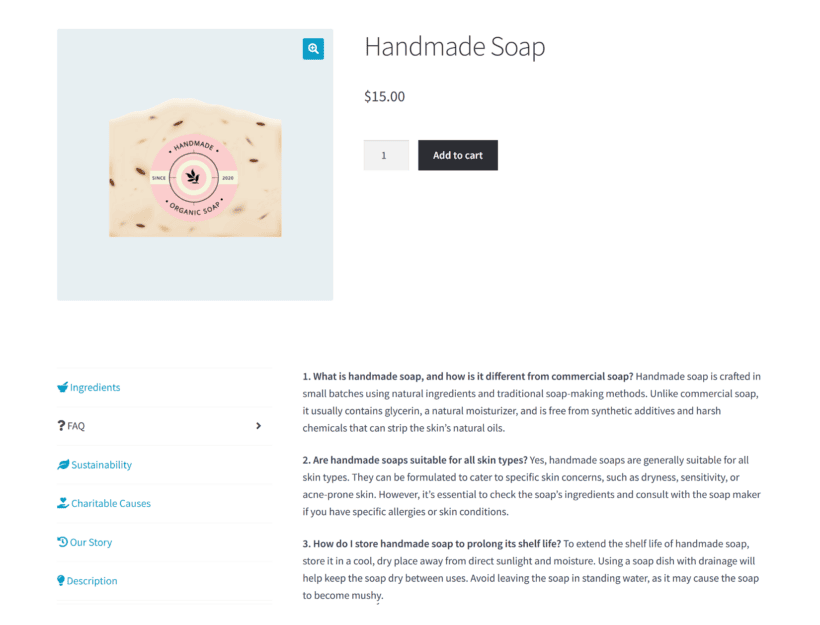 The plugin lets you:
Add unlimited FAQs to custom tabs and reorder them using drag-and-drop.
Use the WYSIWYG editor for creating FAQ content.
Supports content like headings, images, blockquotes, lists, videos, and shortcodes.
Set tabs globally, product-specific, or based on categories or tags.
Add icons and convert tabs to accordions.
This ensures that your FAQs are presented in an organized and clutter-free manner, enhancing the overall user experience.
How to add FAQ to your product page in WooCommerce
If you're wondering, "Is there an easy way to add the product FAQ to my product page?" the WooCommerce Product Tabs plugin can help.
This section outlines the steps to install it and create FAQs in a custom product tab.
Installing the FAQ for WooCommerce plugin
WooCommerce Product Tabs is a premium plugin that you can purchase from the Barn2 Plugins website.
Once you've got the plugin's file, go to Plugins → Add New to upload it to your WordPress admin panel. Next, activate it and then verify the license key in the setup wizard or from the 'Getting Started' page on the plugin's menu.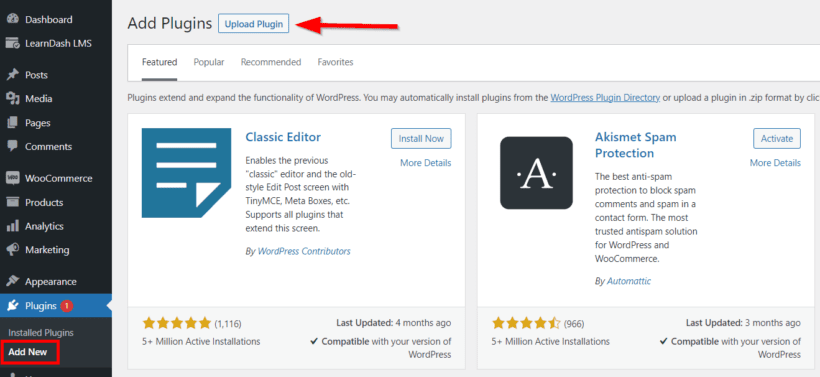 Once verified, you can start creating a FAQ tab and adding content to it. Go to WooCommerce Product Tabs Pro → Product Tabs and click 'Add New'. Give it a title like FAQ and then scroll down to the Icons section to set an icon that appears before the tab name.
There are two approaches you can take when adding content to the FAQ tab:
Let's first look at how to create FAQs as headings and plain text.
Creating FAQs as simple headings and plain text
This method does not require any additional plugins. You can directly start adding the FAQ questions and answers in the tab content area.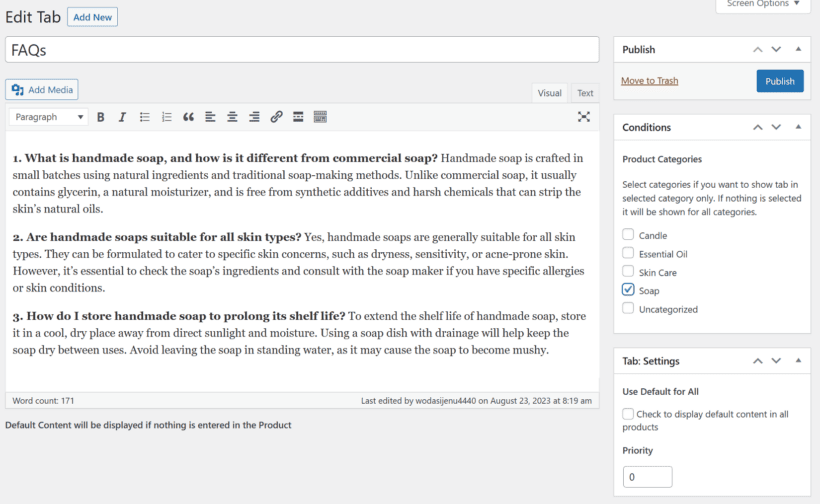 The content area uses the classic editor to help you use the heading tags for the question and paragraph text for the answer.
Creating FAQs in toggle or accordion format
This method requires using a third-party plugin like Elementor or Shortcodes Ultimate to create and design the accordion element. These plugins generate a shortcode, which you can paste into WooCommerce Product tabs to show FAQs on the product page.
The Elementor page builder has a drag-and-drop interface for creating FAQ accordions. You can use the Accordion widget to design a collapsible FAQ template, then copy its shortcode and add it to the WooCommerce Product Tabs plugin.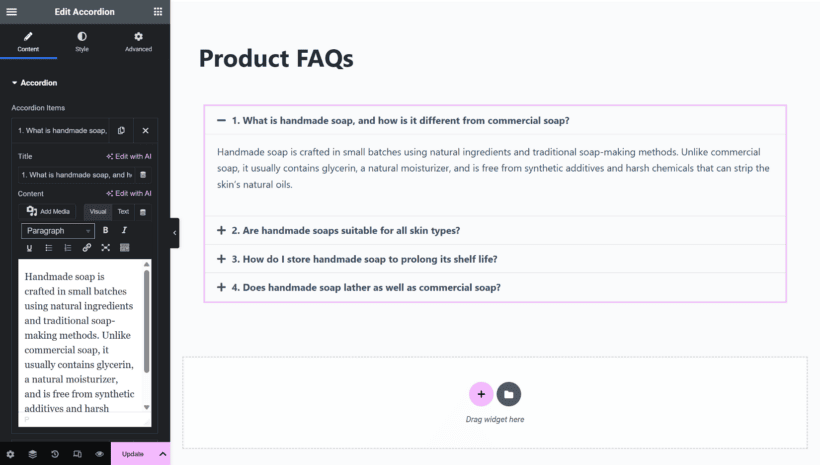 The Elementor website has detailed documentation that you can read to configure the Accordion widget to work as a toggle for FAQ sections.
Shortcodes Ultimate works a bit differently. Rather than building a template, you can directly add your content to WooCommerce Product Tabs between each shortcode tag. The shortcode supports values for styling the toggles and adding icons.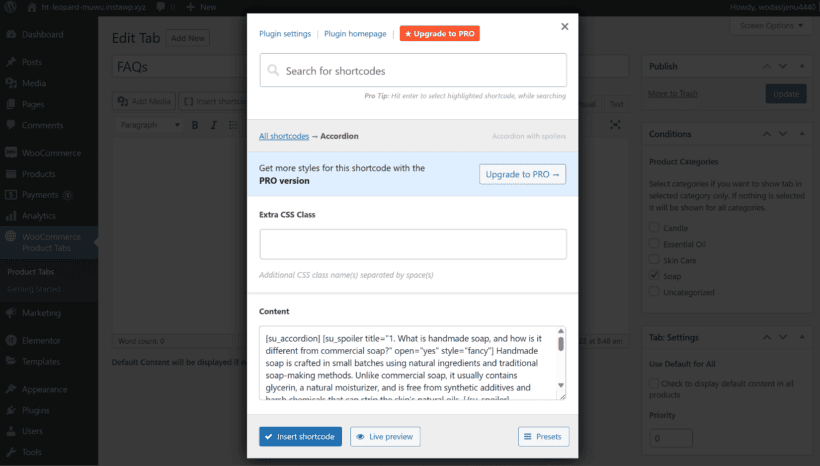 You can refer to the documentation for details on configuring and styling the shortcode to create collapsible FAQs.
Once you've added the shortcode, let's see how to control the tab's visibility.
Assigning FAQ blocks to products and categories
Generic FAQs that cover all products often fail to address unique concerns customers may have about a particular item prior to its purchase.
This is where product-specific FAQs come in. They allow you to answer questions that are most relevant to that item or category. This reduces post-purchase issues by addressing concerns upfront, resulting in higher satisfaction and low returns.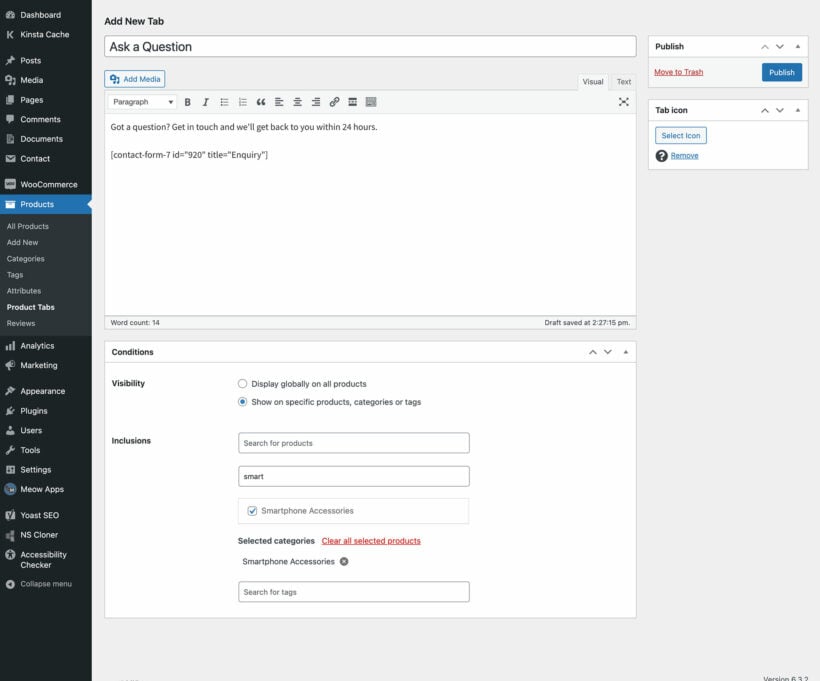 The WooCommerce Product Tabs plugin lets you control the visibility of your FAQ tab by specifying which products, product categories, or tags the FAQ tab appears on. The visibility settings are located in the right sidebar and include the following options:
Default for All - Check this to display the FAQ tab on all products.
Product Tags - Start typing a tag name and select it from the suggestions to show the tab on products with that tag.
Product Categories - Check the boxes for any categories where you want the FAQ tab to appear.
Products - Select individual products to display the tab on by starting to type the product name and choosing it from the suggestions.
Once you've configured the visibility settings, click the 'Publish' button at the top to save it. You can now visit the product pages on the frontend to which you've assigned the tab and see the FAQ tab in action.
Integration options with WooCommerce Product Tabs
While FAQ plugins like WooCommerce Product Tabs are great for managing Q&As, integrating them with other plugins opens up more possibilities for enhancing product pages.
For example, Barn2's suite of WooCommerce plugins are designed to be compatible with each other and work seamlessly together. By combining WooCommerce Product Tabs with other Barn2 plugins, you can add other important content to your custom tabs:
Document Library Pro Add a Specifications tab linking to downloadable spec sheets, user manuals, warranties, and other product documents.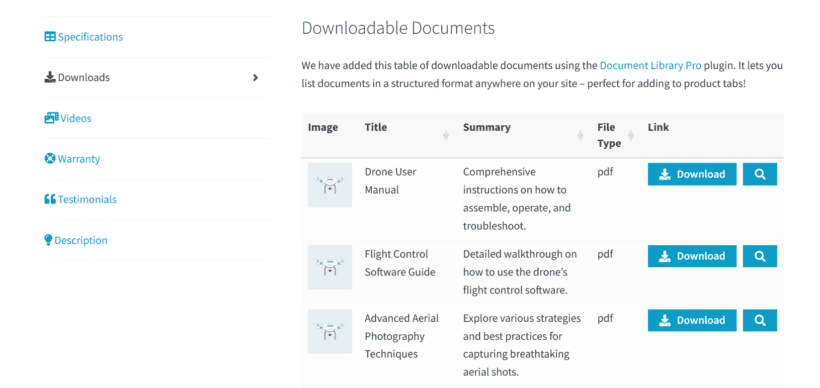 WooCommerce Product Table Add a Related Products or Compare tab with a table comparing the current product to others based on attributes like size, price, and features.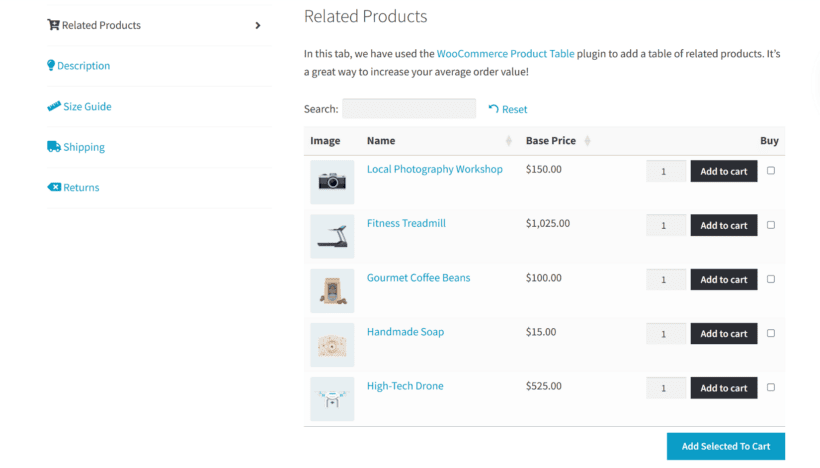 Optimizing your FAQ section for maximum benefits
A well-optimized FAQ page can improve customer experience and increase conversions for your online store. Here are some tips you can implement:
Organize strategically: Structure your FAQs from most to least common product questions. Lead with the questions customers ask most frequently.
Write strong headlines: Use clear, scannable FAQ questions that grab attention. Avoid vague headlines.
Include images/videos: Use visuals to make engaging FAQ content, illustrate answers, or demonstrate products.
Update regularly: Monitor FAQ search trends and add new Q&As based on common questions.
Add an enquiry form to the product page: The aim of a product page FAQ tab is to reduce the need for customers to contact you manually. However, there may still be situations where customers need to get in touch before they're ready to make a purchase. To make this easier, you can add an 'Ask a question' tab after the FAQ tab. We have a separate tutorial about how to set up a product enquiry form for WooCommerce.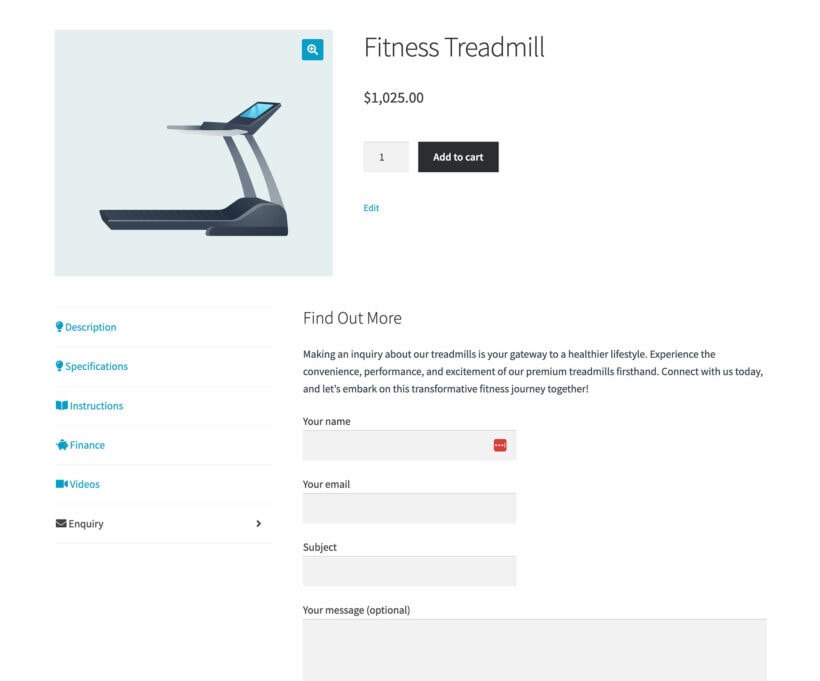 It's time to add FAQs to WooCommerce
Providing your customers with answers to frequently asked questions is crucial for any eCommerce store's success. A well-designed FAQ section offers an excellent way to provide important details to site visitors.
By utilizing a powerful WooCommerce FAQ plugin like WooCommerce Product Tabs, you can seamlessly add product FAQ tabs tailored to your products.
The plugin lets you:
Add an unlimited number of FAQ tabs with text, images, or videos.
Easily customize tab style with icons, layout, and drag-and-drop ordering.
Set visibility rules to control which products display the tab.
From answering shipping and returns questions to addressing product-specific concerns, WooCommerce Product Tabs can help provide all the details customers need.
Enhance your customer experience today with the best WooCommerce FAQ plugin for customizable FAQ tabs.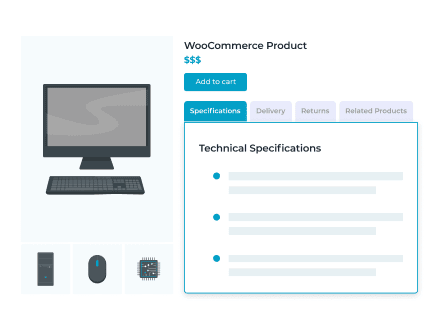 Boost your product pages by adding FAQs that answer your customers' most common queries.