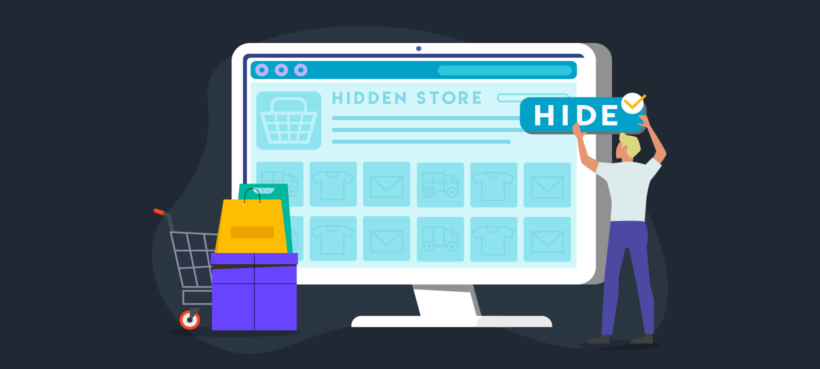 Lots of online shops need to create WooCommerce private content or a WordPress private post. Perhaps you want to make your entire WooCommerce store private and hide it from public view.
Maybe you need to add private content within a public WooCommerce store, such as hidden products or categories (or a wholesale WooCommerce store). Or you might want to lock down parts or all of your WooCommerce store so that only logged in users can see it.
This tutorial makes it simple for you, whatever your experience level, to learn how to make your WordPress private. I'll tell you how to do it and which plugin to use. You'll learn how to create WordPress private posts and WordPress private categories which are hidden behind simple password protection. You'll also learn how to restrict them to specific logged in WordPress users or entire user roles.
Keep reading to find out how, or watch this video:
Two plugins to create private WooCommerce content
I'm going to teach you 3 methods to create private WooCommerce content. They'll all use one of the following plugins:
WooCommerce Protected Categories - A WordPress plugin that lets you protect categories within WooCommerce. Do this by adding password protection or restricting them to certain customers or user levels.
WooCommerce Private Store - WordPress plugin to hide the whole of WooCommerce. Only people with the password or logged in users can access it.
Protected Categories Private Store
#1 - Create WooCommerce password protected categories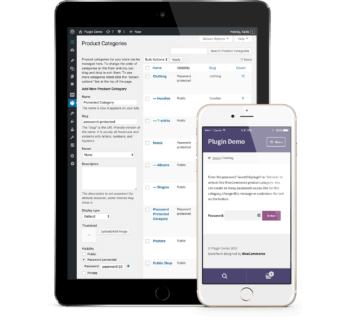 The WooCommerce Protected Categories plugin lets you password protect any or all of your WooCommerce product categories with WordPress private posts. When you password protect a category, all its products and any sub-categories will be protected with the same password.
It's a really user-friendly plugin to create WooCommerce private content or a WordPress private post, because users only have to enter the password once. It will also unlock the entire category.
There are options to choose whether to show or hide protected categories and their products in public parts of your site. (If you choose to show them publicly, people will be prompted for a password before they can add to cart or view the single product page.)
To use this option for your private WooCommerce content or WordPress private category, simply install the plugin. Then go to add or edit the category that you want to make private. Select the 'Password protected' option and enter 1 or more passwords. You can add as many passwords as you like.
Whenever someone clicks a link to a protected category, or content within the category, they'll be asked for the password. You can also create a category login form, so customers can access all WooCommerce private content on your site.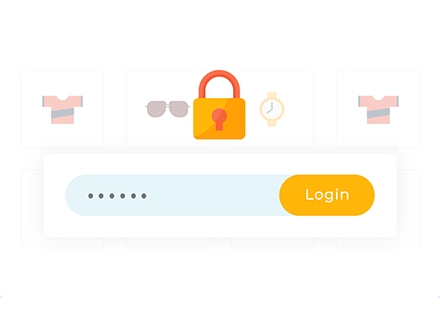 Start creating WooCommerce private content categories today.
#2 - Create protected categories that only specific users or roles can see
Some WooCommerce store owners don't want to give passwords to their customers - especially if they already have a user account on your WordPress site. WooCommerce Protected Categories also comes with an option to create private WooCommerce content, only visible to specific user accounts, or certain user roles.
When you create private WooCommerce content, or a WordPress private post, by restricting a category to specific users, roles or WordPress private category, only those logged in users can see it. The plugin makes the category and its content private and hidden from public view, so no one else can see them.
The instructions for creating private user or role protected categories are similar to method 1, above. Install the plugin and add or edit a product category. Choose the 'Protected' option from the 'Visibility' settings for the category, and restrict the content to selected users or roles.
WooCommerce Protected Categories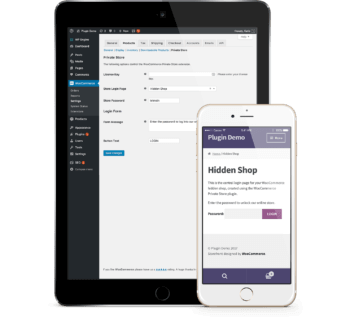 Finally, here's an option for people who want to turn their entire WooCommerce store into hidden content, beyond a simple WordPress private post. This creates a 100% hidden shop. It will leave the other parts of your website public. (E.g. the Homepage, About page and blog).
To hide WooCommerce and make its content private, you need the WooCommerce Private Store plugin. It hides all your WooCommerce content from public view. This includes your main shop page, product pages, product categories, tag archives, cart and checkout. To unlock the WooCommerce private content, customers must enter a password or log into their user account. (Depending on which options you choose on the settings page).
This WooCommerce private content plugin is incredibly simply to use. First, install the plugin and activate your license key. Second, tick the 'Logged In Users' box if you want to unlock WooCommerce content for logged in users (and select which roles should have access if required); or add a password if you're using the password protection option. Third, go and make yourself a drink - you've finished work and your WooCommerce content is now private!
What will you use for your WooCommerce private content?
Now you know 3 easy ways to make WooCommerce private, using a choice of 2 WooCommerce private content plugins.
Whether you want to hide parts or all of your WooCommerce store, now you can go ahead and do it. Choose which method for creating private works best for your site, and get the plugin today.