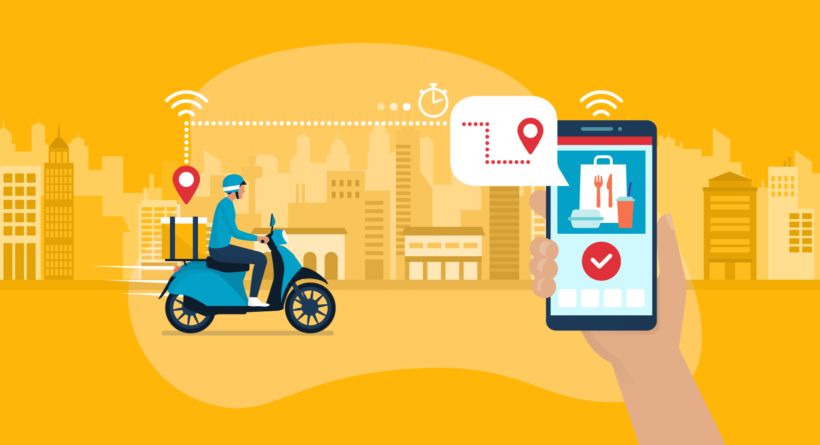 Listing WooCommerce new products in a prominent location immediately draws the attention of existing customers who shop with you regularly and are interested in your latest products. A WooCommerce new products page is a great way to boost product visibility. It ensures that visitors see your latest products when they land on your online store.
And the easiest way to list WooCommerce new products anywhere on your WordPress site is by using the WooCommerce Product Table plugin.
In this article, we'll take a closer look at why you should list WooCommerce new arrivals in your store and the best places to list new products. You can either create a dedicated WooCommerce latest products page, or list newly released products anywhere else in your store. We'll also walk you through a step-by-step tutorial explaining how to list WooCommerce new products using a product table.
You'll also learn how to give exclusive early access to new products to specific customers only.
Why list WooCommerce new products separately in your store?
One of the main motivations to list WooCommerce new products on a WooCommerce new products page is to make them easy to find.
It makes it easy for your regular customers to find the latest products that they haven't seen before. And new customers can easily differentiate between your WooCommerce new arrivals and older stock.
In addition to this, you don't have to add a New! Badge to the product images of your WooCommerce new products. This saves you from a lot of manual work. Plus, this might be visually similar to the products you have on sale.
Instead, you can simply have a dedicated WooCommerce new products page that lists new products separately from older stock. This can also help you improve rankings on search engines like Google. The easiest way to display new products is in a user-friendly table layout.
Where is the best place to list WooCommerce latest products?
Unlike featured products, you have full control over where you list your WooCommerce new products.
The best place to list your new WooCommerce products is on a separate New Products (or New Arrivals) product page. This way, customers will know exactly where to go to see the latest products you have in stock.
If you prefer, you can also list new products somewhere prominent such as a 'New arrivals' section on your homepage.
Both options work well for all sorts of e-commerce stores including those that sell:
Apparel
Gift items
Furniture and home decor
Cookware
Arts and crafts supplies
Tech products
Toys
If you sell lots of products, you can create a WooCommerce new products page for the different categories of products you sell. Take a look at this example from Crate and Barrel: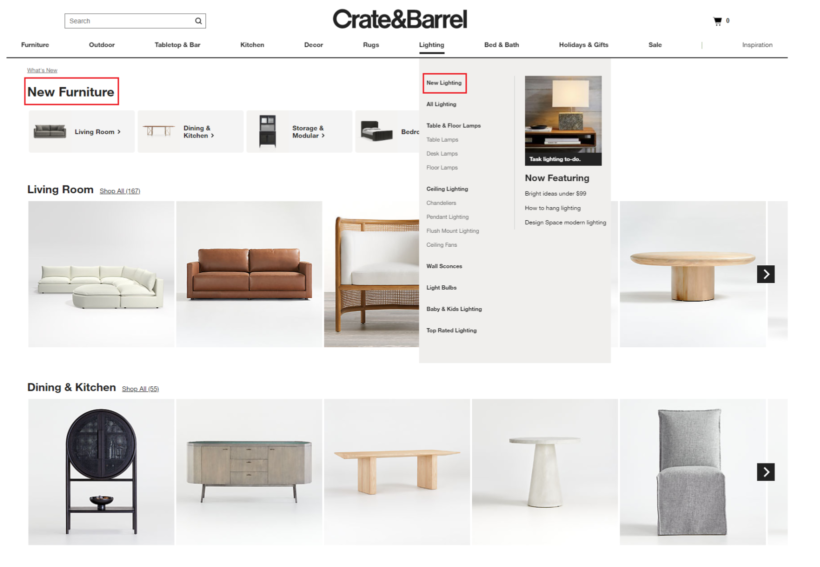 For example, if you sell furniture, home decor goods, and lighting, you could create three different product pages to showcase your WooCommerce new products. These would be New Furniture, New Home Decor, and New Lighting.
You can also list WooCommerce new products on the same page as your older stock. This can help you boost product visibility in your store and potentially encourage customers to buy more from you.
Case study: how The Games Den lists new arrivals on their website
The Games Den is a UK-based company that sells a wide range of board games, tabletop games, and card games as well as accessories, miniatures, and paints. They used our WooCommerce Product Table plugin to list new products in a neat table layout on their New Arrivals page.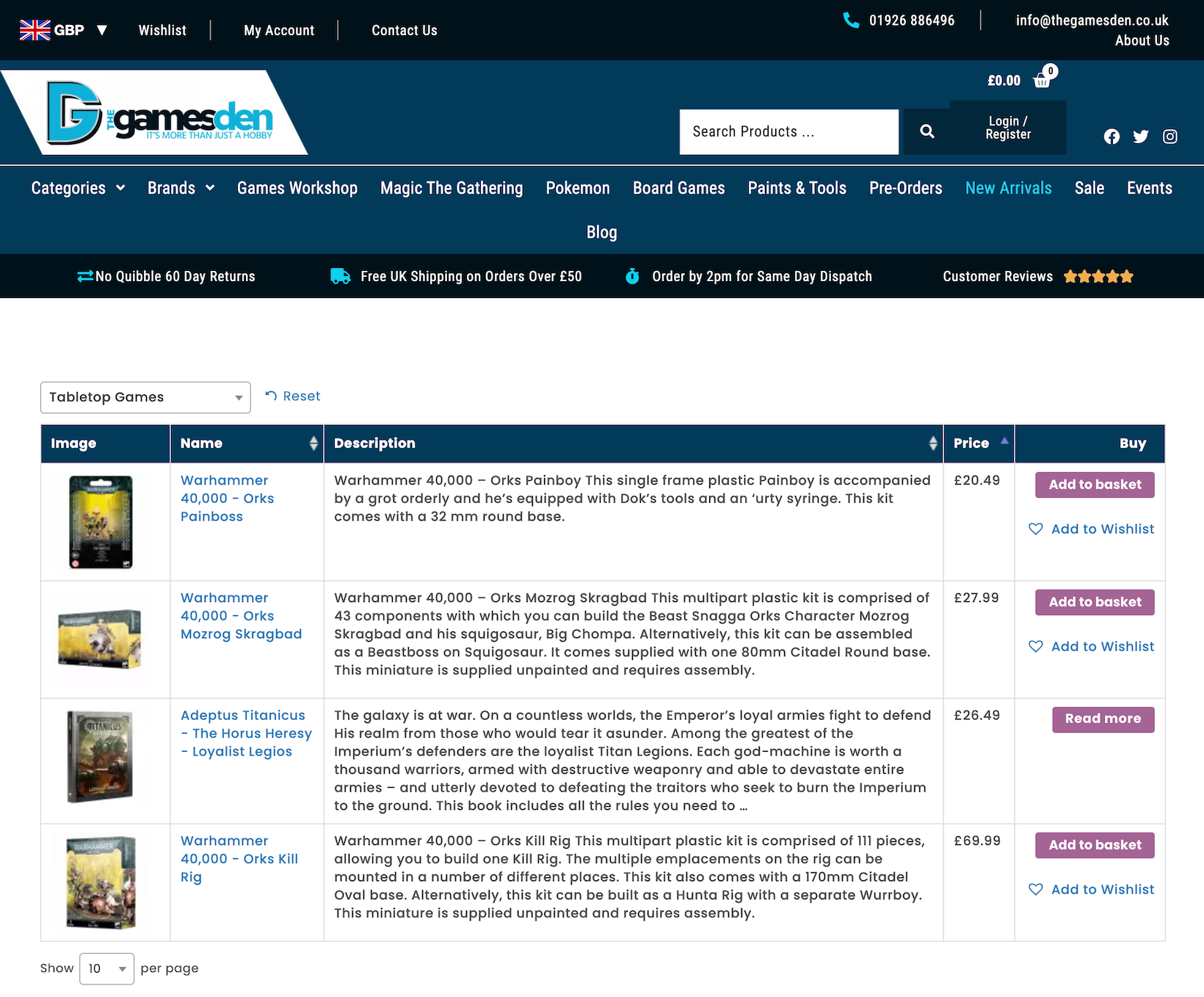 The table is configured to show 30 of the latest products in an organized way by default. Each product has an image, name, description, price, and buy button. The Games Den also uses TI's Wishlist plugin to add wishlist links to the table. They've chosen to show the wishlist links in the Buy column.
Customers can narrow down their search using the filter dropdown above the table. It lets them choose which category of products to show on the page such as Accessories, Miniatures, or Tabletop Games. In addition to this, they can sort the columns in the table alphabetically or by price (low-to-high or high-to-low).
Customers can click the product's name to go to the single product page and learn more about it before adding it to their shopping cart.
How to list WooCommerce new products using WooCommerce Product Table
To list WooCommerce new products in your store, you'll need to get the WooCommerce Product Table plugin.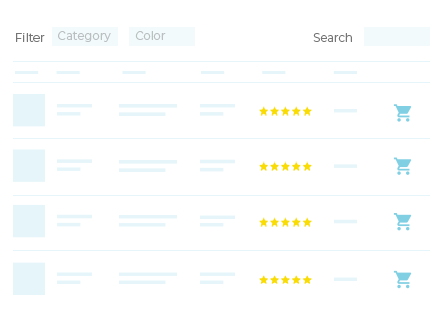 The easiest way to list new WooCommerce products and arrivals in your store.
Once you have the WooCommerce plugin and WooCommerce Product Table installed and activated on your WordPress website, here's what you need to do:
Step #1: Configure WooCommerce Product Table settings
Head over to WooCommerce → Settings → Products → Product tables to configure the WooCommerce Product Table settings.

Set the Columns option to image,name,summary,price,buy. This will display the product image, name, product description, and price in the table along with purchasing options. With WooCommerce Product Table, you can choose which columns to show or hide on the front-end based on your preferences.

Next, under the Loading products section, use the Rows per page option to control the number of products that appear in the table. For example, if you set it to 5 then the table will list the 5 most recently added products in your store.

Under the Sorting section, use dropdown menus next to the Sort by and Sort direction options to sort the product table by Date added in Descending order. This way, the product table will display the most recent products first.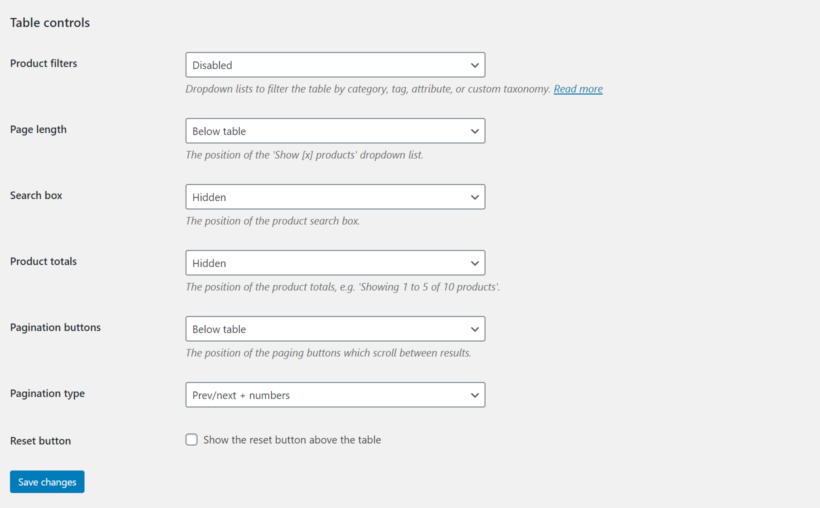 Finally, under the Table controls section, hide the search box, product totals, filters, and the reset button. This is because, generally speaking, you'll only have a handful of WooCommerce products to showcase at a time.
Click the Save changes button to proceed.
Step #2: Create a WooCommerce new products page to showcase the new arrivals
The final step is to create a new page to showcase the WooCommerce new products and new arrivals. Here's what you need to do:
Go to Pages → Add New from the WordPress admin and give your WooCommerce new products page a title. For example, it could be something like New Arrivals.

Next, insert a shortcode block in the text editor and add [product_table] to it. Preview the WooCommerce new products page. It should look something like this: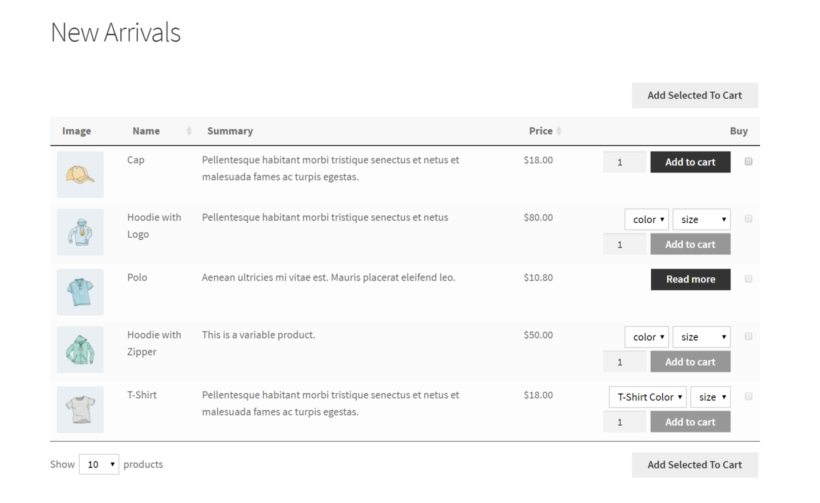 We've used the Storefront WordPress theme for this tutorial although WooCommerce Product Table works with most WooCommerce-compatible themes.
If you use WooCommerce Product Table to list products in a table layout elsewhere on your site, you might need an easy way to limit the number of new products to showcase on the front-end. For this, you can use the product_limit option. This lets you choose how many products to include in each table. For example, you can choose to list the newest ten products using the shortcode [product_table product_limit="10"].
Bonus: Give exclusive early access to certain customers
So far, you've learned how to list new arrivals in WooCommerce so that everyone can see them. That's fine for after they are officially released. But what if you want to give early access to new products to specific customers only?
For example, one store owner told us:
Whenever we do a new launch we protect the "new arrivals" category so our VIPs can have 1 hour of private shopping before public access. It's great for items that will sell out.
You can do this by installing our other plugin, WooCommerce Protected Categories. Put the new products in a specific category and restrict it using one of these methods:
Password protect the category and send a link to your early access customers, along with the password. When they click on the link, they will have to enter the password before they can view or buy the new arrivals. This is a good option if your customers don't already have accounts on your website.
Restrict the category to specific logged in users or roles. This is a good option if your VIP customers already have accounts on your website because they simply log into their account and can automatically see the new products.
Either way, simply change the category visibility back to 'Public' when your new arrivals are ready to be launched to the wider public.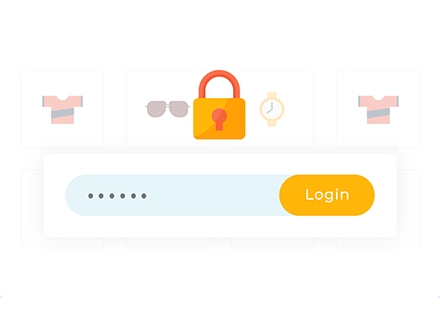 Give your most important customers exclusive early access to new products.
Display 'Coming soon' products in your store
So far, we've only talked about how to display newly available products. But what about building interest before a new product is released? That's important too.
It's a great idea to display upcoming products in your WooCommerce store, even though they're not available yet:
You can start gathering interest (e.g. email addresses) from customers.
The new product page will start ranking in search engines, giving your SEO a head start.
Customers can see what's on the way, making them more likely to re-visit your website soon.
While there aren't any dedicated 'WooCommerce coming soon' plugins, you can easily achieve this by installing the WooCommerce Discontinued Products plugin. While its name is a bit confusing, it's actually perfect for this use case!
When you mark a product as discontinued, the plugin will stop it from being purchasable - ideal for products that aren't yet released. You can choose whether to display upcoming products in your store - either way, the product pages can immediately be crawled by search engines.
The plugin lets you add a text message to the product page. This gives you an opportunity to notify customers that the product is coming soon.
As soon as the product becomes available for sale, simply change the stock to 'In stock'. Customers can start placing orders immediately.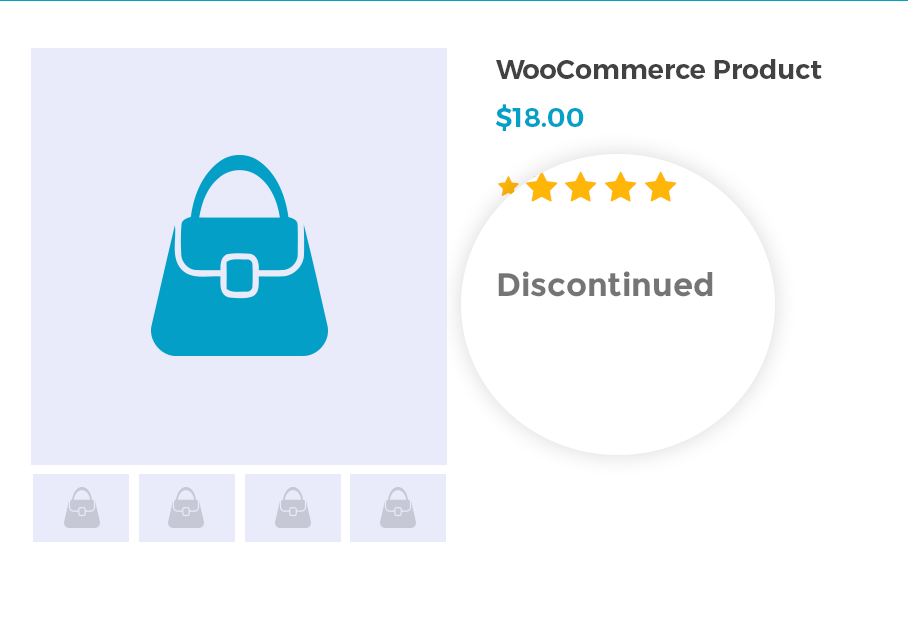 A simple and effective way to mark products as 'Coming soon' before they're released for sale.
How to send email alerts for WooCommerce new arrivals
MailOptin lets you automatically email your customers and email subscribers whenever you add a new product to your WooCommerce shop. Check out our in-depth tutorial on sending email alerts for new arrivals.
You can also send an automated daily, weekly and monthly summary or email digests of all new arrivals with MailOptin. Below is how to set it up.
Setting Up MailOptin
Go to MailOptin → Email automation and click the 'Add New' button.
Enter a name or title for the automation and then select 'Posts Email Digest'.
Select a template and you will be redirected to the email builder. You can bring in your own custom email template.


Set up the look and feel of the email to your heart's content.
Click on 'Settings', then scroll down to 'Select Post Type' and select 'Product'.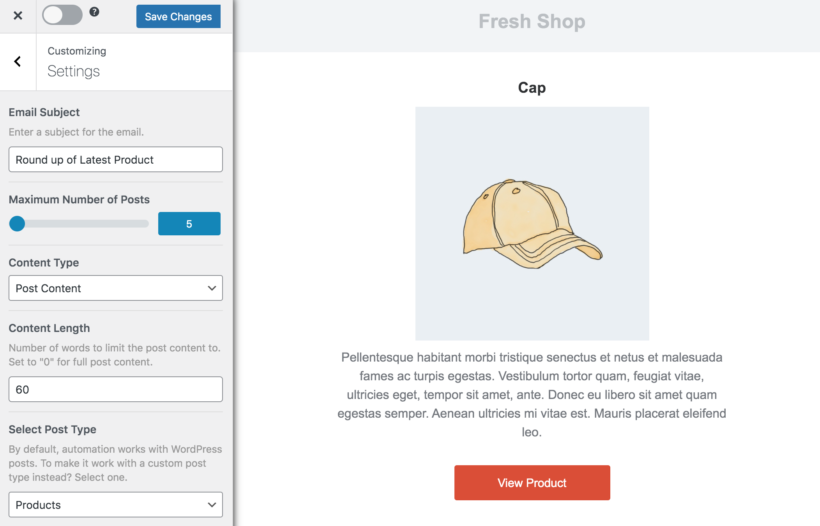 You can further filter the kind of product that will trigger the email. There are lots of factors to choose from including product categories, tags, variations, and other taxonomies.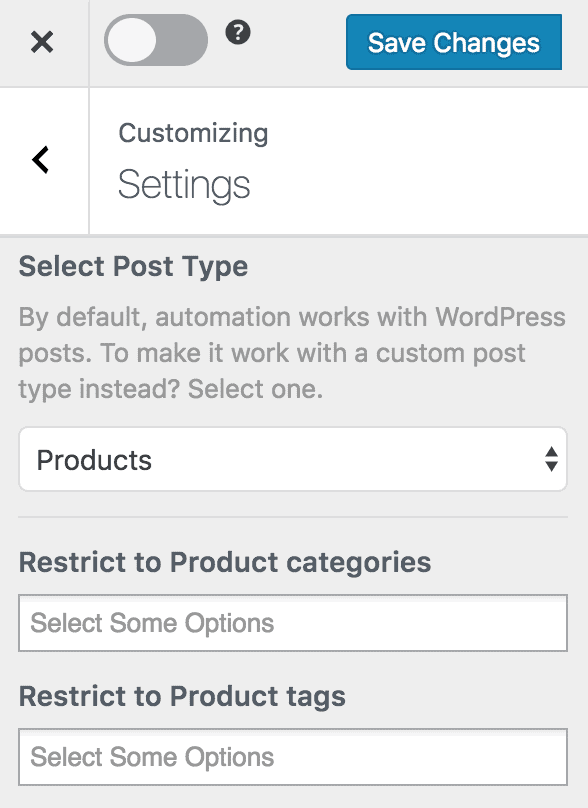 Defining Email Recipients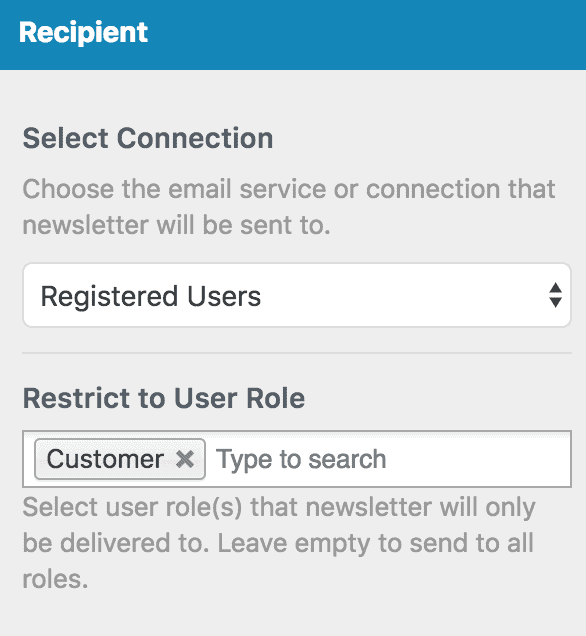 Scroll down to the 'Recipient' section to define who receives the newsletter which could be your WordPress users further filtered or restricted to specific roles such as Author, Contributor, Subscriber, Editor or a combination of roles depending on who you're trying to reach.
If you want the recipient of the email to be all WooCommerce customers, select 'Registered Users' as the connection and 'Customer' as the user role.
To send the email notification to your list subscribers, select your email marketing service (eg. Mailchimp) as the connection and then your email list.
Please note that you need to have MailOptin connected to your email service provider before it can show up in the 'Connection' dropdown.
Scheduling setup
Select the interval or frequency and time when the newsletter will be sent. This can be daily, weekly, or monthly.
Note that the time is based on the Timezone you've set in WordPress. MailOptin also recognizes the day you've selected as the start of a week in WordPress.
Finally, save the changes and activate the automation using the toggle switch at the top.
Setup is now complete and your subscribers will receive email notification of new WooCommerce products.
List WooCommerce new arrivals in a table
Listing your latest WooCommerce products in a front-end table layout is a great way to boost product visibility, draw in your customer's attention, and boost sales.
Using the WooCommerce Product Table plugin, you can set up your own Latest Products page in a few simple steps, or list new products on other pages such as the homepage. And, when you're ready to take things to the next level, you can send email alerts to your mailing list whenever you add a new product to your WooCommerce store.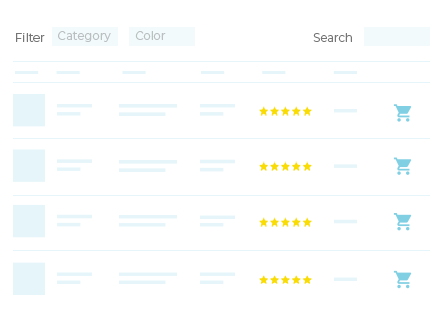 The easiest way to list new WooCommerce products and arrivals in your store.
And if you want to give exclusive early access to your most important VIP customers, install the WooCommerce Protected Categories plugin and set it up in minutes.
Looking for an easy way to display WooCommerce new products in your online store? Get WooCommerce Product Table today!