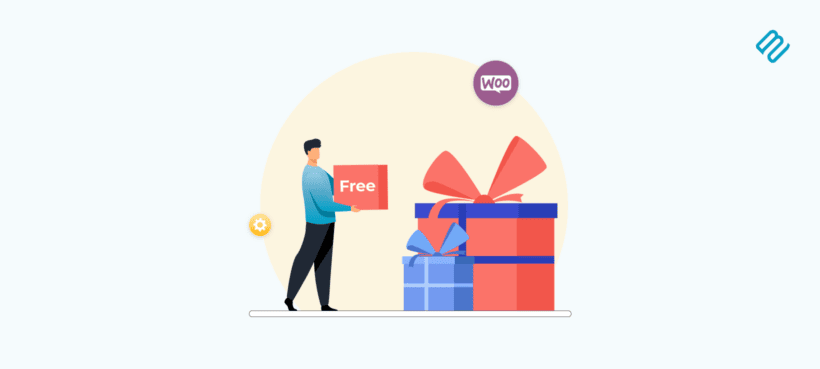 Giving customers products for free can significantly boost your online store's sales and revenue. Here's everything you need to know to successfully run WooCommerce free gift campaigns on your store 🎁
It may seem counterintuitive, but giving free products to customers can supercharge your store's sales and revenue. After all, everyone loves feeling they're appreciated or special.
If you run a WooCommerce store and are looking for an easy way to gift products to customers, this guide is for you. Here, I'll show you:
The benefits of implementing a free gift strategy.
How to set up WooCommerce to gift products to customers.
The best WooCommerce free gift plugin.
Tips to optimize your free gift campaigns
We'll do using WooCommerce Discount Manager - an easy-to-use plugin that lets you create simple and advanced rules to offer free gifts to customers.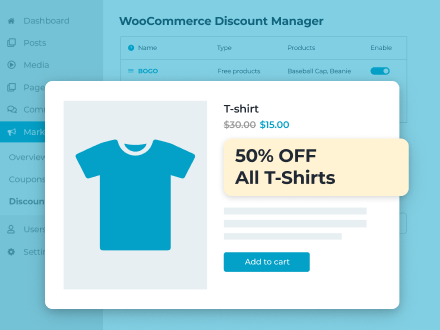 The easy way to offer free gifts and give away products in WooCommerce. Love it or your money back!
Let's begin by exploring how WooCommerce free gifts work.
Understanding free gifts in WooCommerce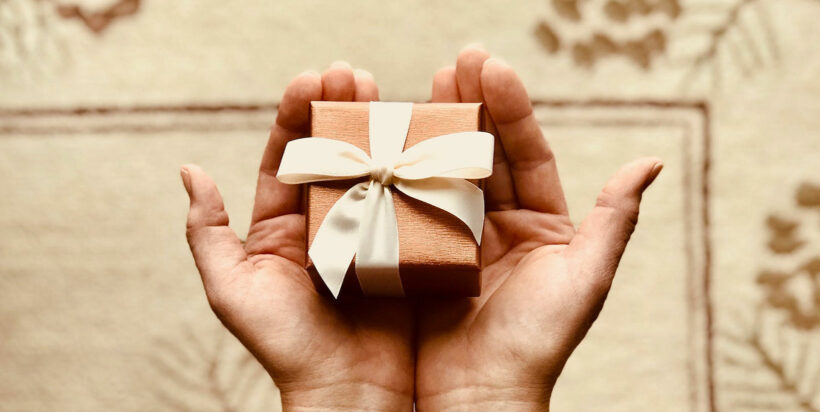 WooCommerce doesn't have built-in features that let you offer free products to customers. Yes, technically, you can add a product and set its price to zero. But there's no way to add gift rules that determine how customers can redeem the free product - meaning that anyone can easily get free stuff from your store.
Before we choose a WooCommerce free gift plugin, let's define what we mean by "gift product". Depending on your industry and business model, "free gifts" can mean a lot of things. They can be in the form of sample-sized items, gift cards, smart coupons, free products, and more.
Below, I'll explain each type of free gift in detail. And to bring this closer to home, I'll also look at use-case examples for various kinds of eCommerce stores.
How to use free gifts in WooCommerce
Extra products
This is the classic WooCommerce free gift strategy. It involves including additional products for free with customers' purchases.
Use case example: An online footwear store can run a BOGOF (Buy One Get One Free) campaign, giving customers a second pair of shoes at no cost when they buy one worth at least $60.
Thank you gifts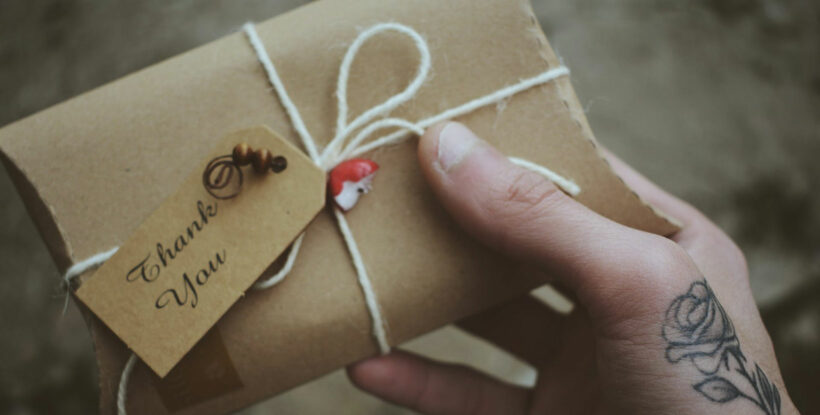 To encourage customers to spend more, you can offer them a thank you gift if they achieve a minimum spend value.
Use case example: An online cosmetics store wants to give away a free make-up bag to all customers that spend more than $50. This helps to boost their average order value.
Sample-sized items
Providing smaller versions of full-sized products is an excellent way for customers to experience your offerings before committing to a larger purchase.
Use case example: A store that sells fragrances can provide free perfume samples with each order. This lets customers try out different scents and encourages them to buy the full-sized product with their next order.
Further reading: Setting up a free product sample in WooCommerce: Complete guide.
Gift cards
Gift cards are usually used on future purchases. Similar to offering samples, giving out gift cards motivates customers to make additional purchases to redeem their freebies.
Use case example: An online pet store can give shoppers a $15 gift certificate for every $75 spent. They'll have to place another order to take advantage of the free items.
Discount coupons
Stores usually use WooCommerce coupon strategy to offer discounts as rewards for specific actions or to customers who meet specific criteria.
Use case example: A wholesale store can offer a 10% off coupon code to customers who buy at least 100 units.
Related tutorial: How to easily set up WooCommerce bulk discounts [2023].
Why offer WooCommerce free gifts in your store?
"Everyone loves freebies and feels more positive towards companies that give them free gifts. Use this as a psychological technique in your WooCommerce store, and give away free products to build customer loyalty." Katie Keith - CEO, Barn2 Plugins
Offering free gifts in WooCommerce isn't just a gesture of goodwill; it's a strategic business move that can boost your store's sales and revenue. Here are its top benefits:
Attract new customers: Giving away products for free can encourage customers who have never ordered from your store to place their orders. If they're on the fence, the idea of getting something for free can nudge them to try out your products or services.
Increased average order value: Offering gifts for orders above a specific amount provides shoppers with an incentive to spend more. For instance, setting a minimum purchase requirement of $75 to qualify for a free item encourages customers to spend at least $75 so they don't miss out.
Clear surplus inventory: If you have excess or slow-moving products, offering them as freebies can help you reduce overstock and delight your customers at the same time.
Upsell opportunities: You can use free gifts for WooCommerce to upsell customers to more expensive products. For example, you can promote high-end cameras with a free camera bag or memory card as add-ons to upsell customers who initially planned to buy lower-priced cameras.
Customer loyalty or retention programs: People love free stuff. Customer loyalty programs are a great way to show appreciation to your existing customers than by giving them something for free when they buy products from you.
Recommended plugin for creating WooCommerce gift products
The WooCommerce Discount Manager plugin lets you offer various kinds of discounts to customers, including:
Percentage or amount-based discounts. For example, "Get 15% off on all items" or "Save $10 on your purchase."
Total spend-based discounts. For example, "Spend $150 and get 10% off your entire cart" or "Get $25 off when you spend $200."
Free products with minimum purchase, aka buy x get y offers. Like buy one, get one free (BOGO) promotions.
Buy X products for a fixed price, aka bundle deals. For example, "Buy 3 hangers for $50" or "Get 5 vases for just $75."
Buy X products for X discount. For example, "Buy 4 products and get a 20% discount on the cart" or "Get $15 off when you buy 2 or more photo frames."
Quantity-based discounts. For instance, "Get 10% off when you buy 5 or more t-shirts" or "Save $5 on each item when you purchase 10 or more bags."
While it's an all-in-one discount plugin, today we'll be focussing on how to use it to create free gifts in WooCommerce.
Key features for giving away WooCommerce free gifts
Offer free gifts for one or many productsYou can offer free gifts for all products (for example, if you're running a storewide sale) or to specific products or categories. Also, you can exclude specific categories or products from free gift campaigns - all with a few clicks.
Use marketing messages to promote discounts on your websiteThe plugin lets you add custom text to promote the free gift offer on the front end. This appears on all product pages that qualify for the WooCommerce free gift campaign. In addition, it adds notifications to the cart page to inform customers that they've received the gift item.
Choose which products to give away as free giftsWhen you set up a free gift offer, you can choose whether only like-for-like products can be given as free gifts, or any product in the cart. Either way, the cheapest product will always be the free one so you never lose out.
Built-in advanced logicIf you're running multiple discount campaigns at the same time, when customers get to the checkout page, the plugin automatically determines which one to prioritize based on different products added to the customer's cart. This automatically adjusts the cart subtotal and prevents them from using more than one discount at a time to make sure that you don't lose money on each sale.
How to add a free gift in WooCommerce: Step-by-step guide
Follow this tutorial to offer free gifts in your WooCommerce store:
Install and activate WooCommerce Discount Manager
The installation and activation process is just like that of any other WooCommerce plugin:
Buy WooCommerce Discount Manager and download its ZIP files onto a folder on your computer.
From your WordPress admin dashboard, go to Plugins → Add New.
Click on the "Upload Plugin" option. Then, select the plugin file you downloaded earlier.
Select Install Now → Activate.
Enter your license key in the plugin setup wizard and activate it.
Create a free gift campaign
Go to Marketing → Discounts and click 'Add New'.
Update the following details to create the discount:

Name the discount. This will only be displayed in the WordPress admin.
Select the 'Free Products' discount type from the modal window dropdown.
Which products? - Here, you select products to apply the free gift to - whether for all products in your store or just for a specific product or product category. For instance, if you sell t-shirts, jackets or shoes online, you can offer a "Buy 3 products and get another one free" on all products or only for t-shirts.
Number of paid products required to qualify - Specify the number of products customers must buy in order to be eligible for free products. For instance, if you're running a buy one get one free offer, customers must buy one product to get the second one for free.
Number of free products to be given - You can choose the number of gift products customers will receive. Continuing with the t-shirt example, if you want to create a "Buy 3 products and get another one free" deal, then enter '3' in the box above and '1' in this box.
Customize your free gift for WooCommerce campaign
How should the discount be applied? Here, define which products can be used to qualify for the deal and whether any of the products selected in the 'Which products?' option can be given as free gifts. For instance, if your "Buy 3 products and get another one free" deal applies to all t-shirts in your store then you would select "Any product selected above". However, if you want customers to buy 3 of the same t-shirt in order to get a 4th matching t-shirt as a gift product then you should select "Like for like".
Applies to - WooCommerce Discount Manager lets you offer the deal based on the WooCommerce user roles. You can choose to show it to only specific users or user roles. Leave it blank to make the free product available to everyone.
Availability - If this will be a time-based offer, e.g., a Black Friday deal, then enter the start and end dates.
Content - You'll need to promote the free gift offer to let customers know about it. Here, you can add a prominent message (together with fun, eye-catching emojis like 🎁) to be displayed in a selected location on the single product page. If your theme has information boxes or similar styles built-in, feel free to use them to call attention to your promotion message.
Cart notice - Besides the message you can add to the WooCommerce product page, you can add another note. This will be displayed at the top of the carts of customers who have qualified for the free item. For example, you can say, "Congratulations! Since you're buying 3 t-shirts, we've given you a 4th one for free!"
How customers receive their free gift
A quick note: WooCommerce Discount Manager will not automatically add the free items to the user's carts. To redeem the offer, customers must add the free gift product to their carts. Then, the plugin will automatically adjust the price of the free products to zero and update the cart total when customers meet the predetermined criteria.
This is similar to the supermarket BOGO deals where you add two products to your shopping cart, and the cashier only charges you for one cart item. The customer must add all the products they require to their cart, and the cashier will then give away one of them as a free gift.
Strategies to optimize your WooCommerce free gift campaigns
Gifting WooCommerce products can boost your store's sales and revenue - when done right. These strategies will help you make the most of your free gift campaigns.
Define clear objectives for the campaign
Do you want to increase storewide revenue, promote a specific product, boost overall brand awareness (or anything else)? Ensure that the chosen free products directly support those goals. For example, if your objective is to promote a new product launch, offering a limited quantity of the product for free for a limited time can help achieve this goal.
Choose products aligned with your target customers
Consider your customers' demographics, interests, and buying behavior. Then, choose to giveaway items that resonate with your ideal target audience. If, for instance, your store sells golfing equipment, you might want to offer free accessories or apparel as gifts.
Analyze competitors' offers
Study your competitors' gift offerings to find opportunities to set your store apart. For example, if you sell fashion accessories and your competitor offers a free tote bag with purchases, consider offering a more premium gift like a leather wallet or a stylish scarf. This distinguishes your offer and may attract more customers.
A/B test various offers
Implement A/B testing to compare the effectiveness of different gift offers. You can create variations of your offer, such as giving different types of gifts, varying minimum purchase thresholds, or changing the duration of the promotion. Then, double down on what works to boost revenue even further.
Optimize the frequency of promotions
To keep shoppers engaged and interested, it's crucial to carefully plan when and how often you offer free items. Here are a few ideas to implement:
Strategic timing: Plan your gift offerings around key shopping seasons, holidays, or special occasions. For example, if you sell cosmetics, consider offering a free makeup bag with purchases during the holiday season to attract more customers seeking gifts. Use WooCommerce Discount Manager to schedule the sale start and end dates automatically.
Time-sensitive offers: Create a sense of urgency by making your gift promotions time-limited. For example, "This weekend only, get a free scented candle with every $50 purchase." This encourages customers to act quickly.
Implement tiered rewards: Offer tiered gift options based on cart quantity or order value. This motivate customers to increase their order size to unlock better rewards. For example, spend $50 and get a small gift, or spend $100 and receive a more valuable gift.
Customer milestones: Recognize and reward loyal customers by offering a gift on key milestones. For instance, their first purchase, their birthday, or after a certain number of purchases. This builds customer loyalty and enhances the shopping experience.
Leverage marketing channels like email
Email marketing is one of the most powerful tools for promoting your free gift offers and driving customer engagement. Here's how to effectively leverage it:
Segment customers: Divide your email list into segments based on customer behavior, preferences, and purchase history. For example, you can send a gift offer email to high-value customers. Alternatively, you can send a re-engagement email to those who haven't made a purchase in a while.
Use compelling subject lines: Craft attention-grabbing subject lines that convey the value of the free gift campaign. This gets customers curious to open up the email and check out the promotions. For example, "Exclusive Gift Inside: Your Reward Awaits!"
Use clear call-to-actions (CTAs): Make sure your email includes a prominent CTA that directs customers to your WooCommerce store. Use persuasive language, such as "Claim Your Gift Now" or "Shop to Get Your Free Gift."
Use images: Include high-quality visuals of the free gift in your email to provide a clear visual representation of what customers will receive. This entices them to check out the promotion.
Personalized emails: Emails with elements of personalization tend to have higher open and conversion rates. Use email automation to address recipients by their names and tailor the content of the email to their preferences whenever possible.
Next steps: Ready to offer WooCommerce free gifts in your store?
Gifting products is a powerful marketing strategy that can supercharge your online store's sales and revenue.
By default, WooCommerce isn't good at letting you give away free gifts. That's why you need a plugin like WooCommerce Discount Manager.
This free gift plugin lets you give products to customers and use discounts to grow your sales and revenue. As well as having everything you need to give away free gifts in WooCommerce, it comes with full support and a 30-day money back guarantee.
Get the WooCommerce Discount Manager free gift plugin today 🚀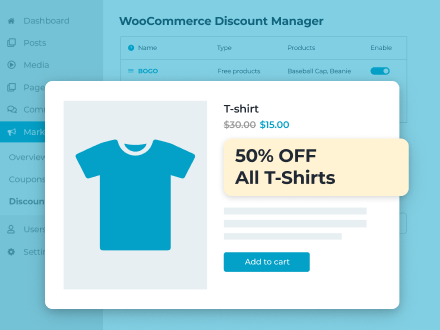 The easy way to offer free gifts and give away products in WooCommerce. Love it or your money back!