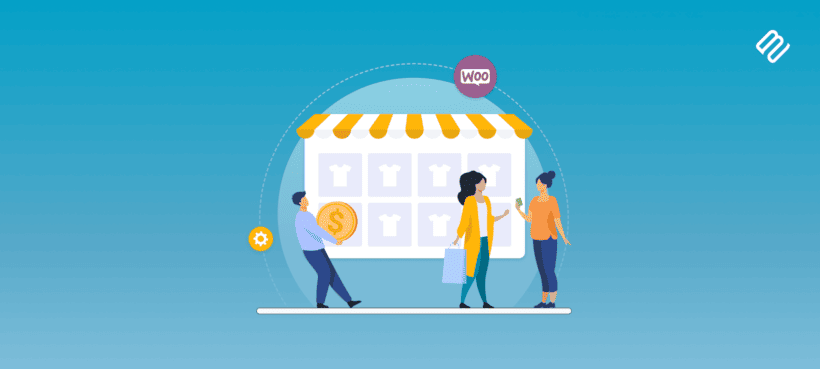 Online shoppers are often delighted to use a cash on delivery (COD) payment option whenever it's offered. But as a store owner, you'll have to deal with the associated risks of missed deliveries and other customer-related issues. An easy way around this is to charge an extra WooCommerce COD fee.
Customers always want to enjoy the two worlds of ordering from the comfort of their rooms and being sure of what they're paying for. Offering a WooCommerce cash on delivery payment method is a fantastic way to accommodate this type of customer. For example, this might be a popular option for restaurants whose customers want to order carryout or delivery food.
However, this payment option opens you up to certain logistic and operational risks. For example, poor follow-through on the customer's end can lead to multiple delivery attempts and significant misunderstandings.
A WooCommerce COD fee is a sensible response to these valid concerns. As simple as it is, this practical solution can safeguard your business and even boost your bottom line. Among other benefits, it encourages serious buyers to pay a small amount for the convenience of using cash on delivery, while reducing your costs.
WooCommerce allows you to charge cash on delivery fees by default, but the process can be tricky. This detailed tutorial has everything you need to set things up quickly.
In the end, you'll be able to improve your customer experience, minimize risks, and pave the way for a smoother, more profitable online store.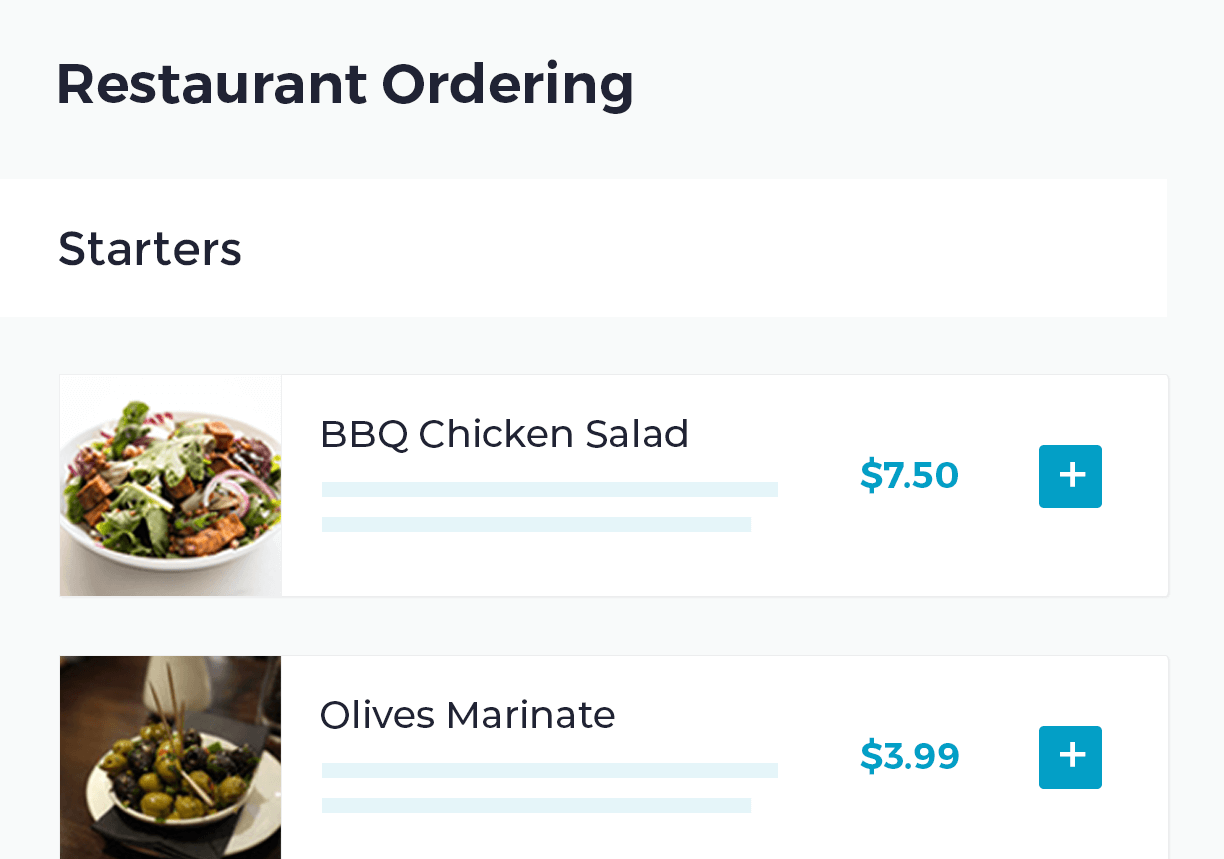 Add food ordering to your own website in minutes - with no commissions to pay!
How COD payments impact your bottom line
Offering customers the choice to pay when they pick up their order is a service-oriented approach to order fulfillment. It's a great way to cater to those who seek flexibility in their shopping experience. But this flexibility comes with certain risks that can cause significant financial setbacks for your business.
Consider a common restaurant scenario where a customer places an online order for food but never shows up. The restaurant has invested not just in ingredients, but also in preparing and packaging the order. In the end, the restaurant incurs losses in terms of the cost of the unused food, takeout containers and packaging, and the labor invested in cooking and fulfilling the order.
But no-show customers are only a small part of the big picture. Pickup delays can also cause you some financial strain. A customer who arrives late to collect their food might find it less appealing, leading to complaints about its quality and, in some cases, refusal to pay. While this is a factor beyond the business owner's control, more often than not they have to bear the burden.
It's important to note that these challenges are not exclusive to restaurants and businesses that sell perishable goods. For example, a clothing retailer or furniture store may experience customers who lose interest after making a buying decision on a whim. Now, the owners have to deal with the cost of shipping the item back to storage. These logistical cost implications can be rather high, especially for heavy or huge-volume packages.
This is why it's important to adopt strategies that mitigate these risks without compromising on customer service. This is where the concept of a WooCommerce COD fee comes into play.
Benefits of charging a fee for cash on delivery payments
A WooCommerce COD fee offers by far the easiest approach to minimizing the risk of cash on delivery payments. As a modern store owner, they help you strike a balance between flexibility and financial security. In other words, you get to prove your business' commitment to unparalleled customer experience while remaining profitable.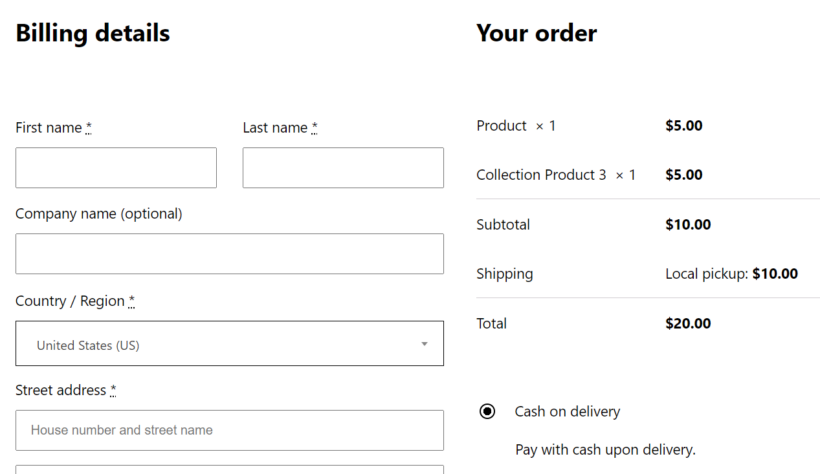 As Katie Keith, CEO of Barn2 Plugins, aptly puts it: "E-commerce businesses that offer a collection option can benefit hugely from introducing cash on delivery fees. This reduces risk and increases profitability."
If you're still in doubt, here are a few practical ways you can expect to benefit from applying a WooCommerce COD fee.
1. Assured payment before order fulfillment
Ironically, one of the most significant benefits of charging a WooCommerce COD fee is that it discourages customers from using this payment method. Unlike traditional payment on delivery where customers pay the same amount either way, introducing fees shifts your online business' risk profile.
In most cases, the buyer chooses to pay for the entire order upfront. This way, they get to pay less at the end of the day. But this only works when your site satisfies other trust metrics like product reviews and social proof that online shoppers look out for. Now when customers pay upfront, you can be confident that the order is already paid for, eliminating the financial uncertainty associated with unpaid orders. This enhances financial predictability and stability, a welcome relief for all business owners.
2. Enhanced security for delivery drivers
Once you create an incentive for paying upfront on the online checkout page, this trickles down to your delivery drivers as well. Since your business relies on delivery drivers to fulfill orders, the safety and security of your staff are paramount.
The logic here is simple, drivers who do not need to handle cash become less appealing targets for potential criminal activity. This added layer of security not only safeguards your employees but also fosters a more secure and efficient delivery process.
3. Offsetting the risk of no-show customers
Finally, it goes without saying that even after charging a WooCommerce COD fee, you'll still have to deal with no-show non-paying customers. The good thing is that you can offset your losses (or at least a significant portion) with the extra fees from other customers.
Customers who value the convenience of paying upon delivery are often willing to pay a nominal fee for this service. This fee acts as a buffer, covering the costs associated with rare instances where customers fail to follow through and pay for their orders. It ensures that your business doesn't bear the full brunt of these losses, making it a sensible and proactive financial strategy.
In essence, the implementation of cash on delivery fees empowers your business with a greater degree of control, security, and profitability. It allows you to cater to customer preferences while minimizing potential losses and uncertainties.
Building an ordering system with WooCommerce Restaurant Ordering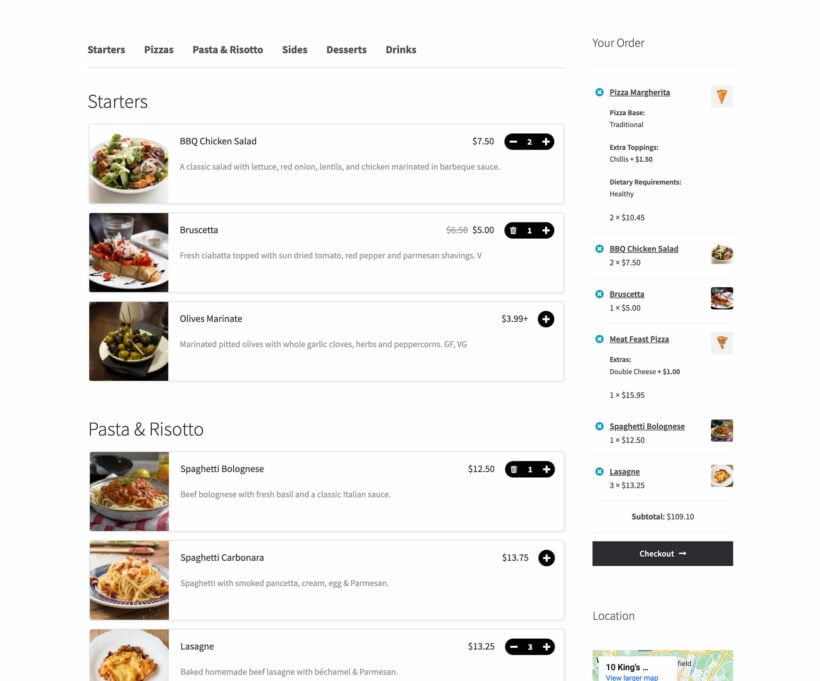 As I mentioned earlier, virtually any eCommerce niche can benefit from cash on delivery payments. However, this payment option is particularly useful and popular with online restaurants. This is why I've decided to focus a bit more on how to set up online ordering for restaurants. If you're in a different industry then skip ahead to the next section to learn how to charge a fee for cash on delivery orders.
Now, before exploring WooCommerce COD fees and applying them to your store, it's critical to first build a solid online ordering system for your restaurant. This will form an essential component of your business strategy and ensure maximum profitability. In general, a seamless online restaurant ordering system includes the following:
An intuitive and attractive ordering systemYour WooCommerce store's aesthetics might be a good place to kick things off. Your online ordering system should be intuitive and visually appealing. It should offer customers a seamless and enjoyable experience when placing pickup or delivery orders. The design and user interface play a critical role in encouraging customers to use your platform.
Seamless menu managementFor easy management, it's also important for your restaurant to be able to accommodate easy updates and modifications. Whether you're adding seasonal specials, adjusting prices, or introducing new dishes, your system should be flexible and responsive to your restaurant's ever-evolving menu.
Flexible ordering optionsTo maximize your restaurant's reach, flexibility is key. Your online ordering system should accommodate a range of ordering options. This includes the choice for customers to order in advance or for immediate pickup, as well as options for home delivery. Allowing customers to choose their preferred pickup or delivery times can further enhance the ordering experience. And of course, the cash on delivery option accommodates even more shoppers.
The best WordPress online ordering plugin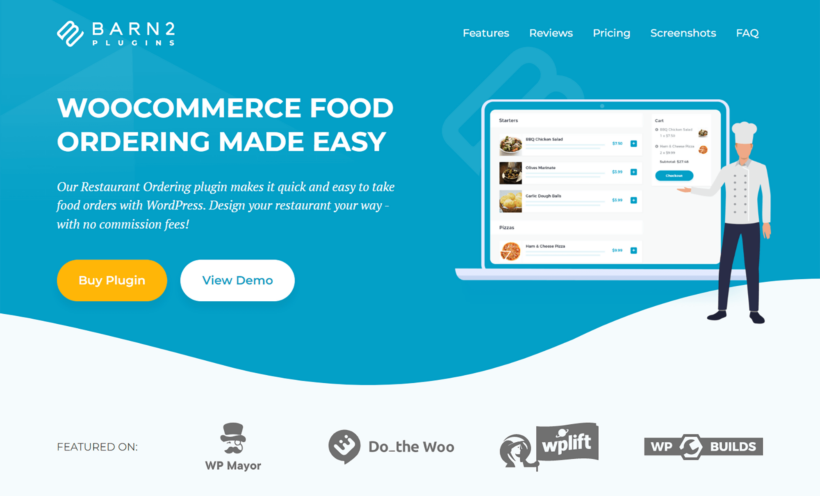 When it comes to setting up a streamlined and efficient online ordering system on your WordPress website, having the right plugin can make all the difference. One of the standout choices for building a top-notch online ordering form is the WooCommerce Restaurant Ordering plugin.
This plugin offers a wide range of powerful features designed to enhance your restaurant's customer experience, boost its efficiency, and help you reach a broader audience.
Key features
Let's take a look into some of them:
Instant order formsA quick and intuitive ordering process is essential for keeping customers engaged and satisfied. WooCommerce Restaurant Ordering's instant order form feature is designed to minimize friction and ensure that customers can select their favorite dishes and place orders with ease.
Multiple layout optionsYou get the flexibility to choose from multiple layout options, enabling you to customize the look and feel of your ordering system to match your brand. Display your restaurant menu as a single list or in 2 or 3 columns, and choose which information to showcase on the product page.
Sell variations or add-onsThis plugin's compatibility with the Product Options extension make it easy to sell different product variations. From extra toppings on pizzas to different spice levels on curries, this feature helps enhance customer satisfaction and your revenue.
Set opening and closing times This plugin makes it even easier to manage your restaurant's operational hours. You not only get to set opening times and disable ordering when you're closed. You can also display different messages when you are open and closed.
Quick order or lightboxChoose between multiple instant ordering options. Decide whether your products can be ordered with one click or a lightbox to select quantity and buying options.
Mobile-friendly designMore and more customers use mobile devices when ordering online these days. The good news is your WRO-powered online ordering system is responsive and works seamlessly on all devices and screen sizes.
How to set up your menu so customers can order online
Another important factor to pay attention to is how you present your menu to your customers. A great online ordering process makes it possible for people to order your shop's best dishes from home. Here are a few helpful tips:
Set all your menu items up as products in your shop. As opposed to simply displaying an image with all your menu items, setting up individual products makes it easier for customers to place an order. They no longer need to place a call to make an order and you get to process electronic orders faster and in a more streamlined manner.
List all details such as product description, price, any add-ons or variations, etc. This helps shoppers make an informed buying decision at a glance.
Download, install, and activate the WooCommerce Restaurant Ordering plugin. This is where you add the plugin that powers your optimized ordering system and supports charging a WooCommerce COD fee simultaneously.
Finally, use the plugin setup wizard to choose the options for your food order forms. This is a hassle-free and intuitive process.
Setting up cash on delivery fees
Once you have a solid online ordering system in place, the next step is to implement cash on delivery (COD) fees. Setting them up with WooCommerce is a relatively straightforward process.
Follow these 4 simple steps to set items up for cash on delivery payments:
Log into your WordPress admin dashboard and go to WooCommerce → Settings → Payments.

Next, toggle on the button in "Enabled" column to activate Cash on Delivery as an option in the payment gateway.
Click on Cash on delivery to configure your settings. You can customize how the option appears on the front end and determine which shipping methods and rates apply to the COD payment method. For example, if you only want to offer COD options for carryout, you may want to set this to only apply to local pickup methods. You can do this in the Enable for shipping methods field.

Navigate to the "Shipping" tab on the WooCommerce settings page. Here you want to create a new shipping or start editing an existing one.

Configure the shipping zone name and regions as wish and then click Add shipping method. Select the method you applied the cash on delivery fee to previously from the dropdown e.g. "Local Pickup Only". Now, hover over the new shipping method and click Edit. Finally, enter a numeric value in the Cost field and click Save changes.
And that's it! Your new payment option has been activated. Now when your customers choose the cash on delivery payment option on the checkout page, the WooCommerce COD fee will apply immediately and customers can easily see this on the front end.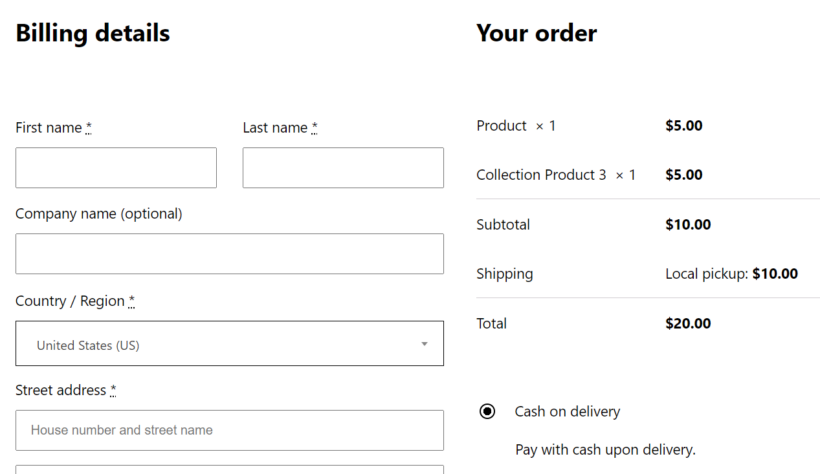 Managing customer experience with cash on delivery fees
Introducing cash on delivery fees in your online ordering system is not just about safeguarding your business against potential losses. It's also about managing the customer experience effectively. When customers understand and accept the reasons behind your WooCommerce COD fee, it can lead to more trust and better relationships. Here are some essential steps to manage customer expectations and ensure a positive experience:
1. Clear communication is key
As with any additional or custom fee on your website, transparency is vital. It's essential to ensure that customers fully comprehend what they're being charged and why. If they feel that the fee is justified and well-explained, they are more likely to accept it.
When the customer selects cash on delivery at the WooCommerce checkout, the COD fee will appear on the page.
2. Set a reasonable COD fee
When determining the fee amount, consider a reasonable approach. A few dollars per order is often sufficient to cover extra costs associated with abandoned orders. Charging significantly more than this is likely to result in customer complaints and dissatisfaction. If you find that even a reasonable fee doesn't cover your costs, it may be worth investigating other issues, such as hard-to-find locations or excessively costly ingredients.
3. Clear fee labeling
When you set the fee in your WooCommerce system, you'll have the option to define a title for the fee. This title will appear on customers' receipts, so it's important to set a clear and informative label. Use titles like "Cash on Delivery - $5" or "Online Ordering Fee" to clearly communicate the purpose of the charge. Avoid vague or misleading terms that may confuse customers.
4. Train your staff
Be prepared to answer questions in person. Customers who visit your restaurant to collect their orders may inquire about the additional charge. Ensure that your staff is well-informed about the reasons behind the fee so they can provide clear and accurate explanations to curious customers. Knowledgeable and courteous staff can help build trust and maintain a positive customer experience.
5. Educate customers during the ordering process
Use your website to educate customers about the additional fees before they reach the checkout stage. Providing this information early in the process helps set expectations and reduces the likelihood of surprises or complaints at the point of payment.
6. Feedback mechanism
Create a channel for customer feedback regarding the online ordering process, including the fees. This can help you identify any pain points or concerns and make necessary adjustments to improve the overall experience.
Take restaurant orders online, complete with WooCommerce COD fees
Offering online ordering is not just a convenience—it's a vital tool for businesses looking to meet the demands of modern consumers. However, along with the convenience of online orders comes a set of financial risks, particularly when it comes to cash on delivery payments.
This is where a WooCommerce COD fee come into play. They help cover the costs of abandoned orders and minimize the uncertainties of payment delays and quality concerns. In this article, I covered 4 simple steps to creating an effective online ordering system and setting up COD fees using WooCommerce Restaurant Ordering.
If you're looking for the fastest way to help your customers place orders in your store while boosting your bottom line, then you need to download WooCommerce Restaurant Ordering today. It ships with all the features you need to enhance customer experience and maximum profit.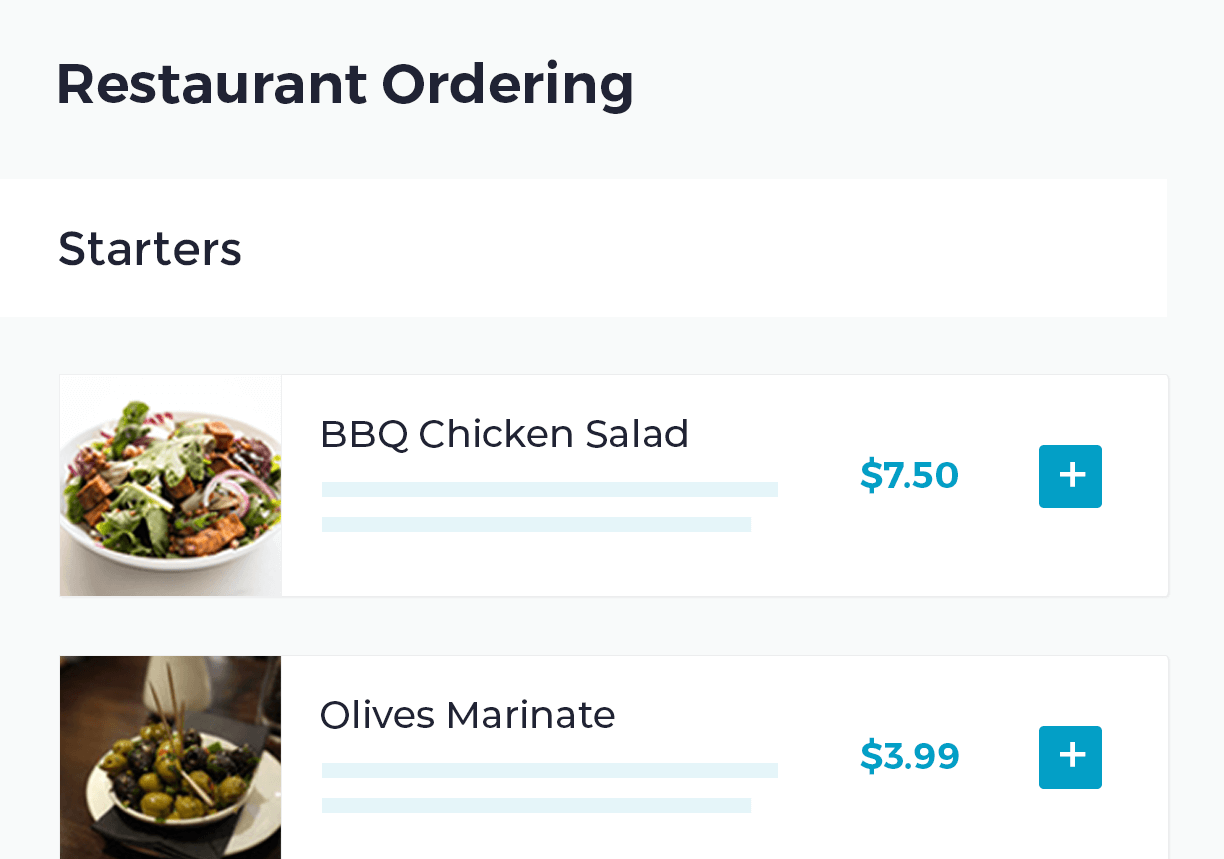 Add food ordering to your own website in minutes - with no commissions to pay!
Set up the plugin, and use the instructions above to add WooCommerce COD fees to your store. It's the perfect combination for selling online with minimal risk.
If you have any questions or unresolved issues, share them in the comments section below. We'd love to hear from you 😀.B