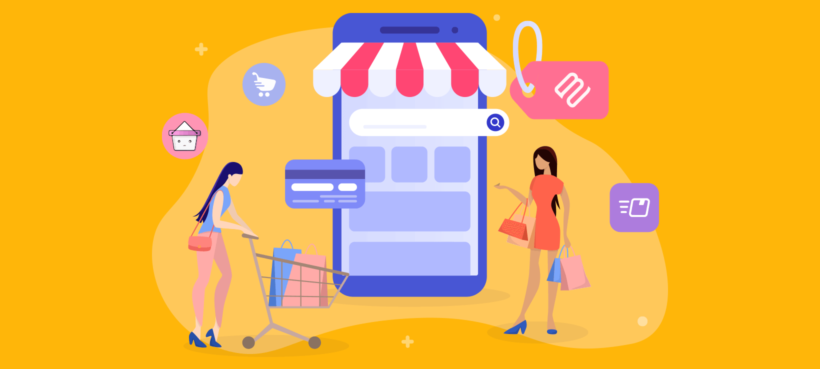 Looking for ways to reduce cart abandonment? There are several things you can do to ensure people complete their purchases. This includes simplifying the checkout process, preventing the website from reloading every time a customer adds a product to the cart, etc. In this article, you will learn how to use the best  WooCommerce cart plugins to improve conversion rates.
Studies show that optimizing the checkout process can increase your conversion rate by 35%. While WooCommerce is a great platform to build a store, there is room for improvement. The standard WooCommerce cart page can be optimized for fast ordering and high conversion rates. Moreover, a well-designed cart page should not just reduce cart abandonment but also encourage customers to purchase more products. 
In this article, we have compared the top 10 WooCommerce cart plugins that you can use to ensure a smooth checkout process. 
In a hurry? Go for WooCommerce Fast Cart. It's the best one of the bunch. This shopping cart and checkout plugin is extremely easy to set up and works like a charm. It fast tracks the checkout process and recommends related products to increase your revenue. See it in action below: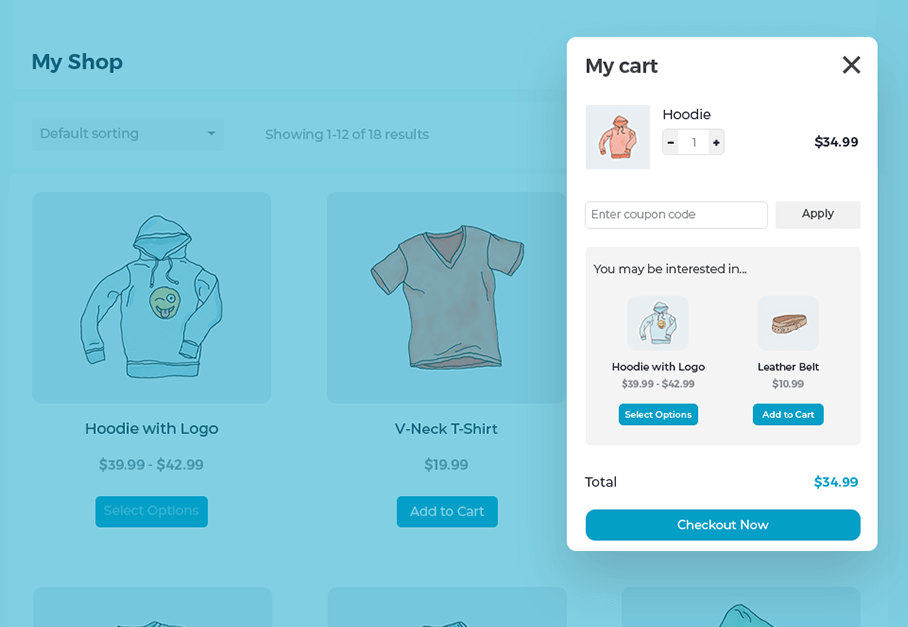 Increase your conversions and average order value with a beautiful popup cart and checkout.
Before I reveal the best WooCommerce cart plugins, let's take a quick look at what a shopping cart plugin should ideally offer. 
Essential WooCommerce cart plugin features
There are a number of WordPress cart plugins to choose from. Most of them offer plenty of features which may seem good, but you'd be surprised to know that not all plugins offer what you need to increase your conversions. 
Look for the following essential features in a cart plugin:
Minimal, clean design 

Quick access to the cart page

Quick checkout process

Promotes upsells

Customization options

Integration with payment gateways like PayPal & Stripe

Optimized for speed

Compatible with your theme
These are the ideal features for a good WooCommerce cart plugin. Now let's look at some of the best cart plugins available. Or simply watch this video for a quick summary of each one!
Best WooCommerce cart plugins
The plugins listed on this page offer various ways to improve the WooCommerce cart and checkout. Some will enhance the cart page with new options like related products that'll help you upsell. Others will help you optimize the entire checkout process for improved conversion rates. 
Quick side note: All the plugins listed in this article can be used together. For instance, WooCommerce Fast Cart (the best WooCommerce cart plugin) can be installed along with most of the plugins in this list. 
Now, let's look at the best cart plugins for your WooCommerce store. 
At Barn2, we designed WooCommerce Fast Cart to ensure fast checkout, high conversion rates, and higher average order values. 
The plugin makes it easier for customers to view products in the cart, review their order, change quantities, remove items and redeem discount codes. It helps you promote related products using WooCommerce's powerful product recommendation engine, and speed up the checkout process.
As soon as a customer adds a product to the cart, a popup appears either as a side cart on the right of the screen, or a larger lightbox in the middle. In this way, customers can review the product without having to leave the page. 
On the popup cart, customers can modify their orders by changing quantities, removing items, redeeming discount codes, and adding related products. 
It has a unique fast checkout which displays the WooCommerce checkout as a popup. This makes it much quicker and easier to buy products. The popup cart can be displayed either as a side cart on the right of the screen, or a larger lightbox in the middle.
You can even make the purchasing process ultra-fast by skipping the cart and opening the popup checkout as soon as customers add a product to the cart.
Fast Cart highlights
Easy to set up

Theme compatibility

Clean design

Optimized for speed

Payment gateway integration

Customizable

Popup or floating cart 

Promotes upsells



Now, let's take WooCommerce Fast Cart for a ride.
Install and activate the plugin on your website.

Now go to

WooCommerce → Settings →  Fast Cart → license key

and

save your settings

.

Scroll down and you will see options to customize the cart like changing the design and position of the cart, contents that appear on the cart, etc. 
It's fairly easy to set up. But if you require assistance then these documentations and this tutorial video should help you out.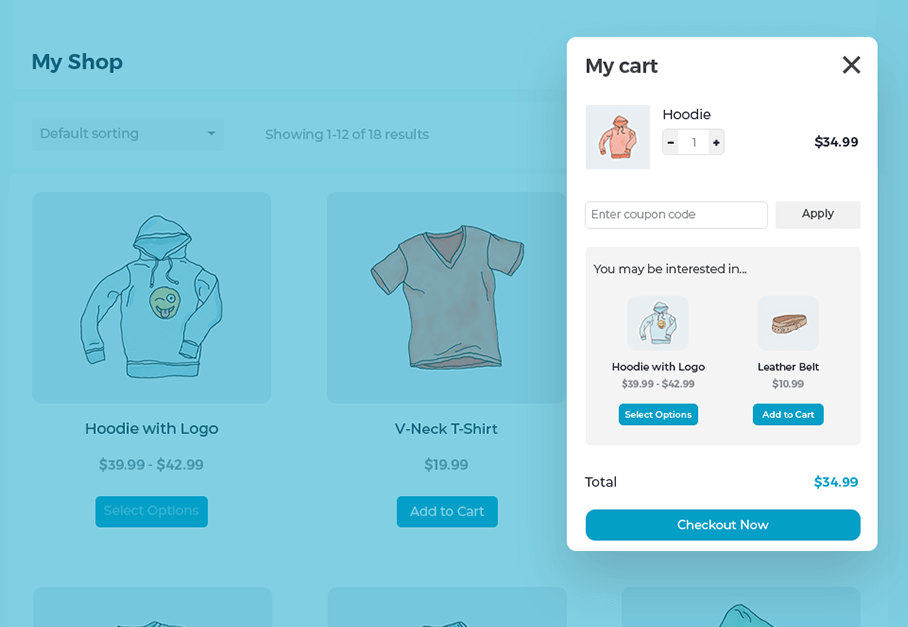 Increase your conversions and average order value with a beautiful popup cart and checkout.
This YITH plugin is a complete WooCommerce checkout management solution. 
The plugin allows you to customize your entire checkout page which means you can add or remove or modify custom fields to ensure that the page is easy to use. Moreover, with the ability to split the page into multiple columns you can make the checkout page look attractive and trustworthy. 
Other features that the plugin offers include the ability to customize the shipping, and billing fields, drag and drop fields at various places on the page, modify labels and tooltips, create text or multiple choice based custom fields, among other things. 
Besides the common features we just mentioned, the plugin offers JavaScript Field Validation that lets you verify customer information in real-time, i.e. as they are entering it in the checkout forms. This helps prevent errors and cart abandonment. 
Another impressive feature is the Conditional Fields, which allow you to display fields based on products, categories, and tags.
Checkout Manager highlights
Add and modify fields 

Customize colors, labels, and tooltips 

Drag and drop page builder 

Show or hide custom fields based on conditions

Real-time data validation

Compatible with WooCommerce Fast Cart - use YITH's plugin to modify the checkout fields and Fast Cart to display the modified checkout in an on-page popup
Get YITH WooCommerce Checkout Manager
Developed by WooCommerce, this plugin allows you to modify fields on the checkout page. From adding, editing, and removing fields to moving the fields around on the page - you will have complete control over the page. 
When adding a field or modifying an existing field, you have the option to choose between different types of custom fields like text, select, checkboxes, and date pickers.
Checkout Field Editor highlights
Offers different types of custom fields

Add, edit or remove fields 

You're free to move the fields around 

Compatible with WooCommerce Fast Cart - the modified checkout fields appear in the popup checkout
Cart abandonment is a serious threat to sales if you don't find a way to stop them. But the problem is you need a ton of resources to actually stop cart abandonment which might not be feasible. So, the easiest way to get back the lost sales is by persuading the customers to recover their carts. This is where Retainful can be a great help for you.
Retainful is a complete email marketing automation platform for the WooCommerce store. Automate your emails & drive sales on auto-pilot. Create a cart recovery campaign within minutes, yes, within minutes. Retainful comes with pre-built workflow templates which lets you create & launch a recovery campaign within a short span, no coding knowledge is needed.
Sending emails is just not enough, your emails must be able to entice customers, so you have to make them beautiful. Use the drag & drop email editor to customize your emails, make them attractive, and use the shortcodes to personalize the emails. Doing this will increase your email open rates. To increase the conversion, write a compelling email copy, and add images, videos or gifs to convince customers to recover their carts.
Retainful also lets you add dynamic coupon codes in your emails. You can send emails along with discounts & push the customers to return & recover their cart. Get real time data on what's happening in your store through an insightful dashboard. Retainful is flexible & can be integrated with your favorite ESPs. You don't need any coding knowledge to use Retainful.
Retainful highlights:
Recovery with a single click
Fixed discount, Percentage discount & Free shipping discount
Dynamic coupon codes
Create a campaign in minutes. No coding is required.
Compatible with multiple devices
Pre-built workflow templates
Pre-built email templates
Excellent support
Get Retainful
The Flux Checkout for WooCommerce plugin enhances the standard WooCommerce checkout flow by adding a multi-stage checkout process which is optimized for conversions.
The standard WooCommerce page can be pretty overwhelming which as you know can lead to cart abandonment. The plugin helps you tackle this by simplifying the process through multiple checkout steps. 
To improve the checkout process further, the plugin automatically populates the address fields. All you need to do is set the plugin up using a free Google API key to allow instant address search. 
Pro Tip: Many WooCommerce store owners use Flux Checkout with our WooCommerce Fast Cart plugin for quicker checkouts. We have a guide on how to use both the plugins together: How to Add Multi-Step Checkout to WooCommerce. This way, you can get the best of both worlds by displaying the improved checkout within a popup for fast on-page shopping.
Flux Checkout highlights
Multi-step checkout

Autocomplete address

Built for speed

Mobile optimized

Compatible with translation plugins
Get Flux Checkout for WooCommerce 
The WooCommerce One Page Checkout plugin lets you combine the cart and checkout into a single page, or create custom landing pages and checkout pages for products using shortcodes. It's an excellent option if you want a fast, simple checkout replacement for WooCommerce.
As the name suggests, the plugin enables customers to checkout without leaving the product page. In other words, customers can add products to the cart and then scroll down on the same page to check out their purchases.
The plugin also lets you display checkout fields on single product pages. You can even upsell by adding a few related products to the page. 
During sales and promotions, you can create a custom landing page with the help of the plugin and use a shortcode to display the checkout on the same page.
Another very useful feature the plugin offers are simple pricing tables, product listings, etc along with the ability to create new templates. 
The only problem with One Page Checkout is that the way it lists products is very restrictive and basic. As a solution, lots of store use One Page Checkout with
WooCommerce Product Table.
This lets you display a more user-friendly searchable product list above the one-page checkout. To learn how to use both plugins together, check out our
One Page Checkout
tutorial.
WooCommerce One Page Checkout highlights
Single page product selection & checkout

Upselling opportunity

Custom landing pages

Pre-built templates like pricing tables

Custom templates
Get WooCommerce One Page Checkout
7. Mini Ajax Cart for WooCommerce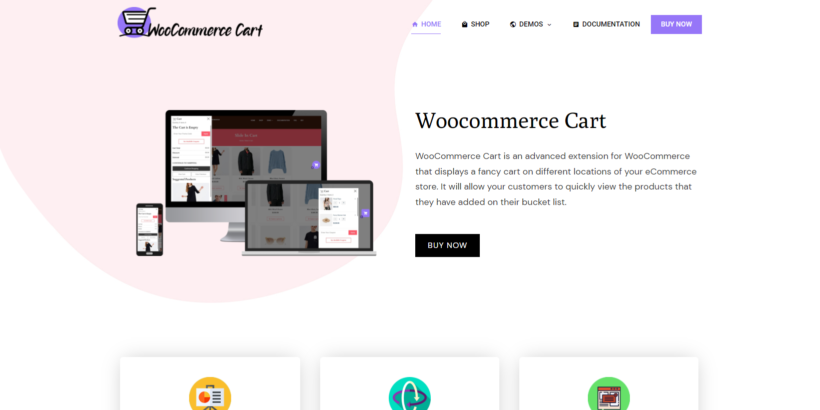 If you are looking for a WooCommerce plugin with flexible features to add a mini cart to your eCommerce store, Mini Ajax Cart for WooCommerce is just the solution for you. It is a freemium plugin for WooCommerce that has both free and pro versions.
The lite version of the plugin includes simple options to place your sticky shopping cart on your online store and display the cart items in a beautiful slide-in form. You will also be able to customize the typography, and color of the texts available in the cart items. Besides, there are also different animation effects to display the showcase cart items in a wow-looking fashion.
While the premium version will unlock advanced features like different layouts to display the cart items and position options to place the mini AJAX shopping cart. You can display additional items such as currently active discount offers with promo codes, a carousel displaying the related products that you have added to the cart list, and many more. Also, there is a Glassmorphism layout option to display the cart and cart items in a transparent frost glass effect.
WooCommerce Cart highlights
Adds an AJAX mini sticky cart to view item directly from the shop/product page
SlideIn, floating, popup, and Glassmorphism layout to display cart items
Various animation effects when the cart is opened, closed, or kept idle
Different position orientations to display the sticky cart on your website
Get Mini AJAX Cart 
The free Direct Checkout for WooCommerce plugin is simple - it shortens the checkout process by skipping the shopping cart page. When a customer clicks on the "Add to cart" button, they're redirected to the checkout page.

The plugin has a free version and a premium version. 
The free version includes options like Ajax add to cart which prevents the website from reloading whenever customers add a product to the cart. The plugin also enables you to remove checkout fields like the shipping address which is unnecessary if you are selling digital products.
With the premium version, you can enable one-page checkout and a quick purchase button on single product pages. 
Use this if you've decided to stick with the default WooCommerce checkout page, and simply want to skip the cart. If you want customers to be able to check out without leaving the page, then use WooCommerce Fast Cart instead. That plugin has its own direct checkout feature which skips the cart page and opens the popup checkout, which is better for conversions.
Direct Checkout highlights
Skips cart

Accelerates checkout process

Removes unnecessary checkout fields

One page checkout

Quick purchase button
Get WooCommerce Direct Checkout
Have you ever noticed that the WooCommerce cart page doesn't include a way to empty the cart? You have to remove each item individually. The  free Empty Cart Button for WooCommerce plugin adds an Empty Cart button - simple!
If you install this plugin, it'll add an Empty Cart button to the checkout and cart page which customers can use to flush the cart completely. 
There is a free and a premium version. 
With the free version, you have the ability to customize the button, enable a pop-up confirmation box, and a shortcode that you can use to place the Empty Cart button anywhere on your WooCommerce store. 
The premium version allows you to change the label of the button and change the position of the button on the cart page, among other things. 
Empty Cart Button highlights
Add Empty Cart button to cart and checkout page

Customize Empty Cart button

Change button position

Pop-up confirmation box
Get Empty Cart Button for WooCommerce
As the name suggests, the plugin enables you to add a donation button to the checkout page encouraging customers to participate in a cause. Depending on your industry, this can have a big impact. 
WooCommerce Donation Or Tip On Cart And Checkout plugin allows various display options like predefined donation, pay what you want donations, etc. Other features include changing the position of the donation field, optimizing the donation button and message, using a shortcode to create a donation button anywhere on the website, and making the donation taxable. 
WooCommerce Donation highlights
Add donation button to cart & checkout pages

Use shortcode to add donation button

Predefined or fixed amount

Customize button & message

Make donation taxable
Get WooCommerce Donation Or Tip On Cart And Checkout
With the basic WooCommerce cart and checkout process, you can either stay on the current page when adding products to the cart, or you can be redirected to the cart page. For greater flexibility, this plugin lets you specify which page users are redirected to depending on what they are adding to the cart.
Add to Cart Redirect allows you to redirect customers to a specific page as soon as they add a product to the cart. This can be useful for many different use cases: 
Creating a custom cart flowFor example, you might be building a 'build your own product' or 'gift basket' website where customers need to add one product (e.g. a box or basket) to the cart, and then be redirected to another page where they can choose the rest of their products. Redirect customers to a page selling relevant products to help them build their own products (like pick your own pizza or burrito ingredients) or gift baskets, or luxury boxes (like dried fruits, tea), etc. Here's a guide on how to create a custom cart flow on WooCommerce to enable customers to build their own products.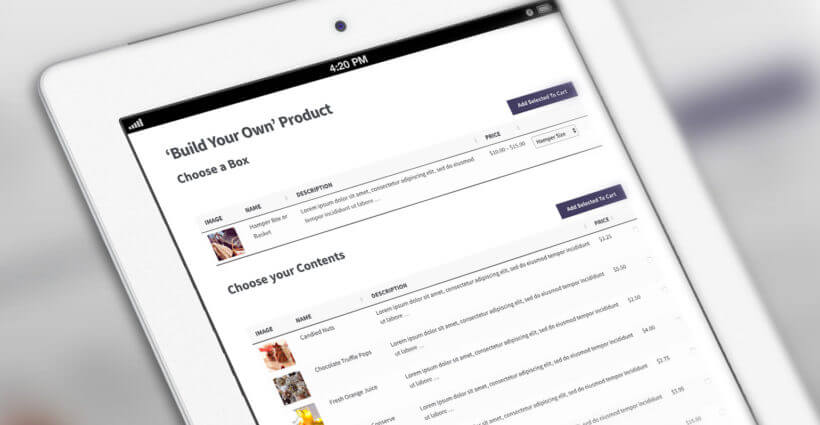 Agree to terms and conditionsIf you want customers to read the terms and conditions related to a product before they make a purchase. To do this, use the plugin to redirect customers to a Terms & Conditions page.
Add to Cart Redirect is a powerful plugin which offers features beyond redirection. For instance, if you are running giveaways, the plugin helps you automatically add products to the customer's cart when they make certain purchases.
Add to Cart Redirect highlights
Redirect customers to any page

Fast track checkout process

Create custom cart flow 

Automatically add products
On your WooCommerce store, you must have noticed that every time a product is added to a cart, the entire page automatically reloads. This may not seem like a major hindrance but if you want to reduce cart abandonment and speed up the checkout process, then every second counts. Ajax Add to Cart for WooCommerce eliminates the need to reload the entire site when a customer adds a product to the cart. 
If you're using a plugin like WooCommerce Fast Cart then it avoids the problem altogether. However, if you're using the standard WooCommerce cart page then this is worth installing.
Ajax Add to Cart highlights
Accelerates checkout process

Works right out of the box

Works seamlessly with page builders (Elementor, WP Bakery, etc)
Get Ajax Add to Cart for WooCommerce
And with that, we have come to the end of this list.
Conclusion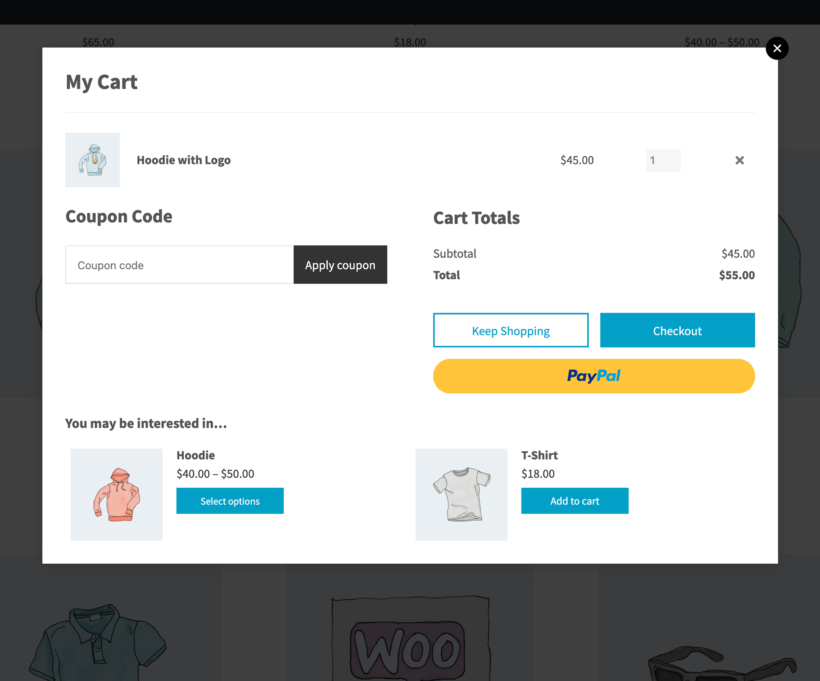 As you can see, there are plenty of WooCommerce cart plugins to choose from. The WooCommerce Fast Cart is our number one choice because it was specifically designed to increase both conversions and the average order value. The pop-out cart and upsell features have proven to accelerate customer sales.
You can combine WooCommerce Fast Cart with some of the other cart plugins listed in this article. This allows you to create a streamlined cart and checkout process that will make a big difference to your sales. 
Which tools are you using to accelerate your sales? Let us know in the comments below.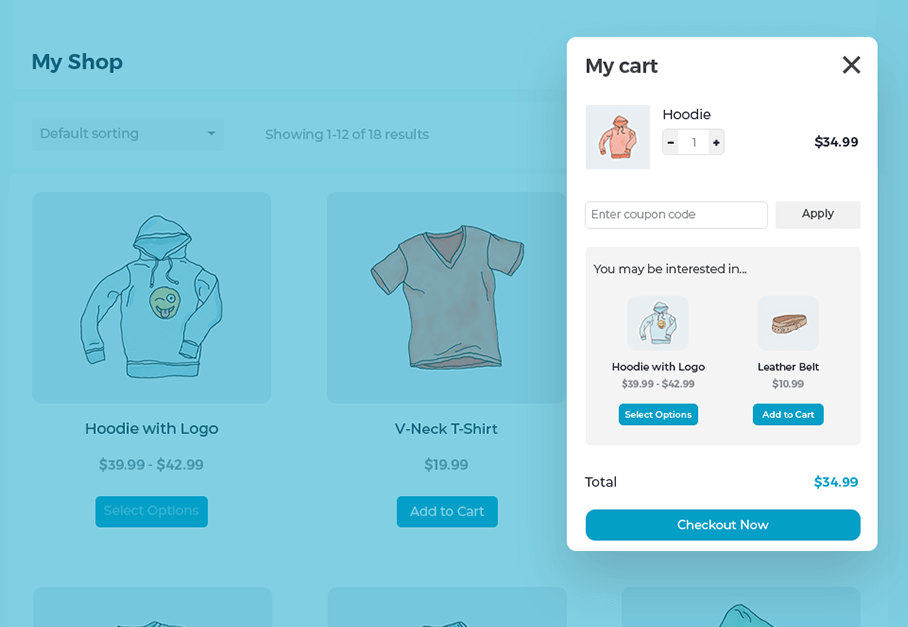 Increase your conversions and average order value with a beautiful popup cart and checkout.