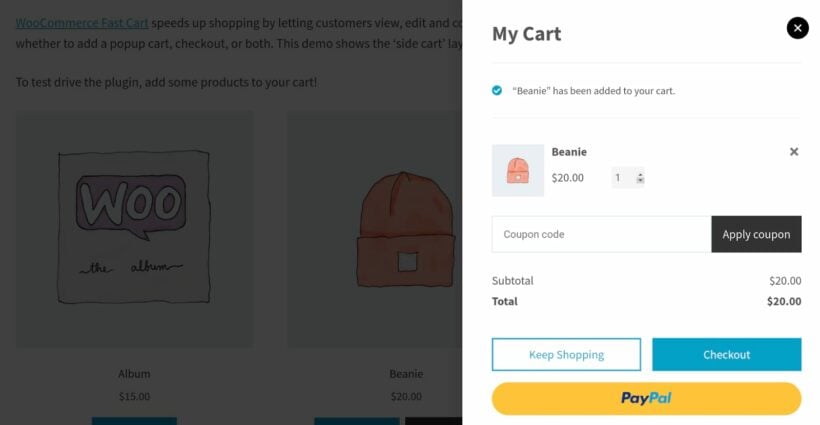 Want to add a popup cart to your product tables and enhance the shopping experience on your WooCommerce store?
Using the WooCommerce Product Table plugin is a great way to display multiple products to customers in a table format. You can display all the contents in an easy-to-navigate table format and let customers add the products to their cart.
To enhance the shopping experience, adding a popup cart to your product table can greatly help your customers in placing orders. Let's see how WooCommerce Fast Cart can help you with this.
Looking for a WooCommerce add to cart popup instead? Check out our other plugin, WooCommerce Quick View Pro. This creates product pop ups so that customers can add to the cart from a quick view lightbox.
What is WooCommerce Product Table?
WooCommerce Product Table lists products in a user-friendly order form layout. Customers can view large numbers of products on a single page, choose quantities, select variations, and quickly add to the cart.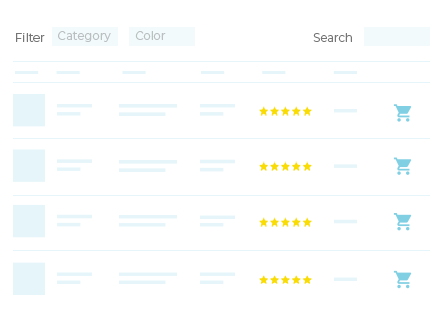 A bestselling quick order form plugin for your WooCommerce products.
How can customers view their cart contents?
Obviously, customers can click through to the cart page whenever they like. However, WooCommerce Product Table is all about bulk buying. You want to encourage customers to add more and more products to the cart, all from the one page WooCommerce order form.
As a result, customers need an instant way to see what's already in their cart - without leaving the product listings page.
Fortunately, there are several ways to do this:
Add a Cart widget to the sidebar
Some websites using WooCommerce Product Table like to add a sidebar to the page, containing the 'Cart' widget that comes with WooCommerce. This instantly updates the cart and displays it in the sidebar when you add products to the cart.
Add WooCommerce Fast Cart plugin
Other stores prefer not to have a sidebar on their product table pages. This is because a full-width layout leaves more room for extra columns of information about the products. So how do you display the full cart contents on product listing pages?
The answer is to use the WooCommerce Fast Cart plugin.
WooCommerce Fast Cart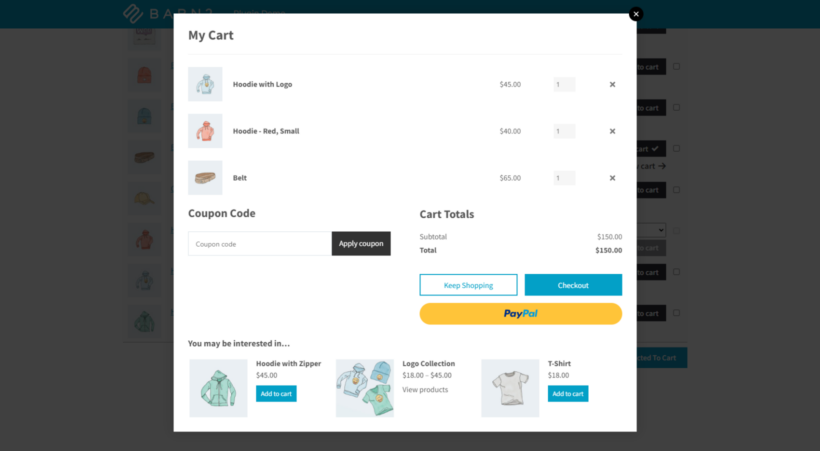 WooCommerce Fast Cart plugin is an easy-to-use plugin that can help you set up a one-page checkout form on your WooCommerce website. With this plugin, your customers can add products to their cart, review the cart, add mailing details, and even complete the payment from a single page. They don't need to jump through pages to place an order.
You can set up WooCommerce Fast Cart in minutes and let it boost sales with its faster checkout mechanism. The plugin comes with a dedicated settings page to help you configure the popup as well as the slide-in cart.
If you wish to see WooCommerce Fast Cart in action, check out this demo. Want to use WooCommerce Fast Cart for your store? Get it here.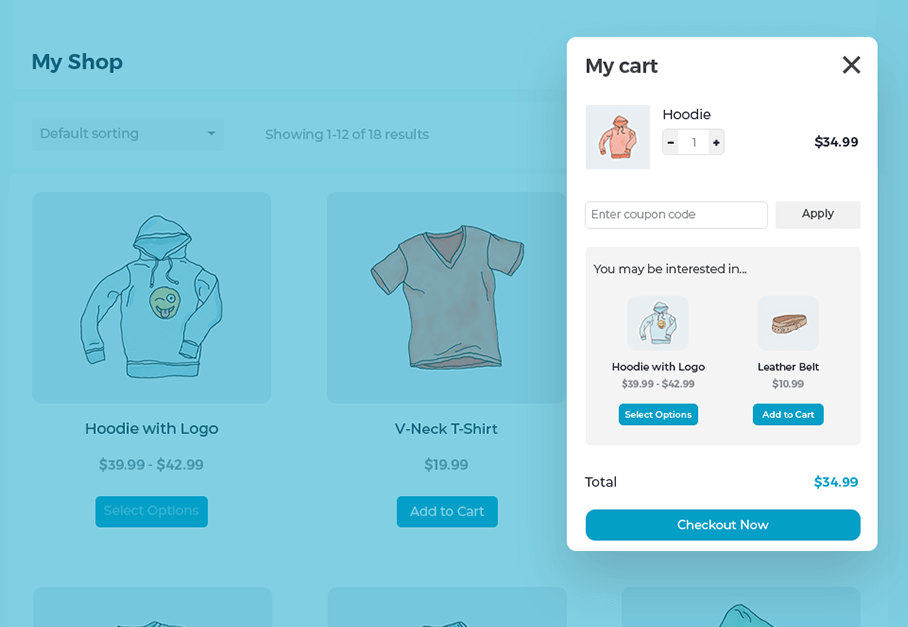 Increase your conversions and average order value with a beautiful popup cart and checkout.
How to use a WooCommerce cart popup with your product tables
The great news is that WooCommerce Product Table works beautifully with the WooCommerce Fast Cart plugin. They work together straight out of the box, without needing any special configuration.
Here's how to do it:
First, get WooCommerce Product Table and create one or more product tables using the instructions in the knowledge base. Make sure your product tables include an add to cart column. Choose any other settings you like - the cart plugins work with all the options, including the lazy load method of loading the table.
Next, go to Plugins → Add New in the WP admin.
Install and activate the WooCommerce Fast Cart plugin.
Go to the cart plugin settings page and choose your options to control how you want your WooCommerce Fast Cart to work. For example, you can choose the position and behavior of the popup cart.
Finally, go to the page where you've added a product table. Try adding products or variations to the cart. You will see the popup WooCommerce cart appear whenever you add products. It looks fantastic and lists the current contents of the cart - perfect!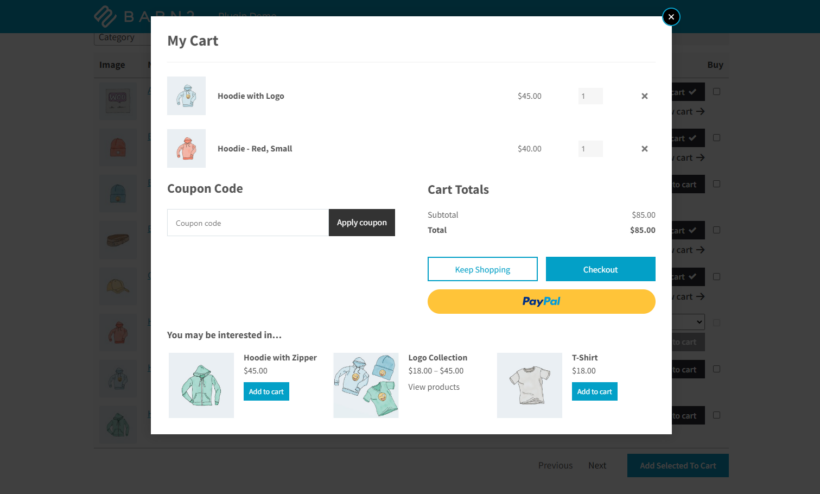 Where to get the plugins
You'll need 2 plugins to add product tables with a WooCommerce cart popup to your store:
You can make various customizations to your store's checkout process using the plugin settings page. You can choose between a popup or a slide-in cart.
If you want to give WooCommerce Fast Cart a try, you can get it here.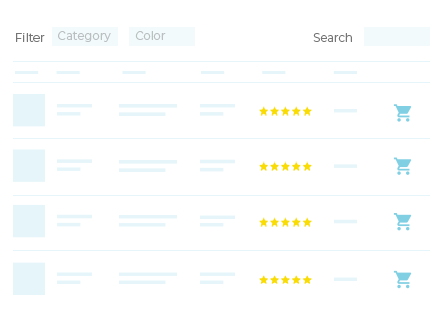 List your store's products in a table layout with quick one-page ordering.