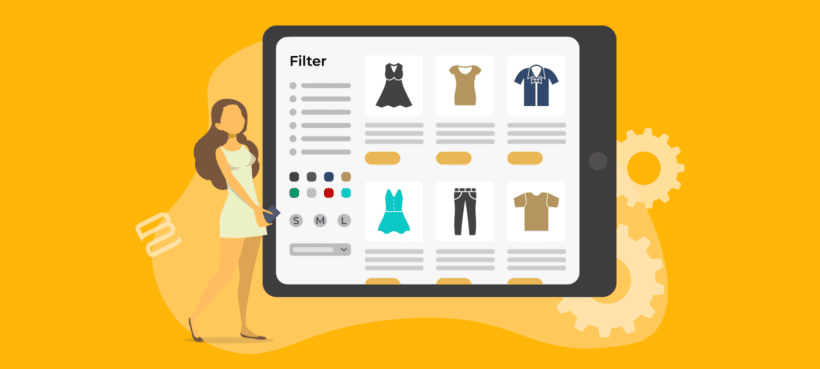 Product filters are a critical component of any large or medium-sized e-commerce store. Large stores like Amazon use them to help customers to find the products they need quickly. For the best shopping experience, you can add the best WooCommerce AJAX filters plugin to your store.
On its own, WooCommerce ships with basic filter widgets. These filters allow customers to search for products based on some limited criteria like attributes, price, and reviews. But the caveat is that they would have to click a button and reload the page to apply the filters. Also, you can only display these filters as checkboxes or dropdown menus.
Fortunately, you can use a WooCommerce AJAX filter plugin instead. This type of plugin displays the filtered search results instantly. And it does so in a much more user-friendly and professional way using a more interactive selection of filter styles. You also get to filter based on a much wider range of product data than WooCommerce offers.
To make things easy for you, we've tested almost every popular plugin in this category. And we've carefully hand-picked the best WooCommerce AJAX filter plugins in the market today. Reading this article, you'll also find expert advice on how to choose the right one for your store.
Best WooCommerce AJAX filter plugin: WooCommerce Product Filters
Looking for the best WooCommerce AJAX filter plugin on the market? Then you need to check out WooCommerce Product Filters. The plugin offers the fastest and most responsive AJAX filter experience in WooCommerce. What's more? You also get a wide variety of other powerful and handy filter features.
WooCommerce Product Options not only allows your store visitors to see filtered search results instantly. It also creates a highly effective filtered search system that combines popular filter options like taxonomies, product data, and custom fields.
Whether you want your customers to filter by category, filter by price, or even filter by attribute, the tool has it all. The good thing is WooCommerce Product Options doesn't leave out custom fields or product data added by third-party plugins. And it's super-simple to set up AJAX filtering in WooCommerce: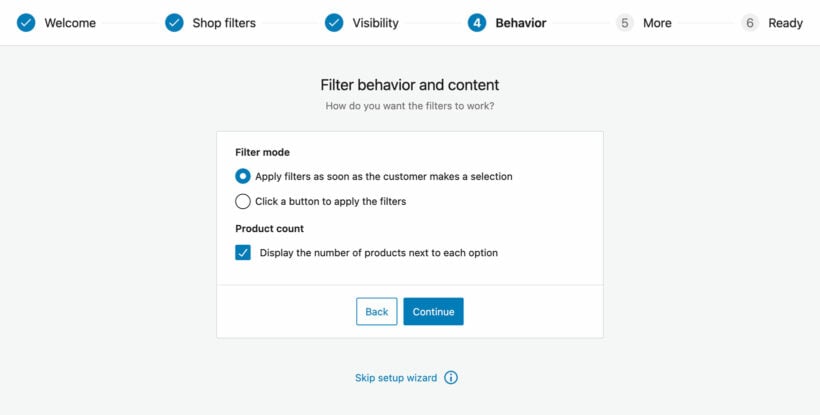 If you're looking for the fastest way to set up a blistering fast WooCommerce AJAX filter system, then you can't go wrong with WooCommerce Product Filters. It offers virtually every feature you need to deliver your customers the best filter search experience possible.
Let's take a closer look at some of these features.
WooCommerce Product Filters features
Filter by any type of product dataThe fastest way for customers to find products is to let them filter by almost any product data. The plugin supports AJAX filtering by category, price, size, color, attributes, taxonomies, stock, on sale, rating, and any other product data of your choice.
Multiple choice of filter stylesYou also get different filter styles for different types of product data. You can use dropdowns, checkboxes, radio buttons, labels, color swatches, range sliders, images, and lots more.
Market-leading indexing and performanceWooCommerce Product Filters ships with a very unique high-performance indexing system. Irrespective of the size of your store's catalog, this system indexes and displays results for filter combinations instantly. Filtering is blazing fast and your customers never have to reload the page to see results.
Mobile optimizationWorried about WooCommerce AJAX filtering on mobile? No need to! This AJAX filter plugin automatically displays filters in a slide-out panel on mobile. This makes navigation easy and boosts the overall user experience too.
Full WooCommerce and WordPress compatibilityThe tool works well with WordPress and WooCommerce themes and plugins. For example, the AJAX Filters are compatible with popular page builders like Gutenberg, Elementor, and Divi. Even if you've built your shop or product pages with unconventional tools, you can add filters anywhere with WooCommerce shortcodes.
Bonus Feature
On top of all these, WooCommerce Product Filters is super easy to set up and use. And it includes lots of unique features you don't get with any other WooCommerce AJAX filter plugin.
For example, you can take advantage of its step-by-step filter. With this AJAX filter, the shopper can select a category from a filter dropdown and then the sub-categories for that category appear as a 2nd dropdown alongside. One common use case for this is auto spare parts sales.
WooCommerce Product Filters also gives you a 30-day money-back guarantee. No questions asked! So, if you ever decide the features aren't as great as expected, you never have to lose a dime.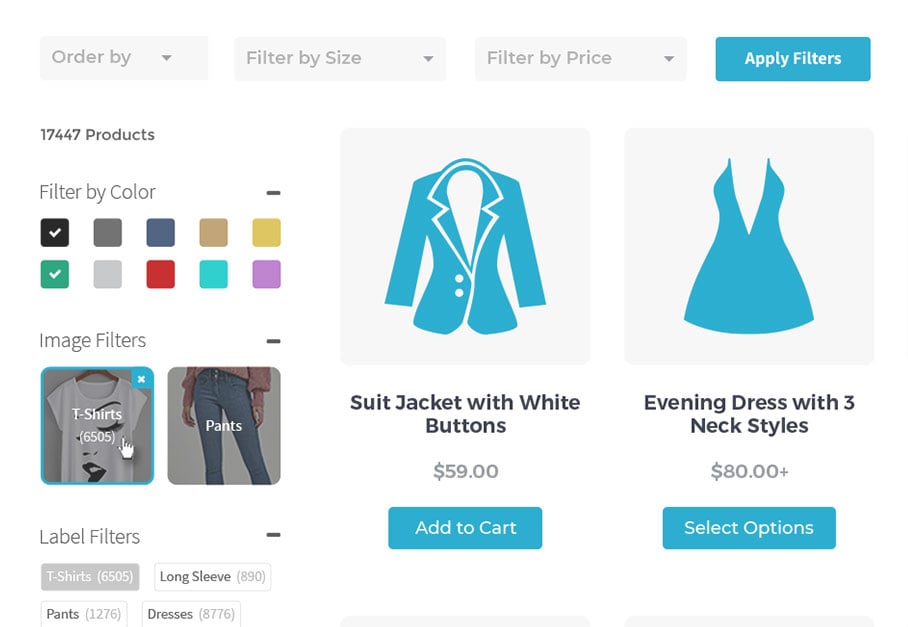 Grow your sales by helping customers to find exactly what they need - instantly with AJAX filters.
Otherwise, you can consider some of the alternatives below.
2. WooCommerce Product Table
Another effective way to use WooCommerce AJAX filters is to add them to a product table. Displaying products in a table comes in very handy for very large stores with lots of products and variations. Unlike all other plugins on this list, WooCommerce Product Table not only delivers the AJAX filter feature. It also changes how products are displayed.
So, the plugin gives your store pages an entirely new layout. Depending on the store and product type, you can use this layout as an instant order form fully featured with AJAX filter dropdowns above the table. This is ideal for filtering large numbers of products and making orders simultaneously.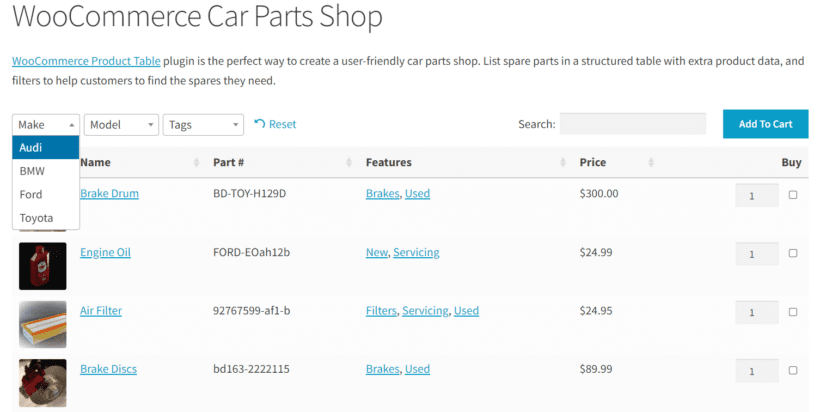 Create a product table with WooCommerce AJAX filter dropdowns above
Key Features
Here are some features you get to enjoy:
Fast one-page order form formatEverything your customers need to complete their order in one place. They can select multiple products, product variations, and even product attributes on the same page. You can also decide which product to display on each page either by category, tag, or product ID.
Add tables with AJAX filters anywhereAdd AJAX filter-enabled tables anywhere on your site. Whether on shop pages or category pages, you can create tables using shortcodes or the Gutenberg Block Editor. You can also enable the product table view automatically on all your store pages.
Quick 'Add to Cart' buttonsIncrease sales by allowing shoppers to add multiple products and variations to their cart directly from the product table.
Unlimited products, product variations, attributes, and integrationsAdd as many products, product filters, product attributes, custom fields, and other items to your tables. You can also combine the tool with other powerful plugins like Quick View Pro to further improve the shopping experience.
This plugin is also 100% compatible with WooCommerce Product Filters as they're both developed by Barn2. Combining both plugins makes sense as it allows you to add more advanced filters and widgets to the product table layout.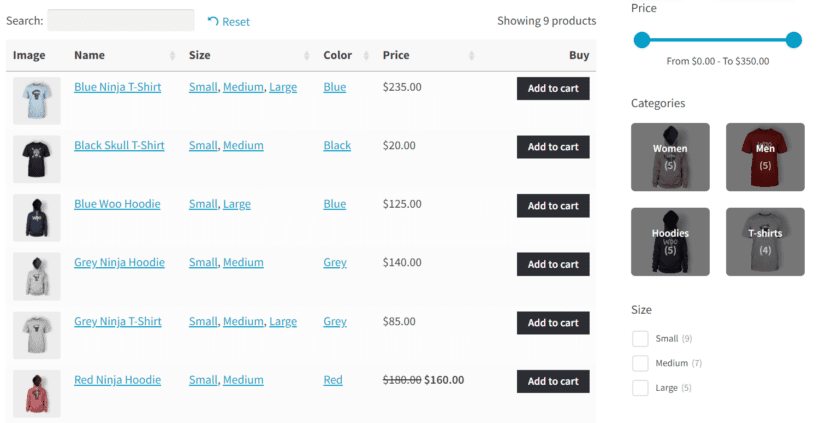 A product table with advanced AJAX-filters powered by Barn2's WooCommerce Product Filters plugin
WooCommerce Product Table also has a 30-day money-back guarantee, so you can buy with total peace of mind.
3. AJAX Products Filter by BeRocket
If you're more focused on adding WooCommerce AJAX filter widgets to your store, then BeRocket's filter plugin is one to consider. AJAX Products Filter ships with all the basic filter options any e-commerce store needs.
With the plugin, you can add a wide range of customizable AJAX filter widgets. Then, position them either above the product table or in the left or right sidebar for seamless customer navigation.
Key Features
Multiple filter layoutsChoose from several filter layouts like range sliders, images, color swatches, etc. You can combine as many filter layouts as you want on each page.
Widget display above or beside the product list Create a distinct shopping experience for your store visitors by showing filters in more intuitive positions. You're not limited to the right or left sidebar widgets only. You can display filters in-line above products, collapsed to titles only, or collapsed into a button.
SEO-friendly filter URLsYou can also customize your filter URL structure very easily. Instead of IDs, use pointer words that search engines can make sense of.
Control which filter values to displayChoose which attribute values to include or exclude from your filters. When you combine the plugin with the Custom Slug add-on, you can use the same filter multiple times with different values on the same page.
Compatible with WooCommerce Product TableYou can use the  BeRocket's WooCommerce AJAX filter plugin alone or with WooCommerce Product Table.
The plugin is popular and executes the WooCommerce AJAX filter function quite well. However, the user interface is not very intuitive. This makes the plugin more difficult to use than some of the others I tested.
4. WOOF - WooCommerce Products Filter Professional
WOOF's plugin is called WooCommerce Products Filter Professional. It's a multipurpose WooCommerce filter plugin which is both powerful and flexible. Beyond general filter options, it also implements the WooCommerce AJAX filter feature well. In other words, filter search results are displayed instantly and accurately. The developer boasts that the AJAX search feature works seamlessly with at least 95% of WordPress themes.
Users can filter products by categories, tags, custom taxonomies, product attributes, price, and much more. The plugin also supports custom post types and allows users to create custom product filters based on any taxonomy or custom field. However, the implementation in the back end is the most difficult to use out of the AJAX filter plugins which I tested. Also, the design could use some tweaking.
Key Features
Add filter widgets with shortcodesThe plugin offers extensive shortcode support for adding filters and filter widgets anywhere on your website.
Customize display choices Use different types of filter display types to showcase different filters. They can be radio, checkbox, drop­down, range-slider, color, images, and more. The plugin also includes a range of color schemes, font options, and styling options to help users match the product filter to their store's branding.
Search link generation You can create search SEO links for individual filters using an extension called SEO URL request. This way, your shop can generate search links that will positively affect the search results of your site in Google and other search engines.
Filter search analyticsThe plugin also offers analytics features. You can always analyze search data and understand what your customers are interested in. Of course, this data helps you to maximize your store's profit.
The plugin generally works well if you spend some time learning how to use it. Its AJAX filters are also compatible with WooCommerce Product Table, which is a definite bonus.
5. YITH WooCommerce Ajax Product Filter
When it comes to AJAX performance and the variety of features, YITH's plugin comes very close to both WooCommerce Product Filters and WooCommerce Product Table. Ajax Product Filter by YITH is a similarly powerful WooCommerce AJAX filter plugin with a very useful filtering system for all online stores.
The tool allows you to add unlimited sets of filters to unlimited product pages or category pages. The high-performance WooCommerce AJAX filter feature also ensures that products are indexed effectively and customers get to see search results immediately.
Key Features
Add filters to pages faster with presetsUse filter groups also known as presets to organize your filters and add them to product pages or category pages easily. You can add filters using a widget, a shortcode, the Gutenberg block, or the Elementor widget.
Modal view for smartphones and tabletsDesign and optimize a filter section specifically for users accessing the site from mobile devices. Whenever mobile users need to filter products, the filter section will appear in a modal view.
Customize filter style and layoutDecide whether to display filters as checkboxes, radio buttons, select dropdowns, multi-select, labels, or images. For product categories, you can also use textual labels or custom icons to visually represent each of your categories
The plugin is popular among WooCommerce store owners. And for good reasons. When you purchase the plugin, you get 1 year of updates and support and a 30-day money-back guarantee.
6. Product Filters for WooCommerce
This particular option is an extension listed on the official WooCommerce.com site and built by the WooCommerce developers. The deal here is simple: filter WooCommerce products using different product attributes. And Product Filters for WooCommerce does this quite efficiently.
Unfortunately, the plugin is plagued with quite a number of issues, ranging from pagination problems to PHP memory errors. While it implements the WooCommerce AJAX filter feature well, it has fewer features than the other tools listed above. This probably accounts for its low user rating.
Key Features
Instant filtered search with AJAX technologyAllow your customers to quickly filter products by categories, attributes, tags, taxonomies, price, and stock status.
Multiple filter stylesThey can also interact with the filtering interface using a price range slider, checkbox list, radio list, dropdown, color list, box list, text list, and others
Adaptive product count and thumbnailsYou can also set the total product count to change each time a product filter is applied. Thumbnails can also adapt to the selected filter combination.
Compared to other more widely used filter plugins, the features you get with this plugin are rather limited.
7. Power Filters - Etoile Web Design
Power Filters is another WooCommerce AJAX filter plugin that handles the core filtering function excellently well. Beyond that, there's very little left to look forward to with the tool.
The plugin basically allows you to add the AJAX filtering feature to your site. Then you also get to customize how the filters are displayed. In essence, it gets the job done. Quickly and easily!
Key Features
Customize filter layoutYou can choose from multiple layout options for your filters, such as a swatch, tiles, checklist, and more. You also get to set a different layout for each filter, including individual attributes, giving you complete control over the appearance of your shop page.
Choose where to display product attributesAmong other advanced customization options, you can display the relevant information, such as colors, sizes, and attributes, directly below the thumbnail on your shop page. This information can be placed below the price for each product and can be tailored to fit your specific needs. By doing this, you will provide your customers with a quick and convenient way to learn about the features of each product.
The plugin offers 3 licenses for single sites, 5 sites, and 10 sites. Still unsure which to choose? The 7-day free trial allows you to test all the available features before committing.
8. FacetWP
Our final pick for this list is the only generic WordPress plugin we've added. FacetWP is not restricted to WooCommerce and WooCommerce products only. You can also use the multi-purpose plugin to filter other types of non-ecommerce content as well.
Here, product filters are mostly referred to as facets and there are lots of them to utilize. The plugin is a really feature-rich tool, which can make setting it up and utilizing it rather difficult.
But the good thing is that it's highly popular and reputable. So, you'll easily find a lot of help online. Alternatively, you want to check out the knowledge base for lots of actionable information.
Key Features
Robust selection of UI choicesFacetWP offers a range of user interface (UI) elements, such as checkboxes, maps, and sliders, that can be easily integrated into your design. These elements provide a visually appealing and user-friendly way to search and filter content on your website.
Works with other WordPress contentFacetWP indexes all your site's existing data, even from custom fields.
Highly developer-friendlyDevelopers can take advantage of the plugin's many hooks to achieve a high degree of customization.
Tutorial: How to add WooCommerce AJAX filters to your store
Now that we've examined the best WooCommerce AJAX filter plugins, let's demonstrate how to add your first AJAX filter to your store. I'll be using our top pick for this - WooCommerce Product Filters.
The first step to setting up professional AJAX filters is to get your copy of WooCommerce Product Filters here. After getting the plugin, you'll receive a license key in the email you registered with. You'll need this key after uploading WooCommerce Product Filters to your site.
Setting up the AJAX filter plugin
Download the plugin ZIP file from your Barn2 account.
Log into your WordPress admin dashboard and navigate to Plugins → Add New → Upload Plugin. Then select the ZIP file you just downloaded and click Install Now.
Once it's uploaded, click Activate.
Next, the plugin setup wizard will open automatically. Follow the steps in the wizard to choose how you want your filters to work. The most important thing to pay attention to here is the Behavior step. Make sure to check Apply filters as soon as the customer makes a selection. This is the AJAX filter feature that applies filters without reloading the page.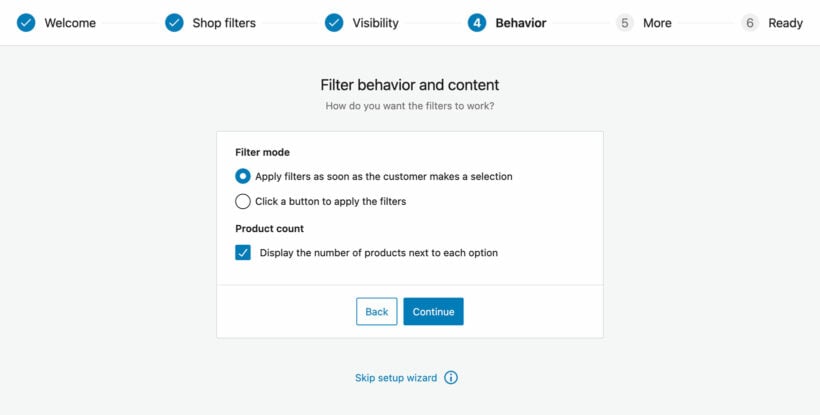 After that, it's time to create a filter:
Go to

Products → Filters

. Click on the filter group that you want to add the WooCommerce tag filter to, and then click

Add new filter

.

The first field in this form is the 'Filter name' field. Call it something helpful like "Brand" or "Dietary Requirements".
Select the right option in the 'Filter by' field.
Still within this form, you also want to set the filter type and add the new filter to an existing filter group if you choose to. The filter types let you choose how you want to display your filter: either as a dropdown, checkboxes, radio buttons, or labels.
When you're done, click Save changes and that's it!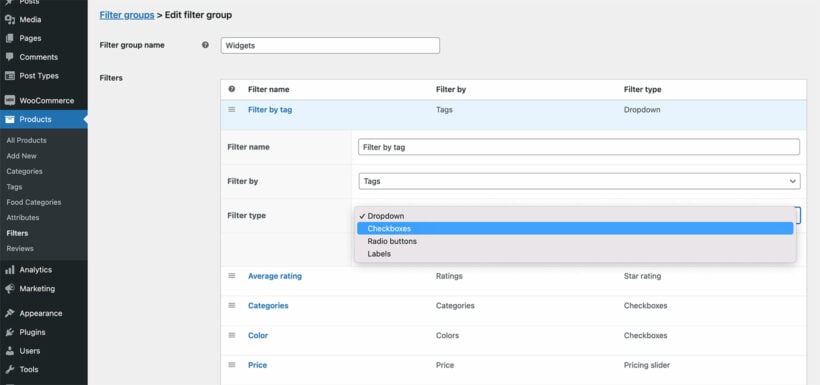 How to add filter by tag to WooCommerce
You've just successfully created your first WooCommerce AJAX filter. Simple and easy!
Repeat the above steps and add as many filters as you like. For example, in the screenshot above we added a WooCommerce tag filter along with filters for average review, product category filter, color swatches, and a WooCommerce price filter.
How to display products in a filterable one-page order form
As we mentioned earlier, one of the simplest ways to make the ordering process in large stores faster is to add WooCommerce AJAX filters to product tables.
Displaying your product this way makes it easy for buyers to view and select multiple products simultaneously, review your search with filters, and add your final selection to the cart. All without leaving the same page!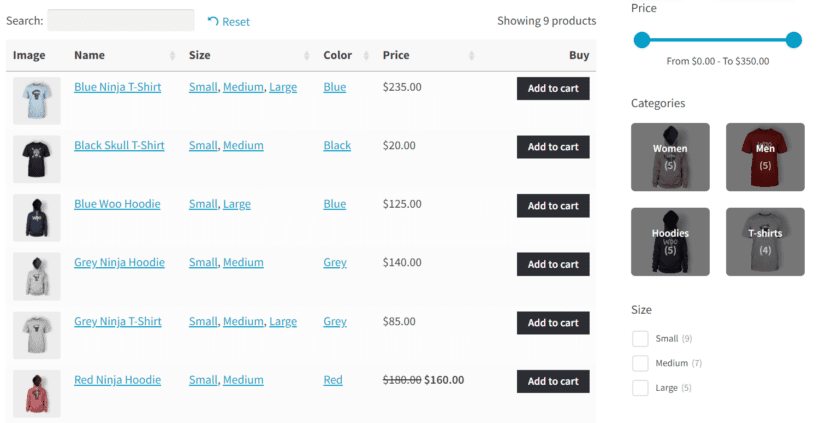 The best way to achieve this is to combine WooCommerce Product Filters and WooCommerce Product Table. This way, your store customers get to benefit from the product table layout and enjoy power filtering capabilities too.
To make this work, you first need to get your copy of WooCommerce Product Table here.
Next, download the plugin and upload it to your site. You can do this by going to Plugins → Add New → Upload Plugin. Select the ZIP file you just downloaded and click Install Now followed by Activate.
Now, the plugin setup wizard will open. Enter the license key you got from the email you received and click Activate.
After activating the plugin license, it's time to create a product table that includes a tags column and/or a tag filter. You can do this on the plugin's settings page by going to WooCommerce → Settings → Products → Product tables.
On this page, all you need to do is enable product tables on all the pages you want to add them. You can display product tables on your shop, product search results, product categories, product tags, and product attributes pages. Simply check as many boxes as you want under 'Where to display product tables' 

in the 

'Shop integration' 

section.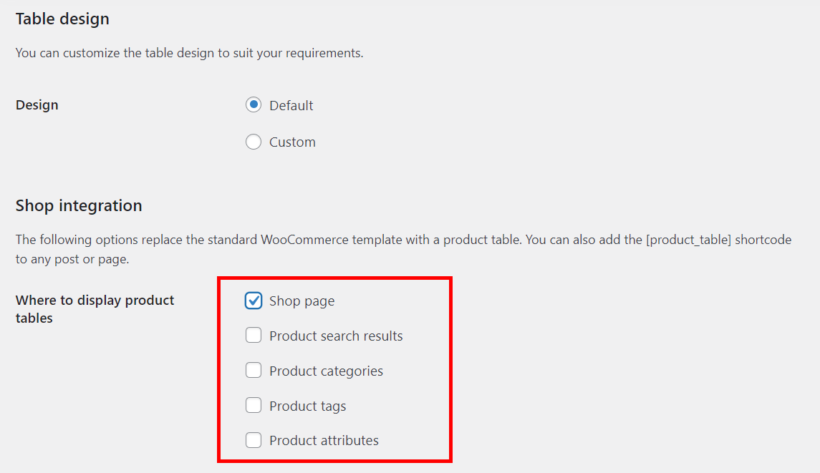 You can also add tables and filter widgets to individual pages using WooCommerce shortcodes in the Gutenberg Block Editor.
Start using WooCommerce AJAX filters today
WooCommerce AJAX filter plugins can greatly improve the user experience on any WooCommerce store by allowing customers to easily search and filter through thousands of products. The best AJAX product filter plugins for WooCommerce offer a range of search features and display options.
If you're looking to improve your store with the best AJAX filter plugin, we highly recommend WooCommerce Product Filters. The plugin allows you to:
Filter unlimited products by any type of product data
Choose from multiple filter styles
Offer seamless navigation on mobile devices
Enjoy market-leading indexing and performance
Combine it with other powerful WordPress and WooCommerce plugins and themes
For even more functionality, you may want to combine the plugin with our #2 pick, WooCommerce Product Table. This makes it possible to filter multiple products and send them to the cart on one page.
So, what are you waiting for? It's time to get your copy of Product Filters so that your customers can start enjoying the WooCommerce AJAX filters today!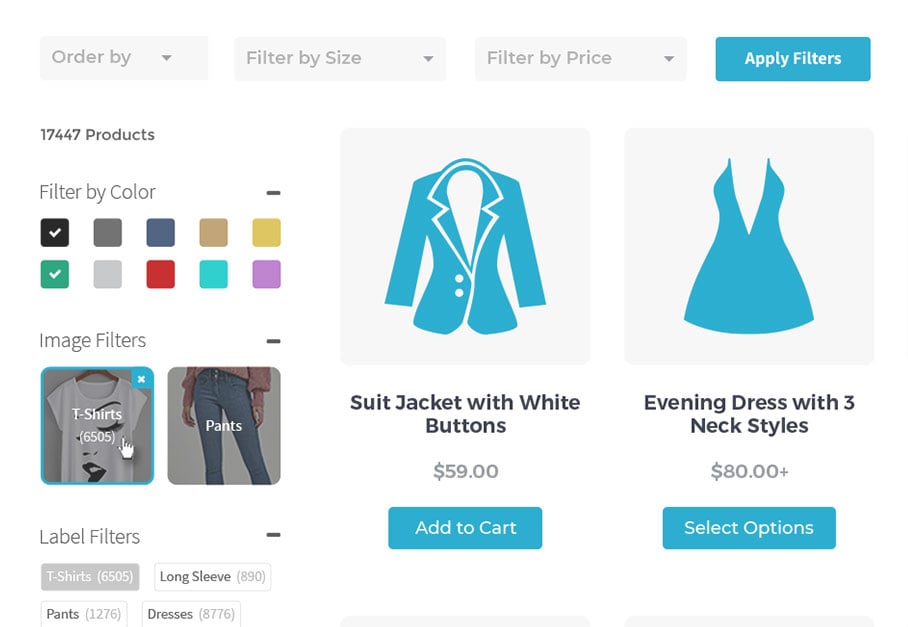 Grow your sales by helping customers to find exactly what they need quickly with WooCommerce AJAX filters.
You probably should have your AJAX filters up and running on your store by now. If you encountered any issues, let us know in the comments section below.