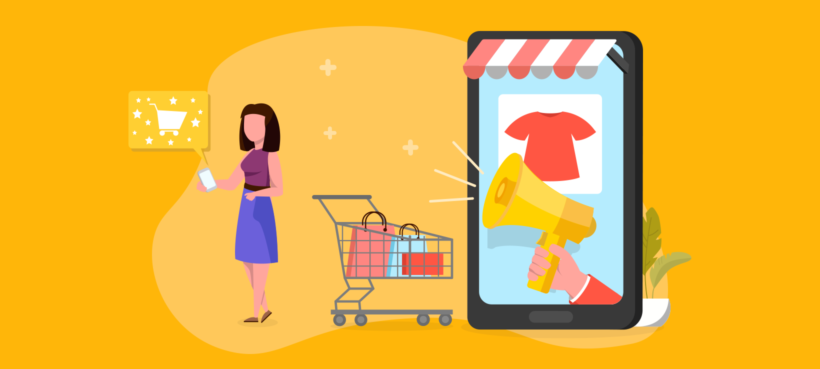 Looking for a way to recover lost potential sales? This guide will review the top WooCommerce abandoned cart plugins to help you convert your store visitors into customers. Even better, you'll find here some unusual tips and little-known ways to prevent customers from abandoning their carts in the first place.
Imagine consumers who browse your online store. They add multiple items to the cart and then abandon the transaction at the last minute. As a result, you're losing money. Isn't it frustrating?
For e-commerce business owners, abandoned carts are a major issue. According to statistics, the average cart abandonment rate is around 70%. That means companies miss out on 7 out of 10 shopping carts and their revenue.
As a store owner, this is both a serious challenge and a fantastic opportunity. You can bring back visitors even after they've abandoned their carts and left your site. And you can do that thanks to WooCommerce abandoned cart recovery plugins.
This guide will look at the top WooCommerce abandoned cart plugins to convert your store visitors into customers. Even better, I'll also share some unusual tips and little-known ways to prevent customers from abandoning their carts in the first place! We'll do this by looking at a solution to speed up and simplify the checkout process, and to stop customers from abandoning due to unexpected shipping costs.
But first, let's examine how abandoned cart plugins work and why they're so essential for your business.
Why do customers abandon carts?
Every e-commerce business is different. However, the following are some typical flaws that lead to cart abandonment:
Complexity - Online buyers have a limited attention span. If the checkout process is too complicated or time-consuming, they will quit it. Make the transaction process as simple and effortless as possible to avoid this.
High shipping fees – Customers frequently abandon shopping carts after learning how much their product would cost with shipping. You can offer free delivery to avoid this.
Lack of trust - Some web users are hesitant to provide credit card information online. Increase conversions by using social proof. Think of developing a solid brand to increase confidence on the checkout page and throughout the site. A liberal return policy might also assist in relieving client fears.
No purchase intent - Many people add things to their basket but do not finish their purchase. It might be simply because they are browsing with little purchasing intent. Help encourage these users to buy right away by giving limited-time promotions and instilling a sense of urgency.
Payment methods - Customers frequently have strong preferences for how they would want to pay. That means they will only finish a transaction if their chosen method is available. You can reduce this issue by accepting the most common payment options, such as Visa and PayPal.
Item is too expensive – Online consumers frequently compare prices to get the best rates. You may prevent clients from abandoning their cart by providing special discounts and coupon codes. In this way, you can keep them from getting scared off by excessive pricing and seeking better offers elsewhere.
Technical problems - All technology is prone to technical faults and errors. Check your statistics and the checkout process frequently to verify there are no stopping problems. Also, make sure the code on your checkout page is streamlined to avoid high load times.
As you can see, there are many reasons why people leave shopping carts. This blog post will show you the 6 best Woocommerce abandoned cart plugins for potential solutions to this challenge.
How about preventing people from cart abandonment in the first place?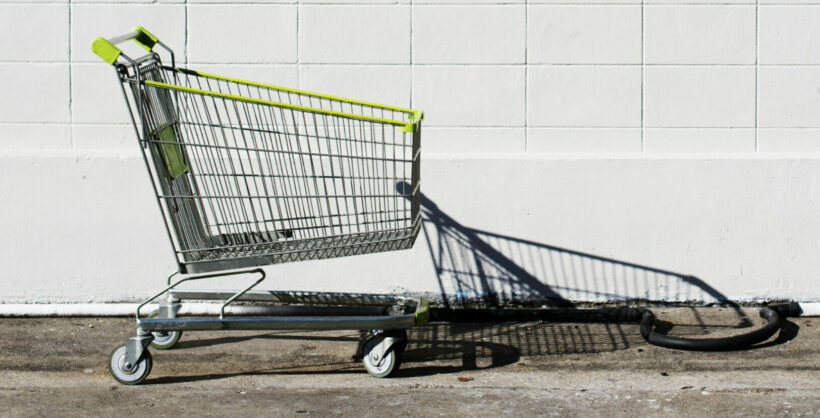 What if you could prevent WooCommerce cart abandonment in the first place? As we mentioned in the previous paragraph, one of the most common reasons customers quit payment is a lengthy, complicated checkout procedure. Every additional step and form field hinders and complicates the user's ability to complete payment. Customers want a straightforward, convenient process. Thus any extra steps detract from the user experience.
The best way to get more sales is by actually preventing people from cart abandonment in the first place. Next, I'll tell you about two plugins which can significantly reduce your abandoned carts.
Prevent abandoned carts with a fast on-page cart and checkout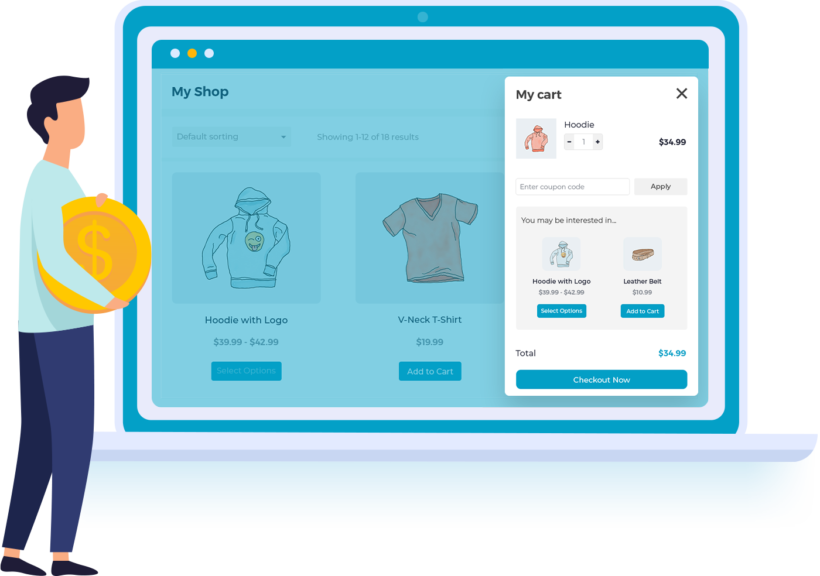 WooCommerce Fast Cart is a plugin designed to reduce abandoned carts. It does this by making it much quicker and easier for customers to complete their order, so they're less likely to abandon their cart. 
Fast Cart works by displaying the cart and/or checkout in an on-page popup. Customers can review and complete their order without ever leaving the current page. They will never leave your store or product pages with WooCommerce Fast Cart since their cart is always with them.
Customers can use WooCommerce Fast Cart to view products in their cart, evaluate their purchases, alter quantities, delete items, and activate coupon codes. Related products appear in the mini cart, helping to increase your average order value.  
What makes it truly stand out is a one-of-a-kind quick checkout that pops up. This makes purchasing things much faster and easier.
The popup cart might appear as a little lightbox on the right side of the screen or as a larger lightbox in the centre. Customers can review their selections without leaving the page, and also complete their purchase directly within the popup.
You may further speed up the checkout process by bypassing the cart and displaying the popup checkout as soon as a consumer adds an item to the cart.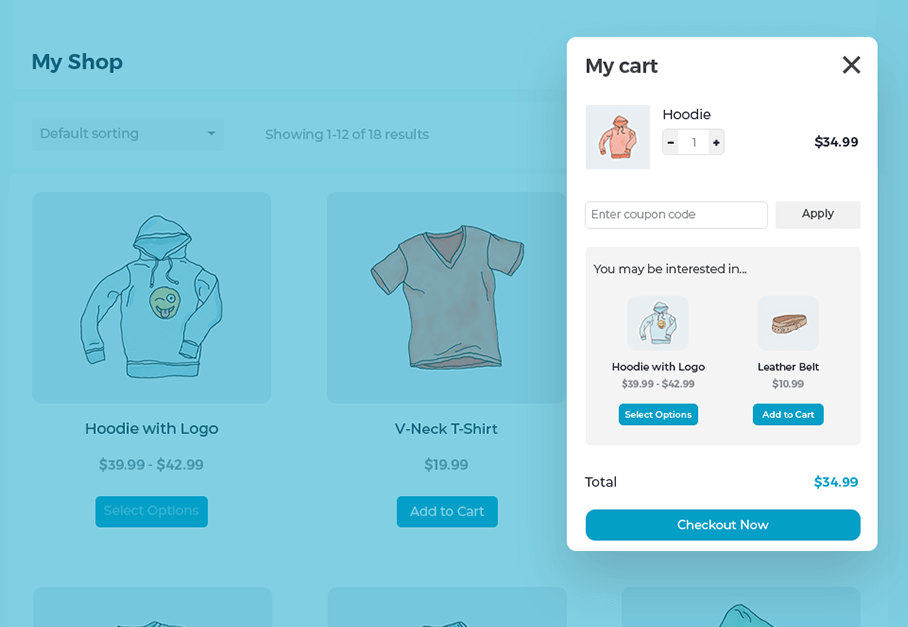 Increase your conversions and average order value with a beautiful popup cart and checkout.
So, why does Fast Cart reduce abandoned carts?
Now, let's compare this to a standard checkout process in WooCommerce. This is how you normally place an order in WooCommerce: 
First, customers add products to the cart.

Next, they need to check the items and quantities inside the cart to review the order. To do this, they need to abandon the shop pages and visit a separate cart page.

Once they are ready to pay, they need to click on the "Purchase" button that will lead them to another page.

They fill out their name and email address on the checkout page, choose a delivery method, and input their address and payment information (plus an optional billing address) before completing the transaction that will lead them to yet another page.
That is way more hassle for the customer.
You quickly increase your chances of a successful purchase by shortening the checkout process and reducing the number of pages needed to load before completing the transaction. To speed up the process and reduce abandoned carts even more, you can enable the 'Direct checkout' option which skips the cart part of the process completely, and displays the checkout as soon as the customer opens the popup cart. This is even faster.
WooCommerce Fast Cart - our WooCommerce side cart plugin - is available as a standalone WooCommerce side cart plugin or as part of the All Access Pass.
Like all our other plugins, WooCommerce Fast Cart comes with:
In-depth documentation

 and tutorials.

Export support from our friendly team.

Full 30-day money-back guarantee.
Stop customers abandoning their cart due to unexpected shipping costs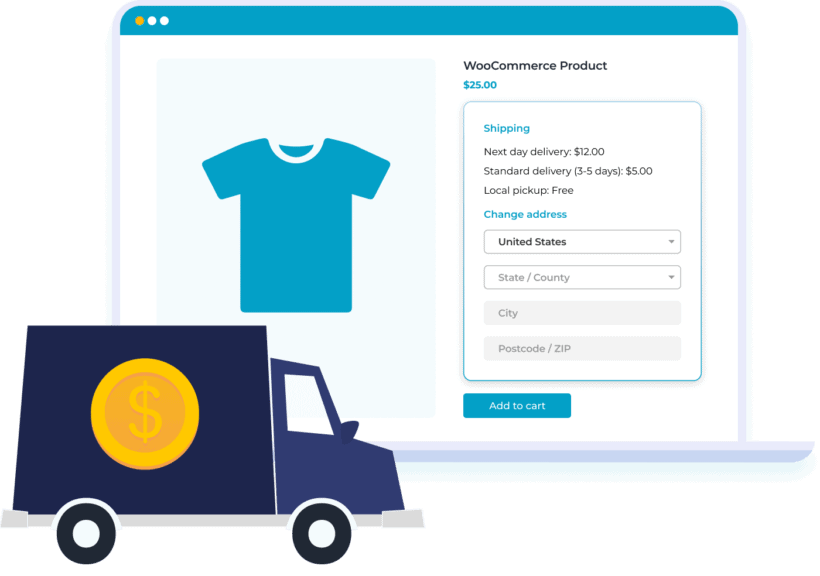 Have you ever been shopping online and added products to the cart just to check the shipping cost? And then abandoned your cart when you weren't happy with the shipping options? If so, then you'll understand how you can reduce abandoned carts by providing upfront shipping costs to your customers.
Normally, WooCommerce only shows shipping costs on the cart and/or checkout page. Stop and think about that for a moment, as it's absolutely ridiculous! Customers are expected to decide whether to purchase a product before they know what it will cost to send to them - or even if you ship to their location!
The solution is to install the WooCommerce Shipping Calculator plugin. This handy plugin takes less than 5 minutes to set up, and adds a shipping calculator to your chosen position on the WooCommerce product page. Customers enter their address and instantly see the shipping costs so that they can make a fully informed decision of whether to add the product to their cart. As a result, this plugin can prevent 100% of abandoned carts due to unexpected shipping costs.
How to recover abandoned carts
We talked a lot about preventing cart abandonment. Now it is time to look at WooCommerce cart abandonment plugins that will help you gain back your potential lost revenue. 
It's crucial to remember that your e-Commerce cart abandonment rate will never be zero. You can't stop everyone from abandoning their shopping carts. That's why it is very important to additionally to preventing cart abandonment, you also use plugins that help you recapture lost clients.
The Fast Cart and Shipping Calculator plugins compatible with all the WooCommerce abandoned cart plugins listed below. Use them with any of these plugins for best results. 
Recapture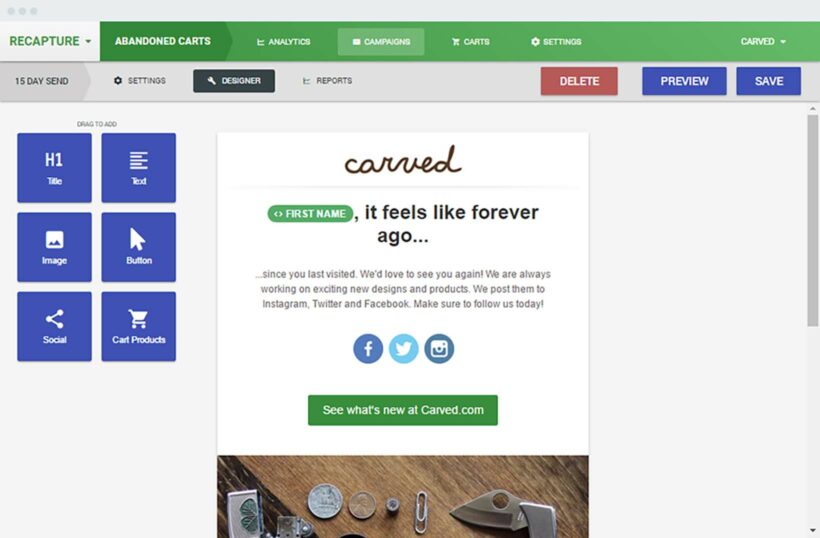 Recapture.io is a straightforward email marketing and abandoned cart recovery solution. With the simple 5-minute setup, you can begin swiftly and easily recover lost income from your clients. There is no coding necessary.
Most e-Commerce business owners have no idea how many customers add items to their carts and then leave without purchasing. At Barn2, we use Recapture to collect data on our WooCommerce abandoned carts. Inside Recapture, you can set up your campaigns and send an email with a discount or special offer to customers who abandon a cart. Customers may reclaim their abandoned cart and finish checkout with a single click making the whole process seamless.
Using the integrated dashboard, you can keep track of restored orders and carts.
Features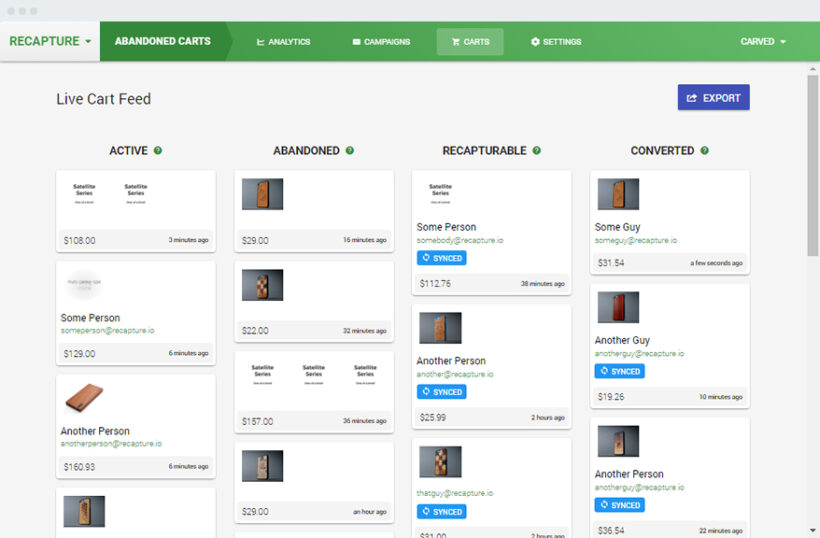 Customers who abandon their shopping cart should receive tailored response emails automatically. Every email contains links that recreate the customer's identical session on your store regardless of the device used.
A huge benefit of Recapture is personalization. Each customer can receive an image of the items they abandoned to be able to remind them of what they left in the cart. You can create segments for each campaign to ensure that each consumer receives highly relevant and targeted emails. Creating segments will take little time and will result in higher open rates and conversion rates!
Recapture allows you to specify when to send the automatic email to recover the cart. You can create as many emails as you want and set them to be sent automatically.
You can sign up to Recapture here. If you receive at least five orders a day, you definitely need this tool!
YITH WooCommerce Recover Abandoned Cart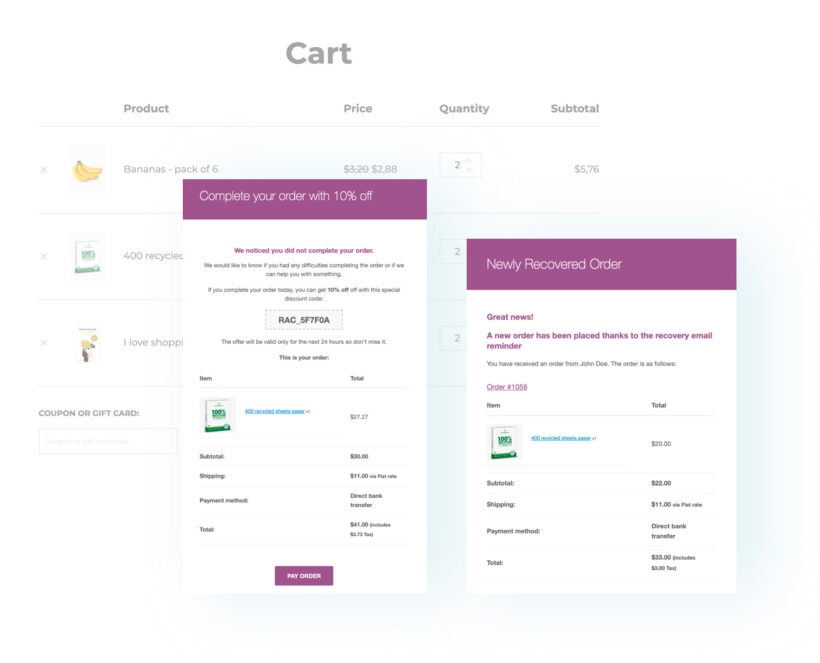 Another interesting plugin for abandoned cart recovery is YITH WooCommerce Recover Abandoned Cart. By delivering coupons with a special discount on abandoned items, YITH WooCommerce Recover Abandoned Cart may remind your consumers what they left behind and urge them to finish their purchase process.
Features
YITH WooCommerce Recover Abandoned Cart, lets you choose whether to retrieve all users' orders and carts or just those with a specific user role. In this way, you can send automated emails to only those with a specified user role, such as administrator, customer, and subscriber.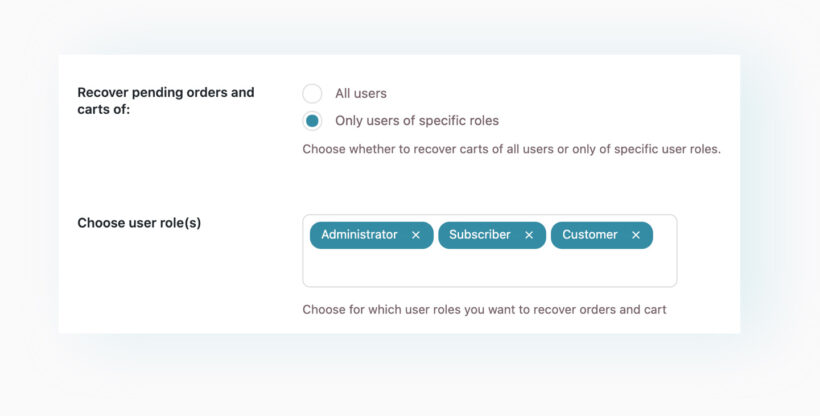 When the option "Recover carts of guest users" is enabled, the contact information entered will be retained and used to send an automated email to recover the purchase if the user fills out the checkout forms but does not finish the order. You may also provide a checkbox to ask for the user's approval to use personal data to send promotional emails.
Like other WooCommerce abandoned cart plugins, YITH WooCommerce Recover Abandoned Cart lets you choose the number of minutes after a cart is deemed abandoned. As well as the timeframe after which the automated email to reclaim the cart is sent.
You can use one of the available templates to send the initial emails to recover purchases and carts with a single click. As well as, you can create an unlimited amount of automated emails within the plugin. 
Suppose your online store has an international consumer base. In that case, you may also encourage customers to choose a language in which they feel most comfortable, as YITH comes with numerous language options.
You can sign up to YITH WooCommerce Recover Abandoned Cart here and start recovering your abandoned carts immediately.
CartBoss - SMS Abandoned Cart Plugin

CartBoss is a WooCommerce abandoned cart plugin that sends SMS text messages to customers who have abandoned their shopping carts. It is designed to help WooCommerce store owners recover lost revenue by re-engaging with customers who have shown interest in their products but did not complete their purchase.
Unlike the other abandoned cart plugins on this list, CartBoss uses SMS text messages which makes it very unique. This grab's customers' attention directly on their mobile device, and you can use it alone or with other abandoned cart plugins for WooCommerce.
Features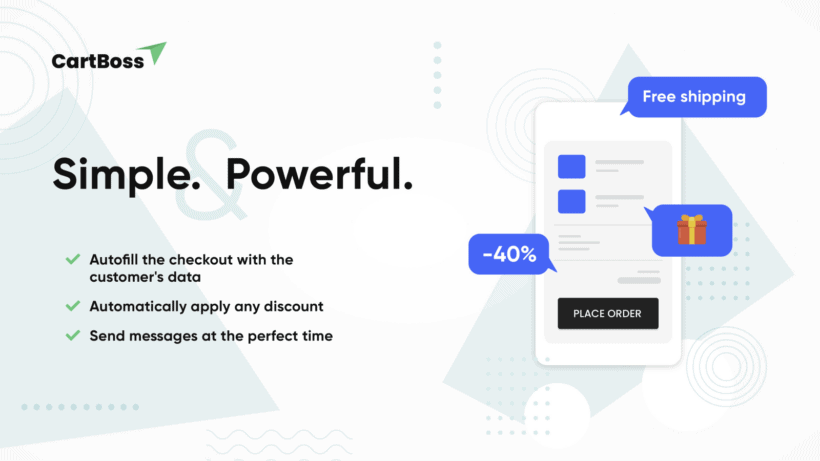 CartBoss allows store owners to customize their recovery SMS messages, including personalized offers and incentives to encourage customers to complete their purchase. The plugin also offers an easy-to-use dashboard that displays key metrics such as recovery rate, revenue recovered, and other important data.
One of the main benefits of CartBoss is its ability to reach customers directly on their mobile devices. SMS text messages have a high open rate, making them an effective way to engage with customers who may have missed or ignored recovery emails. By sending personalized SMS messages, CartBoss helps to create a sense of urgency and incentivizes customers to take action and complete their purchase.
CartBoss also offers advanced automation features, allowing store owners to set up automatic recovery messages based on specific triggers or customer behavior. For example, you could send a recovery message automatically after a certain amount of time has passed since the cart was abandoned, or after a customer has visited a certain number of pages on your WordPress site.
The core CartBoss plugin is free, and you just pay per text message with no subscription fees.
Retainful - Free WooCommerce Abandoned Cart Recovery Plugin

Retainful is a free WooCommerce cart abandoned plugin that can help you automate your email marketing, increase sales, and expand your business. You can easily create and deploy email campaigns with pre-built email process templates.
Features
In Retainful, you can create your campaigns with the simple drag-and-drop editor and use the Retainful dashboard to track every abandoned or recovered cart and income in real-time.
This plugin is helpful for more than simply cart abandonment. You can use features like a countdown timer, exit-intent popups, or add-to-cart popups to encourage your clients to buy while they are on your website.
Retainful works with popular e-commerce systems like WooCommerce and Shopify and marketing solutions like HubSpot, ActiveCampaign, and Mailchimp.
Retainful comes with comprehensive reporting – you can see abandoned carts, recovered carts, and active carts. This means you can view real-time carts or carts of clients shopping on your site right now.
You can as well compare the values of abandoned orders versus recovered orders.
The free version It's intended to give you a sense of everything Retainful has to offer and only supports up to 300 contacts. So, you'll most likely be upgrading to a premium subscription very soon.
You can get the Retainful WooCommerce plugin here.
ShopMagic Abandoned Carts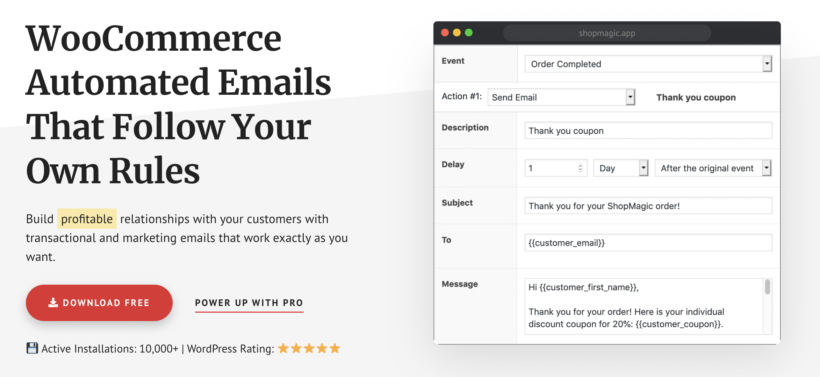 ShopMagic Abandoned Carts is another great WooCommerce abandon cart option. This plugin allows you to tailor the email message you send to your customers while also streamlining processes. You can easily add specific triggers and criteria to your automation. 
Furthermore, you can utilize the site's built-in no-code editor to rapidly and easily update and test the emails.
Features
ShopMagic Abandoned Carts is a free ShopMagic plugin (which is also free). You'll need both ShopMagic and the ShopMagic Abandoned Carts extension to retrieve abandoned carts. You must download it separately from the main plugin. However, the procedure is effortless.
Email collecting is incredibly beneficial for organizations trying to broaden their marketing reach. ShopMagic's Abandon Cart extension captures consumer emails before checkout, allowing you to generate future lead generation possibilities. This plugin integrated everything into MailChimp flawlessly so you can keep building your email lists without skipping a beat.
ShopMagic Abandoned Carts also provides some excellent extensions to enhance and modify your processes. Customers may be targeted with automated email campaigns depending on their status, purchasing frequency and budget, and specific items viewed or purchased. 
The Delayed Emails extension allows you to send time-delayed emails to consumers to thank them for their purchases and promote future transactions. The Request a Review plugin, when combined with all of the other fantastic features, automates targeted review outreach so you can collect valuable data that benefits both you and your consumers.
Mailchimp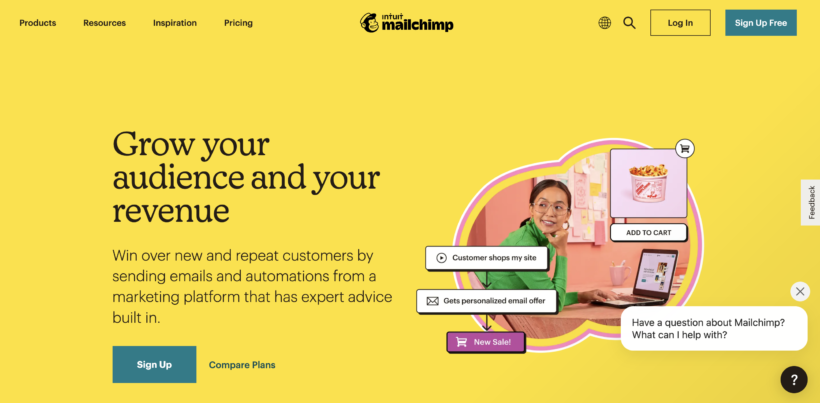 Mailchimp is not a WooCommerce plugin but an email marketing platform. However, if your checkout page integrates directly with Mailchimp, you can set your cart abandoned email sequence without needing a WooCommerce cart abandoned plugin. You probably are using Mailchimp already for your email marketing, so the setup will be fast and easy.
Features
Mailchimp also offers the option of individualized product recommendations. It personalizes each email for each consumer, and you don't have to do anything. All you need to do is copy and paste the text block into the email, and everyone has a unique email.
You can also encourage clients to fill their shopping carts with more items by providing individualized product recommendations. You can utilize the purchase data from your store to give recommendations for items you believe your customers will enjoy.
Mailchimp also comes with in-depth conversion reports in which you can check how many checkouts were converted. If your business requires you to be mobile, you may use Mailchimp mobile app to enable an automatic abandoned cart email.
Which is the best WooCommerce abandoned cart plugin?
Now comes the big question: which WooCommerce abandoned cart recovery plugin is best for your WooCommerce store?
As mentioned before, the most effective strategy to increase sales is to prevent cart abandonment in the first place. There are two excellent solutions for this: 
By assuring faster checkout times, higher conversion rates, and higher average order values,

WooCommerce Fast Cart

is the first and the most vital step to regaining your lost sales. It removes

one of the main reasons behind cart abandonment - the complexity of checkout. As the saying goes, prevention is better than cure!
You can easily prevent cart abandonment due to unexpected shipping costs using the WooCommerce Shipping Calculator plugin. It lets customers calculate shipping costs for their area directly on product pages, before adding items to the cart.
However, you can't prevent everyone from leaving their shopping carts. In addition to reducing cart abandonment, it is critical to use plugins that help you recapture lost customers. These are my best picks for cart abandonment recovery, depending on your budget and preferences
Best free option - ShopMagic Abandoned Carts - This plugin allows you to tailor the email message you send to your customers. At the same time, it is also streamlining processes.
Recapture

- The huge benefit of Recapture is personalization. Each customer can receive an image of the items they abandoned. This will remind them of what they are missing out on.

YITH WooCommerce Recover Abandoned Cart

- This excellent plugin allows you to choose to retrieve all users' orders and carts. Or just those with a particular user role.
Use these recommendations to create your perfect plugin stack, designed to both prevent and recover abandoned carts. It's the perfect recipe to maximizing your sales and conversions.