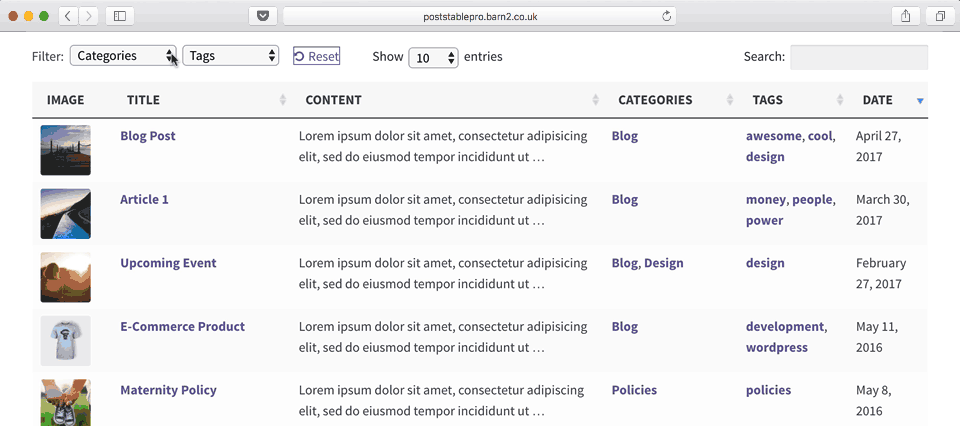 Our sortable table WordPress plugin - Posts Table Pro - lets you display various types of content from your WordPress website in a searchable and sortable jQuery table.
Based on the jQuery DataTables plugin, your visitors can view your posts, pages, or other content from your website in a fully sortable table.
You can set up the WordPress table to sort by any column by default, and you can change the default sort order. Your visitors can click the column headers to sort the table as they wish. They can also search for a keyword or filter the table by category, tag, custom taxonomy, etc.
In this video tutorial, I explain how to install and configure Posts Table Pro, using the example of a staff directory to help you create a sortable table. If you prefer written instructions, please see below for a step-by-step written tutorial.
The best WordPress sortable table plugin
Posts Table Pro is the premium version of our free sortable table plugin for WordPress - Posts Table with Search & Sort.
The free plugin lets you display blog posts from your WordPress website in a searchable, sortable table. The Posts Table Pro plugin builds on this by adding support for custom post types, custom fields, and custom taxonomies. It has various other options to create more sophisticated sortable tables.

Posts Table Pro is perfect for many different use cases including:
As you can see, the Pro plugin lets you create sortable tables in WordPress for many use cases that aren't available with the free plugin.
How to set up the Posts Table Pro sortable table plugin
1. Install the plugin
First of all, you purchase the plugin on our website and download the plugin.
Then you go into your WordPress admin and go to Plugins → Add New.
Then you click Upload → Choose File and select the file from the link in your order confirmation email. This will save a zip file to your computer.
Once uploaded, click Activate.
After activation, the Posts Table Pro setup wizard will automatically open and guide you through entering your license key.
Now we'll use the plugin to create a WordPress Staff Directory. It will add a simple staff list to your website with links to the staff profiles. The list will appear in a searchable, sortable table. You can use the plugin to display various types of content, so this is just an example.
2. Add the information to display in the WordPress table
Post Table Pro's role is to create a sortable table of content already on your website. It does not create custom post types or taxonomies or anything, it just displays them. So you would add those previously using whatever method you're using to set up your website and data. You then get Posts Table Pro to allow you to display that data within a table.
If you want a separate 'Staff' section in the WordPress admin to store your staff data, I recommend the Easy Post Types and Fields plugin to create a custom post type and any extra fields of information. I used this to create a Staff custom post type and add various data relating to the staff profiles. Once you've decided how to store your staff data, go ahead and add all your staff members to the website.
3. Create your sortable table in WordPress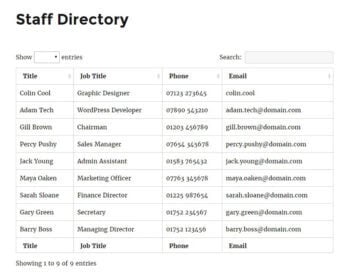 Upon installing the plugin, an automatic setup wizard will initiate, guiding you through the process of creating your first table. The setup wizard takes you through a step-by-step process, making it easy for you to create a sortable table that suits your needs.
To begin creating your sortable table, you'll need to provide a name for it and select the post type that you want to display. After that, you can choose the posts or pages that you wish to include in the table.
The plugin allows you to choose from a range of options, including posts, pages, and custom post types. Suppose you're building a database and want to include documents. In that case, you can select the custom post type option and proceed accordingly.
The plugin offers a wide range of customization options, allowing you to determine which columns to display and in what order. To add a new column, choose the column type from the dropdown menu and click "Add". You can also reorder columns by dragging and dropping the sort icon or column heading.
You can also add filters to your table. Filters appear as dropdowns above the table, and you can add as many as you like.
To customize the sorting options for your table, select the default sorting option and the sort direction that you prefer. This gives you complete control over the order in which your table is displayed.
If you're dealing with a large amount of data, you can enable lazy loading to improve the table's performance. This ensures that even when your table contains hundreds or thousands of items, it loads quickly and smoothly.
Next, you can choose how to sort your database, setting the default sorting option and the sort direction that you prefer. With all these options, you can create a table that is functional, easy to use, and visually appealing to your users.
Finally, once you have completed creating your sortable table using the Post Table Pro plugin, the setup wizard will confirm that you have finished and provide you with instructions for displaying the table on your WordPress site. You have two options for displaying the table: using the 'Post Table' block in the Gutenberg editor, or copying the shortcode from the table builder and pasting it anywhere on your site. This gives you the flexibility to place the table on any page regardless of its content.
Create sortable tables more easily
The Posts Table Pro plugin is a versatile and user-friendly tool for creating sortable tables on WordPress websites. With its easy-to-use setup wizard and customizable features, you can create sortable tables that suit your specific needs, whether it's for displaying blog posts, product listings, or other types of content.
The plugin's ability to add filters and customize sorting options makes it easy for users to navigate and find the information they need quickly. Overall, the Posts Table Pro sortable table plugin is a must-have for website owners who want to enhance their user experience and improve the organization of their content.