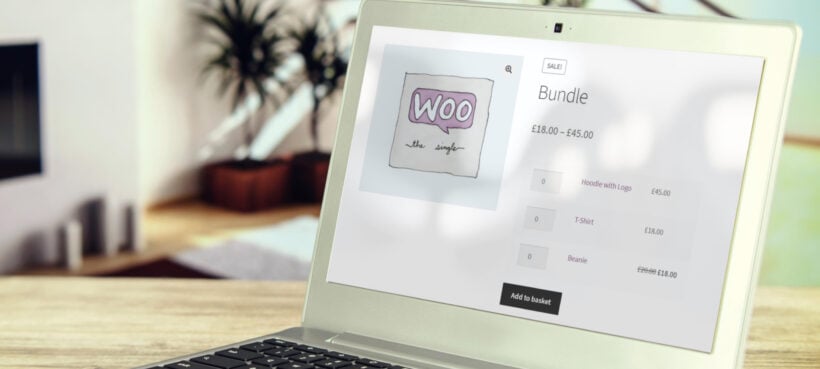 Using grouped products in WooCommerce will boost your sales by making it easier for your customers to buy related products together. But how do you create a grouped product in WooCommerce? And is there a better way to go about it?
The standard WooCommerce setup comes with numerous features that allow store owners to build effective ecommerce stores. Grouped products is just one of these features.
Customers often go shopping with a single item in mind, but they rarely leave the store with just that single item. When complementary products are pitched to the customer alongside the product of interest, the customers are more likely to purchase these products as a group.
So if you intend to boost sales while improving your customer experience, look no further than the WooCommerce grouped products feature.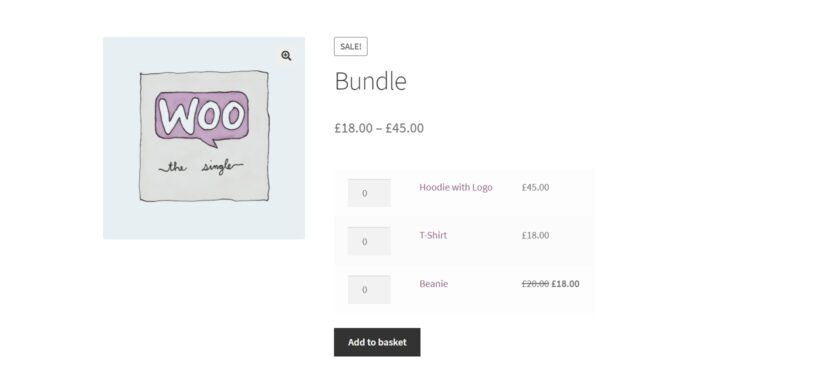 The standard WooCommerce grouped products can already achieve so much. However, it's limited to grouping simple products. In situations where shops need to group composite products, variable products and those to be sold in bulk, some plugins need to be installed.
So in this guide, we'll show you how to set up a grouped product in WooCommerce. We'll then show you some alternative methods if you need something a little more custom.
What is a grouped product in WooCommerce?
A grouped product in WooCommerce allows you, as a store owner, to add additional products to another product (known as the parent product). So when a customer searches for this product, similar products will be displayed alongside it.
WooCommerce itself suggests these products should be within a 'range' of products. For example, if you have a set of t-shirts from within a new collection or range (that were single products rather than variations). You could display each of these as a group.
So if a customer were to click through to the product page of a t-shirt within your group, all the other t-shirts in that group would show beneath the main product.
So, in short, a grouped product in WooCommerce is a collection of simple or single products displayed together. Customers can then buy any, or none of the products from the group.
So now we know what a grouped product is, let's get one set up in your store.
Note: If you're looking to group product variations together or offer discounts for your bundles, skip to the alternative section.
How to add a grouped product in WooCommerce
Assuming you already have WooCommerce installed, to create a grouped product, take the following steps:
From your WordPress dashboard, go to Products → Add new.
Name the product and add other details such as the image, description, tags, categories, etc.
Scroll down to the Product Data section and change the Product data dropdown from Simple product to Grouped Product.
Once done, details like the price and other fields will disappear, this is perfectly normal.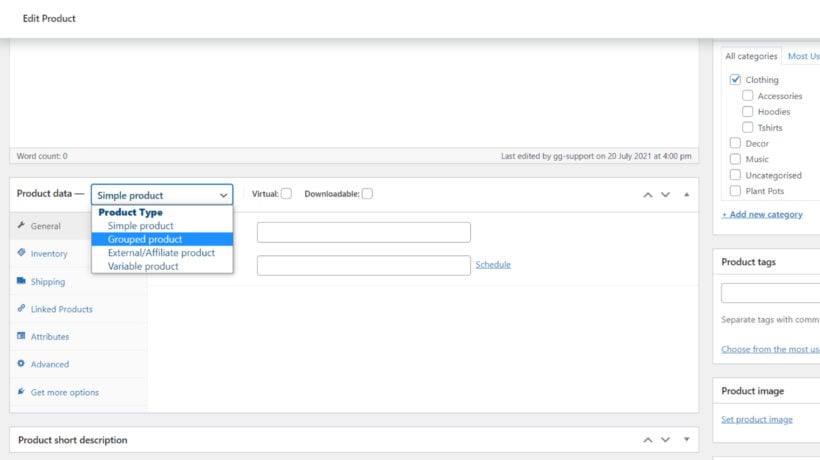 You'll need to publish your product before you can add your grouped products to it. So scroll up to the Publish section of the edit product screen and click the blue Publish button.
Of course, this doesn't stop here because you've just created an empty group with no real products. If you haven't created the products you intend to put in this group, you need to do so first.
If you already have, take the following steps to add them to your grouped product:
Scroll down to the Product Data section of the edit product page and click the Linked Products tab on the left.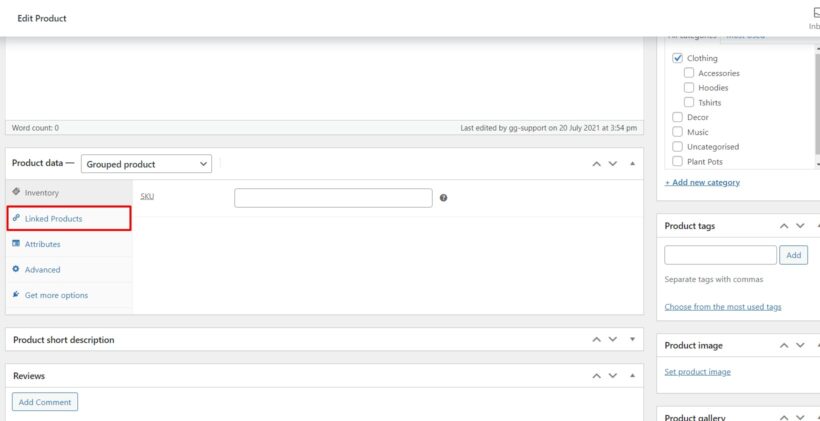 In the search box next to Grouped products, type the names of the products you intend to add into the group and click on them to add.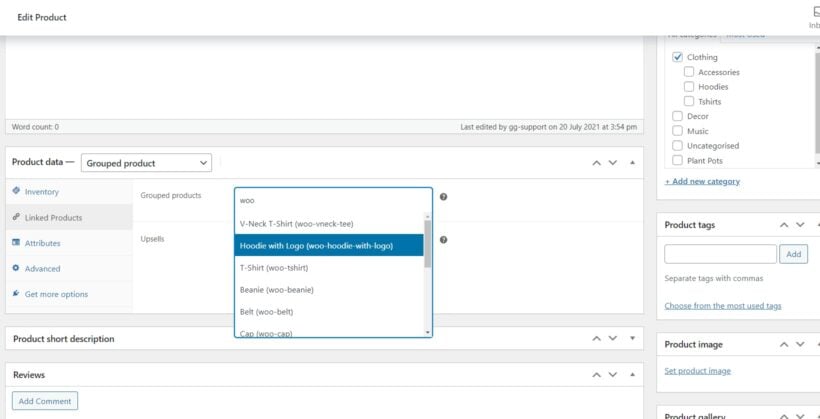 Click the blue Update button in the Publish section of the edit product page and just like that you've created a grouped product.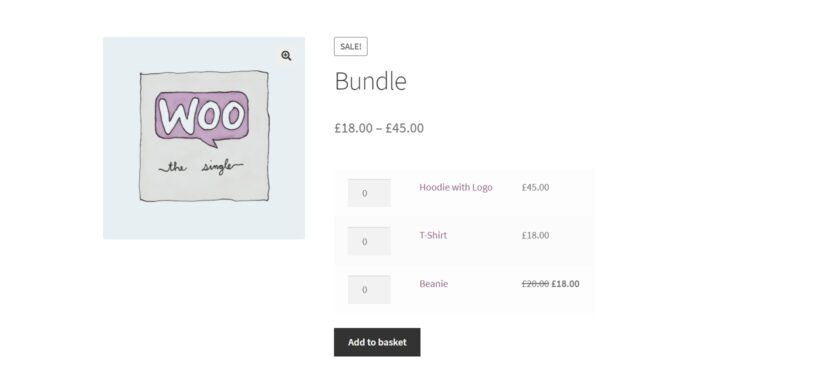 Now any time you want to add a new product to this group, you just click on the group, select edit, and follow the steps above.
The benefits of adding a grouped product to WooCommerce
Adding grouped products to WooCommerce is a form of advertisement with no cost at all. It allows you to showcase additional products to the customer without them having to click around your store. This increases the likelihood that the customer will purchase more than one item. Boosting your sales and your average order value at the same time.
It will also allow you to showcase additional products that might otherwise get lost and advertise new product collections to customers.
For example, if you've just released a new collection of furniture that all matches, you could showcase all of these to the customer in one collection. If products are designed to go together, then grouped products are an excellent way of communicating this to your customers.
But what if you don't just want to showcase collections, what if you want to bundle products together in different ways?
Alternative ways to group products in WooCommerce
For stores that deal with a wide variety of products, composite products, or those that sell numerous products in bulk, the standard grouped products in WooCommerce might not be convenient or even practical.
For this reason, stores like this might require an additional plugin to get the job done. If you have such a store, look no further than these plugins:
We'll go through each in more detail below and why they might work for you as an alternative to grouped products.
Group products in a bundle with a discount
While you can bundle products together using the standard grouped products feature in WooCommerce. You can't add discounts, set special prices, or allow customers to add them all to the cart in one click.
To achieve this, you'll need the help of a plugin.
WooCommerce Bundled Products allows you to group related products to be sold as a package on your WooCommerce store.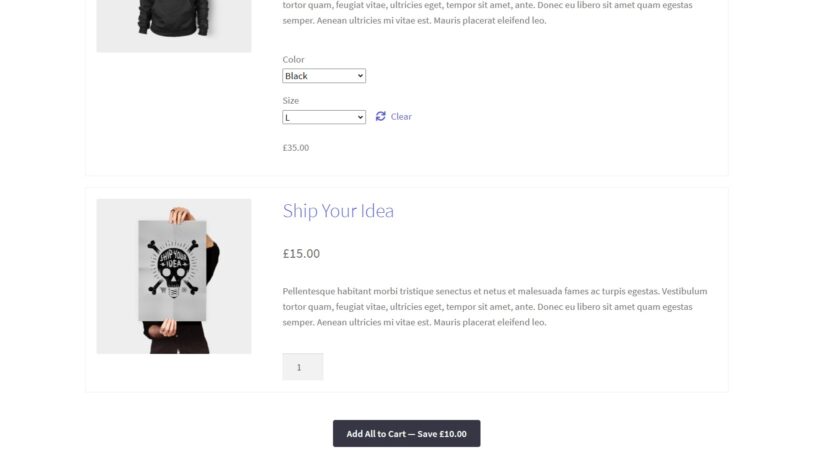 For example, say you sell computer parts and accessories such as monitors, mice, CPUs, etc. Because these products go so well together, you could list them all as a bundle and allow customers to buy them as a package.
Alternatively, you can include product variations such as different colors and sizes and sell them together. For example, say you have a whole range of t-shirts but they come in different colors. You could bundle all of these together and sell them as a package deal.
WooCommerce Bundled Products improves on the standard grouped products feature by allowing you to add a discount or custom price to make your bundles even more appealing.
Plus, you'll save them time and clicks by allowing them to add all the products in the bundle to their cart with one click. Not bad!
Group products in a 'build your own' bundle table
But what if you want to give customers a little more freedom to create their own bundle?
This is where WooCommerce Product Table steps in. With WooCommerce Product Table, you can quickly create an organized and searchable list of your products. This list is displayed in an easy-to-use table that will save your customers a ton of time.
Product Table lets the customer choose which products they would like to purchase in the list. So instead of purchasing a whole set bundle or grouped product in your WooCommerce store, they'll be able to build their own bundle instead.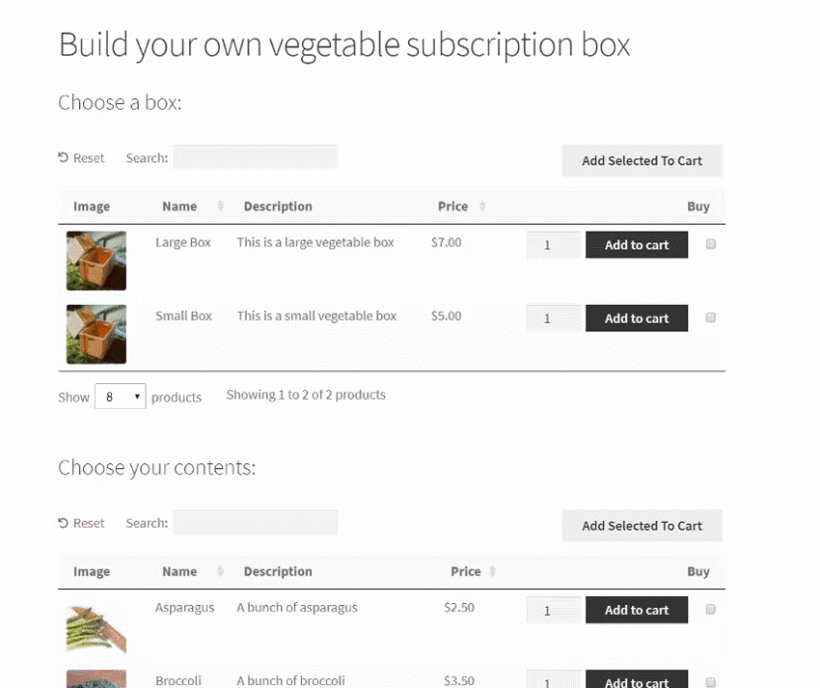 Customers can pick between a variety of different products that you set when creating your product table. You can either create specific tables that list the products you choose. Or you can turn your entire shop page's display into a product list.
While browsing your product tables, customers can check each product they'd like to add to the bundle, and once happy, they can click 'Add selection to cart' to buy their custom bundle.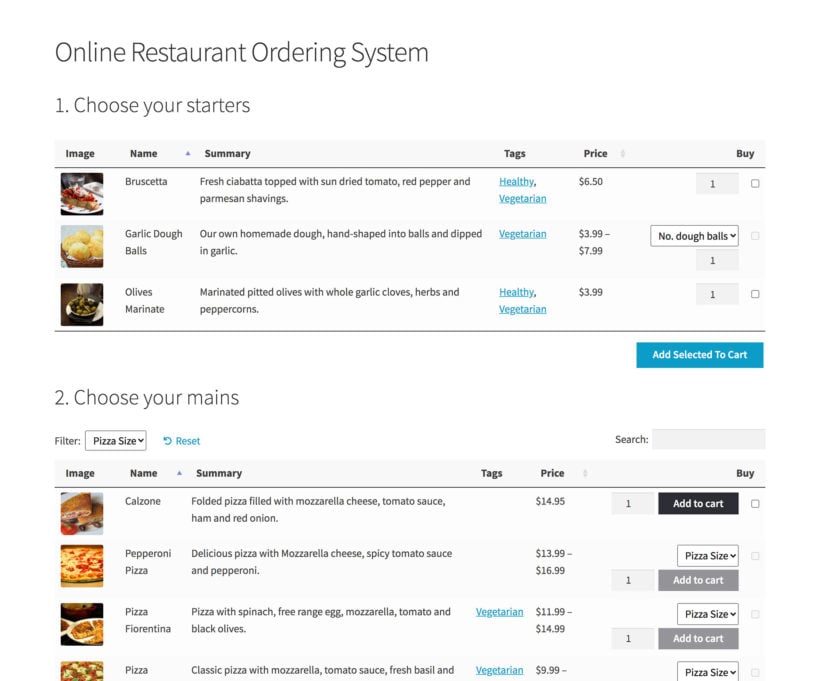 For example, suppose you run a restaurant, you can list food items or add-ons individually so the customer has the opportunity to select some and leave others. For example, a burger with fries or one without. Or a burger with additional onion or not.
If you're looking for a much more customizable and detailed way to create grouped and bundled products in WooCommerce, then WooCommerce Product Table is the plugin for you.
Change the price format for grouped products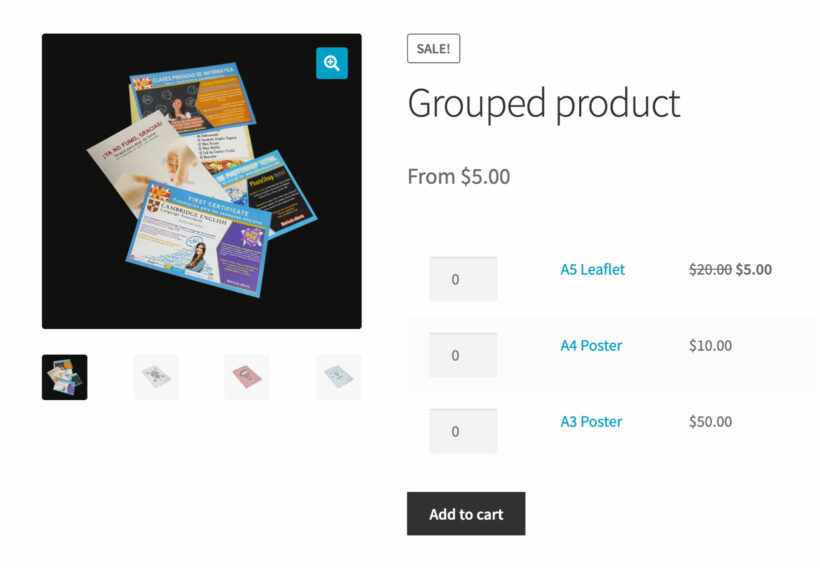 Change the price format of your WooCommerce grouped products
The WooCommerce Variation Prices plugin doesn't just work for variable products. It also has an option to change the format of your grouped product prices.
Normally, the price of a grouped product is displayed as a range, such as $100 - $500. That may not fit with the way you want to present your grouped products in WooCommerce. For example, perhaps you'd prefer one of these price formats:
"From $100"
"Up to $500"
Or you could even replace the grouped product price range with custom text, such as "Select products to see pricing".
To solve the problem, simply install WooCommerce Variation Prices on your site. Go to the plugin settings page, enable the 'Grouped products' option and change the price format with anything you like.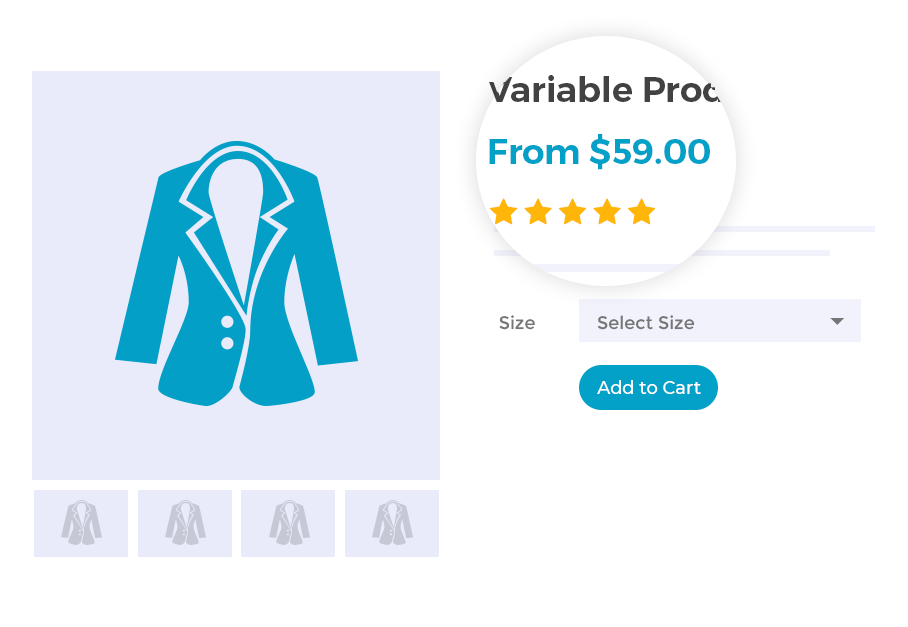 Get more sales - take control over how grouped product prices are shown in your store today!
Group your products together in WooCommerce
Using grouped products in your WooCommerce store is an excellent strategy that's sure to help you showcase more products and boost your average order value.
If however, you need something that does a little more, either one of the following plugins might be for you: