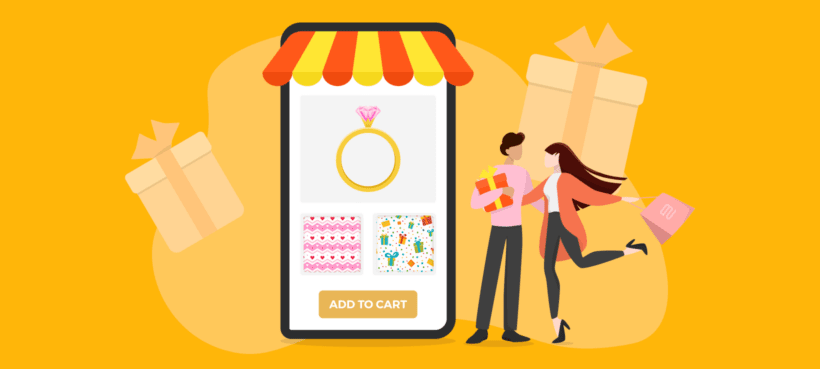 Adding custom gift wrapping options to your WooCommerce products lets customers surprise their loved ones with a beautifully wrapped present, and is also a useful upselling tool for your store. Learn how to set it up with the best gift wrap WooCommerce plugin.
One way to show your family members and friends they're special is to buy them a thoughtful gift. It could be for the holidays and special events. It could also be for someone's birthday, anniversary, graduation, or wedding.
For gifts from a physical store like Walmart, an attendant may gift-wrap it for you and add a ribbon right after checkout. But if it's from an online store, it may not be as simple.
For instance, many online stores don't gift-wrap packages. Instead, buyers may have to call customer support to get it done. Other times, a customer may have to wait for the product, buy a gift wrap, a ribbon, a gift tag, and a card and wrap it themselves. That can be hectic, especially if wrapping gifts is not their strongest suit.
What if you could do it for your online customers right from the product page? What if they could choose custom gift wrap paper, ribbon color, gift tags, and other unique options? That's where the WooCommerce Product Options plugin steps in: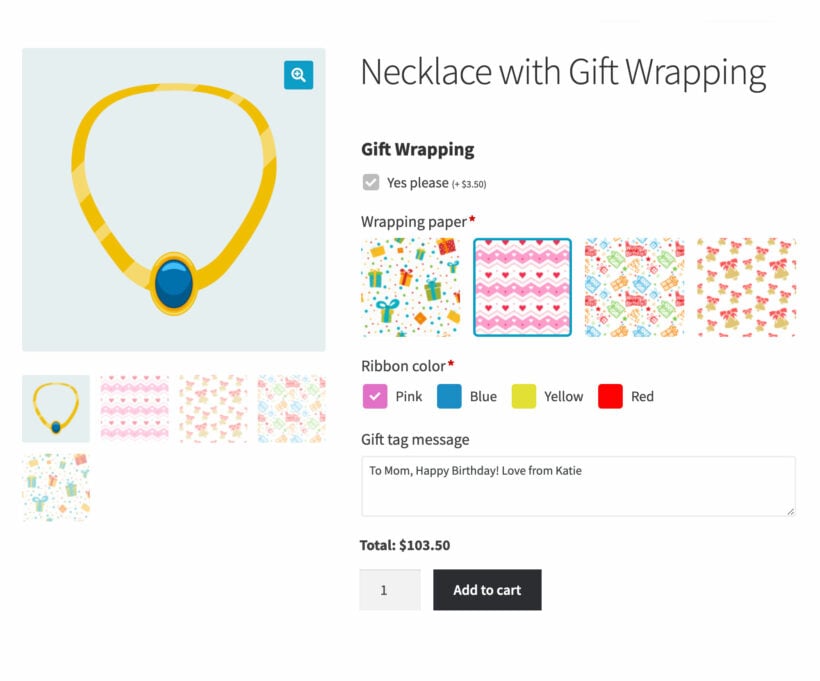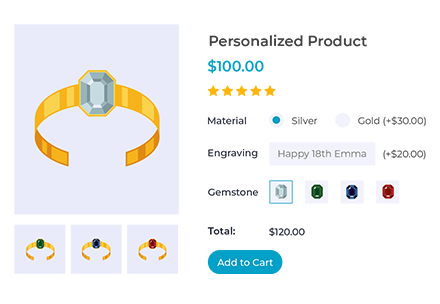 Add gift wrapping options to your WooCommerce products in seconds.
Benefits of custom gift wrapping
Many ecommerce stores use standard packaging to ship products to customers in various destinations. But custom gift wrapping can make a massive difference to your business, especially during special occasions and the festive season.
How does it do that? It makes you stand out because most stores don't offer custom gift wrapping.  Offering custom gift wrapping can be a competitive advantage that attracts new customers to your store, especially those who love sharing gifts with others.
Those aren't the only benefits your store will enjoy. Using WooCommerce Product Options to add custom gift wrapping to your store also has other advantages.
1. Customers enjoy a personalized store experience - automatically!
Buying gifts for family and friends can be a heartwarming experience, and custom gift wrapping makes the giver and receiver feel special. With most online stores, you'd have to request custom packaging via customer care, which can be inconvenient if they don't offer those services.
Using WooCommerce Product Options cuts down a potentially longer waiting time. If your customer chooses custom gift wrapping while making a purchase, it hastens the checkout page process and enhances their buying experience.
Depending on your store strategy, customers can personalize the wrapping paper designs and colors and add a unique message on a gift card for their loved ones.
2.  It can increase your order value
Suppose you offer eight different types of gift wrapping. Customers can now buy eight or more different items from your store, custom-wrap each, and send them to different people. Besides that, you can charge a small fee for each gift wrapper. That increases your average order value per buyer.
Custom gift wrapping can also increase customer loyalty, and you'll enjoy the rewards with increased customer lifetime value. Think about it - if a store offered online gift wrapping, wouldn't you come back regularly to order gifts to be sent direct to your friends and family?
3. Gift wrap can increase the perceived value of your products
Custom gift wrapping often makes products look more luxurious. It also makes a gift more meaningful to the recipient. For this reason, customers may be willing to pay a bit more for the product and custom gift wrapping.
Often, simply presenting an item as a potential gift helps to increase the perceived value. This is because:
The customer may not have thought of buying it as a gift for a loved one. By showing gift wrapping options, it can trigger a light bulb moment in their head. After all, everyone loves a great gift idea! They end up buying the product even if they don't want it for themselves!
When shopping for gifts, people often have a value in mind that they want to spend. For example, "I need to buy a Mother's Day gift of about $40". Presenting items within this price range as a gift helps to justify the value.
Your customers will also be willing to spend more on your store, even for regular non-gift products.
4. It can make your customers brand ambassadors
Customers love to talk about rewarding experiences they had in your online store. Your buyers will be more willing to give favorable reviews and recommendations for your store. They'll also give their family, friends, and communities free word-of-mouth marketing.
For example, imagine that you don't see your Dad in person at Christmas. One year, he sends you a gift wrapped present direct from a particular online store. You know where he ordered it, so you'll keep it in mind when ordering for him next year. Suddenly, both of you are happy customers and brand ambassadors as you have both saved time and money!
Happy customers will also share their experiences on social media, creating free advertising for you!
5. It can make your business stand out above the competition
Sometimes, creating a competitive advantage for your brand can be a challenge. Offering extra features such as custom gift packaging sets your business miles apart from competitors. After all - if you were buying a gift to send directly to the recipient, wouldn't you order from the store with a gift wrap service?
Custom gift packaging for your products can be the added value customers want to convert. In turn, they'll make more purchases in your store.
6. Multiple sale opportunities
One key advantage of custom gift wrapping is your orders will increase during holidays and special occasions. It can be during Thanksgiving, Valentine's, or Independence day. At the same time, special occasions like mother's day, wedding anniversaries, birthdays, graduations, and festivals can also drive massive sales in your store.
If you're looking for a way to add custom gift wrapping to your products, the WooCommerce Product Options plugin may be the best way to go about it. Let's explore what it can do for you.
WooCommerce Product Options plugin
The WooCommerce Product Options WordPress add-on is an excellent option for personalizing your products. It extends your store's ability by adding extra options to the products on your WooCommerce website.
This plugin is your best bet if you want to add custom gift wrapping to your online store products. Here are some features it comes with:
Text and font fields
Customers can use this plugin to add custom messages to the gift tag, card, or wrapping.  They can also choose custom font types to beautify the message on the attached note.
Conditional logic
Conditional logic is probably the most prominent feature of this plugin. It controls how you show and hide unique product options based on previous selections. With conditional logic, buyers only see options relevant to their previous gift-wrapping choices.
Color/ images swatches
Color swatches allow buyers to customize their gift wrappings further using custom colors. Image swatches also enable them to change and preview product images in different textures, colors, and materials.
Product group options
You can now group product options seamlessly using this plugin. For instance, this plugin lets you simultaneously add new options to a product or a group of products.
File uploads
Customers can upload unique designs and images to print on custom gift-wrapping paper if your store supports it. Depending on the occasion, they can upload and apply different wrapping designs to different products.
Much more than just a WooCommerce gift wrap plugin!
By now, you've probably noticed that all of these field types are useful for much more than just gift wrapping. Well, you'd be right - the plugin is equally useful for adding any other type of extra product option.
Use it to add gift wrap options, and any other extra options that you require for your products. For example, you might add free extra gifts, recommended upsells, custom engraving options, or color swatches. It's a complete all-in-one WooCommerce product designer plugin. This means that you get better value for money compared to buying a one-feature gift wrap WooCommerce plugin.
How to add the gift wrapping checkbox to your WooCommerce store
There's always a chance a customer may buy store items as gifts for their family and friends. Installing the WooCommerce Product Options plugin allows them to select custom gift-wrapping options directly from the product page.
But because most store visitors will buy items for themselves, you ideally want the gift-wrapping option available only when customers want to use it to send gifts to others.
Here's an example of how we've done it in our demo store: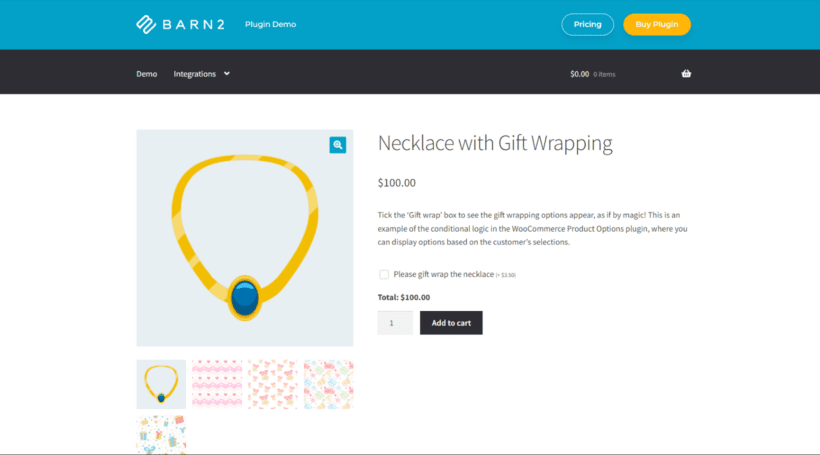 From our sample product above, the gift-wrapping option only becomes available once you tick the "please gift wrap this necklace" checkbox. We did that by using the conditional logic option available in the gift wrap plugin.
There are some benefits to doing it like this:
Your customer can buy new products without extra options
A customer can now convert a simple product into a gift with a checkbox
It increases your order value once a customer opts for custom gift wrapping
Once checked, the customer has access to plenty of product options
Customers can add gift wraps and select all necessary options before going to the cart page
Tutorial: How to add gift wrap to your WooCommerce products
Here's how to set up the gift wrap WooCommerce plugin:
First, purchase and download the WooCommerce Product Options plugin. (It's only available as a Pro version and there's no free version on wordpress.org.)
To install it, go to Plugins → Add New → Upload Plugin.


Upload the zip file and click on the install now button. WordPress will complete the installation automatically.


Once done, the plugin will ask for the activation code that came with its purchase. Paste it into the dialog box and continue.
Finally, go to Products → Add New and add your products, if you haven't already done so. Enter the product price without gift wrap, as you'll learn how to add extra prices for your gift wrap service later.
Adding Custom Gift-Wrapping Options
With the Product Options plugin installed, you can now set up gift-wrapping options. You do this in the WooCommerce settings page for WooCommerce Product Options:
Go to Product → Product options → Option groups.


Click on the Add Group button at the top of the page to create a new options group.


Once the new Option group is created, you can name it "Gift wrapping." You may also give it a different name for better sorting purposes.


Open the Gift Wrapping options group and set its visibility, inclusions, and exclusions. Under visibility, you can make it a global attribute or allow it to appear only on specific categories and per-product.


You can manually include or exclude products or product categories by typing their names in the search boxes.

Configuring the gift wrap WooCommerce plugin
Depending on your business strategy, there are plenty of ways to set up your gift wrap options. WooCommerce Product Options is a complete product add-ons plugin, and you can use it to add any type of option to your products. However, if you're looking for a quick and efficient setup, we recommend using a template similar to ours.
Let's explore the example from our demo store, and then I'll show you how to set it up: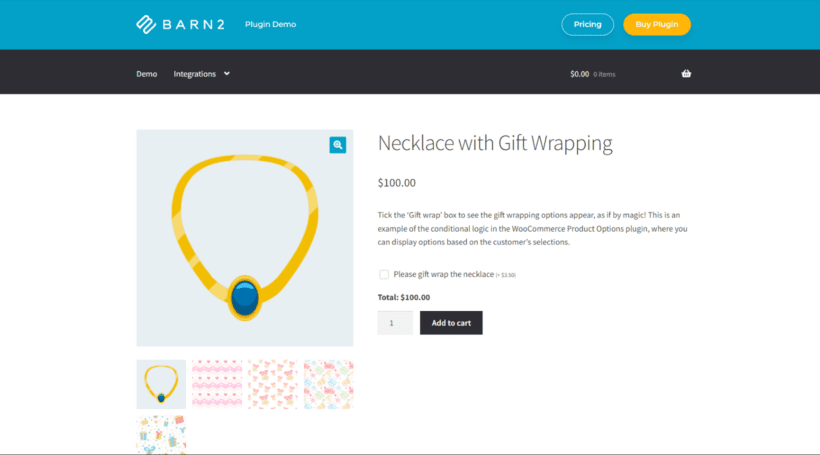 The sample product is a necklace that supports the custom gift-wrapping option. When buying for yourself, you could buy it outright without wrapping it. But you can also wrap it as a little package gift. To access that option, click on the "Please gift wrap the necklace" checkbox.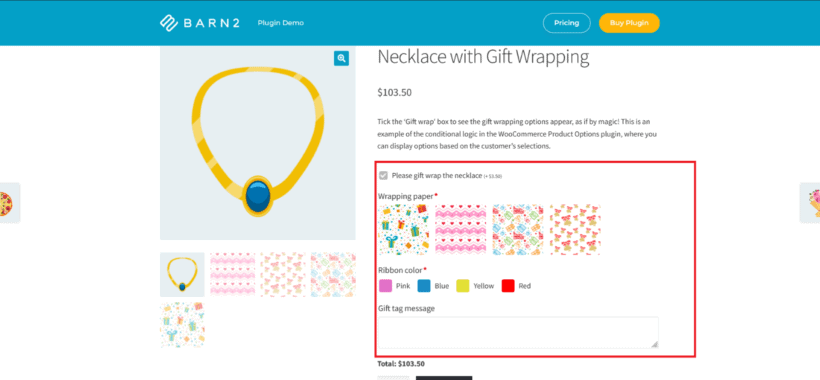 This option allows you to choose more options for the necklace, including wrapping paper, a ribbon and its color, and a gift tag message.
Within your store, you can create a similar checkbox for multiple products.
Next, I'll show you how to add different gift options to the gift wrapping option group. These options will have different types, including checkboxes, image buttons, file uploads, and paragraphs.
Adding a gift wrap option
A gift wrap option encapsulates everything, including the wrapping paper, ribbons, gift tags, and any other options you may add to the product later. So how do you set it up?
In the gift wrapping group which you created a minute ago, click the add options button to create a new option. Give this option a unique name in the option name text box. In our case, the name is the query "gift wrap?". Leave the display button next to the name unchecked. That prevents it from displaying unless the customer opts for it.


Under the type section, select checkboxes.


Under the choices tab, add the checkbox label, the price type, and pricing. In our case, the label reads, "please gift wrap the necklace." Once selected, it applies a fixed $3.50 fee.


That's all you need for the checkbox. But you can also add a description to give the customer more information. You can also toggle the advanced settings button and add quantity limits and conditional logic instructions where necessary.
Wrapping paper
When selling a gift wrap service, you probably want customers to be able to choose a wrapping paper design:
First, give this option a title: wrapping paper. Under it, select image buttons as its type.


In the choices section, add as many images as possible of your gift wrap paper options. Label them according to their colors and patterns, and set custom pricing rules for them.


Under the display section, set this option to display only the image buttons .


This option is required, so select the required checkbox. The customer has to select one of the image buttons to continue.


Since this option nests under the Gift wrap option, it has to come with conditional logic. Toggle the additional settings button to display the hidden options. Under quantity limits, set the maximum to 1. Also, under conditional logic, set this option to display if the gift wrap option contains the value "please gift wrap the necklace."

Displaying ribbon color choices
Do you offer gift wrap with fancy ribbons? You can let the customer choose a ribbon style, color, or something else:
Once you name this option ribbon color, select color swatches under the type section. Also, click the Display checkbox next to the option name.


Under the choices section, add as many color options as possible and set pricing rules where necessary.
This option also nests under the Gift wrap option, so make it a required option, set display rules and add conditional logic.




Add a gift tag message field
This option allows users to add a custom message to the gift tag. Since the gift tag has limited space, you may also have to limit the number of characters the text area accepts.

Set the gift tag title, and select its type as a paragraph. Under advanced settings, set your desired character limit and add conditional logic to match all other nested options.

Custom wrapping paper
Suppose you offer custom wrapping paper. For example, maybe you can print the customer's uploaded photo onto the gift wrap paper. You can also add this as a File Upload field in the gift wrap WooCommerce section:
This time, select File upload. This option allows customers to upload images or graphics you may print on custom wrapping paper.


Under the choice section, add a label and set the price type. You can opt for a flat fee or a percentage increase depending on the price of the gift item.
This option will also require advanced settings. Here, you'll set four things:

Maximum file size in MBs
Maximum number of files
Allowed file types

Let customers upload a custom gift card design
Maybe you want customers to be able to create a custom personalized greetings card as part of the gift message package. This is similar to the custom wrapping paper option, except that customers will upload a photo to be printed on a gift card:
Create a product option, name it, then select File upload as its type. That allows customers to upload images, graphics, or patterns you can add to the gift card. You can also allow them to upload PDF or Word documents with special messages to be included in the gift card.

Under the choices section, add a label for images and documents. You may also charge a flat fee or a percentage fee for these uploads.
Just like custom wrapping paper, you may also need to set the maximum number of files, the maximum file size, allowed file types, and conditional logic.
Further reading: The 10 best gift certificate plugins for WooCommerce.
Adding prices to the gift wrap options
Nearly all stores charge for their gift wrap service. While you can offer it for free, this will affect your profit margins.
You can charge for any or all of the gift wrap options which you add using the WooCommerce Product Options plugin. There's a price type dropdown in the choices section of every option. The price type allows you to set how you charge customers for every extra option added.

Within the plugin, you'll find five options:
No cost
Flat fee
Quantity-based fee
Percentage increase
Percentage decrease
So how should you use them in your store?
Charge for gift wrap, or for each option selected
In our example WooCommerce gift wrap product above, we added a checkbox that uses conditional logic to display the hidden gift wrapping options when ticked. This gives you three ways to set pricing for the gift wrap services selected:
Charge a flat fee for gift wrapping - Add a price to the main 'Gift wrap' checkbox, and leave the other gift wrapping options free of charge. That way, customers pay a flat fee for the gift wrap service regardless of which wrapping paper design etc. they choose.
Charge a different price per option - Alternatively you can add a different price for each individual gift wrap option. For example, if the customer chooses to add ribbon then this costs extra.
Mix and match - Finally, you can mix and match these options. Charge a fixed fee when the customer enables the gift wrapping checkbox, and charge separately for optional extras like ribbon.
No cost
By selecting no cost, you opt not to charge your customers for some gift wraps. This pricing type is ideal if you get the wrap free of charge. It's also ideal if you've already factored the cost of the wrap into the product's final price.
Flat fee
You may charge a flat fee for gift wrap, especially if you want your customer to meet the cost of the wrap itself. At a fixed fee, a customer knows that custom gift wrapping will cost the same for the entire order, no matter the package size or item number. Customers will also perceive it as a fair cost per product6639 since it does not increase or change.
Quantity-based fee
Instead of a flat fee, you can charge a quantity-based fee for gift wrap. That means the larger the package, the more it costs to wrap. That also applies to multiple products gift-wrapped at once.
This fee structure is ideal if the product may require special packaging or you pay for labor to package items for you. Also, if your customer has multiple gift products in their cart, you may charge this fee as an aggregate.
Percentage increase
With this pricing type, you can set the price of wrapping to increase by a small percentage as a customer adds more gift items to their cart. This pricing type is ideal if you prefer not to charge a fixed or quantity-based fee.
Percentage decrease
Here, the total cost of gift items reduces by a small percentage as customers add more to their cart. It's ideal if you want your customer to enjoy economies of scale or give discounts for gift wraps.
Managing gift wrap orders
When a customer selects the gift wrap options on a product, this will appear on their cart and checkout. They can see exactly what they're paying for.
As store owner, you will receive the usual WooCommerce order notification email with the gift wrap options clearly displayed. Make sure the gift wrapper in your team looks out for this information when they are processing orders.
Add a custom gift-wrapping service to WooCommerce today!
Standing out as an online store is a matter of creating a competitive advantage. Adding custom gift wrapping is a sure way to achieve that goal. But that's not the only benefit you can get from it. Your customers will enjoy a personalized experience that will increase their satisfaction and enhance your sales.
Once you install and configure the WooCommerce Product options plugin, set it up so that customers can opt for the gift-wrapping option by ticking off a checkbox. Doing so ensures that other regular buyers can purchase items from your store outright without necessarily gift-wrapping them.
There are plenty of options you can add to the gift-wrapping options group. Like our demo example, you can add wrapping paper, ribbon, and a gift tag message. You can also add custom gift-wrapping paper, gift cards, or other additional perks.
With each additional product option, you can also set custom price rules. Price rules come in five different options, as mentioned above, and using them helps you deliver as much value as possible for each option the customer picks.
What makes this plugin so powerful? Features like:
10+ field types, including radio buttons, dropdown menus, and color swatches
Advanced rules for specific product options
Conditional logic
Multiple section setups
Fixed or variable pricing options
Despite all these features, this plugin is easy to set up and use and works seamlessly with any WordPress theme.
Ready to add custom gift-wrapping options to your products today? Then get the WooCommerce Product Options plugin now.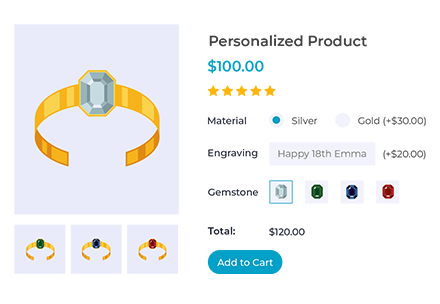 Add gift wrapping options to your WooCommerce products today!