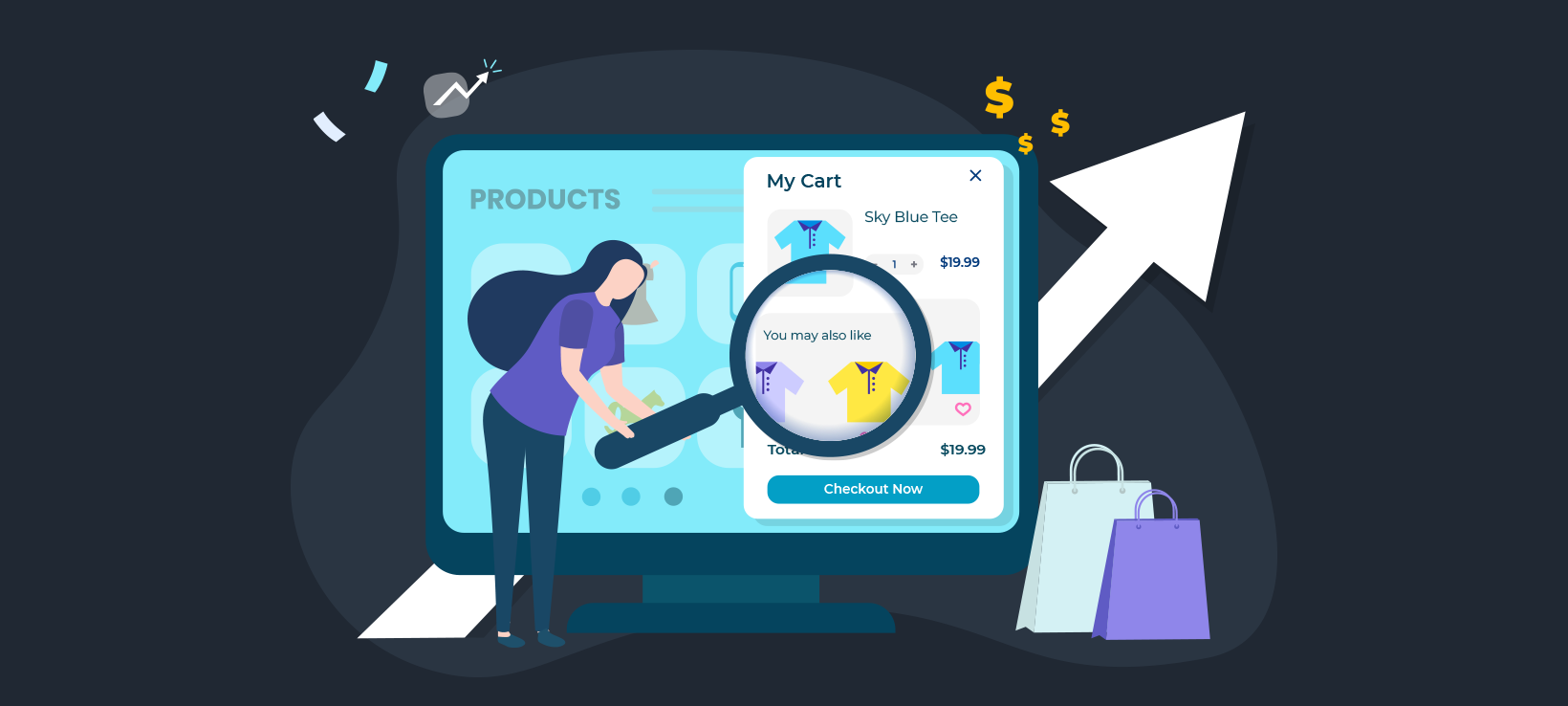 Have you ever visited an online store looking for just a pair of hiking boots, but ended up ordering a whole kit of hiking apparel? Still confused how that happened? Well, that's the power of upselling! You too can bring this power to your store using a WooCommerce upsell popup.
Are you looking for an effective way to boost your WooCommerce store's conversion rate and generate more revenue? Then you should consider using product recommendations to upsell to your customers.
Ecommerce upselling and cross-selling are powerful tools for increasing sales with minimal work. If you implement these strategies well, your business can benefit tremendously. In fact, recent trends show that 75% of digital buyers are likely to buy based on personalized product recommendations.
In this article, we'll show you how to benefit from this trend by adding a WooCommerce upsell popup to your store. We'll then introduce you to the best WooCommerce upsell and cross-sell plugin - Fast Cart - and demonstrate how to install and use it. Finally, we'll take a look at other powerful upsell plugins you may want to check out in 2023.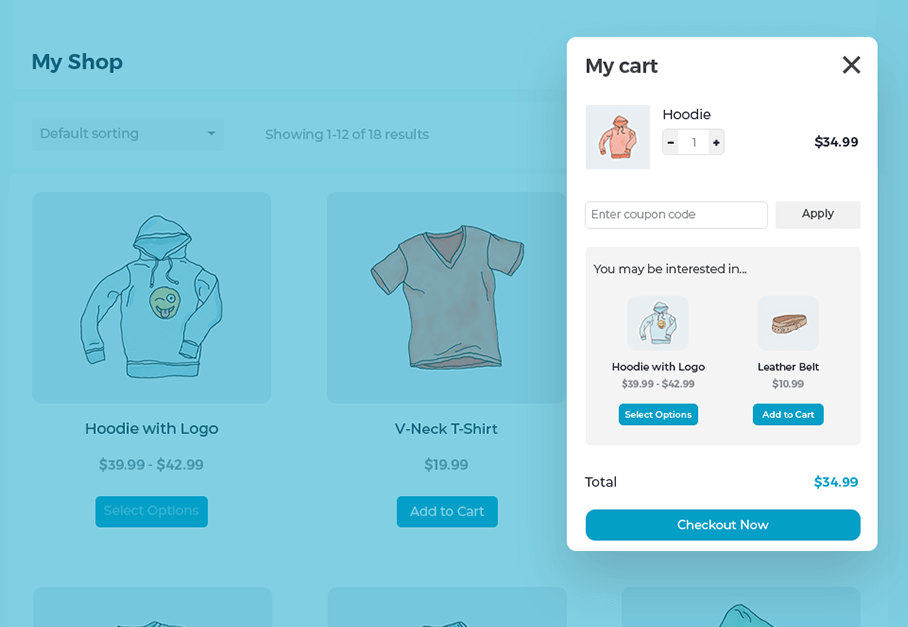 Increase your average order value with a beautiful popup cart, complete with recommended upsells.
Let's get to it!
Why does your WooCommerce store need an upsell popup?
Upselling is a popular sales or marketing technique digital sellers employ to encourage shoppers to buy more products or spend more than they planned.
If you've ever shopped online, the chances are high that you've seen an upsell prompt before. It could be in the form of a "Frequently bought together", "Customers prefer", or "Similar products" alert.
If you use them properly, upsells can bring a lot of benefits to your online store. They are one of the most effective native strategies to increase sales without doing any extra work.
Let's consider some of the common ways upselling can benefit your WooCommerce store:
Increase your store's conversion rates.Boost your revenue and average cart value by getting customers to buy not just more products but higher value products as well.
Move your inventory faster.Sell more products in less time. You can even promote products that customers have previously ignored and have been in your warehouse for a while.
Promote products without impacting the user experience.Show your customers personalized WooCommerce product recommendations without getting in their way with intrusive ads.
Offset the cost of customer acquisition by increasing customer lifetime value.Turn ordinary buyers into high-quality customers. With the right product recommendations, you can easily increase the average spend value of each customer. This way, you get to earn a good ROI from your customer acquisition efforts.
Now that we understand the benefits, let's show you one of the best ways to display upsells in your store.
Related tutorial: Boost your upselling strategy by displaying related products above the add to cart button, where customer's can't miss them!
How can you display upsells on your website?
If you're looking to get the best of upselling, it's important to display your upsell offer at the right place and at the right time. One of the most effective ways to upsell is to display an upsell popup immediately after customers add products to the cart.
This method is highly effective because the customer has just decided to purchase one of your products. At this point, they're also open to the idea of purchasing a similar product that you recommend.
As one of the biggest players in the eCommerce industry, Amazon has proven how powerful this sales technique is. After introducing upsell back in 2006, the eCommerce giant was able to boost sales by as much as 35%.
Fortunately, you can use WooCommerce Fast Cart to add this feature to your WooCommerce store too. The plugin allows you to upsell right within your customer's cart.
Using upsell products to cross-sell products in your shopping cart
When a buyer adds a product to their cart with the Add to cart button, the cart will automatically open as a popup. You can choose to display this popup as a sidebar on the right side or in the center of the page.
Within this popup cart, the customer will be able to see the product they added to the cart and the recommended upsells as well. This way, their shopping process is not interrupted at all.
Fast Cart also offers lots of other features that can help you boost conversions. For example, customers can edit their cart content and quickly complete checkout without leaving the popup or visiting any other page. This helps you lock the deal faster by eliminating the multi-step checkout process that comes with the default WooCommerce.
For more options, let's look at the best plugins for adding an upsell or cross-sell popup to your store.
The top upsell and cross-sell plugins for your WooCommerce website (compared)
Here are our top 5 picks for the best upsell and cross-sell plugins to use in WooCommerce.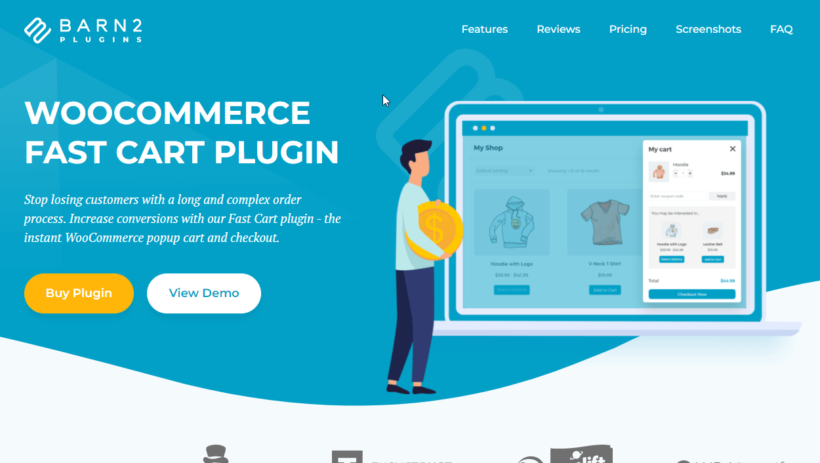 Optimizing your store's checkout experience is all about making the process faster and WooCommerce Fast Cart helps you achieve this efficiently.
The plugin brings the entire order process to your shop page. So, the customer can add or remove products from their cart, review their order, change quantities, and even redeem discount codes, all on the same page.
Fast Cart also integrates with WooCommerce's powerful product recommendation engine to make it possible to upsell within your popup cart. It's the only product on this list that lets customers pay and check out within the upsell popup, creating true one-page shopping.
For even more effective upselling, you can use the plugin alongside Barn2's WooCommerce Quick View Pro. (More on this later.) This adds a 'Quick View' button to the upsell popup and allows customers to learn more or choose different variations and quantities of the upsell product.
Normally, WooCommerce displays cross-sells and upsells under the add to cart button. That makes them easy to miss!
As a sales-boosting alternative, you can use the WooCommerce Product Options plugin to add related items above the add to cart button like this: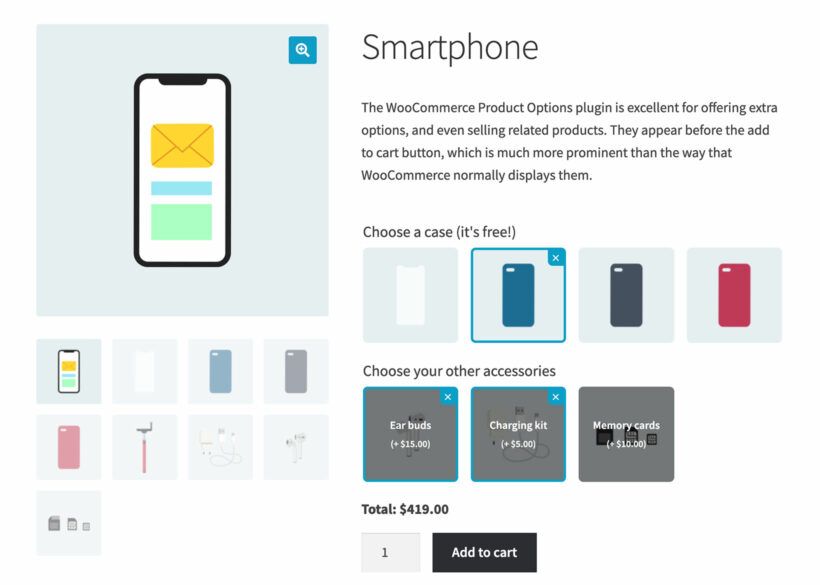 This example plugin is upselling mobile phone accessories. As you can see, displaying them above the add to cart button forces customers to make an active decision on whether to add them. As a result, they're much more likely to add upsells to their cart.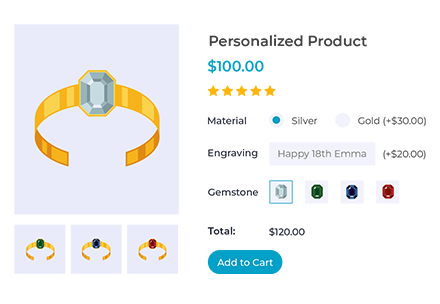 Add extra options and recommended upsells to your WooCommerce products in seconds.
With WooCommerce Product Options, the upsells aren't actually products. They're product options, which you add in a new Products → Product Options section of the WordPress admin. You can either display the same recommended upsells on all your products, or show different ones on each product/category.
Normally, product option upsells are displayed on the single product page. To make them appear in a popup, you need to use the plugin alongside WooCommerce Quick View Pro. Then, your upsells and other extra options appear in a lightbox popup like this: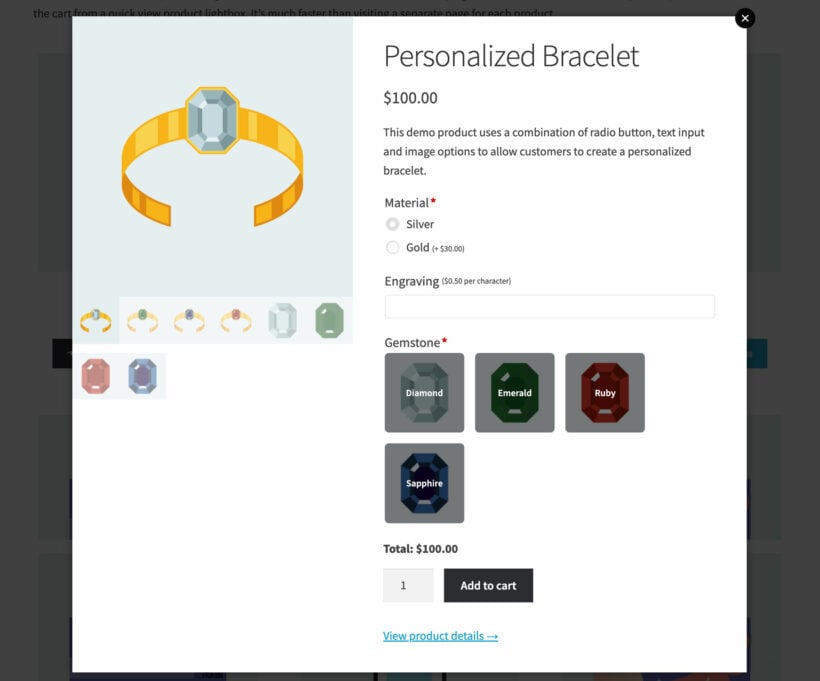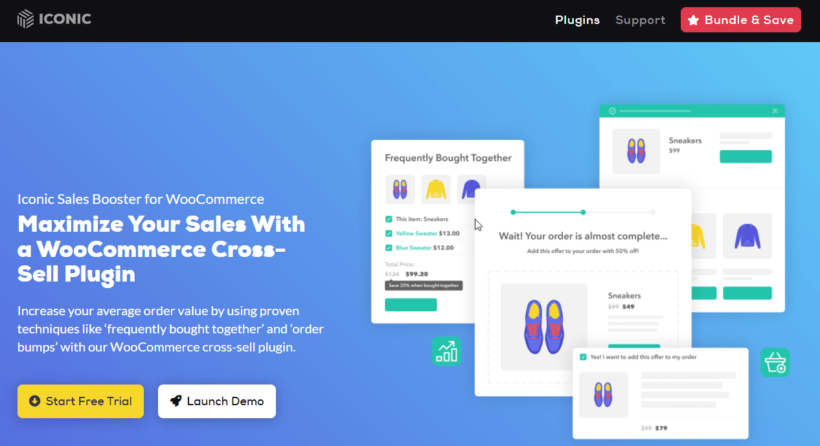 Sales Booster is another powerful plugin for adding upsells to different sections of your store's order process. The plugin not only helps you to display n  upsell popup. You can also use it to showcase WooCommerce related products on your product pages and introduce an irresistible order bump at checkout.
But Sales Booster doesn't let your customers review their orders or make other changes within the upsell popup. They'll need to visit a different page to review their order or learn more about a recommended product.
If you want to display recommended products on product pages while maintaining a highly optimized checkout experience, we recommend combining Fast Cart with Sales Booster. For example, use Sales Booster to add order bump to the checkout, and Fast Cart for the 'Added to cart' upsell popup.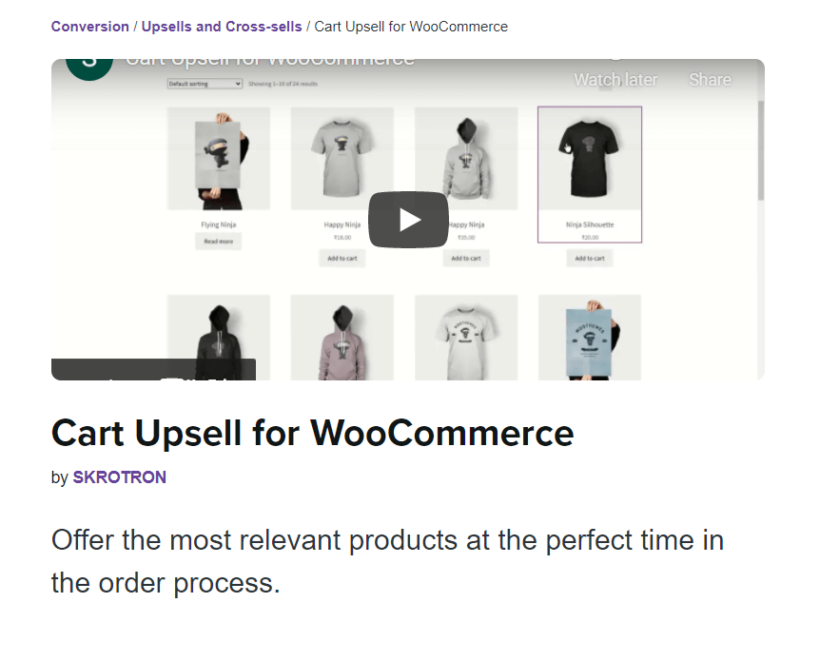 This extension offers a simple approach to adding a WooCommerce upsell popup to your store. You can use Cart Upsell to recommend simple products based on conditions you set without interrupting the buying process. These conditions are related to products in the cart, their categories, and the cart totals.
But unlike Fast Cart, your customers can't edit the cart items, view the cart, or check out directly from the upsell popup. The popup works alone and only has one purpose.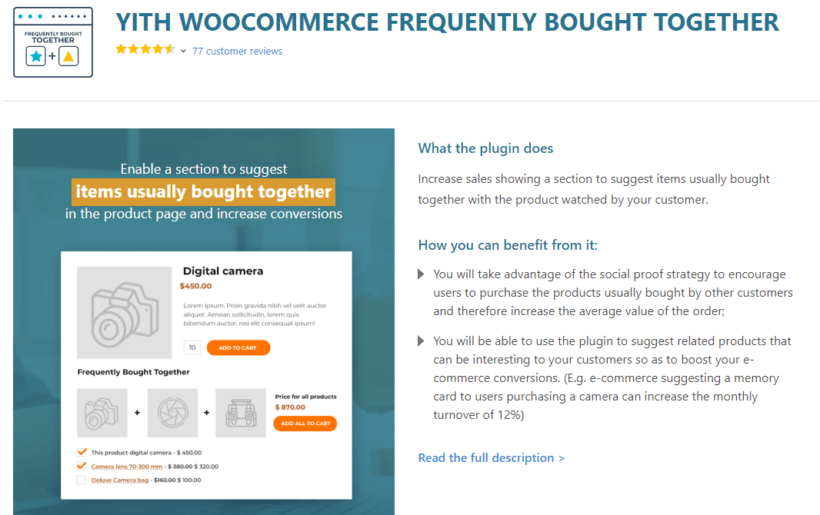 Frequently Bought Together is an upselling solution from popular WordPress company YITH. The tool adds a product recommendation section to your product pages. You can either choose to display automatic product recommendations or pick specific products for a more customized approach.
It might not be the ideal solution as it doesn't show the related products in a popup. But it's a handy tool you can use to suggest product combinations to your store visitors. It also works well alongside other WooCommerce upsell popup plugins like Fast Cart. For example, you can use YITH's plugin to add recommendations to product pages, and reinforce the message by using Fast Cart's added to cart popup.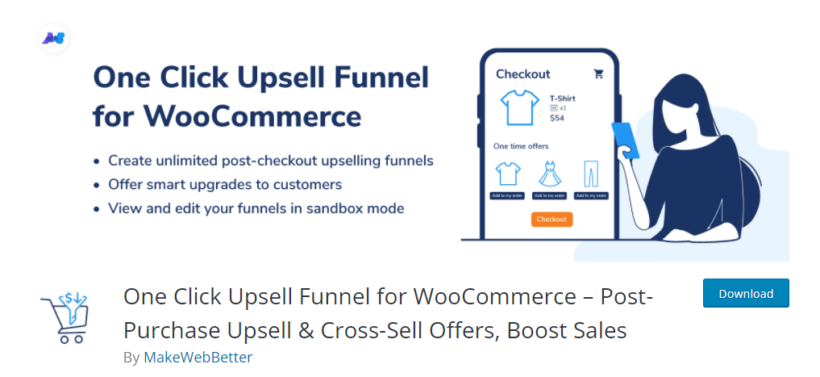 Upselling shouldn't stop at checkout or before purchase. This plugin uses an interesting method to showcase products after a customer has completed checkout. One Click Upsell Funnel allows your customers to buy upsell products in just one click without the need to re-enter their payment details or add the product to the cart again.
Psychologically, customers feel that it's time to move on once they have finished placing an order. For that reason, it's generally best to upsell before they finishing deciding what to buy. As a result, we recommend using Fast Cart to display a WooCommerce upsell popup pre-purchase. If you like, then you can also use One Click Upsell Funnel to re-capture the customer's attention after purchase.
Why is WooCommerce Fast Cart the best?
Upselling is only part of a bigger strategy to deliver a top-notch customer experience and get more sales. You can easily achieve both goals by speeding up checkout and upselling relevant products to your customers.
As we have seen, WooCommerce Fast Cart is the only plugin on this list that does both efficiently. The plugin uses the WooCommerce upsell popup to eliminate the need for buyers to visit multiple pages in order to complete their purchase. It effectively recommends related products at the same time, inspiring customers to spend more. 
You can replace the WooCommerce cart and checkout pages with a single center popup or side cart. This seamless checkout process often results in more sales, higher conversions, and reduced cart abandonment.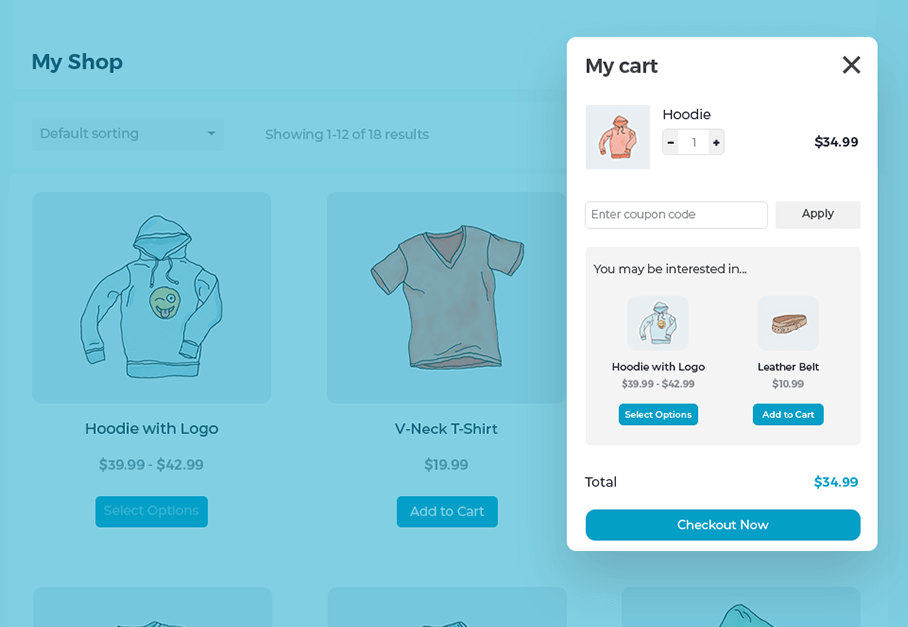 Increase your average order value with a beautiful popup cart, complete with related products.
Finally, let's learn how to set up a WooCommerce upsell popup for your store. Keep reading for a full WordPress tutorial.
How to add a WooCommerce upsell popup to your store
Step 1: Install the best WooCommerce upsell popup plugin
Fast Cart allows you to display a WooCommerce upsell popup in your store quickly and easily. To do this, you need to first get a copy of the plugin here. You'll get an email with your license key after completing your purchase.
Next:
Log into your WordPress admin area and navigate to Plugins → Add New → Upload Plugin.
Select the plugin's ZIP file you downloaded earlier. Then click Install Now followed by Activate.
Finally, go to WooCommerce → Settings → Fast Cart and enter the license key from the email.
After activating the plugin, you can now set up your first WooCommerce upsell popup and edit the popup template on the same page.
You can start by checking the 'Auto open' option. This launches the popup each time a customer adds a product to their cart.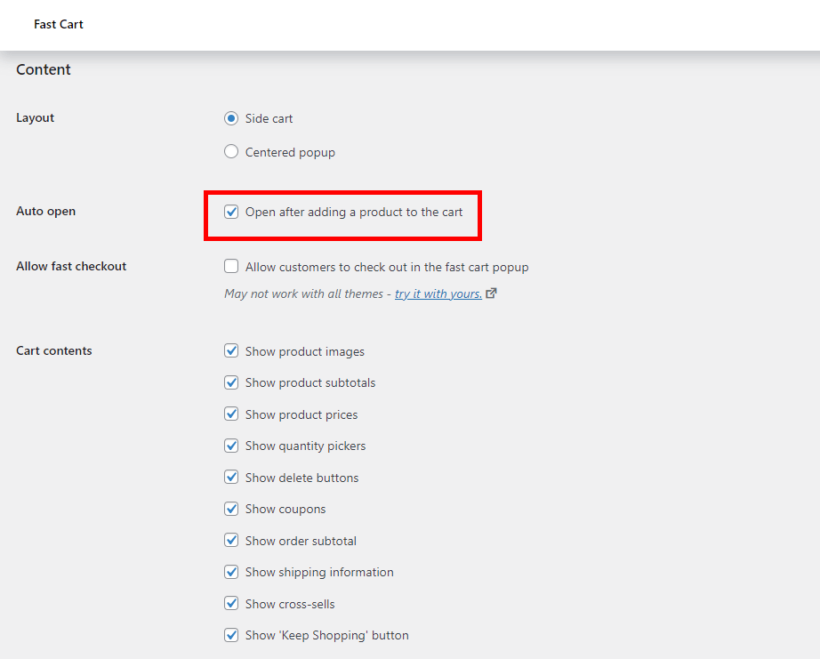 Next, make sure you check the 'Show cross-sells' box in the 'Cart contents' section to display recommended products in the popup.
You also want to choose between the side cart or the centered popup in the 'Layout' section. The side cart looks like this.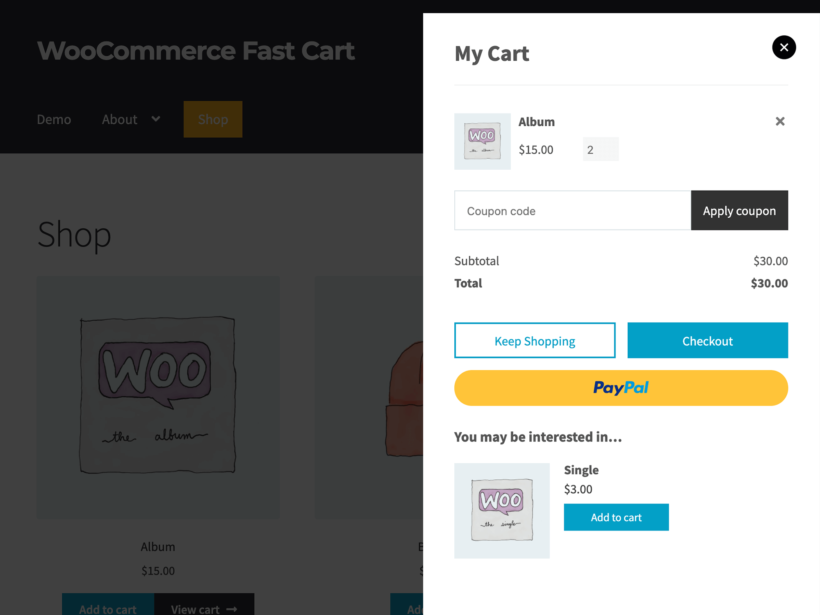 While the centered popup looks like this: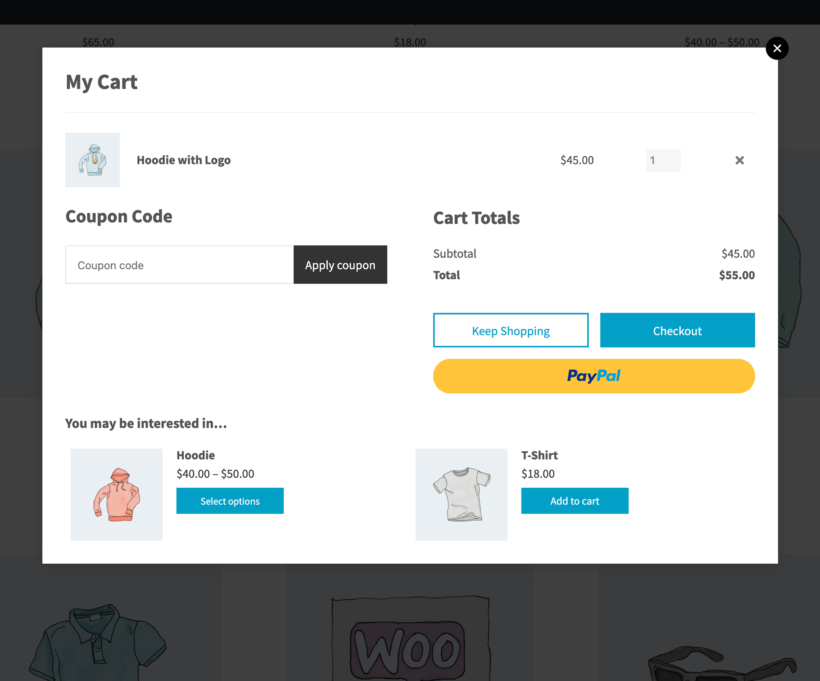 Step 2: Add upsells to your products
WooCommerce Fast Cart will only upsell related items in the popup if you select upsells for your products. We recommend that you select your upsells and cross-sells while editing or adding products to your store. This helps WooCommerce deliver helpful product recommendations which in turn generates more revenue for you.
To add upsells, go to the Edit Product screen of a particular product. Then scroll to the 'Linked Products' tab of the 'Product data' section.
Start typing the name of another product in the 'Upsells' field and select it. Do this for all the products that you want to display in the WooCommerce upsell popup when the current product is in the cart.

Pro tip: Add quick view buttons to the WooCommerce upsell popup
All the WooCommerce upsell popup plugins on the market have 3 problems. They wrongly assume that:
Customers will be happy to add extra products to their cart without learning more about them.
They only want to order 1 of each related product.
All your upsells are simple products which don't have variations/options for the customer to select.
But what if customers require more information before acting on the related product recommendation? What if you're upselling variable products? That's where WooCommerce Quick View Pro comes in.
This amazing plugin works alongside WooCommerce Fast Cart to add 'Quick View' buttons to the upsells in the popup cart. Customers can use these to view more information about the related products in a lightbox. Within the lightbox, they can select quantities, variations and add the related product to the cart. The lightbox then closes, bringing them back to the popup cart - from which they can complete their purchase.
As you can see, WooCommerce Quick View Pro makes the WooCommerce upsell popup much more effective, increasing your chances of success.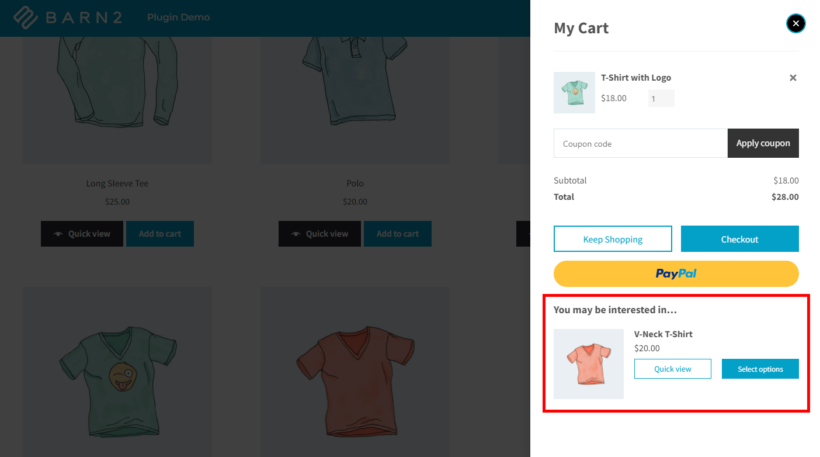 And even better, WooCommerce Quick View Pro adds quick view buttons to the rest of your store too. It speeds up shopping throughout your store by letting customers view extra information and choose options without having to visit a separate page for each product. Perfect!
Start upselling with a WooCommerce popup
Upselling is a highly effective way to drive sales and reduce cart abandonment in your WooCommerce store.
With the Fast Cart plugin, you can easily set up a WooCommerce upsell popup and display it to customers in a few clicks. It's an ideal all-in-one solution for combining your checkout and cart on one page. Many WooCommerce store owners use it to offer their customers a faster and better shopping experience.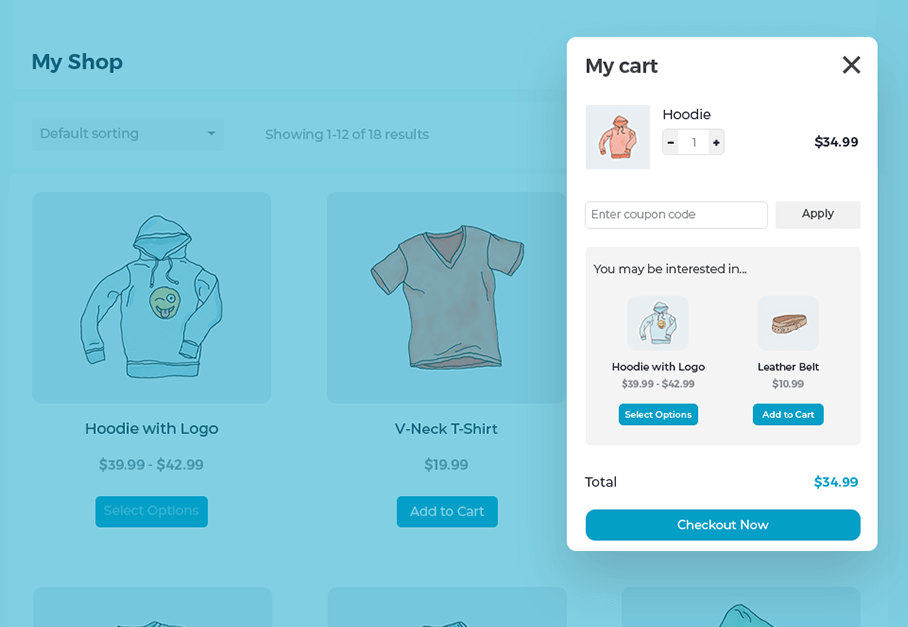 Increase your average order value with a beautiful popup cart, complete with related products.
Ready to use a WooCommerce upsell popup to generate more sales and higher conversion rates? You can start by getting your copy of WooCommerce Fast Cart today!