If you use WordPress.org to build your website, one of the things you'll benefit from is its inherent flexibility. In other words, you can use WordPress to do a lot of things that aren't apparent at first glance. This includes the ability to create a forum for your website or online community.
Since WordPress isn't set up to handle forum functionality by default, you'll need an additional tool or two. For instance, you can use the Posts Table Pro plugin to organize and display all your forum threads, topics or replies in a neat table layout. There are two methods for accomplishing this, using basic WordPress features or one of the best WordPress forum plugins like the BuddyPress plugin or bbPress plugin.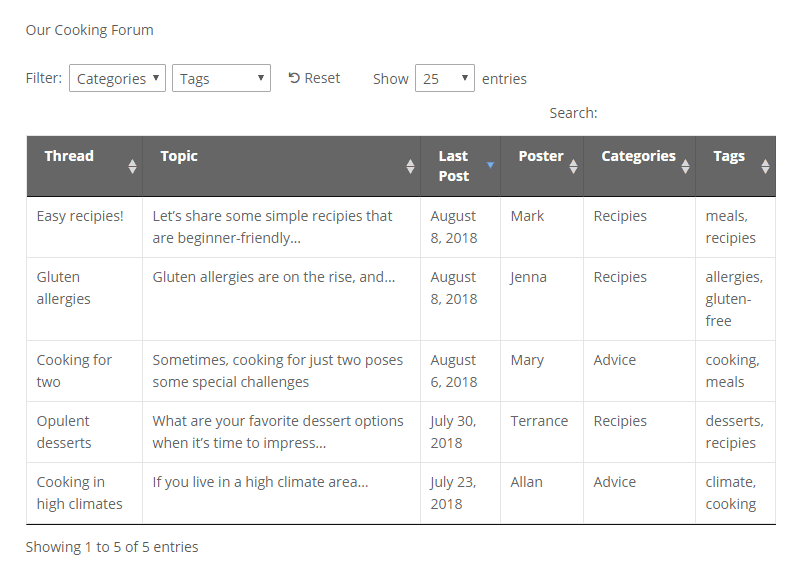 In this guide, we'll walk you through both ways to create an SEO-friendly forum with Posts Table Pro. Before that, let's talk about why you might need to create a forum in the first place!
Why you might want to create a forum in WordPress
Forums, like StackOverflow and Quora, have been a staple of the internet for some time now. In fact, they can seem almost 'old-school' in comparison to newer social networks and social media tools.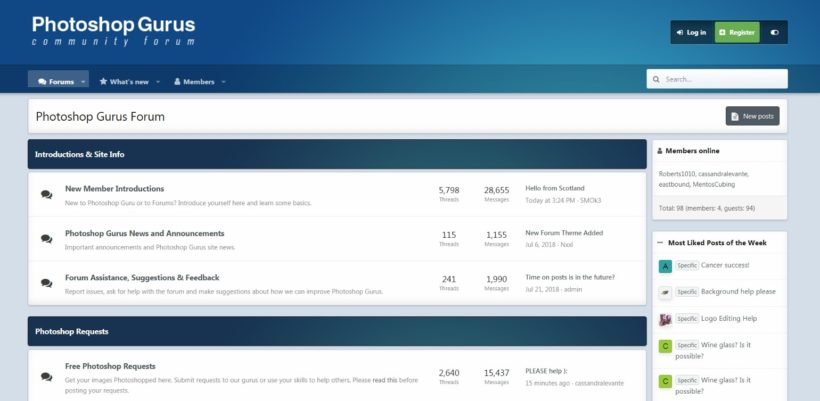 However, forums still come in handy on various types of websites. Here are just a few reasons to create a forum for your WordPress website:
Forums enable you to communicate directly with your site's users through a message board (also called a discussion forum). You can answer their questions, provide advice, solicit opinions, and even just chat.
In addition, forums let your community members interact with each other. They can form connections, help one another out, and build a sense of community.
If you provide products or services, you can even create support forum so customers can get help quickly.
When it comes to building any type of forum website, we like to recommend WordPress. It's a beginner-friendly yet very powerful platform. If there's anything you want to do with it that isn't built into the platform's core – such as create a forum – you can usually get the job done with the right plugins.
How to create a forum in WordPress using Posts Table Pro (2 methods)
There are several dedicated plugins that help you create a forum on your WordPress site. However, many of them provide a few customization options. If you want more control over how your forum looks and functions, you'll want to pick up the Posts Table Pro plugin:
This is a versatile tool that lets you create a table and insert it into any page or post in your site. Is displays information in a highly-customizable table layout, and you can determine exactly how it appears and works. You can even enable forum users to search, sort, and filter the table to find what they need quickly.
To see what Posts Table Pro can do in a broad sense, we'd suggest checking out the dedicated demo site.
Right now, we're going to focus on how it can be used to create an SEO-friendly forum in WordPress. First, we'll explore how to turn your entire site into a forum using the platform's built-in features. Then we'll walk through how to use Posts Table Pro in combination with best WordPress forum plugins for WordPress such as bbPress or BuddyPress that also work on WordPress multisite.
Method 1: Turn your WordPress site into a forum
Let's start with the simplest way to create a forum in WordPress (or WordPress multisite), by using regular pages and/or posts as forum topics. You can do this using only Posts Table Pro and WordPress' built-in functionality. You don't even need a complicated WordPress forum plugin. This method works well if you want to turn your entire WordPress site into a forum, or add a forum to an existing website.
How it works
You'll add each forum 'topic' or 'thread' as a separate page, post or custom post in WordPress.
Users will interact with the forum by adding comments at the bottom of each topic/thread. This uses the comments system that comes with WordPress itself. You get all the benefits of WordPress comments, such as nested comments, Gravatar images, and more. (Or if you prefer, then you can replace this with a dedicated comments system such as Disqus (free version).)
Your forum will be displayed in a table layout, with each topic or thread listed on its own row in the table. You can choose what other information to display on the forum page, such as the date you created the thread, categories, tags, etc. This way, people will be able to find the topics you cover through search engines like Google.
It's straightforward to set up, and simple to use.
Setup instructions
To begin, you'll want to purchase the Posts Table Pro plugin. Then you can install and activate it on your WordPress site, following this setup guide. Don't forget to activate your license key as well.
Next, you'll need to decide whether to use posts or pages for your forum topics (forum posts). Posts are usually the better option, given their inherent flexibility and the fact that they have comments turned on by default. However, either content type will work. Or if you're already using posts and pages for something else, follow this guide to create a dedicated custom post type for your WordPress forum.
Whichever content type you decide to use for your forum, make sure that each page/post has a WordPress comments form at the bottom. This is how your audience will interact on the forum.
After that, you can set up the table that display the contents of your forum. To do this, go to Settings > Posts Table Pro from the WordPress dashboard. Under Post type, select either post or page (or any other WordPress post type):
Technically, this is all you need to do. However, you may want to use the other settings on this page to configure the way your forum table is organized.
Recommended settings
In particular, we'd suggest taking a look at the following forum settings:
The other settings here are worth checking out as well, of course. When you're done making changes, hit the Save button at the bottom of the page.
Now list your forum content in a table
Then, create a new page and give it a title. This will be the 'home' for your new forum table.
The next step depends on whether you're using the Classic Editor or Gutenberg:
Gutenberg - Add the [product_table] shortcode to a 'Shortcode' block.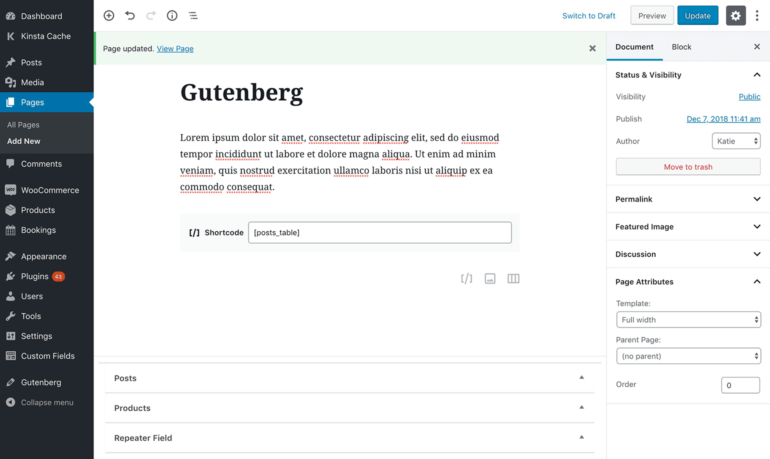 Both methods place a shortcode on the page, which will generate a table based on all the settings you just configured. At this point, you can save the page as a draft, or publish it to make your new forum live.
Of course, nothing will appear in your table quite yet. You'll probably want to set up a few starter topics to get the forum going. You can do that by simply creating a few topics (i.e. posts or pages) – they'll appear in your table automatically. It will look something like this on the front-end:

You can control the topics that are allowed, or let logged in WordPress users create their own by integrating with a WordPress plugin such as Gravity Forms with the Gravity Forms with user-submitted content extension (see our tutorial on how to set this up). Either way, forum members can simply click on each topic in the table to visit its actual page. Then, they can use WordPress' built-in comments system to interact with each other and you.
The individual forum topic pages will look something like this, depending on your WordPress theme: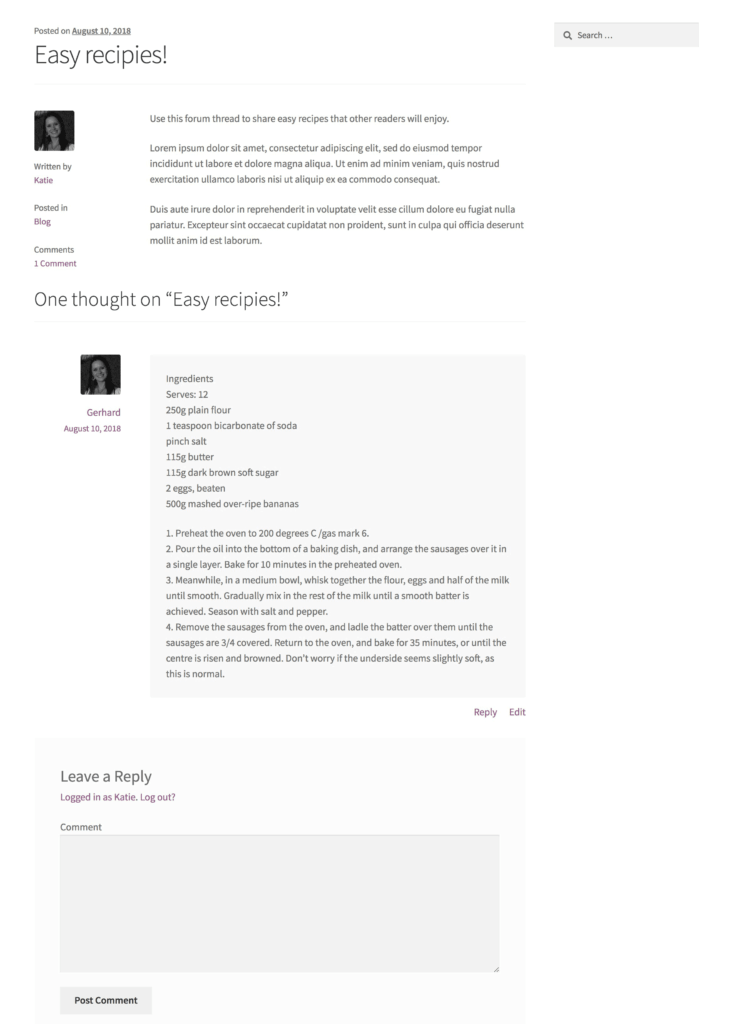 Method 2: Combine Posts Table Pro with a WordPress forum plugin
The technique described above has simplicity on its side. It is a bit limiting, however, since WordPress doesn't have a built-in way for people to view comments, respond to one another within forum threads (outside of the comments feature at the bottom of the page for each topic), or set up user profiles or user roles (like moderators).
Therefore, you may want to consider getting your hands on a dedicated forum plugin or add-on as well. There are a lot of options, such as free plugins like BuddyPress, bbPress and Discussion Board Pro. These plugins add basic (and sometimes more advanced) forum features to your WordPress site. For example, the individual topic and thread pages are more interactive. A WordPress forum plugin comes with built-in custom post types which you can display using Posts Table Pro, so you don't need to create your own.
Since you can set up a forum using one of these best forum plugins on its own, you may wonder why it's still worth using Posts Table Pro. The chief benefit is that you'll get a clearer and more organized way of displaying threads than most forum plugins offer by default. For example:
Users can perform a keyword search, sort by any column, or filter by category, filter or any custom taxonomy. This makes it much easier for people to find new topics they're interested in.
Plus, you can fully customize what information appears on your forum page, which isn't an option with most forum plugins.
A Posts Table Pro forum layout will also look more modern and interactive than most forum plugins, straight out of the box.
Setup instructions
To get started, you'll need to set up your free forum plugin first. We'll use bbPress as our example, so first install and activate it. Then, purchase and install Posts Table Pro as well. Again, make sure to activate your license key.
After that, go to Settings > Posts Table Pro. As in the previous section, you'll want to check out the Post type option. However, this time you'll have a few more choices:

You'll want to pick whichever option corresponds to individual forum threads in the plugin you've chosen. For bbPress, this is called topic. Be careful not to select forum, since this will display each forum on your site on its own line (rather than one forum's threads).
If you prefer, you can create a separate page for each forum thread and use Posts Table Pro to display the replies. If you do that, then you'll want to select the reply post type instead.
Then, you can customize the rest of the settings on this page as you see fit. For specific recommendations about which options to check out, see the previous method. The important settings here are the same.
Save your changes when you're done tweaking these settings. Then, create a new page and give it a name.
If you're using the Classic WordPress Editor, select Toolbar Toggle and then Insert Posts Table to place the required shortcode on that page: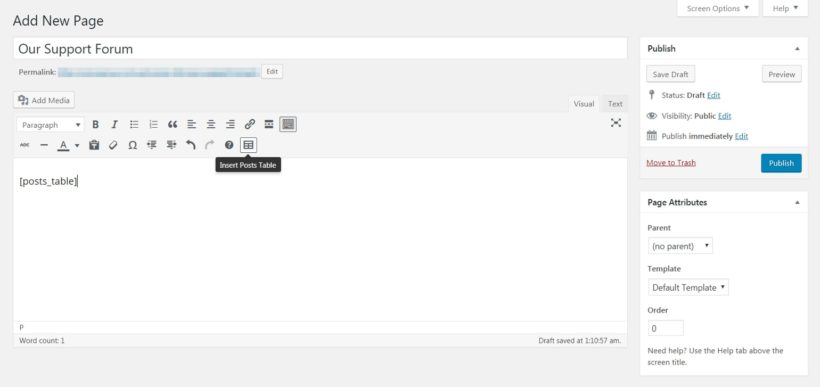 Or if you're using the Gutenberg editor, just add the [posts_table] shortcode to a Shortcode or Paragraph block.
This is all you need to do in order to get your forum page up and running. As before, the table will be empty for now. You may want to create a few test threads, so you can see what it will look like:

Users will then be able to select individual threads in order to see their contents and post responses: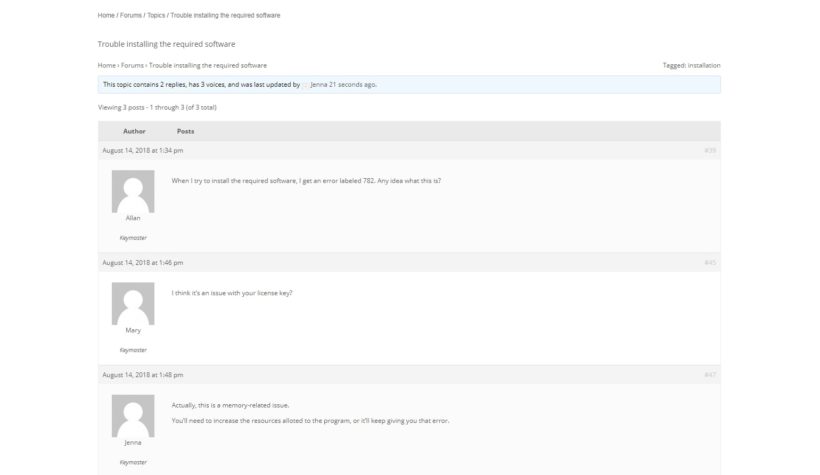 How to add a bbPress forum topic filter
If your online forum contains lots of topics, then you can add a 'Topics' filter dropdown above the table of bbPress forum topics. You can do this by adding tax:topic-tag to the 'Filters' option on the Posts Table Pro plugin settings page.
This is an excellent option if you've ever wanted to filter by topic in bbPress, as this isn't normally possible straight out of the box.

How to list bbListing bbPress replies
In the previous sections, I assumed that you will be listing bbPress topics in a table and that users will click through to view each topic.
Alternatively, you can list the actual replies in a table. It would look something like this: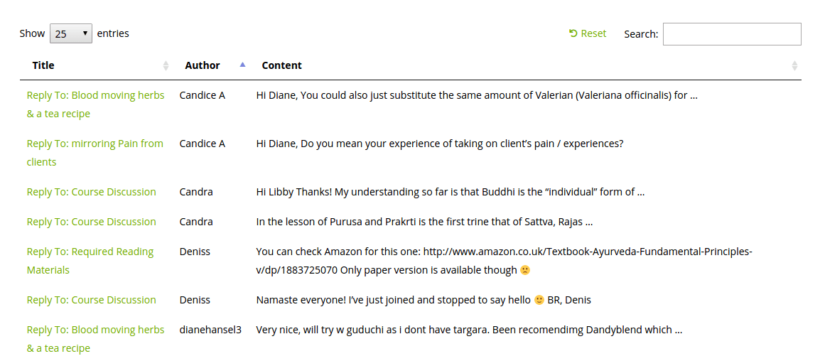 With that, you've successfully learned how to create a forum in WordPress!
Conclusion
Forums are a handy feature on just about any small business or community-focused website. Their simplicity makes them a versatile tool – you can use your forum for support, feedback, or simply helping your audience connect with one another and new members.
While WordPress doesn't include the functionality you'll need out of the box, you can create your own forum easily using Posts Table Pro. You can use it in one of two ways:
Turn your WordPress site into a forum, using posts and pages as topics.
Combine Posts Table Pro with a dedicated WordPress forum plugin such as bbPress.
Do you have any questions about how to use Posts Table Pro to create a successful forum in WordPress? Let us know in the comments section below!
Image credit: Neal Stimler.