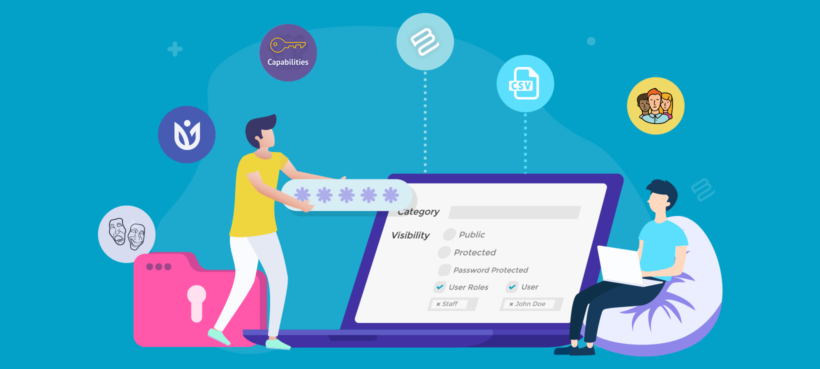 WordPress comes with a handful of user roles already installed right out the gate. I'm talking about these:

This is the stock set of user roles that you can assign to any user account on your WordPress site.
So what's the problem with that? Why would anyone need more? And why would you want to change what those roles are allowed to do, or what parts of your site they can access? 🤔
Keep reading to find answers to all these questions and much more:
You'll learn what user roles in WordPress do and why you might need plugins to extend them.
We'll show you the best free WordPress user roles plugins that allow you to create new roles and change their permissions.
Then, as a bonus, we'll list a couple of premium plugins that let you control which user roles can access specific parts of your WordPress or WooCommerce site.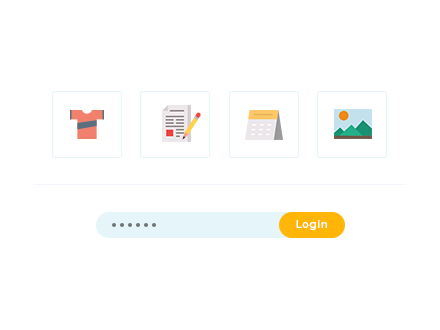 Create hidden areas on your WordPress website that only users with the correct role can see.
What user roles do and why you might need a WordPress user roles plugin
By default, WordPress comes with five user roles:
Subscriber
Contributor
Author
Editor
Administrator
Apart from these, popular plugins for SEO, ecommerce, or site translations tend to add additional roles for a Translator, Shop Manager, SEO Manager, SEO Editor, and more. But let's not get into that for now.
So, five main roles. Why does WordPress need this many? Aren't you good with whatever user role your current profile uses when logging in to the WordPress dashboard?
Yes, and no. Granted, if it's just you working on the site then you're mostly good with that main Administrator user role that was assigned to your account during installation.
However, when you invite a second person to help you with your content, then giving them another Administrator account might not be the best idea.
By using any of the other user roles, you can control the areas of the site that you want to give that person access to.
For instance, if you just need someone to help you publish new posts, they don't need a user role higher than Author.
Or, if you want someone to help you with your WooCommerce store, a good idea would be to give them the role of Shop Manager. This will give them access to everything that deals with your store, its products and settings, but no option to edit other parts of the site.
I could go on with these examples, but you probably get the idea by now. WordPress user roles are very useful when there are multiple people working on the same site handling different tasks and responsibilities.
But here's a question: what happens if you want to create a new user role? Or, better yet, how to change the default access rights given to WordPress user roles?
This is where some of the best free WordPress user roles plugins come into play:
5 best free WordPress user roles plugins
Here is our selection of the top plugins for adding and editing user roles, and changing permissions for editing your site.
These plugins are not direct alternatives to one another. Each free WordPress user roles plugin brings a unique set of features to the table. We have chosen the best one from each category. Together, they give you full control over adding and managing WordPress user roles. Mix and match them to add the exact features you need
Note: These plugins focus on the WordPress back end. They don't affect which parts of your public-facing website the user can see. For example, they won't restrict pages or posts to certain user roles. For front end control, you can pair them with one of the premium plugins mentioned later in this article.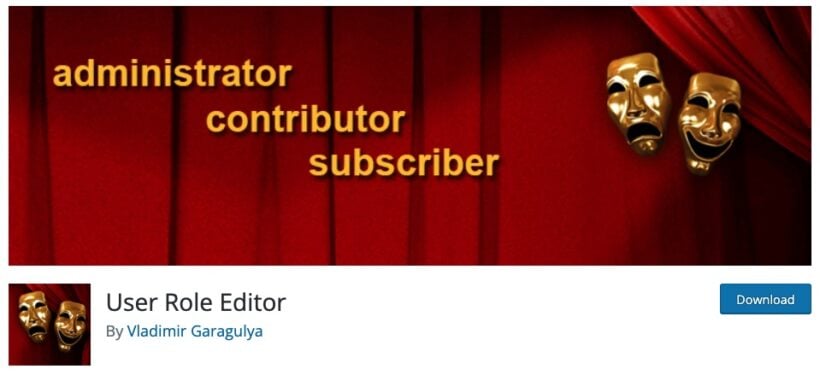 Great for:
creating new user roles
modifying the default user roles' permissions
This one is the most popular WordPress user roles plugin of them all. You can use it to do two main things:
First, it lets you browse through the current user roles on your site and change the permissions each of them has.
For instance, a common problem for blogs that work with multiple authors is that Contributors can't upload images to accompany their posts. Using this plugin you can assign that capability to all Contributor accounts.
Second, you can create completely new user roles with this plugin as well. Then, you can assign specific capabilities to these new roles.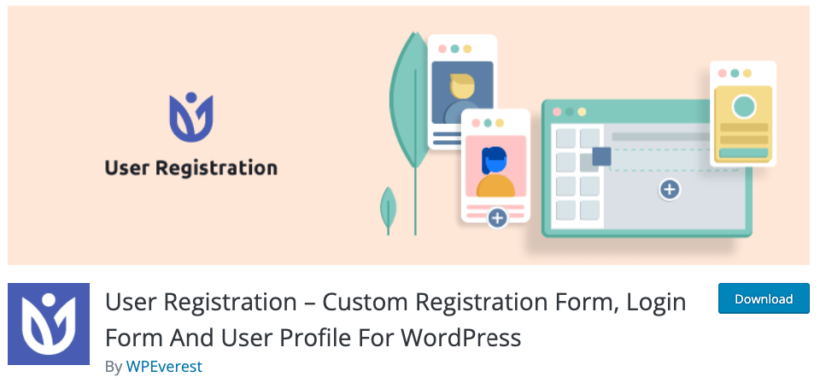 Great for:
enabling front-facing user registration forms
assigning new users to specific user roles
It's easy to imagine multiple scenarios in which a site might need publicly available user registration forms. This plugin gives you exactly that.
It's easy to use, there's drag-and-drop interface for form building, and there are even some templates to make your work faster.
Then, what this plugin also does is it allows you to assign these new users to a specific user role on your site. You can probably imagine the possibilities this creates when you pair it with User Role Editor or any of the other plugins on this list.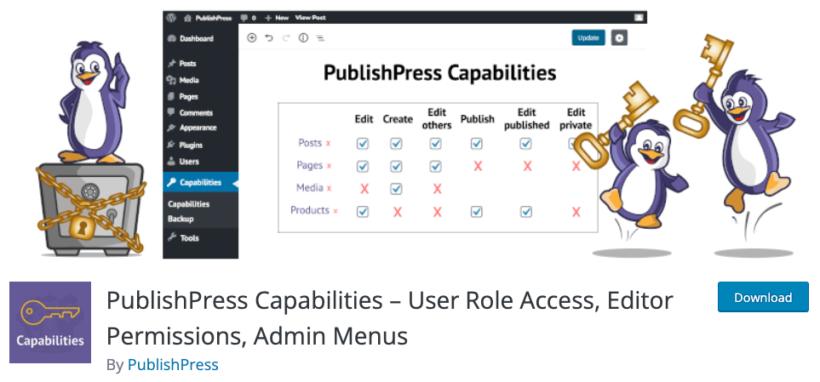 Great for:
creating new user roles
showing/hiding menu items based on user role
In simple terms, this is a good alternative to User Role Editor if you're not enjoying that plugin for whatever reason. PublishPress Capabilities is slightly less popular, but not any less functional.
But apart from that, one original feature that you'll find in this plugin is the ability to show/hide menu items based on the user role of the person viewing it. Again, this won't restrict any specific area of your site from the user, but only hide or show individual menu items.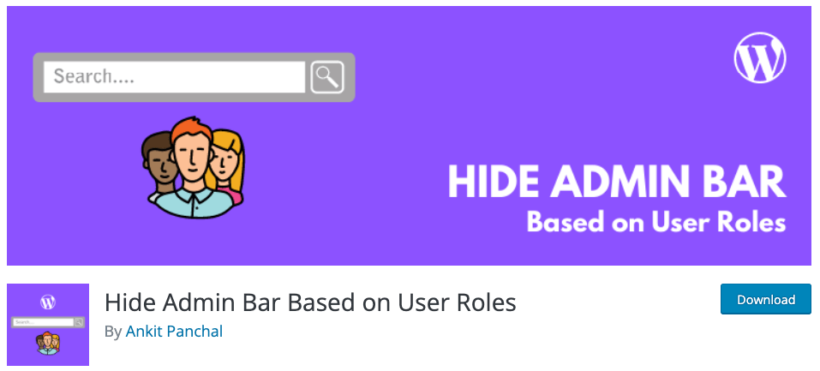 Great for:
hiding the admin bar based on user role
This is a great single-purpose plugin for anyone who wants to hide that pesky admin bar from the top of the screen for logged-in users.
Why you'd want to do that? Well, it's not very professional for normal users to see the WordPress admin bar at the top of your website, even if they have an account and are logged in. Normal users should be able to manage their accounts from the frontend and never see the admin panel or bar.
This plugin lets you hide the bar unless the person viewing is an Administrator (or whatever user role you think is suitable).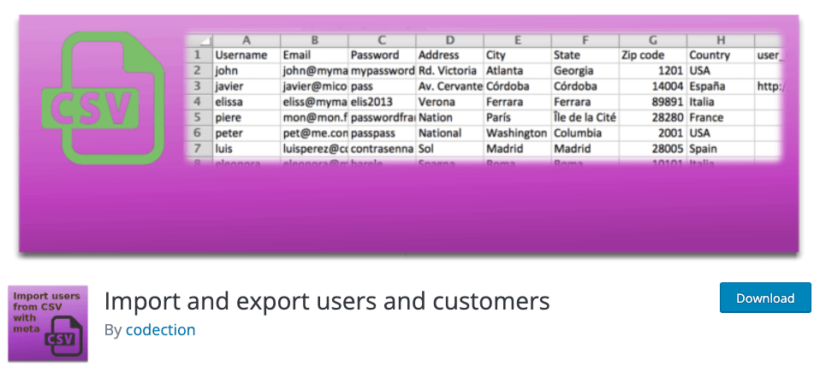 Great for:
bulk-importing user accounts and assigning them to roles
By default, WordPress is pretty good at importing data from other WordPress sites. However, if you have a standard CSV file with a bunch of user data in it, then you might encounter some issues.
This is where this aptly named plugin comes into play and offers a helping hand. It lets you take any CSV with user data, map it to corresponding WordPress user data points, and bring it all in through a simple UI.
The best part is that it will also assign those new users to specific user roles that you have on the site. This is particularly useful when importing customer data to WooCommerce.
Restrict access to your public-facing website based on WordPress user roles
The list so far has been about free WordPress user roles plugins. However, not everything can be done using just free plugins. Particularly, you can't restrict access to various areas of your front end site effectively.
So, as a bonus, we want to show you some premium solutions that make a lot more things possible with WordPress user roles.
Chiefly, these plugins have been designed to restrict content based on user role. They all work with the free plugins described above.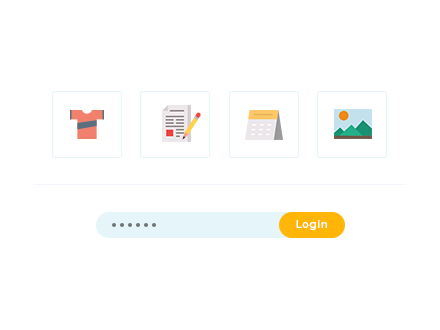 Create hidden areas within your WordPress site - the easy way.
Great for:
restricting pages, posts, and any custom post types based on user role
There are hundreds of ways to run a simple membership site on WordPress. Most of these are pretty expensive. However, if you just need restrict access to certain parts of your site, then our Password Protected Categories plugin handles the job more than well.
As the name suggests, this plugin takes any post or page category and restricts access to it based on the visitor knowing the password or having a user account assigned to a specific role.
For instance, you can create a new user role using any of the free plugins above, call it Member or something similar, create a new category for your members-only content, and then use Password Protected Categories to pair your new user role and content category.
If you want to, you can even select which individual users can access each category and its posts.
Pro tip: By default, WordPress doesn't let you create categories for pages. Use this free plugin to do it. You can then hide them based on user role with Password Protected Categories.
Add user role-based features to a WooCommerce store
Before we finish, let's look at some plugins that let you control a WooCommerce online store based on user role. For example, if you're using WooCommerce then you can restrict access to certain products based on user role, add role-based pricing, and even role-based quantity rules.
Great for:
restricting sections of your WooCommerce store based on user role
This one works similarly to Password Protected Categories, but this time it's all about your WooCommerce store and products.
Why would you restrict access to parts of your WooCommerce store? - you're asking. There are a couple of use cases for this, but the most common one is when your store serves both B2C and B2B customers.
For example, the WooCommerce Protected Categories plugin lets you create a separate section in your store for your B2B product line and partners. Or, you can create VIP areas for your best customers.
The way this works is simple. First, you create a new product category and then a new user role called, say, B2B. Then, you can pair the two together.
Pro tip: If you want to hide the entire "shop" area of your site - the entire store - then use our WooCommerce Private Store plugin for that instead.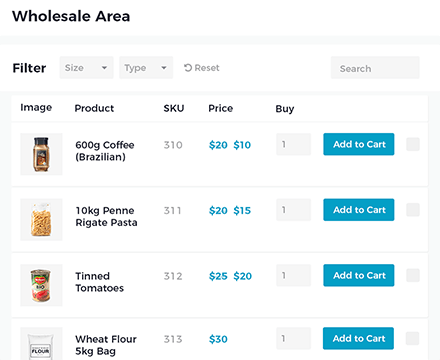 Install WooCommerce Wholesale Pro today and get a complete wholesale store - the easy way!
Great for:
adding role-based pricing to WooCommerce
Adding a wholesale module to your WooCommerce store hasn't been the most straightforward task. The difficult thing about it is that you want your wholesale customers to be able to see the entire product catalog, just with different prices.
This is exactly what WooCommerce Wholesale Pro allows you to do. It lets you map custom product prices to new user roles.
An important detail about this plugin is that it also lets you create those new user roles, so you don't have to use any of the free WordPress user roles plugins listed above.
Also, you're not limited to any specific number of new user roles. If you so desire, you can create five, ten or more wholesale user levels, each with its own pricing.
Then, you can set role-based visibility and choose which products are visible to public vs wholesale users.
Read more: Here's our in-depth tutorial on role-based pricing - everything you need to know.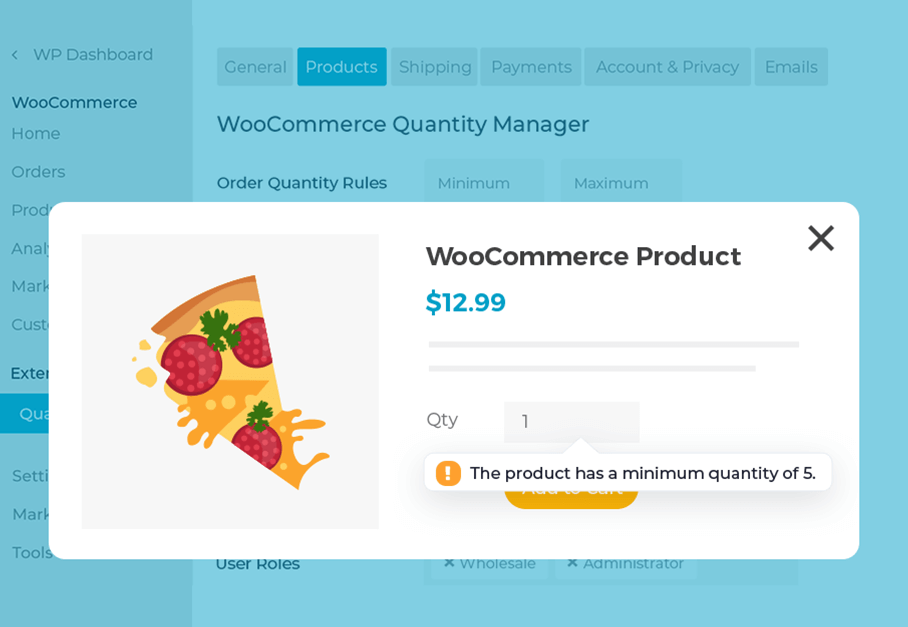 Add quantity rules, default quantities and much more.
Great for:
adding role-based quantity rules to WooCommerce
Depending on the industry you operate in and the type of products you're selling, setting minimum as well as maximum product quantities and order values starts making a lot of sense.
For example, for any hand-made product, you might want to set maximum quantities. As a counter example, no business card printing service will let you buy just one business card, so minimum quantities make a lot of sense there.
Overall, if you're in the kind of business that needs this, you're probably well aware of it by now. The WooCommerce Quantity Manager plugin gives you these features.
First, you can set allowed quantities per-product or per-category. Then, you can add user roles to the mix and allow some of your customers to order more/less.
This lets you protect your margins and make every order manageable for your casual customers, while also allowing your best customers to tailor their orders more.
So, which is the best WordPress user roles plugin?
As you can see, whether you need to create new user roles or restrict content based on those user roles, there are plenty of excellent plugins available.
You can:
Create new roles and change permissions with a free WordPress user roles plugin.
Install Password Protected Categories to restrict access to parts of your website based on user role.
Alternatively, if you're using WooCommerce then check out the plugins for adding role-based features to your store.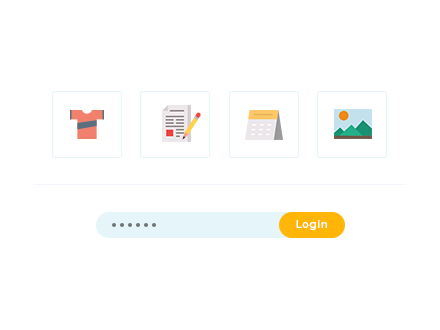 The easy way to hide WordPress pages, posts and other content based on user role.
Have you experimented with a WordPress user roles plugin? Let us know how they're performing for you.