Our WooCommerce Wholesale Pro plugin has become hugely popular since it launched a couple of months ago. Today we've released version 1.3, which has lots of exciting new features that our customers have asked for.
B2B trade buyers have completely different needs from retail consumers. When you build a WooCommerce wholesale store, it is therefore essential to configure the trade area according to your buyers' needs. For example:
Since B2B customers are normally registered companies, you might want to disable taxes for some or all of your wholesale users - while still charging tax to public customers.
WooCommerce wholesale stores don't tend to offer sales and discounts to trade users, so you might want to remove the coupon code field from the checkout for trade buyers only.
As regular customers, your wholesale buyers might benefit from extra payment options that you don't offer to public shoppers. For example, you might allow wholesale users to pay later by invoice or BACS, instead of having to pay when they place their order.
Wholesale users often buy in bulk, so you might want to offer different shipping methods that aren't available to public customers. For example, perhaps you're using the Table Rate Shipping plugin to offer weight-based shipping - but only want these options to appear to wholesale users.
Version 1.3 of WooCommerce Wholesale Pro has all these features. Use them to customize your private wholesale area so that B2B and B2C users receive an even more tailored experience.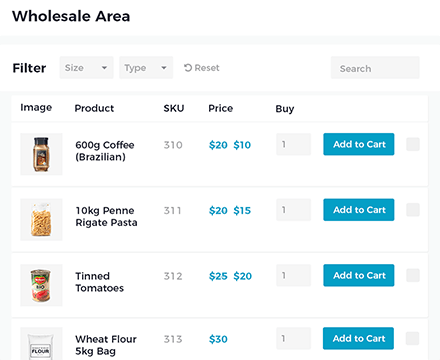 Install WooCommerce Wholesale Pro today and get a complete wholesale store - the easy way!