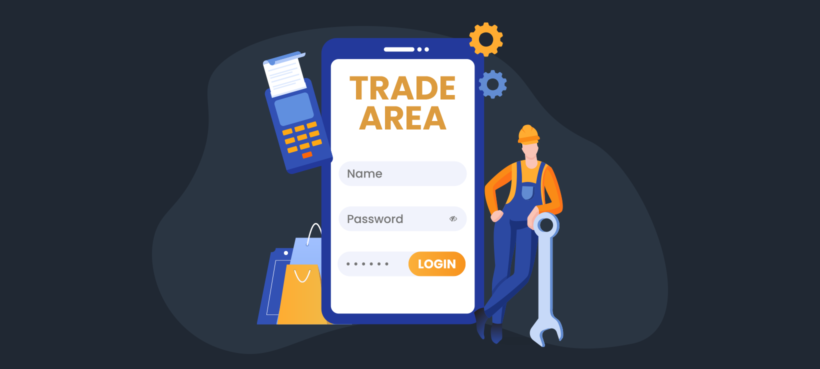 If you're running a wholesale e-commerce store or trade shop, then you know this type of business comes with particular challenges. You'll need to find a way to display all your items effectively, and cater to multiple types of customers. A WooCommerce trade login plugin is an essential part of this.
Fortunately, there are plenty of tools that can help you out. This is especially true if you've built your trade shop using WordPress and WooCommerce.
With a WooCommerce trade login plugin, you can get the exact functionality you need to keep your e-commerce store running smoothly.
In this article, we'll talk about why your store might need a trade login. Then we'll show you how to use the best WooCommerce trade login plugins, and explain how to add a trade-friendly order form to your site. Let's get started!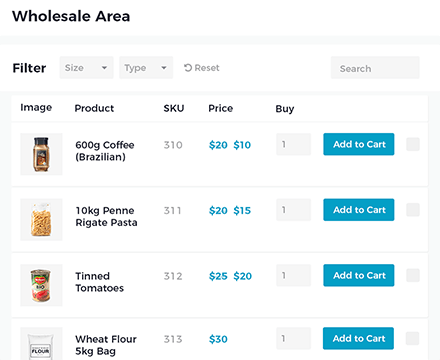 Install WooCommerce Wholesale Pro today and get a complete B2B trade store - the easy way!
Why you might need additional plugins for your WooCommerce trade shop
When it comes to building an online store of any type, WordPress is an excellent platform. It's secure, beginner-friendly, and quick to set up. While WordPress does lack specific e-commerce features, these can easily be added using a plugin such as WooCommerce.
Small, basic shops may not need anything else. However, wholesale stores and trade shops have particular needs, which might not be fully met by WooCommerce. For example, here are just a few of the special challenges facing online trade stores:
Out of the box, WooCommerce doesn't differentiate between different types of customer. There's no way to separate out the experience for retail and trade customers. You can't charge different prices, show different products, or provide a separate WooCommerce trade login area.
Trade buyers have different needs from retail shoppers, as they already know what they want and need a quick way to make their selections. You might be selling hundreds or thousands of items, so you'll need a way to organize them effectively and help trade users find what they need quickly.
WooCommerce assumes that your store will be available to the public. However, if you're only selling to other businesses, you might want to hide your entire store from public view.
To add these features to your trade shop, you'll need some additional tools. As it turns out, the WooCommerce Wholesale Pro trade login plugins is perfect for the job.
The best WooCommerce trade login plugin
Now, let's look at WooCommerce Wholesale Pro - a WooCommerce trade login plugin that will help you customize your store. It's perfect whether you're creating a trade-only shop, or a WooCommerce store with separate public and trade areas.
WooCommerce Wholesale Pro has all the features you need for trade login and every other part of your B2B area.
Trade login and registration
Trade users can register for an account and login on the trade login page. This gives them access to the trade-only section of WooCommerce, which normal retail customers can't see.
As the administrator, you can choose whether to allow trade users to register and login immediately, or hold their application for approval first. Moderating new B2B users adds an extra layer of security to your trade login.
Here's an example of a WooCommerce trade login and registration form in action. NRD Web Design used WooCommerce Wholesale Pro for their client Best Remy Hair Extensions. They added 'Wholesale Login' and 'Wholesale Registration' links to the website header, intuitively driving trade users to the private section.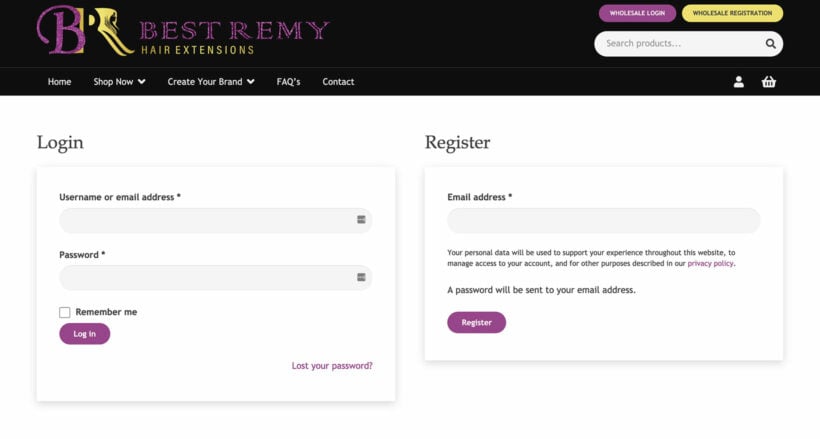 WooCommerce trade prices
Nearly all B2B stores offer special trade-only pricing to logged in trade users. Retail customers pay the recommended retail price (RRP), whereas trade users get a discount off the RRP.
WooCommerce Wholesale Pro makes it easy to add trade prices to WooCommerce. Logged in trade buyers will see the discounted pricing, and retail customers continue to see the standard pricing.
You can even add multiple wholesale user roles, each with trade discounts. This is ideal if you offer tiered pricing in your WooCommerce trade store.
Trade-only products
With WooCommerce Wholesale Pro, you can either sell the same products to everyone (with the correct trade pricing for B2B users, of course) - or you can sell different products to the two groups.
Each product category has an option to show it to public shoppers, trade users, or both. This makes it easy to sell trade-only products which are hidden from the retail store.
This feature is also ideal for creating a 100% private trade-only store, with no retail area. Simply mark all the categories as 'Wholesale Only', and your formerly public shop disappears from view! Only logged in B2B customers can see it from the private WooCommerce trade login area.
How to set up a WooCommerce trade login area
To get started, you'll first want to purchase and install the WooCommerce Wholesale Pro plugin. Then, you'll need to activate your license key. Navigate to WooCommerce → Settings, and select the Wholesale tab: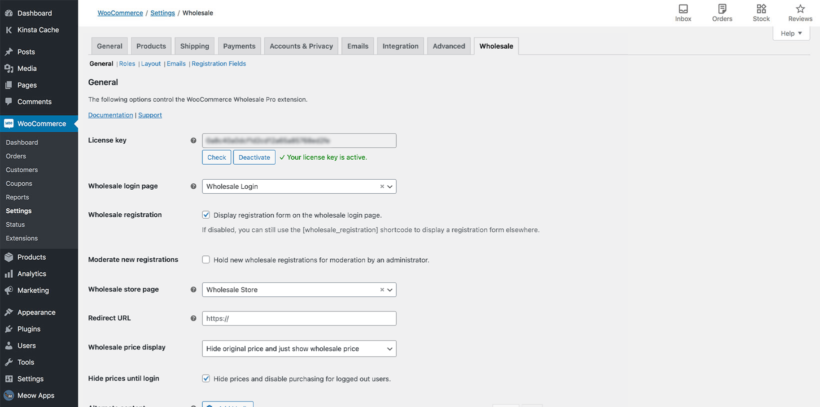 Enter your license key here, and click on Save changes at the bottom of the page.
Next, you'll want to configure the plugin's settings. These are all located in the same Wholesale page. Choose a page to use for the trade login, and decide whether to enable trade registration (with or without moderation).
There are lots of other options for customizing your trade login area. Go through all the settings and set it up exactly as you like.
That's it! Now you can start adding trade users who can log into the B2B area, or adding them manually via the WordPress admin.
Create trade-only order forms for your WooCommerce store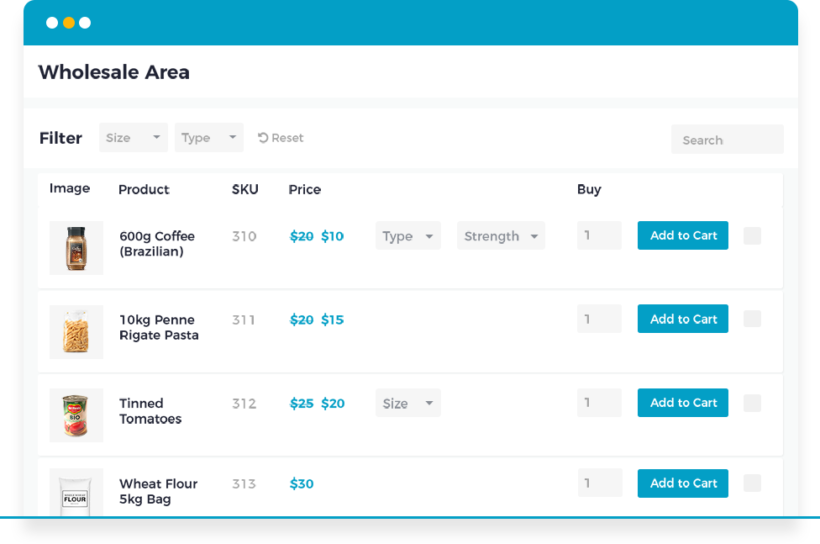 By now, you know how to add a private WooCommerce trade login area to your store. Trade users can easily log into their account and access trade-only products and pricing. But what about the actual experience of using your WooCommerce trade shop?
Retail customers are happy to spend time browsing and choosing products. By default, WooCommerce is set up so that customers have to visit individual product pages to see and purchase each item they want. That's fine for most retail customers, who want to look at large images and read lots of information before making a decision. However, your trade users have completely different needs.
This creates a terrible user experience for a WooCommerce trade store, however. You're selling a lot of products, and customers are likely to place large orders for multiple items at once. Requiring them to visit each specific product page will only slow them down.
Logged in trade customers already know all about your products. They've bought them before and are simply reselling them to their own customers. They don't want to waste time browsing or looking at pictures. Instead, they need to quickly view a list of all your trade products, where they can choose quantities and add multiple products to the cart at once.
You can do this by using WooCommerce Wholesale Pro with its sister plugin, WooCommerce Product Table. This adds a quick order form layout which perfects your WooCommerce trade shop.
What features can your WooCommerce trade order form have?
WooCommerce Product Table makes it easy to create a customizable one-page order form. It lists all of your items on the main trade store page, and also works on product category pages in the trade login area: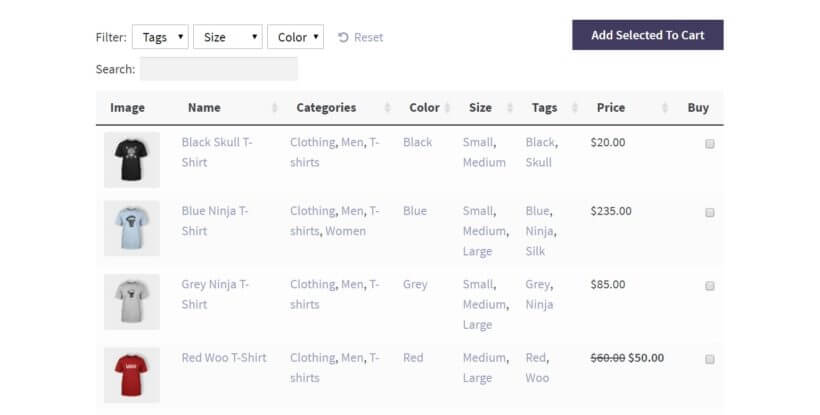 Woo Product Table lets you:
Make product comparisons simple, by showing off everything you have to offer side by side.
Display exactly the information you want in your order form, and even include product variations.
Help people find what they want quickly, by using searching, sorting, and filtering functionality.
Enable customers to tick all the items they want and purchase them from one page.
Enable the wholesale order form layout in the trade login area without affecting the experience for retail users. Or if you prefer, you can use it in the retail area too!
Where to get the trade order form
When you buy WooCommerce Wholesale Pro, you can choose whether to buy it on its own, or with WooCommerce Product Table for a discount. You'll need both plugins to get a trade login area complete with trade order forms.
Add a WooCommerce trade login area today!
WooCommerce is an excellent way to sell online, but it's designed to work best for smaller, more traditional stores. If you're building a trade shop, then you'll need a WooCommerce trade plugin to add the extra features you need.
The WooCommerce Wholesale Pro plugin adds everything you need for a professional trade login and B2B area.
Complete range of trade features - trade login and registration forms, trade discounts, trade-only products, unlimited user roles, quick order forms, and more!
Full documentation, support and video tutorials.
Love it or your money back!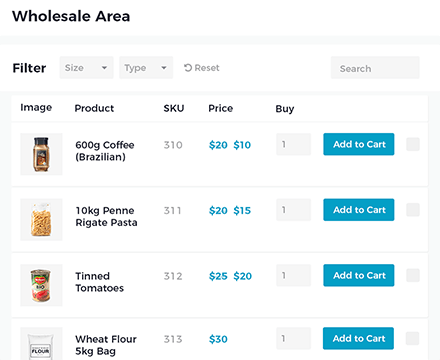 Install WooCommerce Wholesale Pro today and get a complete wholesale store - the easy way!
Do you have any questions about how to use WooCommerce trade login plugins effectively on your site? Let us know in the comments section below!
Image credit: Luke Jones.