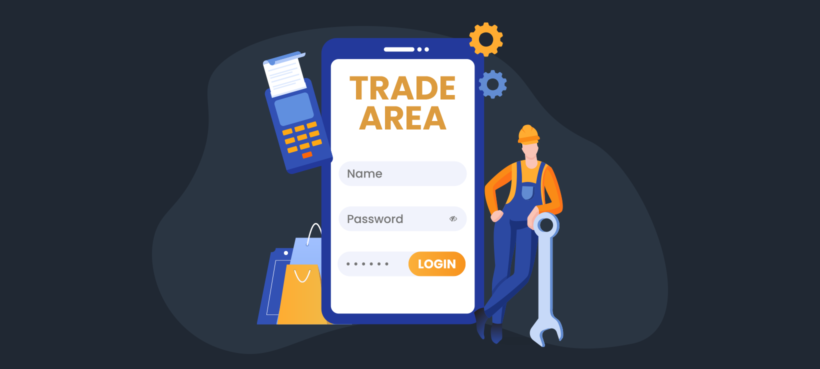 If you're running a wholesale ecommerce store or trade shop, then you know this type of business comes with particular challenges. You'll need to find a way to display all your items effectively and cater to multiple types of customers. A WooCommerce trade account plugin is an essential part of this.
Fortunately, there are plenty of tools that can help you out. This is especially true if you've built your trade shop using WordPress and WooCommerce.
With a WooCommerce trade account plugin, you can get the exact functionality you need to keep your ecommerce platform running smoothly.
In this article, we'll talk about why your store might need a WooCommerce trade account login. Then we'll show you how to use the best WooCommerce trade account plugins and explain how to add a trade-friendly order form to your site. Let's get started!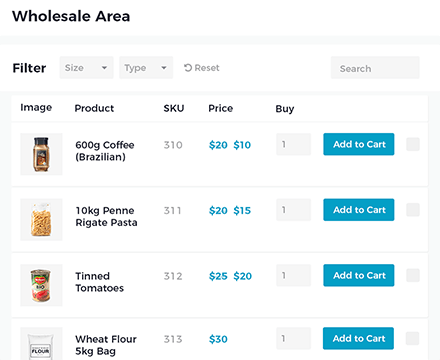 Install WooCommerce Wholesale Pro today and get a complete B2B trade store - the easy way!
Introducing WooCommerce trade accounts
In WooCommerce, a trade account refers to a hidden eCommerce area designed for businesses and customers placing wholesale or trade orders. It is a distinct type of account that offers specific pricing and a user experience tailored to the needs of trade customers. Trade accounts provide a platform for trade customers to access these exclusive features.
Benefits of trade accounts in WooCommerce
There are lots of reasons to offer a trade account facility in your WooCommerce store:
Exclusive pricing: WooCommerce trade accounts allow you to offer trade customers exclusive pricing. This enables you to provide wholesale discounts and special pricing based on trade status, order volume, or other criteria. It helps foster stronger relationships with trade customers and encourages repeat business.
Tailored catalogs and products: With trade accounts, you can customize product catalogs specifically for your trade customers. This allows for the presentation of trade-only products or variations. You can highlight trade-specific items, and hide products only intended for retail customers. This improves the browsing experience for trade customers as they only see the products which are aimed at them.
Streamlined ordering process: The best WooCommerce trade account plugins provide a streamlined ordering process tailored to the needs of trade customers. They may include features such as bulk order forms, quick reordering of previous purchases, and advanced search options. This simplifies the buying experience, saves time, and improves efficiency for trade customers.
Account management and insights: WooCommerce trade accounts offer dedicated dashboards where trade customers can manage their account information, track order history, view invoices, and access other account-related features. It provides transparency and convenience for trade customers, enhancing their overall experience and facilitating efficient account management.
Enhanced customer support: Trade accounts often come with dedicated customer support channels, providing trade customers with personalized assistance and faster response times. It ensures that trade customers receive the necessary support and guidance for their specific needs, building trust and loyalty.
Increased order minimums and credit terms: Trade accounts allow businesses to set higher minimum quantities for trade customers, ensuring profitability and efficient order processing. Additionally, trade accounts can offer credit terms or payment methods tailored to the needs of trade customers, enabling them to manage cash flow effectively.
Industries that can benefit from having a trade account
Trade account functionality can benefit a variety of industries that engage in business-to-business (B2B) transactions. Here are some examples:
Wholesale distribution: Industries involved in wholesale distribution, such as electronics, consumer goods, or building materials, can benefit from trade account functionality. It enables them to offer custom pricing, bulk order options, and personalized catalogs to their B2B customers.
Manufacturing and industrial supplies: Manufacturers and suppliers of industrial equipment, machinery, or raw materials can utilize the WooCommerce trade account to provide B2B clients with specialized pricing, product customization options, and streamlined ordering processes.
Hospitality and food service: Industries like restaurants, hotels, or catering services can benefit from trade accounts to access exclusive pricing, bulk ordering capabilities, and specialized product ranges for their specific needs.
Health and beauty products: Suppliers or distributors of health and beauty products, such as cosmetics or salon supplies, can utilize trade account functionality to offer different prices, bulk ordering discounts, and personalized product recommendations to their B2B customers in the beauty industry.
Professional services: Industries offering professional services, such as consulting firms, marketing agencies, or software development companies, can benefit from trade account functionality by providing exclusive access to specialized services, discounted rates, and personalized support for their WooCommerce B2B client portals.
Educational materials: Companies involved in the production or distribution of educational materials, textbooks, or e-learning resources can utilize trade account functionality to offer discounted pricing options, bulk ordering options, and customized catalogs to educational institutions and B2B customers in the education sector.
Why you might need additional tradeshop plugins for your WooCommerce store
When it comes to building an online store of any type, WordPress is an excellent platform. It's secure, beginner-friendly, and quick to set up. While WordPress does lack specific e-commerce features, these can easily be added using a trade shop plugin such as WooCommerce.
Small, basic shops may not need anything else. However, wholesale stores and trade shops have particular needs, which might not be fully met by WooCommerce. For example, here are just a few of the special challenges facing online trade stores:
Out of the box, WooCommerce doesn't differentiate between different types of customers. There's no way to separate out the experience for retail and trade customers. You can't charge dynamic pricing, show different products, or provide a separate WooCommerce trade account facility.
Trade buyers have different needs from retail shoppers, as they already know what they want and need a quick way to make their selections. You might be selling hundreds or thousands of items, so you'll need a way to organize them effectively and help trade users find what they need quickly.
WooCommerce assumes that your store will be available to the public. However, if you're only selling to other businesses, you might want to hide your entire store from public view.
To add these features to your trade shop, you'll need some additional tools. As it turns out, the WooCommerce Wholesale Pro account login plugin is perfect for the job.
The best WooCommerce trade account plugin

Now, let's look at WooCommerce Wholesale Pro - a WooCommerce trade account plugin that will help you customize your store. It's perfect whether you're creating a trade-only shop or a WooCommerce store with separate public and trade areas.
WooCommerce Wholesale Pro has all the features you need for trade login and every other part of your B2B area.
Trade account and user registration
Trade users can register for an account and log in on the trade account page. This gives them access to the trade-only section of WooCommerce, which normal retail customers can't see.
As the administrator, you can choose whether to allow trade users to register and log in immediately, or hold their application for approval first. Moderating new B2B users adds an extra layer of security to your trade login.
Here's an example of a WooCommerce trade account and registration form in action. NRD Web Design used WooCommerce Wholesale Pro for their client Best Remy Hair Extensions. They added 'Wholesale Login' and 'Wholesale Registration' links to the website header, intuitively driving trade users to the private section.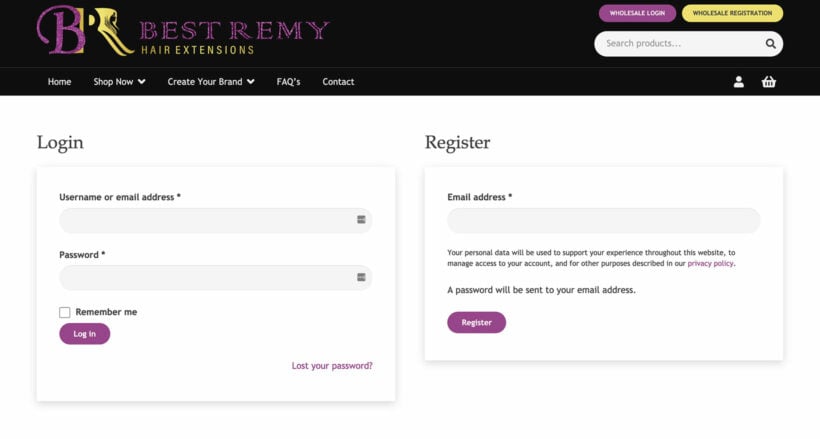 WooCommerce trade prices
Nearly all B2B stores offer special trade-only pricing rules to logged-in users. Retail customers pay the recommended retail price (RRP), whereas trade users get variable discounts on the RRP.
WooCommerce Wholesale Pro makes it easy to add product pricing to WooCommerce. Logged in wholesale buyers will see the discounted pricing, and retail customers continue to see the standard pricing.
You can even add multiple wholesale user roles, each with percentage discounts. This is ideal if you offer tiered pricing or role-based pricing in your WooCommerce trade store.
Trade-only products
With WooCommerce Wholesale Pro, you can either sell the same products to everyone (with the correct trade pricing for B2B users, of course) - or you can sell different wholesale products to the two groups.
Each product category has the option to show it to public shoppers, trade users, or both. This makes it easy to sell trade-only products which are hidden from the retail store.
This feature is also ideal for creating a 100% private store, with no retail area. Simply mark all the categories as 'Wholesale Only', and your formerly public shop disappears from view! Only logged in B2B customers can see it from the private WooCommerce trade login area.
How to set up a WooCommerce trade account area
To get started, you'll first want to purchase and install the WooCommerce Wholesale Pro plugin. Then, you'll need to activate your license key. Navigate to WooCommerce → Settings, and select the Wholesale tab: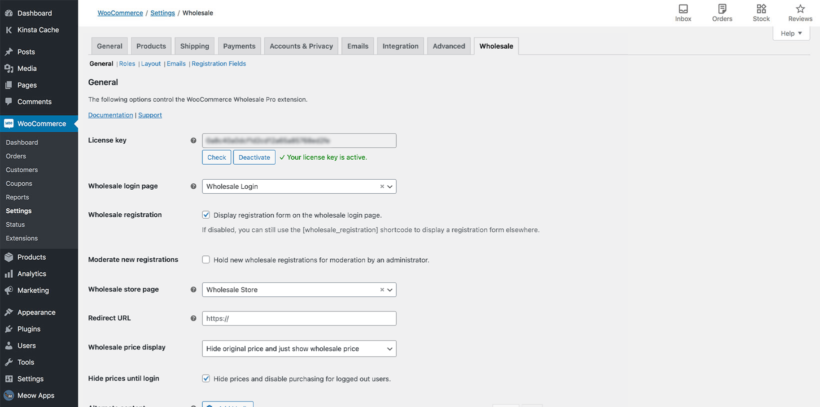 Enter your license key here, and click on Save changes at the bottom of the page.
Next, you'll want to configure the powerful plugin's settings. These are all located on the same Wholesale page. Choose a shop page to use for the trade login, and decide whether to enable WooCommerce trade account registration (with or without moderation).
There are lots of other options for customizing your trade login area. Go through all the settings and set it up exactly as you like.
That's it! Now you can start adding trade users who can log into the B2B area or add them manually via the WordPress admin.
Create trade-only order forms for your WooCommerce store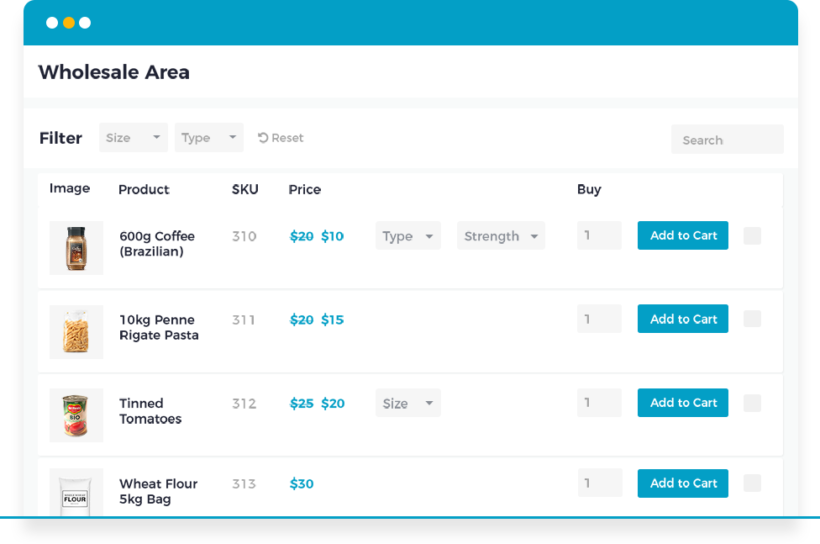 By now, you know how to add a private WooCommerce trade account area to your store. Trade users can easily log into their accounts and access trade-only products and pricing. But what about the actual experience of using your WooCommerce trade shop?
Retail customers are happy to spend time browsing and choosing products. By default, WooCommerce is set up so that customers have to visit individual product pages to see and purchase each item they want. That's fine for most retail customers, who want to look at large images and read lots of information before making a decision. However, your trade users have completely different needs.
This creates a terrible user experience for a WooCommerce trade store, however. You're selling a lot of products, and customers are likely to place large orders for multiple items at once. Requiring them to visit each specific product page will only slow them down.
Logged in trade customers already know all about your products. They've bought them before and are simply reselling them to their own customers. They don't want to waste time browsing or looking at pictures. Instead, they need to quickly view a list of all your trade products, where they can choose product quantity and add multiple products to the checkout at once.
You can do this by using WooCommerce Wholesale Pro with its sister plugin, WooCommerce Product Table. This adds a quick order form layout which perfects your WooCommerce trade shop.
What features can your WooCommerce trade order form have?
WooCommerce Product Table makes it easy to create a customizable one-page order form. It lists all of your items on the main trade store page, and also works on product category pages in the trade login area: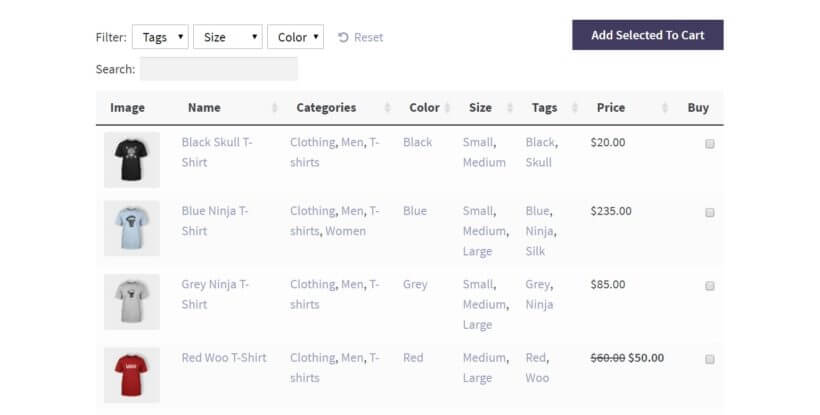 Woo Product Table lets you:
Make product comparisons simple, by showing off everything you have to offer side by side.
Display exactly the information you want in your order form, and even include product variations.
Help people find what they want quickly, by using searching, sorting, and filtering functionality.
Enable customers to tick all the items they want and purchase them from one page.
Enable the wholesale order form layout in the trade login area without affecting the experience for retail users. Or if you prefer, you can use it in the retail area too!
Where to get the trade order form
When you buy WooCommerce Wholesale Pro, you can choose whether to buy it on its own, or with WooCommerce Product Table for a discount. You'll need both trade shop plugins to get a trade login area complete with trade order forms.
Setting up user roles and permissions for trade customers
Setting up user roles and permissions for trade customers is a crucial aspect of managing wholesale operations using WooCommerce Wholesale Pro. This WordPress buy sell trade plugin offers robust features that allow you to customize user roles and access. Here's how you can set up user roles and permissions for trade customers using the best WooCommerce Wholesale plugins:
Creating custom user roles: WooCommerce Wholesale Pro enables you to create custom user roles specifically for trade customers. You can define roles such as "Wholesaler," "Trade Customer," or any other relevant designation. These roles will differentiate wholesale customers from regular retail customers within your WooCommerce system.
Assigning capabilities: Once you've created the custom user roles, you can assign specific capabilities or permissions to each role. Capabilities determine what actions or features a user with that role can access.
Controlling catalog visibility: WooCommerce Wholesale Pro allows you to control which variable products or product categories are visible to trade customers. You can set up rules that restrict certain products to wholesale customers only, ensuring that they have access to trade-specific offerings. This customization ensures that wholesale customers see relevant products and helps streamline their browsing experience.
Restricting access to non-wholesale areas: WooCommerce Wholesale Pro gives you the ability to restrict wholesale customers' access to non-wholesale areas of your wholesale website. This prevents them from accessing retail-specific features or wholesale prices that are not relevant to their WooCommerce trade account. By limiting access, you create a focused and streamlined experience for wholesale customers.
Integrating with user role management plugins: WooCommerce Wholesale Pro integrates with popular user role management plugins, such as "Members" or "User Role Editor." This integration provides additional flexibility and control over different user roles and permissions. You can leverage these WordPress buy sell trade plugins to fine-tune and customize the capabilities and access levels of WooCommerce wholesale suite further.
Add a WooCommerce trade account area today!
WooCommerce is an excellent way to sell online, but it's designed to work best for customer-facing retail stores. If you're building a trade shop, then you'll need a WooCommerce trade account plugin to add the extra features you need.
The WooCommerce Wholesale Pro plugin adds everything you need for a professional trade account and B2B area. Either use it to power your entire store, or run it alongside your main retail shop.
Complete trade features include trade login and wholesale registration forms, trade cart discounts, trade-only products, unlimited user roles, quick order forms, and more!
Full documentation, support, and video tutorials.
Love it or your money back!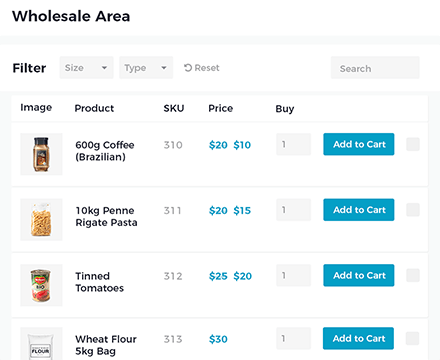 Install WooCommerce Wholesale Pro today and get a complete trade store - the easy way!
Do you have any questions about how to use WooCommerce tradeshop plugins effectively on your site? Let us know in the comments section below!
Image credit: Luke Jones.