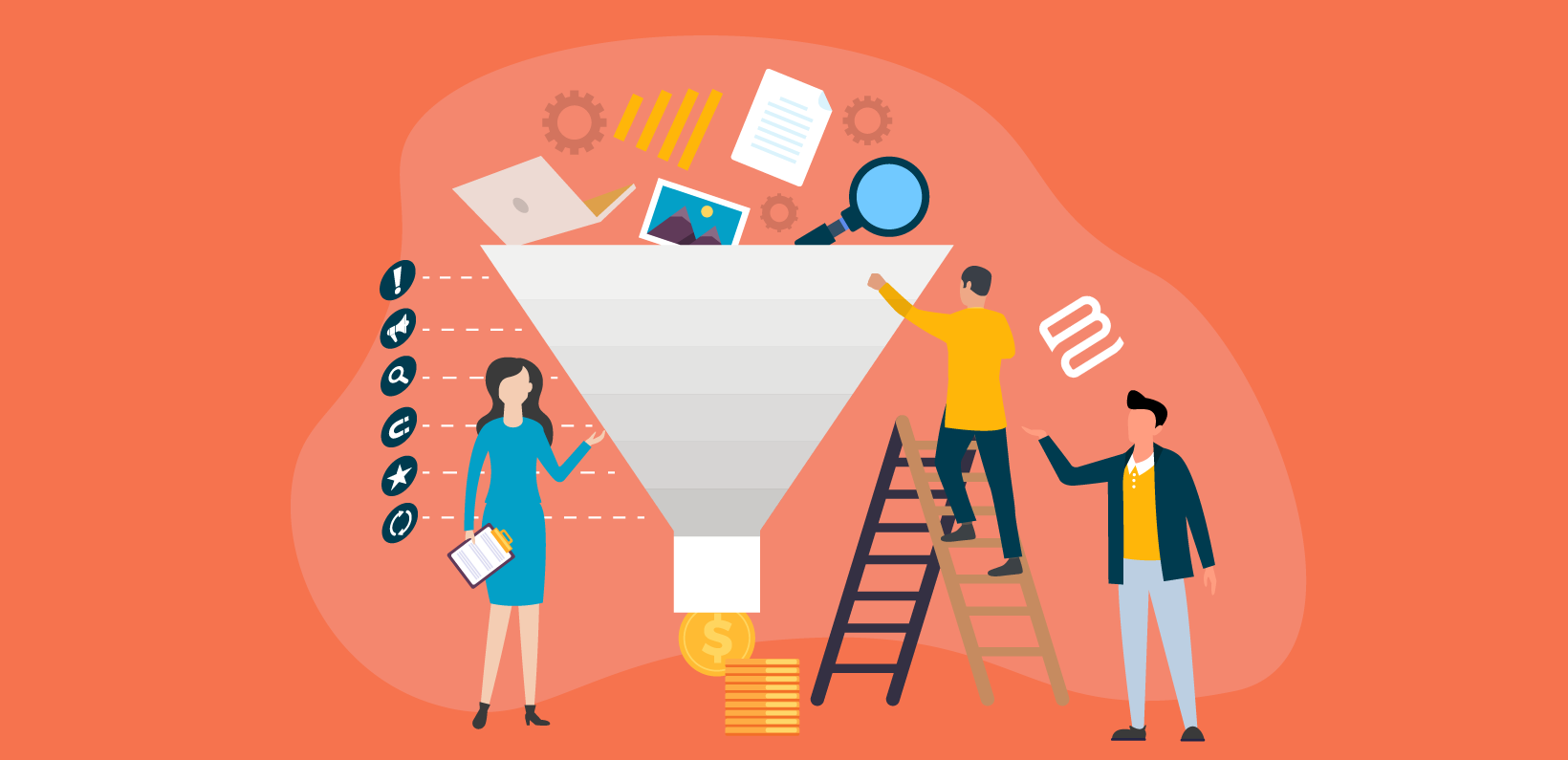 When you run a WooCommerce store, your main goal is to get more people to purchase your products. Creating a WooCommerce sales funnel helps you accomplish that.
See, when a new visitor lands on your WooCommerce store, they may or may not be ready to make a purchase right away. Some visitors know exactly what they want and have their credit card to hand, while others are just testing the waters to see what their options are and it might be their first interaction with your brand.
A WooCommerce sales funnel helps you do two things:
Connect with visitors at their current spot on the "user journey" (more on this term later).
Move visitors through this journey to eventually convert them into being a customer (and then, hopefully, a repeat customer).
In this post, you'll learn more about what the eCommerce user journey is and why it matters to your store. Then, we'll finish with some actionable tips on how to apply your newfound knowledge to build a successful WooCommerce sales funnel that gets you more sales.
Understanding the eCommerce store user journey
In order to create an effective WooCommerce sales funnel, you first need to understand the eCommerce user journey.
The user journey details a predictable path that your customers will take, starting from never having heard of your brand and eventually finishing with them purchasing your product.
There are four stages in the customer journey:
Awareness Users have discovered your brand but they don't know very much about what you offer.
Consideration Users are digging into your products and considering exactly what you have to offer.
Preference Once users know what you have, they'll do their research to pick the best option. For example, reading reviews and comparing product details.
Purchase If a customer has made it this far, all you need to do is make it easy for them to purchase...and then keep them coming back for more.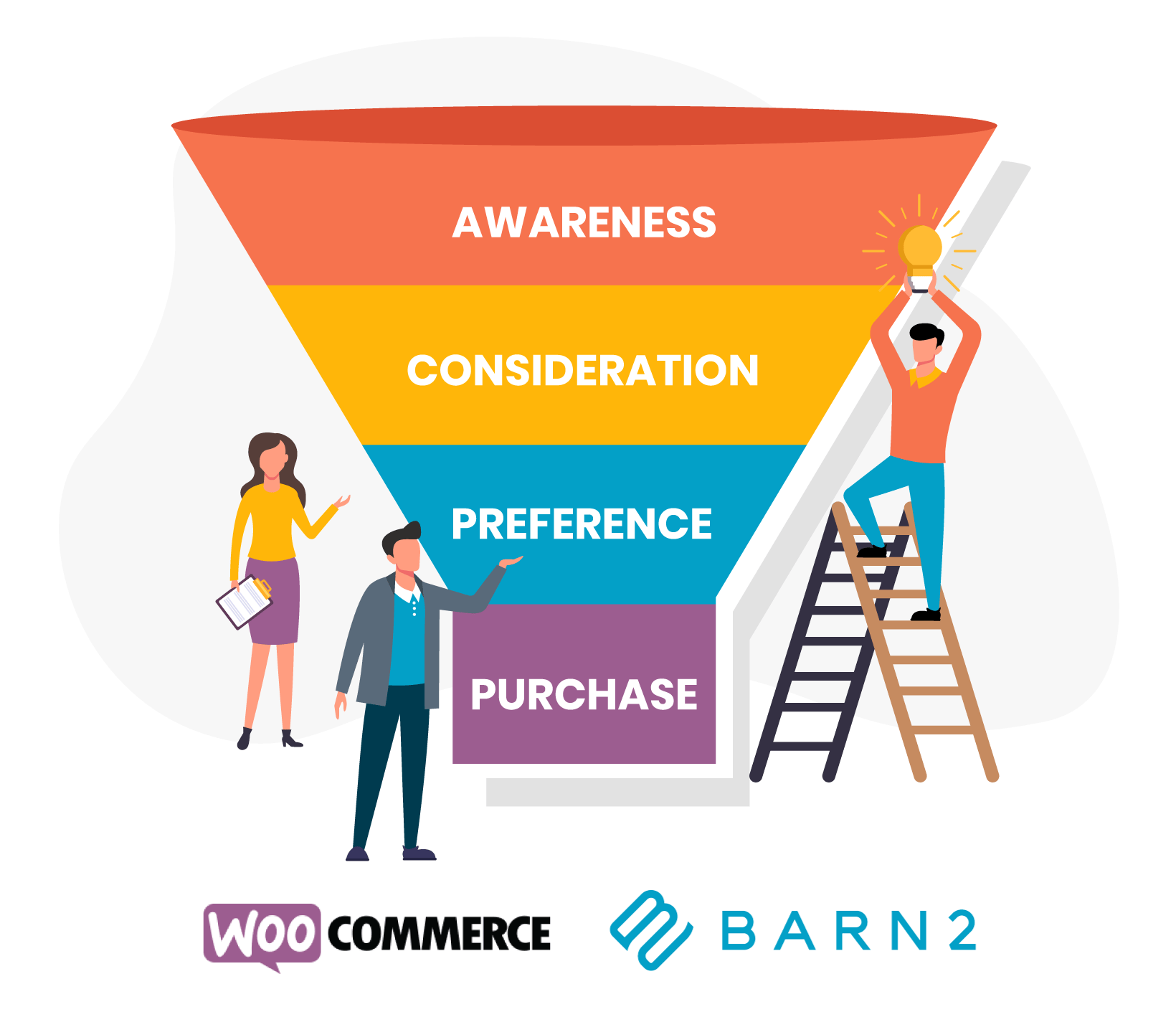 Examples of users at different stages of the journey
To better illustrate the user journey on your online store, let's look at a real example of how it might look for a customer to move through the WooCommerce sales funnel.
In this case, it will be John.
John is looking for a new straight razor for shaving. He's still a little unsure of whether he wants a straight razor or if he should just stick with the cartridges he gets from the store, though.
Awareness
The awareness stage typically starts with a customer finding you through one of your marketing channels.
For example:
Content that you've ranked in Google via search engine optimization (SEO)
Social media posts
Ads that you're running (Facebook, Google, etc.)
At this stage, John is just looking for his options - in fact, he's not even 100% sure a straight razor is right for him.
To help him make his decision, John searches Google for "straight razor vs regular razor" and finds a comparison page on your site.
Now, even though he's not on a product page, John is aware of your brand.
Consideration
After reading through your comparison, John decides that he does want a straight razor. And, since he's already on your store, he decides to hop over to your product pages to see what types of razors you offer.
John isn't ready to buy yet - but he's a lot closer than he was when he made that first Google search.
Preference
After browsing your shop, John found a few straight razors that he likes and within his budget.
Now, to make sure they're right for him, John is going to do some more detailed research into each product, like reading the reviews and looking more closely at product details.
Purchase
After he read the reviews, John is totally convinced that your blue straight razor is the right product for him.
But he also might need some other products, like shaving cream and a brush. Magically, your store suggests those products to John and he adds them to his cart.
To finish things out, John just wants it to be as easy as possible to complete his purchase.
How to move users through your WooCommerce sales funnel
Now that you understand the customer journey on your store, the next step is to structure your store so that it most effectively moves shoppers from the awareness stage to the purchase stage.
This is your WooCommerce sales funnel.
It draws in shoppers at the various stages and then moves them through to eventually convince them to make a purchase.
Here's how to structure your store and what content to offer to most effectively move users through the WooCommerce sales funnel.
1. Create awareness with targeted content and advertisements
To attract users in the awareness stage, you don't want to create content that's overly focused on your own products.
Instead, aim for educational content in your blog and social media strategies. Users aren't even aware of your brand yet, so you're not going to accomplish much by trying to sell right away.
You can use this top-of-the-funnel content to simply attract customers who might be interested in what you have to offer. Once you get them on your site, the rest of your funnel will draw them in and move towards more sales-focused content.
If you have a marketing budget, you can also create awareness with paid advertisements via services like Google Ads and Facebook Ads.
Thanks to the targeting features in these ad platforms, you can only display your ads to people who are interested in what you have to offer.
2. Make it easy for shoppers to browse your products (consideration)
In the consideration/interest phase, people are now more open to learning about your brand and products.
This is where you can start being a little more aggressive in promoting your products, though you should be aware that shoppers aren't ready to make their purchases quite yet, so they aren't ready for a "buy now" approach.
Here, you just want to make it as easy as possible for people to learn about your brand and products on your store's front-end.
For example, you need to ensure that your shop page offers search and filter options so that shoppers can find the products they're interested in.
To make it easier for people to browse all your products, you can use the WooCommerce Product Table plugin to create a table layout of your products. A table layout lets you show more details about each product in less space. And it also gives shoppers the ability to search and filter your entire product catalog without needing to reload the page:
You also want to make it easy for people to learn about your brand. To accomplish that, you can create a dedicated "About Us" landing page and other educational content around your brand. If you're not sure how to build a styled page, you can use a page builder WordPress plugin like Elementor, Divi, or Beaver Builder.
Of course, even if shoppers are interested in your products, they might leave your store before moving on to the next stage in the journey. To bring those people back to your site and keep moving them through your WooCommerce sales funnel, this is a great spot to run retargeting ads on platforms like Google and Facebook.
3. Help users decide with reviews and details (preference)
If you've done your job right in the consideration stage, shoppers have now settled on some specific products.
In this stage of the WooCommerce sales funnel, you want to make it as easy as possible for shoppers to compare products and read reviews.
To help users understand products, make sure to include detailed descriptions, along with applicable information like:
Product dimensions and weight
Size guides
Information on materials
Colors
Etc.
If you're using WooCommerce Product Table, you can include this information directly in your product table, which makes it easy for users to compare products and saves them from having to navigate to a separate page for each product they're interested in. You can also include variable products and list all of the variations.
This is also where you want to showcase customer review ratings.
If you need more space to display detailed product descriptions and customer review ratings, you can use the WooCommerce Quick View Pro plugin to add a product quick view button to your store.
When a shopper has found a product they're interested in, they can click the button to view more details in a popup without needing to leave the page.
WooCommerce Quick View Pro also integrates with the WooCommerce Product Table plugin, which lets you combine both approaches.
4. Make it easy for shoppers to purchase (and increase the order value)
By making it easy for the shopper to see key product details and reviews, they should be ready to make their purchase.
Now, you have two goals:
Make it as easy as possible for them to check out to avoid shopping cart abandonment.
Encourage them to increase their order value, either by increasing the quantity of the item they're purchasing or purchasing additional products.
To the first goal, you'll want to clearly state shipping and return details, as those are two big causes of shopping cart abandonment. You'll also want to offer popular payment gateways like Stripe and PayPal, as lack of good payment options is another big cart abandonment factor.
You also want to streamline your checkout page as much as possible - an optimized one-page checkout process makes a great option here. Learn how to create a one-page WooCommerce checkout.
Encourage shoppers to buy more products
To encourage larger average order value numbers, there are a few strategies that you can employ.
First, consider revenue-boosting tactics like upselling and order bumps:
Upsell Upgrade the customer to a higher-value product (downsells are the opposite, and also make sense sometimes).
Order bumpEncourage add-ons to the product a shopper is purchasing.
WooCommerce itself comes with options to display related products on the product page (upsells) and cart (cross-sells). To set up WooCommerce upsells and cross-sells, you can follow this guide.
For even more sophisticated ways to sell more products, we highly recommend the Iconic Sales Booster plugin. This has lots of extra features including more advanced upselling opportunities and an 'order bump' feature where you can promote related products on the checkout.
Encourage shoppers to purchase bigger quantities
Second, consider encouraging shoppers to purchase higher quantities. The WooCommerce Default Quantity plugin lets you subtly encourage this behavior by changing the default quantity for some or all of your products.
Don't forget email marketing!
Finally, don't forget about post-purchase engagement. To turn one-time customers into repeat customers, you can send regular emails and use retargeting ads to bring them back for more purchases in the future.
Create your WooCommerce sales funnel today
Creating an optimized WooCommerce sales funnel is a game-changer for boosting your online store's conversion rate.
To optimize your WooCommerce sales funnel and increase conversions, you'll want to structure your store so that it reaches users in each stage of the buying journey.
You can create awareness with educational content and targeted ads.
Then, to help move shoppers from consideration to preference to purchase, you can use WooCommerce plugins like WooCommerce Product Table to create an optimized shopping experience that makes it easy for shoppers to research and compare your products: