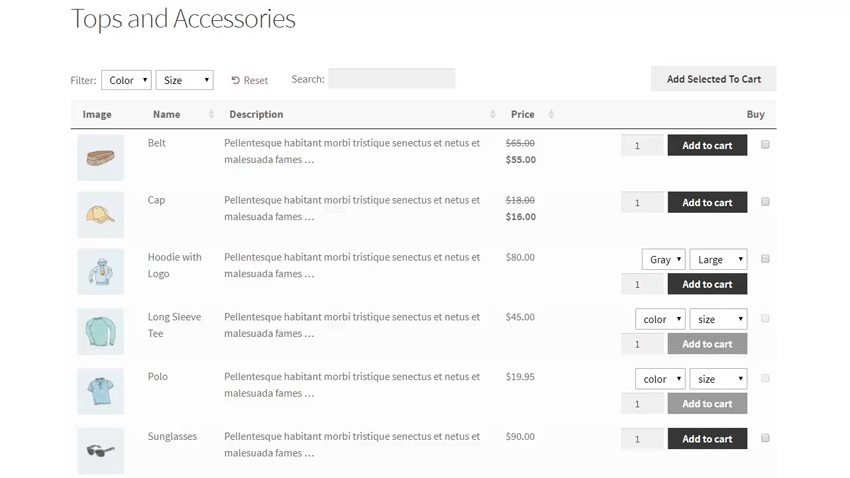 It may seem like a struggle, but it can be quite easy to add product variations in WooCommerce. As it comes, WooCommerce doesn't offer the most intuitive user experience to either customers or store owners. Thankfully, there are multiple WooCommerce product variations plugins that can help create and customize product variations. Keep reading to know about the available solutions and how to enhance your customer experience.
As an online store owner, you might want to offer multiple variations of the same product to your customers. For example, you might want to sell a notebook in different colors, a cake with toppings of your choosing, a table in different types of wood etc. WooCommerce has an easy way to let customers view and select the product variation of their choice.
In this article, we're going to learn how to set up product variations, understand the limitations of WooCommerce, and explore a viable way to:
Let the store owner add and edit variations more quickly and easily.
Let customers view and select product variations from other parts of your shop - not just on the single product page.
We are also going to explore the best WooCommerce product variations plugins and understand the functionality they have to offer.
How to set up product variations in WooCommerce
You probably already know that WooCommerce is one of the best (and easiest) ways to create an e-commerce site using WordPress. It lets you add all of your products to your store and creates an individual product page for each of them.
For each product you add to your online store, WooCommerce gives you the option to add product variations. WooCommerce products have variations whenever they come in multiple options. For example, this may include, sizes, colors, patterns, flavors, toppings, or materials – depending on the types of products you're selling.
In order to set this up, we'll be using attributes and variations. Let's first understand the difference between them. 
Product attributes vs variations
Product attributes

are essentially details about the product like weight, size, color etc. They give the customer a better understanding of the product before purchase.

Product variations

on the other hand are actual

choices

that you're offering the customer between variations of the same product. 
Let's understand with an example: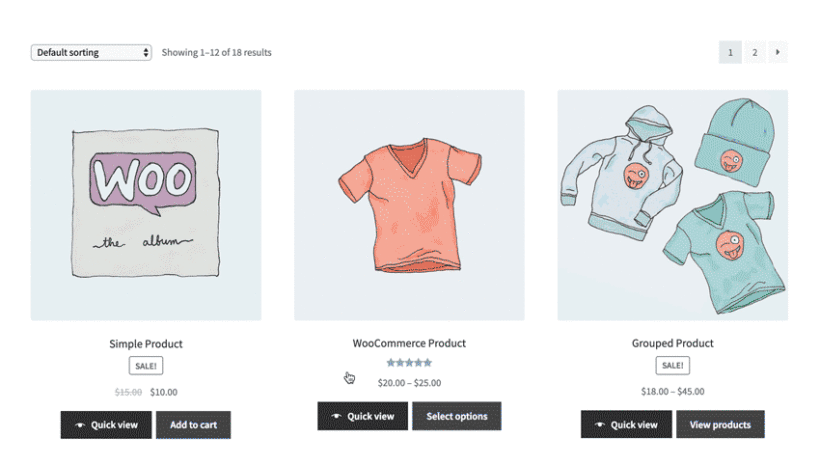 Here, the product variations are the color and size that a customer can choose. The product attributes are details like the category, description, SKU etc. 
With that in mind, let's look at how to set up product variations in WooCommerce using the example of a stationery store.
#Step 1: Create your product attributes
The easiest way to create product attributes is by navigating to Products → Attributes and adding an attribute. Let's say you're selling a notebook in

multiple

colors and with ruled/unruled options. You could set up attributes with the name "Color" and "Line" and then click "Add Attribute".

Next you'll need to click on "Configure Terms" to add details about the variations. You could add terms like "yellow", "green" and "black" for the Color attribute and terms like "ruled" and "unruled" for the Line attribute.

You can set up as many attributes as you'd like in the same way.
Step 2: Assign attributes to your products
Once your attributes are created, you need to allot them to their respective products. Open your Product and navigate to "Product Data". Click on the drop down menu next to it (it is set to "simple product" by default). Here you need to choose "Variable product".

Now click on "Attributes" from the right side menu and add your attributes one by one.

You can see the terms that you added in the previous step listed under "Values". Make sure to select both "Visible on the product page" and "Used for variations".

Step #3: Create your WooCommerce variations
Now click on "Variation" from the left side menu. Select "Add Variation" from the dropdown menu and click on "Go".

Now all you have to do is choose your attributes and configure settings like price, size, weight, SKU etc - as per your preference.

Hit "Save Changes" once you're done. You can then create as many variations as you'd like.
2 problems with product variations in WooCommerce
Problem #1: Difficult to edit multiple variations at once
If you follow the instructions above, you'll see that the process is absolutely fine for adding one variation. But what if you want to add lots of variations to a product? That's when it starts to get really time-consuming.
To speed up the process of creating multiple variations, simply install the WooCommerce Bulk Variations plugin. This handy plugin adds some extra features . These allow you to filter the list of variations and apply bulk actions to them:
Install WooCommerce Bulk Variations.
Open the 'Variations' tab on the 'Edit Product' screen.
You will see a new 'Filters' bar above the list of variations. Use this to select all the variations that you want to edit at once.
Next, use the bulk actions dropdown above the filter bar (which normally says 'Add variation') to select a bulk action. For example, you can bulk-edit variation prices or set the same image for all the selected variations.
This is much faster than setting prices and other data for each variation individually.
Problem #2: Limit ways to display variations to customers
Although WooCommerce lets customers view and select product variations on the single product page, that's the only place you can display them. This isn't the best possible solution for most store owners.
Here are a few reasons why:
Product variations aren't as prominent as they can be.
Comparing the variations on offer with different products is difficult.
Customers have to navigate to the individual product page to be able to view the available variations.
The good news is that you can easily address these problems by adding a WooCommerce product variations plugin. Keep reading for our selection of the best.
The top 3 WooCommerce plugins to display product variations
As you can see, WooCommerce's default single product page isn't always the best option for displaying product variations. Let's explore the best WooCommerce product variations plugins to present product variations to customers:
Method #1: Use WooCommerce Product Table plugin to list products in a table view
WooCommerce Product Table lets you list variable products in a searchable, sortable, and filterable table layout.
Customers are able to view and select the exact product and variations they're looking for using its extensive filtering options. In this way, it can be used as a WooCommerce product variations plugin.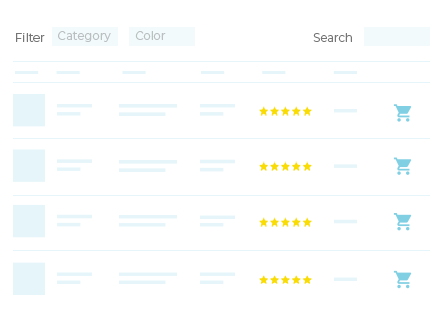 An easy-to-use plugin for listing WooCommerce product variations in new ways to boost sales!
The WooCommerce Product Table plugin enables you to
List variable products on your main shop page, category pages or any other page in your online store




List

variable products

in two different formats in your table layout. You can choose to display them as either:
Dropdowns in the Add to Cart column (perfect for businesses that sell clothes, shoes, or food)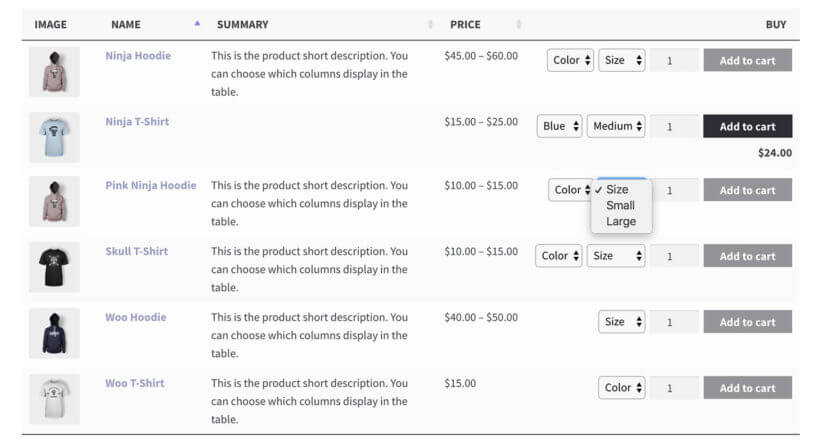 Separate rows in the product table layout (perfect for businesses selling spare parts or large products like furniture or mattresses)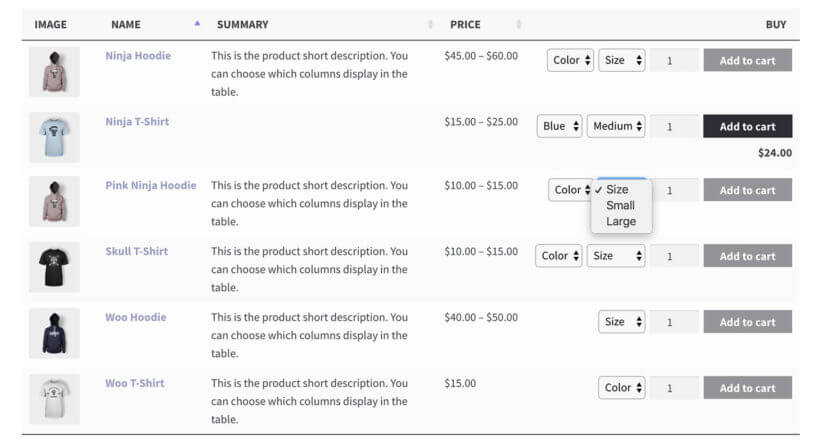 Creating product tables with proper variable products enables customers to view and select variations from any of the pages you choose to display the variation on instead of having to navigate to the individual product pages. This significantly improves the user experience your site delivers.
WooCommerce Product Table an ideal solution for creating product catalogs, restaurant menus, order forms, and wholesale stores.
Method #2: Use WooCommerce Quick View Pro plugin to display product variations in a quick view lightbox
Woo Quick View Pro is a different type of WooCommerce variations plugin. It lets you present product variations in a lightbox view. In addition to the variations, you're also able to display product images and galleries, details, and purchasing options.
Customers are able to open the lightbox either by clicking on the product's name (or image) or by using the Quick View button. If you choose to enable the option to launch the lightbox by clicking on the product name or image, links to the single product page will automatically be disabled.
The WooCommerce Quick View Pro plugin is ideal for variable products that are best presented with images and galleries e.g. fashion items, food, and tech products. It's also perfect for products that don't require images, but have multiple variations.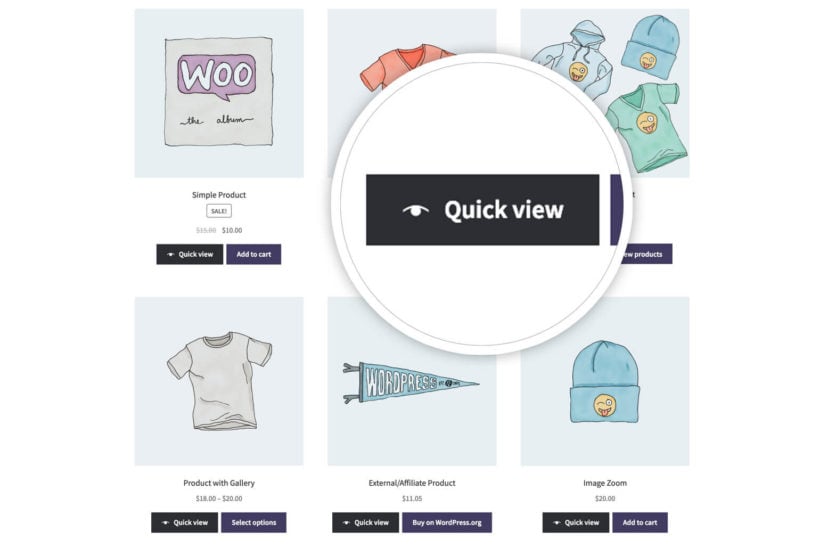 Either way, the plugin lets you replace the single product page with a lightbox. What this means is that you can display the information customers need to make a buying decision and choose variations directly in the quick view lightbox. So, instead of clicking through to the single product page, customers can select product variations and make a purchase directly from the main shop page or category pages. There's no need to visit a separate page for each product.
With the WooCommerce Quick View Pro plugin, you can display the following information in the lightbox:
Product name
Product image (and full gallery)
Reviews
Price
Quantity selector
Product variations
Add to cart button (including variation dropdowns and quantity picker)
Product details (such as SKUs and categories)
Method #3: Use WooCommerce Bulk Variations plugin to list products in a bulk ordering grid or price matrix
The WooCommerce Bulk Variations plugin lets you list WooCommerce product variations in a user-friendly bulk ordering grid or price matrix.
It makes it easy for customers (particularly wholesale buyers) to quickly see the different product variations available, enter quantities, and add them to their shopping cart. It lets you display all of the attributes and options for a product in a neat grid layout.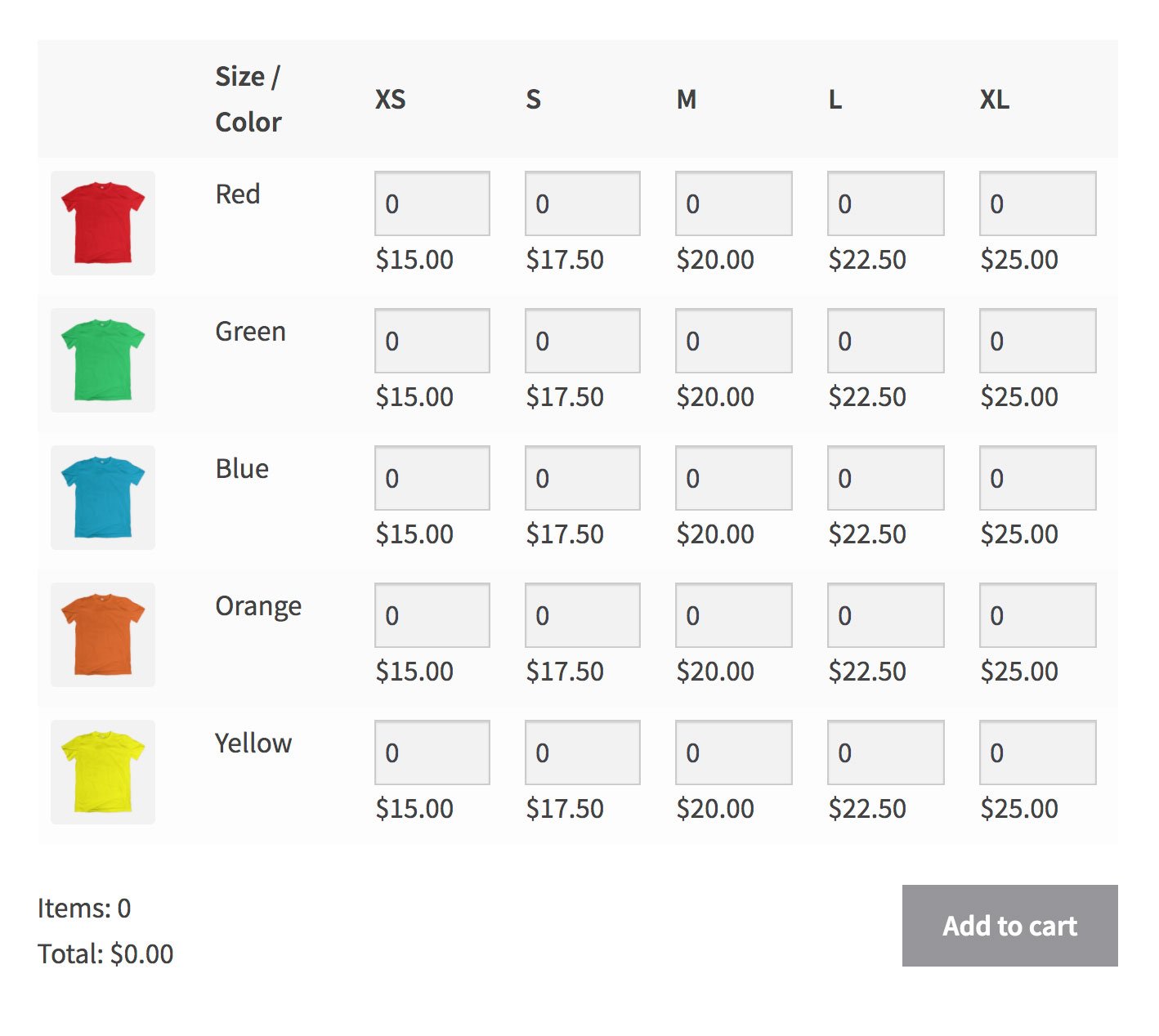 The easy way to sell more products with a user-friendly bulk variations grid or price matrix.
Why WooCommerce Bulk Variations is perfect for displaying product variations
The WooCommerce Bulk Variations plugin is great for displaying product variations for clothing and apparel, wholesale products, and products that are typically sold in large volumes. It's also the perfect choice for products that don't require images but may have several variations such as sweets and candies.
Using the WooCommerce Bulk Variations plugin, you can replace the single product page with either a bulk ordering grid or a simple price matrix. This is a great way to boost product variation visibility in your online store and make it easier for customers to buy more from you.
Instead of using dropdowns to select the correct product variation and adding items to their cart one at a time, customers can simply choose how much of each product variation they'd like to purchase, set the quantity, and add them to their cart in one go.
The key benefit here is that customers don't have to spend time adding variations to their shopping cart one at a time. This is the most intuitive way to sell variable products in WooCommerce.
Bonus: WooCommerce Bulk Variations is the only plugin in the market that enables you to display bulk variations with 3+ attributes in the grid, instead of just 2!
Where to get the best WooCommerce product variation plugins
You can use a WordPress product variations plugin to display variations in a:
Table layout as dropdowns or as separate rows - using WooCommerce Product Table.
Quick view lightbox complete with images, details, purchasing options - using WooCommerce Quick View.
A hybrid approach - using WooCommerce Quick View Pro with WooCommerce Product Table to add Quick View buttons to your product tables.
Bulk edit variations and display them in a grid layout - using WooCommerce Bulk Variations.
Product Table Quick View Bulk Variations
Now you know how to add product variations in WooCommerce and choose the best WooCommerce variation product plugin to display your variable products. You also know how to add variations in the WordPress admin, with bulk actions to save you time.
If you're looking for more WooCommerce product variation plugins to customize your product variations and improve your customer experience, you could consider the following.
Top 5 Alternative WooCommerce Product Variation Plugins
What else would you like to be able to do with your variable products? Let us know in the comments below.