If you use your WordPress website to sell upcoming events, you'll need an effective way to display them. While you can use a dedicated WooCommerce events plugin, this may weigh down your site – which is the last thing you'll want.
Instead, you can use the WooCommerce Product Table plugin to list events in an attractive and clearly organized way. This plugin is lightweight, easy to use, and very customizable. Plus, the product table you set up will make it simple for customers to see all their options and purchase tickets.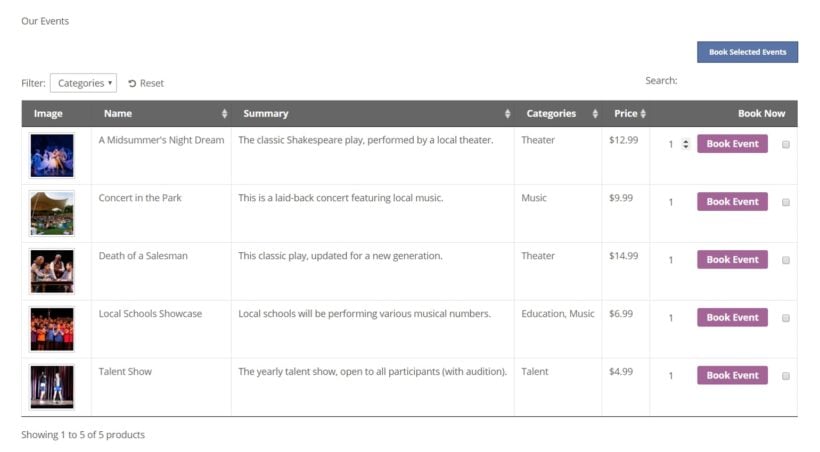 In this post, we're going to show you what this type of WooCommerce events page might look like, and how it can benefit you. Then we'll walk you through how to set one up. Let's get to work!
Why you need a better way to display WooCommerce events on your website
A WordPress website is a fantastic way to showcase events and gather an audience for them. You can promote them to existing customers and new visitors, provide all the information they'll need, and let them buy tickets or make reservations online.
What's more, you can use WooCommerce to create an events website quickly and easily. This will let you set up a dedicated page (i.e. a product) for each event. However, that does mean visitors will need to navigate through a lot of different pages to see all your WooCommerce events, which isn't ideal. The default WooCommerce store layout simply isn't appropriate for selling courses or events. 
The solution to this problem is displaying your WooCommerce products as an organized list of events on a single page. You can include the essential information about each event, providing visitors with what they need to make a decision without overwhelming them with details. They can quickly search and filter the list of events to find what they're looking for. Plus, they'll be able to make comparisons easily, choose the number of places they want to book, and even purchase tickets to several events at once.
Many people assume that in order to do this on a WooCommerce site, you'll need a feature-packed events plugin. While this will work, it can also weigh down your site. Keeping your pages fast is essential. To ensure this, you can opt for the lightweight (but still powerful) WooCommerce Product Table instead: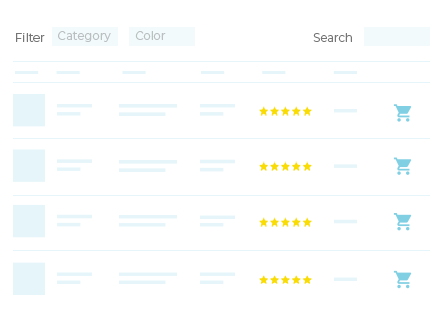 An easy-to-use plugin for listing WooCommerce products and events in new and flexible ways.
This plugin lets you create a product table organizing all your WooCommerce events into one place, and including whatever information you like about each one. It's a fantastic way to peak your visitors' interest and encourage them to sign up for more events.
And if you want to use WooCommerce Product Table with an events plugin, that's fine too. Just skip ahead to find out how.
What types of event can I sell in WooCommerce?
The fantastic thing about this method is that you can use it to sell literally any type of events. For example:
Live in-person events Admissions tickets, live music or comedy events, charity events, concerts, conferences, dating events, festivals, meet-ups, performances
Online events Livestreams, live coaching, online conferences, webinars.
Courses Bootcamps, classes, crash courses, test preparation or interview training, training courses, webinars.
Now let's see what a lightweight list of WooCommerce events looks like in action.
How Weave The Ring use WooCommerce to sell event tickets
To get a taste for what you can accomplish using the WooCommerce Product Table plugin, you can check out the website Weave The Ring: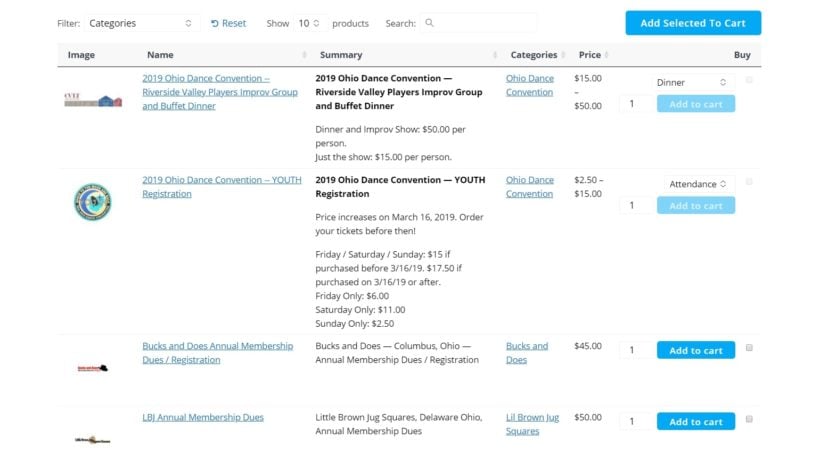 Here, you'll find a well-designed WooCommerce events product table. Each event is listed on its own row, along with key details such as its description, category, price, and even a featured image.
Customers can scroll through the table to see all the events on offer, or use the filter at the top to sort the table by a specific category. This helps them find what they're looking for more quickly. They can also click on each event's title to visit its dedicated page, in case they want more information.
When a visitor knows what event they want to see, they can use the quantity selector to choose how many people will be attending. Then, they can click on the handy Add to cart button to make their purchase. If they're interested in multiple events, they can even select everything at once using the checkboxes under the Buy column, then use the Add Selected to Cart button at the top of the table.
You may want to visit this site yourself, in order to try out the table and get a better sense for its functionality. Then, come back here to learn how to create your own WooCommerce events page!
How to create a WooCommerce events page (without using an events plugin)
Putting together a WooCommerce events table like the one on Weave The Ring is simple. However, there are a few things you'll want to make sure are done beforehand. These are:
Set up a WordPress website to promote your events (if you haven't already done so).
Install WooCommerce on your site, and run through its simple setup wizard to get it configured.
Enter each individual event as a WooCommerce Product, including all the information you'd like displayed in your events table. Create custom fields for displaying any extra information about each event, such as date and time. You can also add product variations, or even extra add-on options to sell extra options and collect information about each attendee (e.g. type of ticket, dietary requirements, etc.).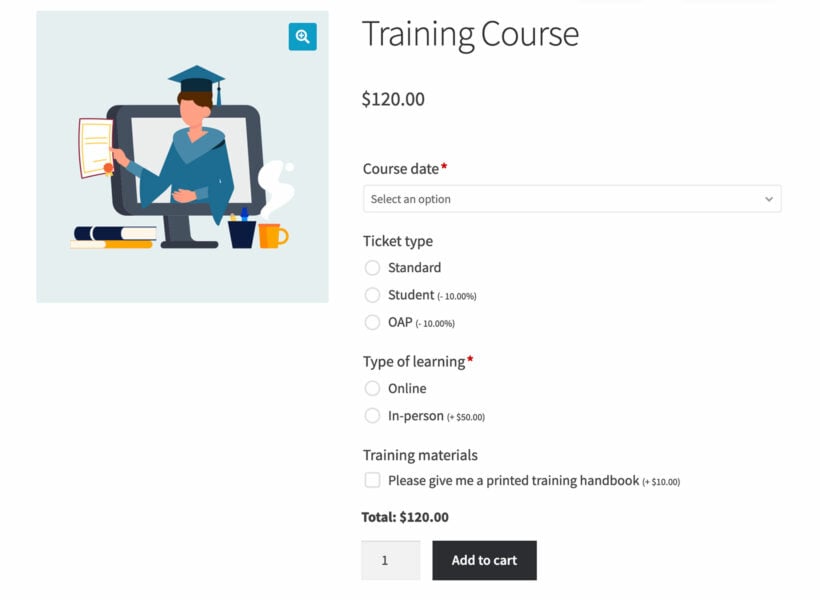 A training course with extra options sold using Barn2's WooCommerce Product Options plugin
Once those three tasks are checked off your list, you can follow the simple steps below to display your WooCommerce events effectively. The end result will look similar to our events list demo page.
Step 1: Install the WooCommerce Product Table plugin
Naturally, the first thing you'll need to do is get your hands on WooCommerce Product Table.
Buy WooCommerce Product Table here!
When you purchase the plugin, you'll be provided with a zip folder containing all its files. You'll want to save this to your computer. Then, in your WordPress dashboard, click on Plugins → Add New, select Upload Plugin, and use the Choose File button to locate that zip folder:

After that, select Install Now to add the plugin to your site. When you see a link labeled Activate, click on that as well:

Next, navigate to WooCommerce → Settings → Products, and click on Product tables:

Here, enter the license key you were given in your purchase confirmation email. This will get WooCommerce Product Table fully set up on your site.
Step 2: Create your WooCommerce events page
Now, it's time to create the page where your WooCommerce events will be displayed. To do that, just navigate to Pages > Add New:
The next step depends on whether you're using the Classic Editor or Gutenberg:
Classic Editor - Click the 'Insert Product Table' toolbar button. This adds a [product_table] shortcode to the page.
You'll see a shortcode added into your page. This is a small snippet of code that tells WordPress to display a product table wherever it's placed. It will automatically apply any settings you've configured as well (more on this in the next step).
For now, you can select Preview to see your WooCommerce events page in action:

It may look a little bare-bones right now, and some of the labels used don't quite make sense (for example, the Buy column will need to be renamed). However, don't worry! Next up, we're going to show you how to customize your WooCommerce events list.
Step 3: Configure your WooCommerce events table
At this point, save your new WooCommerce events page as a draft. You may want to keep it open in its own tab, so you can refresh it to see the effects of the changes you'll be applying. Then, navigate back to WooCommerce → Settings → Products → Product tables.
On this page (where you entered your license key earlier), you'll find lots of settings that let you customize exactly how your product table looks and functions. You can check out all the options in the plugin's documentation, and find instructions for how to configure them.
For now, let's touch on the settings that are most important when building a WooCommerce events table. Your first stop should be the Columns option:

Here, you can list out each column you want in included in your table. Try to strike a balance between providing all the necessary information, and not overwhelming your visitors. For an events table, we'd recommend the following columns at a minimum: image, name, summary, categories, price, and buy.
Right below that, you'll definitely want to check the Quantity selectors box. That way, if people want to bring along friends or family to the event, they can reserve multiple places at once.
Next, check out the Add to cart button option:

If you choose Button and checkbox, customers will be able to purchase tickets for more than one event at a time, and add everything to their cart with a single click. This is a smart way to streamline their experience.
Then, take a look at the Filter dropdowns field:

You may want to select Show based on columns in table here. This will place one or more drop-down menus above your WooCommerce events table, like the one we saw for categories on Weave The Ring earlier. Especially if you offer more than a few events, this makes your page much more user-friendly.
Finally, you may want to rename some of the labels in your events table. For instance, instead of using Buy above the final column, you could use something more events-specific, such as Book Now. To do that, scroll back up to the Columns field, add a colon after buy and then type in whatever label you'd like to use:

This same method will work for any column you want to rename. You can also change the label for the button that will appear above the table, enabling customers to 'purchase' more than one event at a time. Simply find the 'Add Selected to Cart' text field, and rename it something like Book Selected Events instead.
Last but not least, you can also change the text on the actual Add to Cart buttons. For that, you'll need the free WooCommerce Custom Add to Cart Button plugin: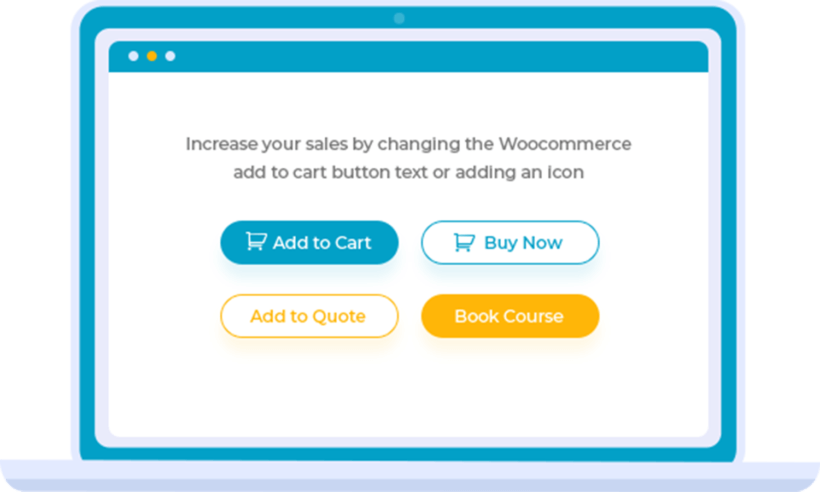 Install and activate the plugin on your site, and then navigate to WooCommerce > Customize. There, select WooCommerce, and then Add to Cart Buttons. There, you can include any text you'd like to use for these buttons in your events table. Don't forget to hit the Publish button when you're done.
With that, your WooCommerce events table should be looking much more professional, and will have a lot of new features. You can check it out by reloading or re-opening the page you created earlier: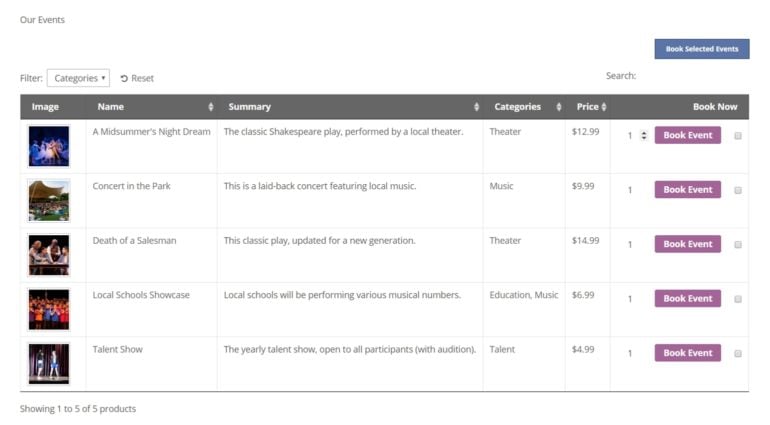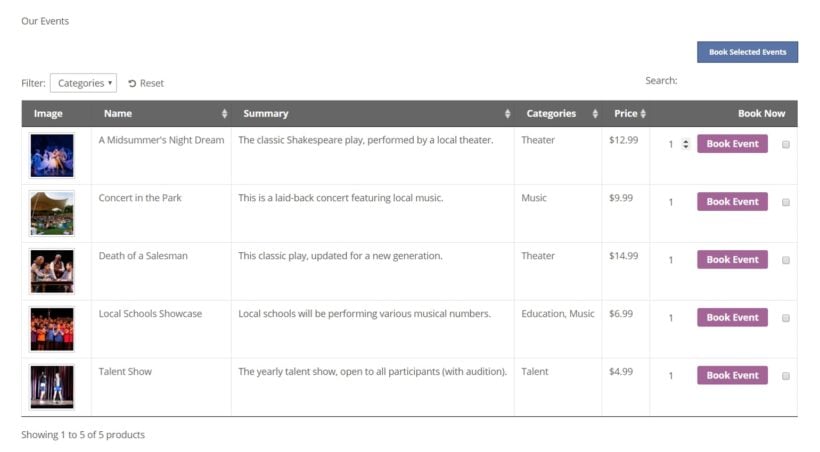 You can continue to customize your product table settings as much as you'd like. When you're done, simply publish the WooCommerce events list page. Visitors to your site will immediately be able to use it to reserve their spot in your upcoming events!
Step 4 (optional) - Add quick view to the list of events

So far, I've shown you how to list events in WooCommerce with all the information and purchase options in a table. If you want to display extra information that won't fit neatly into a table option, then you can send customers to the single product page for each event. However, this loses momentum and makes the customer less likely to book multiple events. It's better to keep them on a single page while they're choosing their events.
The solution is to add quick view buttons to your list of events. You can do this with the WooCommerce Quick View Pro plugin, which is designed to work with WooCommerce Product Table. This adds lots of flexibility to your WooCommerce event listings. For example:
If you want to show multiple images from previous events, you can show the full product image gallery in a quick view lightbox. This really brings the event to life, making people more likely to book a place. There are 2 options for how to display the image gallery (thumbnails or bullet navigation).
Customers can buy product variations directly from the quick view popup. For example, they can choose different ticket options for each event and add them to the cart.
You can show extra information such as the event short description and price.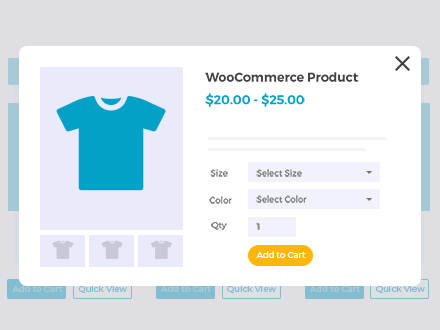 The quick and easy way for customers to explore and buy your products.
Can I list WooCommerce events in a table even if I am using an events plugin?
So far, we've talked about how to sell events without using a WooCommerce events plugin. Of course, you can use an events plugin if you really want to - for example, if you need extra functionality. And even better, you can still have the neat table layout that I've just told you about!
There are two dynamic table plugins that can list your WooCommerce events in a table:
WooCommerce Product Table Use this if your courses or events are actual WooCommerce products. For example, this will apply to you if you're using the Events Calendar plugin and want to list tickets rather than events, as these are WooCommerce products. Similarly, you might be importing events into WooCommerce products from a third party system such as Moodle.
Posts Table Pro Use this if you're using an events plugin that has its own custom post type for courses and events. For example, plugins such as Events Calendar and Event Espresso create their own post type. You can list these events in a table with our other plugin, Posts Table Pro. Read our full tutorial on how to do this.
Either way, you can still have the same fantastic table layout for selling your WooCommerce events.
Case study - Selling WooCommerce events imported from Moodle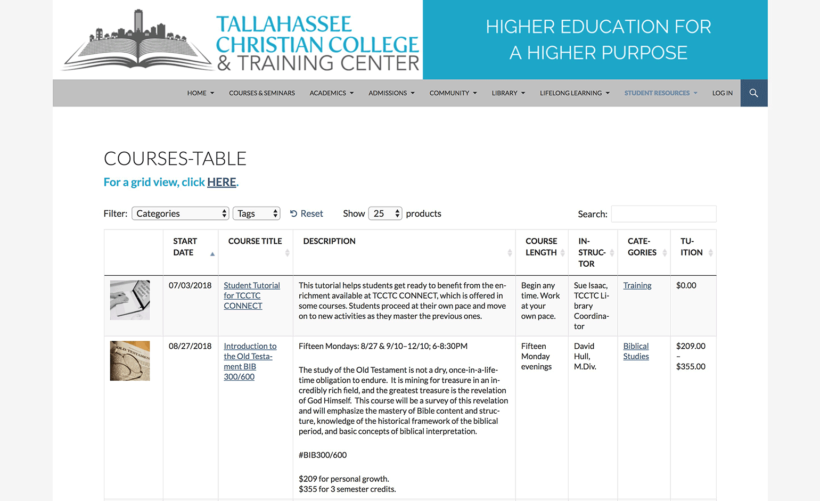 Tallahassee Christian College and Training Center use WooCommerce to register for their higher education and training courses. They use the free Edwiser Bridge plugin to integrate their WordPress WooCommerce website with Moodle, automatically importing their courses as WooCommerce products.
They use WooCommerce Product Table to list the courses in a table layout. Students can quickly filter the table by category or tag, and click through to the single product page to register.
Bonus #1: How to sell entry tickets in WooCommerce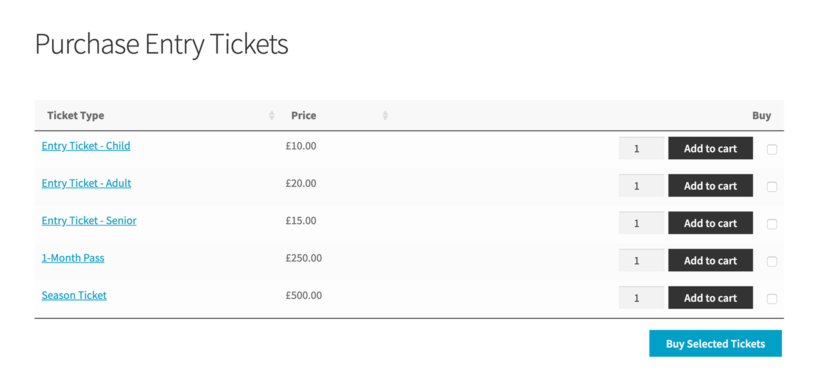 You can use the techniques discussed in this tutorial to sell entry tickets to a range of locations including museums, art galleries, tourist attractions, or events. Again, you only need WooCommerce and WooCommerce Product Table, and don't need an events plugin.
Simply add each type of entrance ticket as a product (with variations, if required) and list them using WooCommerce Product Table. Activate user-friendly features such as add to cart checkboxes so that visitors can select multiple ticket types and add them to the cart together. For example, a parent might select 2 child tickets and 2 adult tickets before purchasing them all together.
Bonus #2: Set the default ticket quantity to zero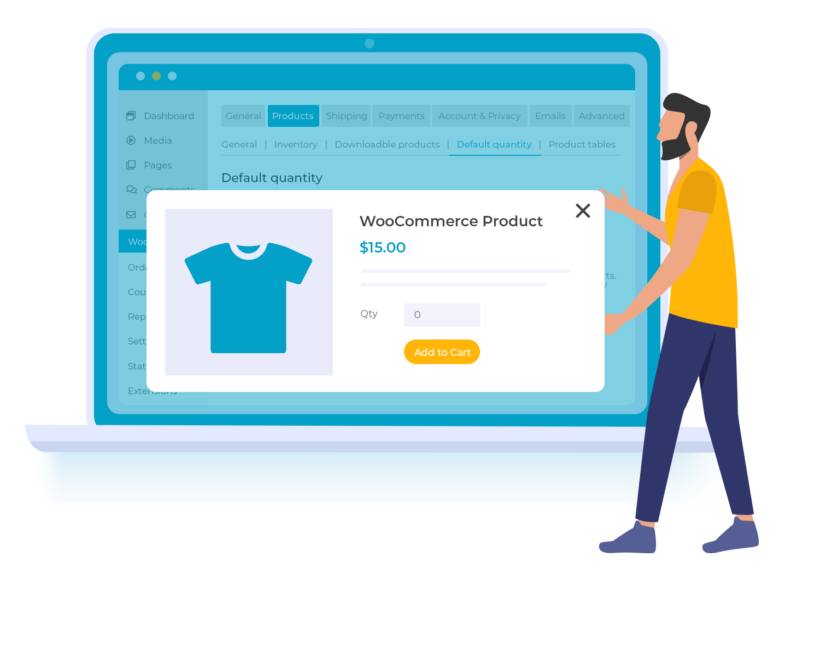 In WooCommerce, the default quantity for buying products is always 1. This applies to any type of products, including events and entrance tickets. However, a default quantity of 0 is actually more appropriate when selling tickets, seats for theatre shows, or places on courses or events.
You can easily change the default quantity to zero by installing the WooCommerce Default Quantity plugin. That way, shoppers can change the required quantity for each ticket to any number they choose before adding them to the cart.
Where to get the plugins
Selling access to events on your website is a little different from offering regular products or services. While installing WooCommerce is a good start, its default product pages aren't as user-friendly as they could be. Fortunately, there are much better ways of displaying your WooCommerce events.
All you need is the WooCommerce Product Table plugin, and a few minutes to spare. Then, you'll simply want to:
Purchase and install the WooCommerce Product Table plugin.
Create your WooCommerce events page.
Configure your WooCommerce Product Table settings.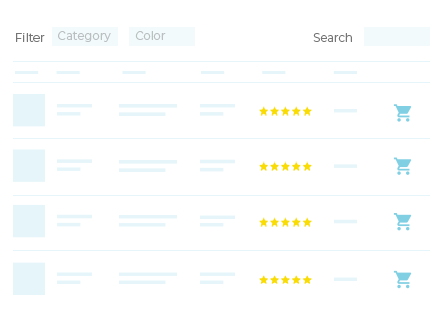 An easy-to-use plugin for listing WooCommerce events in new and flexible ways.
Do you have any questions about how to set up the perfect WooCommerce events page? Ask away in the comments section below!
Image credit: Pixabay.