One of the most important metrics you should consider when growing your WooCommerce shop is the lifetime value of your customers. Studies have shown that the top 1% of your customers can be worth as much as 18 times more than your average customers, leading many to believe that investing to extend the lifetime of existing customers is a better business strategy than spending to generate new leads and customers.
The relationship between your brand and your WooCommerce customer is a two-way street: your brand gives your customer the value they need and your customer maintains and possibly increases their interaction with it - or they abandon your brand and never return.
The key to enhancing and enriching your customer experience and then extending their lifetime is by delivering relevant experiences with your brand. This applies to all the channels through which they interact with your brand, including your website, ads, marketing campaigns and so forth. The more personalized their experience, the more healthy and solid relationships are built between the two parties.
In this article, we'll explain how to use personalization to build and improve relationships with your customers and increase their lifetime value to your WooCommerce business.
Personalization is a key in increasing lifetime value
Each and every one of your customers has certain personal and contextual details, their own preferences and each shows different behavior on your online store. These differences will lead to different expectations and demands of the content they'd like to see. 81% of consumers expect brands to understand their very needs and approach them at the right place and time.
With relevant content, we show our customers that we acknowledge their differences and tailor our solutions to fit their exact characteristics and attributes. Giving people exactly what they need or like has a positive psychological effect on them. That is why when trying to improve the customer retention rate of a WooCommerce business, personalization can be the most prominent factor to consider.
Personalization should happen all times and in all places. That is why personalization campaigns should consistently run across all touchpoints and in relation to each other.
In a WooCommerce shop, personalization of customer journey involves two main steps:
Discover valuable customer segments
Personalize their experience across their journey with automations
In this article, we'll use a tool called Growmatik to practice these two steps. Growmatik is a marketing automation solution for WooCommerce that utilizes user types and behavior to personalize the customer experience across major touchpoints (website content, email and popup).
Step 1: Discover the valuable customer segments
Our personalization journey begins with finding different customer segments on your WooCommerce website that mean something to your business based on the goals you have set and values you expect from customers. Here are some examples:
Visitors from a specific location(s)
Visitors from a specific source (website, UTM, etc)
Visitors who arrive on a specific landing page
Leads who have signed up through specific popups
Customers who bought a specific product(s)
We need to understand what each of these customer segments are doing on our website so we can conclude which of them are valuable or potentially valuable to us. By using the Growmatik customer journey tool, we can generate the customer journey for any of the 5 main dimensions in a website:
Location → Traffic Source → Landing Page → Subscription Channel → Purchased Products
Select a dimension and all other parts of the journey gets ordered accordingly showing what users in the selected dimension have done on the website. For example, if we select France in the location dimension, the journey taken by French visitors gets displayed in adjacent columns.

→ 67% of your traffic came from France
→ 1400 of them were referred by Facebook
→ 65 people signed up via our BlackFriday popup
→ They bought 36 notebooks.
After getting info about the France segment what personalizations can we do to personalize their experience?
67% of your entire traffic is from France, so we can redirect them to a special landing page or personalize the welcome message in the hero section.
French traffic is referred mostly from Facebook. We can buy some targeted ads for France on Facebook.
Notebook is the most popular product among french visitors. Can we think of an exclusive deal or one-time offer via email related to notebooks for all French customers?
We can also reveal more complex journeys by selecting two or more dimensions. For example:

→ Traffic from the Halloween email campaign and from Spain is 45% of the entire traffic generated by the campaign
→ They didn't buy anything.
After learning about what traffic from our Halloween email campaign did in our WooCommerce shop, what personalizations can we implement to enhance their experience?
The engagement with our email campaign in Spain has been good but there hasn't been conversions from their side. How about displaying a geolocational popup only to Spanish visitors, including a one-time discount offer?
Within these two examples, we identified two important segments whose experience requires improvement. Playing around with different dimensions in our WooCommerce shop funnels, we can discover more important segments and ideate possible improvements with personalization.
Step 2: Personalize their experience across their journey with automations
Having found the potential segments, we now need to make automated personalizations that fire the actions we want when specific conditions are triggered. In Growmatik, we can create automations with the "IF this THEN that" structure.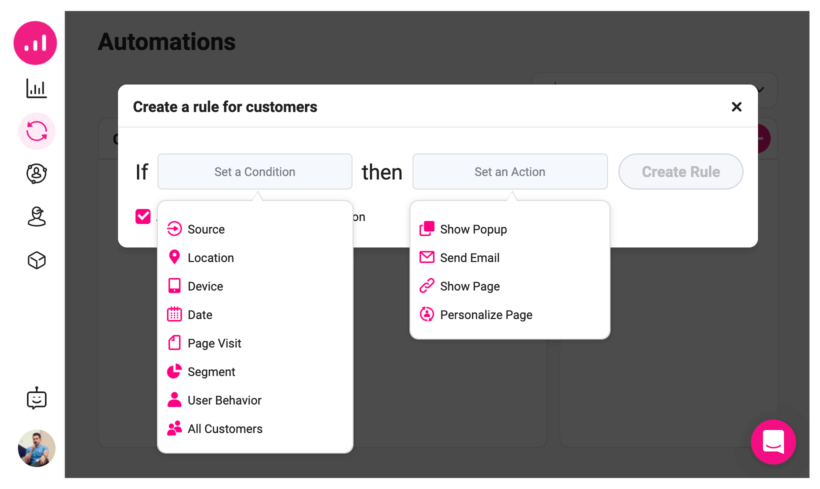 In the THEN section, you can set actions such as personalize page, display popup, send email or show email. In the IF section, you can put one of the premade segments such as location, source, date and time, page visit or in-site behavior. You can also create your own custom segments with more than 50 personal, contextual, behavioral attributes and set a condition for your automation. Here are some examples of attributes for segmentation that can be quite useful when promoting loyalty and increasing customer lifetime value.
In-site Activity
Total visits
Last visit date
Average time spent per session
Number of viewed pages
Email Activity
Number of opened emails
Number of clicked emails
Number of unopened emails
Number of unclicked emails
Shopping activity
Number of purchased items
Number of orders
Total order value
Last purchase date
Has abandoned cart
Number of coupon used
Next, I will provide some sample segments along with possible personalizations for each of them.
Personalized landing pages
Landing pages are one of the touchpoints your customers interact with across their lifetime. They probably see it multiple times in different stages of their journey so their landing page experience should evolve along their journey.
Show a geolocal landing page
You can create a landing page personalized for the country or region that matters to you. One way you can implement personalization is by redirecting customers from a certain region to an independent domain and website. For instance, if you're targeting the French market, your website URL might be yourbrand.fr and include a particular design along with other personalized content on that landing page.
Furthermore, there are tools out there such as WeGlot and Translate Press that you can use to translate your page's content. If necessary, you can also make changes to the design of the page - so for instance, if you're translating a page to Arabic, the translated text would need to be in a right-to-left layout.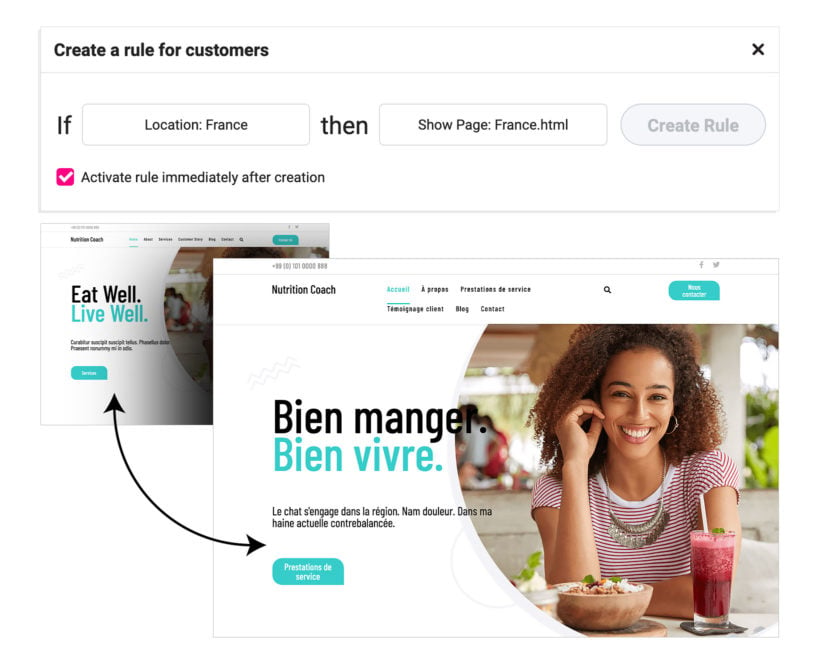 Use Growmatik's Show Page action to redirect users of a particular location to an alternative translated page than your default homepage or use the Personalize Page action to localize specific elements of the page.
Personal Greeting
Sending out a personalized greeting message will make a great first impression. Examples include the following:
Message with their name in the hero section
Message based on the time of day ("Good morning" or "Good evening")
Message that contains content related to what they're looking for based on the referring UTM values or their location – for example, you could display a 'Buy the best leather boots in the UK' message to show to someone who is referred by UTM_source=LeatherBoots or 'The best real estate investment opportunities in Dublin' to a visitor from Dublin.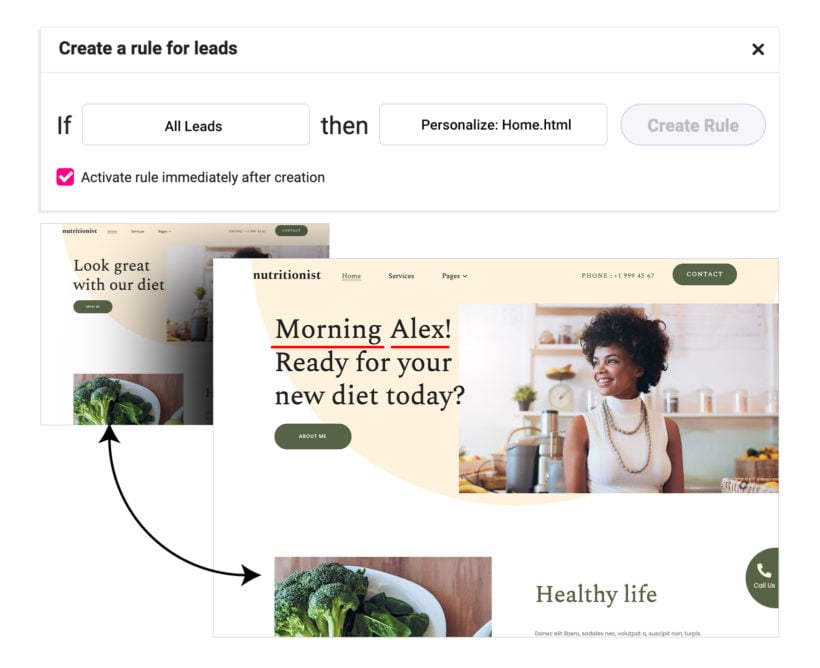 Use the Growmatik Personalize action to automate personalizing your hero based on time of the day, referral source or visitor's location.
Relevant hero based on recent purchase or page visits
It's always a better experience to see products and information related to what you've been recently looking for. You can personalize your homepage based on recent purchases or the site activity of your customers.
Use the Growmatik Page Visit or User Behavior > Purchased Condition with the Personalize action to personalize your homepage based on their recent activity.
Personalize call-to-actions and popups based on the calendar occasion
If an important date for a customer such as their birthday, the anniversary of their sign-up date or a calendar occasion (Christmas, Halloween, etc.) is approaching, display exclusive call-to-actions and popups possibly with an exclusive deal or coupon, including relevant symbols and personalize it with exclusive time-bound deals with your customer's name on it.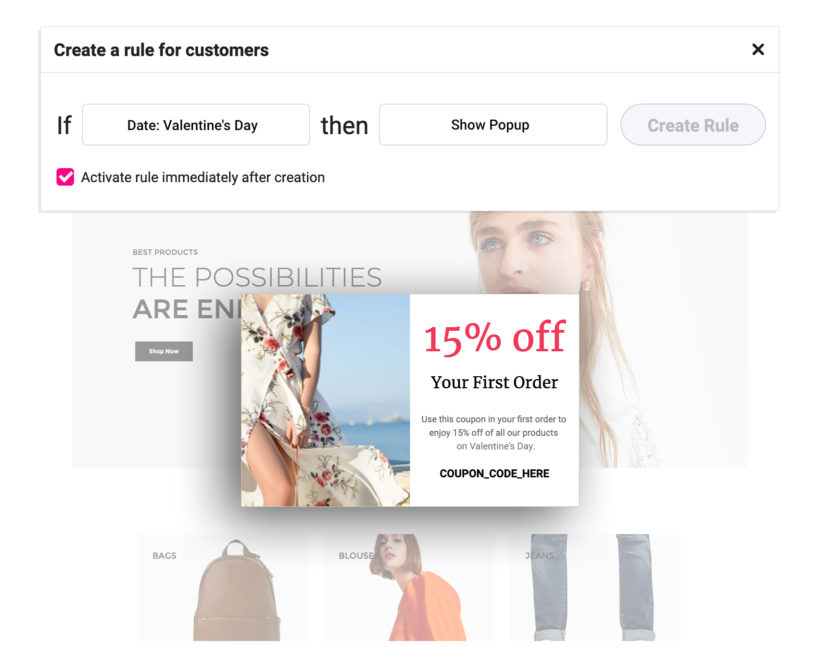 Use the Growmatik Date condition with the Show Popup action to automate personalizing popups based on customer important dates
Simplify and optimize the order process
Your shop, cart and checkout pages might be the most important pages in a sales funnel and may get frequently visited by your customer along their journey. So the easier it is for your customer to interact with them, the higher the chance is that they will buy something with each interaction, increase their AOV (average order value) and inevitably increase lifetime value.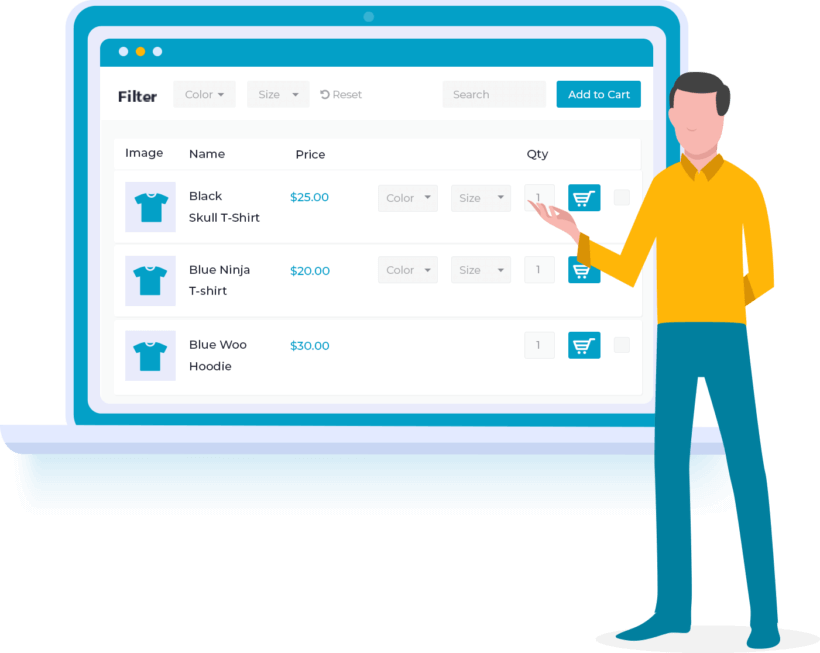 Try to simplify and optimize the ordering process with tools such as WooCommerce Product Table and WooCommerce Quick View Pro. You can also use tools like Cartflows to increase the order bump with relevant upselling, downselling and cross-selling suggestions during checkout.
Smart upselling and cross-selling emails
Contrary to what people normally think, increasing order bumps won't happen only during checkout. A smart personalization experience continues with clever upselling and cross-selling emails. Our goal is to increase their shopping size when considering buying products for you, no matter if that happens within a website session or via an email immediately after they checkout.
You can send your upselling/cross-selling suggestions right within the order confirmation email or as a separate campaign. What's important is that you include only the items your customer might be interested in based on their past purchase.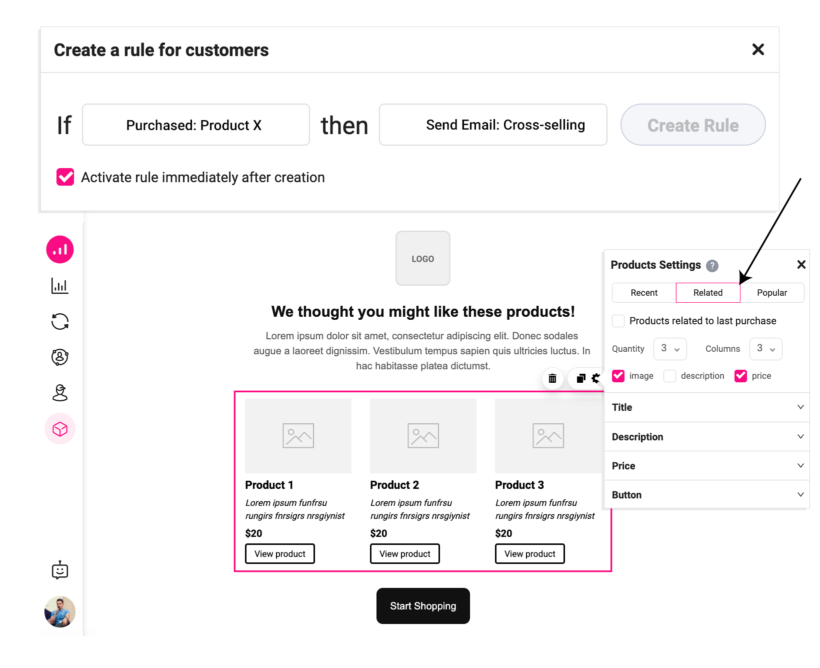 Use the related product elements in the Growmatik email builder to automatically put related products inside your email and automate sending them to the customer right after purchasing a product.
Occasion-based emails
As its name suggests, occasion-based emails are emails that are sent out on certain calendar occasions, such as on Black Friday or on a customer's birthday. Sending out occasion-based emails offers up a fantastic opportunity to cement your relationship with your subscribers or to boost direct conversions.
Use the Growmatik Date condition with the Send Email action to automate sending emails on important dates. Customize the email in the email builder and make sure to personalize it using Dynamic tags.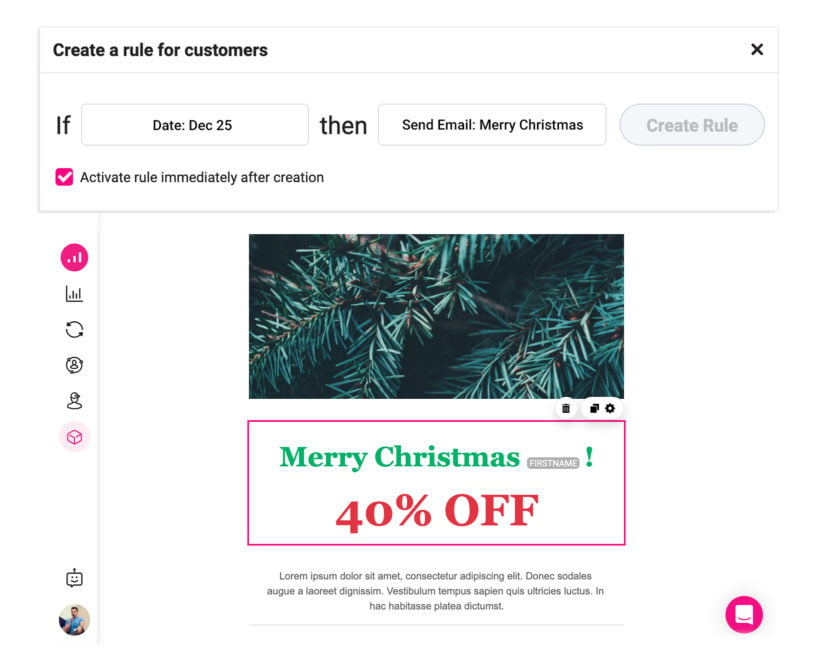 Welcome your new customers
Sending out welcome emails is another way to solidify your relationship with your subscribers and to boost their lifetime value through personalization. This is because you would be sending content that will be highly relevant to them at the exact right time. The content of the welcome emails will vary depending on the type of WooCommerce business you run and your customers' preferences. In the same way, the type of welcome email you send out will vary - it can be a simple message that includes helpful links to your site or a more detailed onboarding guide.
In Growmatik, set the condition as Behavior > Orders placed and set the number of orders to 1. Set the action as Send email. Once the email builder is open, start creating the content based on your goal. Use Dynamic Tags > First Name to make your email look more personalized.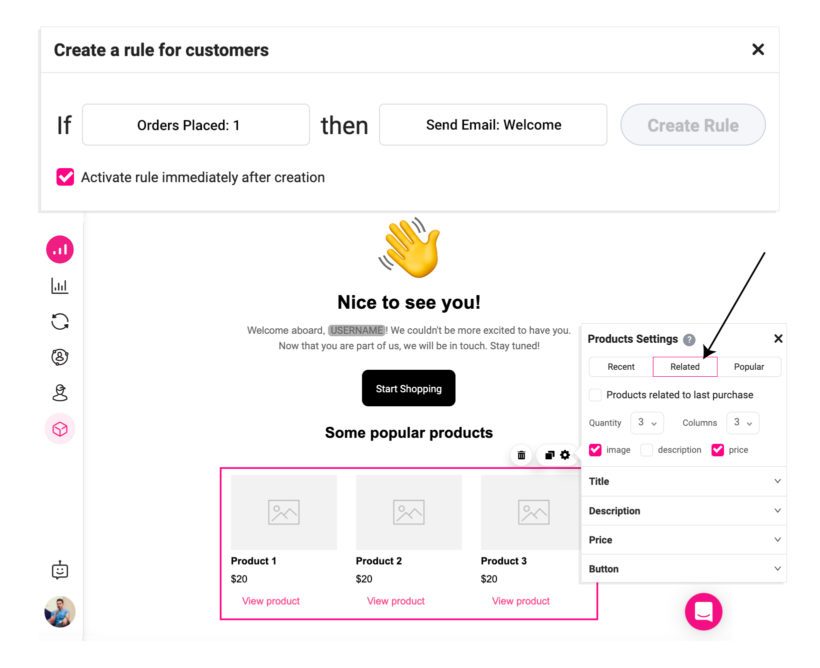 Appreciate loyal customers
Expressing gratitude shows your audience how much you care and appreciate their time and generosity. This is a very effective way of appealing to your audience on a personal level and solidifying your relationship with them. Offering them a discount as a token of your appreciation can make your gratitude seem even more genuine.
This can be easily done in Growmatik by using the Coupon element. Once you insert the Coupon element into the body of email, select it and adjust the discount options by clicking on the gear icon on the top.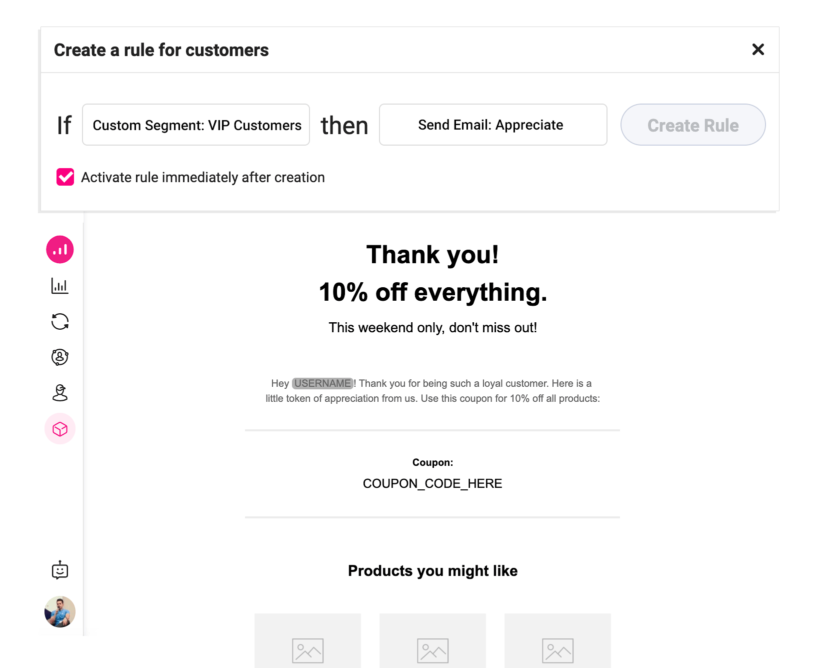 You can quickly find high-value users in Growmatik by setting conditions such as User Behavior > Orders placed and Total Spent time in the automation dashboard. You can also define custom segments based on any combination of the criteria we explained earlier. Once you set the segment as the condition, set Send Email as the action and start crafting the content of your email.
Follow Up with away users
Send re-engagement emails
Every customer has a limited attention span for your brand and products. No matter how long their attention span is, it will end after a while. It's your duty to re-engage customers not with a blind follow up but through approaching them with the value they might be seeking.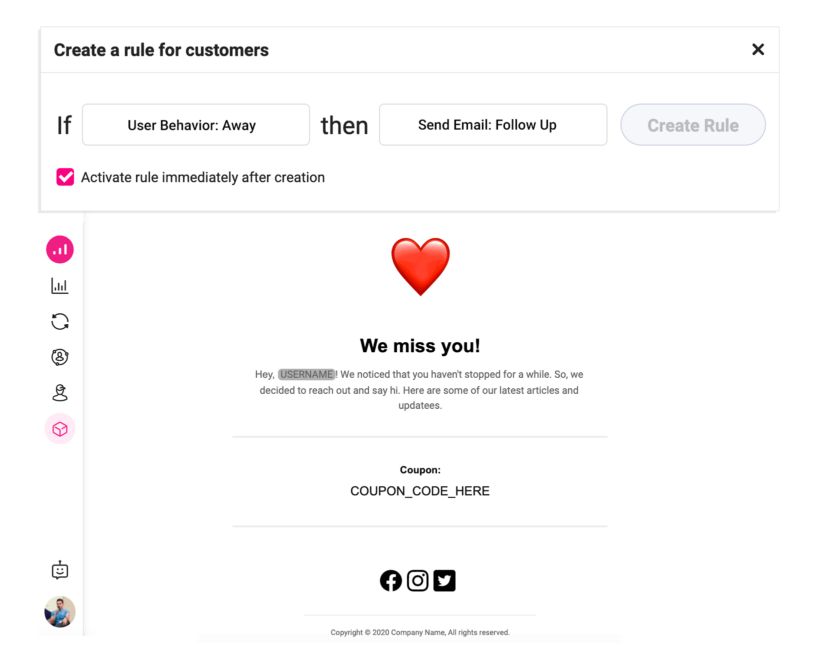 In Growmatik, use one of the predefined segments such as User Behavior > Away and set a time period of inactiveness or create a more advanced segment in the People section using a combination of the metrics we explained in the table. For the action, choose Send Email and then create the content of your follow-up email. Use dynamic content such as name, smart related products and an exclusive discount coupon to personalize your email.
Show special landing to away users
For customers who have been away for a certain period of time, direct them to a certain page that has content personalized just for them. For this, you'll need to make a page that is specifically for inactive customers or you can tweak your current homepage with some messages such as "We miss you!" or "It's been a while since you've been here!". Another option is to offer discount coupons or bonus scores, both of which could motivate them to come back and reengage with your WooCommerce business.
In Growmatik, using the same method as re-engagement emails, find the away customers and automate personalizing your landing page using the Personalize action.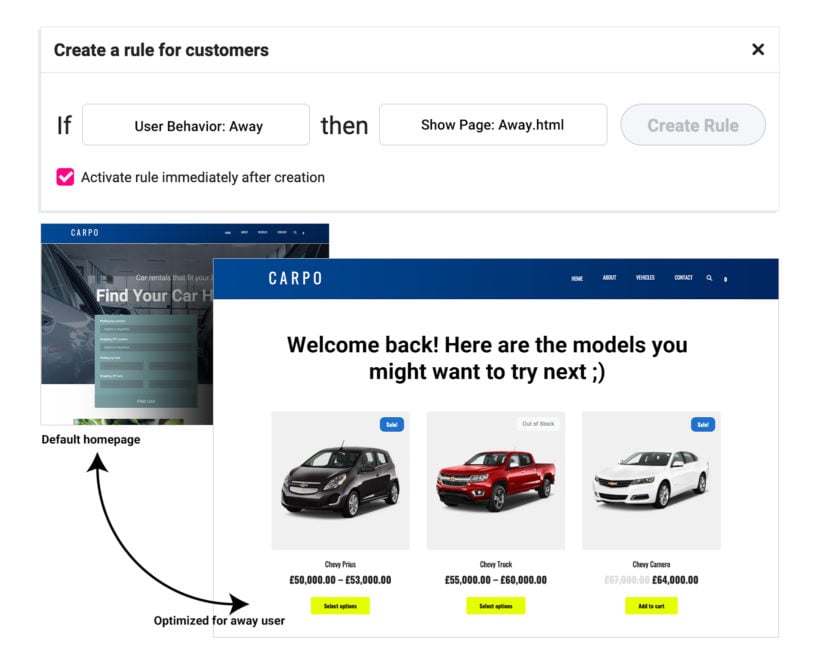 Win back cart abandoners
Abandoned cart reminder emails are a great way to increase sales but you can boost it even more with further personalization.
In Growmatik, set the condition to User Behavior > Abandoned Cart and set the action to Send Email. Once the email builder opens, use your creativity to style it, and don't forget to add the customer's name using the Dynamic tags options.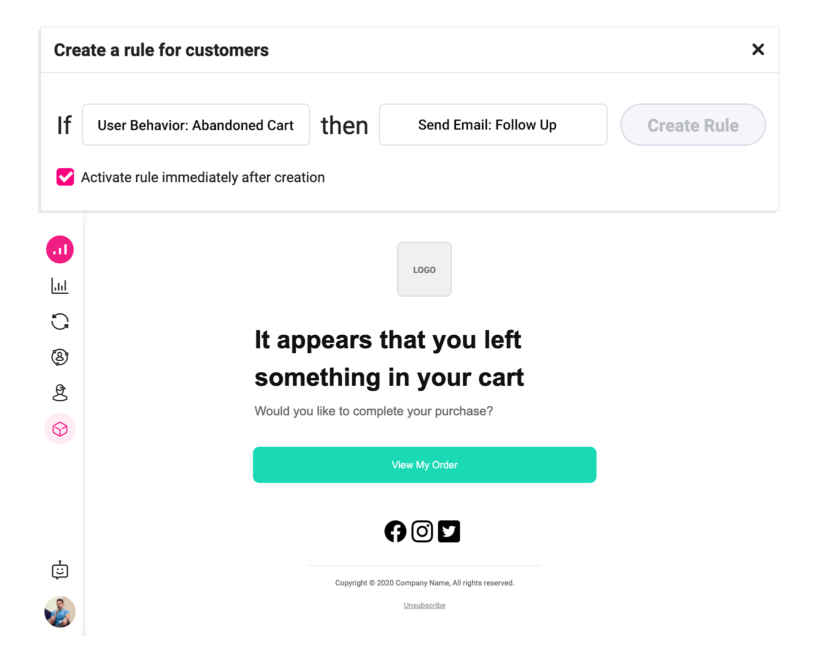 And that's it. In this post, we learned how to find important customer segments by inspecting our WooCommerce website funnels and then created automated personalizations to facilitate a continued good experience. This will result in an increased lifetime value for them across their journey. It's needless to say the customer lifetime value does not follow a certain one-fits-all formula, and every WooCommerce store owner should discover it based on their niche, business model and target market.