.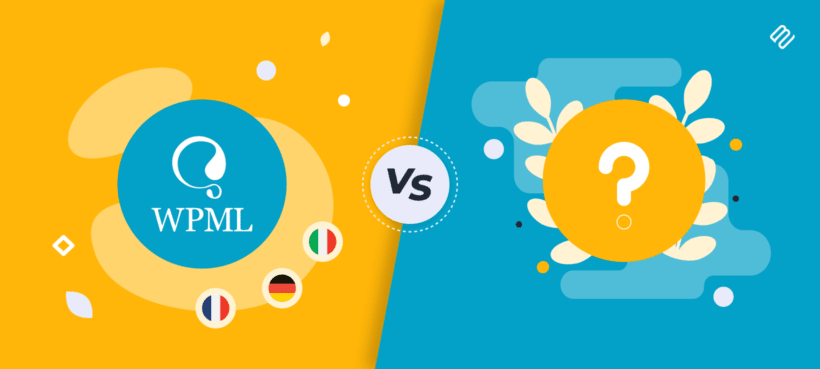 WPML is a WordPress multilingual plugin that offers an all-in-one solution for creating and managing multilingual websites. With more than one million WordPress sites using WPML, it makes it the most popular multilingual plugin for WordPress-powered sites.
WPML supports over 45 languages and is the number one go-to plugin for businesses that want to offer automatic translation on their WordPress sites. It's a complete solution for translating your WordPress website including all pages, posts, menus, and the WordPress theme's default texts.
In this article, we'll give an honest review of the popular WPML plugin and discuss its benefits and drawbacks. We'll also discover some WordPress WPML alternatives that work equally well (or better), with better pricing and usability.
What is WPML?
WPML lets you automatically translate your WordPress site including everything from pages and posts to the text of any theme or plugin you're using.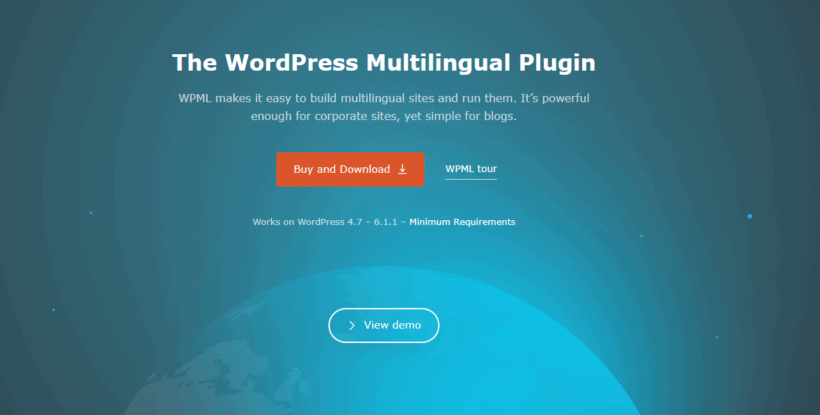 You can automatically translate most of your WordPress site. All you need to do is review all the translation changes and make edits to make sure all translations are 100% accurate. Despite the high price point, many businesses use WPML because it works seamlessly with their existing WordPress site and integrates with other plugins, themes, or page builders (like Divi or Elementor).
Does WPML work with WooCommerce?
While the WPML plugin works great for WordPress sites, it isn't designed with WooCommerce sites or online stores in mind. For this, you will have to use the WooCommerce Multilingual plugin.

WooCommerce Multilingual is developed by the team behind the WPML plugin and is designed specifically for translating WooCommerce sites. At the time of this writing, over 100,000 online stores use WooCommerce Multilingual. It's a popular solution for store owners that want their eCommerce site to automatically translate product pages to the shopper's preferred language.
WooCommerce Multilingual key features
The WooCommerce Multilingual plugin lets you set pricing and collect payments on your WooCommerce site in multiple currencies. This way, you can cater to all types of customers, even shoppers that are geographically located on the other side of the globe, as long as you can ship them their orders. For instance, let's say you offer to ship to both US customers and EU customers. Depending on the country in the EU the customer is from, you can display the pricing in a currency that's relevant to them.
However, the only downside is that to get access to the WooCommerce Multilingual plugin, you will have to purchase WPML's Multilingual CMS or the Multilingual Agency pricing plan.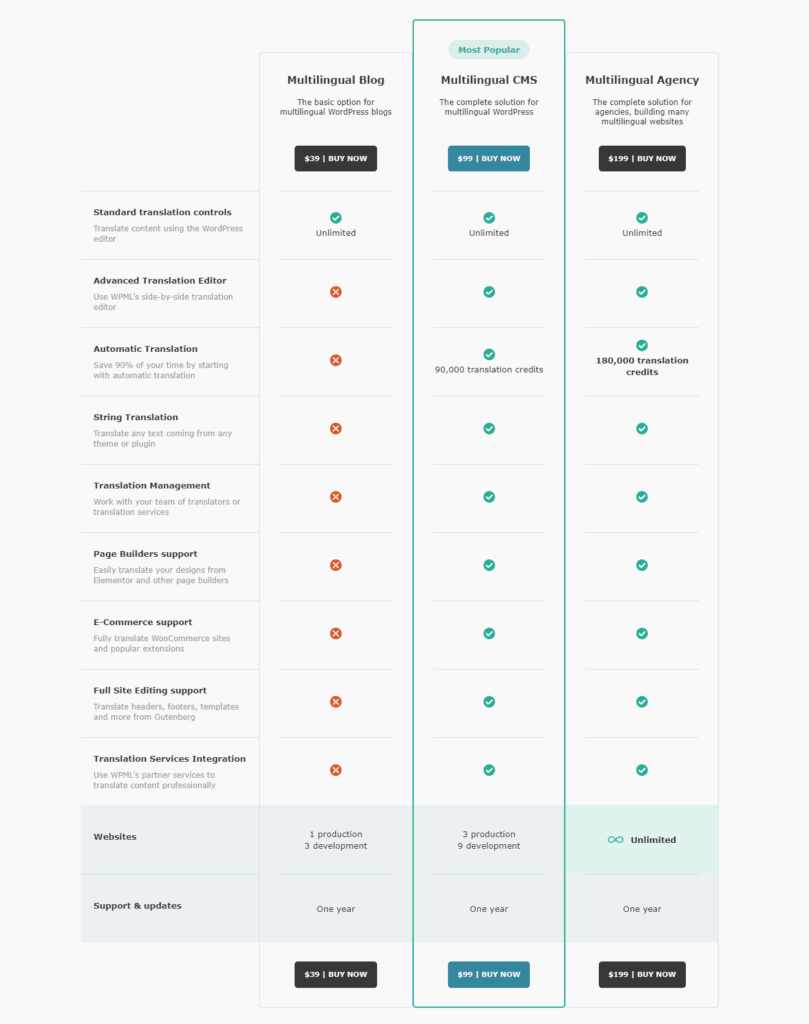 This is because the standard Multilingual Blog – which is the cheapest pricing plan from WPML – doesn't offer the WooCommerce Multilingual plugin as part of the package. As we mentioned above, one of the major disadvantages of using WPML is its expensive pricing. For starters, the most basic plan starts at $39 per year that offers just standard translation controls for making your WordPress site multilingual.
If you want to use WPML for your WooCommerce site, you will have to go for the Multilingual CMS package that starts at $99 per year. This gives you access to all of the functionality of the plugin and also includes the WooCommerce Multilingual plugin.
The third WPML pricing plan is the Multilingual Agency plan which will cost you $199 per year. With this plan, you can build an unlimited number of WordPress and WooCommerce multilingual sites.
What are the benefits of using WPML?
You might be wondering why WPML is one of the most popular options for creating and managing WordPress and WooCommerce multilingual sites. Let's take a look at some of the major benefits of using WPML for translating your WordPress site.
Is WPML good for SEO?
WPML works smoothly in optimizing your WordPress site's SEO performance in multiple languages. While the plugin lets you translate your WordPress site's SEO metadata and titles, it also lets you arrange languages the way you want to. This means you can choose your desired TLDs, subdomains, folders, and language arguments and optimize them according to your brand's SEO strategy.
The great thing about using a multilingual plugin with SEO features is that it lets you improve your WordPress site's visibility across multiple languages. For example, if a user from Spain wants to purchase a product or search for a solution, they will likely run search queries in Spanish. If your WordPress site is SEO optimized for the Spanish language, this will ensure that interested users get to see your site at the top of the search results page. This also ensures search engine crawlers can better understand your site's content and redirect users to their preferred languages.
In addition to this, WPML's compatibility with some of the most popular SEO plugins such as Yoast SEO, RankMath, and SEOPress is a huge plus. This way, you can further optimize your site's performance in multiple languages and increase organic traffic on your WordPress site.
Integration with third-party translation services
In addition to being SEO-friendly, WPML also offers integration with third-party translation services.
While the WPML plugin automatically translates your WordPress site using some of the best translators in the industry including Google, DeepL, and Microsoft, it also allows for human translations. This way, when the plugin automatically translates the majority of your site, you can use human translations to make sure all translation changes are correct and accurate, or further add more translations to your site.
There are two ways you can use human translation with WPML on your WordPress site. For starters, you can hire a team of translators to validate the translation changes or to add more translations. This is a common way to ensure the accuracy of the translations across multiple languages. It's essential for manually adding or removing translated content from your WordPress site.
The other more convenient way WPML lets you add human translation is with the support of professional third-party translation services. WPML partners with some of the most popular third-party translation services including AlfaBeta, Quicksilver Translate, Trusted Translations, and Skrivanek. If you use this method, you only have to send your site's content to the professional translation service provider of your choice and they'll translate your entire site 100% accurately.
Customizable language switcher
WPML also offers robust translation management features and a customizable language switcher. This gives you full control over how everything related to language translation is set up on your WordPress site.
You can use the translation management dashboard of WPML to select specific WordPress posts, pages, or custom post types on your WordPress site that need to be translated into different languages. As a result, you have complete control over how your multilingual WordPress site is set up. You can then customize it according to your brand's unique requirements.
In addition to text translation, you can also translate media files on your WordPress site the same way. This way, you can display different media depending on the language the content is translated to. For example, you would want to change the language on your infographics or screenshots. When the plugin translates your page's text, it will also translate the image that's included in your post.
Who can benefit from WPML?
Many types of websites can benefit from using WPML, especially those that receive traffic from all over the globe. Let's go over a few examples:
Casino sites. Since casino sites operate in multiple parts of the world, they can use WPML to create a multilingual casino site. For example, if your casino site is primarily designed for users within the US but you also receive some traffic from Asia or the EU, you can offer multiple language support. This way, users who speak and understand languages other than English can use the casino site the same way as everyone else.
Design agency sites. Design agency sites that sell visual art or offer design services can offer multilingual support for creating more "buy" opportunities. With WPML, you can ensure your site will be automatically translated and showcased to a user in their preferred language. This way, you can boost organic traffic on your site which also increases the chances of making more sales.
Hosting sites. Purchasing hosting shouldn't be restricted by a language barrier. This is why most hosting sites are multilingual so users from all over the world can learn about the hosting plans and host their sites.
The drawbacks of using WPML
While the WPML plugin is a great WordPress multilingual solution, it has some drawbacks that can potentially steer away businesses from committing. Let's take a look at some of the most obvious drawbacks of using WPML to translate your site.
High cost
The high cost of using WPML is one of the major reasons why I don't recommend it for small-scale businesses or eCommerce stores that are just starting out. This is especially true if you want to create a multilingual WooCommerce site. The most basic WPML pricing plan doesn't give you access to the WooCommerce Multilingual plugin.
The $99 per year pricing plan will get you access to all the plugin's features and the WooCommerce Multilingual plugin. However, you can only use the plugin on a maximum of 3 live WordPress or WooCommerce sites.
If you want to create unlimited multilingual WordPress and WooCommerce sites, you will have to pay $199 per year, which can be out of budget for many smaller-sized businesses.
Not user-friendly
While WPML offers a lot of features for translating your WordPress site completely, it isn't designed with non-tech-savvy WordPress users in mind. The language editor is powerful but isn't very user-friendly, especially if you want to make major translation changes to your WordPress site.
In addition to WPML not being user-friendly for admins, it can also make the translation process for human translators much more complex. This requires them to first understand and learn how WPML works and then make changes using the built-in language editor.
Outdated interface
As a WordPress plugin, WPML isn't very intuitive. It offers an "old school", outdated interface that can be difficult for users to understand.
The "Dashboard" lists all of your posts and pages in a table-style layout. This can make finding the right page or post on your WordPress site difficult. While there are filters for this purpose, it still doesn't quite offer easy searchability for content on your WordPress site. This is especially bad if you have hundreds of posts or pages published that you'd like to translate.
Compatibility issues
The WPML team have worked hard to ensure compatibility with lots of other plugins. However, they still need to make custom integrations with each plugin - or the plugin developer has to do it. This means that there's always a risk of conflict.
At Barn2, we've received lots of support tickets from WPML users struggling to use it with our plugins. This is sometimes a compatibility issue that either we or they need to fix. Just as often, it's a setup issue because it was so complicated for them to set it up. In contrast, we literally never receive support tickets from more modern WordPress multilingual plugins - even the popular ones. That's because they automatically work with everything - no custom integration required.
Should I use WPML for my site?
WPML is one of the most used multilingual plugins for WordPress because of its long list of benefits and the big team supporting it. However, there are other more modern and user-friendly WordPress WPML alternatives worth considering.
In the following sections, we'll go over some of the best WPML alternatives available. They offer the same features (and then some) at a lower price point. This can be a game changer, especially for small businesses that are looking to create their first multilingual WordPress site.
What is the best WPML alternative?
Let's take a look at two of the best WPML alternative plugins that also let you fully translate your WordPress or WooCommerce site.
Weglot offers a complete solution that lets you easily translate and manage your brand's site. It's ideal even if you're not very tech-savvy. It does this by offering translation from leading neural machine translation engines.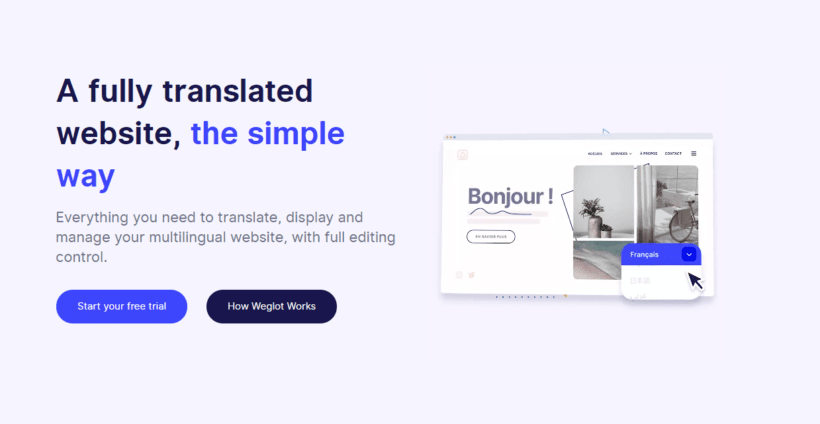 The intuitive tool removes the need to make any manual translation efforts toward a complete multilingual site. All you need to do is install the plugin on your site and it automatically does everything for you.
Within a few seconds, you have a professional multilingual site without having to put in any manual effort. When you add new content or posts to your WordPress site, Weglot intelligently translates the content to your selected languages. This way, you can ensure your site is always 100% translated at all times. It even does this if you publish new content daily.
If you need to make changes to your translations, the in-built editor offers a drag-and-drop interface. This makes it easy for you and your team members or translators to understand how the tool works. As a result, it speeds up translation post-editing workflows for your business.
In addition to this, Weglot automates translation tasks and multilingual SEO. The plugin's robust server-side translation features translates all pages before they're sent to a site visitor. If the translations are present in your site's source code, it helps search engines better understand your content. As a result, it helps boost SEO performance on your site and cater to more prospective site visitors.
TranslatePress is an intuitive multilingual WordPress translation plugin that lets you translate your WordPress or WooCommerce site directly from the front-end.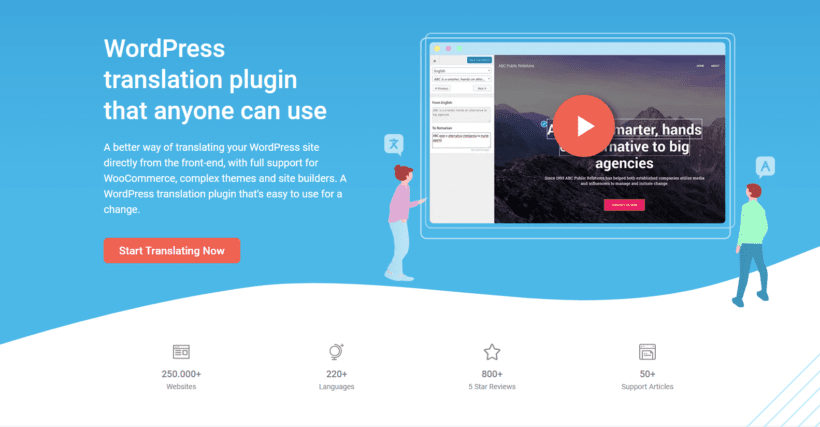 It lets you translate entire page content including images, forms, and pop-ups. This is the ideal solution for brands that are looking for a simple way to create a full-fledged multilingual site. TranslatePress also integrates with Google Translate. This makes it possible to automatically translate your entire WordPress site without having to do any work yourself.
You can add your desired language translations to your WordPress site and publish them to your live site only when you're done making changes or the translations are 100% accurate. In addition, TranslatePress lets you add as many languages as you want to your multilingual WordPress or WooCommerce site.
Weglot and TranslatePress as WPML alternatives
Both of these plugins are easier to use than WPML. That's because they take a completely different approach to translation than the popular multilingual plugin. For starters, everything happens on the front-end of your site. As a result, you don't have to use an outdated interface in the WordPress admin like you have to with WPML.
Weglot is also easier to use than WPML. That's because it's a fully-featured front-end translation plugin. This essentially means you can translate your entire website directly from the front-end. You don't need to go through a separate back-end translation interface. This not only makes the translation process more intuitive. It's also a great option for website owners who don't have the technical expertise or a new to website translations.
WPML on the other hand is a more complex plugin. it requires some sort of technical knowledge to properly set up and use for your site. As we saw, it uses a separate back-end module to manage translation on your site. This means that it can be less intuitive and more time-consuming than a front-end translation plugin.
With Weglot and TranslatePress, you don't have to publish translation changes just to see how they'll look on your site. Since you'll be editing the pages directly from the front-end of your site, you can better visualize how the translation changes will look for your site visitors.
Weglot vs TranslatePress
Between Weglot vs TranslatePress, which is the best translation plugin for your site? Let's take a closer look at the differences between both WPML alternatives.
Weglot is a professional multilingual plugin that offers automatic translation for your website without you having to do any work. TranslatePress also allows you to automatically translate your WordPress site using Google Translate. While both do the same thing, TranslatePress is much simpler to use and is designed with simplicity in mind. Weglot on the other hand offers more complex translation features and integrations that are designed for larger-scale businesses.
The great thing is that both WordPress WPML alternatives will offer the same, and more features but at a lower price. TranslatePress' pricing starts at $7.99 per month for the Personal plan.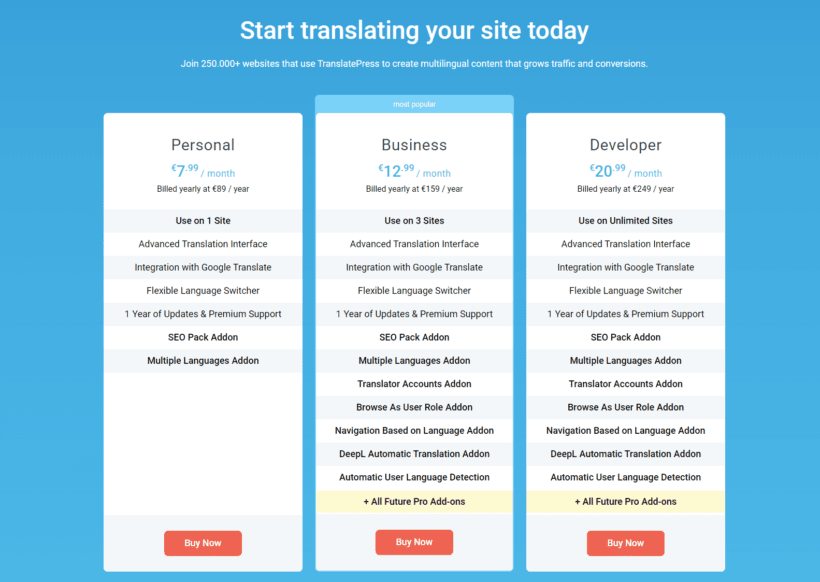 As compared to Weglot's Starter pricing plan which starts from $15, it's a better deal. Especially considering that both plugins offer front-end translation features.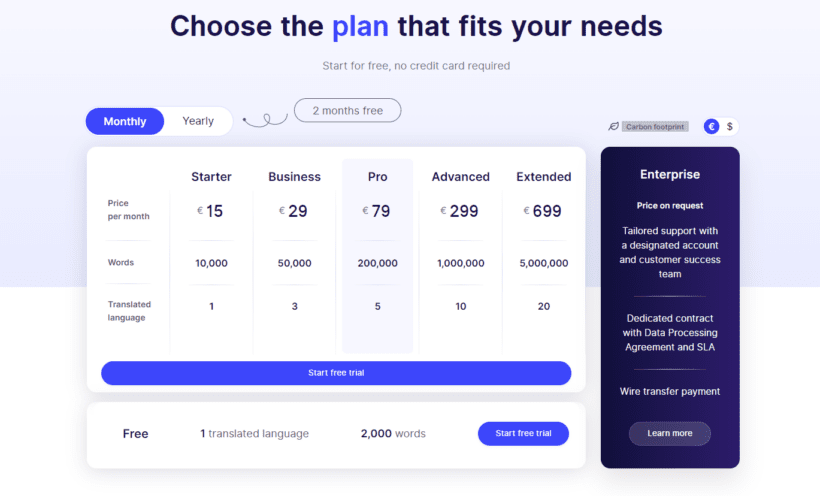 What is the best translation plugin for WordPress?
True, WPML is a great multilingual plugin for WordPress and WooCommerce sites. However, it can be a stretch for most businesses to pay the high costs that comes with it. It's also a bit outdated and difficult to use. This is why it is useful to look at WordPress WPML alternatives. For example, TranslatePress and Weglot offer easier-to-use features at a much lower price.
Depending on the type of website you run, you want to choose the translation plugin that best suits your needs. We recommend going with the Weglot plugin as it's the best "bang-for-buck" option for translation plugins. WPML is only worth using if you already know how to use it or are prepared to put in the extra effort to learn.
Ready to start automatically translating your WordPress or WooCommerce site? Get Weglot or TranslatePress today!