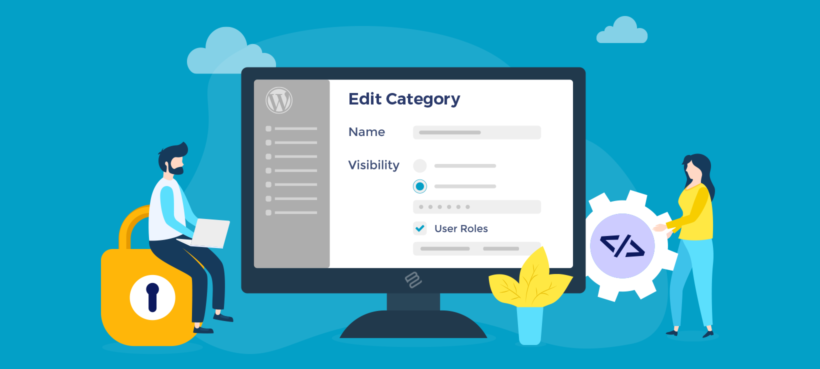 Are you looking for the fastest and most flexible way to restrict content on your WordPress site? Whether you own a simple WordPress blog or a WooCommerce store, you may need to restrict access to certain content on your site. This can help you manage your site or business better or even test new features before making them public.
By default, WordPress offers 3 visibility options for your posts and pages. You can choose to either make your content public, private, or password protected. But these visibility settings don't give you enough control over who can access each part of your WordPress site.
For example, when you set a page or post to private, only users with Administrator and Editor access can see the content. You can't make the content available to other user roles or individual users. You also can't restrict access based on other parameters like categories and subcategories.
The best way to get around this is to get a WordPress restrict content plugin. A WordPress restrict content plugin not only helps you hide individual pages and posts from public view. You can also use it to protect entire categories and custom post types.
In this article, we'll show you how to do this with the best WordPress restrict content plugin, Password Protected Categories. We'll also share some popular use cases for restricting WordPress content. Let's get to it!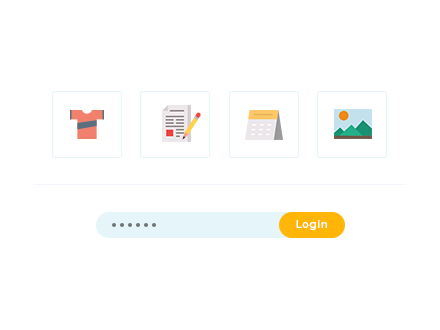 Create hidden areas within your WordPress site - the easy way.
Why restrict content in WordPress?
Managing content on a multi-user WordPress site can take several approaches. Depending on your needs, you may not want to allow open access to certain content on your site.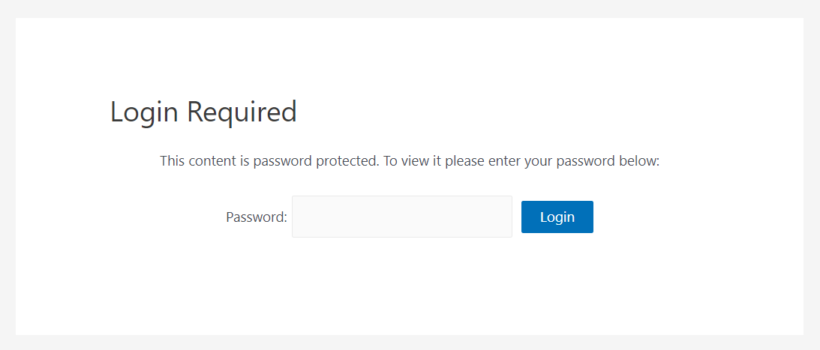 Not sure when it's appropriate to restrict content on your WordPress site? We've curated a few of the most popular use cases across different industries.
For subscription-based magazines or blogsBlog or magazine owners may want to restrict access to exclusive publications. You can encourage unpaid members with an introductory article in a series. They'll then need to pay for access to other premium content in the series.
For tiered membership forum or communityIt may also make sense to lock access to specific parts of your online community. Members can unlock access to these sections based on their membership plan (like Basic, Premium, or Gold).
For company wikiWordPress restrict content also helps you to regulate access to your company information. Employees can be granted access to databases or a particular CRM tool based on their role or seniority level.
To test new products, services, or site pagesAllow only administrators or editors to review a particular landing page, product page, or even a software product while it's still under construction. They can test new features from the end user's perspective without the need to set up a staging site.
When adding new WordPress fuctionalitySimilarly, you may want to add a new plugin to your site. You can test out its features by restricting access to the pages where the plugin's features appear.
For private WooCommerce wholesale storesThis is great for running a retail store and wholesale store on the same site. Restricting content will ensure that only registered wholesale users can see the wholesale products and pricing.
There are many other use cases for WordPress restrict content plugins. But these 6 simple examples should be able to paint a clear picture.
Now, let's show you how to fully control access to any WordPress content type.
Password Protected Categories: Restrict access to any type of WordPress content
Ready to gain fine-grained control over who can access virtually every part of your site? You can get started with Password Protected Categories.
Password Protected Categories is the best WordPress restrict content plugin in the market. With this plugin, there's no limit to the type of WordPress content you can restrict user access to. Whether it's a page, post, or even a custom post type, the tool gives you complete control over it.
For example, you may have added an event to your site using a WordPress events plugin. You can then use Password Protected Categories to password-protect certain events from some of your site users. This also works for portfolios, products, and other custom post types.
Password Protected Categories achieves this by restricting access to content based on categories. Once a certain category is protected, the plugin will lock access to all the content pieces within that category and its sub-categories.
Unlike the default WordPress password protection or privacy feature, you don't need to restrict access to each page or post manually. This makes it easier and faster to implement a bulk content restriction strategy site-wide.
What you can do with Password Protected Categories
Apart from simply password protecting your site content, you also get these flexible privacy features:
Choose from 3 protection optionsDecide how you want to grant access to protected content: to individual users, to users assigned specific roles, or by requesting a password. With the first option, you need to add each registered user to the protected category manually. But role-based protection grants access to multiple users assigned the same role at the same time. The first two options are ideal for users who already have an account on your site. Otherwise, you can use the third option. This requires you to send out passwords to your users when needed.
Show or hide protected contentChoose whether to show protected content in the public areas of your site. Under the right conditions, showing protected content can motivate users to register or upgrade their membership.
Design a login formCustomize the content of the login form your site displays when users try to access password-protected content. Edit elements like title, login message, and the password label.
Grant time-based access to unlocked contentSet how long you want users to have access to protected content after they enter the password.
Choose the page to show to users without accessYou can choose whether to show users a 404 error page, a log-in page, or any other page when they do not have access to some content.
Now, let's show you how to use this WordPress restrict content plugin in 3 easy steps.
How to restrict WordPress content with Password Protected Categories
Now that we know what Password Protected Categories can do, let's set it up and walk you through its features.
Step 1: Install and activate Password Protected Categories
Your first step to restricting WordPress content on your site is to get your copy of Password Protected Categories here.
After getting the plugin, Password Protected Categories will send you an email with your license key. You'll also now be able to download the plugin to your local storage as a ZIP file.
Once you have the plugin file and your license key, the next step is to upload the plugin to your WordPress site. Follow these steps to complete this action:
Log into your WordPress admin area. Then go to Plugins → Add New → Upload Plugin.
Choose the plugin's ZIP file that you downloaded and click Install Now. After installing the plugin, click Activate Plugin.
Immediately you activate the plugin, you'll be redirected to a page where you can enter the plugin's license key. Type in the license key you received in your email after getting the plugin. Then click Activate.
Great job! You've just successfully added Password Protected Categories to your site. You're now ready to restrict any type of WordPress content.
Next, it's time to password-protect your WordPress categories.
Step 2: Create password-protected categories
To create your first password-protected category, navigate to the Categories tab of the relevant WordPress post type. For example, if you want to password protect a post category, go to Posts → Categories. Here, you can create a new category and edit the visibility options per your needs.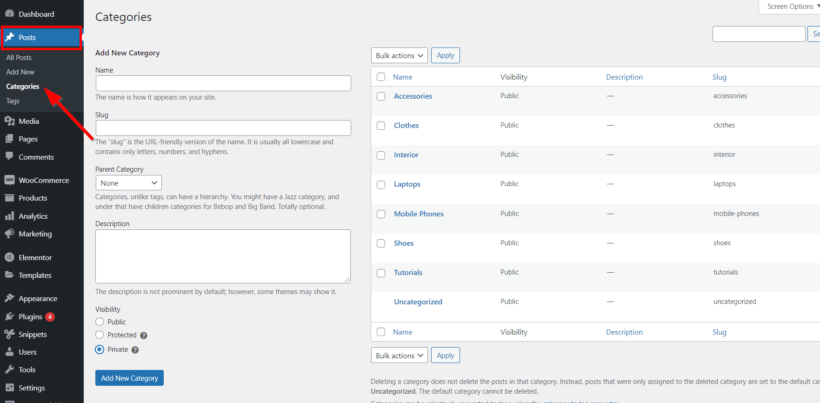 Otherwise you can also edit an existing category by hovering over the category and clicking Edit.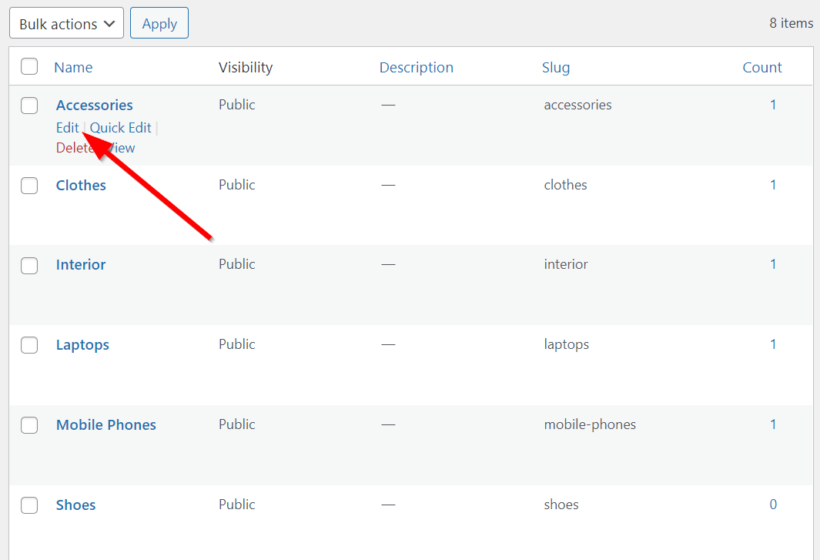 In the Visibility settings section, check the Password protected option to reveal the Password Protected Categories features. Now, you can restrict access to that WordPress category using any or all of the 3 methods we mentioned earlier.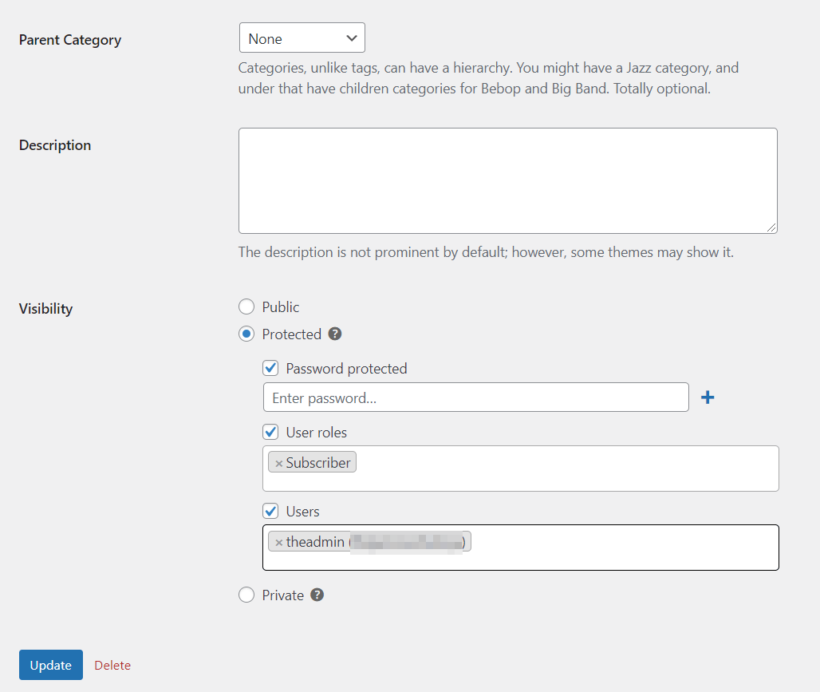 So, you can give access to specific user roles, individual users, or simply password-protect the category. If you check all 3 options, registered users with access will see the content without needing to enter a password. But users without access will be required to enter a password.
You can also protect a category with multiple passwords. This way, site visitors can enter any of the passwords to access the restricted content. When you're done, click Update to save all your changes.
Finally, let's tweak some other settings on the plugin's settings page.
Step 3: Edit other Password Protected Categories settings
To complete your settings, go to Settings → Protected Categories. You get to explore all the plugin features we mentioned earlier here.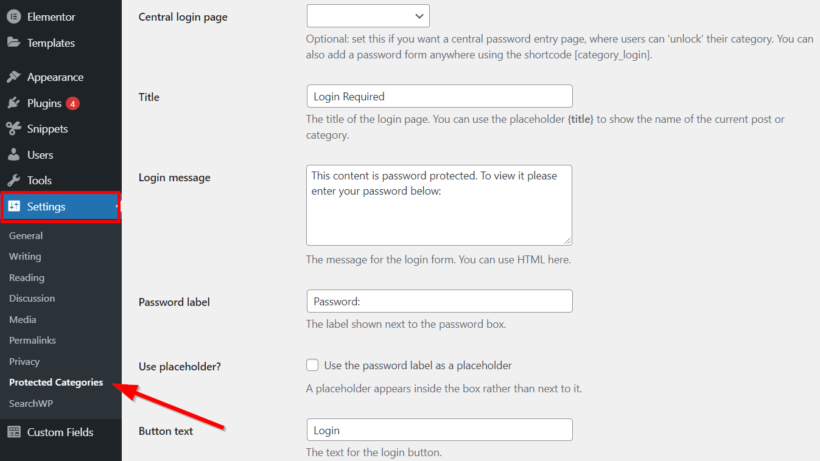 The first option here is to enter a license key to activate the plugin. Then you can set a password expiry timeframe, choose to make protected categories private, or decide what to show logged-out users.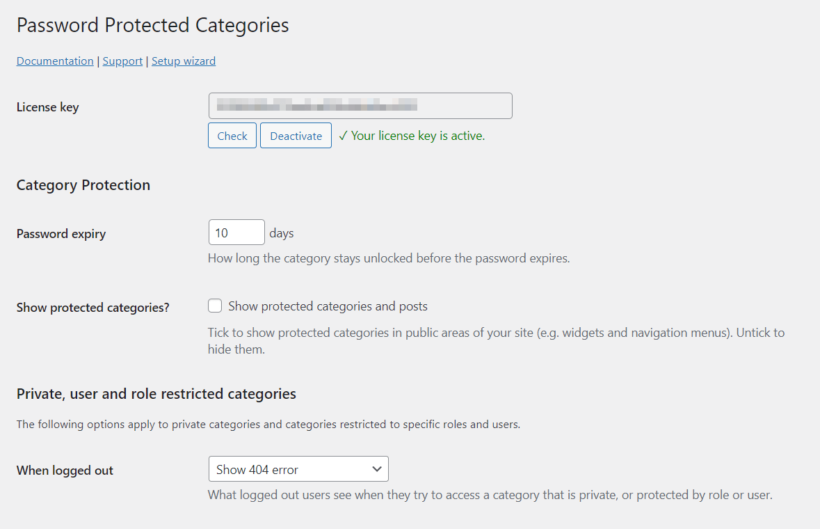 You can also edit the content of the login page WordPress will show to users without access to the content.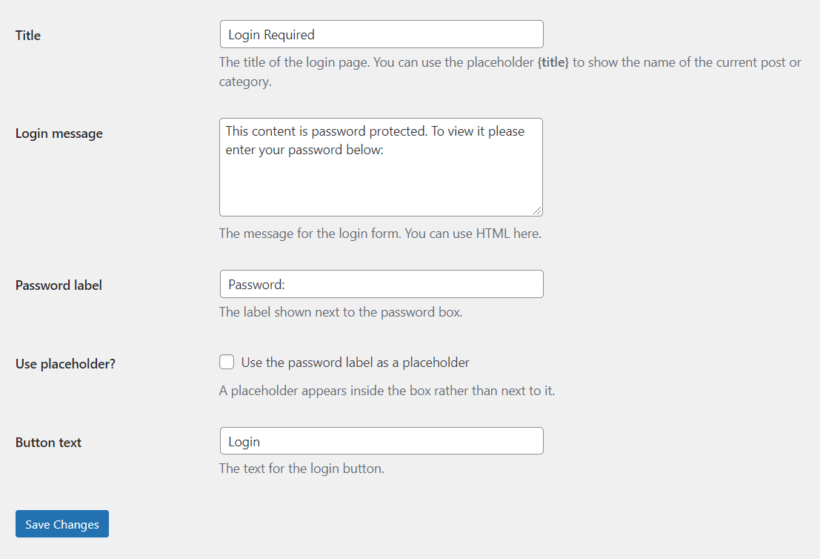 Click Save Changes when you're done.
That's it! You've just restricted access to your WordPress content the easy way by password-protecting an entire category.
But what if you have a WooCommerce store and want to restrict access to exclusive products or even create a private store? Fortunately, Password Protected Categories has some sister plugins that can cater to this. Let's see what you can do with them!
How to restrict WooCommerce content using a plugin
WooCommerce Protected Categories and WooCommerce Private Store are 2 powerful plugins for restricting content on your WordPress store. These plugins work just like Password Protected Categories but are specially designed for WooCommerce stores.
WooCommerce Protected Categories is ideal for store owners who want to lock specific product categories and keep the rest of their store public.
But if you want to hide an entire WooCommerce store and make it accessible on-demand, WooCommerce Private Store will do the job. This option is great for hiding wholesale stores or selling exclusive items in members-only clubs.
You can grab your copy of WooCommerce Protected Categories here. Install and activate the plugin's license following the same steps in the previous section.
After this, navigate to Products → Categories to set up password protection for new and existing categories.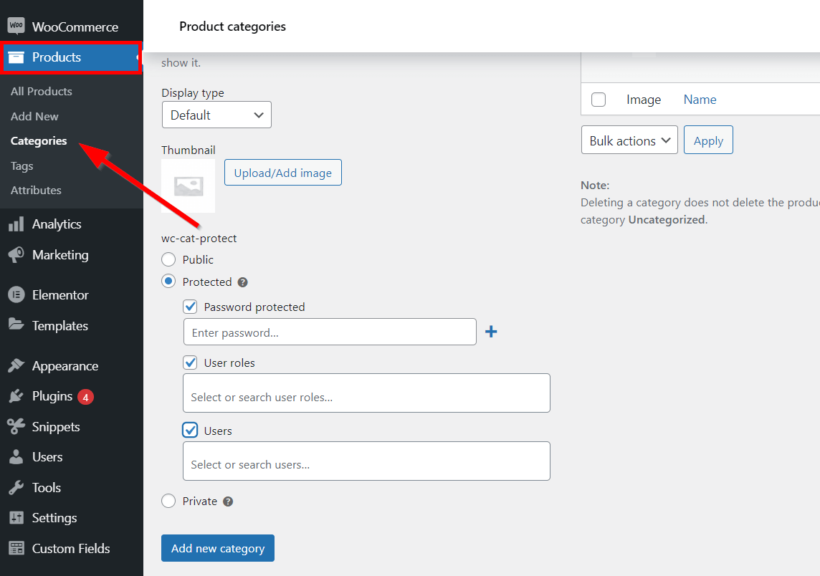 You can also edit other plugin settings like the password expiry timeframe and the login page message. To do this, go to WooCommerce → Settings → Products → Protected categories.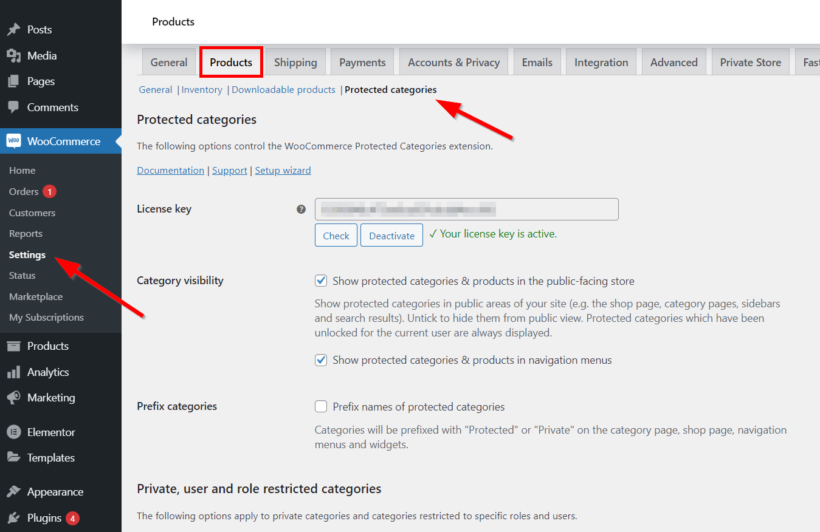 To restrict access to all your WooCommerce content, get a copy of WooCommerce Private Store here.
After installing and activating the plugin license, it will instantly hide your WooCommerce store from public view. To further customize your private store and set a password, go to WooCommerce → Settings → Private Store.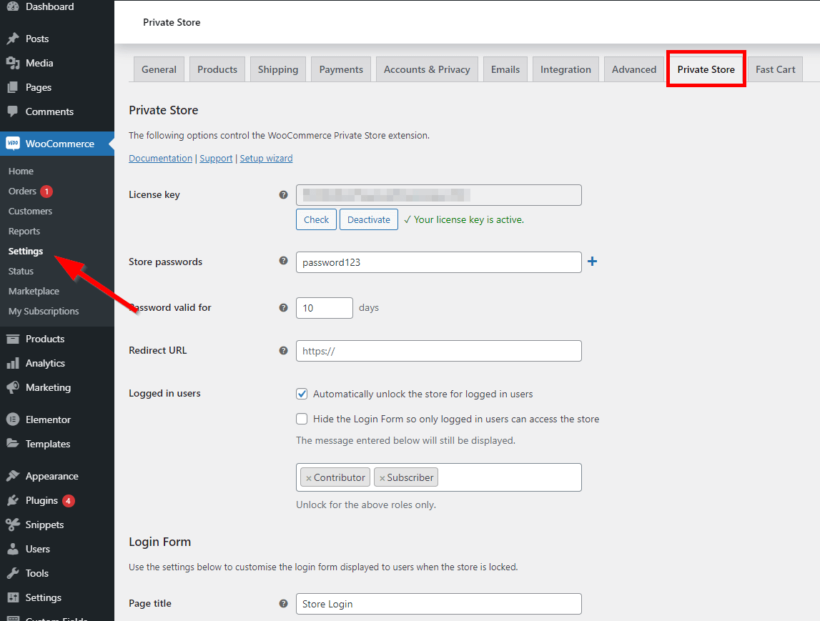 Here, you can choose to automatically unlock the store for all logged-in users or give access to some roles only.
Where to get the plugins
Password protecting specific content on your WordPress site is a great way to manage your site's content and encourage visitors to join a membership plan.
In this article, we showed you 3 powerful WordPress restrict content plugins that make it very easy to hide entire WordPress categories. This method eliminates the need to hide individual pages or posts manually.
With Password Protected Categories, you can hide entire categories and sub-categories of any content WordPress type. You can then grant access to individual users, to users assigned specific roles, or by requesting a password.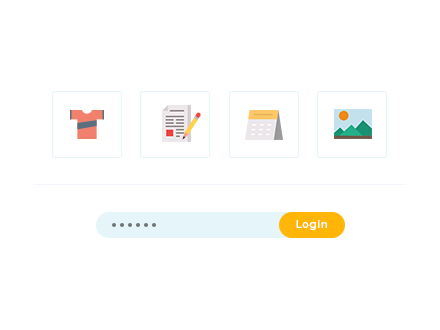 Create hidden areas within your WordPress site - the easy way.
If you own a WooCommerce store, you can use WooCommerce Protected Categories to hide product categories as well. Otherwise, you may want to hide your entire store (shop page, cart, products, etc.). You can do this with WooCommerce Private Store.
Are you ready to restrict access to your WordPress site content the easiest way? Get started with the Password Protected Categories plugin today.