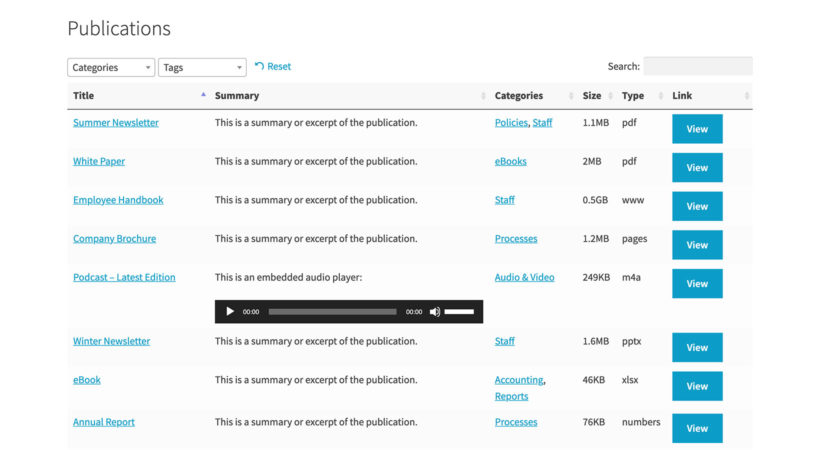 Most WordPress websites need some sort of publications library, documents database or knowledge base. Here's how to create your very own WordPress publications library.
There are many reasons why you might want to add a WordPress publications library to your website. Here are a few common examples:
WordPress publications library of items your company has published, e.g. brochure, magazines and newsletters.
Document library of staff policies and procedures for your employees.
Searchable knowledge base or resource directory consisting of in-depth articles relevant to your industry.
Database of documentation and instructions for your products.
Keep reading to discover the best plugin for creating a WordPress publications library, and how to set it up.
What is the best WordPress publications library plugin?
Inexperienced website owners often set up a WordPress publications library as static content - for example a basic list of links to PDF downloads. This is ok if you don't have many publications for your library, but can easily get out of control as the list gets longer. Before you know it, visitors are struggling to find the publications they're looking for. It also becomes a nightmare for you to maintain.
Document Library Pro is the perfect solution. It's easy to set up and manage, yet offers a sophisticated WordPress publications management system with user-friendly features such as advanced search and filtering.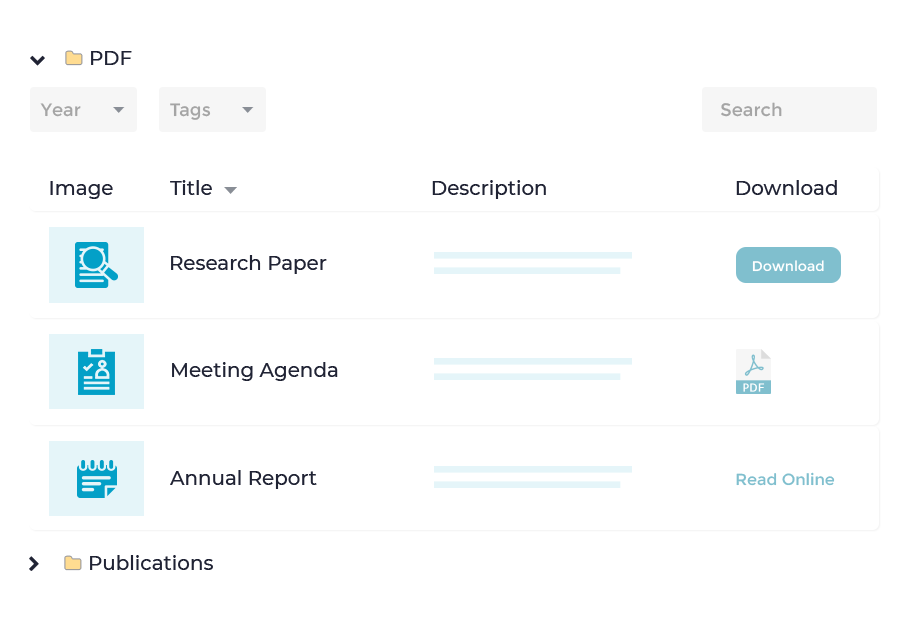 Install Document Library Pro today and start adding and sharing publications - the easy way!
This publications library plugin lists your publications in a fully searchable, sortable HTML table with filters. Alternatively, it can list documents in a stylish grid layout where each document has its own tile.
Whichever layout you choose, it takes minutes to set up and works brilliantly on mobiles and tablets. It's very flexible so you can adapt the WordPress publications library to suit your website.
You can either store the publications in the WordPress Media Library so that people can download them. Alternatively, you can link to publications which are hosted on other websites like Dropbox, or link to other web pages. Either way, they appear in your searchable publications library.
How to create a publications library in WordPress
For step-by-step instructions on how to create a WordPress publication library, watch this video or read the written instructions below:
First, install the plugin and add your publications
Once you've bought Document Library Pro, install it on your WordPress website and activate your license key. You can find this in the 'Getting Started' email, along with a link to download the plugin.
Next, you can start adding publications to WordPress. You'll find a 'Documents' section on the left of the WordPress admin. You need to add each document as a separate document. There are several easy ways to add publications:
Add publications manuallyGo to Documents → Add New and add each publication. This is similar to adding pages or posts to a WordPress site. For each publication, add all the information that you want to display, such as the title and a brief summary. If you like, then you can actually embed the publication in the main content area - for example, as a page turning flipbook. You can also use the 'Document Link' section to upload the publication so that people can download it, or link to where it is located online.
Select from Media LibraryIf you already added your publications to the WordPress Media Library, then you can tick them in the 'Media' section of WordPress and use the bulk action dropdown to convert them to documents. You might need to do this if you previously created a static publications library page, and are converting to Document Library Pro. They will then be listed in the 'Documents' section, where you can make changes and add any extra information to display for each publication.
Drag and drop file uploadQuickly add publications by going to Documents → Import and using drag and drop to add the publications to WordPress.
Bulk upload from CSVTo add publications to WordPress in bulk, you can prepare a CSV file and upload it. There are instructions and a sample CSV in the plugin knowledge base.
Next, create a library listing your publications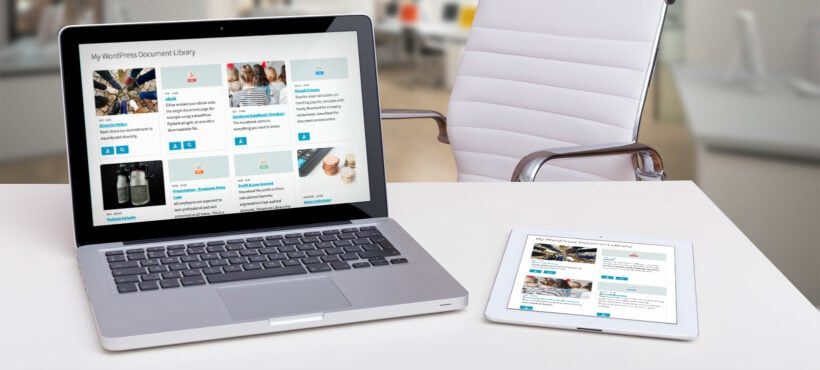 When you install the Document Library Pro plugin, is creates your first WordPress publications library for you! Find this by going to the 'Pages' area in the WordPress and finding a new page called 'Document Library'. (You can change the name to 'Publications Archive' or anything else.)
Click 'View' to see the page in the front end. You will see a searchable library listing all your publications in a table or grid format.
You might be happy with how the publications library looks by default, in which case you can sit back and relax now. If not, you can make some simple changes to change how the publications are displayed.
To do this, go to Documents → Settings → Document Libraries and make any changes as required.
Recommended settings for a publications library
There are lots of settings (read about them all here) and you can tailor it in lots of different ways, such as:
Choose the content of the library. You can display various data about your publications. This might include featured image, title, content, excerpt, publication date, category, tags, and more.
Enable the folders option to display the publications from each category within a clickable folder layout.
Control the links to your publications, such as whether to allow users to access a separate page for each one, and whether to display links as buttons or file type icons. You can even customize the button text to access each publication.
How many rows to display on each page before pagination links appear at the bottom.
Enable lazy load if you have many publications.
Add filter dropdowns above the WordPress publications library in the knowledge hub. Choose between filters for categories, tags or custom taxonomies.
And there's more!
You can also control:
Which column to sort by when the publications library first loads. The default is 'date' but it might be more logical to sort alphabetically if your publications aren't date-dependent.
Whether to sort in ascending or descending order when the library first loads.
If you want people to be able to click on a category name in order to filter for all publications in that category.
The length of the excerpt from each publication.
And more...
Use the options to create your own unique WordPress publications library. Once you've finished, view the page again, and it will now show the settings you just chose.
Finally, add the page to the menu so that people can access it!
Creating multiple publications libraries
At this point in the tutorial, you know how to list all your publications on the same page - either as a single list, or divided into folders.
If you prefer, then you can use a shortcode to list specific publications in different locations. For example, you might create a different page for each category. You might want to create custom layouts using a page builder plugin, with different publications listed on different parts of the page.
The shortcode is incredibly flexible, so have a play and create new and exciting structures for the publications library!
Can I use the WordPress publications plugin for anything else?
Absolutely! Once you've invested in Document Library Pro for your WordPress publications library, there's plenty more you can do with it. Basically, it can display any type of resource in a sortable table. This includes:
Use it in as many different ways as possible on your WordPress website. This gives you excellent value for money.
Where can I get the WordPress publications library plugin?
The Document Library Pro plugin comes with full support and in-depth documentation. Get it now and start setting up your publications library today: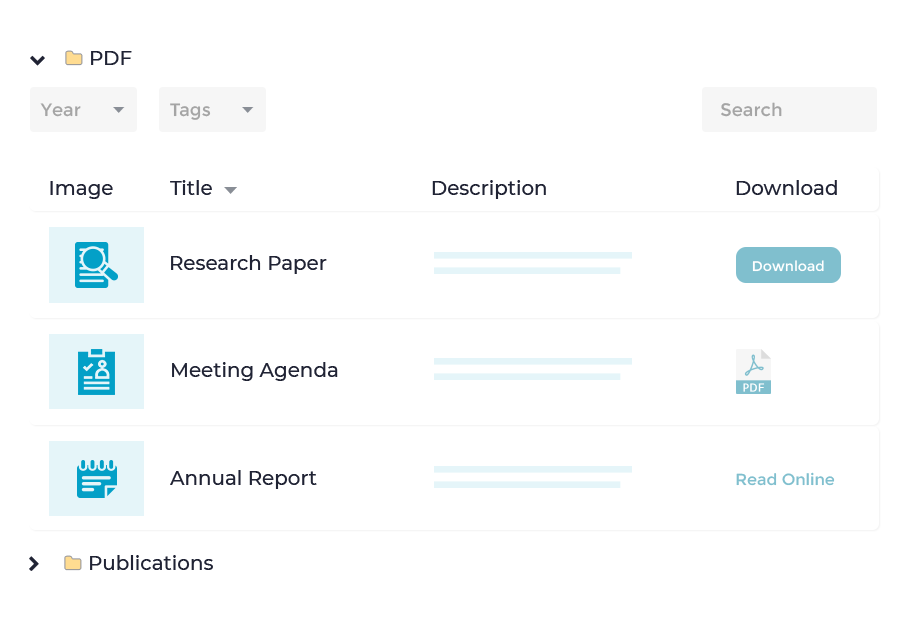 Install Document Library Pro today and start adding and sharing publications - the easy way!