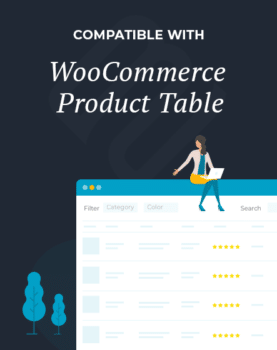 Calling all WordPress theme and plugin developers! We're pleased to announce that you can now apply for our new WordPress plugin compatibility scheme for WooCommerce Product Table.
Thousands of WordPress websites worldwide are now increasing their sales with our bestselling WooCommerce Product Table plugin. People constantly ask us whether WooCommerce Product Table works with a specific theme or plugin.
We've already published a list of compatible third party themes and plugins we have tested with. However, there are many themes and plugins that we haven't tested with.
We want to help our customers to use product tables to meet more and more diverse requirements. You can achieve amazing things by combining WooCommerce Product Table with other developers' plugins. As a result, we've decided to launch a formal scheme for theme and plugin developers to get certified and declare compatibility with WooCommerce Product Table.
Compatible themes and plugins get more sales
By getting your WordPress themes and plugins certified as compatible with WooCommerce Product Table, you open up your product to a much bigger market.
As well as getting sales from people who are searching for your plugin directly, you can reach people who are seeking extra features for their product tables.
Adding the compatibility badge to your plugin sales page can also boost conversions by reassuring customers that your plugin is well tested and compatible with other plugins they want to use. This makes them more likely to use your plugin rather than one that hasn't been tested.
You get more customers, we get more customers, and your customers can build more robust websites by using plugins that work well together. Everyone wins!
How does the WordPress plugin compatibility scheme work?
Once you apply to the compatibility scheme, we'll set up your theme/plugin on a test site where you can test it with WooCommerce Product Table. If the plugins are compatible, then we will accept your theme or plugin onto the scheme.
When this happens, then you will receive an official certification mark to use to promote the theme/plugin. We will also promote your theme and plugin on our own website.
What does it cost?
Absolutely nothing! This is a free WordPress plugin compatibility scheme designed to help both your customers and ours.
What are the benefits for my theme/plugin?
If your WordPress theme or plugin is compatible, then we will permit you to use the official WooCommerce Product Table Compatibility logo on your website and sales materials. You can use it on WordPress.org (for free WordPress plugins), third party marketplaces such as ThemeForest or CodeCanyon, and your own website. This will encourage more people to buy your theme or plugin.
We will list your theme or plugin as a certified product on our compatibility page, including a dofollow link to your site.
We'll announce the compatibility to our customers on our social media channels.
If you wish, then you can write a tutorial about how to use your theme/plugin with WooCommerce Product Table. We'll publish this on the Barn2 blog, including dofollow links back to your site. We will also email the tutorial to our mailing list.
You can also join the Barn2 Media affiliate scheme and earn 30% commission for any sales we get as a result of people clicking the compatibility badge on your website. Just add your affiliate link to the WooCommerce Product Table Compatibility logo and anywhere else you mention the compatibility. This gives you double benefits: it encourages more people to buy your theme or plugin. You also earn affiliate commission when your customers buy WooCommerce Product Table!