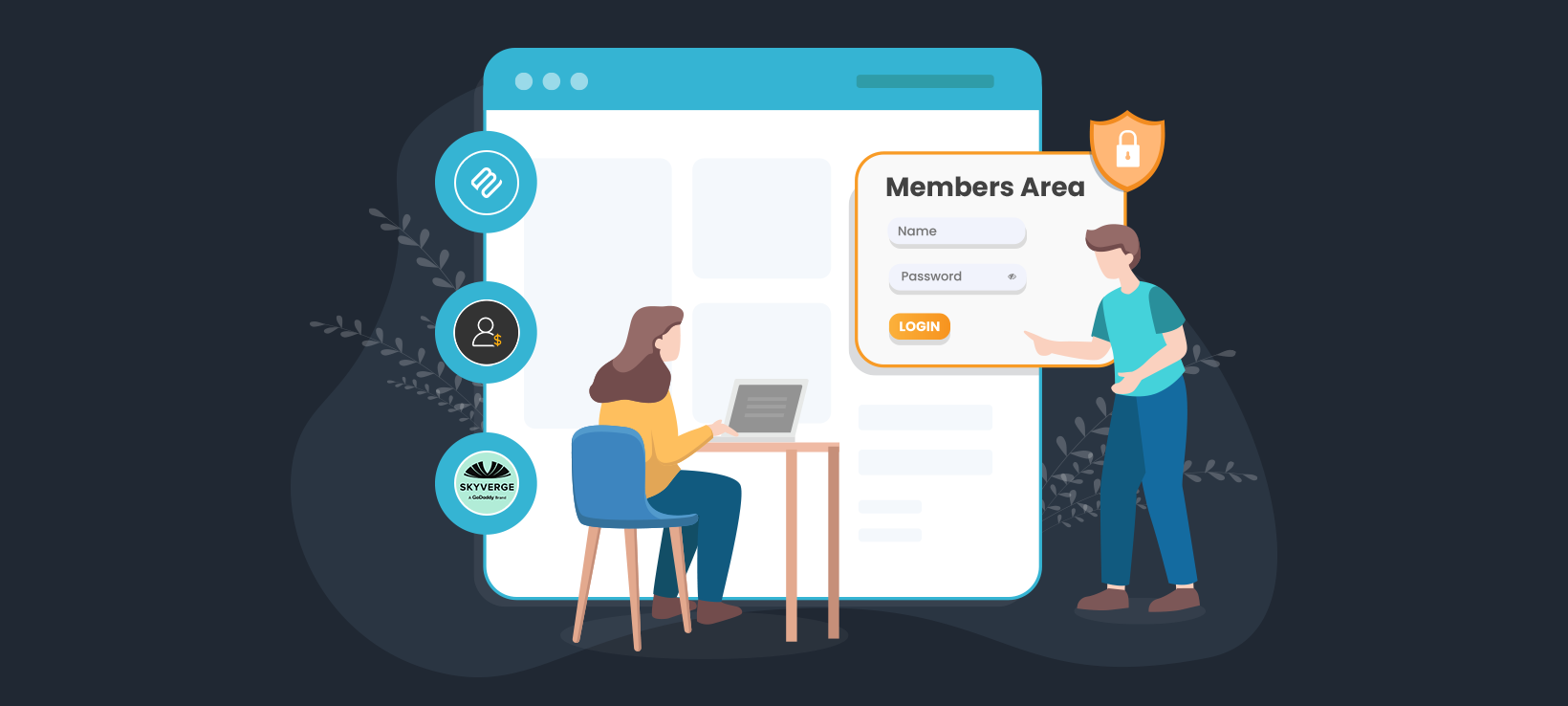 Looking for the best way to build a WordPress members area on your website? Look no further. In this article, we'll reveal the best membership plugins out there. We'll also discuss how to use those plugins to create a members-only area in WordPress.
Membership WordPress areas are used by millions of businesses like e-commerce sites, news sites, gallery sites, restaurants, agencies, affiliate marketers, etc. They're a perfect way to build private communities and generate recurring income.
Building a WordPress membership website may look like a daunting task but trust us, it isn't. All you need to do is choose the best membership plugin, install it, set it up and a membership area is ready within minutes!
There are lots of WordPress membership plugins out there. In this article, we will list the best membership plugins so that you can choose one that suits your business needs. We will also demonstrate how to build a membership area with the best plugins.
Let's get started.
What exactly are members-only areas?
Before we begin, let's quickly talk about what we mean by membership sites and their many benefits.
A members-only area is a private section within a website, accessible by authorized users. For instance, MasterClass is a popular membership site where students pay a membership fee to access pre-recorded lectures by experts in various fields:
Membership areas are commonly found on websites selling digital downloads or physical products. It enables sellers to restrict all or some of the site's content, services, or products.
Whatever you need a WordPress membership area for, it's the perfect way to create a hidden area within your website.
Benefits of membership sites
Membership sites are becoming increasingly popular because of the many benefits they offer. Businesses build membership areas to achieve the following benefits:
Grow traffic and revenue
Foster community
Build a list of leads
Let's take a closer look at each of these benefits.
1. Monetary benefits
One of the most consistently profitable ways to secure income comes in the form of a membership area. Membership areas are used to sell just about anything like - tutorials, e-books, articles, cloud-based services, and even special discount codes.
Products, content, or services can be sold for one-time payments or recurring payments. Take for instance Fizzle, an entrepreneurship training platform that offers annual and monthly recurring membership for aspirants to choose from.
Recurring payments are great for businesses. Unlike other marketing strategies (like email marketing, social media marketing) where you have to actively try and convince customers to buy again, recurring payments don't require any active marketing campaigns. Businesses can solely focus on keeping the customers happy.
2. Community building
Communities can be used to keep customers engaged and interested in your brand. Facebook groups, Slack groups, and forums are often used to build a community.
Membership sites can also create a forum with plugins like bbPress. They can find ways to keep users engaged and with time, a passionate fan base is likely to emerge. This fanbase will help you improve your products and even help your business grow by spreading the word.
3. Collecting leads
Users signing up on your membership area are not just paying you, they are also sharing valuable information like name and email addresses. You can use this information for sales campaigns like Black Friday sales, new product launches, brand awareness drive, etc.
It's worth noting that you don't have to offer a paid membership service to collect leads. Plenty of businesses restrict parts of their website to drive visitors to sign up if they want to access hidden content.
Example: Scott's Cheap Flight offers free membership to visitors who want to be alerted about international flight deals in exchange for a name and email address.
The best WordPress membership plugins
To create a WordPress members area, you need a membership plugin. In this section, we will discuss 3 popular WordPress membership plugins that have been tried and tested by thousands of businesses.
Before you proceed, take a backup of your entire website. The backup is your safety net. In the following steps, you will have to install plugins and as you may already know, new plugins can cause a website to crash. If that happens, you can get your website quickly up and running by using that backup.
#1. Password Protected Categories
Password Protected Categories is one of our most popular WordPress plugins. It is ideal for building a simple membership area. Most membership plugins are quite featured-ridden. If managing a complex membership plugin feels like an annoying, time-consuming task, then go for the Password Protected Categories plugin.
As the name suggests, the plugin helps you hide WordPress categories and other taxonomies. Clients use it to restrict access to private portfolios, customer portals, invite-only events, exclusive products, among other things.
Unlike all other WordPress members area plugins, you can choose how people will access the hidden content. You can either create a user account for each member so that they log in to unlock the members area, or you can use password protection. This means that if you don't want to create an account for each member then you can just give them the password - simple!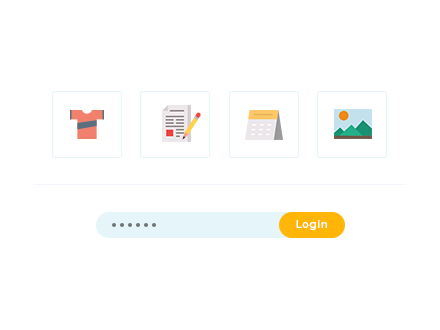 Create hidden areas within your WordPress site - the easy way.
Next, let's look at how to set up the plugin. You can either watch the video, or follow the written instructions below:
How to create a WordPress members area
Install and activate Password Protected Categories on your WordPress website. Then go to Setting → Protected Categories and enter your license key.
On the same page, you will see the default setting as to how the plugin works. You can modify them according to your needs. These help docs will lend you a hand in getting started.
Now, let's say you are offering online courses on SEO. You want to run a special discount offer on some of your courses and only members will have access to these special discount courses. To set up a members-only area, take the following steps:
Step 1: Create a membership registration form & login area
A registration page (or sign-up page) is necessary if you want to charge users for accessing the membership area. And after signing up, they will need a login page to access the members-only area.
The best way to do this depends on whether you plan to use basic password protection (no user accounts needed); or whether to restrict the members area to specific logged-in users.
For password protection, the plugin comes with a built-in members area login form. Simply add the shortcode [category_login] to any page.
For a members area that uses individual accounts, check out our guides on how to create a registration form and login page manually, or by using plugins like Profile Builder or Theme My Login.
Step 2: Password protect categories & subcategories
We'll structure the WordPress members area by creating one or more categories that are restricted to members. You can restrict access to as many categories as you like, and put the members-only content within these categories.
Go to Posts → Categories. Whether you choose to create a new category or edit an old one, you should find a Visibility section with options to set the category as Public, Protected, or Private.
Select Protected and choose the type of protection you require for the WordPress members area:
Password protection - with this option, you can add a password to restrict access to a category and its subcategories. Adding multiple passwords is recommended if you plan to revoke a specific member's access without affecting other members.
If password protection is not your cup of tea then there are two other options: user roles and users. You have the option to choose one or more user roles who will have access to the protected category as soon as they log in. You can also select one or more user profiles who will have access to the restricted category when they log in to their dashboard.
As you can see, the plugin makes it very easy to create a hidden WordPress members area. If you still require assistance, there are help docs, articles, and an excellent video tutorial to help you out:
Step 3: Add content to the categories & subcategories
This is easy. Just add some pages/posts to the categories that you have included in the WordPress members area.
PRO TIP: To encourage trust, you can offer free trials before signing up to your membership area. You can set user access to expire by following this guide.
That's it folk. You now have a simple WordPress members area on your website.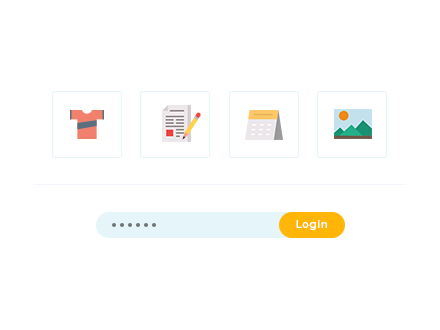 Create hidden areas within your WordPress site - the easy way.
#2. Paid Member Subscriptions
Paid Member Subscriptions by Cozmoslabs is a full-blown WordPress membership plugin. It offers numerous features like restricting access to specific content, lifetime memberships, membership levels, different payment gateways like PayPal and Stripe. The plugin also helps run promos like trial periods, coupon codes, discount codes, etc. Find a complete list of the plugin's functionality here.
Creating a members area with Paid Member Subscriptions
Installing and setting up the plugin is more time-consuming than the Password Protected Categories plugin featured above. However, it's a good option if you need its more complex features. As soon as you activate the plugin, a setup wizard appears. It has three sections: basic setup, payment gateways, and subscription plans.
The basic setup involves creating necessary pages like Registration, Login, Account, and Reset Password pages. Following that you have to set up the payment gateways. And in the final step, you will create subscription plans.
With Paid Member Subscriptions, you can create tiered subscription plans so that members can easily upgrade to a higher plan. And if they want to sign up for more than one subscription plan, you can create a multiple-tiered subscription plan. Check out this guide on how to create subscription plans.
When you have all pages and plans ready, it's time to restrict the content you want only paid members to access.
Recalling our previous example about selling an SEO course - let's say you published a series of video tutorials on a page. Open that page, scroll down and select a subscription plan.
On the same page, you can specify a content restriction method and create a custom restriction message. These documentations will show you how.
That's it, folks. You now have a members-only area on your WordPress website. Anyone who tries to access it will be prevented as shown in the image below.
#3. WooCommerce Memberships
WooCommerce Memberships by SkyVerge is another popular membership plugin but as you can tell, it's designed for WooCommerce websites.
With this plugin, you can set up membership levels, members-only reward systems, free trials, invite-only members area, and lots more. The key point about this members area plugin is that it's an e-commerce plugin. This means that you will be selling access to the members area, and you need to use the WooCommerce plugin to power the payment gateways, taxes, products, and so on.
Now let's set up the plugin.
Creating a members area with WooCommerce Memberships
Download and install WooCommerce Memberships on your WordPress website. Then go to WooCommerce → Members → Membership Plans → Add New Membership Plan. Give a title and scroll down to General settings. The options in this section are self-explanatory.
Next, go over to Restrict Content, Restrict Products, Purchasing Discounts, Members Area, and Email Content. Set them up as per your needs with the help of the documentation.
Now, it's time to add new products and enable restrictions on those products. If you have already added products to your website, then open the product page. Scroll down and you should see a Memberships box. Click on Add New Rule, select the membership plan you just created and make sure the accessibility is set to Immediately. Then hit the publish button.
Only paying members of your website can access the products.
Final thoughts on WordPress members area
Creating a WordPress membership area has never been easier. To recap:
Password Protected Categories: Install and activate the plugin to create a simple membership area by restricting access to categories and subcategories. You can then choose between using password protection or enabling access to only specific users and user roles.
Pain Member Subscriptions: Use this plugin to create a full-blown membership site with features like content restriction, lifetime memberships, membership levels, PayPal and Stripe payment gateways, etc.
WooCommerce Memberships: Buy this plugin if you need to add a members-only area to a WooCommerce online store. The plugin will help you sell membership, set up membership levels, members-only reward systems, free trials, invite-only members area, etc.
We'd love to know if you face any issues while building your very own WordPress membership area. Please leave a comment below.