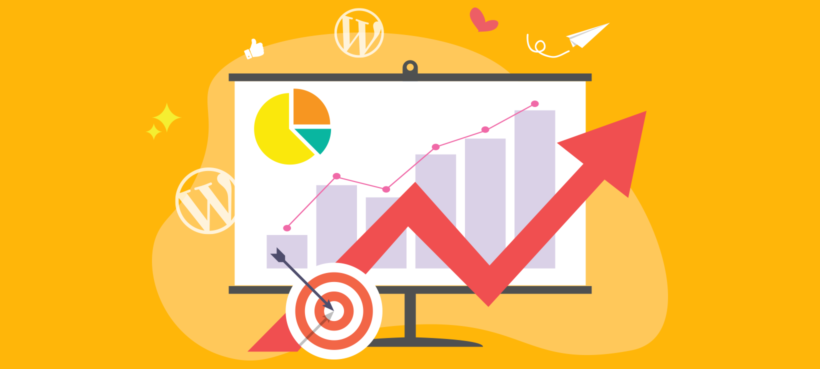 I'm writing this post to give you the latest WordPress statistics for 2023. I've done the research to provide the latest data on the number of websites using the WordPress CMS. You'll be amazed at how popular it is!
WordPress is the most popular content management system (CMS) in the world. Individuals and businesses of all sizes use WP to build websites, run blogs, and sell products online.
Keep reading for the latest statistics on WordPress market share compared to other CMS's and the whole internet.
WordPress market share 2023
According to W3Techs, around 43.1% of all websites on the web use WordPress. These include websites that run on a CMS, without a CMS, and custom-coded CMS's. This means that well over one-third of the entire internet runs on WordPress.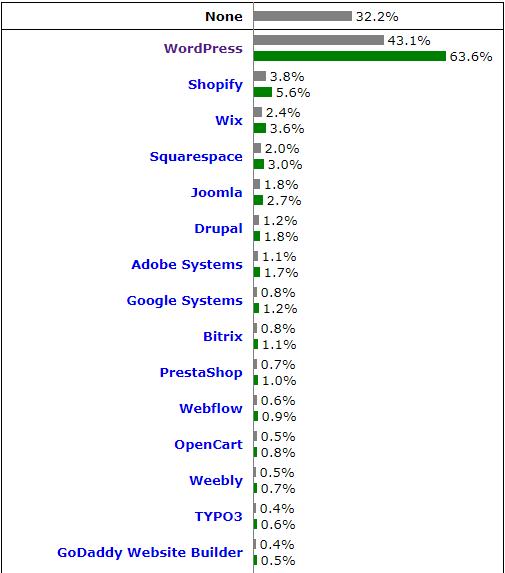 WordPress's market share is much larger – up to 63.6% to be specific – if you only consider websites running a known CMS. This includes websites running WordPress.com.
It's easy to confuse WordPress.org (the open-source platform) with WordPress.com (a web hosting service). For those unfamiliar, WordPress.com is a commercial hosting service that uses a modified version of the WordPress CMS. WordPress.com is a simplified website builder that lets users create websites easily, whereas WordPress.org gives users full control over site customization. This means that users can install any theme or plugin they'd like on their website.
It's worth mentioning that WordPress.com is owned by the same company, Automattic Inc., that contributes to the WordPress.org project.
Comparing this number with other popular content management systems like Joomla and Drupal, WordPress doesn't face any serious competition. Similarly, hosted site builders such as Wix and Squarespace are far behind WordPress in terms of their user base. Shopify is its closest competitor which powers only 5.6% of websites worldwide.
Number of websites using WordPress
As of 2023, there are about 1.98 billion total websites on the web. More than 835 million sites use WordPress. And, with over 2 million downloads every year, WordPress usage continues to rise steadily.
WordPress lets you create your website easily and manage it from any computer. It enables users to build websites for business or blog, allowing people to quickly take their ideas, products, or services online.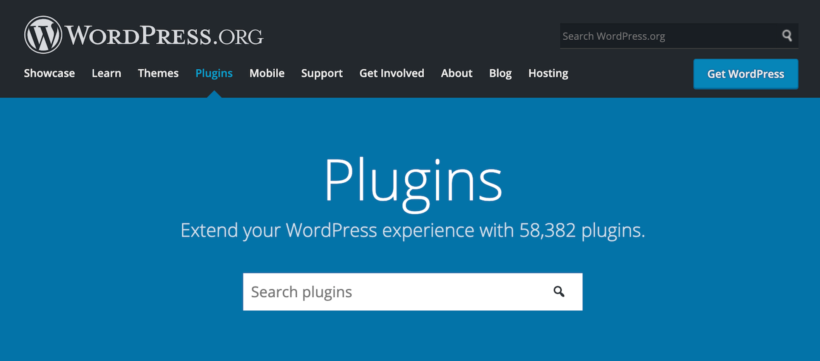 Among the many reasons for WordPress' popularity is the versatility it offers to users as a powerful content management system. This combines with the large community of site developers that offer support through online forums, tutorials, and self-help articles.
The WordPress ecosystem contains more than 58,000 plugins, 31,000 themes, and unlimited layout customization options. This means that WP can suit the needs of businesses of all shapes and sizes including corporate sites, blogs, membership sites, and online stores.
Growth of WordPress market share over time
Since it started being tracked, the data shows that WordPress's market share has been consistently growing at around the same rate. Its total website market share was 27.3% at the start of 2017 which grew to 43.1% in January 2023. This means WordPress has experienced an increase of 15.8% in terms of total website market share.
Here are the exact figures representing WordPress market share growth by year based on data by W3Techs: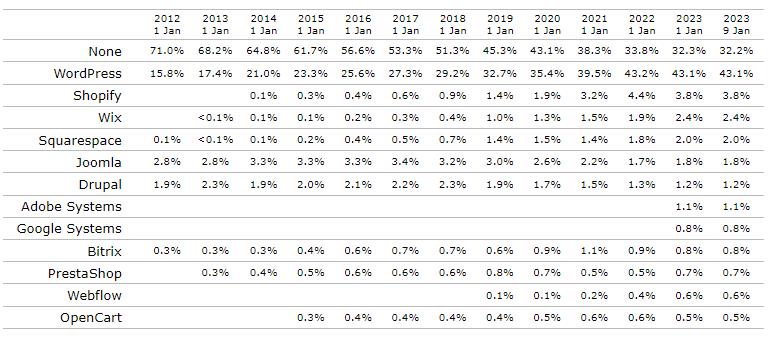 Five years ago, WordPress had a share of 23.3% among the top 10 million most visited sites on the internet. Since then, this number has grown to 43%, raising WordPress head and shoulders above its competition.
The main reason for WordPress's popularity is that it is flexible enough to match the needs of small, medium, and enterprise-level users. Users have the option to install the WordPress CMS and self-host their website or go with WordPress.com's hosted solution to build their website or online store. This makes WordPress a flexible solution for businesses of all sizes.
Breakdown of WordPress market share by country
The WordPress CMS supports more than 70 languages which make your content accessible to your site's users across the globe. In 2014, its non-English downloads exceeded English downloads for the first time in WordPress history.
Here's a list of the top 5 countries based on WordPress usage in 2023:
United States
Germany
United Kingdom
France
Brazil
In 2003, when WordPress was first built by Matt Mullenweg and Mike Little, it was only available in English. Since then, the number of supported languages has increased which has enabled users in other countries to use this platform to power their websites and online stores.
In the United States, around 3,812,524 sites run on WordPress, including the TED Blog, Reuters, The Next Web, The New Yorker, and Vogue. The U.S. has 10.34% of all known live WordPress-powered sites.
Germany, with 1,721,205 WordPress websites is in second place and makes up 4.6% of all live WordPress-powered websites. The United Kingdom has 1,422,620 WordPress websites, France has 924,780 websites, and Brazil has 913,363 websites.
There are about 193.8 million live websites in the world, and these top five countries not only account for a large portion of the active websites but also the top one million websites.
WordPress' e-commerce platform: WooCommerce
Although WordPress started out as a blogging platform, it has become a major player in the e-commerce space. WooCommerce - a free WordPress plugin - is the world's biggest e-commerce platform which itself is owned by the company behind WordPress, Automattic Inc.
WooCommerce makes up 23% of the top one million sites using e-commerce technologies.
According to BuiltWith, around 2.76% of the top one million websites use WooCommerce. For reference, that's 23% of the top one million sites using e-commerce technologies. Keep in mind that WooCommerce's market share is much larger for medium and high-traffic websites.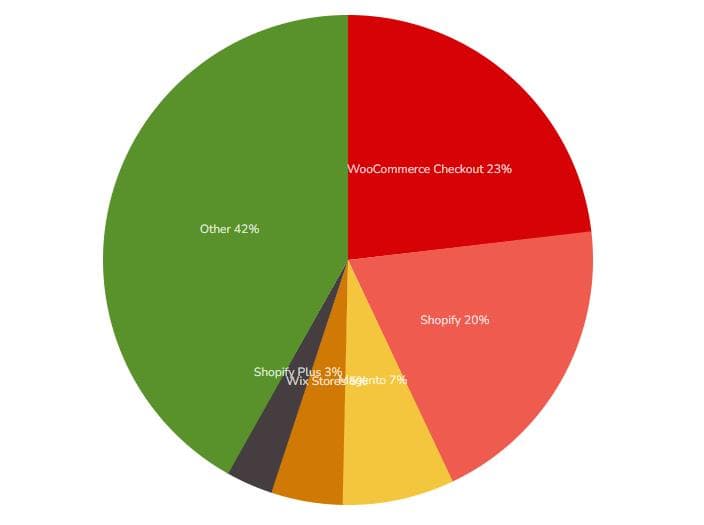 Find out the latest stats on the WooCommerce market share compared to other e-commerce platforms and WordPress e-commerce plugins.
The future of WordPress
The future of WordPress is REST.
REST is short for Representational State Transfer and API means Application Programming Interface.
WordPress is set to grow and grow and, with its REST API interface, developers are able to access WordPress outside of its installation using JavaScript. This allows them to build interactive websites and applications.
WordPress REST API is a set of code that enables other systems to interface with WordPress and helps these systems communicate with each other. This is how a third-party website or mobile app accesses your WordPress database, fetches data from it, and sends data to it.
Developments such as the REST API make WordPress ideal for any type of online system. They firmly negate questions such as "Is WordPress dying?" It also makes it easy to integrate with non-WordPress platforms or use plugins like WooCommerce Product Table as the back-end of a non-WordPress system.
This feature presents a lot of challenges as well as opportunities for both WordPress developers and users. WordPress REST API will change the way we build and use applications with WordPress.
It's safe to say that WordPress is the most popular website hosting software in the world and will continue to be in the coming years.
There are other site builders and hosting platforms out there that enable you to build websites. However, due to its powerful features and user-friendly tools, the market share of WordPress grew more in 2020 than it has in any year since it started being tracked!
WordPress isn't just for running a blog. It's a full-blown CMS that dominates the e-commerce space as well with its WooCommerce plugin.
Do you use WordPress to power your website or online store? Let us know by commenting below. You can also find more WordPress stats from Colorlib's Statistics Archives.