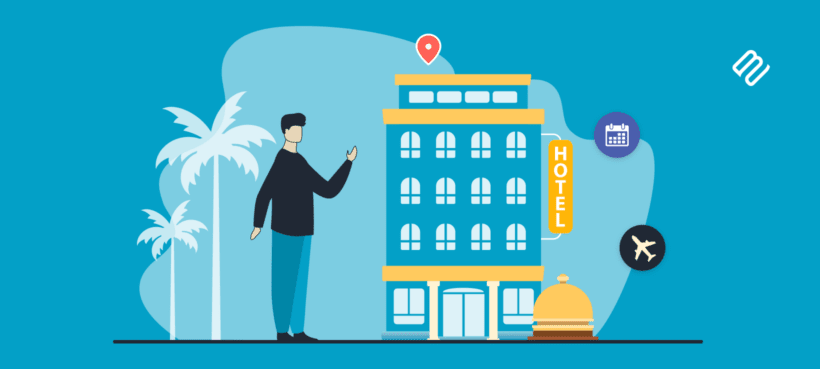 Are you looking to create a website that accepts reservations for your hotel business? In this in-depth guide, we'll explore everything you need to know about picking the right WordPress hotel booking plugin. To help narrow down your choices, we'll also share our top picks of the best hotel booking plugins for WordPress.
These days, most customers prefer to book hotels online. So, if you're a hotel owner or manager, it makes perfect sense for you to create a website that's capable of accepting bookings, processing payments, collecting guests' information, and much more.
Enter: WordPress hotel booking plugins.
Using a hotel booking plugin can easily transform a bare-bones WordPress site into a powerful booking engine for your hotel business.
Because there are countless options to choose from, picking the right one for your business can be overwhelming. So, we've researched and tested several booking plugins and rounded up only the top choices you need to consider.
But first, let's start with the basics.
What is a hotel booking plugin?
WordPress hotel booking plugins allow you to accept and manage bookings on your website. The best hotel booking plugins are packed with a ton of features: they enable you to easily and quickly create a booking system for offline and online reservations, collect payments and customers' information, communicate with customers, and much more directly from your website.
Why use a hotel booking plugin?
Offering a seamless experience is crucial to attracting and retaining customers. And as a hotel owner or manager, you're probably aware that your guests experience with your hotel begins from their first interaction — usually when they're booking a stay.
Most business owners prefer using a booking plugin because it's the easiest and cheapest option to add booking features to your website to process and manage hotel bookings. 
A good hotel booking plugin on your website performs two types of functions that help your business succeed:
On the front end:

 They create a user-friendly booking interface that makes the booking process seamless for customers.

On the back end:

 They make it easy and efficient for you to manage your hotel business.
What are the benefits of using a hotel booking plugin?
If you're wondering whether a hotel booking plugin is worth it or not for your business, here are some benefits for you to consider:
Increased bookings
Creating a basic WordPress site without a booking engine only describes and showcases your hotel and its amenities. However, adding a booking plugin will enable you to accept bookings on your website, which adds another customer acquisition and retention channel for your business. Plus, the best booking plugins allow you to accept manual bookings and list your property on third-party websites and online travel agencies (OTAs).
Higher revenue
An increase in the number of bookings leads to one thing — higher revenue for your business. Not to mention the cost savings with a hotel booking plugin because you won't have to pay any per-booking or per-property commission fees that OTAs usually charge. Lastly, booking system plugins allow you to set prices and collect payments from customers, helping you optimize your pricing strategy and improve your revenue.
Streamlined booking management
Plugins can help you centralize bookings and streamline administrative tasks, making it easier to manage your hotel. Booking plugins can also help you automate email confirmations, manage availability calendars, automatically synchronize your bookings across OTAs, and more. These features can save a tremendous amount of time for you and your and help you avoid overbooking.
Convenience for guests
Booking online is much more convenient for guests. In fact, most guests expect to be able to make direct online reservations through your website quickly and won't spend time phoning to check if you have available rooms. This means that if they can't make reservations on your website, there's a good chance that they will book somewhere else. 
Hotel booking plugins vs. online travel agencies (OTAs)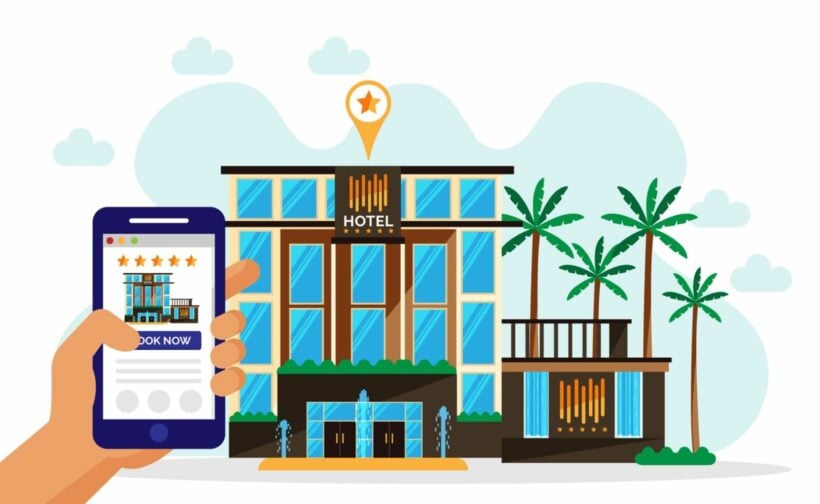 As a hotel owner or manager, you're probably aware that you can list your properties on various online platforms like Airbnb, Expedia, Booking.com, etc. You can rely on these as the sole booking platform for your hotel. Alternatively, you can use them in addition to enabling direct room bookings on your WordPress hotel website.
Although these booking platforms have certain benefits, they also have disadvantages. Here's why you shouldn't rely solely on third-party platforms: 
Keep your profits
Hosted hotel booking platforms take a large cut of the revenue for all the room bookings that they process for you. With a WordPress hotel booking plugin, you get to keep 100%! (Minus a small percentage if you decide to process payments online, e.g. via PayPal.)
Increased control
Every platform has its own list of rules you must follow and they can kick you off their websites if you don't abide by their rules. In contrast, creating your own site to accept reservations gives you complete freedom over the booking process. You'll be able to customize the booking form, manage availability, pricing, communication with guests, and everything else that comes with running a hotel business.
Better branding
Brands matter — especially if you're in the hospitality business. It's much harder for your hotel to stand out on a third-party platform. Building your own fully-functioning website makes establishing a unique brand identity and promoting your brand easier. And in the long run, having a strong brand image can directly translate into revenue for your hotel business.
More direct bookings
Third-party websites charge fees for every booking done through their websites. Accepting online bookings on your own website increases the number of direct bookings you receive. This means that you don't have to pay commissions, which can save your business a lot of money in the long run.
Improved customer experience
There's only so much you can do to impact customers' experience when they book stays at your hotel via external platforms. Accepting bookings on your website makes it easier to ensure a consistent experience across all customer touchpoints, from the booking process to the hotel stay itself. Consistently delivering stellar customer experiences over an extended period helps you increase customer satisfaction and loyalty.
Enhanced analytics
You need accurate information about your customers — demographic information, booking patterns, preferences, etc. — in order to update your business strategy and consistently make sound decisions to grow your business. Listing your properties on third-party websites doesn't give you access to a lot of customer data. Creating your own website is the only way to collect detailed customer information consistently.
Better security
Customers are required to share a lot of personal information to book reservations, such as their names, identity proof, payment details, etc. When guests book your hotel via third-party platforms, their personal information is stored on these platforms. Accepting bookings directly on your website removes the need to share customers' details with these middlemen and makes it easier for you to keep their details safe.
Bottom line: When you list your hotel on third-party platforms, you're 'renting' space. On the other hand, creating your website allows you to own the online portal for your business. If you decide to use third-party platforms, they should be an additional channel to supplement your website.
What makes a good WordPress hotel booking plugin?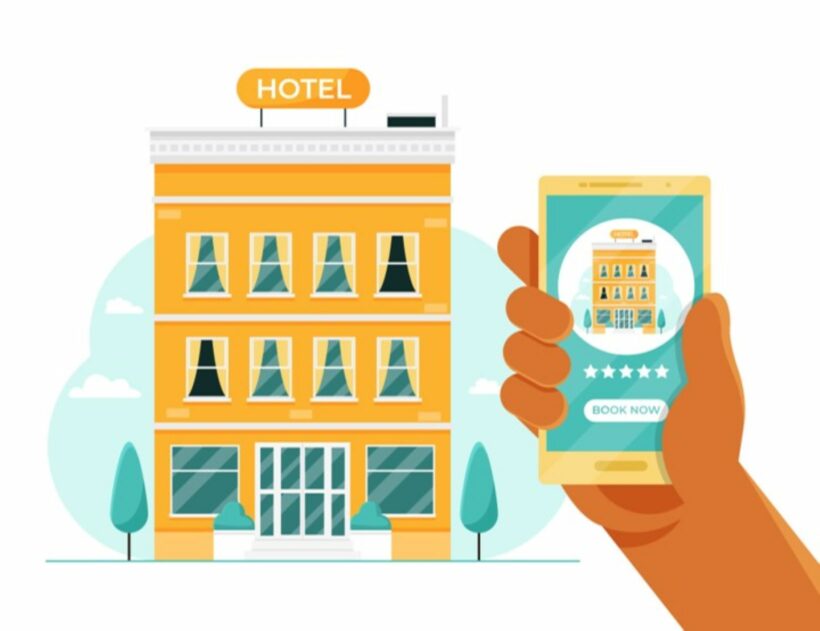 If you run a quick Google search for "hotel booking plugins", you'll find a lot of articles mentioning appointment booking and form plugins used to schedule appointments. Although these plugins are useful for various types of service providers, such as restaurants, gyms, dentists, etc., we believe that most of these plugins aren't ideal for creating hotel websites.
Here's why: Hotels have different requirements from other service providers. Plugins built specifically for hotel websites have lots of tiny features and settings that can make a massive difference to your business that regular event-booking, form, or appointment booking plugins don't. To successfully manage your hotel website, we recommend that you stick to booking plugins created specifically for hotels.
So, what makes a good WordPress hotel booking plugin?
There's no shortage of WordPress booking plugins. But not all plugins are created equal. Here are the features that matter most when choosing a hotel booking plugin:
User-friendly interface for both the hotel owner and the guests 
Hotels are all about the experience — from the first customer touchpoint. That's why having a well-designed, user-friendly interface is a must-have feature for any hotel business. With an intuitive interface, hotel owners and staff members can easily manage reservations, monitor performance, and make updates to room availability and rates. At the same time, guests can effortlessly book rooms, view available amenities, and manage their own reservations.
Comprehensive management dashboard for tracking bookings, availability, and revenue
This feature may not mean much to you if you run a small hotel with a handful of rooms. But as your business scales, it becomes increasingly important to have an overview of bookings, cancellations, availability, revenue other key business metrics.
Flexibility to set and manage rates, minimum and maximum stays, and special offers
This flexibility is essential as it allows you to adjust your pricing and promotions to your business's and your customers' needs. As a hotelier, you know that hotels are usually priced based on two main factors: demand and seasonality. Being able to adjust prices as needed will help your hotel maximize revenue and remain competitive. Setting minimum and maximum stay requirements allows you to balance short and long stays and fill gaps in your booking calendar. And offering special discount coupons and promotional packages can attract new customers, increase bookings during slow periods, and encourage repeat bookings.
Customizable booking forms and confirmation emails
By customizing the booking forms, hotel owners can capture relevant information from guests and tailor the booking process to their unique needs. Similarly, customized confirmation emails help to reinforce your hotel's brand and create a positive impression with guests. This feature is crucial for any hotel business that wants to create a seamless and memorable booking experience for their guests, which can lead to increased customer satisfaction and loyalty.
Integration with popular payment gateways and third-party tools
You need to be able to accept payments and sync your website with various third-party platforms for marketing purposes. Integrating popular payment gateways with your website makes the payment process effortless for your guests while giving them options that work best for them. Meanwhile, using CRM systems and marketing automation software can help you create personalized campaigns to help increase bookings at your hotel.
Multilingual support for serving a global audience
It's pretty common for hotels to have guests from other countries. That's why the best booking plugins have translation features baked in by default or are compatible with good-quality multilingual plugins. If you're targeting an international audience, this feature makes it easy to serve customers in their native language, which can be an important factor in building trust and loyalty.
Responsive design for mobile devices
With more and more people booking hotels on their mobile devices, a good plugin should offer a responsive design that works seamlessly on smartphones and tablets. This can include features such as mobile-optimized booking forms and calendars as well as mobile-friendly confirmation pages and emails.
Robust security features to protect sensitive data
As mentioned before, guests must share a lot of personal information, for example, names, ID proof, and credit card information, to make reservations. Hotel booking plugins must include robust security features such as SSL encryption and PCI compliance to protect sensitive customer information. 
Regular updates and customer support from the plugin developer
Detailed plugin documentation and regular updates are essential to ensure that your booking engine functions well and is up-to-date with the latest security standards. This helps to prevent any potential issues and make sure that the plugin works smoothly. Even if you have advanced coding experience, reliable and responsive support from the plugin developer is invaluable for situations where you have technical difficulties or need troubleshooting assistance.
Integration with popular property management systems (PMS) and channel managers to streamline operations
Even though you shouldn't rely entirely on third-party platforms, having another customer acquisition and retention source is a smart business move. It enables you to expand your business reach by connecting with various online travel agencies, allowing you to increase your bookings and revenue. Plus, this feature lets you streamline your operations and manage your bookings more efficiently. With a seamless integration between your website booking engine and your PMS, you can easily manage room inventory, rates, and reservations from a centralized system. This also helps prevent double bookings, eliminates manual data entry tasks, saves time, and reduces errors.
Best WordPress hotel booking plugins
We've split this list into two sections. First, we'll look at the absolute best hotel booking plugins. These are the top plugins available and have all the features you could possibly need to create a full-fledged website for any type of hotel.
In the next section, we'll look at some notable alternatives — plugins that aren't perfect but are still worth looking at.
Let's dig in.
Top-choice hotel booking plugins
WP Booking System is the best hotel booking plugin we've tried so far. It's an all-in-one booking plugin to easily manage any size and type of hotel or rental accommodation — from villas to holiday homes to luxury five-star accredited hotels. So if you want to set up your website and booking engine to run as smoothly as possible on the front and back end, this plugin is for you.
Key features
Advanced calendar that you can fully customize based on your business preferences. For example, you can select custom colors and labels, set changeover days, add tooltips and search widgets, and lots more.

Intuitive form builders to create personalized booking forms with a wide variety of fields, such as text boxes, dropdowns, checkboxes, radio buttons, pricing fields, etc., to accept guests' information.

You can accept multiple bookings per day (based on your preference), manually approve or reject bookings, and automatically blocks booked dates or slots to avoid overbooking. 

If you accept bookings on third-party platforms as well as your website, you can sync your calendars and accept bookings across multiple platforms in real-time.

Easy to use pricing tool to set and adjust prices (including or excluding VAT and other taxes). You can charge based on the number of guests, day, season, services used, etc.

You can create coupon codes and offer discounts based on your chosen criteria to encourage repeat bookings. 

Allow customers to pay in multiple currencies, using online and offline methods, such as PayPal, Stripe, Go Pay, Mollie, Bank transfer, etc.

You can automatically create and send invoices to customers and issue partial or full refunds if needed. 

Create and send personalized automated emails and text messages such as booking confirmations, follow-ups, thank you notes and more to customers periodically or based on specific triggers, or you can send these manually. 

It has a fully responsive layout and design that automatically adjusts to fit any device and screen size. 

It's compatible with Elementor, Divi, Gutenberg, and other types of drag-and-drop page builders, so you can easily embed the calendar and form within the modules.

You can generate detailed reports and statistics on bookings, revenue, nights booked, etc., to help you make data-driven business decisions.
Final thoughts
WP Booking System is hands-down the best hotel booking plugin available. It's a trustworthy and reliable plugin that's been available for years (since 2015), and boasts hundreds of five-star reviews. Although the plugin is jam-packed with all the features you'd need to create any type of hotel website, where it really shines because of its friendly support team that's there to help if you run into any issues.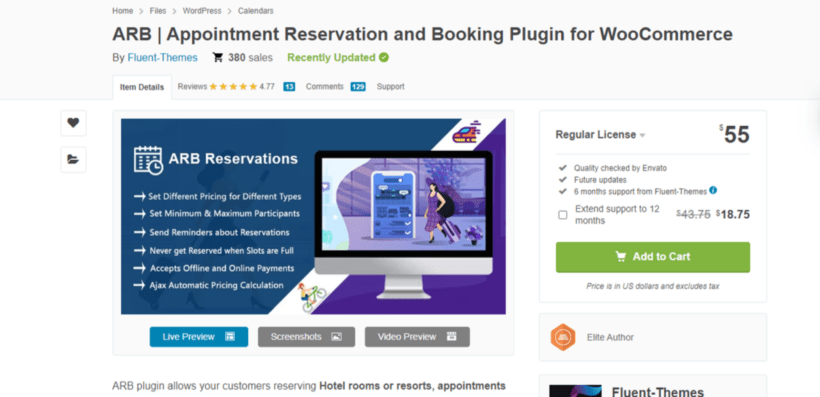 ARB is another top-tier hotel booking plugin for WordPress. It's packed with impressive features to help you streamline the process of accepting bookings on your website. What we really like about ARB is that it integrates nicely with any theme, so you can be sure that its booking system will look great on your website.
Key features
Easily create and display a beautiful calendar for customers to book from. There are unlimited color variations, so you can customize the calendar's appearance to match your website.

Its smart booking engine grays out past dates and only shows available future slots to avoid double-booking.

You can configure its pricing tool to charge prices based on your hotel's pricing strategy. For instance, you can set discounted rates on weekdays and higher rates on weekends.

It works with WooCommerce tax system to charge taxes based on your stores' tax jurisdiction so you can set tax rates for different countries or states.

You can create custom manual and automated personalized messages and notifications to communicate with customers about their bookings.

It lets you create special discount coupons to reward customers for booking at your hotel.

It's compatible with multiple online and offline payment systems such as PayPal, Credit Cards, Stripe, Bank Transfer, Check Payments, Square, etc.

Its minimum and maximum feature limits the number of people that can book a reservation to avoid overcrowding.

Guests can create customer accounts on your website to view reservations, update or cancel upcoming bookings, make payments, etc.

Its streamlined dashboard on your website's backend to manage bookings easily. You can add all bookings to a list to easily view, manage, search, and filter.

Includes translation capabilities so you can translate your site's content if you have international guests.

Compatible with Elementor and WPBakery Page Builder. This makes it even easier to create and display your booking engine on your website, even if you don't have any technical expertise.
Final thoughts
ARB is a versatile plugin that just works. It's a breeze to set up and use on your website. Consider using ARB if you're looking for a flexible booking engine that can manage complex bookings and pricing.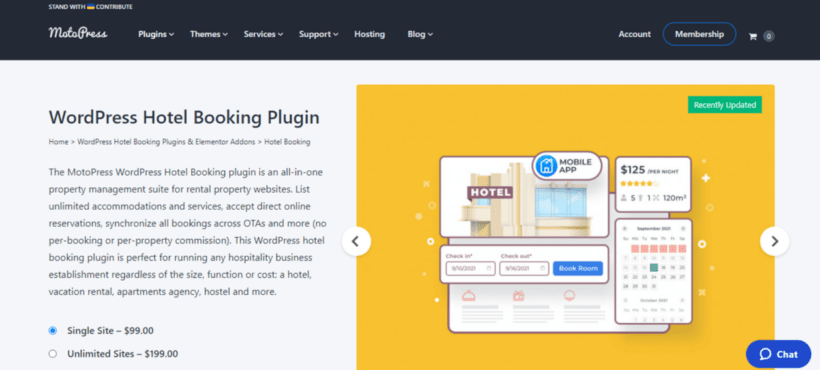 MotoPress is another all-in-one hotel booking plugin that adds a powerful and beautiful booking engine to your website. To make MotoPress even easier for beginners to use, they also created the Hotel Booking & Elementor Integration plugin. This version of the plugin directly integrates with Elementor and lets you create custom booking forms with its drag-and-drop builder.
Key features
Can be used to add booking features for a single property or an unlimited number of properties or hotel rooms.

It adds tabs to showcase the property and its amenities, such as description, photo gallery, services, view types, max occupancy, property size, etc.

Includes a smart search system that can recommend the best set of accommodations depending on the number of guests — great if you have multiple properties.

It automatically syncs your calendar with online travel platforms that use iCal in real-time to prevent double-booking.

Allows customers to reserve multiple properties or rooms in one booking.

You can set prices based on the number of guests, length of stay, and other criteria.

You can collect payments using online and offline methods. Collect deposits and taxes.

You can enable accounts to be automatically created for guests at checkout or let guests checkout without creating an account.

You can set restrictions on minimum and maximum stay periods as well as fixed departure and arrival times.

By default, it supports translation in 14 languages such as Polish, Spanish, Turkish, Swedish, Chinese, etc. It's also compatible with WPML and is custom translations ready.

Create custom notifications and messages to communicate with guests.

The plugin adds a reports tab to your WordPress dashboard to make it easy for you to see your sales and bookings on your website.
Final thoughts
MotoPress is an excellent plugin. Like all the other top-rated plugins on our list, it has all the key features needed to help you create a custom hotel website quickly. Choose the default version of the plugin or the Hotel Booking & Elementor version, if you're a looking to build your site even faster using Elementor.
Best WooCommerce hotel booking plugin
If you plan only to list your properties on your website, any of the plugins we shared above are perfect for you. However, if you want to add an ecommerce store to sell additional products and services, then we recommend you to get WooCommerce together with a booking plugin. For example, this is a good opportunity to sell hotel merchandise, gift vouchers, spa access, golf access, and so on. 
Our top two plugin options for taking hotel bookings in a wider ecommerce site are: 
WooCommerce Bookings:

This is the official WooCommerce bookings plugin. It lets you to add eCommerce features to allow customers book appointments and reservations online.

YITH Bookings:

This plugin allows you to allow guests to schedule appointments and offer several types of bookable products with various pricing options. For instance, you can use it to offer guests beauty services like nail salon appointments, dog walking services, and more.
Head over to our complete guide on the best WooCommerce bookings and appointment plugins for more details and instructions to set these up.
Alternative options to consider
Now, let's look at some options that you may want to consider to create and manage your hotel website. Although these aren't the absolute best hotel booking plugins, they're still decent alternatives to look at: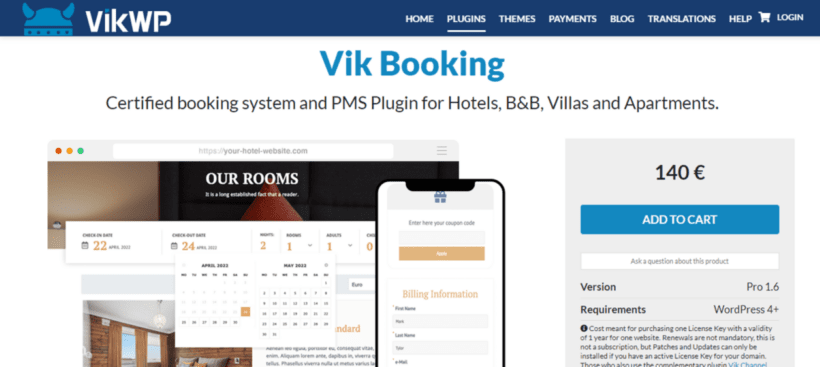 VikBooking Hotel Booking Engine is another popular hotel and property management system plugin. It has both free and paid options and easily converts your website into a booking engine. VikBooking is used on thousands of websites and is packed with most of the features you'd expect from a property rental plugin.
Key features
It includes detailed dashboards with an overview of all the guests arriving, leaving, or continuing their stay at the hotel daily to help you manage your hotel.

Assign the minimum and maximum number of adults, children, and total guests that are allowed to book each room.

It has a beautiful calendar that allows customers to easily book stays online.

Manually reserve rooms from the backend of your website for guests who walk in or book over the phone.

You can view detailed analytics and reports to keep track of key business metrics, such as occupancy rates, revenue, etc., to help you make data-driven decisions for your business.

You can export reports with key business metrics, such as occupancy rates, revenue, etc., as needed.

There are various shortcodes for you to place the bookings calendar and form anywhere on your website.

It syncs with various platforms such as Airbnb, Expedia and Google Hotel for their new Free Booking Links
Final thoughts
With detailed dashboards and reporting features, it's clear that the VikBooking plugin was built with efficiency in mind. In addition, most of the changes are accessible with one click. So if you have a large hotel, this is an excellent option for you to consider.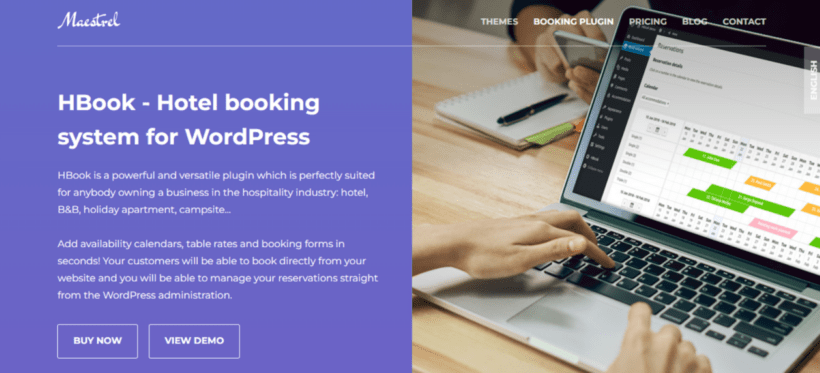 HBook is another powerful plugin that transforms your regular WordPress site into a complete hotel website. This plugin has many built-in features you'd expect and is versatile enough to manage bookings for multiple properties.
Key features
Its calendar and booking form natively integrate into your theme and look really good on the front end of your website.

Its drag-and-drop form builder lets you create the booking form within a few minutes.

Can directly translate into eight languages — Spanish, French, German, Dutch, Portuguese, Italian, Croatian, and Brazilian. It's also compatible with several multilingual plugins.

You can synchronize the booking calendar with third-party websites to prevent accepting bookings for the same slot.

Easily collect a security deposit at the time of booking to cover your back in case of damage or loss. You can refund this later.

If you offer online payments, it supports Paypal and Stripe out of the box. Multiple payment gateway options for various regions throughout the world available as add-ons.

You can offer discount coupons and vouchers to delight customers and encourage repeat bookings.

Accept payments via online and offline methods.
Final thoughts
HBook has many of the key features you'd expect from a hotel booking plugin. But its stand-out feature is its drag-and-drop booking form builder. It's easy to use and manage bookings. Plus, it looks great on your website.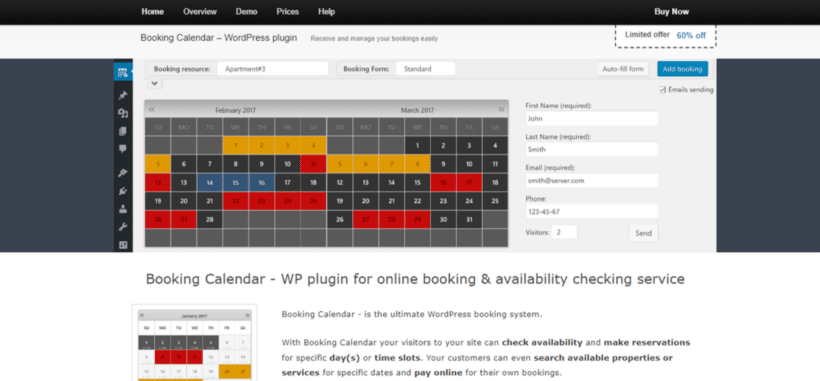 Booking Calendar claims to be the first hotel booking plugin and is one of the most popular ones on the market. It's a feature-rich plugin that boasts over 60,000 downloads on the WordPress plugin directory alone, making it a solid option to check out to create your hotel website.
Key features
It can handle an unlimited number of rooms and properties.

You can choose from a variety of templates and design the structure of the booking form and its fields based on your preferences.

The booking calendar is fully responsive and looks great on mobile, tablet, and desktop views.

You can use advanced pricing rules to accept deposit payments and set rates based on the day of the week or season.

Its notifications feature lets you create templates to automate communication with guests and improve efficiency.

It integrates with multiple online payment processors to accept online payments. You can also collect offline payments and note the received amount within the system.

Set up advanced search filters on your website's front end to make it easy for guests to find what they're looking for.

You can allow guests can update their online reservations as needed. Also, you can update the reservation from the admin panel.
Final thoughts
As the oldest hotel booking plugin, its developers have had plenty of time to expand its features. And while this plugin is highly functional, its interface doesn't look as modern as many of the other popular plugins, so your hotel may not look as professional or luxurious.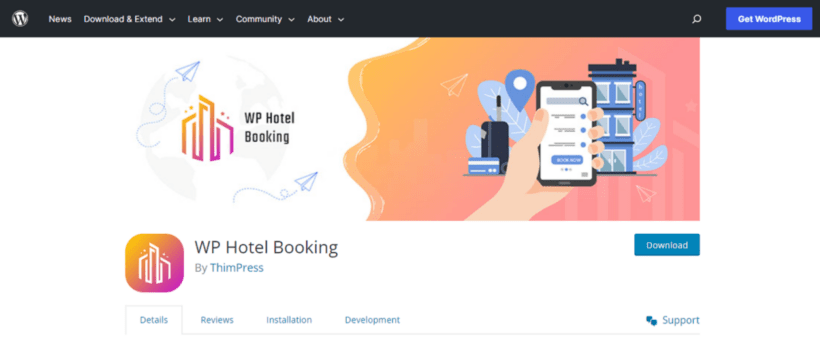 Although WP Hotel Booking lacks many of the heavy-hitting features needed for a hotel website, it includes many essential ones. So, if you're on a shoestring budget and are looking for a free plugin, you may want to check this out.
Key features
A basic booking engine to manage room availability and accept bookings.

You can set prices, create and offer coupons to encourage bookings and reward loyal customers.

There are multiple payment gateway options — offline, Authorize.net, Paypal and Stripe. However, you need to buy add-ons to use some of these. 

You can create and export basic reports and analytics to track performance of your business.

It has a simple and intuitive interface that's super easy for beginners to use.
Final thoughts
Considering that this is a free plugin, the features are quite decent. I played around a bit with this plugin on a test website and it worked fine. However, one thing to note is that there are several negative reviews about this plugin on the WordPress plugin directory. So, if you're trying to make every penny count, you may be okay with using this plugin. If not, you're better off choosing one of the other plugins we've covered in this post.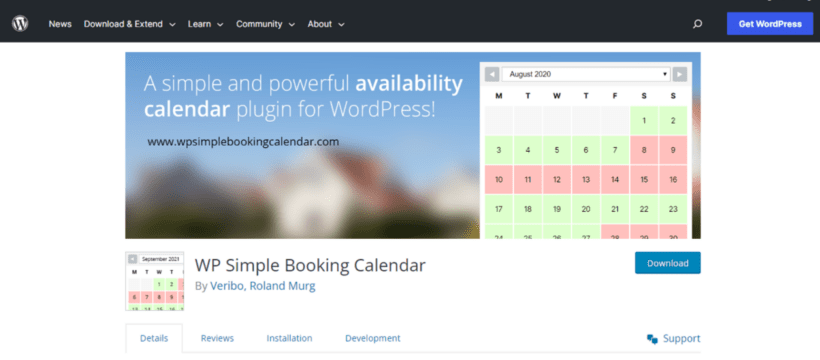 WP Simple Booking Calendar is another popular freemium hotel booking plugin for WordPress. If you're on a limited budget and are looking for a solid and reliable hotel booking plugin, this is worth checking out. It has a generous free plan with all the essential features you'd need to create a booking system. You'll have to upgrade to the premium version for advanced features such as custom editing, syncing with OTAs, and more.
Key features
Its free plan allows you add one calendar to your website. Upgrading to the pro version lets you create unlimited booking calendars.

The premium version of this plugin lets you sync your website and accept bookings from third-party platforms.

Use shortcodes to place the booking calendar anywhere on your site.

You can add a search widget to allow guests to search for available dates easily.

The bulk update feature lets you edit multiple dates with one click — to help you be more efficient.

You can combine multiple calendars into one for a quick overview.

It has a simple and intuitive interface on the back end and front end.

You can easily customize the booking calendar with your business' custom colors, fonts, add a legend etc.
Final thoughts
WP Simple Booking Calendar is a great booking plugin for small businesses. However, it's not advanced enough for medium to large hotels. So, if you're starting your hotel business, this may be the plugin for you as it includes all the essential features you'd expect from a hotel booking plugin.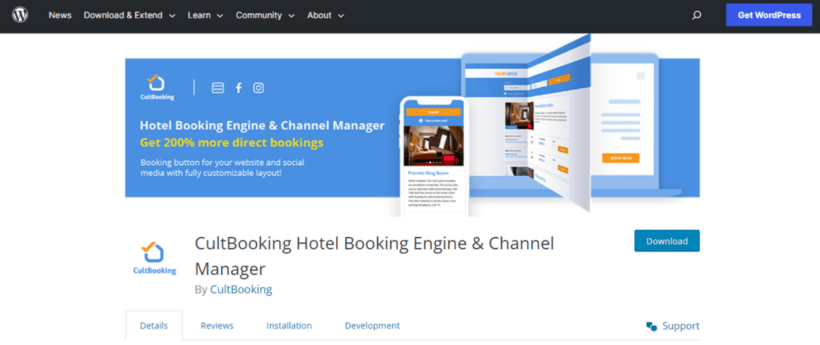 CultBooking Hotel Booking Engine & Channel Manager is a powerful, advanced hotel booking plugin. Apart from using it on your website, you can also use it to accept bookings from social media platforms and via ad campaigns.
Key features
The plugin is one of the most advanced ones for professional hotels.

It has a fully responsive design and fits seamlessly into various screen sizes, resizes images, and other fields based on the device used.

It has a smart calendar with a quick search function that displays available dates, minimum stay periods, prices, and other advanced settings.

The booking form indicates whether the rooms' prices include meals or not. 

You can configure it to send automated and manual notifications via text mess and emails.

It has a multi-channel booking engine to accept bookings via social media and ad campaigns.

Create and offer special discount codes and coupons to encourage repeat bookings.

Adds a responsive picture gallery to display photos of the rooms.
Final thoughts
There's a lot to like about Cultbooking. It's one of the most feature-packed plugins and integrates with many plugins. However, there are two key things we don't like about it. Firstly, there isn't enough plugin documentation and setup guides, so unless you're an intermediate or advanced WordPress user, you may struggle to configure it. Second, although it has a free plan with essential features, its premium plans are pretty pricey compared to other options.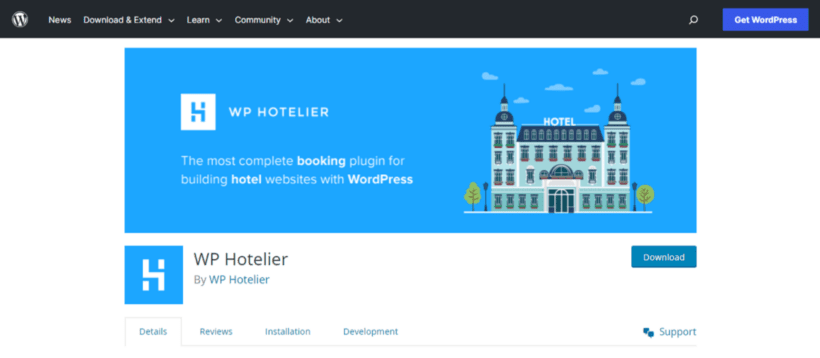 WP Hotelier is a freemium plugin built specifically for one use case: hotels. This means that it offers one of the most streamlined setup and management experiences on the back end and front end of your website.
Key features
It has three pricing options built-in. You can set prices globally, seasonally, or based on the day of the week.

You can configure its Advanced Pricing System extension to set advanced pricing rules and settings for your website.

Allows you to create rooms with standard and variable options and conditions.

You can offer discount codes and automatically charge fees and taxes for every booking.

It syncs with third-party booking platforms such as Booking.com, AirBnB, etc.

It integrates with third-party marketing platforms such as MailChimp so you can easily create and run marketing campaigns.

You can set up the notifications center to send 

You can accept payments with and without security deposits using PayPal and Stripe

It sends instant email notifications to you and your guests when a booking reservation is made on your website.
Final thoughts
The free version of the plugin is quite good, and this is a decent option for small businesses. But as your business grows, you will need to add more features, and that's when you'll have to buy add-ons and extensions, which can get expensive quickly. 
Factors to consider when choosing a hotel booking plugin
Choosing the right hotel booking plugin for your WordPress website requires careful consideration of certain factors. By taking the time to evaluate your options, you can choose a plugin that will help you streamline your booking process and provide a great user experience for your guests. Here are some factors to consider when selecting a hotel booking plugin for your website:
Pricing: 

The cost of the plugin is an important factor to consider. Some offer a one-time fee while others require a monthly subscription. You should also look for plugins that offer flexible pricing plans, so you can choose the one that fits your budget and business needs.

Features:

 Some plugins only offer basic functionality, such as the ability to book rooms and manage reservations. Others offer more advanced features, such as online payments, automatic email notifications, and the ability to create custom booking forms.

Customization options:

Every hotel is different. So it's important to choose a plugin that allows you to customize the booking process to fit your specific needs. Look for plugins that offer customization options such as the ability to change the colors and fonts of the booking form, add custom fields to the booking form, and customize email notifications.

Compatibility with other WordPress plugins:

 Make sure the plugin you choose is compatible with other WordPress plugins you may be using on your website, such as a caching plugin or a security plugin. This will ensure that everything on your website works together seamlessly.

Security:

 Security is probably the most crucial factor to consider when selecting a hotel booking plugin. Hotel booking plugins should secure payment processing and use SSL encryption to protect sensitive data. You should also look for plugins that are regularly updated to fix security vulnerabilities and protect against hacking attempts.
What is the best hotel booking plugin for WordPress?
Whether you own or manage a small bed-and-breakfast, a medium-sized resort, a large five-star hotel, or anything in-between — there's a WordPress hotel booking plugin for you. 
We've outlined the top plugins for you to consider. If you're looking for surefire picks, go with any of these:
Any questions? Drop them in the comments section below!