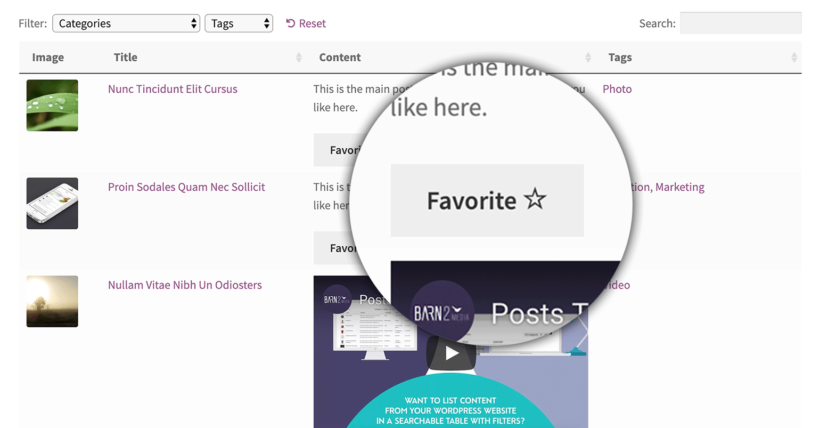 Today I'm going to tell you about a free plugin which adds Favorite buttons to your lists of WordPress posts, documents or custom post types. When used with our Posts Table or Document Library plugin, you can list WordPress content in a searchable table - complete with 'Add to Favorite' buttons.
Are you creating a WordPress video gallery and want people to select their favorite videos?
Do you have a WordPress blog and want people to choose their favorite posts?
Perhaps you're listing events in WordPress and want people to mark the ones they'd like to attend.
Whatever your reason for needing favourite buttons on your website, you can use these instructions to add them to any list of WordPress posts, documents, or any custom post type.
You may also like: How to add favorite buttons to WooCommerce products.
How the favorite buttons work
You can use one of our table plugins to list your WordPress content in a table. Then, you can use the Favorite plugin to add Favorite buttons. Your visitors can select their favorite posts or documents and create a handy shortlist.
When a visitor comes back to your website, they will still be able to see their selections. If they're not logged in then their favorites are stored via browser session or a cookie. If they have an account on your website, then their favorites will appear even if they re-visit from a different browser or device.
How to add Favorite buttons to WordPress
First, use Posts Table Pro or Document Library Pro to list your WordPress posts, documents or any custom post type in a table view. Set up the plugin using the instructions in the knowledge base, with these settings:

Columns - include the 'content' column. The favorite button will appear here automatically.
Tick the 'Shortcodes' option. This makes sure the button appears in the table correctly.

Now go to Plugins→ Add New in the WP Dashboard.
Search for 'Favorites' and install the plugin by Kyle Phillips.
Now check the page where you've added the table. There will be a 'Favorite' button in the content column for each post or document in the table.
You can also add favorite buttons to other locations
The instructions above tell you how to add favorite buttons to the content/description columns the table. If you'd like to add them elsewhere - for example because you don't want this column in your table - then that's fine. Simply remove the content/description column and add the following shortcode to one of the other fields that you're displaying in the table (e.g. the excerpt or a text or Visual Editor custom field).
[favorite_button]
Where to get the plugins
Use the free Favorite plugin from wordpress.org with whichever Barn2 plugin works with the type of content you're adding: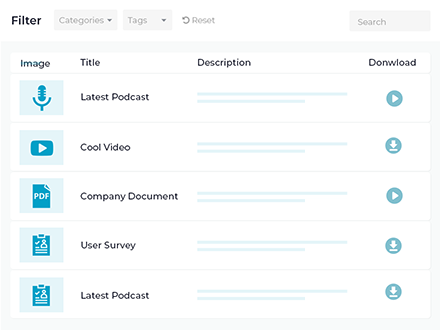 Display any type of WordPress content in searchable table with filters and Favorite buttons.