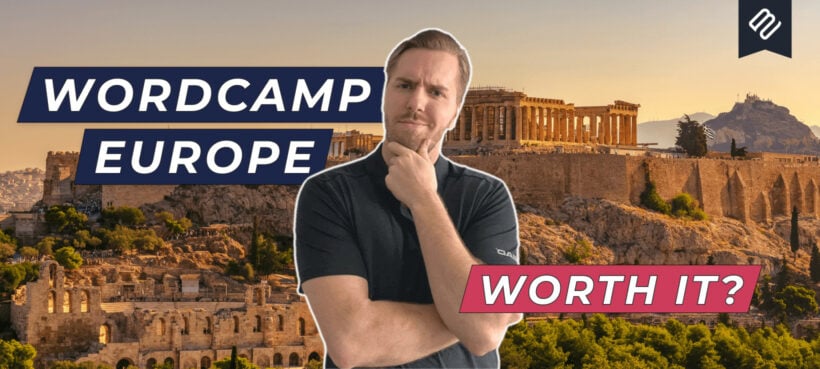 After attending WordCamp Europe in Athens, our video producer Sam Waines reflects on his experience and shares his perspective along with highlights from the event.
I just flew home from the city of Athens where I attended my first ever WordCamp. And let me tell you, it was not at all what I had expected.
If you're thinking about attending WordCamp in Europe I created this video for you. I share everything I can about the experience and what you can expect if you decide to go.
For those who prefer reading, here's how it went down.
What is a WordCamp?
For the uninitiated, WordPress is not just a CMS. At its core, it's a community full of people that contribute their time and skills to constantly maintain and improve the project over time. This keeps it free and open-source, which is an essential part of what's made it such a success.
WordCamp conferences are held all over the world with the largest ones being held annually in Asia, the US and Europe. They're a place for those community members to come together, contribute, learn, network, and of course to party!
I knew all of this "on paper", but I had no idea what to truly expect from the event. Plus, I was nervous as it would be my first time meeting my fellow Barn2 team members in person. It's easy for me to sit here in an office and talk about our plugins. However, what would it be like to do that in person, where I can't hide any mistakes with my editing software.
Meeting the Barn2 team
It's funny in hindsight, because of course I had nothing to be nervous about. I met the team for a beautiful cruise along the Athenian coastline. We had a blast drinking rose and eating a marvelous Greek dinner. I even jumped in the clear Aegean waters for a swim!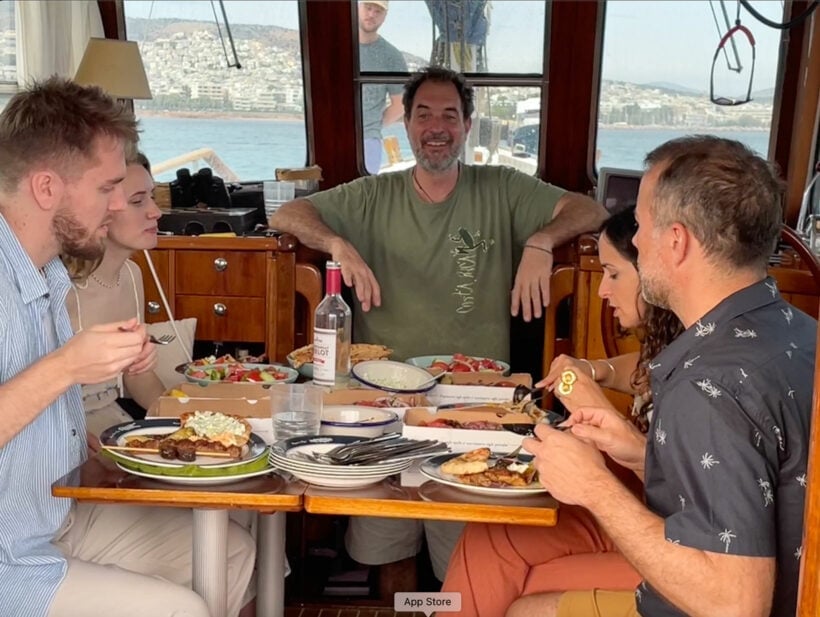 But I'm getting off track.
Sponsoring at WCEU 2023
The WordPress ecosystem is home to countless businesses big and small, and this year at WordCamp Europe, Barn2 had the privilege of being a sponsor.
This meant we had a stand where we could hand out SWAG, talk about our plugins, and invite people to play our online quiz for bigger prizes.
I had such a great time connecting with everyone who stopped by. Let me know in the comments if you were also at WCEU in Athens this year.
And a quick side note - if you're a business considering sponsorship, we would highly recommend it! You can read more about our sponsorship experience from our CEO Katie Keith in the blog post she wrote linked here.
Highlights from WCEU Day 1
Day 1 was over in a flash with so much happening, including some great talks and panels in the venue's marvelous theater rooms. You can watch all of the talks and panels on the official website or YouTube channel for WCEU.
I specifically liked an instructional session with speaker Viola Gruner titled "Test instead of guessing – generate more leads through growth hacking". She cleverly broke down a method of scientific testing that her marketing team uses to make informed decisions about how to run campaigns and generate leads for the sales team.
I also can't go on without rating the food. For me, it was 10/10! They offered many traditional Greek dishes which were delicious and so well organized by the catering staff!
Day 2 - Being interviewed about my first WordCamp Europe experience
I barely had a chance to recover from the pace of day 1 when I was asked if I wanted to be interviewed on the official event livestream!
On the morning of day 2 I was interviewed by Angela Jin from Automattic about my first WordCamp experience. She asked me all sorts of questions about the experience. Angela did a great job convincing me to get more involved in the wider WordPress community.
Here's the full interview for anyone interested.
Doing the rounds
I spent a lot of my time on the second day visiting the other sponsor booths. Here, I enjoyed playing the games, joining the prize draws, and collecting some SWAG to take home.
I even had to buy a small suitcase just to get everything back home with me including all the other Greek souvenirs of course.
A note about the talks and panels
In total I went to 4 different talks and panels over the 2 days of the event. And I found 3 of them to be very interesting and informative. (The fourth fell short of my expectations.)
As a new attendee, and a rookie in the WordPress space, I appreciated that many of the talks are catered to beginners. However, this went too far in my opinion. It led to one talk that felt completely empty of any real substance.
After talking with my colleagues this tends to be their experience too, especially for the seasoned developers who could benefit more from detailed insights, rather than introductory topics.
The WCEU keynote panel with Matt Mullenweg
Every event ends with the keynote panel, where they always announce new updates to the project, as well as the thing that everyone wants to know - the host city for next year's event. It was presented by Matt Mullenweg (the man behind WordPress itself), Josepha Chomphosy, and Matias Ventura.
They spoke mainly about updates to the Gutenberg block editor (if you know, you know), and the need for better language translation.
There was a moment where a man asked non-native English speakers to raise their hand. Nearly the entire crowd had them raised, and it really highlighted his point about the apparent translation issue. So we'll have to wait and see what becomes of that discussion.
There was a well deserved, but frankly drawn out segment where all the volunteers were being thanked and recognized. Then eventually they revealed the new host city for 2024, Torino, Italy.
See you in Torino, Italy for WordCamp Europe 2024!
Needless to say, I'll be booking my spot as soon as I can, and I hope you do the same! If you've read this far into the post, you're probably the sort of person that would love going to WordCamp. If I helped convince you, do let me know at the next event, I'd love to see you there!
Thanks again to all the volunteers and organizers who made my first WordCamp such a great experience! And a big thanks to our CEO at Barn2, Katie Keith for getting the team together for the wonderful cruise on a yacht, and for making us sponsors at the event.
But that's all from me, see you in the next one.