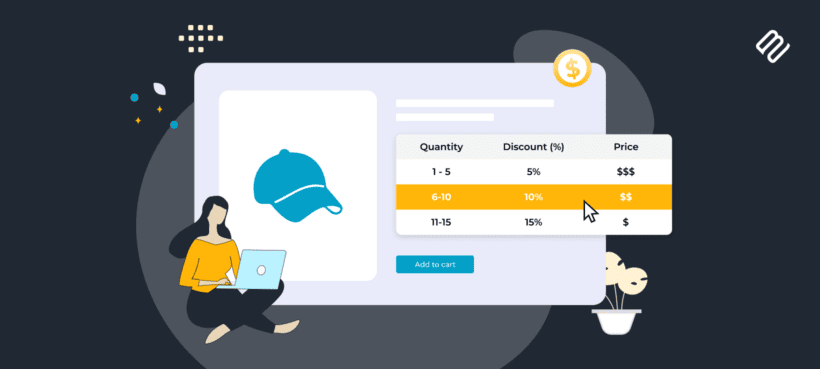 Do you want to boost sales and encourage customers to buy more? If so, then implementing a tiered pricing strategy can help you achieve this. In this comprehensive guide, you'll learn how to add tiered pricing to your WooCommerce store and encourage customers to buy in bulk.
Tiered pricing involves offering different prices for different quantities of products. In other words, tiered pricing allows store owners to offer discounts based on the number of products a customer buys. The more a customer buys, the more they save per unit.
For example, if you're selling t-shirts, you can have tiered pricing such as:
1-5 t-shirts at $10 each.
6-10 t-shirts at $8 each.
11-15 t-shirts at $6 each.
15 and more t-shirts at $5 each.
The best plugin for adding such dynamic pricing is YITH Dynamic Pricing and Discounts. This is an all-in-one discount plugin that makes it easy to add various types of tiered pricing discounts in WooCommerce.
In this detailed guide, I'll show you how to use it to add tiered pricing discounts to increase the average order value and sales.
Let's get started!
How can tiered pricing benefit your WooCommerce store?
Using a tiered pricing table in WooCommerce offers several benefits. Let's look at some of the most significant ones:
Encouraging bulk purchases By offering percentage discounts on larger quantities of products, you can encourage customers to buy more products in one go, thus increasing the total price of the cart.
Offering better deals for loyal customers Tiered pricing also lets you offer better discounts to repeat customers. This encourages them to purchase more frequently and improves customer retention rates.
Managing inventory effectively It can help manage inventory better by encouraging the sale of specific items that are overstocked or slow-moving.
Attracting new customers with competitive pricing By offering competitive pricing on bulk purchases, you can attract new customers who are looking for discounts.
Enhancing customer satisfaction Tiered pricing also helps enhance customer satisfaction by providing pricing deals that align with the customer's purchasing power.
What types of business use tiered pricing?
WooCommerce tiered pricing can be beneficial for different online stores, and here are some use cases where it is commonly implemented:
Wholesale businesses selling products in bulk Wholesale stores that sell products in bulk offer tiered pricing with volume-based discounts. This helps attract customers looking to buy in large quantities by reducing the cost per unit of the product.
Membership-based online stores offering tiered pricing for different membership levels eCommerce stores with membership-based models offer tiered pricing to their members based on their membership level. This strategy is effective when you want to increase customer retention and loyalty, while also encouraging shoppers to upgrade to higher membership levels.
Seasonal promotions and special offers Seasonal promotions and special offers are a great way to utilize the tiered pricing model where the discount increases with the number of products purchased. This strategy works well for getting rid of excess inventory or during peak shopping seasons.
Limited-time discounts for product launches Some online stores offer limited-time tiered-based discounts for new product launches that encourage customers to purchase the product in bulk and engage with the brand.
Volume-based discounts for service providers Service providers can also use tiered pricing to offer bigger discounts to customers who purchase more services during a billing cycle.
Introducing YITH Dynamic Pricing: The easy way to set up WooCommerce tiered pricing
YITH's Dynamic Pricing and Discounts is a powerful dynamic pricing plugin for WooCommerce that allows store owners to set up and manage tiered pricing. It comes with many pre-built discount templates, including the tiered pricing template. In just a few clicks, you can select the tiered pricing template, set its visibility, and then define the product quantities and corresponding discounts.
When a customer visits the product page, they see a tiered pricing table with columns for quantity, pricing, and discount percentage for each group. They can easily select the quantities from the table, and based on their selection, the product price will be updated. They can then add the product to their cart, and the same discounted price will be displayed on both the cart and the checkout page. It works with simple products as well as variable products.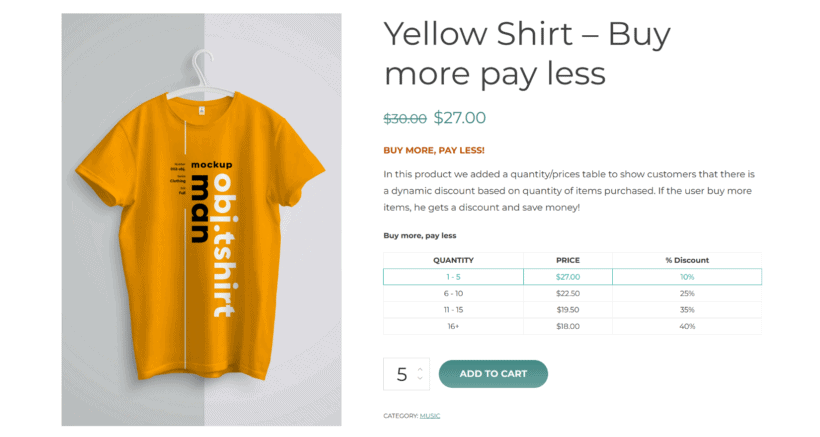 Next I'll show you how to install the plugin and use it to set up tiered pricing to your WooCommerce store.
1. Install YITH WooCommerce Dynamic Pricing and Discounts plugin
YITH WooCommerce Dynamic Pricing and Discounts is a premium plugin available to purchase from the YITH website.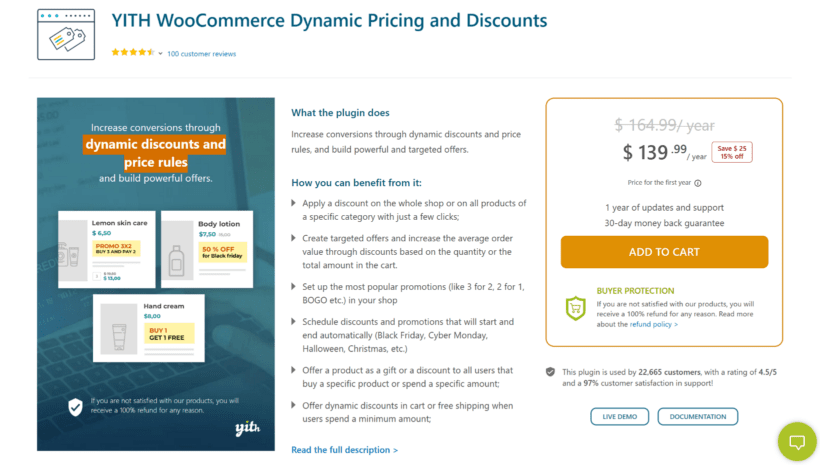 After you purchase the plugin and have the plugin's zip file, log in to your WordPress dashboard and navigate to the Plugins page. Next, click on the Add New button and Upload Plugin. Then, simply drag and drop the ZIP file and click on Install Now.

In order for the plugin to work properly, you need to activate the license key. To do so, navigate to YITH → License Activation and type in the email address linked to the order, and paste the license key. Once done, click on the Activate button to validate your information and activate the license.

2. Configure the store settings for tiered pricing
After activating the plugin, you must enable the coupon functionality in the WooCommerce settings for the proper functioning of the plugin. To enable it, navigate to WooCommerce → Settings → General and tick the box labeled Enable coupons.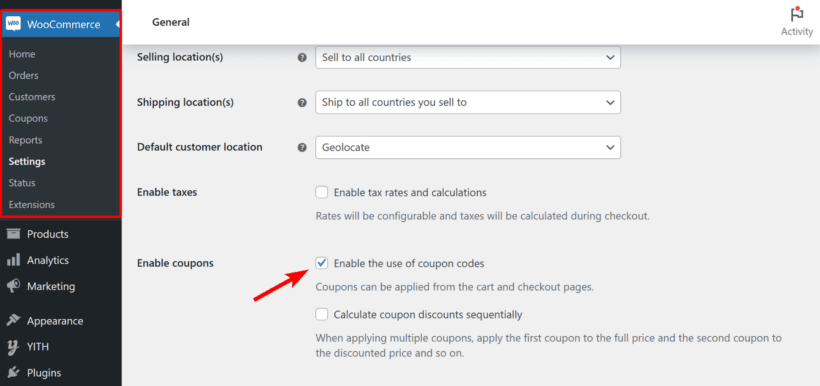 3. Creating a new pricing rule for quantity-based tiered pricing
To create a quantity-based tiered pricing rule, navigate to YITH → Dynamic Pricing and Discounts → Dynamic rules and click the Create rule button.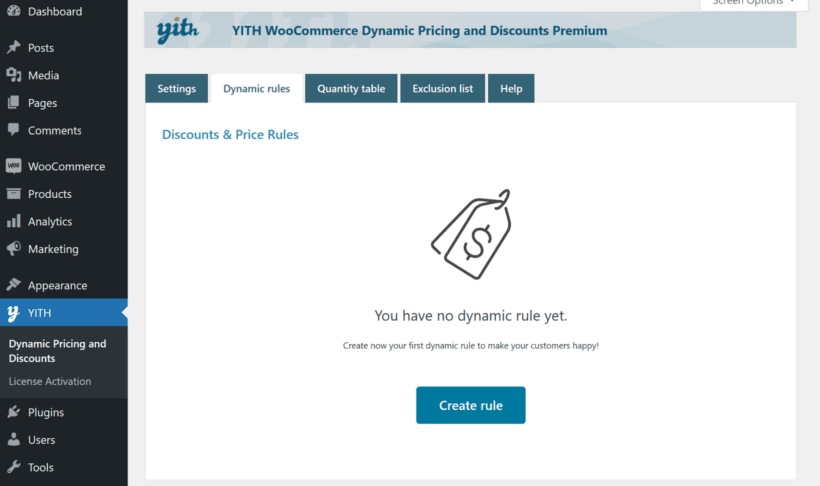 A popup will appear where you can choose a preconfigured template or create one from scratch. Select the Set a quantity discount option from the sidebar and it'll automatically create that rule.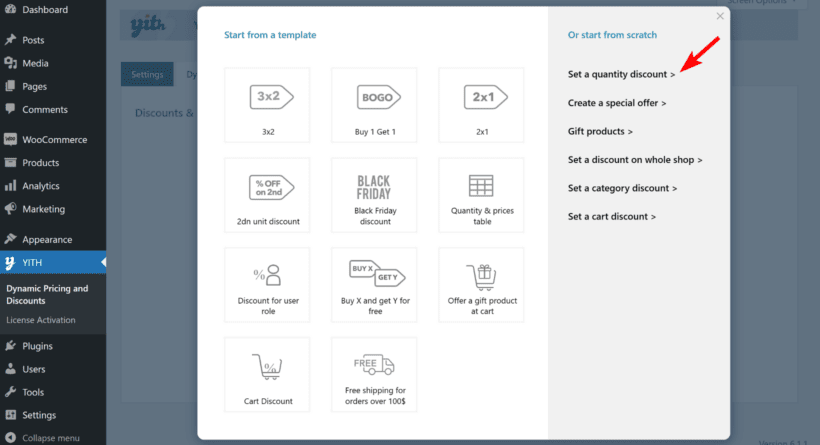 Next, you can easily customize it to match your offering. Start by changing the name of the rule, and then select the specific products that the rule should apply to. You have the option to apply it to all WooCommerce products or only to individual products, categories, and tags.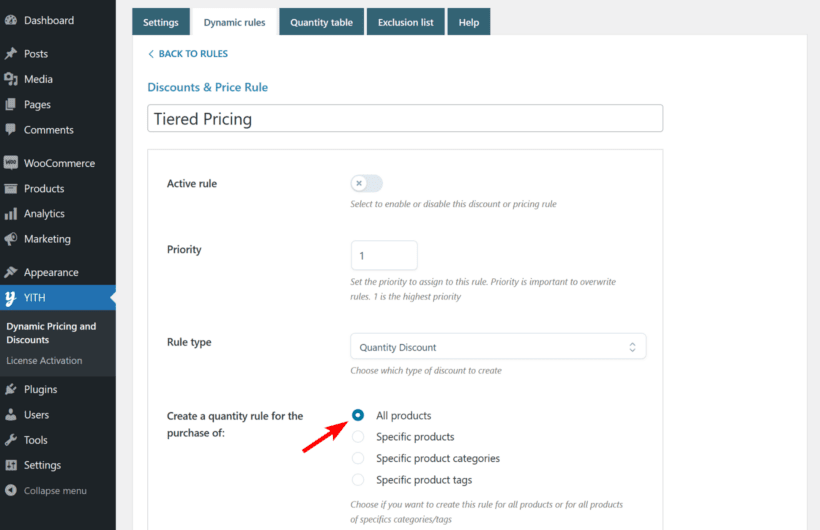 If you have some products you don't want to apply the tiered pricing, you can select those as well.
Create a tiered pricing table
Now comes the most important step of creating a quantity-based discount table. Input the quantity range, the discount type, and specify the percentage or fixed amount of discount that you want to apply. To add more pricing options to the table, simply click the Add Rule button and enter the price range in a similar way.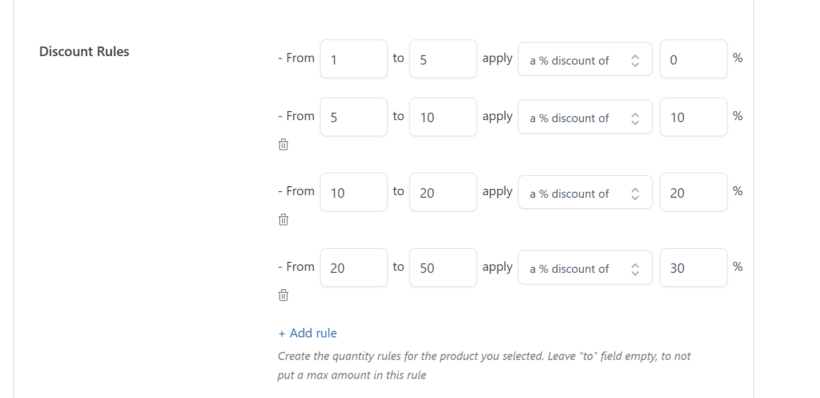 Next, select how the rule will apply. For our tiered-based pricing, you can either count or exclude product variations in the final product count during checkout.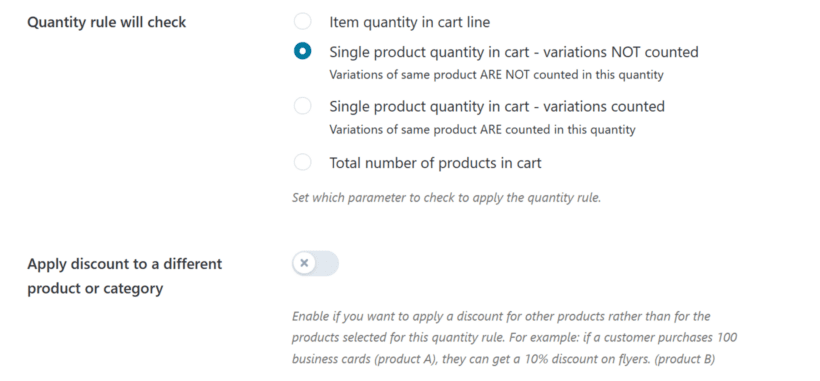 Next, enable the Show quantity & prices in a table option and scroll down to schedule the rule. You can either control it manually or schedule it to start and end at a specific time.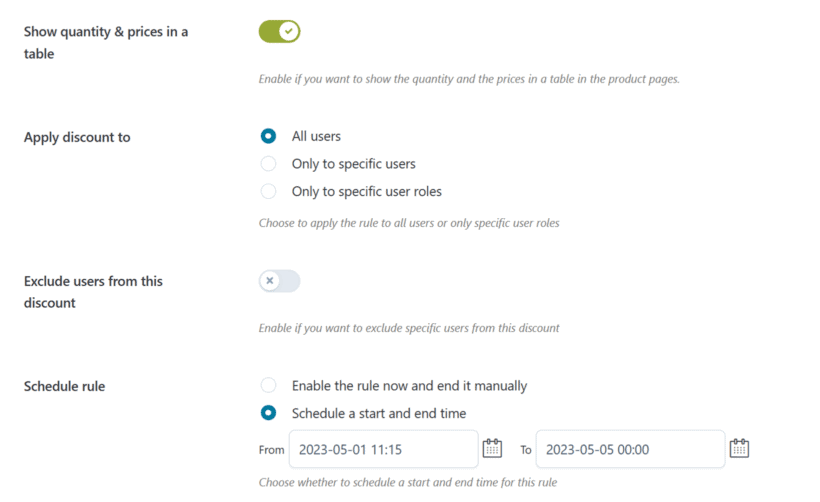 Again scroll down and you'll find different toggles to control how and where the tiered pricing is applicable. Toggle the first button to display the discount in loops, and the second to specify if it applies to on-sale products. You also have the option to disable other rules with lower priority.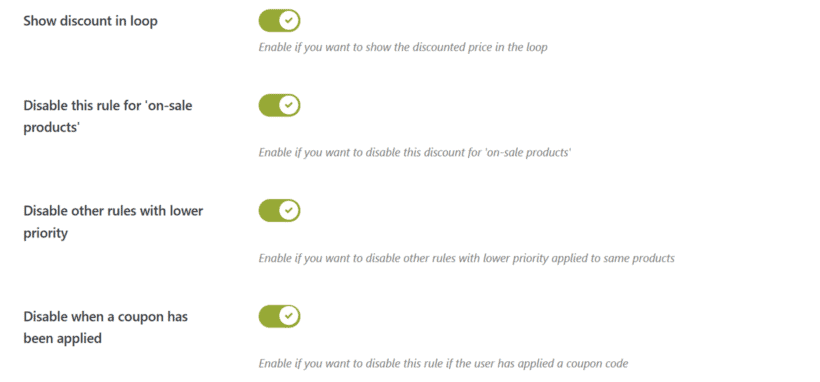 You can also disable the tiered pricing discount when another discount code is applied by the user.
Next, add a custom message to show on product pages where this rule is applied. This is a great place to add an enticing message encouraging users to buy more products. You can also add another custom text that'll show up below the pricing table option.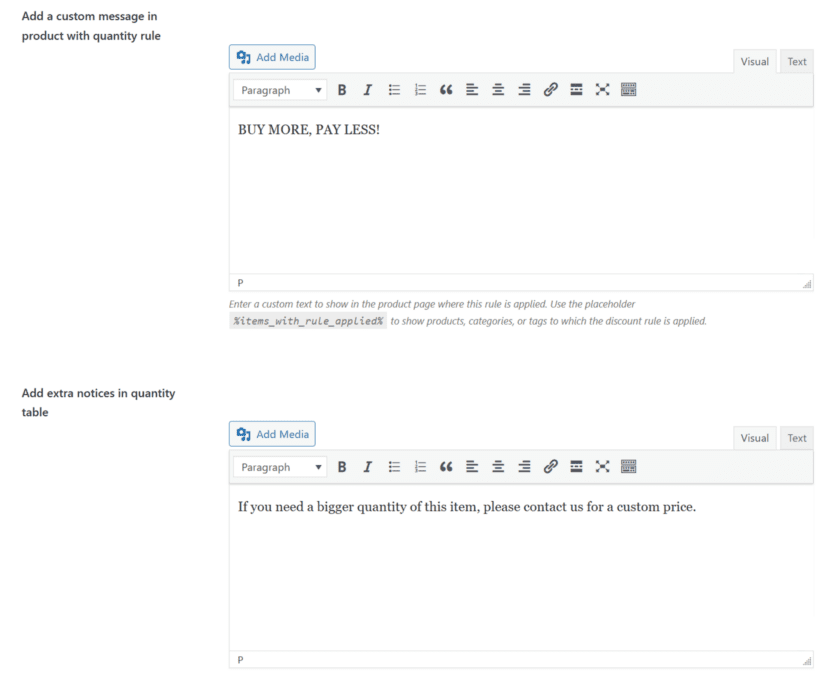 Finally, click the Save Rule button to publish the rule and apply the pricing tiers discount to the products in your store.
4. Examples of different pricing rules for various business scenarios
The YITH Dynamic Pricing and Discounts WooCommerce plugin allows you to add various pricing rules other than quantity based. Here are some examples:
Role-based pricing Manufacturers can offer discounts based on the user roles in their WooCommerce store. This allows them to offer different prices for customers, wholesalers, and distributors.
Category-based pricing Store owners can create different discounts based on product categories. For example, they can set up a 20% discount on all electronic items for a specific duration.
Product-based pricing Store owners can create a pricing rule for a specific set of products that are overstocked. They can create a BOGO offer, Buy 1 and 50% off the second, or other similar discounts to encourage users to buy in large quantities.
Displaying tiered pricing tables for customers
Displaying the pricing table on the frontend will allow customers to see the discounts available when purchasing products in bulk.
To customize the pricing table, navigate to YITH → Dynamic Pricing and Discounts and switch to the Quantity table tab.
Start by enabling the Show quantity tables toggle to show the table on product pages with the quantity discount rule. Next are the layout options that let you format and display the table on desktop and mobile devices. You can select either the horizontal or vertical layout for each device.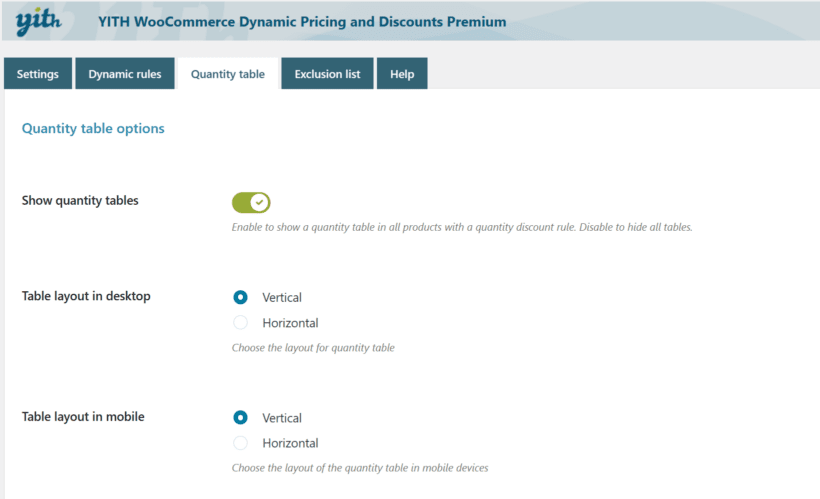 Next, you can choose where to display the table on the product page. You can display it before or after the add to cart button, product excerpt, or product meta. You can also select the shortcode option and display it anywhere on the website.
The next option lets you customize the table columns and their labels. Choose to include or exclude the discount column in the table and then edit all column labels. You can also choose to display the product quantity column as a range, or the minimum or maximum value.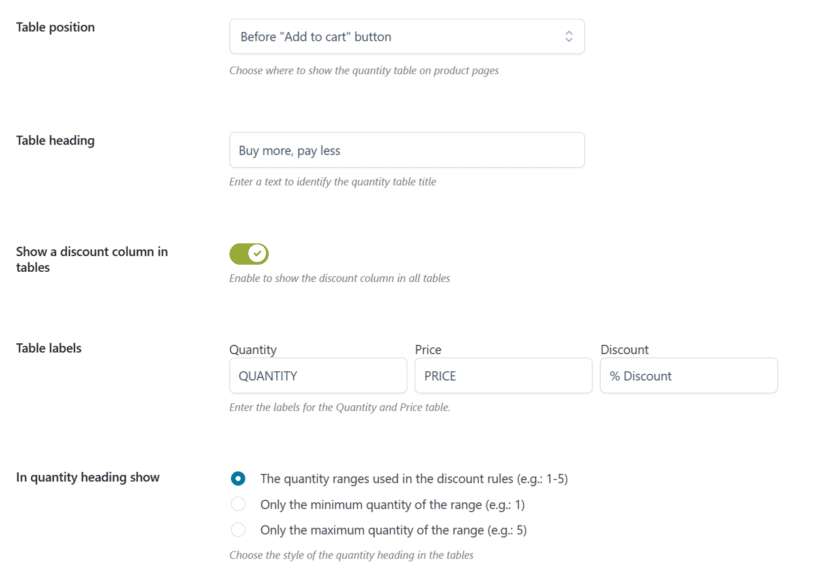 If you have the quantity discount rule scheduled, you can display the end date next to the table heading. You can also choose whether to select the lower or higher discount by default and display its price on the product page.
Lastly, you can set to automatically select the first quantity rule and change the product price as you increase the quantity.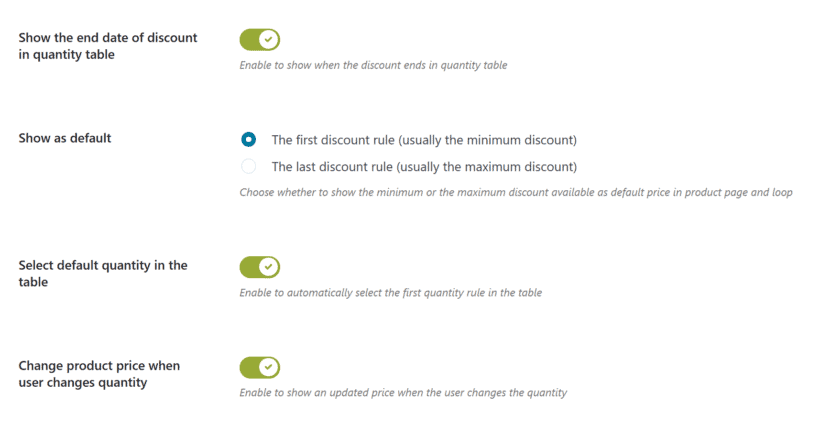 That's all! As you can see, the YITH WooCommerce tiered pricing table plugin allows you to completely customize the look of pricing tables.
Add tiered pricing and increase your average order value!
Tiered pricing is an effective pricing strategy that can benefit WooCommerce store owners in many ways. From encouraging bulk purchases to enhancing customer satisfaction, tiered pricing offers many advantages.
YITH Dynamic Pricing and Discounts provides an excellent way to add a tiered pricing table to your WooCommerce store. The plugin allows you to easily set the product quantities and their corresponding discount. Apart from that, it also lets you set different pricing rules and offer various discounts such as Buy 3 for the price of 2, Buy 2 and get 50% off on the 3rd, and BOGO to your customers.
Try the YITH Dynamic Pricing and Discounts plugin today and start increasing your average order value!