I'm writing this post to give you the latest WooCommerce stats for 2023. It's not easy to find out how many websites use WooCommerce, as most usage stats are out of date. I've done the research to provide the very latest data on the number of websites using WooCommerce.
I've also provided stats on the WooCommerce market share compared to other e-commerce platforms and WordPress e-commerce plugins. The results are fascinating!
You're welcome to quote, share, or embed any of the resources from this article. Please add a link crediting this article as the source.
WooCommerce stats infographic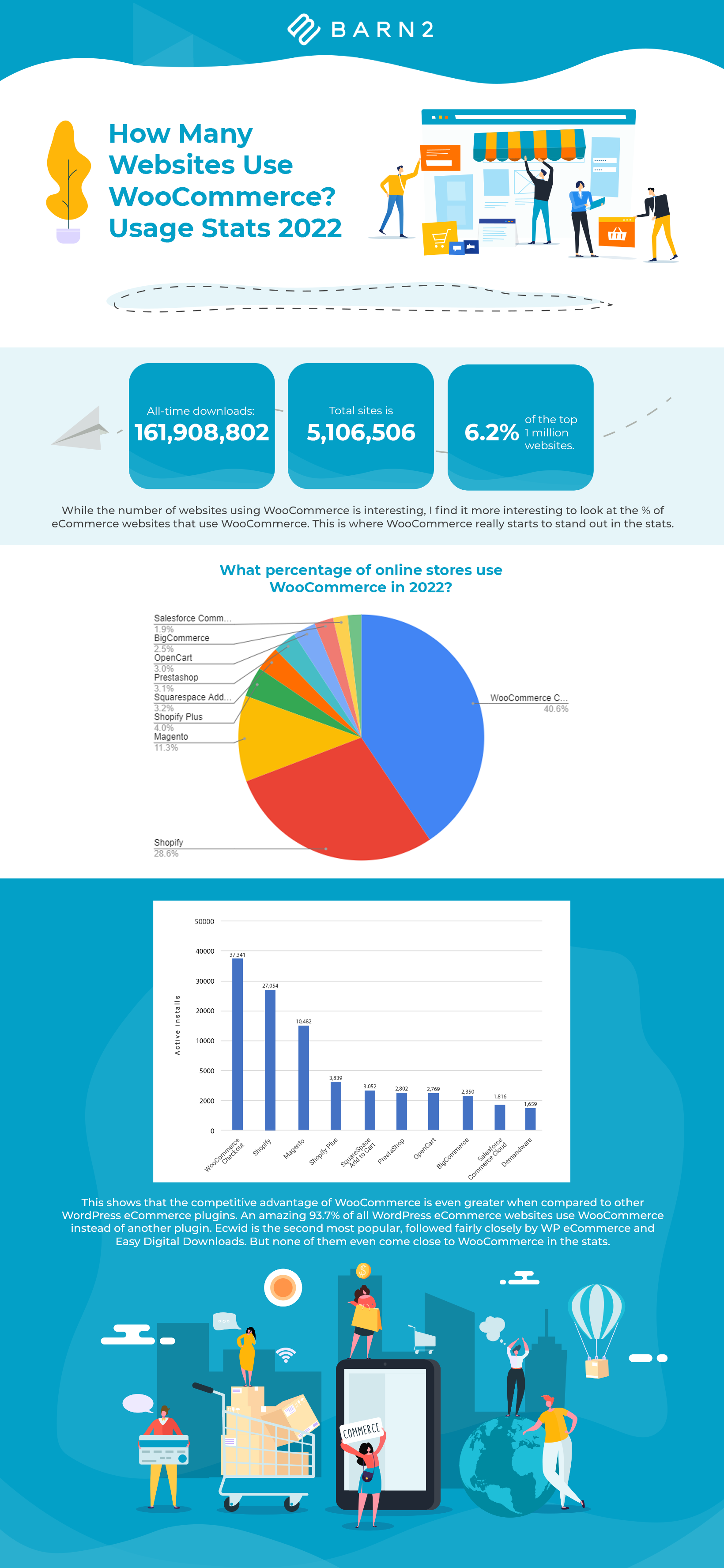 Embed on your website:
How many websites use WooCommerce?
The answer is at least 5+ million stores, as this is the number of active installs of the free WooCommerce plugin. This is, however, not totally accurate. This is the highest figure the WordPress plugin repository lists for "active installs", as the precise number was removed in April 2017.
After an update to the WooCommerce plugin is released, there are approximately 400,000 downloads of the plugin through automatic updates. This gives us a clue as to the number of actively managed stores. The total number is likely to be higher.
We can get some more clues as to the accurate WooCommerce stats. The WooCommerce.com homepage publishes the exact number of WooCommerce downloads. I'm not sure how often this stat is updated and it may include plugin updates as well as new installs. The current figure is 225,994,569. Check back regularly to get the latest figure for the number of WooCommerce downloads in 2023.
BuiltWith reports that in January 2023, a total of 6,719,294 websites use WooCommerce, or 46,742 of the world's top million websites. That's 0.3% of all websites, or 4.64% of the top million websites. A sizeable proportion but not huge.
6,322,323 websites use WooCommerce, or 68,000 of the world's top million websites. That's 0.3% of all websites, or 4.67% of the top million!
Click to Tweet
While the number of websites using WooCommerce is interesting, I find it more interesting to look at the % of e-commerce websites that use WooCommerce. The percentage is where WooCommerce really starts to stand out in the stats. We have found this each year since we started publishing this post, including 2017, 2018, 2019, 2021, 2022 and now 2023.
What percentage of online stores use WooCommerce?
Looking at data on Built With, we see that the current 2023 market share for WooCommerce is 23% of the top 1 million sites using e-commerce technologies: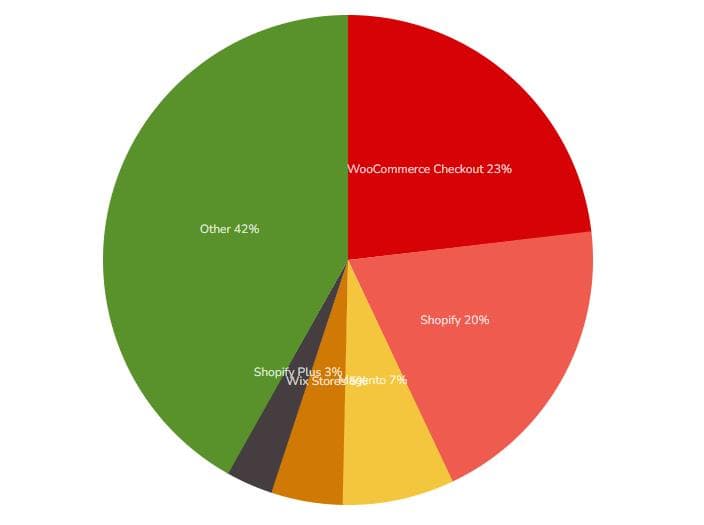 23% of all online stores use WooCommerce.
Click to Tweet
For comparison, the WooCommerce market share was 25% in 2022. As you can see, WooCommerce leads as the most popular choice among the top million e-commerce sites, ahead of both Magento and Shopify.
This is especially good because the world's top websites are more likely to have bigger budgets and bespoke or enterprise solutions, whereas WordPress and WooCommerce are most popular with smaller sites. (Yeah, I know that lots of big names use WordPress and WooCommerce these days. But you know what I mean.)
I find it really interesting to compare WooCommerce usage stats with other e-commerce platforms. This makes the figures more real and helps us to understand WooCommerce's true market share in 2022 and going into 2023.
I'm always surprised to see just how far ahead WooCommerce is compared to other e-commerce platforms. Shopify is also growing steadily, but WooCommerce remains the market leader.
Where are the other WordPress e-commerce plugins?
You'll notice that no other WordPress plugins appear in the list at all. These are obviously covered by the big 'Other' category, but no other WordPress plugin makes the top 10 e-commerce platforms. It may feel as if plugins such as WP eCommerce and Easy Digital Downloads are very popular, but they're not even in the top 20.
How many WooCommerce themes are there?
It's impossible to know how many dedicated WordPress themes are available which include support and styling for WooCommerce. This is because many WooCommerce-ready themes are sold on independent websites and smaller marketplaces. Here are some WooCommerce stats for the bigger theme providers, as of January 2023:
This brings us to over 2,991 just from 2 big players. The total number will be much higher when you include other theme marketplaces and independent theme companies. Clearly, there's no shortage of choice in choosing a WooCommerce theme for a website design!
Our friends at ThemeIsle have some good WooCommerce themes if you are looking, or here are some free themes.
There are over 2,991 WordPress themes available worldwide - take your pick!
Click to Tweet
And how many WooCommerce plugins are there?
As with themes, it's impossible to provide an exact number of how many WooCommerce plugins there are. Here's what I discovered:
The real total for this stat will be much higher as a huge number of websites sell e-commerce plugins independently or via smaller marketplaces. For example, we sell our own WooCommerce add-ons via our own website, so popular plugins such as WooCommerce Product Table aren't even included in this figure.
How many new websites are installing WooCommerce?
It's easy to get the latest figures on the number of websites that are newly installing WooCommerce if you know where to look. An up to date figure for this WooCommerce stat is available at all times on the WooCommerce page in the WordPress plugin directory.
At the time of writing (January 2023), WooCommerce has been downloaded 435,562 times in the last week. That's pretty incredible and shows how quickly WooCommerce is growing.
What is the future of WooCommerce
I don't think I'm alone in predicting that WooCommerce will continue gaining market share in the future.
It has already reached a tipping point. With such a huge ecosystem of WooCommerce experts, themes, plugins, and hosting to choose from, choosing WooCommerce provides an immediate advantage for any e-commerce website compared to other platforms. WordPress is the world's biggest CMS with a huge 64.2% market share. As the main WordPress e-commerce platform, that's an enormous market.
If you haven't started making money with WooCommerce yet, there are plenty of excellent WooCommerce tutorials on how to get started with WooCommerce in 2023, such as this one from Moosend.
This puts lots of exciting new developments in the pipeline such as the likelihood that WooCommerce will become available on WordPress.com. This will bring it to a whole new market, increasing market share even further in 2023 and beyond.
With all this in mind, I'm pretty sure that WooCommerce isn't going anywhere - or at least not for many years.