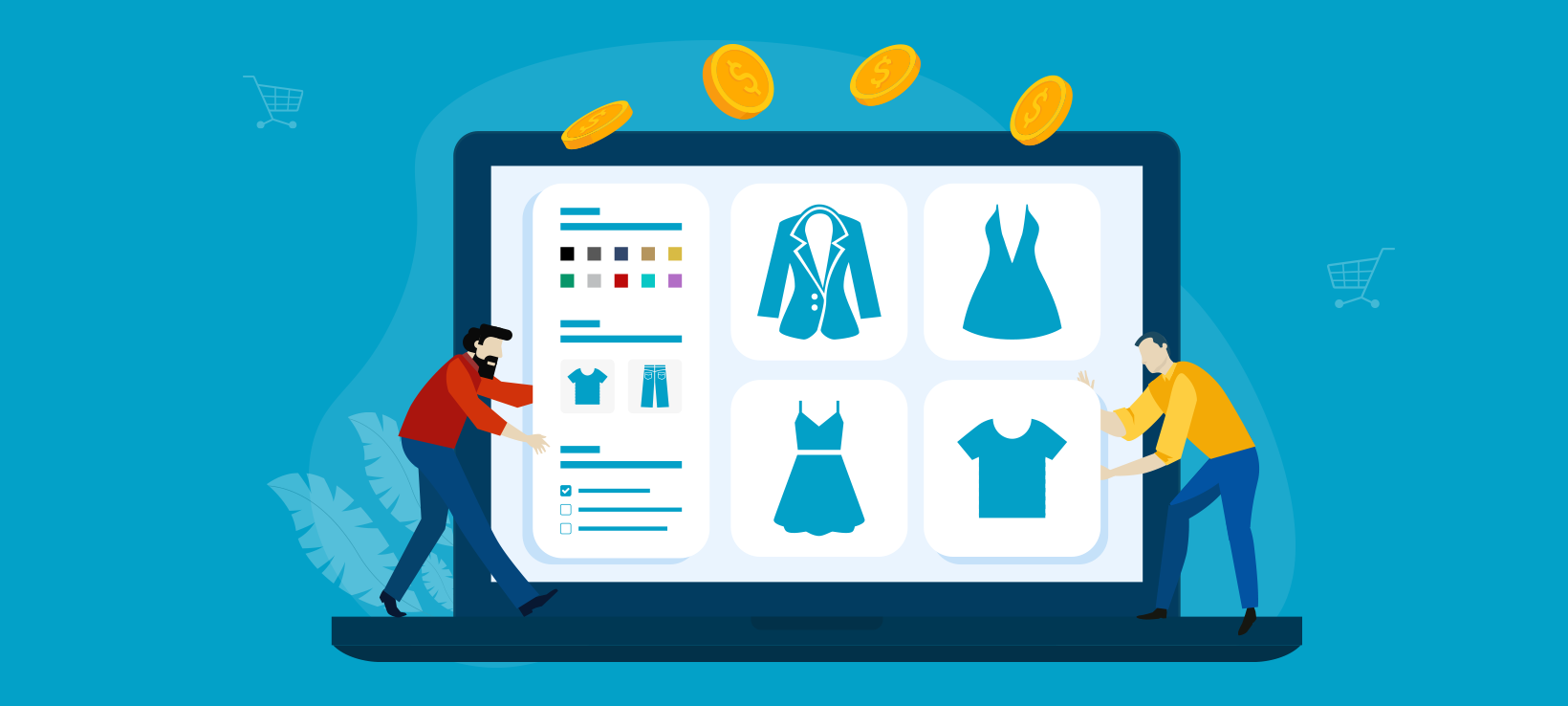 Today we have launched a brand new plugin, WooCommerce Product Filters. Discover why we decided that WooCommerce needed a better option for finding products more easily, and how we made it the best WooCommerce products filter plugin on the market.
Have you ever noticed that the filters which come with WooCommerce are pretty basic? I have too.
And have you tried to solve the problem by installing a WooCommerce products filter plugin, and then deleted it in frustration? Me too (many times!).
After years of helping people who were struggling with existing filter plugins, I decided that it was time for a different approach. As a result, I got to work with our development team and thought about what the ultimate WooCommerce products filter plugin would look like.
The result is WooCommerce Product Filters, which was launched today: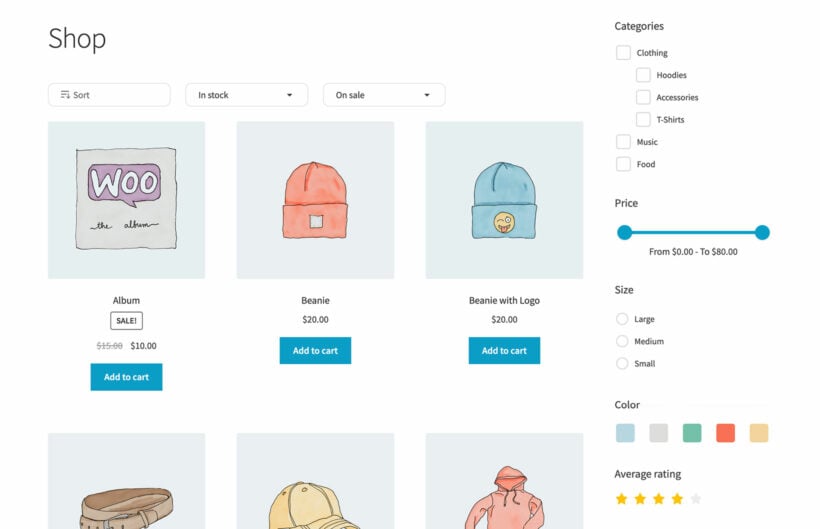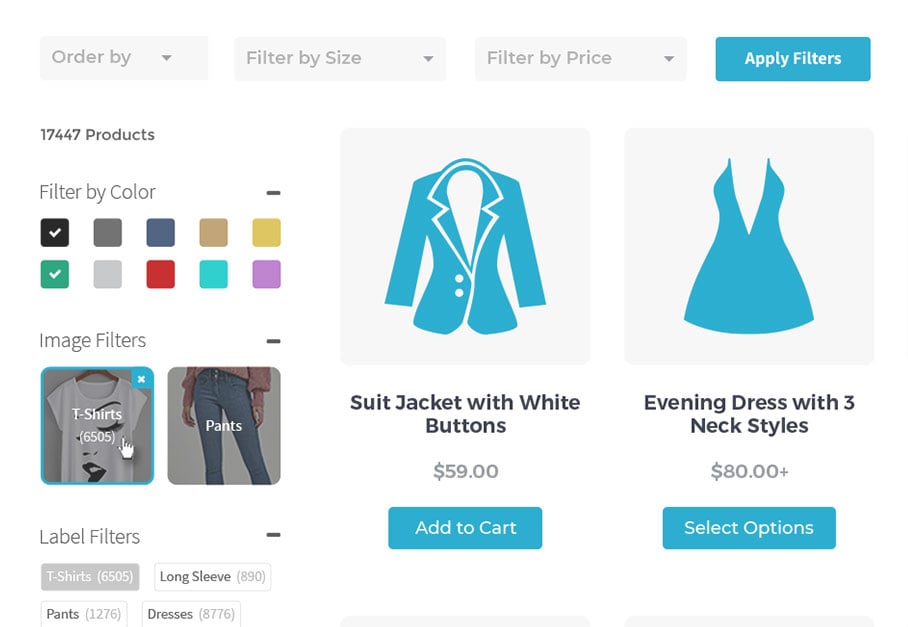 Grow your sales by helping customers to find exactly what they need - quickly and easily.
Keep reading to learn why a new WooCommerce products filter plugin is needed, and why the new plugin is the best one available.
Barn2 analyzed the world's leading e-commerce stores to design the ultimate solution for filtering products. WooCommerce Product Filters is the result - https://barn2.com/woocommerce-product-filters.
Click to Tweet
What's wrong with the default WooCommerce filters?
If you're just starting out, then it's worth trying the filters that are built into WooCommerce itself. These let you add attribute, price or average rating filters to a sidebar widget or Gutenberg block: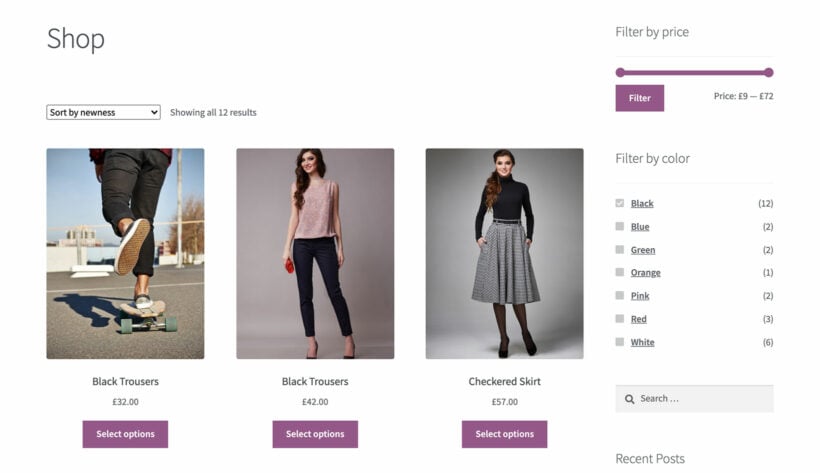 An example of the basic non-AJAX filters which come with WooCommerce itself
However, the default WooCommerce filters are very basic and have some major limitations:
No AJAX - Product filters are much more professional if customers can perform a filter without reloading the page. This uses a technology called AJAX. The default WooCommerce filters don't use AJAX, and the page reloads every time you perform a filter.
Limited choice of filters - There's no way to filter by other types of product data such as tag, image, custom taxonomy, etc.
No display options - The attribute filters can only be displayed as checkboxes or dropdowns, with no option for radio buttons, color swatches, radio buttons, tag clouds, images, etc.
Location - The default filters only work on standard WooCommerce product listing pages, such as the shop and category pages.
Compatibility - The filters don't work with third party product listing plugins such as WooCommerce Product Table.
As a result, I would only recommend using the default widgets on new or test websites. If you're serious about making money with WooCommerce, then it's best to install a good quality WooCommerce products filter plugin.
Designing the ultimate WooCommerce products filter plugin
Over the years, I have tested various product filter plugins and unfortunately have never found one that was good enough. Some of them are shockingly bad, and others just don't quite integrate well enough into different types of WooCommerce store.
Eventually, I got to work researching and deciding what the ultimate filter plugin should look like. Instead of using WordPress and WooCommerce as a starting point, I looked more widely. This involved analyzing the filters of some of the world's biggest e-commerce websites, such as major clothing retailers. These typically have excellent products filters, so there was plenty to learn and bring to WooCommerce for the first time.
Important but often overlooked features
For example, major clothing websites tend to have the following features, which I didn't find in any products filter plugins:
Total product count - Most WooCommerce products filter plugins display the number of products against each filter option (e.g. "Red (50)"). However, none of them display the total number of products above the filters. Customers need to know how many products are being displayed both and after they use the filters.
'View more' links - Other WooCommerce plugins list all the available filter options. For example, if there are 20 color options then all 25 will be listed. That's a long list! Compare the clumsiness of this to major e-commerce retail sites, which show a few options by default and have a 'More filters' link to reveal the others.
Show/hide filters - WooCommerce products filter plugins tend to display all the filters when the page loads, which can take up a lot of space. Compare this to websites that let customers click on a link or button to display the filters. And even better, some e-commerce giants display filters in a slide-out panel or popup, so that customers can filter without taking up space on the page. That leaves more room for the all-important products.
The ultimate feature list
Armed with the above insights, I started planning the perfect WooCommerce products filter plugin. This involved:
Writing a definitive roadmap of which features to include in version 1 and later versions.
Deciding which features other plugins have that aren't useful for real-world e-commerce sites. (For example, why would a customer want to filter by featured products? They don't even know what a featured product is!)
Analyzing how WordPress and WooCommerce work in order to plan the best possible usability for creating and managing filters.
Planning the best way for the filters to look and function in the front end, for the best possible customer experience.
The result: WooCommerce Product Filters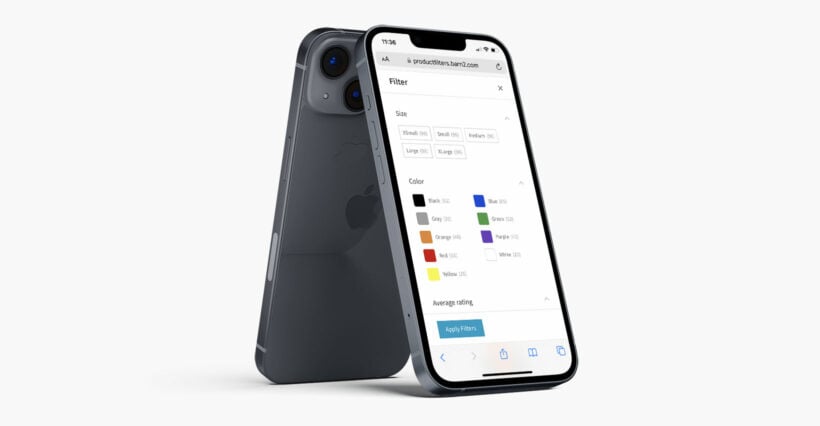 After weeks of planning and months of development and testing, our WooCommerce products filter plugin was finally ready.
WooCommerce Products Filter Pro has everything that you need to help customers to find products quickly and easily.
Check out the main features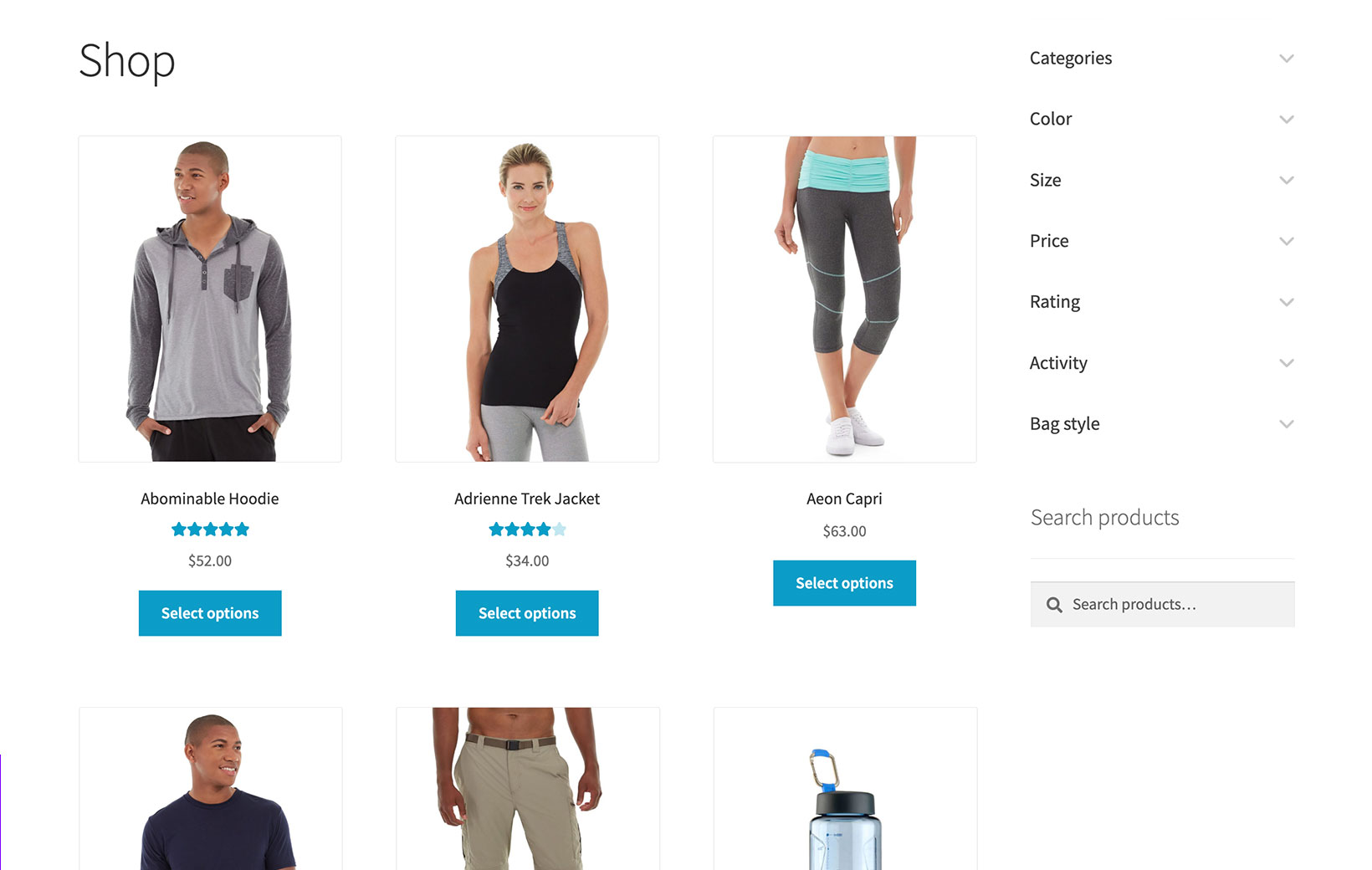 Huge range of product filters:

Customers can filter by categories, attributes, color, tags, custom taxonomy, price, ratings, in stock, on sale.
Display the filters as dropdown lists, checkboxes, radio buttons, labels/tag cloud, images, or colour swatches.

Plus, they can choose how to sort the list of results.

Flexible display options:

Choice of horizontal or vertical layout.
Display product totals above the filters, and/or alongside each option.
Show filters on page load or click a button to view (with separate options for mobile/desktop).
Optionally save space by displaying filters in a slide-out panel on mobile/desktop.
Allow customers to click on a filter to show/hide the options.
Choice of Instant filtering (best if you just have a few filters) or 'Apply Filters' button (best for many filters).

Easy back end management:

Easy to create filters and structure them into groups.
Add filter groups anywhere on your WordPress site - either by enabling them automatically on store pages, or by adding a widget or shortcode.
Where to get the plugin
As you can see, WooCommerce Product Filters has everything that you need for a professional filtering solution. It makes it so much easier for customers to find the products they want, which can have a big impact on conversion rates.
Version 1 of the new plugin includes everything that we believe is essential for a high quality filter plugin. Over time, we will continue adding new features to cater for an even wider range of use cases.
Install the products filter plugin today, and see the difference it makes!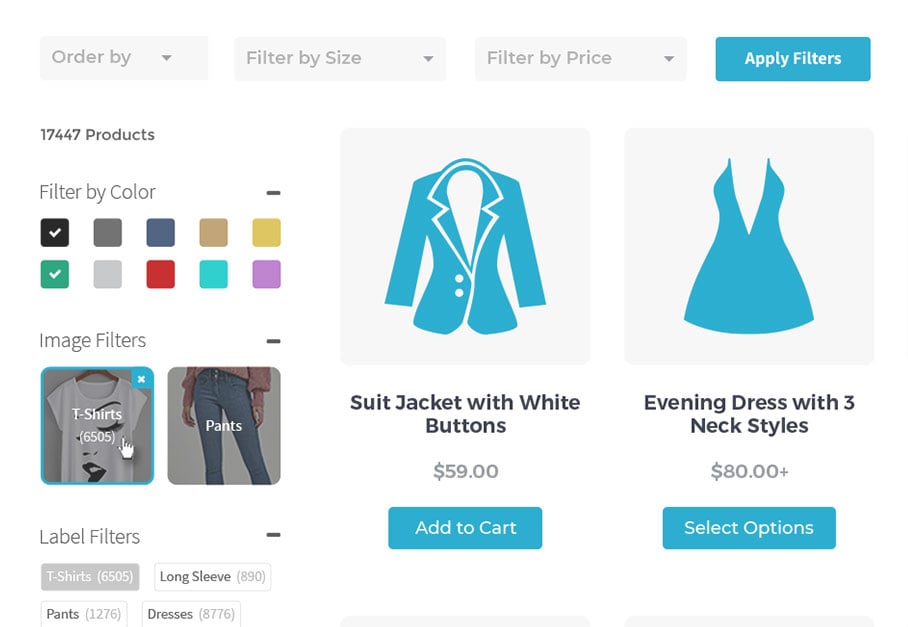 Grow your sales by helping customers to find exactly what they need - quickly and easily.