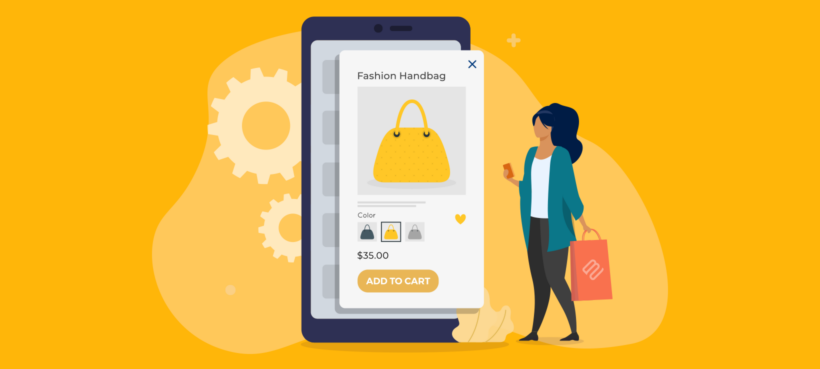 Looking for the best WooCommerce product popup plugins to offer customers more information about your products? After testing several plugins, we've compiled a list of the 7 best options you should consider.
A WooCommerce product popup provides a quick way for customers to learn more about any product in your store. You can use it to display extra product information. And it also allows you to display product options or the "Add to Cart" button on the general shop page.
By doing this, shoppers can select multiple product options and send products to their cart without having to visit individual product pages or the shopping cart. This improves store navigation and the overall shopping experience.
You can also use product popups to showcase related products after a customer adds a specific product to their cart. This applies to upsell and cross-sell products as well.
WooCommerce Quick View Pro: View and buy products from an on-page product popup
Irrespective of the type of product popup you're looking to add to your store, you can learn how to do so using any of the 7 best product popup plugins in this article. We'll also share top tips on how to use product popups to increase your conversion rates and average order value.
What is a WooCommerce product popup (and why do you need one)?
When talking about WooCommerce product popups, different WordPress users and store owners often mean different things. For example, some marketers refer to a newsletter popup with information about different products.
Just to be clear, in the context of this article, a WooCommerce product popup can be any of 4 items.
Quick view information popup
When scrolling through a shop page or category page, customers often want to learn more about certain products before making a purchase decision. By adding a quick view information popup to your site, they can easily view product info for multiple products and choose from different buying options on the same page.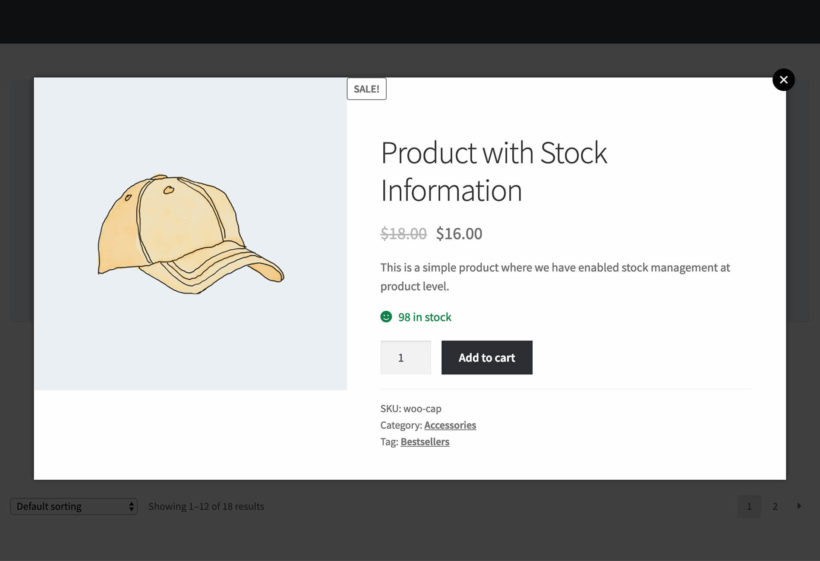 Allowing them to do this without going to individual product pages boosts your store navigation experience. This means buyers will be able to add more products to their shopping cart more quickly. Store visitors can launch this type of quick-view information popup using a button or link.
And it's not restricted to shop pages or category pages with product listings only. You can also add a quick view popup within a blog post or in the sidebar. In essence, this type of WooCommerce product popup is a way of displaying the product page within a lightbox or modal popup.
Skip to the section on how to add a WooCommerce product popup to create this type of popup.
Related products popup
This type of WooCommerce product popup allows you to display related products after a buyer adds an item to the cart. In this case, clicking the Add to cart button launches a fast cart upsell popup.
Customers will be able to complete checkout within this popup. And you can also use it to recommend related products to boost your average order value and conversion.
Skip to the section on how to create a related products popup to add this type of popup to your store.
Product options popup
Certain products come with extra options that a customer can select from. For example, they can choose the device color, RAM size, and storage size in an electronic store.
A product options popup allows the buyer to quickly combine multiple customization options and tweak their order before adding the product to their cart. This popup type works well with product variations.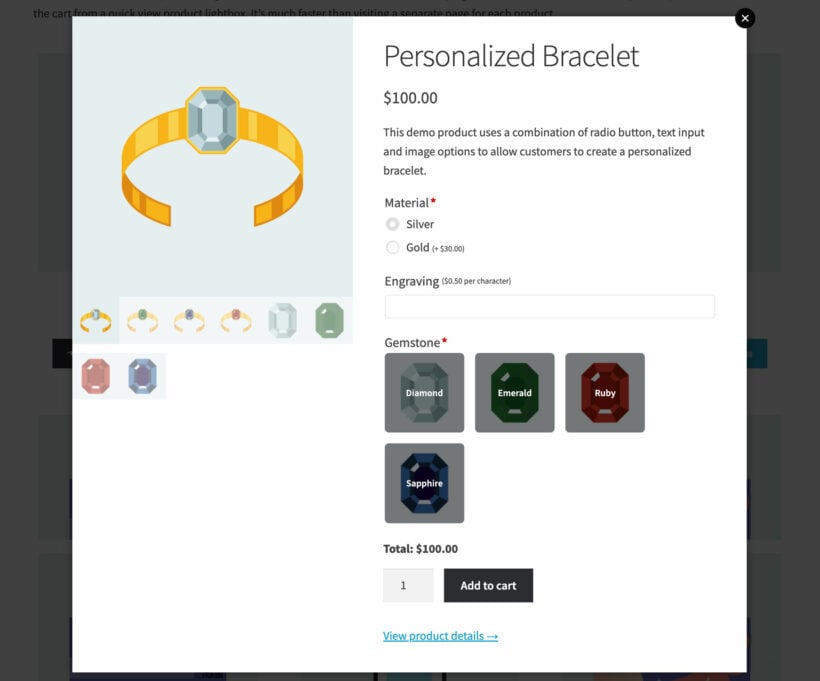 To create this type of popup, jump to instructions on how to add product options popups in WooCommerce.
Newsletter signup popup
Looking to turn your one-time store visitors to repeat customers? A newsletter signup popup is an ideal solution here. You can use this type of WooCommerce product popup to convince your store visitors to subscribe to your mailing list.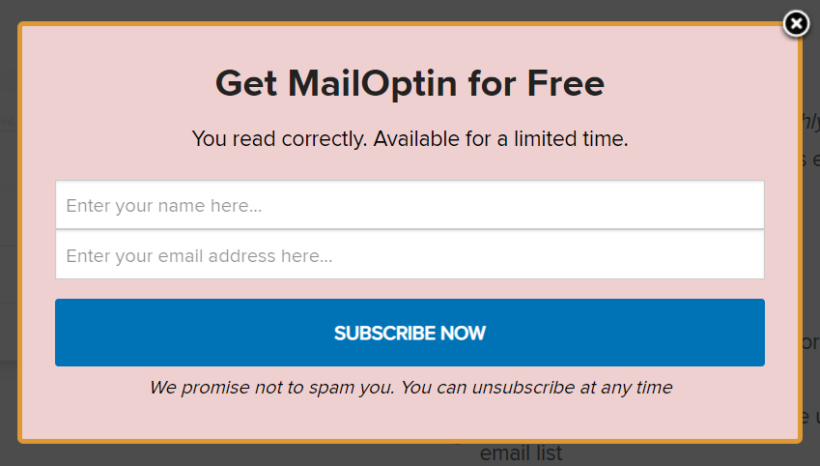 After signing up, you can then send these subscribers all the latest news about your products and best offers. Done right, this could prove helpful in gaining both new and returning customers.
If you'd like to add this type of popup to your store, we highly recommend using MailOptin. It's a powerful WordPress lead generation plugin for sending automated emails to your newsletter subscribers. We'll talk more about this later in the article.
7 best WooCommerce product popup plugins
Different WooCommerce product popup plugins excel in different departments. To make this article more helpful, we tested multiple plugins and identified the best solutions for creating various types of popups.
Here are our top 7 picks for the most popular product popup use cases: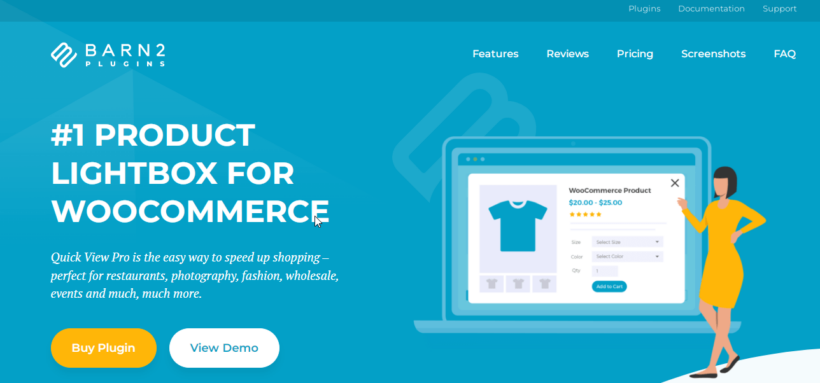 Quick View Pro is a powerful product popup plugin that allows you to display product information in a quick-view lightbox. You can use it to add a WooCommerce product popup to different locations on your site.
The plugin has multiple advanced product popup features that you can use to:
Complete popup controlYou get to choose the products or product categories to display the popup, button design, link and hover effects. You can also add the popup anywhere on your site using a shortcode.
Image gallery lightboxThis is ideal for showcasing multiple images of products and product variations. Quick View Pro also includes a zoom feature for examining products in finer detail.
Plugin integrationThe plugin also combines with other powerful tools from Barn2 and other plugin developers. For example, you can use it with WooCommerce Product Table to explore multiple products in a product table without leaving the page.
Quick View Pro supports all product types, speeds up the order process, and is very easy to use. Let's look at how to add a product popup with it.
How to add a WooCommerce product popup with Quick View Pro
Ready to add a WooCommerce product popup to your store? The first thing you need to do is get a copy of WooCommerce Quick View Pro.
Once you've gotten your copy of the plugin, you'll need a license key to get it running. Check your email address for an email from Barn2 to find this key. Then follow these 3 steps below to start using Quick View Pro;
Log into your WordPress site's backend. Go to Plugins → Add New → Upload Plugin.
Select the plugin's ZIP file from your downloads and click Install Now followed by Activate Plugin.
Follow the setup wizard instructions to activate your license key.
After activating your license key, it's time to create your first WooCommerce product popup. As we mentioned earlier, Quick View Pro allows you to add product popups to different site areas. Let's show you a few.
Adding a product popup to shop/category pages
The most popular way to use WooCommerce product popups is to add quick view buttons to your shop/category pages. To do this, you simply need to tweak your Quick View Pro built-in settings.
Go to WooCommerce → Settings → Products → Quick view to access the plugin settings. (Alternatively, you can do this in the setup wizard when you first install the plugin.)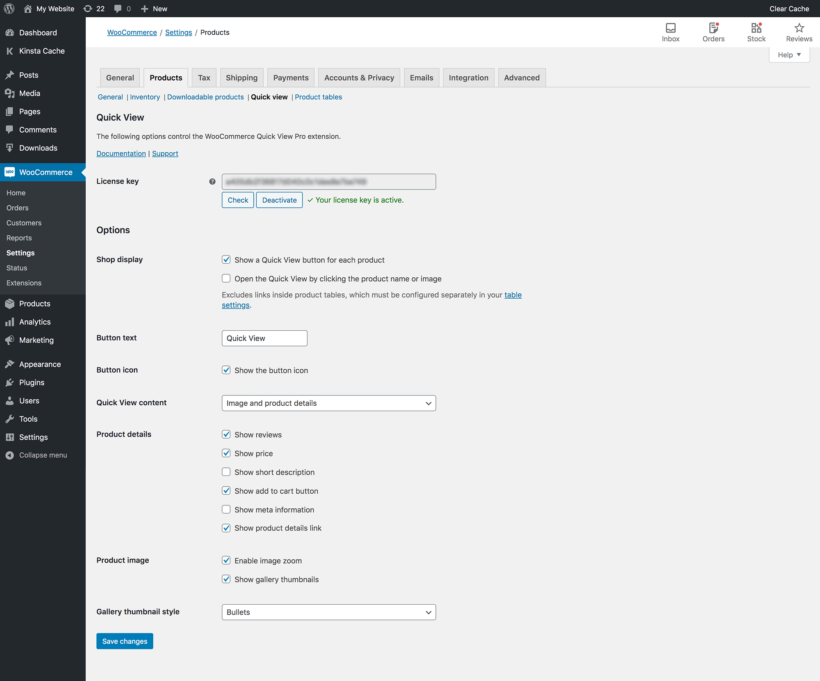 Under the Options section and Shop Display tab, you get 3 options for how you want customers to launch the quick view product popup. You can either:
Show a Quick View button for each productChecking this box adds a Quick View button or link right before the Add to Cart button.
Display Quick View button on hoverAlternatively, you can set the quick view button to only appear when the customer hovers over a product image.
Open the Quick View by clicking the product name or imageThis option launches the product popup when the store visitor clicks a product name or image. This replaces the need to visit the

single product page. But you can still add a link to the product page within the popup.
The last 2 options only work with themes that use the standard WooCommerce conventions. We recommend using the preview links below them before saving changes to your live site.
On this page, you can also customize the quick view button text, decide whether or not to display the button icon, and choose the WooCommerce product popup content.
Product information popup settings
Under the Quick View contents tab, choose whether to display only the product image, details, or both.
Next, check the necessary boxes to decide which product details to include in the lightbox popup.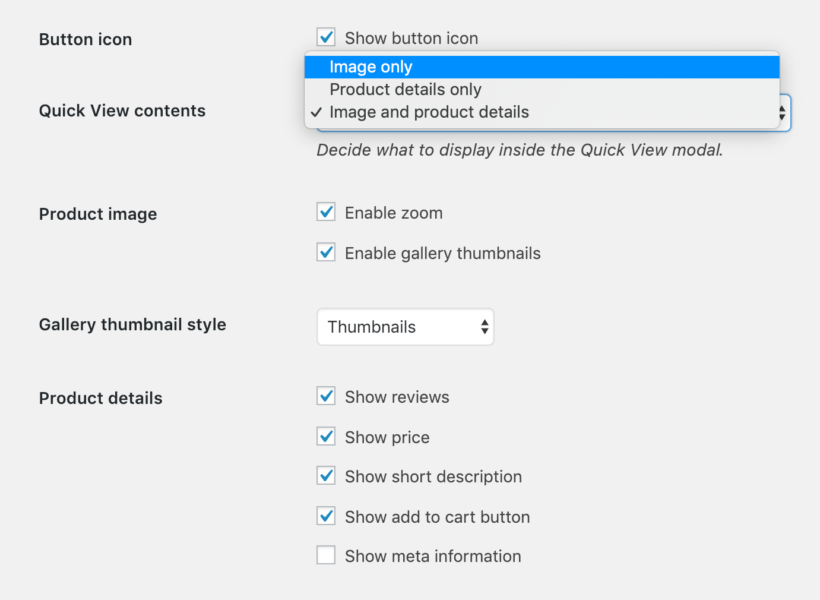 Select any or all of these product details:
Star details
Full reviews
Price
Short description
Full description
Add to cart button
Meta information
Attributes
Product details link
Unchecking Show product details link prevents customers from visiting the single product page completely.
Adding a product popup to product tables
Using Quick View Pro with WooCommerce Product Table allows you to seamlessly add WooCommerce product popups to your product tables.
You can add either quick view buttons or links to each product within your product tables. This helps customers to easily navigate between products with multiple variations and options. They can use the popups to view more product images and information.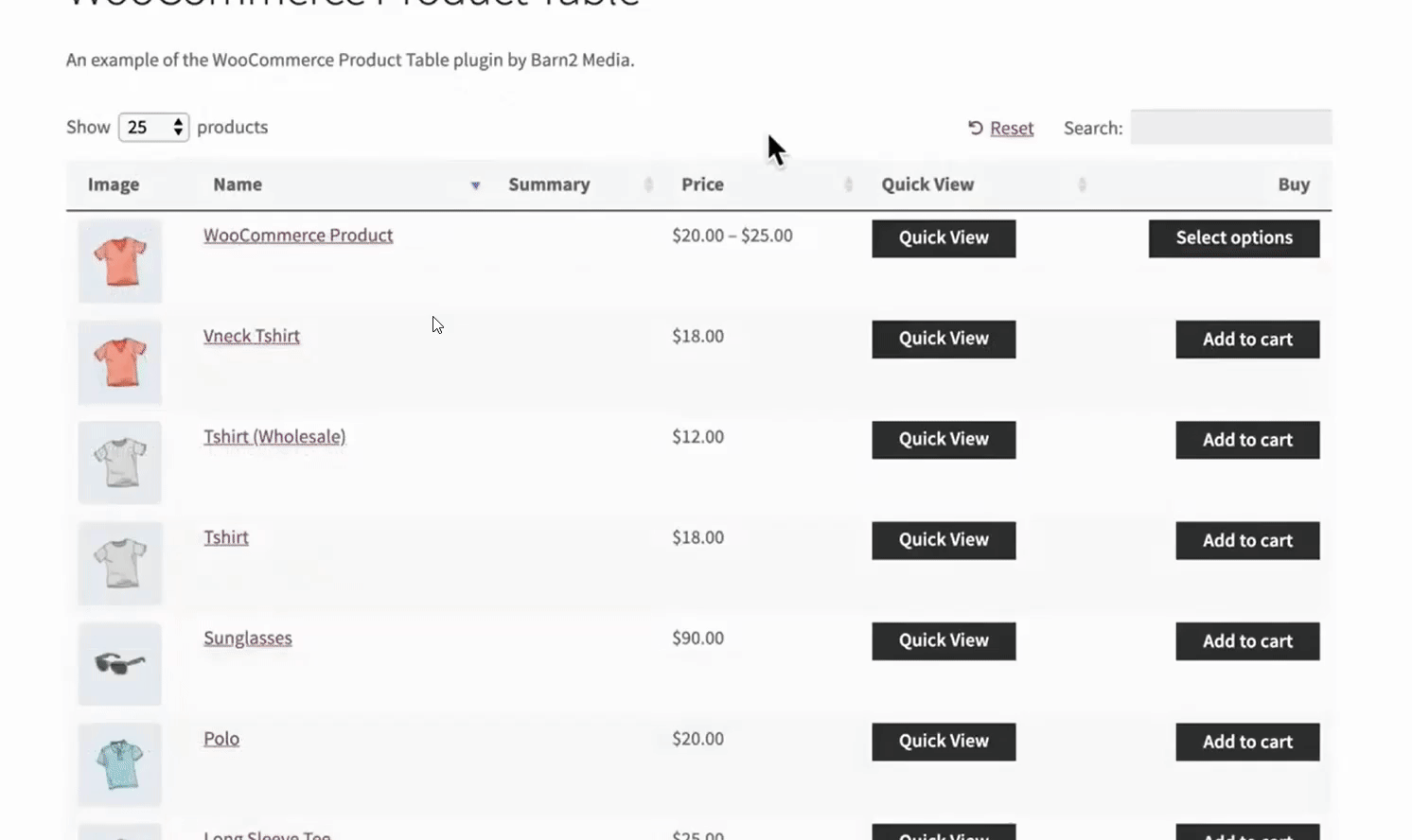 The first step here is to ensure that you've installed and activated both plugins. Follow the same steps we used earlier in the article. Check out this article to learn how to add product tables to your shop/category pages.
Next, go to WooCommerce → Settings → Products → Product tables. Scroll down to the Columns tab under Table content. Then add  quick-view to your list of columns.

Optionally, scroll down to the Quick View Pro section to replace all links to the single product page with quick view popups.

That's it! You've successfully added WooCommerce product popups to your product tables.
Adding a WooCommerce product popup to pages using Gutenberg
WooCommerce product popups aren't limited to shop and product pages only. Additionally, you can add them to virtually any WordPress page using the Gutenberg Block Editor.
WooCommerce Quick View Pro works with these Gutenberg blocks:
Hand Picked Products
Best Selling Products
Products by Category
Newest Products
On Sale Products
Products by Attribute
Top Rated Products
Products by Tag
Before adding a product popup to any page, ensure that enable the right popup options on the Quick View Pro plugin settings page. Next, go to Pages → Add New or edit an existing page. Click the Block Inserter (+) icon and select any of the supported Gutenberg blocks.
Preview your changes to see your product popups in action and click Publish once you're done.
Adding product recommendations to the quick view popup
WooCommerce Quick View Pro automatically suggests related products on individual product pages. All you need to do is ensure that you've added cross-sell and upsell products to the WooCommerce product.
You can do this by going to Products → All Products. Click Edit below a product and scroll to the Product data section. Then click Linked products and add products to the Upsells and Cross-sells fields.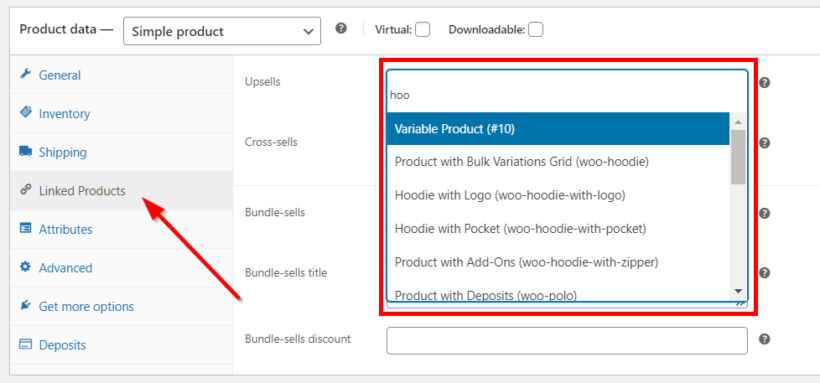 Now, customers can click the Quick View button to see more information about the recommended products.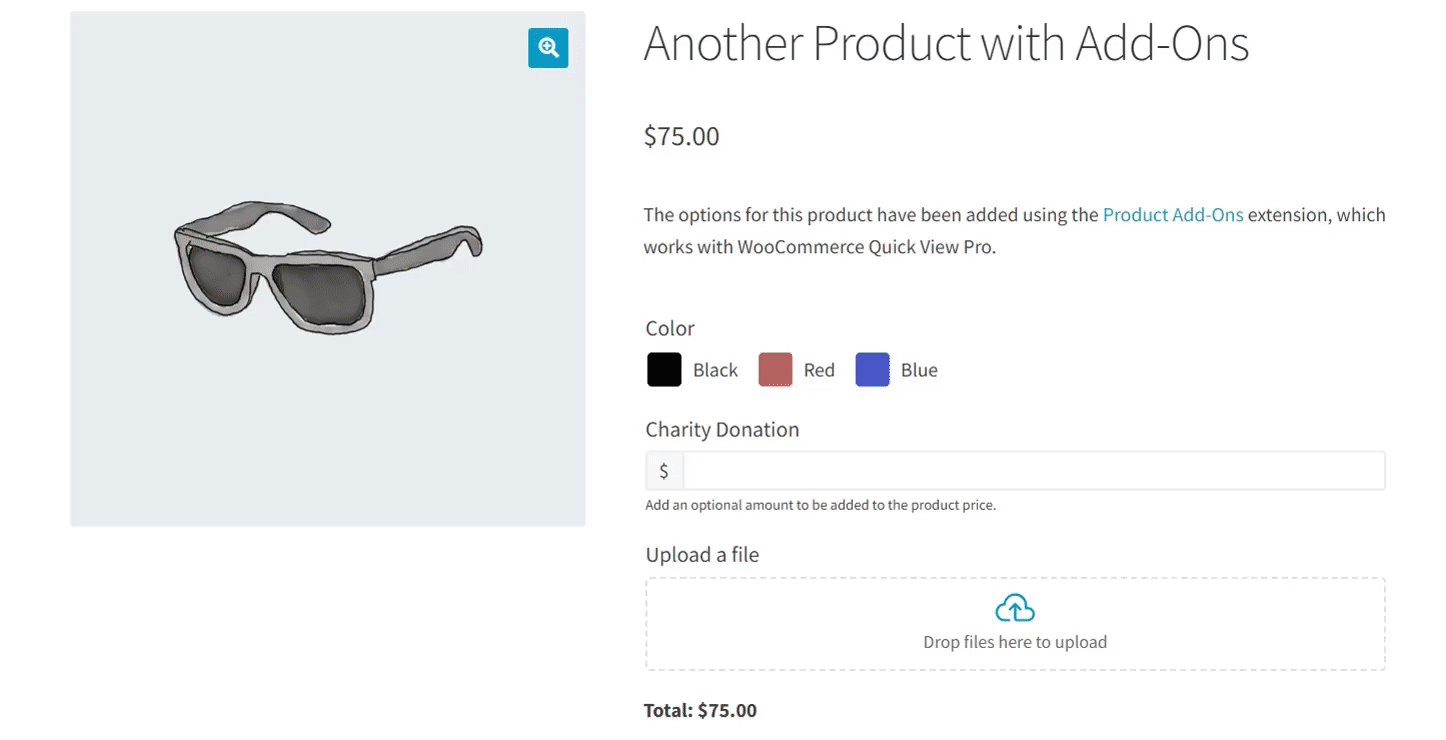 With this WooCommerce product popup, shoppers don't have to leave the current page to see related items.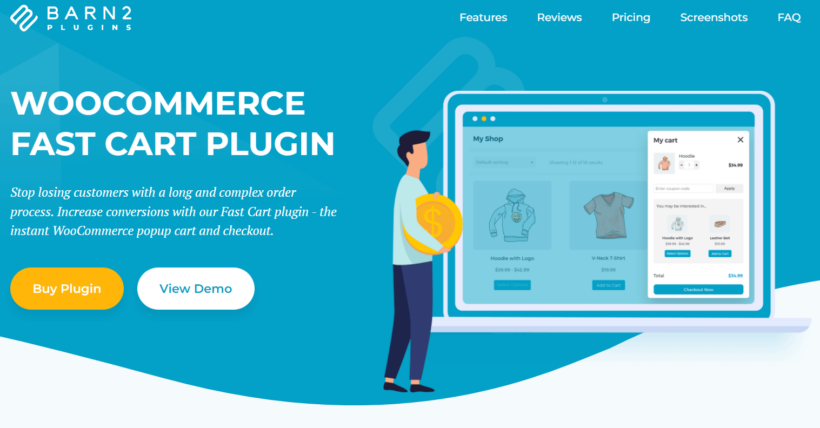 Another interesting way to use WooCommerce product popups is to display shopping carts within them. After clicking Add to Cart, a fast cart popup appears and customers can complete checkout without going to another page. It makes sense to also showcase related products in this popup.
WooCommerce Fast Cart is the best cart popup plugin for achieving this. The plugin not only helps you display upsell products but also speeds up checkout significantly.
Follow this tutorial to learn how to create a related products popup with Fast Cart.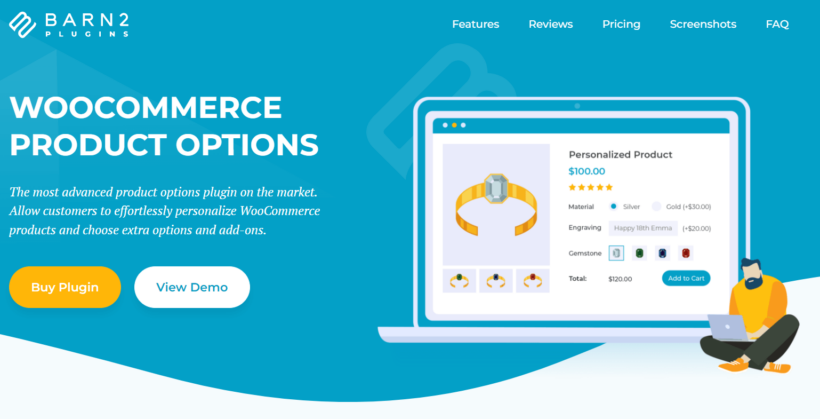 It also makes sense to allow store visitors to select product variations and extra options within a WooCommerce product popup. For all variable products, WooCommerce Quick View Pro automatically displays product variations with the popup. This requires no extra settings.
But for more flexibility, you can add other types of product options to the WooCommerce product popup using WooCommerce Product Options. This allows shoppers to further customize products before adding them to the cart.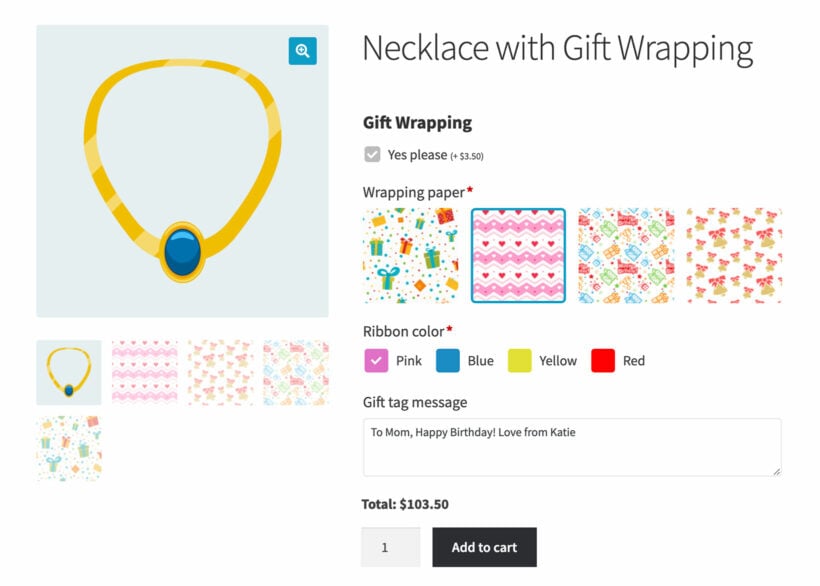 Check out this article on how to add WooCommerce extra product options. Once you're done, install WooCommerce Quick View Pro (#1 in this article) and the extra options will appear in the product popup.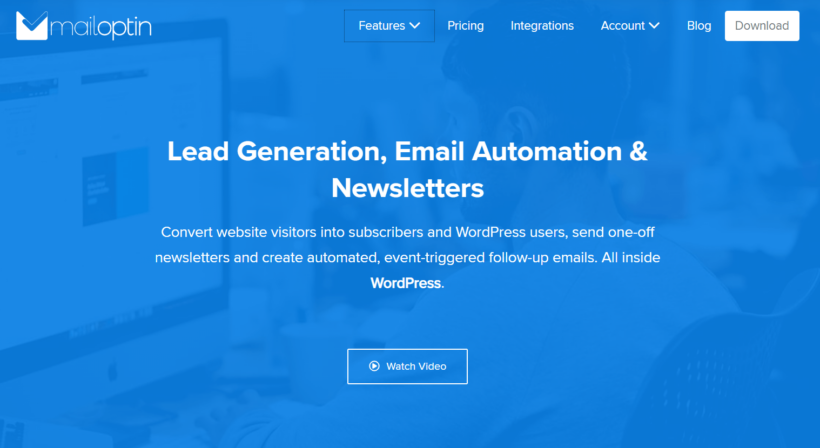 Newsletters are a great tool for turning your store's one-time visitors into subscribers, and ultimately repeat customers. With the help of MailOptin, you can keep your prospective buyers updated about your latest products and discount offers.
The plugin works well for all WooCommerce stores. You can add new WooCommerce customers to your Mailchimp email list. This way, they get the latest news about updates to the products they purchased and other interesting store deals as well. And you can create advanced rules to send other types of event-triggered follow-up emails.
It also integrates well with several other third-party email marketing providers like AWeber, Campaign Monitor, and Hubspot. You can display your newsletter popups in a lightbox popup, notification bar, sidebar widget, and other strategic site locations.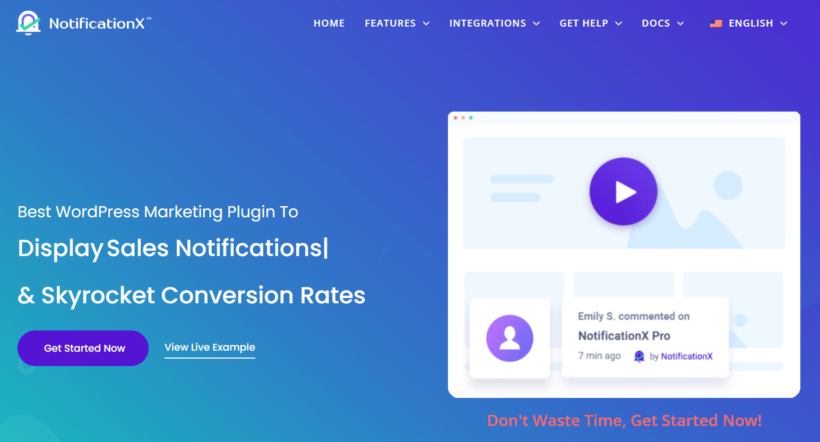 One sales strategy that has become increasingly popular in eCommerce stores is social proof marketing. Store owners add sales notification popups to product pages to achieve the Fear Of Missing Out (FOMO) effect on their store visitors.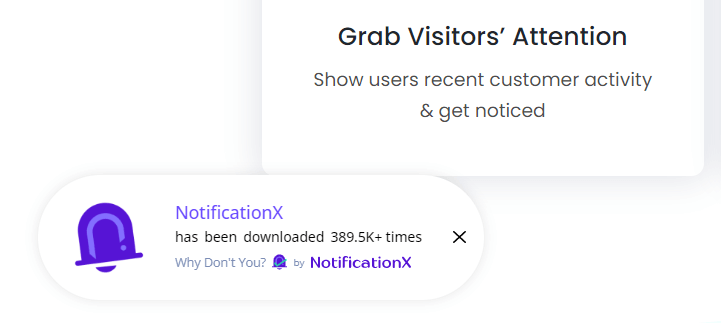 This type of popup displays the number of people who recently bought the product which the customer is currently viewing. It typically includes text like "James just bought Ninja T-Shirt - 1 hour ago."
You can also indicate the number of people presently viewing that particular product. Doing this can get a prospective customer to make a purchase decision faster, especially for products in limited stock.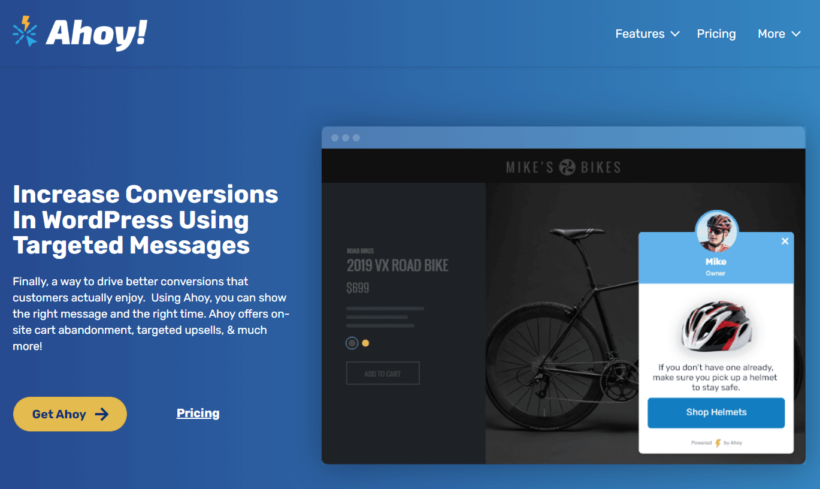 Looking to boost your store's conversion and reduce cart abandonment significantly? Then product discounts and well-targeted messages may be your best bet! Ahoy helps you to add personalized discounts, upsells, and cross-sells to specific WooCommerce products.
You can use the plugin to target different customers based on cart total, user roles, product category, and product page content. It also integrates well with digital products like Gravity, Ninja Forms, Easy Digital Downloads, and other tools based on WooCommerce.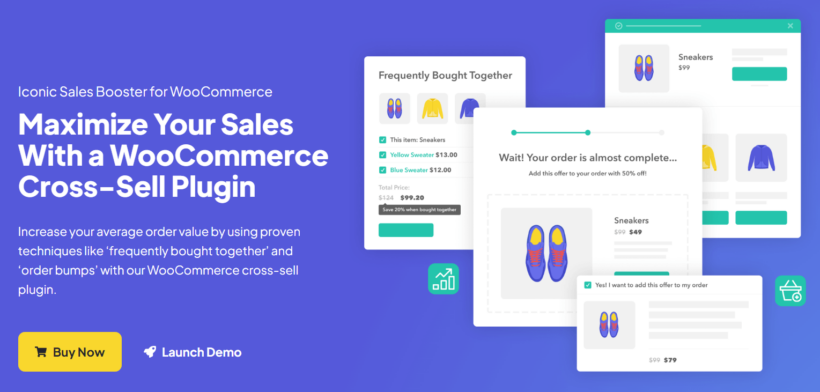 Finally, as an alternative to WooCommerce product popups, you can also use Iconic Sales Booster to add order bumps to your checkout page. With this approach, you focus on increasing your store's average order value with sales techniques like "Frequently Bought Together" sections.
This plugin works seamlessly alongside any of the product popup plugins featured in this article. For example, you can combine it with WooCommerce Fast Cart to display order bumps in a popup checkout.
Which is the best WooCommerce product popup plugin?
WooCommerce product popups offer a quick and easy way to learn more about multiple products and choose product options on the same page. And in this article, we've discussed the 7 best WooCommerce product popup plugins and shown you how to create popups with them.
Here's a recap of our top picks:
Ready to improve your store's shopping experience with WooCommerce product popups? Then get your copy of WooCommerce Quick View Pro today.
We hope this article has proved helpful in choosing the best WooCommerce product popup for your store. Have any questions or got stuck adding a popup to your site? Let us know in the comments section below!