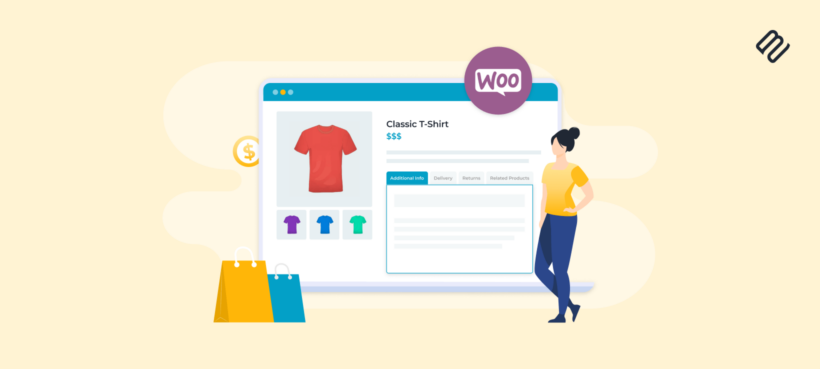 Want to customize the WooCommerce product page? You've come to the right place!
When you set up a WooCommerce site, it comes with a default product page. Most store owners add their products and use this default page without thinking about it. However, this could mean that you're leaving money on the table 🙀
The WooCommerce product page has huge potential for customization that most store owners don't take advantage of. As a result, their product pages aren't tailored to showcase their products in the best possible way. This leads to lost sales and a generic, unimpressive user experience.
A good WooCommerce product page should:
Have a layout which provides all the necessary information to convince people to buy the product.
Be visually compelling and intuitive, with user-friendly options for choosing product options and variations.
Have professional product images and well-written copy to showcase your products in the best possible way.
In this article, we'll take a look at how important it is to have a well designed product page. I'll also tell you about the best WooCommerce product page customization plugins. You'll learn how to add extra tabs to the product page, and how to present product options and variations more effectively. I'll share ways to let customers calculate shipping costs on the product page. And of course we'll talk about the best way to create a custom WooCommerce product page layout.
Let's get started!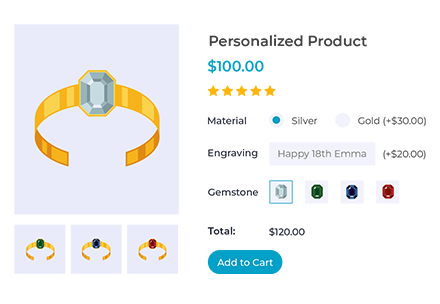 Add extra options and flexible add-ons to the WooCommerce product page in seconds.
Why customize the WooCommerce product page?
Many shop page owners think it's enough to upload a photo of their product, a short description, and pricing information. Although this is technically sufficient, customizing the WooCommerce product page further can make a big difference for your business. It's all about tailoring the product page and its features to best suit the type of products you sell.
Well designed product pages have several benefits for WooCommerce store owners:
Boost salesWhen your product page has strong sales copy, a layout and features designed to drive conversions, customers are more likely to buy, boosting your overall profits.
Raise SEOYou can take advantage of the product description section of your product to write SEO-focused sales copy. Adding extra text areas allows you to add even more SEO-friendly copy without cluttering up the page layout. Search engines crawlers will include this copy in their judgment of your site, so well optimized descriptions can boost your search engine rankings and get you more customers.
Improve customer experienceLastly, a great product page goes a long way toward improving the customer experience. Focus on identifying and addressing your customers' needs. That way, your WooCommerce product pages reflect all the product data people need to confidently make a purchase.
As Andy Keith, Barn2's Technical Director says:
It's such a shame that most WooCommerce online store owners use the default product page that comes with their theme. This is a huge missed opportunity, as customizing the product page based on the exact products you sell can make a big difference to conversion rates.
The best WooCommerce product page customization plugins
As we have seen, thoughtful product page creation allows you to maximize the potential of your products. With the right tools, you can make your product pages more functional and improve your user experience.
Fortunately, there are lots of excellent WordPress plugins available to customize the product page in WooCommerce. I'll tell you about the best ones next. Each plugin provides a completely different way of customizing the product page. For best results, mix and match the ones that will enhance the specific type of products you sell.
Add flexible and fun options to product pages
A huge number of products come with two or more options. The WooCommerce Product Options plugin provides a visually appealing way to add almost any type of extra option to your products.
Use it to:
Add a wide range of extra options to your products. Choose from checkboxes and radio buttons, to more visual options such as clickable images, color swatches and text clouds.
Structure the options into groups, with headings and other helpful text between them.
Easily allow customers to choose between different colors, patterns, or styles of a WooCommerce single product.
Collect product details for customization such as text, images, or file uploads.
Build bundles to promote upsells and cross-sales to other products on your site, displaying other products as options above the add to cart button.
Use conditional logic to set options to hide or appear based on which other options the customer selects.
You can add as many options as you like to each product. The plugin is easy to use and you can create different options for each specific product, or add options per product category or to your entire store. It's designed to work with any WordPress theme and the styling of the product add-ons will match the rest of your site.
Once you've finished adding the options, the WooCommerce product page will be much more interactive and visually appealing. And more importantly, customers will be able to customize and personalize the products to meet their exact needs.
Add extra tabs to product pages
Some products naturally have a lot of information associated with them that customers are certain to need. For example, someone purchasing an item of clothing is likely to want to know about the fit, materials, and care instructions in addition to the description of the product itself.
Adding custom tabs to the WooCommerce product page helps organize this information so it's aesthetically pleasing and easy to navigate between.
The WooCommerce Product Tabs plugin is a fantastic tool that allows you to build out and customize these tabs. Use it to add as many extra tabs as you like to the WooCommerce product page. You can also:
Add an eye-catching icon to each product page tab.
Rename the default tabs that come with WooCommerce itself.
Include any kind of content you'd like, including text, videos, maps, enquiry forms, and more.
Create horizontal or vertical tabs.
This is an excellent way to add new information to WooCommerce product pages without changing the overall format of the page. It keeps everything clutter-free, while giving customers everything they need.
Swap the variation dropdown for a bulk buying grid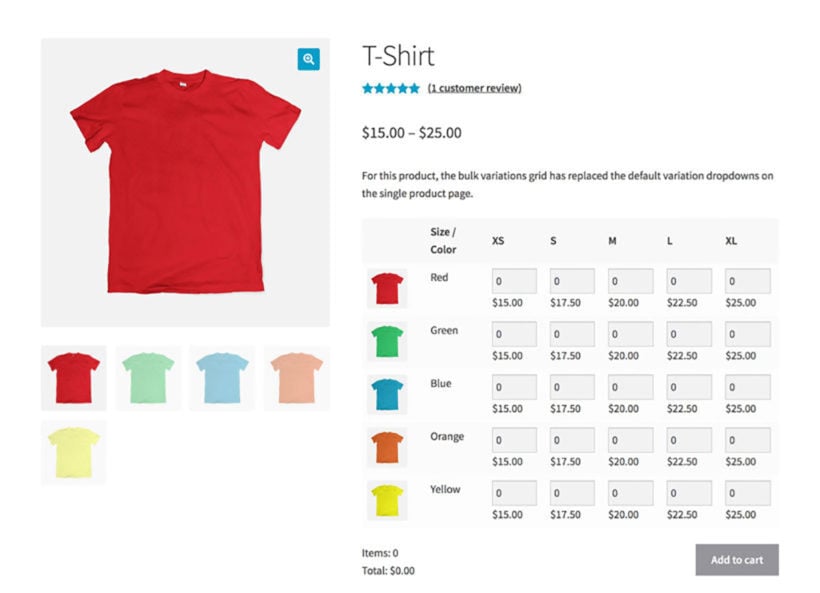 By default, WooCommerce uses a dropdown menu to allow customers to select product variations. Although this is sufficient for a product with only a few variations, it gets more cluttered and difficult to use for products with more variations.
The problem with variation dropdowns is that customers have to select each combination individually to see the price and stock level, and add it to the cart. They then have to repeat the process for every combination they wish to buy.
For certain types of variable product, it's far better to replace the variation dropdowns with a bulk variations table or grid. You can easily do this with the WooCommerce Bulk Variations plugin.
Not only does this make it easier for customers to parse the options on your site, but it also allows them to easily add multiple variations of a product into their cart at once.
Add a product page shipping calculator
Since shipping costs can vary wildly based on what's being shipped and where, customers need to know what to expect before they commit to a purchase. However, the standard WooCommerce product page contains absolutely no information about shipping 🙃. That's right - customers have to add a product to their cart and then check the shipping rates on the checkout page!
A more user-friendly solution is to add a shipping calculator directly onto the WooCommerce product page. You can easily do this with the WooCommerce Shipping Calculator plugin. Simply installing this plugin will practically eliminate abandoned carts due to shipping fees.
Including clear shipping information on your product page boosts transparency. This makes your online store more trustworthy. It also encourages customers to return in the future.
Customize the variation price range
The default WooCommerce product page displays variation prices as a range, from lowest price to highest. For example, a product page might display the cost as "$50-$75". This appears under the product title near the top of the page.
This can cause confusion for customers, particularly if there are several discrete price points between the two ends of the range.
Use the WooCommerce Variation Prices plugin to set prices to display however works best for your site, product, and customers. For example, you could change it to "Starting at $50". "$50+", "Up to $75", or even list all the variation prices separately.
This is a simple step you can take to improve the user experience and reduce uncertainty.
Related tutorials: Top 10 ecommerce store plugins to modify the WooCommerce product page.
Create a custom WooCommerce product page layout
So far, we've talked about functional changes you can make to customize the WooCommerce product page. Although function is obviously essential for creating a great product page, don't neglect form.
Getting the look right isn't just about polish - a well-branded website improves customer experience and builds trust in your business. Meanwhile, a shoddy looking site isn't like to inspire a customer to spend their money.
There are several approaches you can take to customizing the design of your product pages. I'll tell you about them next.
Edit your product page with Gutenberg blocks
Gutenberg is WordPress's built-in front end block editor, which can be used for both posts and pages. It does not, by default, work for product pages (yet). However, you can use the Pootlepress WooBuilder plugin to build your WooCommerce product pages using blocks.
Gutenberg comes with all sorts of blocks - text, media, column layouts, buttons, and so on. You can mix and match them to create a custom product page layout, without having to code a new template from scratch. You can also add other ecommerce elements such as product gallery sections with thumbnail images and product video. Maybe you want to add related products and cross-sells. And of course, you can make design changes like setting the background color and creating fancy layouts with widgets.
Using page builder plugins
If you want to go beyond the capabilities of Gutenberg but don't know how to code, you might want to consider using a page builder WooCommerce extension.
These plugins allow you to create web pages and customize the look and feel of your site without knowing how to code HTML, PHP or CSS. As commercial plugins, they have far more features than Gutenberg and some people find them more user-friendly. You can use them to create a completely bespoke WooCommerce product page design with whatever layout you like.
There are many WooCommerce-compatible page builders on the market, with some of the most popular being Elementor and Divi Builder.
There are pros and cons to each builder, so try a couple out to get a sense for how they work. This will help you determine which has the interface and features to create the type of product template you need.
Advanced: Creating a custom WooCommerce product page template
Lastly, if you have the programming skills (or can hire someone who does) then you can customize your product page by creating a custom template. If you're using an off-the-shelf theme then the best way to do this is to create a child theme and add the custom template to that.
Child themes are sub-themes that inherit all the style and functions of the main, or parent, theme. They allow you to modify pages and create custom templates without altering the parent theme directly. When you add a custom single-product.php file to your child theme, this overrides the default product page template.
Diving into the code isn't possible for every business, but it comes with some major advantages if you have the programming power on staff:
It can have less of an impact on site performance compared to page-builder plugins. After all, you're only adding the code you need with no bloat.
Edits made directly into the child theme will stay forever, so you don't have to worry about your site falling apart if your page builder license expires. (However, if the parent theme makes major changes to their own product page then you may need to redo your customizations to make them compatible.)
That said, this is advanced and should only be attempted by programming professionals. The wrong move here can break other elements of your site design and cause issues across the site, so don't go poking around without the proper know-how.
If you know what you're doing, then using a child theme to override the single-product.php file gives you complete control. It's best to do this alongside a designer to create a winning single product page design that will attract customers. Alternatively, you can get almost as much control by using a plugin like Elementor to customize the product page layout.
Andy Keith - Technical Director at Barn2 Plugins
How to identify your customers' needs
A few times in this article, I've advised you to choose product page plugins that will improve the user experience for your customers. But how do you know what your customers need from your product pages? Before we finish, I'll provide some tips to help you with this.
If you're not sure what your customers need, it's prudent to take the time to investigate. Connect with your customers to learn what they're looking for and how they make purchase decisions. This should drive your ecommerce product page design, and also all aspects of your sales approach.
Here are some ways you can learn what your customers need:
SurveysIf you have a mailing list, create a short survey asking users to evaluate your current website and product pages. Craft questions that are designed to pick up problem areas on your site. For example, you might ask users if there was anything unclear or confusing on the product pages they interacted with. Consider including an incentive, such as a small gift card or discount, to encourage users to complete and return the survey.
Look at competitorsIdentify your biggest market competitors and spend some time evaluating their product pages. What kind of product information do they include? How do they build urgency or exclusivity on their site? How do they connect with customers?
Encourage feedbackAllowing users to leave reviews and other forms of feedback can give you valuable insight. For example, a poor review for a product might reveal that the product page didn't adequately describe the product in question. Provide opportunities for customers to leave their thoughts in the form of reviews, as well as an easy-to-find contact page so customers can connect with your store directly. Review feedback regularly to spot common themes or major problems.
Armed with this information, you can take an informed approach to how to improve your product pages in a way that will actively increase sales.
Making the most of the WooCommerce product page
Customizing the WooCommerce product page is a fantastic opportunity to tailor your store to customers' needs and drive them to completing their purchase. However, if you don't take full advantage of your product pages, then you're missing opportunities to boost your bottom line.
In this article, we have explored lots of ways to supercharge your product pages:
Each of these plugins is fully compatible with one another, so you can mix and match them as needed. Every store is different and there's no one-size-fits-all approach. Read about each product page customization plugin and think about which ones will help to sell more of the products on your site 🚀