Many online stores are highly visual by nature. If you're using WooCommerce to run your store, for instance, you may have noticed that it places a lot of emphasis on product imagery. However, what if you don't have access to high-quality photographs for your products? What if you just want to include small thumbnails, or if you don't want to include images at all?
While displaying lots of media can be very valuable for some stores, it's not always necessary. In some cases, a featured image for your storefront and WordPress theme may be more than enough.
But, If you have a different vision for your shop, or are constrained as to what imagery you can use, there's no need to worry. There are alternative ways you can display your WooCommerce products in an attractive and compelling manner, such as in a dynamic table:
In this post, we're going to talk about the reasons you might want to create a WooCommerce product list without images, or with small images. We'll also show you some examples of this feature in action, and introduce you to a tool you can use on your own site – WooCommerce Product Table. Let's jump right in!
Why you'd want to create a WooCommerce product list without images
There's no denying the power of visuals. In many cases, people use images as a key part of their decision-making process when buying items online. That's why you'll see so many stores that put a significant focus on what each product looks like: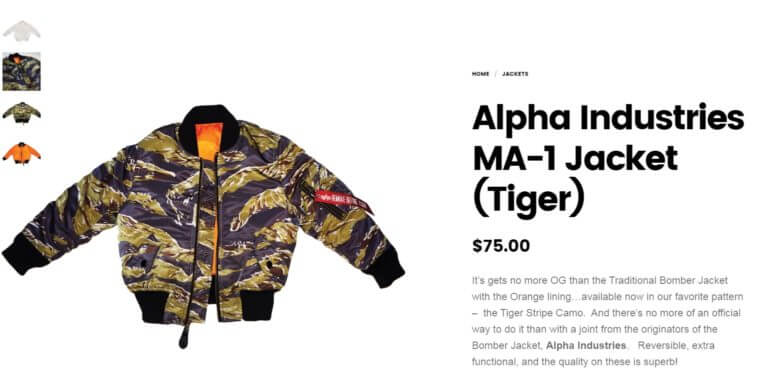 For some shops, this is a smart strategy. Including high-quality images of products, and showing them from multiple angles, can help customers get a better feel for each item before purchasing it. But that only applies to certain types of product. It doesn't mean this approach is right for every store.
Sometimes, you might want to avoid placing a lot of focus on product imagery. In fact, you may prefer to avoid using media to showcase your products altogether. Or you might want small thumbnail product images, instead of high pixel imagery that takes over the page.
There are a lot of reasons you might take this direction for your store, and some of the most common include:
You don't have access to or the ability to take high-quality WooCommerce images. Quite rightly, you don't want to shortchange your products by using photos that don't represent them at their best. This also applies to developers building sites for clients who've provided less-than-stellar product imagery (or nothing at all). Let's face it, we've all been there!
Your products are completely digital – such as ebooks, music albums, computer programs, or PDFs – and so there's nothing to take images of, or a single product image is more than enough.
While your products are physical, they're very simple or not interesting to look at. For instance, maybe you're selling machine parts, or other items where appearance isn't a key factor. Here, you may only need thumbnail-size catalog images, or none.
You simply want to place emphasis on your products' details or specifications, rather than the way they look. It may be more important that your customers are able to compare a large number of items quickly, based on their sizes, materials, capacities, and so on.
You may want to decrease your website's load speed. High-quality images, are, by nature, large image files. If larger images fill your product gallery, they may slow your website's loading time and hurt your SEO performance.
Instead, you may use image optimization or take advantage of product image settings for resizing. You may also optimize them for responsiveness, so users from devices with different screen sizes enjoy a common experience or get rid of them entirely.
You want to control all file formats in your store. Although rare, you may only want to upload images of a specific format, whether jpeg (jpg), png, or webp. This may also mean converting the original image into a new format, sometimes requiring you to regenerate thumbnails. You may skip it altogether if you end up with blurry product images.
These scenarios are a lot more common than you might think. Here's just a sampling of what we've heard from our own customers whose stores didn't require large product images:
My client HAD to have the table layout. The grid layout just does not work for boring electronic parts.
I'm selling digital goods that require little more than a thumbnail image, excerpt, title, and price. The product details page is largely redundant.
Most of the products we sell do not have pictures, and a list looks cleaner than a blank thumbnail.
Ultimately, not all stores need or can benefit from including a lot of large, dominant WooCommerce images. Let's look at some more specific examples of when this is true.
The types of products that can benefit from an alternative store design
By now, you have some idea of the reasons an e-commerce store might forego imagery (or only use small, simple photos). However, you may still not be sure whether this applies in your specific situation.
To answer that question, you'll want to consider the types of non-visual products you're selling. Of course, we can't possibly list all the types of items that fall into one of the categories discussed above. However, here are some examples of products that don't need to rely on images:
Lab products, scientific instruments, or medical devices
Machine parts, electronic parts, blueprint templates and similar items
Ground support equipment for airports
Instrument cases (and other types of containers)
Gift certificates
Any sort of digital products (music, games, files, etc.)
Pharmaceuticals
Modular furniture (for example, a selection of various cupboard doors)
Event tickets and registrations
Certain food and beverage items, such as wine or spices
Practical household items (such as fans)
Even if you do have access to images for these types of items, it can be a better choice to leave them out or keep them small. Customers are more interested in making comparisons and viewing details about your products than what they look like.
To further illustrate the point, let's take a look at how this might work in action.
Universal Fans: A case study of selling non-visual products in WooCommerce
As it turns out, there are a lot of e-commerce stores that have decided not to emphasize product imagery, and have found ways to do so successfully. While there are many examples we could look at, we're going to focus on one particular case study.
Universal Fans is a website selling – you guessed it – fans and similar products: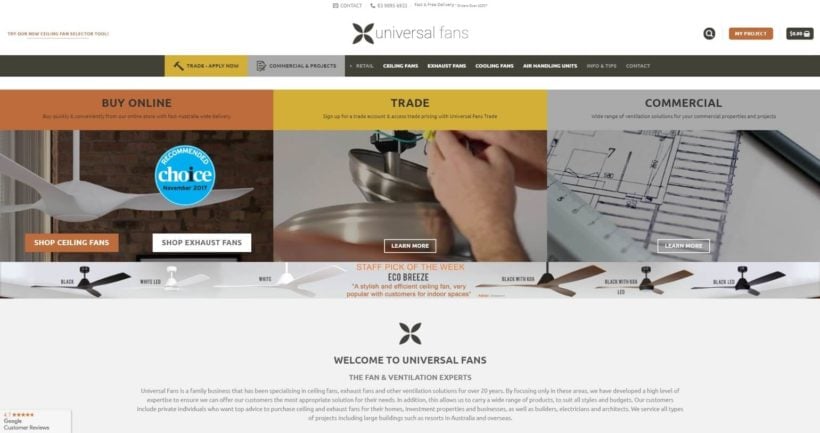 This store owner offers everything from ceiling fans to exhaust fans, and lists a wide range of products, parts, and options on its website. For some of those items,  WooCommerce images do in fact matter. If you're looking to buy a ceiling fan, for example, you probably care what it looks like: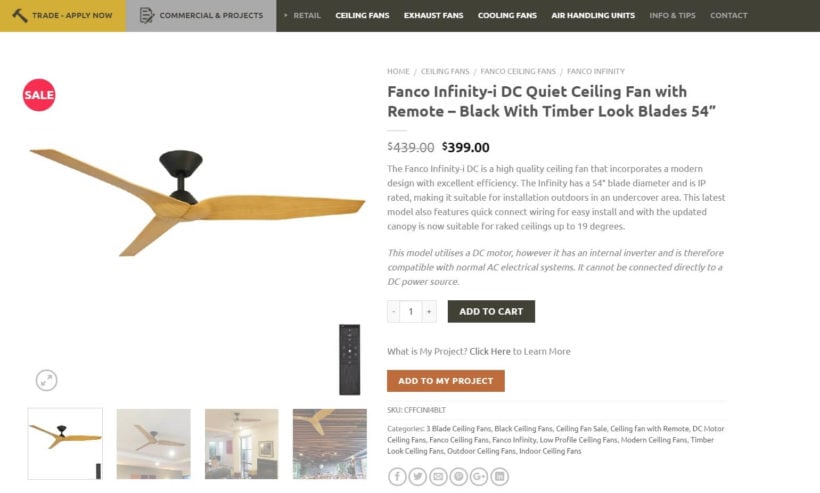 Other types of fans are a lot less exciting to look at. For instance, there's not much reason to include a large, high-quality image of an exhaust fan. What customers care about when searching for that type of product is its specifications, not its appearance.
The team at Universal Fans understand that fact, which is why they use product tables to display non-visual items: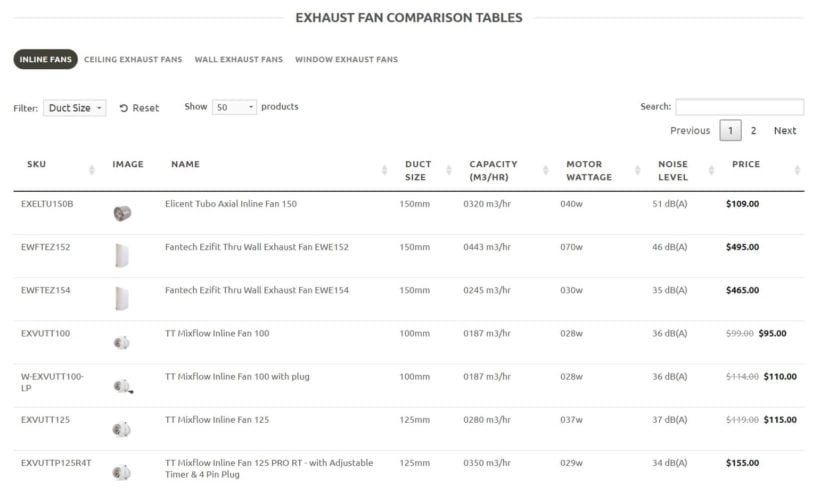 This listing of exhaust fans does include images, but they are small, simple, and basic thumbnail pictures. Instead, the focus is on the products' key details, such as duct size, capacity, and wattage. Customers viewing this page can easily see all the different sizes and options on offer, make comparisons between them, and plan out exactly what they want to buy.
This is made even easier by the table's dynamic design. Individual columns can be sorted, and there's a handy search bar. Plus, you can use a dropdown menu at the top to filter the listing, and only include products with a specific duct size: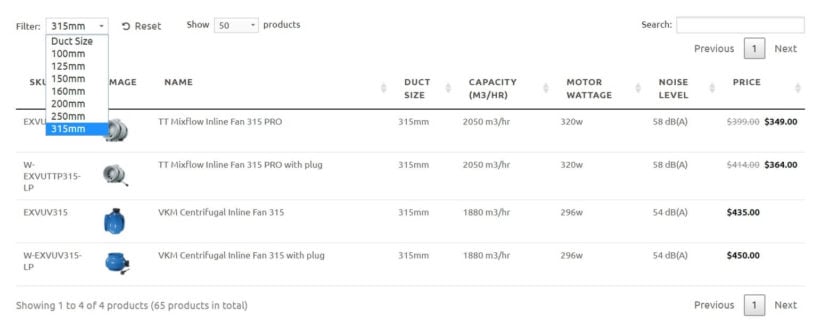 You could even remove the images completely from this WooCommerce table, and it wouldn't make a significant different to the listing's usefulness.
It's clear that Universal Fans knows what its customers are interested in, and how they shop. That's why this business has tailored the design of its e-commerce store to focus on the elements that really matter – which isn't always product photographs.
What you'll need to create a product listing that doesn't focus on WooCommerce images
By this point, you probably have a good idea of whether or not a WooCommerce product list without images (or with small, simple photos) would benefit your store. If a setup like the one Universal Fans uses is appealing, all that's left is to learn how you can implement it yourself.
If you're using Woo to run your store, this can be a little tricky. After all, WooCommerce is designed with product imagery in mind. Its layouts assume that everyone will want to display large, high-quality images on individual product pages. But as we've seen, this isn't always the best approach.
That doesn't mean you can't use WC, however. In fact, we highly recommend this free WordPress plugin, as it's an easy and flexible way to set up an e-commerce shop. Instead, the solution is to pick up an additional tool as well – the WooCommerce Product Table plugin: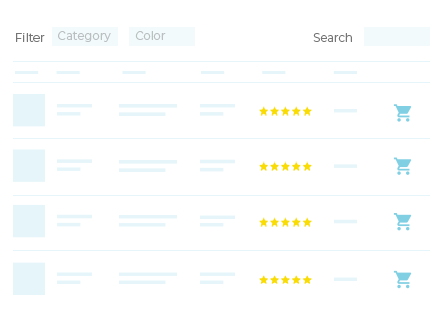 An easy-to-use plugin for listing WooCommerce products without big images.
This WP plugin is designed to work right alongside WooCommerce, providing your store with access to new features and options. More specifically, it enables you to create a dynamic product listing without images or with small thumbnails, just like the one we saw earlier: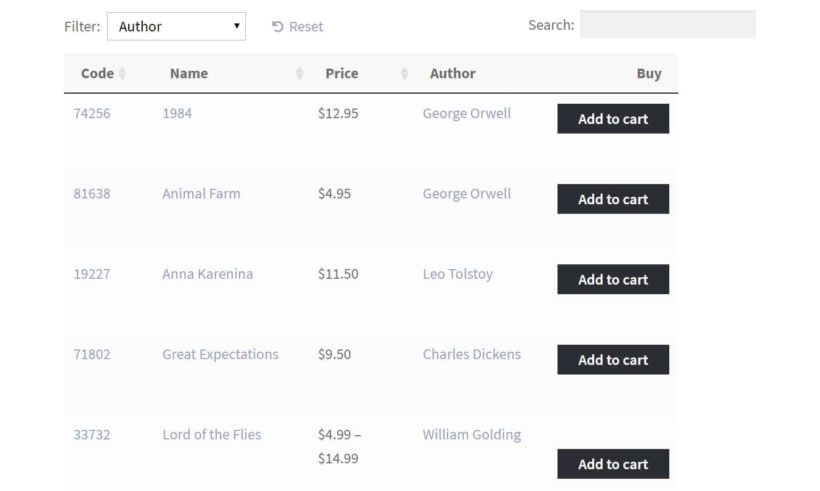 While this plugin has many applications, it's especially useful if you want to create a WooCommerce product list without images, or keep the photos understated. Let's talk about why.
How WooCommerce Product Table can help you display your inventory more effectively
At first, WooCommerce Product Table may seem like a simple tool. Its goal is straightforward – helping you design a better product listing for your WooCommerce store.
However, there are a lot more benefits to using this plugin than you might at first expect. Some of its key features include:
Enabling you to fully customize the information that appears in your product table
Letting customers search, sort, and filter the table to find what they need quickly
Keeping all your products and their key information organized
Saving space by displaying everything on a single page
Making it possible to list your store's entire inventory in a single shop page, or to pick and choose which items you want to include
As one customer put it:
We sell relatively technical products, so it is really helpful for customers to be able to see products in certain categories and view them in a list format, which can be sorted by custom attributes.
What's more, there are a variety of ways you can use WooCommerce Product Table to display products that don't have images, or to draw visitors' focus to other key elements. Here are just a few of the ways you can customize your product table, if your store falls into one of the use cases we've been discussing:
You can eliminate WooCommerce images entirely, by simply not including them in your table.
Alternately, you can include a product image column, but keep the photos small.
You're also able to customize the size of WooCommerce images in your table, so you have complete control over how prominent they are.
If you don't feel the need to include images for your products, WooCommerce Product Table helps you display what is important about the items you're selling. On the other hand, if you want to show some photos but you don't need them to be prominent, or you're working with low-quality files, you have the option to keep them small and simple instead.
How to get started with WooCommerce Product Table
At this point, all that's left is to start using WooCommerce Product Table for yourself. Fortunately, this is an easy process, and there's lots of documentation and support to help you along the way.
Get WooCommerce Product Table!
Naturally, the first thing you'll need to do is purchase the plugin, and install it on your site. If you're setting up a new store, make sure you already have WooCommerce installed. That's necessary for the plugin to work properly.
After that, we'd recommend checking out the following video guide for help creating your product table and customizing it to suit your needs:
Most importantly, remember that you're able to determine exactly what columns will appear in your table. This means it's up to you to decide whether or not to include an image column. If you do display WooCommerce images, you can use the Image size setting to customize their dimensions and proportions: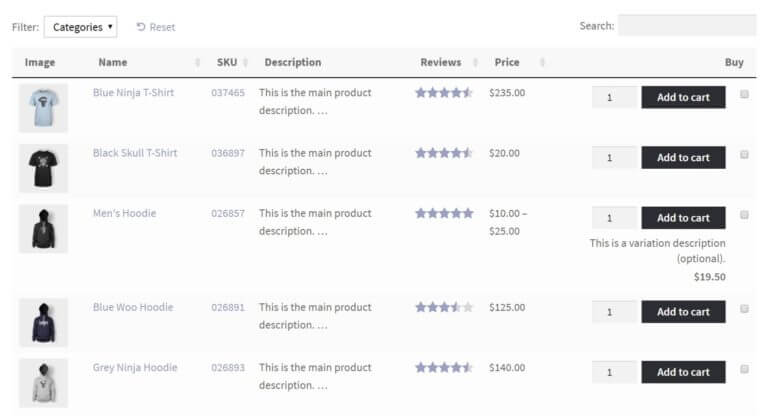 By default, customers can click on product images to open them in a lightbox. If you're working with poor-quality images, small resolution or image sizes, there's an option on the plugin settings page to disable the lightbox. That way, customers will only see the small version of each product image.
You can also disable the links from the product table to the single product page. This keeps the customer on the product table, where they can use it as a one-page order form. There's no need for them to access the product detail page, which will display a much bigger version of each WooCommerce image.
For more information, you can take a look at the complete list of options WooCommerce Product Table offers. With a little time and tweaking, you'll find it easy to create a compelling and dynamic WooCommerce product list without images.
Bonus tip - Add WooCommerce quick view without images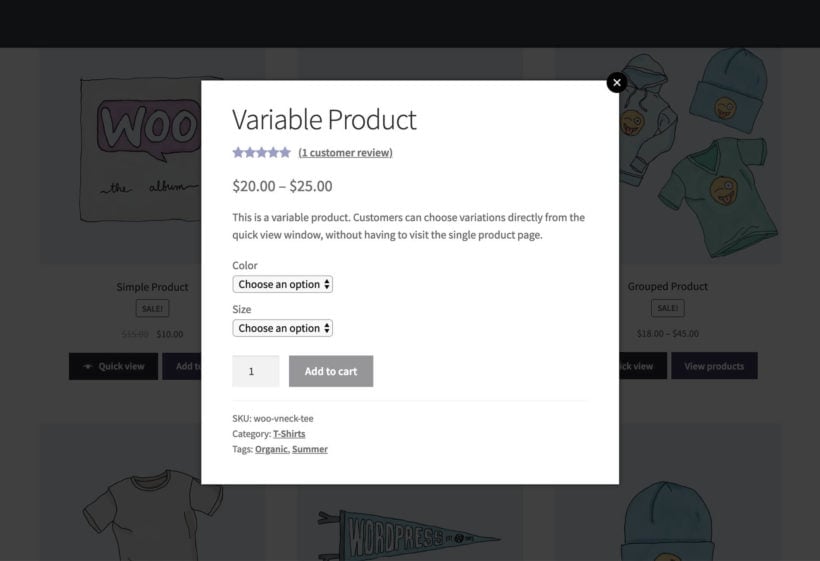 As you can see, it's easy to list products in a table layout without WooCommerce images. You can build on this by providing extra product information and purchase options within quick view lightboxes - also without images!
To do this, you need to use WooCommerce Product Table with our other plugin - WooCommerce Quick View Pro. This adds a 'quick view' column to the product table, which customers can click to open extra information in a lightbox. You can choose what information to include in the quick view, including:
Whether to show product information with or without an image gallery. (If you're reading this tutorial, then you probably want the lightbox without WooCommerce images!)
Product data such as the price, categories, tags and reviews.
Add to cart information including the quantity picker, variation dropdowns and add to cart button.
WooCommerce quick view is an excellent way of providing extra information about non-visual products. Use it to encourage customers to buy more and immediately return to the product list, without being taken to a separate page for each product.
Create a non-visual WooCommerce checkout
The next or the final step in an ideal buyer's journey is the cart page. The default WooCommerce cart page is designed to show the product images alongside the product list and there's no option in the settings to disable the images. But, if you want to create a true non-visual shopping experience, this can be achieved by our WooCommerce Fast Cart plugin.
WooCommerce Fast Cart plugin is designed to increase conversions by providing a more seamless checkout experience by trimming down the long and tedious traditional WooCommerce checkout process.
The WooCommerce Fast Cart plugin features a custom popup cart and checkout window that comes with loads of customization options and one of those options is to hide product images from the cart page.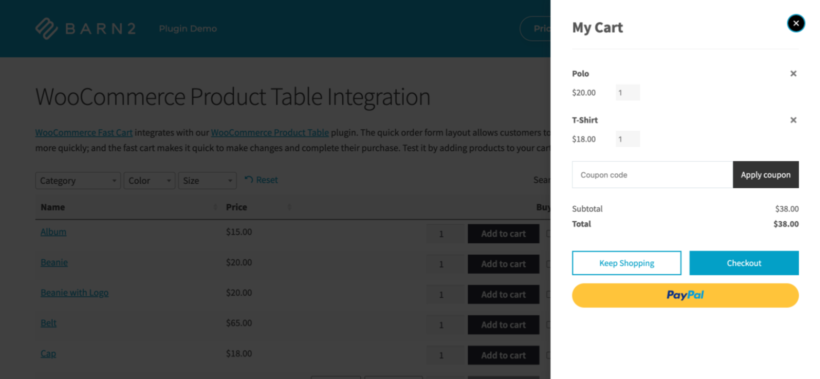 You can use this plugin in combination with the WooCommerce Product Table plugin to give your store visitors a complete non-visual shopping experience. If you do not have the WooCommerce Fast Cart plugin, you can get it here.
After installing and activating the WooCommerce Fast Cart plugin, go to WooCommerce → Settings → Fast Cart, and in the cart contents section, deselect the product image item and the product images will not be displayed on the cart page. Simple as that!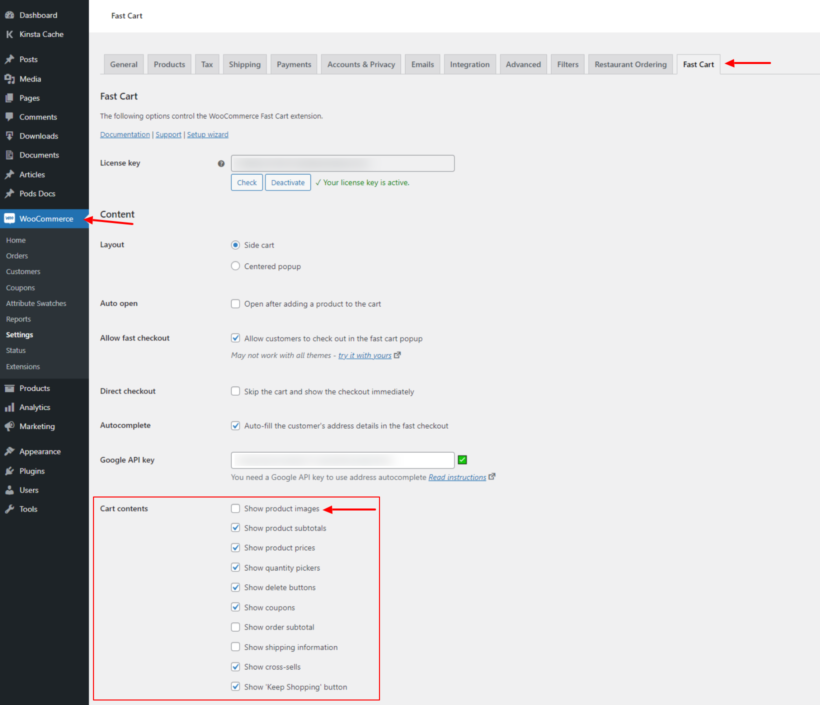 WooCommerce Fast Cart is perfect for giving your shoppers a more streamlined and swift checkout experience. Using it can reduce the cart abandonment rate by shortening the checkout process.
Product images matter - but not for every store!
WooCommerce is an excellent way to design and run an online store. At the same time, it isn't perfect. It makes certain assumptions about the kind of shop you want to create. For instance, it provides few options for helping you build an e-commerce store that doesn't rely on large, high-quality WooCommerce images.
If you don't have product images, don't need them, or can only access low-quality photos, you're in luck. The WooCommerce Product Table plugin makes it simple to design a WooCommerce product list without images, or to make WooCommerce hide products without images. What's more, the product table you design will be fully dynamic, streamlining your customers' buying experience.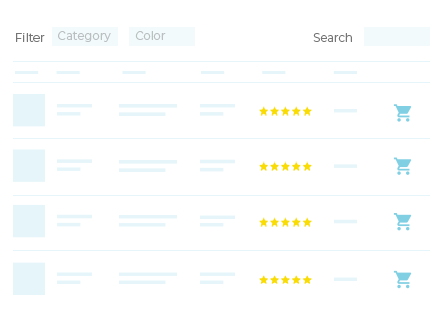 An easy-to-use plugin for listing WooCommerce products without big images.
Do you have any questions about how to use WooCommerce Product Table on your own site? Let us know in the comments section below!