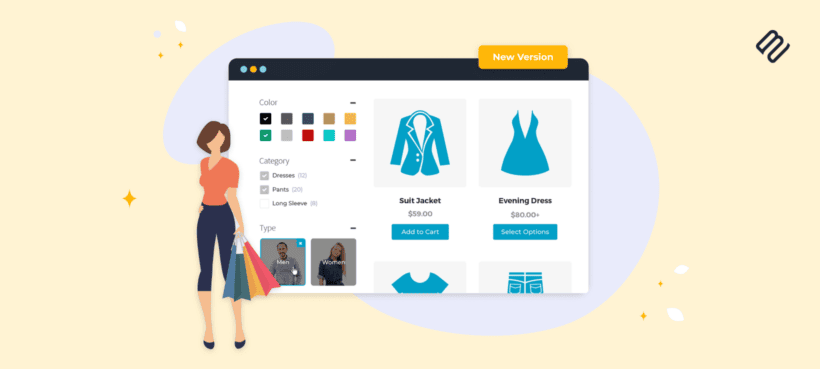 We're excited to announce the release of WooCommerce Product Filters version 1.4, which comes packed with new features and improvements:
More control over filter options
New infinite scroll option
New styling options
Compatibility with Bricks Page Builder
New logic option
UX improvements
Each of these new features was added in direct response to customer feedback. We love listening to customers because it gives us a direct roadmap on how to make you love the plugin even more.
Keep reading to learn more about what's new.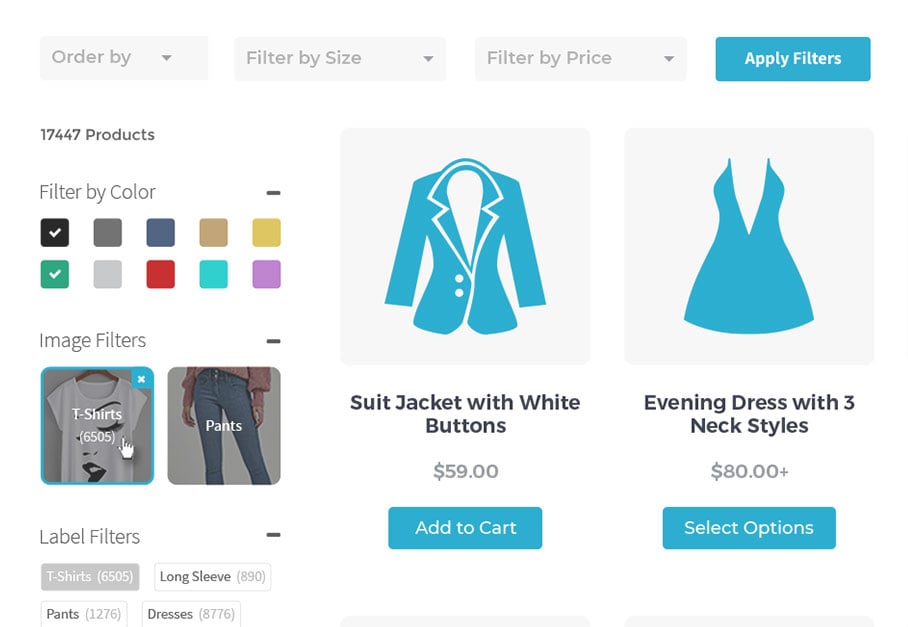 Grow your sales by helping customers to find exactly what they need - quickly and easily.
Add filters for specific categories, tags and attributes
The first major improvement addresses filter options. Previously, creating a filter would automatically include all options from your site. For instance, if you designed a category filter, then it would list all the categories which contain products.
In the new update, we've given you more control. Now, when you add a category, tag, attribute, or custom taxonomy filter, you can selectively include specific items:

This can be particularly useful in several scenarios, like curating a seasonal collection where you only wish to display products from certain categories, or perhaps you're running a special promotion on items with specific attributes. The new feature brings in more flexibility and control in managing your product filter visibility.
Infinite scroll
We heard your feedback about wanting more flexible options for when there are too many products to fit on one page. As a result, we're excited to introduce a solution.
Instead of pagination links appearing at the bottom of your list of products, we've added an option on the settings page that allows you to switch to infinite scroll.
Infinite scroll offers a smoother, more continuous browsing experience, eliminating the need for customers to click and wait for the next page to load. It's perfect for mobile users who prefer to swipe and explore. However, keep in mind that for larger product catalogues, pagination might still be more appropriate for ease of navigation and load speed.
New filter styling options
While the product filters have always seamlessly integrated with your WordPress theme, we understand that customization is key for brand uniqueness. In v1.4, we've added styling options which allow you to change colors and modify other visual elements within the filters. Now you can ensure your filters not only work well, but also blend perfectly with your unique brand aesthetics.
Compatibility with Bricks Builder
For customers who use Bricks to create product listing pages, we have excellent news. The latest version of WooCommerce Product Filters is now compatible with Bricks page builder, enabling you to add our robust filters to your beautifully crafted product pages.
Bricks wasn't an easy page builder to integrate with, and a bit of special configuration is required. We've provided full instructions on how to add product filters to your Bricks layouts.
Flexible logic between filters
Previously, WooCommerce Product Filters only used 'and' logic between multiple filters on a page. This means that if a customer filtered by color and size, only products matching both the selected color AND size would be displayed.
Now, you have the option to switch to 'or' logic. This change means that products that match either the selected color OR size will be shown, a useful feature for diversified product lines. For example, a customer shopping for furniture might be interested in all 'green' items or all 'sofas', regardless of whether or not they meet both criteria.
UX Improvements for easier filter creation
Finally, we've made considerable UX enhancements to make adding filters easier and more intuitive than ever before. We've refined the user interface and workflows to ensure a smooth, effortless experience for you.
Start using the new features today!
We're thrilled to bring these changes to you in WooCommerce Product Filters v1.4. Each improvement and new feature is a direct response to your valuable feedback. We believe the changes will enhance your WooCommerce site's functionality and offer a smoother shopping experience for your customers. So, install the update and explore these new features today!
And remember, we're always listening. Your feedback continues to drive the future direction of the plugin, so keep sharing your experiences, suggestions, and insights. Let's continue shaping the future of filtering in WooCommerce together!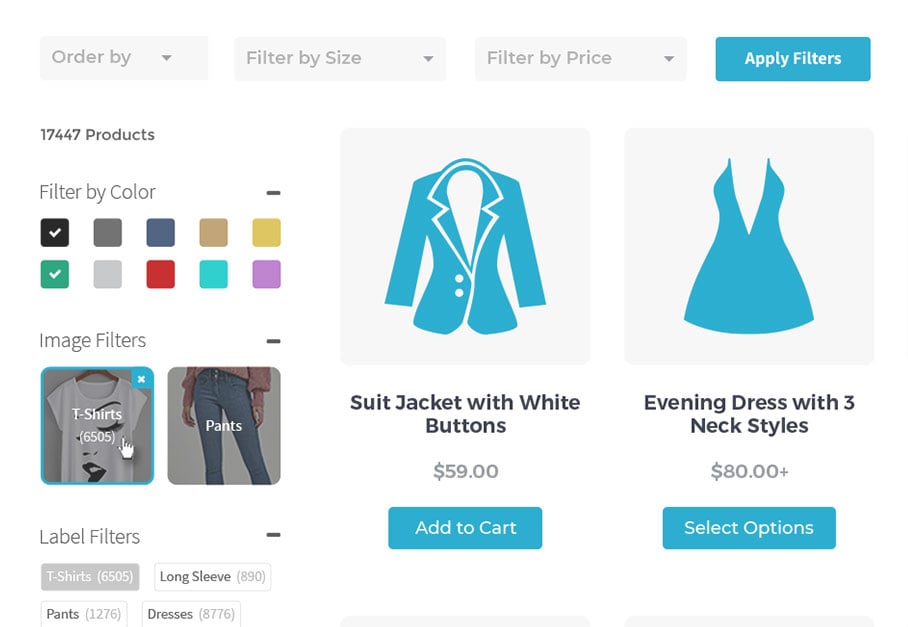 Grow your sales by helping customers to find exactly what they need - quickly and easily.