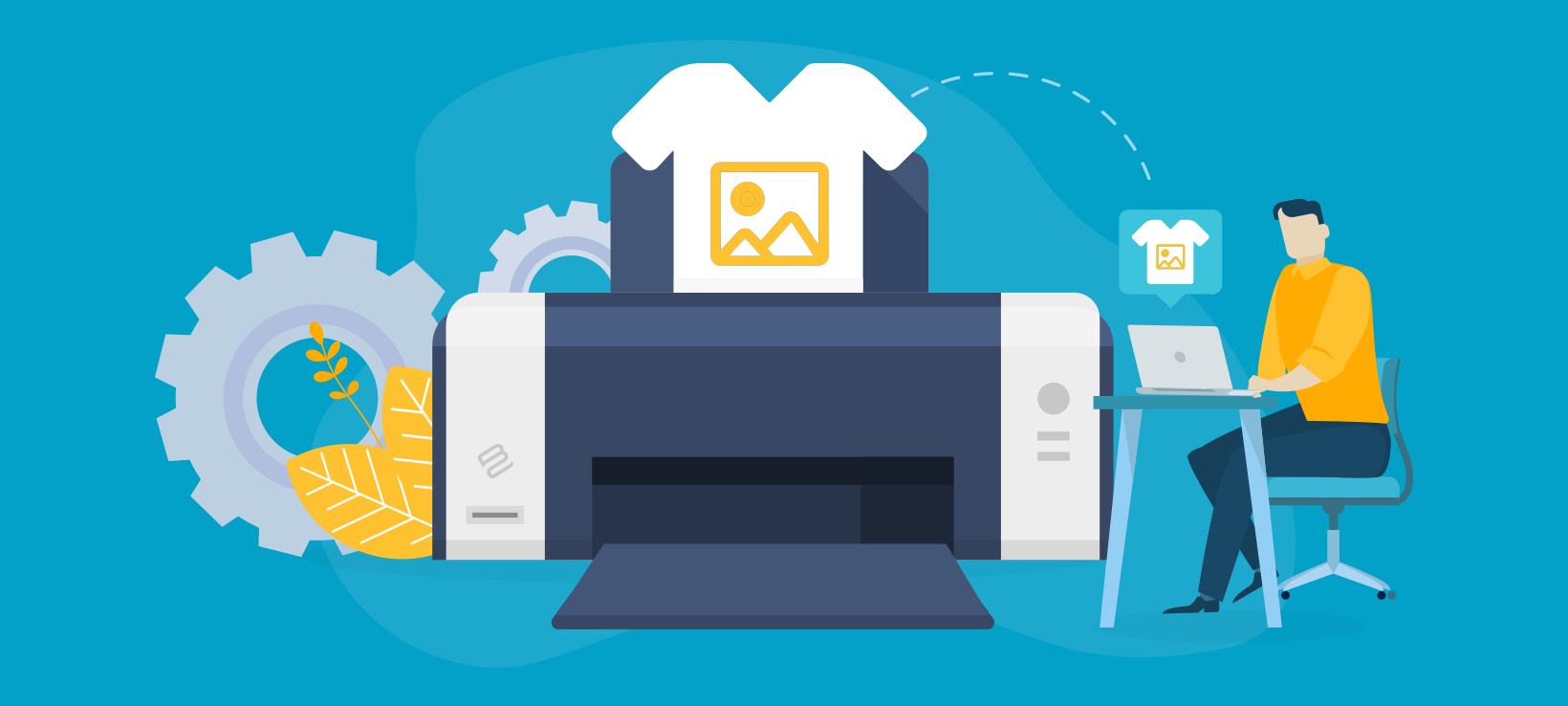 WooCommerce Print on Demand (POD) is the perfect way to allow customers to order products online, which are then printed and sent to them. It's ideal for printing any type of custom products including photo products, personalized or branded items, and even 3D printing. It's also popular for printed items which you don't wish to hold in stock.
A few years ago, professional printing involved an expensive and time-consuming setup process. Due to advances in digital printing, it is now easy to start a print on demand business with the WordPress and WooCommerce platforms. It's a fantastic business model with low overheads and no inventory to hold in stock. That's because you only print items after the customer places an order.
Keep reading to learn everything you need to know about building a WooCommerce print on demand business. You'll learn: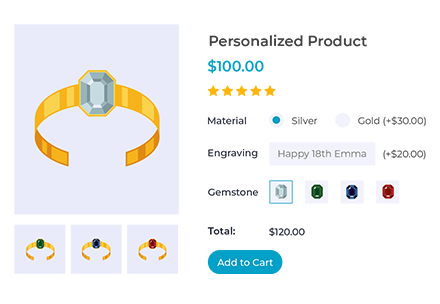 The easy way to add flexible printing options to your WooCommerce products.
What is print on demand for WooCommerce?
Printing on demand is a method for product production (printing) only after a client has made a purchase.
Typically, two categories of products are ideally suited for a print on demand service:
Custom products which are personalized to the customer. Since the design is entirely dependent on the customer, print on demand is the only way to produce these products.
Non-personalized printed products which you don't want to hold in stock. The print on demand business model is also perfect for reducing your inventory costs on any other type of printed item. For example, you might sell a low volume of a particular t-shirt design. Instead of printing t-shirts which you may never sell, it's more profitable to print on demand. That way, you're not investing in stock that you may never sell. You also save on warehousing and storage capacity.
As with any type of company, a print on demand business will be more profitable if customers can place orders automatically. That's why you need a website powered by WordPress and WooCommerce.
About WordPress and WooCommerce
WordPress is the foundation of your website and makes it easy for you to build and edit your own site. WooCommerce adds the e-commerce functionality, such as the ability to add products and take orders online.
Used alone, WordPress and WooCommerce will get you most of the way to offering a print on demand service online. However, they are missing some crucial features. You can easily fix this by installing a WooCommerce print on demand plugin. This tailors WooCommerce to the print on demand industry, creating a professional result for a surprisingly low cost.
Both WordPress and WooCommerce are 100% free and open source. Even if you buy some paid add-ons (which will have a low annual cost), it's much cheaper than a hosted website with platforms like Shopify.
Later in this article, I'll reveal the best print on demand plugins WooCommerce has available. But first, let's consider whether you should print your products in-house or use a dropshipping service.
Printing products in-house vs. dropshipping
When you start a print on demand business with WooCommerce, you can choose between two business models:
Dropshipping, or;
Holding inventory and digital printing your own products.
I'll explain what each option means, and then help you choose what's best for your print on demand service.
Dropshipping
Dropshipping is a process of supply chain management where the retailer does not keep a physical product inventory. Instead, a third party manufacturer or wholesaler fulfills the order and ships the product to the customer.
With dropshipping, you don't own any inventory. There;s no need to buy digital printing equipment because you're using external print providers. You only fulfill orders with the help of a manufacturer or wholesaler. As a result, your setup costs are incredibly low. Although you have to pay a reasonable fee to the dropshipper, it's still possible to achieve high profit margins.
Creating a dropshipping store is simple. You don't have to worry about managing inventory because this is outsourced to experts who specialise in this. Instead, your role focusses on building a conversion-generating website and acquiring customers.
Dropshipping and WooCommerce print on demand
You can use WooCommerce to create a dropshipping website as follows:
Install one of the print on demand WooCommerce plugins in this article.
Use the WooCommerce Multiple Email Recipients plugin to automatically pass your order notification emails to the dropshipper. If you use multiple dropshippers then you can route the emails to different addresses depending on the products ordered.
Further reading: The complete guide to WooCommerce dropshipping. 
Inventory with in-house printing
Inventory involves pre-purchasing and holding stock of the goods which you plan to sell. Some, such as produce and perishable goods, can be quickly sold and gone. Others, like office supplies, need to be stored for longer before they can be shipped out to customers. Either way, you need to consider warehousing costs which can be significant.
Inventory can fluctuate widely depending on which items are in high demand at the moment. As a result, inventory control is essential and the foundation of your entire inventory management system.
Inventory and WooCommerce print on demand
You can build a WooCommerce website with full inventory management. WooCommerce has various stock control features which you can use to manage the number of each item that can be sold. Use it with one of the print on demand WooCommerce plugins featured later in this article.
Hold the inventory in stock, and print the items on demand when orders are received. For example:
If you sell t-shirts with WooCommerce then you might have a choice of 50 designs. Buy blank t-shirts in each size and color, but only print them when orders are received.
Photography printing services might order large quantities of photo paper in each size. They would then wait to receive an order before producing the digital prints on demand.
This maximizes your profit margins because there's no risk of printing designs that won't sell.
Further reading: Complete guide to WooCommerce photography plugins.
Benefits of having your own inventory
Compared to dropshipping, inventory brings several benefits. Here are some of them:
Better customer service. Cut out any intermediaries and own the entire order fulfillment process. That way, you can provide better services to your customers. You can control how quickly the custom products are sent. Returns are easier. You can also keep a tighter rein on quality control, product lead times, resulting in fewer customer complaints.
Bulk discounts. Your manufacturer or suppliers will offer better discounts if you order the products in bulk. It's often wise to order more than you think you'll need so you can take advantage of these lower prices. After all, if you end up with excess stock then you can always find a creative way to get rid of it while maintaining your profit margins.
Consistent branding. Some dropshippers offer white label or branding options, but this is limited. In contrast, you can brand every aspect of the customer journey when you hold your own inventory. When you prepare orders for your customers, you can pack them exactly how you want by handling inventory and orders yourself. With branded packaging, you can provide a 360-degree brand experience, including customized packing slips and tracking pages. Additionally, you can put special discounts, treats, or offers into your package to build a better relationship with your customers and encourage them to buy from you again.
However, the setup costs are much higher than with dropshipping. With a print on demand business, there are other implications of choosing to produce your own custom products. You must invest in professional-grade digital printing equipment. This is in addition to universal expenses such as warehousing and storage.
Choosing between inventory and dropshipping
Each method of selling online has advantages and disadvantages. Ultimately, the decision comes down to your business's unique needs. Here's a quick guide to help you decide if dropshipping or inventory management is right for you.
Are you capital-rich? Stocking inventory means having enough cash to pre-purchase products for your store. If you don't have this ready, then drop shipping will be easier to start with. Of course, you can always switch to inventory when you store is more established in future.
Do you have enough time and resources? Managing stock and printing in-house require a lot of time and resources. If you can hire separate staff for this, then it might be worth doing. However, if you're running the business alone then this can distract you from the essential tasks of marketing and building the business. Dropshipping is a much more efficient way to sell custom products online as you can focus on other things.
How important is branding and quality control to you? With dropshipping, you have to trust that your suppliers will provide good products and deal with your orders correctly. If you want full control then it's better manage the fulfillment process in-house.
The best print-on-demand WooCommerce plugins
As we saw earlier, you will need a print on demand WooCommerce plugin to add all the features you need. Next, I'm going to share a range of plugins for you to consider. I'll divide them into three categories:
The best print on demand plugin will depend on your business model and the type of products you're printing. Choose the plugin which has the features that you need.
Print on demand WordPress plugins (suitable for either in-house printing or dropshipping)
The following plugins can be used for taking orders which you will either print in-house or send to a drop shipper. When using a dropshipping provider with any of these plugins, you should check whether they can handle the types of option which you create using these plugins. Some dropshippers are more flexible than others.
WooCommerce Product Options - *our recommendation*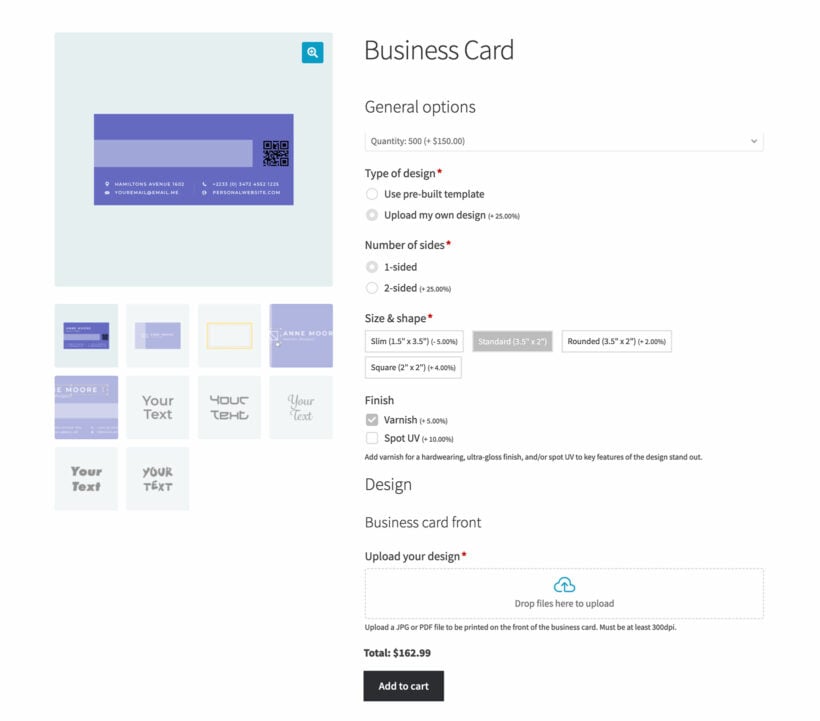 The WooCommerce Product Options plugin is ideal for print-on-demand products where the customer needs to add information to customize a product. This includes:
Adding text to be printed on a personalized product.
Uploading images to be printed on the product, e.g. customer images, graphics or logos. This can include multiple image uploads such as the front and back of a t-shirt.
Uploading documents to be printed, such as business cards or the design for a 3D printed object.
Specifying details for the printed product, such as choosing a font, paper weight, and so on.
Key features
WooCommerce Product Options comes with everything you need to sell print on demand products:
Add extra options to your print on demand products, including:

Text fields.
File upload fields (with support for any file type).
Image options, so customers can click on an image to choose a particular design.
Other field types such as dropdowns, radio buttons, and checkboxes.

Use conditional logic to show and hide printing options depending on the user's selections. For example, only display the file upload field for the back of a business card if the customer selects '2 sided'.
Add rules such as the maximum number of characters for text fields, and a maximum file size.
Try it risk-free with the 30-day money back guarantee.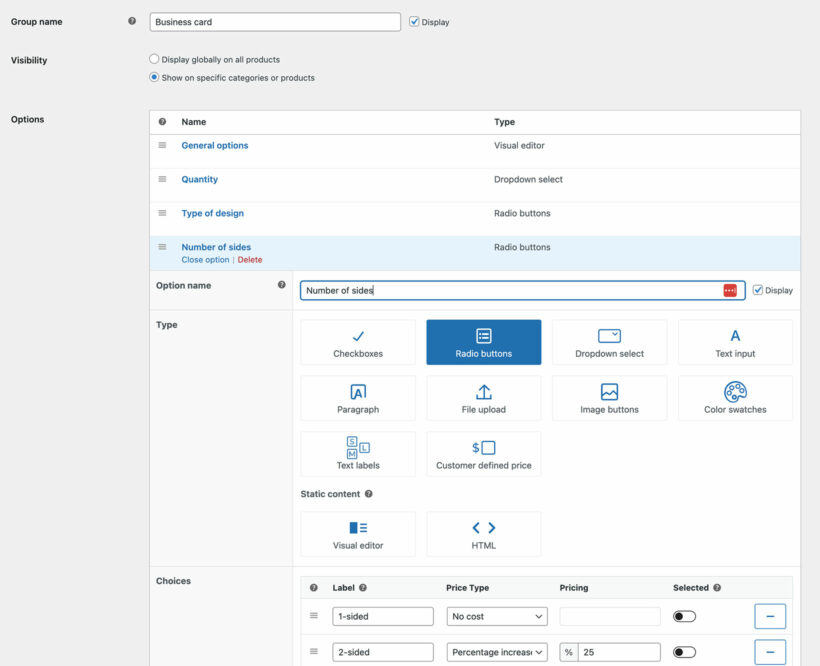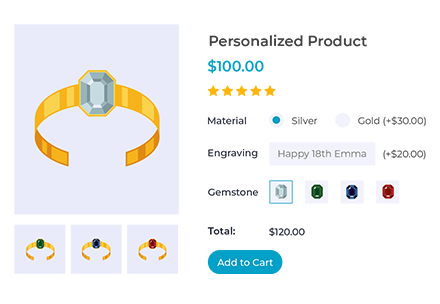 The easy way to add flexible printing options to your WooCommerce products.
WooCommerce Product Configurator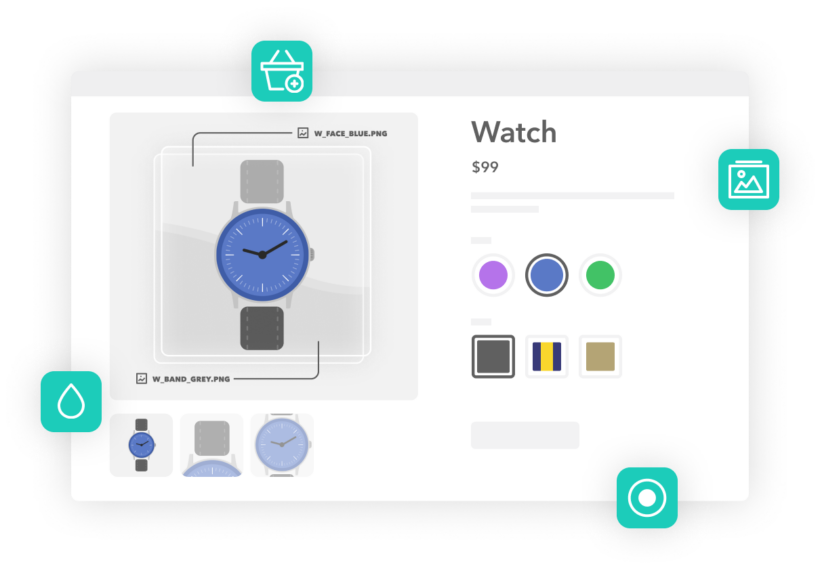 The WooCommerce Product Configurator plugin is ideal for print on demand products where the customer has to choose between pre-defined options. When the customer selects options (which you add as normal WooCommerce product variations), the product image cleverly updates to show the customized product.  
Fancy Product Designer
The Fancy Product Designer plugin is perfect if you want customers to be able to design their own product from scratch. This goes a step further than allowing customers to upload their text and images, which you then print on a pre-defined template/layout. Instead, they have more control and creativity in the process. They can also view interactive previews.
I would say that Fancy Product Designer is overkill for print on demand custom products where the customer can't choose the finer details. However, it's an excellent product generator if you offer lots of customization options.
Zakeke Interactive Product Designer for WooCommerce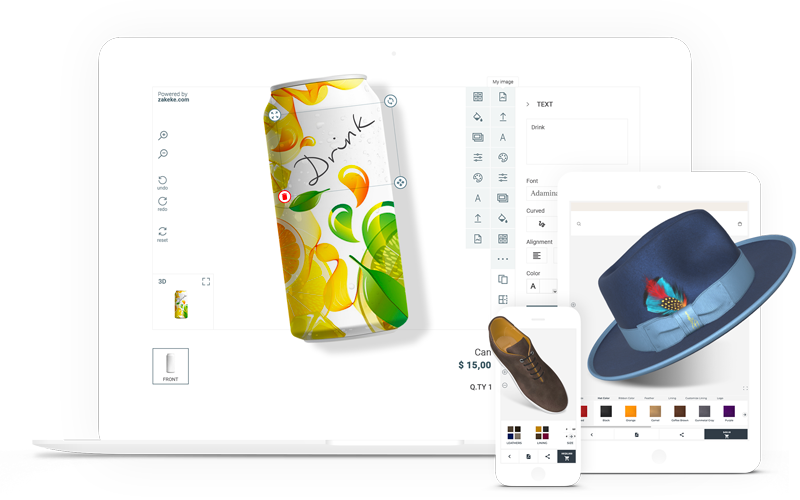 Zakeke lets customers design and preview highly customized products. It also has extra features such as customized 3D renders, percentage or a fixed prices per customization.
As with Fancy Product Designer, I'd recommend this plugin when you offer a high degree of customizability. Customers might be frustrated to see such advanced functionality if you're only letting them make a few tweaks or upload images to a fixed location. It's essentially a complete custom product generator.
Third party dropshipping platforms which integrate with WooCommerce (dropshipping only)
Printful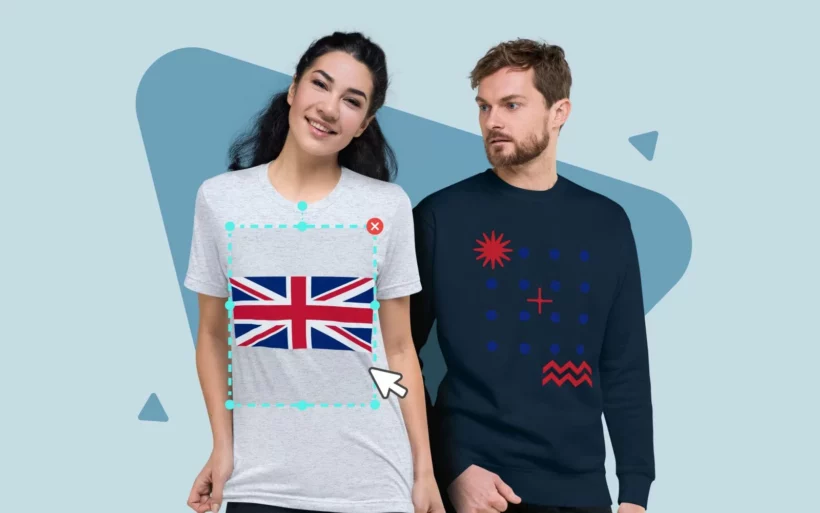 Printful is a hosted print on demand service which integrates with WooCommerce. You create the Printful products in Printful, and have them displayed on your WooCommerce store. When a customer places an order, it is automatically sent to Printful for digital printing and despatch.
Printful offers a wide range of white label products for print on demand. Their product catalog includes clothing, accessories, mugs, art prints, water bottles, and stationery.
With Printful, you only pay when a customer places an order for a print on demand product. Printful charges you for the shipping, fulfillment, and product. There are no setup or ongoing subscription costs.
To guarantee your profit margin, you add a price for the Printful product which includes your required profit. You then pay a lower amount to Prinful, and keep the difference.
Printify
Printify is similar to Printful, in that it is a third party print on demand dropshipping tool which integrates with WooCommerce.
Choose from a huge product catalog (600+ products). The entire catalog can be printed with your or your customers' designs. These are similar to the selection at Printful and include clothing, home and living, and accessories. There are lots of random products like mouse pads, bags, socks, face masks, backpacks and phone cases. Even the clothing range is very extensive, with everything from sweatshirts to baby clothes.
ScalablePress
ScalablePress are a popular soution for fulfilling custom-printed products. They use intelligent algorithms to predict which products are most likely to sell.
You can select from a huge catalog of over 5,000 print on demand products. ScaleablePress integrates with most e-commerce platforms including WooCommerce and Shopify.
Shirtee
Shirtee has over 50 clothing, accessories and household products and integrates with WooCommerce. While the catalog is smaller than some other dropshipping companies, it's worth taking a look at.
CustomCat
CustomCat are another third party dropshipper for print on demand. They offer WooCommerce integration. While they're not as professionally presented as market leaders like Printful and Printify, they're worth considering for startups looking for a cheaper option.
Acutrack Book Fulfillment
Acutrack is a leading book fulfilment service, providing both logistics and digital printing under one roof. Use its WooCommerce integration to sell print on demand books in WooCommerce, and have them printed by Acutrack.
This option is obviously only suitable for bookselling print on demand businesses, so I won't cover it in too much detail. It comes with lots of book printing options, such as binding and trim sizes.
Additional plugins to enhance your print on demand website
WooCommerce Multiple Email Recipients
By default, WooCommerce sends order notification emails to the website administrator. That's generally not sufficient for a print on demand WooCommerce service.
If you print products in-house then you need an automation to route the new order emails to the printing department. On the other hand, if you use dropshipping then the new order emails must be sent to the dropshipper. You don't want to waste time doing this manually!
The solution is to install the WooCommerce Multiple Email Recipients plugin. Use it to send the order emails to the correct person for on demand printing and despatch.
You can either add the same email address(es) who will receive notification of all new print on demand orders. Alternatively, you can specify different recipients for each product or category. This is useful if you use different dropshipping companies to print different types of product.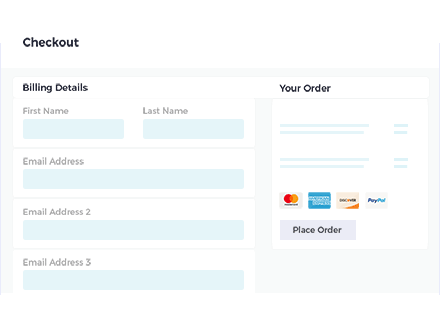 Automatically notify the printing department of new print on demand orders.
WooCommerce Lead Time
Since print-on-demand orders take a bit longer to manufacture and deliver, your customers need to know how long they'll be waiting.
The WooCommerce Lead Time plugin offers the best way to do this. It lets you add a handling or processing time to your store, or to specific products or categories. The turnaround time appears on your store pages, so customers know when their printed product will be delivered.
WooCommerce Lead Time works with other plugins featured in this article such as WooCommerce Product Options.
You can also use it with the Delivery Slots plugin to allow customers to choose a specific delivery date and time. This is ideal if you're selling custom printed products for specific dates such as birthdays or Valentine's Day. The turnaround time (which you add using WooCommerce Lead Time) is added to the time for your available delivery methods (which depend on your WooCommerce shipping methods). The Delivery Slots plugin can then display the correct delivery slots to each customer.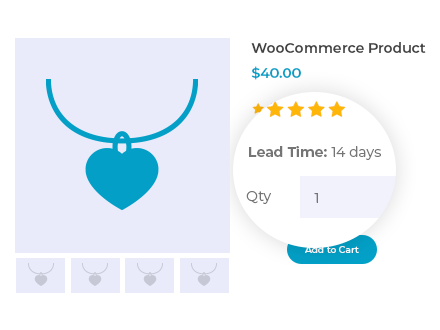 The only plugin to show waiting and processing times in your WooCommerce store.
Start your print-on-demand business with WooCommerce now!
WooCommerce is the perfect platform for selling print on demand products. Whether you print the products in-house or use a dropshipper, there are plenty of products to choose from.
We have looked at lots of print on demand WooCommerce plugins in this article. To summarize, here are our recommendations:
Armed with the best print on demand plugins, you can build a user-friendly store with high levels of automation. That frees you up to focus your time on marketing and driving customers to the site. The perfect recipe for success!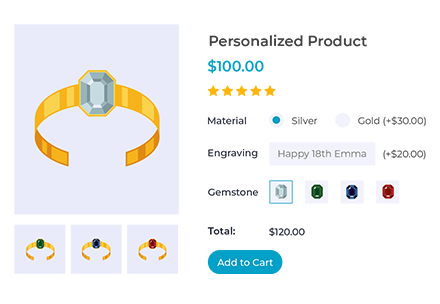 The easy way to add flexible printing options to your WooCommerce products.